Your Loved Ones and Wedding Guests Refuse to Get Vaccinated. Now What?
Here are basic tips for how to respond, according to experts.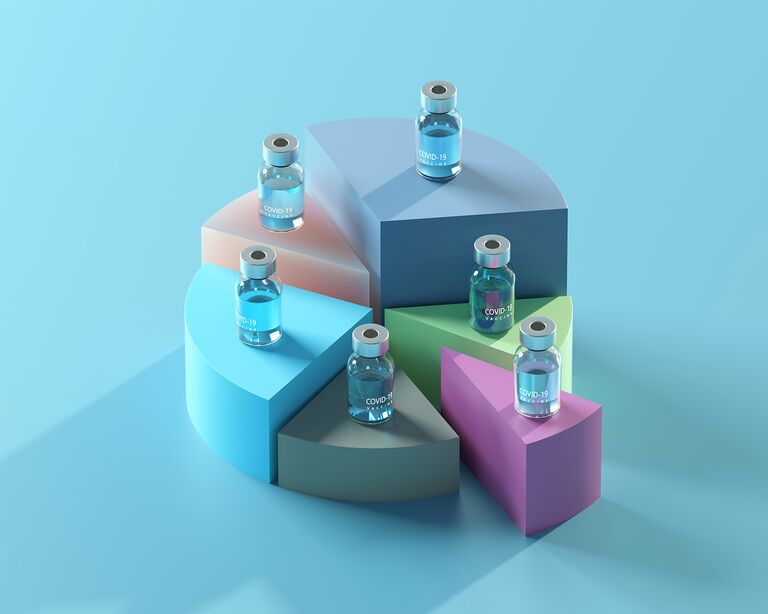 Getty Images
The postponements have waged on and it's finally time for you to put together your seating arrangements, among other wedding day considerations. There is, however, one glaring issue: the unvaccinated wedding guest. Arguably and currently one of the most contentious topics in weddings, some couples marrying in 2021 will have to address this new type of guest directly.
After all, you've extended an invitation because they're presumably a loved one, whether it be your dad, aunt, best friend from high school, a colleague's husband, you name it. You could have guests who firmly believe vaccinations are essential to saving lives or you might have loved ones who are vaccine-hesitant. It's an especially tricky scenario if you've invited guests who are immunocompromised or under the age of 12. In short, how do you avoid a possible wedding day calamity ahead?
"These differences can be a huge source of stress for couples," notes Dr. Natasha Bhuyan, Regional Director at One Medical. "Especially because their own health and the health of their guests is at stake. It's important to be able to take a step back from wedding planning and focus on self-care." If and when you're ready to have some conversations, here's how to graciously respond to loved ones before your wedding day.
Open Up a Dialogue With Your Loved Ones
The first question to ask in any conflict is why. "For many couples, they have to consider their elderly relatives or immunocompromised family members. At the same time, there are many reasons why someone may be reluctant to get the vaccine," says Dr. Bhuyan. "The first step I advise is to simply listen. Are there fears your family or friends are grappling with regarding the vaccines? Is there misinformation or myths they believe?"
"Whatever you do, you are speaking to people you love about celebrating your day of love," says event planner Vanessa Ohayon of Vanessa Events & Hospitality. "Move forward graciously from a place filled with love." Opening up the dialogue, without imposing your beliefs immediately, will help you work towards a solution together.
Share Why Vaccine Information Matters for Your Wedding
Though it could be perceived as an invasive question to some, it's still reasonable to request vaccination status from guests, especially if you're not requiring it on your wedding day. "The level of precaution couples should take when wedding planning really depends on the vaccination status of their guests," explains Dr. Bhuyan. "If all guests are vaccinated, only minimal precautions need to be taken. If you're not requiring vaccinations at your wedding, it's important to still make note of providing PPE and other measures."
If you don't plan to require vaccinations, then you will need to mitigate risk and take note of comfort levels and seating arrangements. "If there's a mixture of vaccinated and unvaccinated guests, then COVID precautions should still be followed," Dr. Bhuyan says. "This may mean hosting the wedding outdoors to minimize transmission risk. This should also include physical distancing of the guests and tables. Unvaccinated people should still continue to wear masks when they are in large groups. The size of your guest list is another consideration."
Lead With Facts, Even If From a Third Party
If your loved one is misinformed or worried about their health with the vaccine, consider connecting them to a medical expert. "Oftentimes, this might mean [suggesting they talk to] their primary care provider. Another approach is sharing unbiased, evidence-based information," explains Dr. Bhuyan. "While the vaccines have unnecessarily become politically charged, just connecting with another person is the most powerful antidote to overcoming misinformation."
Take it from an actual doctor. "The best way to prevent COVID is by getting vaccinated. The COVID vaccine not only protects you, but it protects those around you," explains Dr. Bhuyan. The same holds true for variants. "The best protection against variants is to get vaccinated," she affirms. "The COVID vaccines are still highly effective against the variants, including the delta variant."
Explain How Their Vaccine Hesitancy Makes You Feel
If your guest still refuses to get vaccinated before your wedding, it's time to discuss how their choice is impacting you. "Respond not only with facts but also express your own position and feelings," says Dr. Bhuyan. "[Or you could share] what it means for your family to be able to attend your wedding safely." Finally, you may want to relay how meaningful it would be to have this guest attend your wedding.
If Applicable, Have Backup Plans Ready
If you decide it's OK to have unvaccinated loved ones at your wedding, extra precautions need to be taken. "You may want to meet your guests halfway by preparing and providing extra PCR testing or offering social distancing layouts," says Ohayon. Some couples are providing rapid testing prior to their wedding receptions. Others are requiring proof of a negative COVID test in order for guests to enter their nuptials.
If, however, you decide you'd still like for all guests to be vaccinated, another option is providing a hybrid event format, including streaming the wedding virtually and delivering experiential boxes to those tuning in from afar. "Create an online experience for the guests so that they can attend from the comfort of their homes," says Ohayon.
Make a United Decision as a Couple
Since it's your wedding day, your rules take precedence. "For couples who are getting married, it's certainly their choice to request that their guests are vaccinated for the safety of others," notes Dr. Bhuyan.
"It's impossible to please everyone," adds Ohayon. "Couples must stay true to themselves and their values. If you need to refuse a guest, it's totally acceptable. Perhaps on the flip side, you'd be putting someone else at risk. At the end of the day, I recommend erring on the side of safety, as it is much easier to be joyful and celebratory in a space where everyone feels safe."
Prioritize Self-Care In Your Relationship
If you feel overwhelmed about your guest list, take a step back from it all and schedule self-care dates with your partner. "This may mean engaging in regular mindfulness, meditation, gratitude journaling or exercise," explains Dr. Bhuyan. "Assume the best intent from others in the process."
If you truly feel lost in all this, turn to your wedding pro team together for guidance. These vendors, especially a wedding planner, may be able to provide more advice and assuage your concerns. "Weddings are a special event where family and friends come together. Ensuring that guests can safely have a memorable time is important," affirms Dr. Bhuyan.