22 Block Heel Wedding Shoes You'll Actually Want to Wear All Day
We like 'em chunky.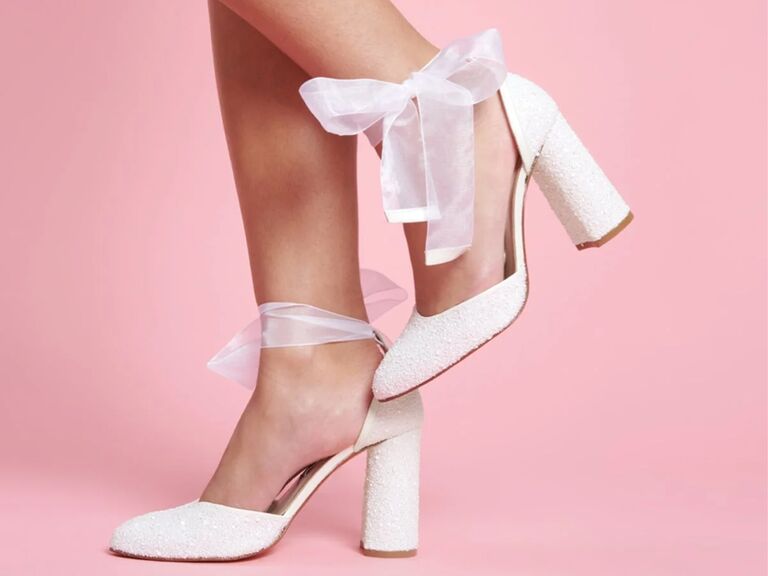 Photo: Charlotte Mills
We have included third party products to help you navigate and enjoy life's biggest moments. Purchases made through links on this page may earn us a commission.
TBH, not all wedding shoes are created equal, some are really uncomfortable, which is super inconvenient considering it's your wedding day, after all. In comes our saving grace: block heel wedding shoes. Bridal block heels are thicker, which gives you more stability, comfort and style. Who could ask for anything more on their wedding day? Plus, chunky wedding heels are uber popular at the moment, so you can find them in a wide range of colors and fabrics with all sorts of bridal embellishments.
I, of course, had to tap the queen of block wedding heels, Charlotte Mills, who's been designing her own line of bridal footwear for nearly ten years, to learn more about this popular style. "Block heel bridal shoes are such a must for brides," says Mills. "They allow brides to be more comfortable than they would feel in a silletto heel; you have more surface area to stand on, and for a day that you're on your feet for the most part, you really want to be as comfortable as possible."
Below, we've rounded up a great selection of wedding shoes just for you that you can add to cart right now. (You can thank me later.)
In this article:
22 Best Block Heel Wedding Shoes For Every Style
From simple white shoes to bedazzled footwear, we've found it all in a variety of heel heights, from low heels to 4-inch block heels and everything in between. The best part about the line-up below is, "They're perfect for outdoor and summer weddings; if you're getting married on grass or on uneven surfaces, block heels make it so much easier to get around and prevent you from sinking into the grass!" says Mills.
1. Best White Block Heels: Charlotte Mills Juniper Pearl Block Heels
These aren't your average bridal block heels; they're adorned with all-over shimmering sparkle. "This is our most classic style, an almond toe in a crushed pearl glitter with the option to wear with either a plain leather ankle strap or our organza ribbon strap," says Mills. "It's also the perfect closed-toe bridal shoe."
Size range: US 4.5-10.5 | Heel height: 3.9"
Price at time of publication: $330
2. Best Convertible Heels: Pashion The Pashionita White Crystal Bow Block Heel
Heels meet flats. If you want a bridal block heel for the ceremony, but plan to change into chic flats for the reception but don't have the budget or simply don't want to change, these shoes can do both. The glitzy design features a white satin upper, a large tulle bow on the back and a crystal toe strap. But what's most impressive is the removable block heel (yep, you read that right). You'll want a pair in every style and color once the big day is done.
Size range: US 5-11 | Heel height: 3" or 4"
Price at time of publication: $205
3. Best Gold Block Heels for Wedding: Loeffler Randall Camellia Gold Pleated Bow Heel
Loeffer Randall is known for their trendy yet timeless wedding shoes, and their gold block heels are no exception. Constructed with pleated fabric and a signature knotted bow, the Camellia heels provide optimal support and style. The brand has multiple iterations of this fan-favorite style, so you can easily find your perfect fit.
Size range: US 5-12 | Heel height: 3.5"
Price at time of publication: $395
4. Best Strappy Bridal Block Heel Shoes: Jessica Simpson Stassey Sandal in White
ICYMI, Jessica Simpson released a line of stunning bridal shoes—and it includes some gorgeous block heels! These criss-cross-strap sandals come in matte white satin with a fun zippered back. For extra sentiment on your big day, each shoe in the collection has the phrase "Happily Ever After" inscribed on the bottom with a faux sapphire stone for something blue.
Size range: US 5-12 | Heel height: 3.2"
Price at time of publication: $98
5. Best Ivory Heel Bridal Shoes: Birdy Grey Julia Chunky Heel
You may know Birdy Grey for their affordable bridesmaid dresses, but did you know they have shoes, too? This conical heel stands tall at the top of the trend game. They offer comfortable and budget-friendly options, like the Julia Chunky Heel, that can be worn to nearly every wedding event, from the engagement party to the honeymoon. Plus, the conical block heel is trendy AF.
Size range: US 6-10 | Heel height: 3 5/8"
Price at time of publication: $49
6. Best Low Block Heel Wedding Shoes: Dolce Vita River Pearl Heels
If you're looking for quality low block heel wedding shoes that won't give you blisters walking down the aisle, these Dolce Vita heels are a great choice. One reviewer even said, "The block heel makes it easy to walk in, and you don't have to worry about damaging the heel on uneven pavement."
Size range: US 5-13 | Heel height: 2"
Price at time of publication: $125
7. Best Platform Block Heels: Bella Belle Serafina Platform Heel Sandals
Street fashion entered its platform heel era in 2022, and now the trend has made it's way to bridal too. These Bella Belle shoes give you 5" of height without sacrificing comfort. Boasting a twist knot and a chunky block heel, these shoes are just begging to be worn to a city hall elopement with a chic mini dress and short veil.
Size range: US 6-10 | Heel height: 5"
Price at time of publication: $369
8. Most Unique Block Heel Wedding Shoes: Kate Spade Love Slide Sandals in Ivory Bridal
Trade a block for a ball in these low-heel block wedding shoes. These slip-on sandals have a slim ivory satin strap for an elegant look on top. Meanwhile, the round heel is actually a snow globe with a wedding cake (Yes, really!) for a fun twist on tradition. How cute is that?
Size range: US 5-11 | Heel height: 2"
Price at time of publication: $228
9. Best Blue Block Heels For Wedding: Dolce Vita Pilton Block Heel
Get yourself some blue block heels for your wedding that work as both your something blue and your something new. These Dolce Vita chunky wedding heels excel in both style and comfort, with a white and blue floral pattern made for a spring garden wedding or bridal shower.
Size range: US 5.5-11| Heel height: 3"
Price at time of publication: $125
10. Best Statement Block Heels For Wedding: Charlotte Mills Henrietta Pearl Block Heels
When I tell you my jaw dropped when I saw these statement pearl white block heels. "This classic CM style is the perfect statement bridal shoe; with pearls still very much on trend for weddings, this style ticks all the boxes," says Mills. "With statement pearl studs on the peep toe, cross over ankle straps for security and our signature block heel, you'll be dancing way beyond midnight!"
Size range: US 4.5-10.5 | Heel height: 3.5"
Price at time of publication: $380
11. Best Silver Block Heels: M. Gemi The Lizza Nuova Platform Heel
Investing in a pair of chunky heel bridal shoes that you can actually move in is a must for your wedding day. The crinkled, silver metallic leather will have you shimmering like a mirrorball down the aisle and on the dance floor. Plus, the style is versatile enough for you to wear it again and again.
Size range: US 5-12 | Heel height: 2.75"
Price at time of publication: $278
12. Best Closed Toe Block Heel: Lulus Luiz White Glitter Pointed-Toe Pumps
These glittery closed toe block heels for your wedding are truly a Cinderella moment. We love the all-over white shimmery satin upper, but what makes these bridal heels really special is that they come with a matching Velcro strap for a secure fit.
Size range: US 5.5-11 | Heel height: 4.25"
Price at time of publication: $49
13. Best Cowboy Boots: Betsey Johnson Dalas Cowboy Boot in Ivory
Calling all rustic and boho brides: Looking for bridal shoes with a chunky heel that aren't actually heels? Let these Betsey Johnson cowboy boots with a low block heel stop your scroll. They are adorned in all-over pearls, which makes these boots totally wedding day-worthy. Psst: They also come in an all-over rhinestone style if that's more your vibe.
Size range: US 6-11 | Heel height: 1.5"
Price at time of publication: $249
14. Most Comfortable Block Heels: Badgley Mischka Women's Ivanna Crystal-Embellished Block Heel Sandals
Iconic design house Badgley Mischka blends couture and comfort to create the most glamorous, comfortable bridal block heels. Their Ivanna shoes feature an open toe with an eye-catching crystal embellishment and a soft satin strap that won't dig into your ankle. With a 2" low block heel, these shoes ensure an enjoyable wear from grand entrance to grand exit.
Size range: US 5.5-10 | Heel height: 2"
Price at time of publication: $235
15. Best Block Heel Sandals: London Rag Wandy Sandal
Okay, let's make one thing clear, these block heel sandals are everything. The modern square toe, clear twist heel and metal buckle detail give off quiet luxury but only cost $60. Just pair them with a modern slip wedding dress and sleek bun for all the cool girl vibes.
Size range: US 6-10 | Heel height: 3.25"
Price at time of publication: $60
16. Best Pearl Block Heels: Jimmy Choo Sacaria 100 White Satin Sandals with All-Over Pearl Embellishment
I'll always believe that Jimmy Choo shoes are a worthwhile investment. I mean, just look at these iconic pearl embellished bridal shoes with a block heel. Each pair is handcrafted in Italy from white satin, and the cherry (or pearl) on top gives these wedding block heels all the maximalist glamour.
Size range: US 4-13 | Heel height: 3.9"
Price at time of publication: $1,950
17. Best Satin Block Heels: JJ's House Women's Wedding Shoes Satin High Heel Closed Toe Rhinestone Shoes
These classic wedding block heels feature a closed toe satin heel and a sparkly rhinestone strap that exudes elegant energy. Made with soft satin fabric, it's perfect to pair with a classic Mikado ball gown or a modern satin fit-and-flare. Whether you're having a lavish estate wedding or a chic art gallery gathering, these bridal block heels are effortlessly chic.
Size range: US 5-10 | Heel height: 3.35"
Price at time of publication: $57
18. Best Lace Block Heels: Sarah Flint Wedding Perfect Block Sandal 60
Step into your big day with these lacey Sarah Flint block heel wedding shoes. The open toe heel features delicate lace accents that add a touch of elegance to your bridal look. The shoe is designed with anatomical arch support so your feet will be thanking you after an eight-plus-hour day.
Size range: US 4-13 | Heel height: 2.5"
Price at time of publication: $595
19. Best Vintage-Inspired Block Heels: Bella Belle Chelsea Ivory Block Heel Wedding Shoes
Vintage brides: these white block heels are for you. Ivory lace is embroidered with white vines and paired with white silky straps for an adorable wedding block heel fit for a whimsical garden party. These handmade shoes boast extra padding for all-day comfort (which is very important when rocking 3-inch heels for several hours!).
Size range: US 5-11 | Heel height: 3"
Price at time of publication: $325
20. Best Bow Block Heels: Charlotte Mills Indie Pearl Bow Heels
You can never go wrong with a bridal bow-ment. "This shoe screams summer garden party wedding," says Mills. "With the cute polka dot tulle bow and sturdy block heel, you won't be sinking into the grass, and the statement bows popping out from under your dress are the perfect touch to so many bridal gowns."
Size range: US 5-12 | Heel height: 3.5"
Price at time of publication: $370
21. Best Block Booties: Betsey Johnson Cady Rhinestone Booties
We love the nontraditional look of bridal booties—especially when they're covered in iridescent rhinestones. This pair of pointed-toe block-heel ankle boots was made for a wedding. The sole is a fitting teal blue and stamped with a silver heart. You can also find them in gold, pink, red or blue so your wedding shoes won't just sparkle but also pop with color.
Size range: US 5-12 | Heel height: 3.5"
Price at time of publication: $119
22. Best Loafers: Jimmy Choo Diamond Tilda Sling Back 45 Patent Leather Pumps with Chain Embellishment
Embrace your unique style with these Jimmy Choo loafers, complete with a 1.75" block heel. The patent leather pumps feature a sleek sling back strap and an eye-catching multifaceted chain detail. With their modern square toe and timeless appeal, these shoes will take you wherever you want to go—on your wedding day and beyond.
Size range: US 4-13 | Heel height: 1.75"
Price at time of publication: $925
Best Brands for Bridal Block Heels
Still undecided? I get it. There are so many gorgeous bridal block heels out there. Here are a few of my favorite brands to check out:
Charlotte Mills
Spoiler alert: I'm a huge fan of Charlotte Mills for so many reasons, but mostly because they value craftsmanship and their brides. "It's so important to us that brides feel comfortable and secure in their Charlotte Mills shoes," says Mills.
That's not the only thing to love about the brand's bridal block heels, be sure to check out the bottoms for the sweetest detail. "Each pair of our shoes also comes with our signature embossed sole with the rhyme, "Something Old, Something New, Something Borrowed, Something Blue, and a Silver Sixpence In Her Shoe" on the sole, complete with your something blue and a lucky sixpence penny in every left shoe for good luck on your wedding day!"
Loeffer Randall
If you've seen a wedding on Instagram in the past year, you've likely seen a pair of Loeffer Randall block wedding heels. Each shoe style is absolutely très chic and they always photograph beautifully. And they don't stop at just shoes. They have an entire bridal collection with coordinating handbags, clutches and headbands to help you complete the look. They also have responsible initiatives, from ethically sourced materials to partnering with initiatives that support small workshop artisans. They are a brand you can truly get behind.
Bella Belle Shoes
Bella Belle is more than just a pretty name. They are known for combining fashion with comfort to create what's been dubbed as the prettiest 12-hour. Don't take my word for it. Reviewers constantly rave about how comfortable they are, and the shoes have been seen on celebrities like Jennifer Lopez, Jodi Sweeten and Adele, so it's safe to say these are the "it girl" bridal shoes. Whether you are looking for a pair of classic satin heels, bridal block heels adorned with lace or a fun pair of wedding flats for your reception, you'll find them at Bella Belle.