109 Ways to Say I Love You (In Case The Old Way Was Getting Boring)
Take a cue from Patrick Swayze and Demi Moore in "Ghost." Ditto.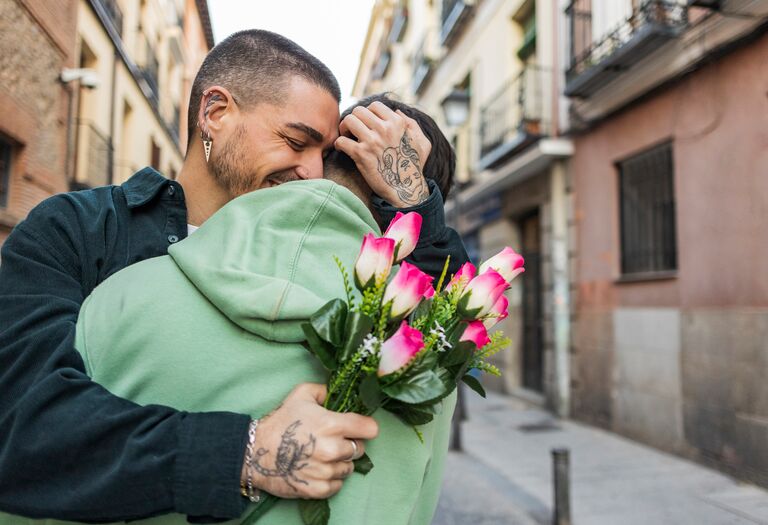 Photo: Getty Images | Westend61
For being a mere three words and eight letters, "I love you," sure is a phrase that carries a lot of weight. When said genuinely, it's perfectly, adequately meaningful all on its own. Still, if you're looking to mix things up when professing your head-over-heels affection for your partner, there are a multitude of ways to say I love you. (Just ask Patrick Swayze and Demi Moore's characters in Ghost. Ditto.)
Remember: Not everyone expresses or experiences love and affection the same, so be sure to communicate with your partner about how to best give and receive love. You may need to specifically hear words of affirmation every day to feel safe and secure, while your partner feels loved when their external needs are being met. (They might put grocery shopping and errand-running on the same level as those three little words!)
From thoughtful actions to ultra-romantic phrasing, here are 109 ways to say I love you.
In this article:
Romantic Ways To Say I Love You
Want a big moment or romantic turn of phrase? Consider these ideas and quotes below.
"I'm in love with you."
"You're safe with me."
"I love you to the moon and back."
Surprise them with a bouquet of flowers.
"You make my heart skip a beat."
Write them a love letter.
"You have bewitched me, body and soul." —Pride and Prejudice
"You're the love of my life."
"You're my dream come true."
Give them a key to your home.
"I love you more each day."
"My heart is forever yours."
"I want to spend my life with you."
"You make me believe in love."
"I feel so connected to you."
Give them a personalized gift, such as a scrapbook of mementos.
"No one makes me feel the way you do."
"How lucky am I to exist at the same time as you?"
Support their dreams, goals and passions.
"I'm yours."
"You give me hope."
"You are the best thing that has ever happened to me."
"You feel like home."
"I never knew how beautiful life could be until I met you."
"You are my forever."
Cute Ways To Say I Love You
These oh-so-adorable ways to say I love you are sure to bring a smile to your partner's face.
Write it in the fog of the bathroom mirror while they're showering.
"You make me so happy."
"You give me goosebumps!"
Make them heart-shaped cookies, pancakes, etc.
"I can't stop thinking about you."
"You are my sunshine."
Pack their lunch. (Don't forget to include a little love note!)
"I never get tired of spending time with you."
"You are my favorite person."
Surprise them with their favorite candy.
"If I loved you less, I might have been able to talk about it more," —Emma
Poetic Ways To Say I Love You
Borrow a little inspiration from the literary greats, romantic movie dialogue and tear-worthy song lyrics.
Give them a book of poetry.
"Just in case you ever foolishly forget, I'm never not thinking of you."—Virginia Woolf, Selected Diaries
"I yearn for you."
"So it's not gonna be easy. It's going to be really hard; we're gonna have to work at this every day, but I want to do that because I want you. I want all of you, forever, every day. You and me... every day." —The Notebook
"I'm not a religious person but I do sometimes think God made you for me." —Sally Rooney, Normal People
"I do love nothing in the world so well as you: is not that strange?" —Shakespeare, Much Ado About Nothing
"If you are intolerable, let me be the one to tolerate you," —Taylor Jenkins Reid, The Seven Husbands of Evelyn Hugo
"I'm enamored with you."
"And you know that I'd swing with you for the fences, sit with you in the trenches." —Taylor Swift, "peace"
Sweet Ways To Say I Love You
Pour on some sugar! These sweet ways to convey your love are more-or-less blush-worthy.
"This reminded me of you…"
"I love our life together."
"You make me want to be a better person."
"It's okay, you can fall down now. I'll catch you." —Taylor Jenkins Reid, The Seven Husbands of Evelyn Hugo
"It's so easy to love you."
"I'd do anything to make you smile."
"It makes me so happy to see you happy."
"I accept you as you are."
"I can see myself growing old with you."
Show genuine interest in their hobbies.
"Is there anything I can do to help?"
"I love planning our future together."
"How can I love you better?"
"I trust you with all my heart."
"I feel the most myself when I'm with you."
"I couldn't have done that without you."
"You inspire me."
"I understand how you feel."
Call them just to hear their voice.
Funny Ways To Say I Love You
If humor plays a significant role in your relationship, your partner may get a kick out of the cheeky puns and ideas below.
"You've stolen a pizza my heart."
"Some people are worth melting for." —Frozen
"Aloe you vera much."
"Thanks for loving me even when I'm hangry."
"Don't go bacon my heart."
"Yoda one for me."
Creative Ways To Say I Love You
Take a step outside the box with these creative ways to say I love you.
Try your hand at latte art and make them a frothy heart atop their coffee.
Cook their favorite dinner.
Create a Spotify playlist just for them.
Plan a staycation for two.
Write love notes and hide them for your partner to find randomly as a sweet surprise.
Create a scavenger hunt.
Write it in sidewalk chalk.
Bond over learning something new together (such as pottery or a cooking class).
Fill a jar with 365 slips of paper, each detailing something that you love about them.
Write it on a postcard and send it in the mail.
Ways To Say I Love You With Quality Time
If your partner's love language happens to be quality time, they'll certainly appreciate the ideas and activities below.
Turn off your phone when spending time together.
"Tell me about your day."
Surprise them with tickets to a show they've been wanting to see.
Spend time with their friends and/or family.
Ways To Say I Love You With Physical Touch
Let's get physical. Here are some ideas for conveying your emotions through consensual touch.
Read up on massage techniques and then give them a romantic rubdown.
Wrap your arms around them.
Kiss their forehead.
Share a fantasy with them.
Hold their hand in public.
Cozy up in their favorite cuddle position.
Hold them in your arms as you fall asleep.
Rest your hand on their knee.
Ask them to dance.
Ways To Say I Love You With Acts Of Service
You know that old adage, "Actions speak louder than words?" These acts of service are a thoughtful way to show your partner love.
Memorize how they take their coffee and then make their brew of choice in the morning.
Serve them breakfast in bed.
Run an errand for them.
Take care of them when they're sick.
Do their laundry.
Wash their dishes.
Order them an Uber.
If your primary language is not their first, begin learning (or brushing up on) their preferred tongue.
Make yourselves each other's emergency contact.
Fill their gas tank.
Cute Ways To Say I Love You In A Text
Looking for something better to text than just ily? Send 'em any of these, and they'll light up brighter than their screen.
"Love you to the 🌙 and to 🪐" —Taylor Swift, "seven"
"Text me when you get home."
"Thinking about you, my love."
"I couldn't let the day start without telling you how much I love you."
"I'll miss talking to you all night long. Until the morning, my love."
"Just wanted to let you know how much I love and appreciate you."