17 Natural Wedding Hairstyles That Are Effortlessly Gorgeous
Because you're beautiful just as you are.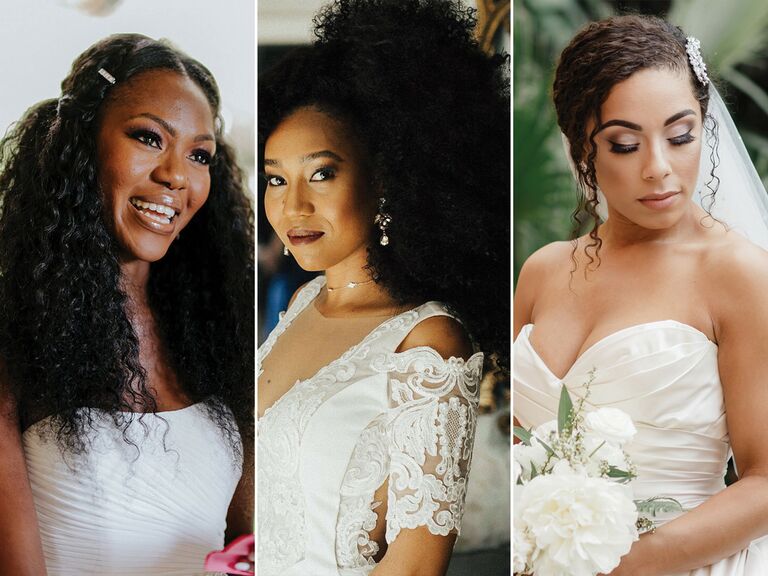 ANGEL PATRICIA PHOTO,HEIRLUME PHOTOGRAPHY,ZHA ZHA PHOTOGRAPHY
You don't have to change your hair texture (or anything else about yourself) for your wedding. If you don't want to use hot tools or wear box braids for your nuptials, we rounded up 17 natural wedding hairstyles that are effortlessly gorgeous. Whether you're searching for an elegant updo or a boho-inspired down style, we have a hairdo for everyone.
If you choose to rock your natural texture on your wedding day, we recommend working closely with a hairstylist to figure out how to get your hair looking its best. A pro will be able to recommend products to play up your hair's best aspects (think: styling cream for curly hair, oil for extra gloss or hair spray for extra hold). Plus, they'll likely be able to suggest hair care products to use leading up to your wedding day. Scroll through our favorite natural wedding hairstyles below to gather some serious inspo (and then scroll through The Knot to find a local pro to help bring your vision to life on the big day).
Down Wedding Hairstyles for Natural Hair
Show off your gorgeous texture with a down style or half-up, half-down look. We rounded up our favorite hair ideas for a natural look, below.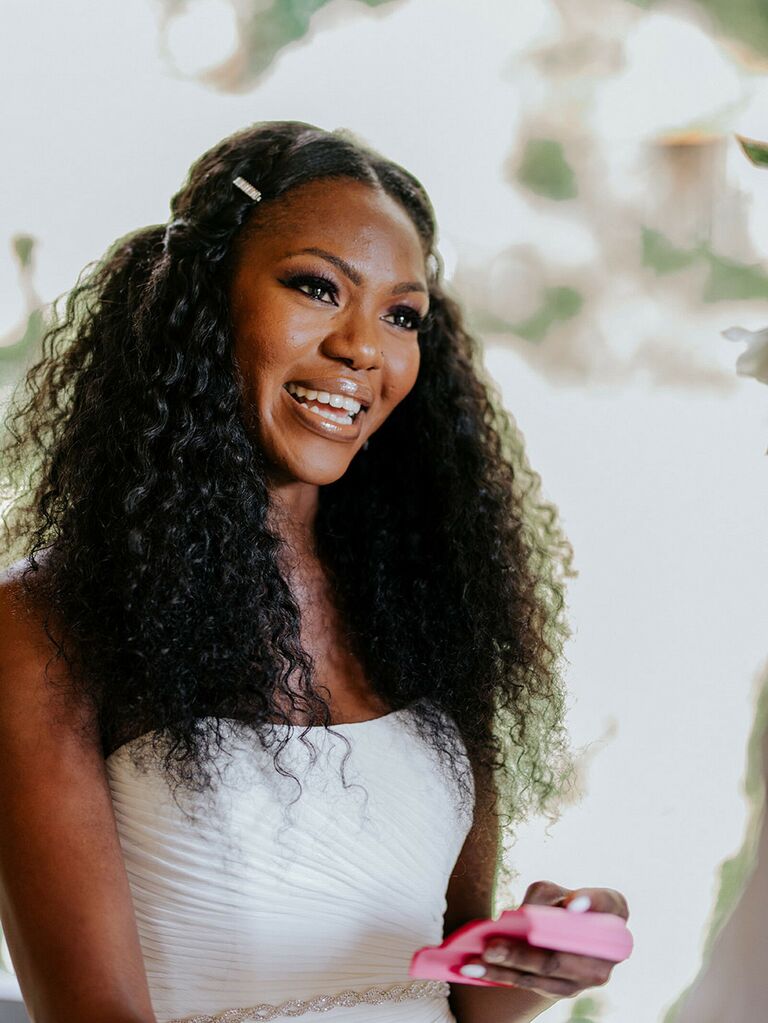 For an on-trend wedding hairstyle, pin the front sides back with sparkly hair accessory, like a barrette.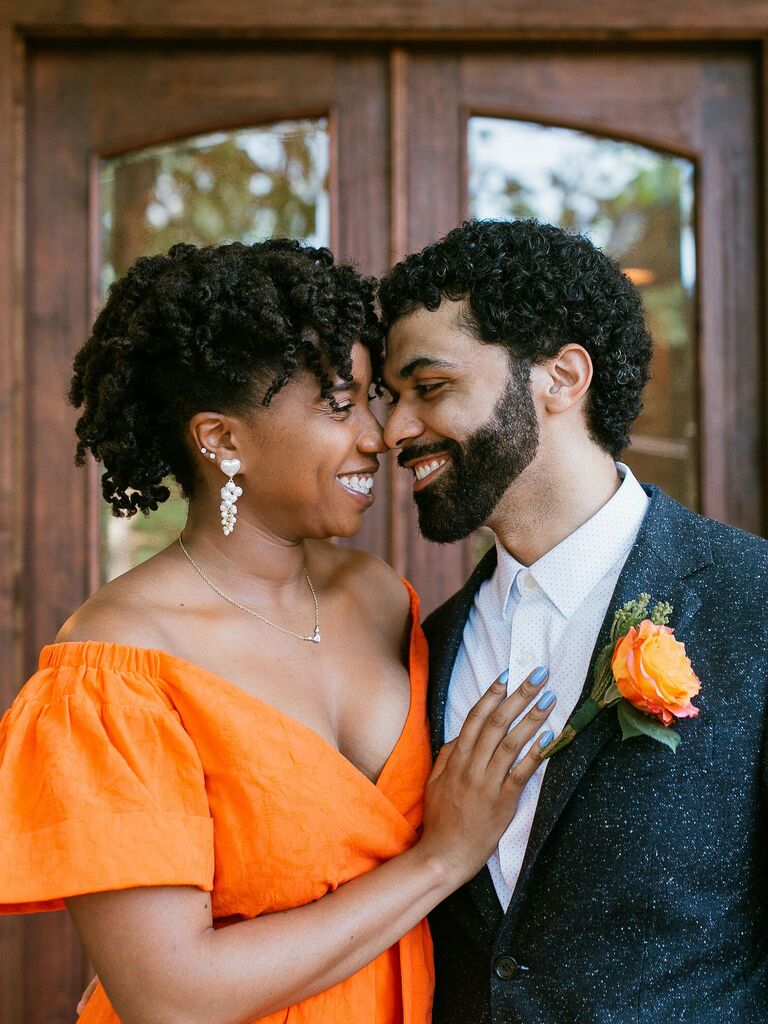 Proudly show off your natural hair. Opt for an undercut style to create a voluminous look.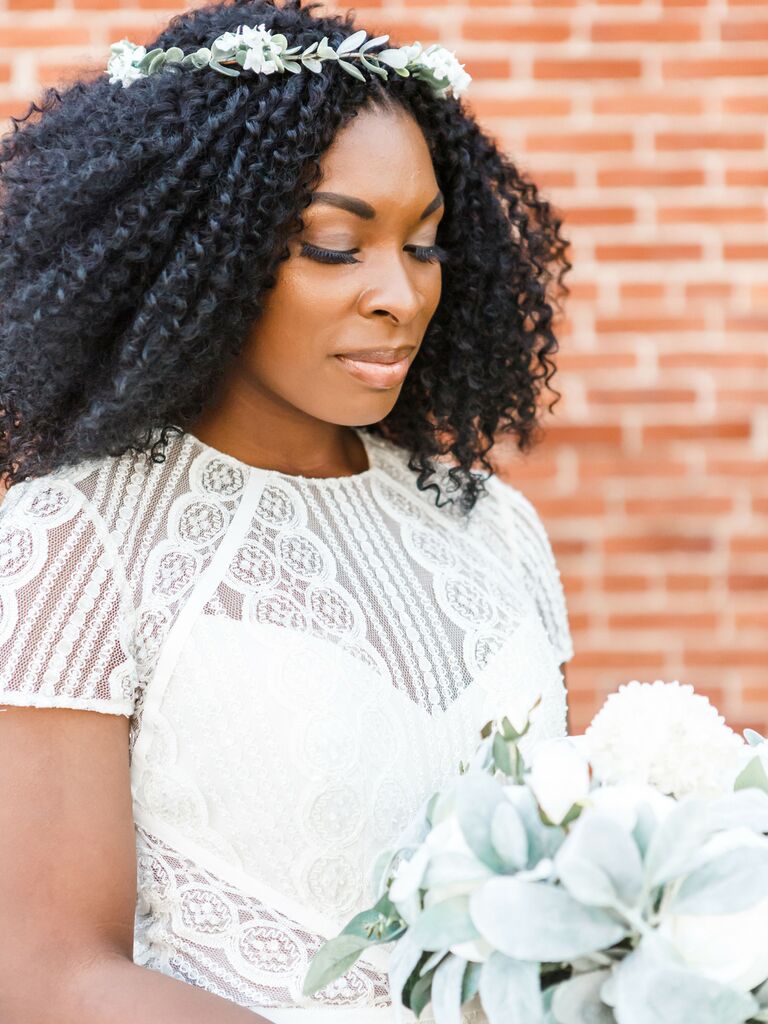 Embrace your boho wedding style with this wedding hairstyle for natural hair. Let your texture shine and top it off with a delicate flower crown or headband.
For a sweet, simple look, part your tresses to the side and add an airy veil
Top your natural curls with an oversize flower crown for a wedding hairstyle that's equal parts boho and glam. (Pro tip: Keep the crown in place with bobby pins.)
Looking for a unique natural wedding hairstyle? Braid the top half of your hair back to show off your volume in the back.
When it comes to your wedding hair, you should wear what makes you happiest. Make a statement by rocking a bold color.
For an edgy wedding hairstyle, shave the sides of your head to create an edgy fauxhawk effect.
Natural Hair Updos for Your Wedding
Between braids, buns and ponytails, the options are endless for natural hair updos for your wedding. To help narrow down your options, we rounded up some of our favorites, below.
We love this look for its versatility: You can wear it at any wedding no matter the season or style. Slick your hair back into a low bun for a natural hair wedding updo that's both classic and modern.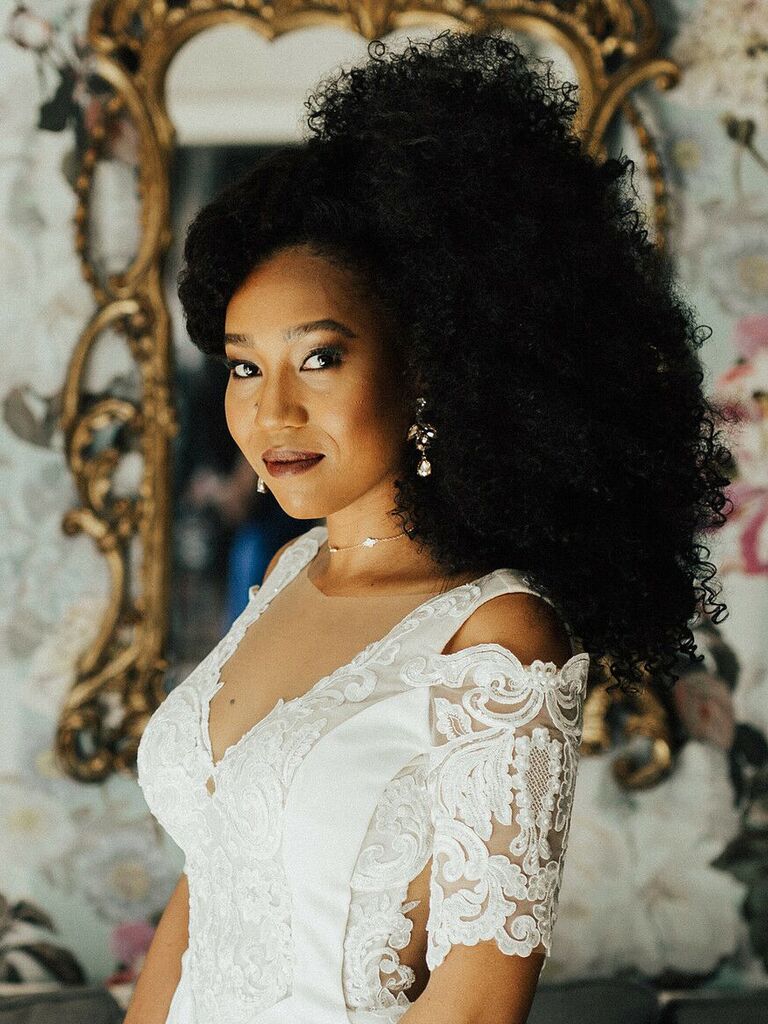 Show off your stunning hair texture with this creative updo. Twist your hair up into a high ponytail on one side. Add a glittery headpiece for extra sparkle. Psst: Wedding hairpieces are currently trending, thanks to Bridgerton.
Braid the bottom of your hair into a stunning asymmetrical updo. Top the look off with a pretty accent, like flowers or a hair pin.
Calling all minimalists: this natural hair updo is for you. Slick your hair back into a low bun or chignon and leave a few pieces out front for a wispy, romantic look. Want a touch of sparkle? Add a hair vine or barrette.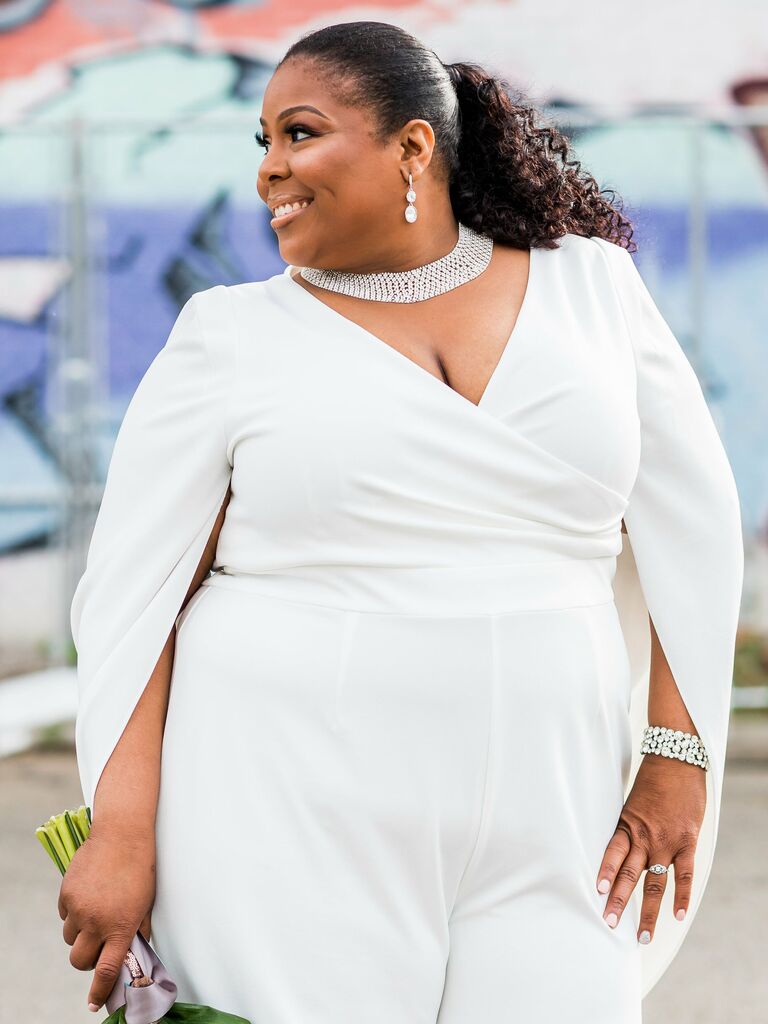 Not only does a slicked-back ponytail look effortlessly gorgeous, it's also practical. No matter how much you dance at your reception, your hairdo will stay put.
Flaunt your fringe. Pull your hair back into a low bun (or a top knot if you'd like) and leave your bangs out for a playful touch.
Make a simple ponytail feel fashion-forward by adding in a center part. Slick the sides of your hair and let your natural texture shine in the back.
Here's a natural hair updo for a wedding that's both elegant and edgy. Separate your hair into three sections and braid them all back behind your head for a mohawk-like plait.
Is there anything more romantic than a low bun with braids? Get the look by asking your hairstylist to French braid both sides of your hair back into a low updo—then top it all off with a pretty veil.