6 Wedding Invitation Sayings That Will Make Your Guests Smile
Make your wedding invites absolutely unforgettable.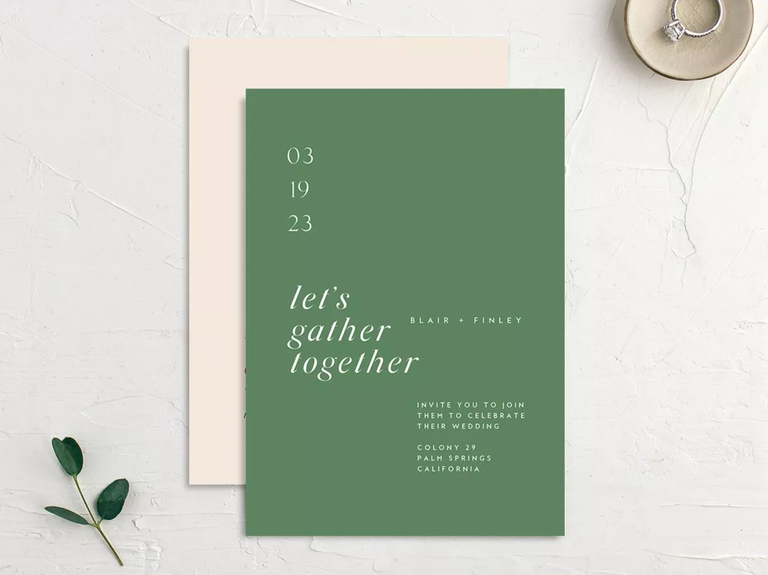 Here's the deal: Wedding invitation wording is a personal choice. Whether you want to go ultra-formal or super-casual, the choice is completely yours. And if you want to add some extra personality, try one of these creative wedding invitation sayings below. They're an unexpected touch that will make your wedding invites even more memorable.
There's a common belief that couples have to follow a certain outdated template for wedding invitations, like using formal language, including full names (including middle names), including both sets of parents and using phrases like "marriage of their children". However, none of this is true. If you and your partner are the ones paying for the wedding ceremony, you don't need to call out parents unless you want to. Psst: If you're looking for wedding invitation wording examples for different parental situation (divorced parents, deceased parents, stepparents and more), we created a comprehensive guide. Skip the traditional wedding invitation rules and make your own instead—it's your day, after all.
There are a few things we do recommend including however. First and foremost: You need to include the couple's names. Then, you'll need to give your guests the location of both the wedding venue and the reception venue. If it's a destination wedding, be extremely specific here so your guests can plan accordingly. Similarly, they'll also need the start times for the wedding ceremony and the wedding reception. (However, you don't need to formally spell out "four o'clock" if that doesn't feel right to you—use numerals and abbreviations however you see fit.) We also highly recommend including the URL to your wedding website so your guests can easily access it and find any necessary information ahead of the big day (such as information on your wedding party). Pro tip: Your guests will also appreciate a head's up on the wedding day dress code (whether it's a black tie affair, a semiformal soiree or a casual wedding). This will alleviate any extra stress so your guests can look forward to all of the merriment ahead.
Another item you definitely need to include in your wedding invites? An RSVP card. Standard wedding etiquette says you shouldn't include any information regarding your registry, as it can sometimes come across as an expectation of gifts. Any other details you've come up with while wedding planning can be put on your wedding website.
If formal wedding invitation phrases like "the pleasure of your company," "honor of your presence" or "celebration of their marriage" don't resonate with you, you can change it up. Your wedding invites are a direct reflection of who you are as a couple. They're also the first thing your guests will see (meaning they'll set the tone for the whole event). If you're hosting an informal wedding, casual terminology might work best for you. And don't be afraid to get creative with the invitation design as well: Modern fonts and fun colors will make your wedding stationery stand out. Forget the outdated invitation etiquette and stay true to what feels right for your love story—whether that's a romantic quote or a warm greeting. Below, see six of our favorite wedding invitation sayings (and the head to The Knot Invitations to purchase your favorites).
"At last."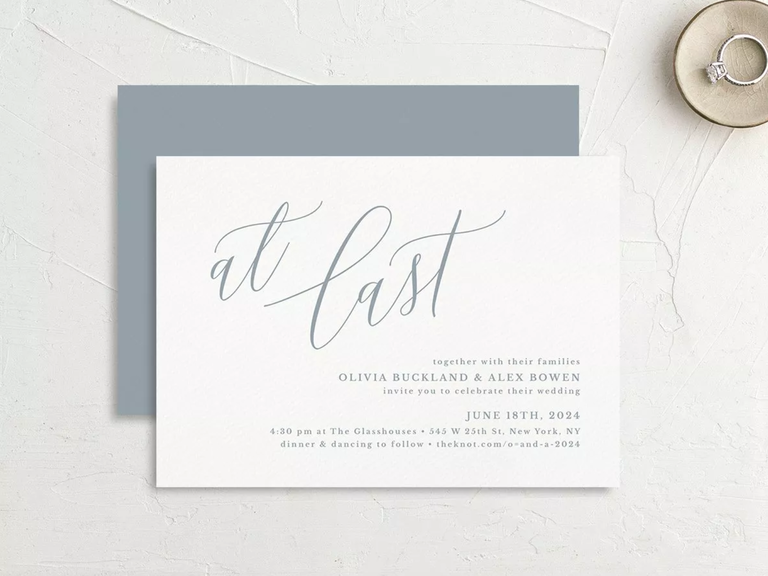 We love this wedding invitation because it's simply classic. Trust us: When your guests read these cursive words, Etta James' "At Last" will begin to play in their heads (how romantic). Plus, it's especially appropriate for any COVID couples who have had to postpone their wedding celebrations and are finally able to celebrate.
"Let's gather together."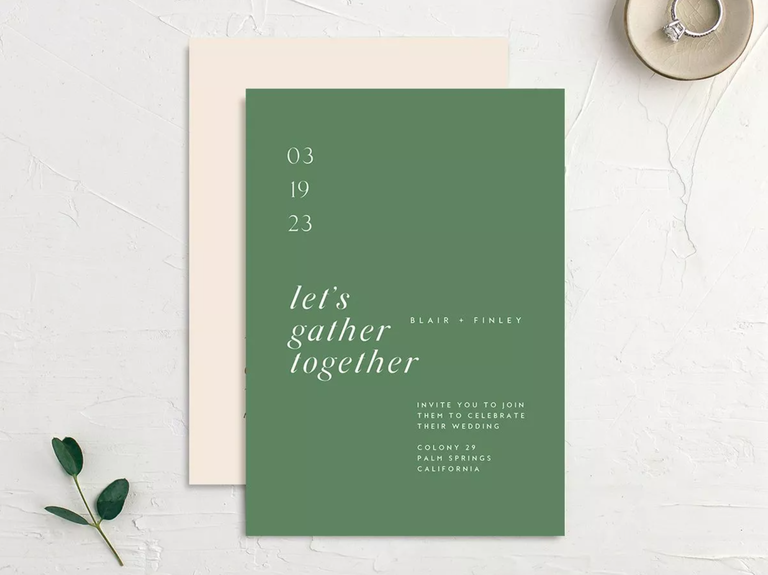 If you want your invites to have a casual, laid-back feel, try this wedding invitation saying. It takes the focus off of the actual wedding itself and focuses more on celebrating together.
"I have found the one whom my soul loves."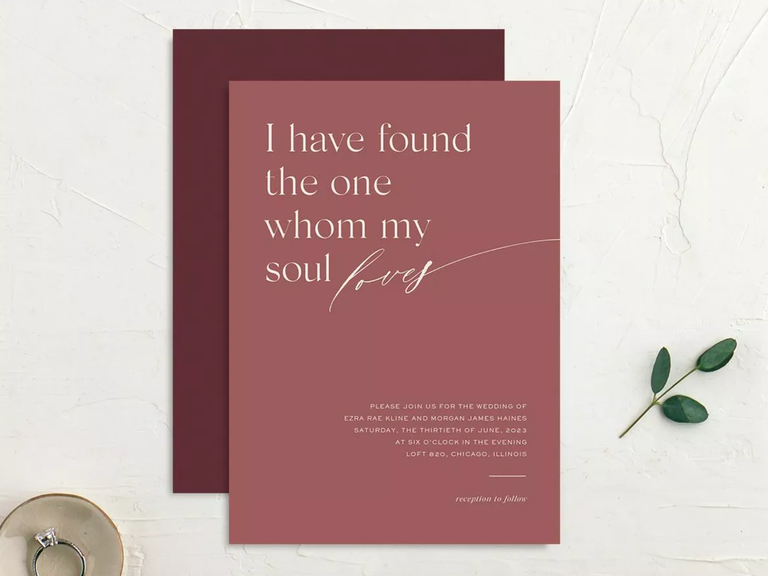 Looking for a romantic bible verse to use on your wedding invites? This quote from Soloman 3:4 is it. It's sweet and simple—perfect for your celebration of love.
"We said yes."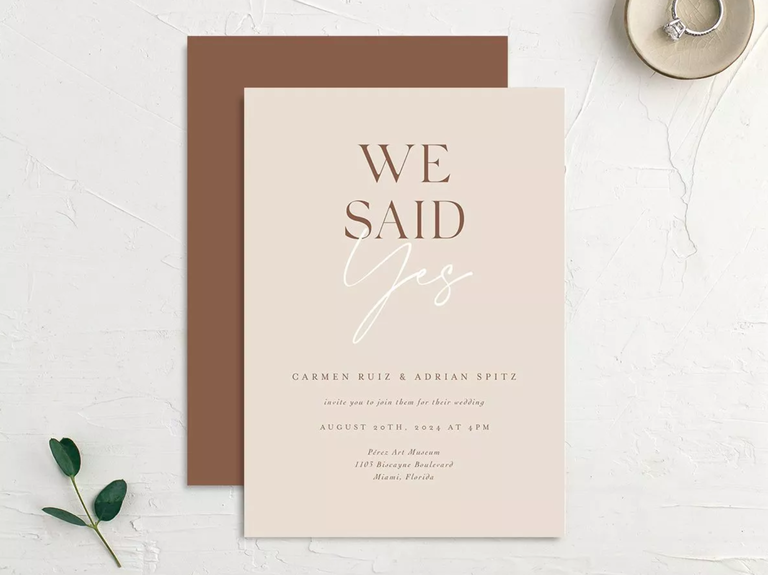 Get the festive feelings flowing with this adorable wedding invitation saying. Upon reading it, your guests will be ready to toast to your extraordinary love story.
"We do—to have and to hold."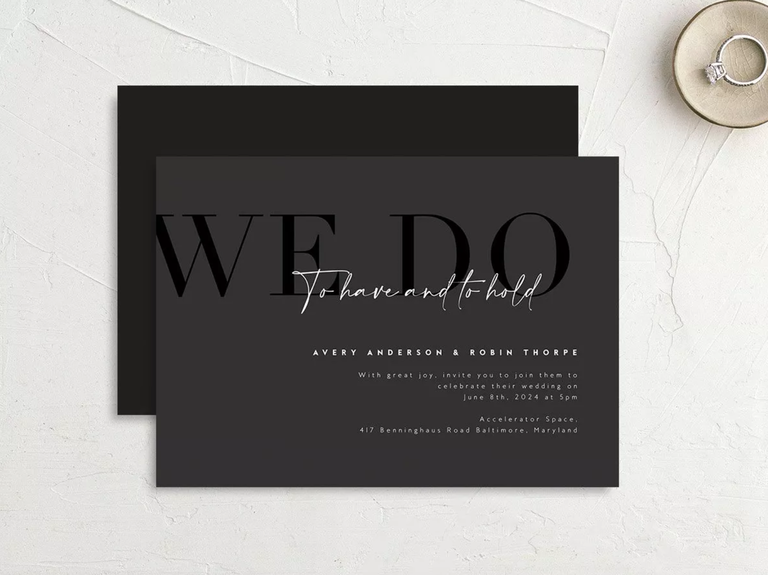 What's more lovely than hinting at your vows on your wedding invites? This sentimental saying will give your guests all the feels.