A Groom's Style Checklist
Worried that with all the wedding hoopla, you'll forget those wedding cufflinks? Read on for a groom's checklist of everything you'll need.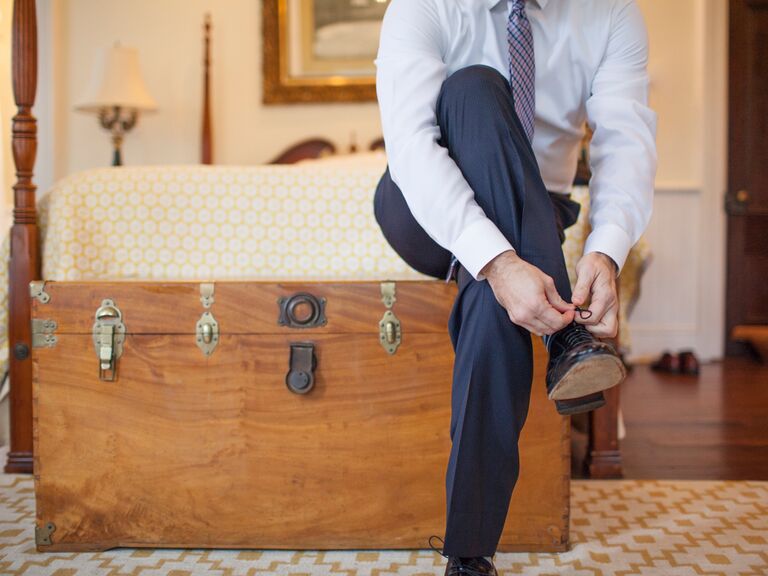 Jade and Matthew Take Pictures

With all that wedding planning crowding your mind and your bride's focus on her outfit, you might forget about all the formalwear. But looking good requires planning ahead. How to go about it? Follow this to-do timeline.
Three Months Before
Decide what you and your groomsmen will wear. Go tux shopping or reserve rentals for you and your posse.
One Month Before
If you're buying a tux, make sure alterations are finished and go in for a final fitting. If the tux still doesn't fit quite right, the shop will still have time to make final alterations.
One Week Before
Get a haircut!
Get a manicure (no polish -- just clean, buffed nails).
Buy new boxers for the big day. Surprise your bride with something stylish.
One Day Before
If you're renting, pick up your tux. Make sure your groomsmen, your father, and the ring bearer get their tuxes, too.
If you're renting or buying, double check that all the elements are included in the correct size: jacket, trousers, shirt, tie, vest or cummerbund, shoes, cuff links, and dress socks.
If you will be dressing somewhere other than at home, pack up your outfit and grooming products today. You should gather:
Hair products
Deodorant
Tie
Cummerbund or belt
Vest
Coat or jacket
Cuff links and studs
Dress shirt
Watch
Trousers
Undershirt
Underwear
Socks
Shoes
And last, but definitely not least, the wedding rings
The Morning of the Wedding Day
Get a close shave.
Take a hot shower.
Remember your deodorant! This might be a high-sweat day.
Remember the rings. Place them in your pocket to entrust to your best man sometime before the ceremony.
If possible, ask your mother to pin on your boutonniere. This mother/son moment will bring a tear to her eye.
Breathe slowly and deeply, take one last look in the mirror, and get ready for your lovely bride's entrance.