What Not to Wear to a Wedding: A Definitive Guide
Avoid a fashion faux pas by following these universal wedding guest style rules.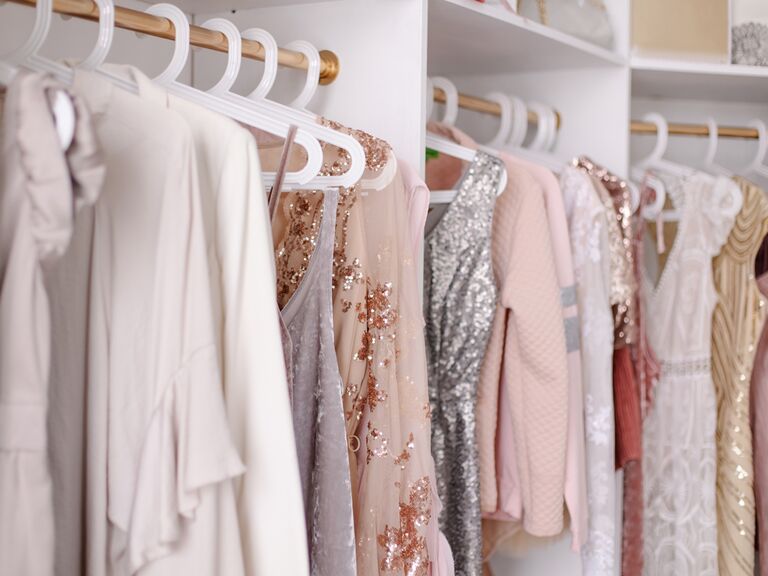 Da Antipina / Shutterstock
We have included third party products to help you navigate and enjoy life's biggest moments. Purchases made through links on this page may earn us a commission.
You've received the wedding invitation and naturally one of the first thoughts that comes to mind is, "What will I wear?" These days, the dress code as a guest can be pretty confusing, especially when weddings are less traditional and more creative than they used to be (think: jumpsuits instead of bridal gowns and bridesmaids dresses that can actually be reworn — gasp). While this means wedding guest attire also has a little more flexibility, but that doesn't mean breaking out your favorite jeans and t-shirt. There are still a few universal rules that you should follow, no matter if the invite says it'll be a casual wedding or a black-tie affair. Myka Meier (@mykameier) of Beaumont Etiquette and author of Modern Etiquette Made Easy says you want to think about four key factors when it comes to figuring out what not to wear to a wedding: dress code, venue, weather, and time of day. Below, she shares the ultimate guide to wedding attire.
What Not To Wear To a Wedding: The Same Color as the Wedding Party
Usually if the wedding invitation incorporates certain colors, that's often the first indication of what the color scheme of the wedding will be. For instance, if you notice the invite has a blush trim and a gold envelope, those are likely the colors the bridal party will wear. "Sometimes it's hard to predict, and you certainly don't want to bog down the bride and groom with questions about attire," says Meier. But, if you're attending a pre-wedding event, like a bridal shower or bachelor party, it could be a good opportunity to quickly gather some intel from a bridesmaid or a groomsmen about the color scheme. If you can't figure it out, don't fret. "While you don't have a lot of space in your evening bag or pocket for a full wardrobe change, you could bring something like a sparkly shawl, jewelry, or a bow-tie that instantly transforms your look so you can set yourself apart from the wedding party if you happen to be wearing the same color," says Meier.
What Not To Wear To a Wedding: White or Another Color the Bride Could Be Wearing
"Unless it explicitly states on a wedding invitation that guests should be wearing white, they should avoid the color, as it could be seen as if you're trying to take attention away from the couple," says Meier. "This also goes for variations of white, like cream or ivory. What might look like a cream dress to you, might look white dress in photos," she adds. This rule also applies to colors commonly worn as the bride's wedding dress in other cultures. For instance, the bride traditionally wears red at a Chinese wedding, so it's helpful to do a little digging on the couple's culture or background if you think that may come into play on the wedding day.
What Not To Wear To a Wedding : Outfits That Show Too Much Skin
You want to look and feel your best at a wedding, but it's not the time to show off your body. Pay close attention to location of the wedding ceremony — for instance, is it taking place at a place of worship with a modest dress code? Be mindful of plunging necklines, strapless dresses, slits, see-through fabrics, super-short hemlines and open-back details that might be too risqué for the occasion.
What Not To Wear To a Wedding: Clothing and Colors Outside of the Dress Code
"We follow dress codes to show respect to the couple. It's arguably the most important day of their lives, so you always want to dress appropriately for the occasion," says Meier. "Even a black dress can feel inappropriate if it's a casual summer wedding where everyone else is wearing pastels," she adds. Do a little leg work to understand what you should wear to a particular wedding ceremony. The couple will often state one of the following dress codes on the invitation. A quick breakdown of some of the most popular dress codes is below:
White Tie: "This is the dress code for a very formal wedding. If you choose to wear a dress, a floor length gown or ballgown in structured fabric is appropriate. For example, an all-cotton dress is too casual. It's traditional to pair your ballgown with long gloves, high heels, and sometimes you even see tiaras. White-tie events also require tuxedos with tails, a white vest, formal white shirt, a bow tie, and polished shoes," says Meier.
Black Tie: "This usually means it's an evening event. It's a step down in formality from white tie, but you still want to go with a floor-length dress. If the venue seems like it's not as formal, you can get away with a shorter dress length. With a black-tie wedding, you can play around with color and patterns more," says Meier. Tuxedos are also traditional, but the white vest and bow tie can be swapped for a black one. "You can also play around with the tuxedo color for black tie. I've seen navy and maroon tuxedos, which look beautiful," she says.
Formal/Black-Tie Optional: "This wording basically means the bridal couple wanted black tie, but they didn't want to put pressure or a financial burden on the guest. There's a little more flexibility if you'd like to wear a dress — you're going to see anything from a floor-length ballgown to a cocktail dress. You could wear either a tux or a formal dark suit. Since this is likely an evening event, you can also play around with a little sparkle. When in doubt with black-tie optional, go more formal," says Meier.
Cocktail: "This is the most flexible of dress codes and it's best to take a look at the venue online to determine how formal the wedding might be. Is it a beach wedding? Then, my guess is that there won't be a lot of ties. You can incorporate more color with a cocktail dress code. I think a blazer and a pocket square is great with different colored trousers. Sometimes you see a full suit and tie if the wedding is at a country club. The shoe becomes less formal here, but definitely avoid sneakers and flip-flops— I'd say stick with loafers. For dresses, a maxi dress is appropriate, or you can do anything from a mid-length dress to a tea-length style to a cocktail dress. You have lots of options," says Meier. "This is also when you actually want to avoid going too formal. Never where black-tie attire to a wedding with a cocktail dress code, because you could be upstaging the couple," she adds.
Semi-Formal: "The time of day for this type of wedding is crucial. It's mostly the same rules as cocktail attire. However, if it's during the day, you can wear more casual fabrics, lighter colors, and daytimes accessories like a beautiful brimmed hat with wedges or flats. The hat comes off if it's an evening wedding, you'll want a more sophisticated shoe, and you can wear more sparkle if you choose. If you're wearing a suit, you don't necessarily need the blazer, but I would bring it with you, to be safe. There are no shorts, no sneakers — it shouldn't be confused for casual," says Meier.
Casual: "You get free rein here. Again, this is where it's important to look at the venue. If you're at a beach wedding, you're probably going to see shorts with a button down. Just make sure the shorts are long enough to be respectful. You might also see a lot of cotton dresses. Cotton is probably the most laid-back of all fabrics," says Meier. "If a couple invites you to a wedding with a casual dress code, it means they want you to be comfortable, but not like you rolled out of bed. Even if a wedding is relaxed, leave the sweatshirts, yoga pants, flip-flops and hoodies at home. I also still never recommend t-shirts — ever — for a wedding. But, I do think you could get away with dressy sneakers, just not the athletic kind," she says.
"If you're at all in doubt about an outfit, the best wedding etiquette is to either reach out to someone in the bridal party or even the wedding planner — or to simply avoid it," Meier says.