Wondering What to Wear to a Rehearsal Dinner? Read This Guide for Guests
All of your burning rehearsal dinner outfit questions answered by fashion experts.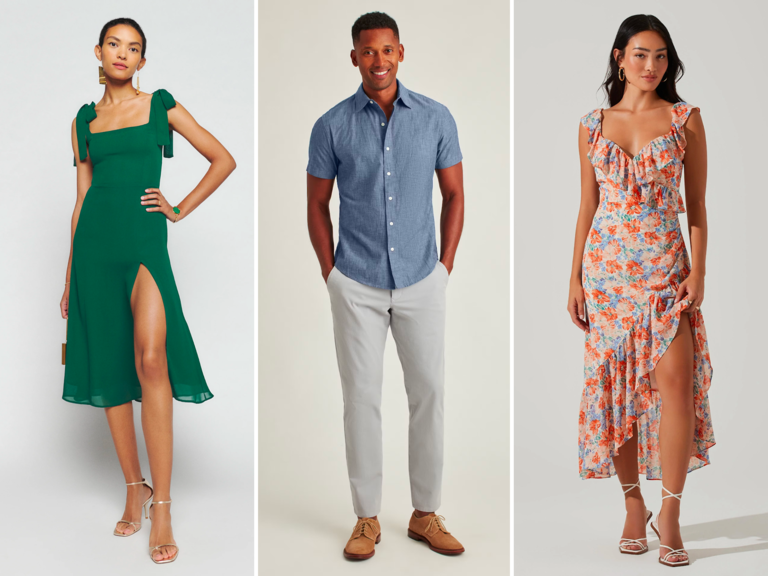 Photos From Left to Right: Reformation, Bonobos, ASTR The Label
We have included third party products to help you navigate and enjoy life's biggest moments. Purchases made through links on this page may earn us a commission.
So, your inbox is full of save-the-dates and wedding invites. Chances are a few rehearsal dinners are in your near future too.
If you've found yourself wondering what to wear to a rehearsal dinner, you've come to the right place. While there may not be an official dress code, the vibe of the event will depend largely on the venue. Whether you're headed to a casual barbeque in the couple's backyard or a black-tie affair at an upscale restaurant, there are plenty of ways to dress the part, and we're breaking them all down here. Keep reading to discover our top tips for picking out a rehearsal dinner outfit, along with shoppable looks for every type of venue. Then, head over to our guest attire guide to get inspiration on what to wear for the day of the wedding.
In this article:
What to Wear to a Rehearsal Dinner
As A Bridesmaid, Groomsman or Wedding Party Member
Rehearsal dinners are typically much more intimate than the actual day of the wedding. They offer a chance to mingle and get to know the couple's family on a more personal level. That being said, we recommend keeping your outfit more on the modest side. Even if the event is being held at a bar, the vibe will likely be very different than say, the bachelor or bachelorette party.
As a Parent or Family Member
As a parent or family member of the bride or groom, the rehearsal dinner offers the perfect chance to kick off the wedding weekend in style. The couple might have specific requests when it comes to your attire for the night, but if not, we recommend basing your wardrobe choice around the venue. Your attire might be slightly less formal than what you'll wear for the day of the wedding.
As a Friend of the Couple
If you're attending a rehearsal dinner as a friend, the same advice given to wedding party members applies. Like any wedding-related event, you should also avoid wearing white out of courtesy—though the bride may not even wear white herself, but hey, at the very least it will help you avoid any unwanted attention.
Things to Consider When Choosing Rehearsal Dinner Attire
1. Consider the location.
Before picking a rehearsal dinner outfit, you'll want to consider the setting. "Oftentimes, especially for destination weddings, couples are looking to infuse elements of the locale into their events. Couples who go out of their way to consider these types of details are hoping that their guest indulge and participate. You can also fill in a lot of blanks if you do a quick Google search of the location," Lori Conley says, general merchandising manager at BHLDN / Anthropologie Weddings. What if there's no explicit dress code and you're unsure about the vibe of the venue? "If no formality is specified, stick to semi-formal/cocktail attire for a rehearsal dinner no matter the day or venue type. Simply set aside your denim for the post-wedding brunch and save the ball gown for a black-tie event where it's required," says Blaire Walsh, style director of Rent the Runway.
2. Err on the side of dressy.
When in doubt, experts say it's always better to lean towards a more formal rehearsal dinner outfit. "My advice is that it's always better to be overdressed than underdressed," Walsh says. "Keep in mind that you are going out to socialize and celebrate loved ones so bring your A-game and lean towards styles that are fun, festive, and seasonally appropriate." There are certain items of clothing that should be considered off-limits for a rehearsal dinner. "Never be the guest that is too casual—jeans are off the list, as are sneakers. It's always better to opt for a tad too dressed up than to look sloppy," Conley says.
3. Don't forget to accessorize.
Fun accessories can take a closet staple such as a jumpsuit or a little black dress to the next level. "Accessories can also help pull together the perfect look. Have fun with a bold earring or bracelet stack since you may have a more pared-down look for the wedding itself," Conley says. Adding the right jewelry can give your rehearsal dinner outfit a more formal or playful vibe depending on how you decide to accessorize.
Rehearsal Dinner Attire By Venue
For an Upscale Restaurant, Hotel, or Country Club
An upscale venue deserves an upscale outfit (or at least one that offers the appearance of being so). A rehearsal dinner hosted at a nice restaurant, hotel or country club will likely have a formal dress code. Your attire might look similar to what you plan on wearing the day of the wedding. Of course, it goes without saying that jeans, loungewear and overly revealing clothing are typically a no-go for this type of event.
BHLDN Leila Deep-V Flutter-Sleeve Satin A-Line Gown
As a formal take on the classic 'little black dress', this satin maxi gown is guaranteed to become your new go-to for formal events. Available in both standard and plus sizing, it's a standout option for the rehearsal dinner or wedding day.
Indochino Highworth Black Suit
No matter the occasion, you can never go wrong with a classic black suit. We love this 100% wool option, which can be custom-made to your own unique measurements.
For a Cocktail Bar, Winery or Tasting Room
When it comes to events hosted at a cocktail bar, winery or tasting room, the dress code can be a bit more confusing. Our best advice is to go with semi-formal attire. "Stick to styles that are rich in color, and have that wow factor. Silks, dramatic sleeves, or unique necklines are attributes to look out for when on the search for a semi-formal rehearsal dinner style", Walsh explains.
Reformation Twilight Dress
This ultra-versatile look can be dressed up or down depending on where the party is taking place. Pair it with sandals if you're headed to an outdoor winery, or with heels for an upscale bar.
Banana Republic Tailored Fit Sharkskin Jacket and Trouser
Pro tip: you can rock your wedding guest attire for semi-formal events before the big day. Just swap out your button-down with a sold-colored tee and throw on a pair of classic white sneakers. We love this dark grey option made from soft, wrinkle-resistant fabric.
For Brewery, Tavern or Pub
"I take a semi-casual approach to this type of wedding rehearsal dinner. Pants and a button-down shirt or a semi-casual dress, including midi and mini lengths as well as fancier feeling sundresses," Conley says. "I also love an elevated jumpsuit because it's a comfortable and approachable silhouette that is instantly made more glam in the right fabric, color or details."
Lulus Moment for Life Black Halter Jumpsuit
A jumpsuit is a great alternative to a dress for a more casual setting—not to mention, they're also ultra-comfortable! This black halter-neck option is perfect to have on hand if your calendar is full of wedding-related events.
Harbor Bay Easy-Care Plaid Sport Shirt
Here's a big and tall option that will quickly make its way into your wardrobe rotation. Available in a wide variety of sizes, this plaid button-down offers a timeless look you're sure to love no matter the occasion.
For a Backyard Barbeque
If the event is being held at a more laidback venue, such as someone's home, consider this your invitation to come as you are. Walsh explains that, "Casual rehearsal dinners allow guests to have a bit more flexibility and the option to choose from subtle prints like micro florals and more low-key fabrics like cotton or knit."
Abercrombie Smocked Waist Tiered Mini Dress
A sun dress is a great way to look put-together while still keeping with the casual dress code. We love this smocked option, featuring a V-neck, flutter sleeves and a charming floral pattern. It's conveniently available in standard, petite and tall sizing.
Bonobos Soft Everyday Tee
Keeping it casual? A classic tee and a pair of jeans is the way to go. Give your look a slightly elevated touch with a pair of trendy sneakers or lace-up oxfords.
For a Cafe or Bistro
For a daytime event, we recommend dressing as you would for a weekend brunch. Think: somewhere between semi-formal and casual. Midi dresses and polos make great options. Jeans could even be appropriate if dressed up with a nice top.
Reformation Andra Linen Top
Our formula for the perfect daytime event look? A dressy blouse, jeans and a pair of kitten heels! This baby blue option, with puff sleeves and a sweetheart neckline, would lend itself nicely to a cafe or bistro setting.
Banana Republic Factory Luxe Touch Performance Polo
To strike a perfect balance between casual and dressy, opt for the classic combination of a polo and dress pants. This option, made from 100% cotton, offers a sleek and modern look you're sure to love. Plus, it's also available in black!
For a Garden, Beach or Other Outdoor Venue
For an outdoor event at a garden or beach, keep things classy while still prioritizing comfort. Footwear is an important factor to consider when walking on sand or grass. You'll want to opt for a pair that won't sink into the terrain in the event that you're up on your feet during cocktail hour.
ASTR The Label Mahala Floral Sweetheart Ruffle Midi Dress
Heading to the beach for a rehearsal dinner? This tropical-printed midi dress is a fitting option for the occasion. It can easily be dressed up or down depending on your choice of shoes and accessories.
Bonobos Stretch Riviera Short Sleeve Shirt
It's no mystery why this short-sleeved button-up is a best seller. Not only was it designed with comfort in mind, but it's also available in a wide variety of colors and prints. Pair it with your favorite pair of chinos or shorts for an outdoor event.