A Complete Guide to Wedding Tuxedo and Suit Rentals
Plus, our favorite places to rent the perfect outfit for your big day.
We have included third party products to help you navigate and enjoy life's biggest moments. Purchases made through links on this page may earn us a commission.
It's no secret that weddings can be expensive. Luckily, though, there are plenty of areas where you can save some extra cash—especially when it comes to your attire. Buying a brand new suit or tuxedo can be a lofty purchase, especially if you aren't sure that you can repurpose it in the future. As an alternative, wedding suit rentals are an affordable way to look great without breaking the bank.
If you're debating whether renting is right for you, consider this your ultimate guide to tux rentals. We've tapped the experts to answer the most common questions about how the process works, the benefits of a wedding suit rental, and the best retailers to find your perfect fit.
In this article:
Should You Opt for a Wedding Suit Rental?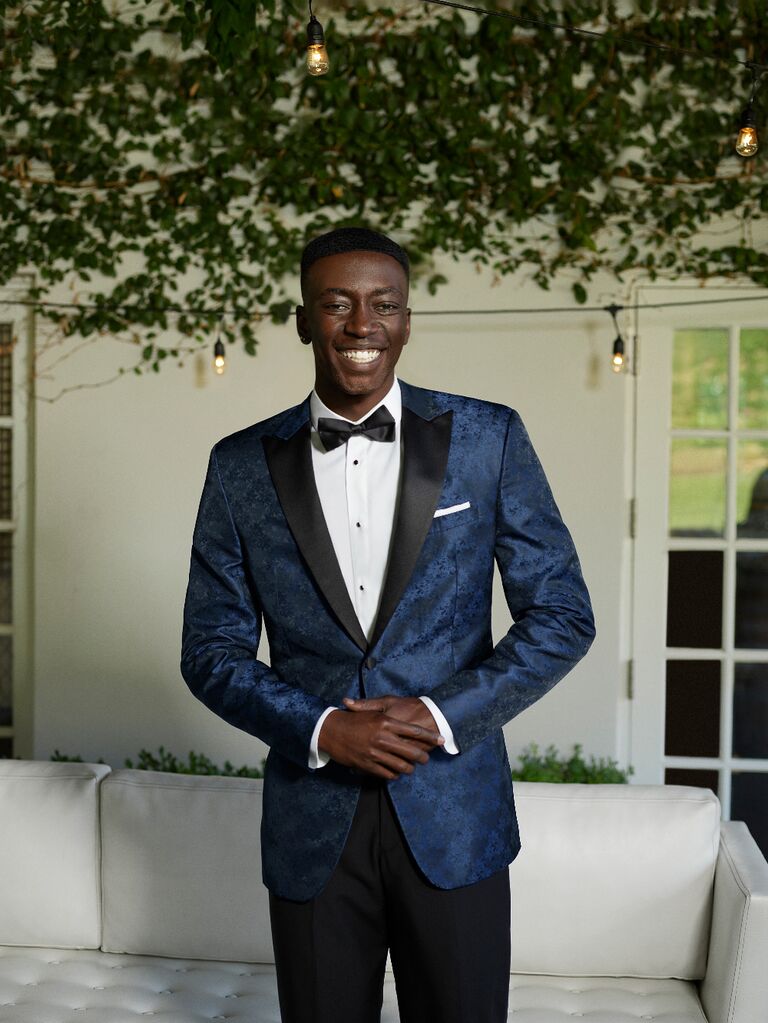 First, it's important to make the distinction between a wedding tuxedo and a wedding suit. Generally speaking, tuxedos are more formal than suits. A tux often includes satin fabric on the lapels, buttons and pant legs, as well as accessories like a cummerbund, waistcoat, suspenders and a bowtie. Because of this, tuxedos are generally associated with formal or black tie dress codes. As a result, they cost more to purchase. The price of a new tuxedo ranges from about $700 or $1,000 or more, depending on alterations and customizations. A brand new three-piece suit, while a less formal option than a tux, can cost anywhere between $300 to $800. Prices tend to fall on the higher end of the spectrum for custom suits too.
A variety of factors can influence your choice to buy or rent a wedding suit, with the biggest being cost. Unsurprisingly, it's more affordable to opt for a wedding tux rental. But beyond that, it's important to think about your typical fashion choices. Do you attend a lot of formal events? Would it be a cost-efficient choice to invest in a new suit or tuxedo that can be repurposed for future special events? Or, would you rather save money by renting, especially if you want a special outfit just for your wedding day? Take these questions into consideration when planning the perfect look for your nuptials.
Buying vs. Renting a Wedding Tuxedo or Suit: How to Decide
If you're on the fence about a wedding suit rental, we tapped industry pros to share the biggest benefits. "For a singular event, renting a suit or tuxedo is often the best choice for a few reasons," says Sharmila Sudhakar, General Manager of the Rental Business at Tailored Brands (which includes retailers like Men's Wearhouse, Jos. A. Bank and Moores). "The ability to easily coordinate group rentals, along with being able to access high-end designers at affordable price points, are major pluses."
Plus, renting is an ideal option if you don't need a tuxedo in your formalwear repertoire. "Many people only attend a few formal events per year, and buying a high-quality suit might not add up," explains Matt Gierl, CMO of The Black Tux. "Body shape and style preferences also change over time, and a lot of suits end up in the back of the closet—or worse, in a landfill. Renting makes a lot of sense for one-off events, especially because it allows you to change up your look each time."
Renting formalwear can also be a cost-effective option if you're envisioning a bold look that might not be easily repurposed in the future. "A special outfit, like a white tuxedo or a printed suit jacket, might not have a lot of versatility for future events," warns Robbie Suh, President of Robbie & Co. Men's Shop. "Plus, they can also be a costly purchase. One of the top benefits of renting is that you can save money on an outfit that may only be worn once."
And, as Gierl noted, renting comes with sustainable perks as well. If you're planning your big day with an eco-friendly mindset, a tuxedo rental cuts down on production and waste. "Sustainability and environmental consciousness are additional key benefits of renting, as the suit or tuxedo can be used numerous times," says Sudhakar.
How Much Does It Cost to Rent a Tux?
You know that buying a wedding suit or tuxedo can be pricey, so how much does it cost to rent a tux? Exact pricing varies among retailers, but wedding suit and tux rental costs generally fall between $70 to $300.
Some wedding suit rental companies also offer packages based on your needs. You may be able to rent just the jacket and pants for a lower cost, or you can opt-in for a full package that includes additional fashion-forward accessories like cufflinks, pocket squares, a bowtie or traditional tie, and suspenders.
However, if you fall in love with your rented tuxedo style, you're not totally out of luck—some companies have buy-back programs for those that want to keep the outfit. "Some of our items are eligible for our Rent to Keep program," Gierl explains. "This gives renters the option to purchase and keep the items they loved from their order." As you begin the wedding tux rental process, ask your stylist about purchasing options if you think you might change your mind.
How Do Online Tuxedo Rentals Work?
When you're ready to pursue a wedding suit rental—whether for yourself or your groomsmen or anyone else in the wedding party—it's important to begin the process as soon as possible. "We recommend that clients reserve their looks as soon as they know their wedding date, as well as the wedding colors or theme," Gierl suggests. "If a shopper is short on time, we'll do everything we can to outfit their event, but we recommend reserving ahead for the best selection of our most popular styles." Plus, as wedding season ramps up amid the pandemic, it's better to start early to get your preferred style. "During this unprecedented time of so many weddings taking place as we emerge from the pandemic, getting fitted early is a must," Sudhakar warns.
And, thanks to modern technology, at-home men's suit rentals have evolved to be easier and more convenient than ever. Instead of booking in-store appointments, you can choose to complete the entire rental process from home. "We recently introduced a Virtual Try-On feature on our website, allowing customers to upload a photo of themselves to see how they'll look in each of our styles," explains Sudhakar. "Once you've selected your styles, our seamless invitation process will guide each individual through getting fitted and placing their order." Adds Gierl: "We've trained our fit algorithm to accurately recognize similarities and match body types and traits to suit sizes. It only takes five minutes to find the right sizes entirely online with our fit quiz, and no tape measure is needed."
Some companies also offer free home try-ons, or they'll send sample swatches to help you find the perfect outfit. With so many added benefits, completing an online tuxedo rental is as convenient as can be.
Those who feel more comfortable shopping for a wedding suit rental in-store have that option as well. "We offer in-store measurements nationwide for those who prefer the in-person experience, and personal fittings at our own showrooms," Gierl explains. Adds Suh: "Booking an in-store appointment offers the most complete consultation because you can see and feel the options in real life."
Once you've completed the wedding tuxedo rental, you'll receive your suit a few days or weeks before your event to ensure the size is just right. It's for this reason that renting earlier is better, because it gives you more time to make adjustments if necessary.
Return policies differ among companies, but shoppers typically have a few days after the event to send the suit back. Read the fine print of your suit or tux rental agreement to return your menswear in a timely fashion.
The Best Places to Rent a Wedding Suit or Wedding Tuxedo Online
If you're convinced that a wedding suit rental is right for you, we've rounded up seven places to begin your shopping experience.
9tofive
You'll receive unique personalized attention at New York-based suit rental company 9tofive. "As a Black-owned small business, we care about forming productive and respectful partnerships with everyone along our supply chain," says Aaron Clanton. "As the founder and CEO, I am personally involved in each step of the process, from fabric sourcing to construction and tailoring, to your suit arriving at your door." The brand works with a tailor based in Thailand who hand-cuts and stitches every piece, which provides a high-quality and fashion-forward rental experience. "We make our suits in small batches so it's easier to pivot to new styles, trends and fabric options," Clanton adds. You'll also reap the benefits if you rent multiple times: For six or more rentals, the groom's suit rental is free; if three suits are purchased, the groom gets to keep his. And, while the shop is headquartered in Brooklyn, a partnership with GreenEarth Cleaning allows shoppers all over the country to access cleaning and tailoring services at participating stores.
The Black Tux
With a large online collection, The Black Tux boasts plenty of suit and tuxedo rentals guaranteed to fit any wedding theme, from classic dapper styles to fashion-forward colors and prints. "Big life events like weddings are exciting, but they can also come with a lot of stress and pull focus from what matters," Gierl says. "We want couples to be present for each other and to enjoy their wedding without worrying. Our Showroom and Customer Care teams are stylists and experts in the space, so whether you're visiting us in person or just need a little help as you plan from home, we're happy to provide advice and guidance. We also offer pre-styled looks to match the vibe or theme of any wedding."
Generation Tux
Without a brick-and-mortar store, Generation Tux relies on its eTailor to determine your perfect fit with a few questions about your body profile, including height, weight and jean size. Order your rental three months prior to your wedding date and you'll have plenty of time to flag any fit issues. Generation Tux will cover minor alterations up to $20, and if your suit requires more extensive fixes, they'll send you a free replacement.
Menguin
Menguin's fit guide walks you through how to find your sizes using clothes you already own. You'll begin with a few questions to create your body profile—then, you'll have the option to test swatches and get an at-home try-on free of charge. Once your outfit arrives, you have 48 hours to try it on and report any issues. If you need a replacement, Menguin will send it out within two days. Then, once your event is over, return your outfit within three days with the prepaid postage.
Men's Wearhouse
As one of the leading names in menswear clothing, Men's Wearhouse provides a completely unique renting experience. "We offer an unrivaled selection that will fit any wedding aesthetic preference," Sudhakar says. "Many styles and fits within brand partnerships are exclusive to us and include established fashion houses such as Vera Wang, Calvin Klein and Ralph Lauren." Clients have the option to shop at hundreds of store locations across the country, while a robust online fit experience allows the process to be completed from home too. And, as an added bonus, the company offers a Rental Guarantee program that will match any price found at a competitor.
Robbie & Co. Men's Shop
With a flagship store in New York City, Robbie & Co. offers personalized fitting experiences for wedding suit rentals—but if you're not local, they'll either ship your attire to your home or arrange for one-time in-store pick-up. With a variety of rental packages available, you can get a suit and all of the necessary accessories without going over your budget. And, for last-minute formalwear needs, the brand offers same-day or next-day black-tie rentals based on availability. "We prioritize service and attention for our clients," Suh says. "We offer the same conveniences of big-box retailers and online companies, but we also provide individualized care to make sure that each client is ready for their event."
Stitch & Tie
Stich & Tie offers a unique online rental experience thanks to their inclusive rentals created for all body types and genders. To ensure an accurate fit, you'll have to enter your specific measurements during the sizing process. (And if you're not sure how to take your measurements, watch the instructional videos that make measuring yourself virtually foolproof.) If your rental arrives and the fit is off, contact them within 48 hours for a replacement or be reimbursed up to $15 for minor alterations. For added peace of mind, try the at-home trial service and borrow a suit or tux for 48 hours for $40, which is later applied to your final costs if you decide to take the plunge.