A Complete Guide to Online Tuxedo Rentals
Not sold on splurging on a tux for your wedding day? These five companies will change the way you think about rentals—and won't break the bank.
We have included third party products to help you navigate and enjoy life's biggest moments. Purchases made through links on this page may earn us a commission.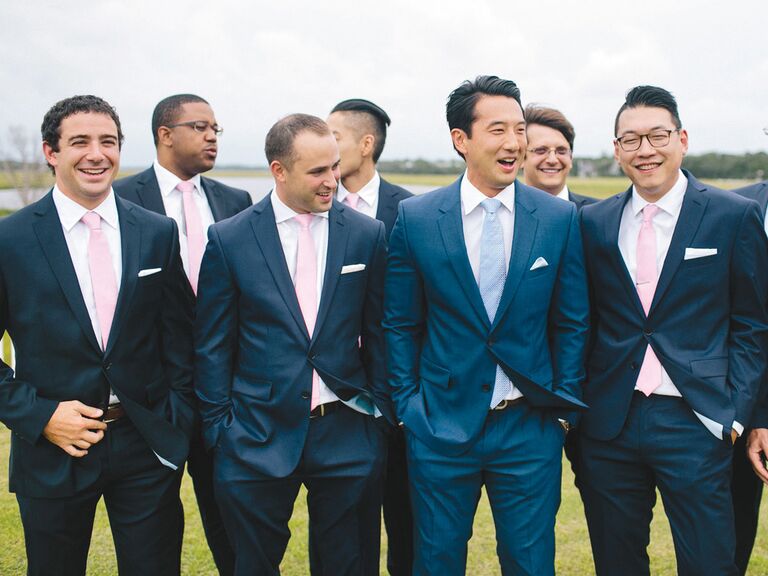 It's no secret tuxedo rentals have a bad rap for being ill fitting and outdated. Plus, you have to figure out where to rent a tux for your wedding and factor in the multiple trips to a rental shop to buy and later tailor your look (not an easy feat when you have an entire party to outfit). In the end, the whole wedding tux rental process can seem even more daunting. So what's the good news?
Don't worry, we got you. Brands like The Black Tux, Generation Tux, Men's Wearhouse and Stitch & Tie are reinventing the wedding tux rental game. With little more than a measuring tape, internet connection and spare half hour, you can pick out a tux or suit (plus shoes and accessories, if you're so inclined) and have it all shipped directly to your doorstep with these companies' online tuxedo rental services. Sounds great, right? You're not wrong. Below, our guide to finding the best place to rent a tux for a wedding using the new way to rent formalwear.
The Black Tux
The Selection: With the largest online tuxedo rental collection of the bunch, The Black Tux boasts 39 suit and tuxedo rentals guaranteed to fit any and every wedding style. The Black Tux offers options in tried-and-true neutral shades, as well as fashion-forward colors and prints.
The Fit: Most of The Black Tux's wedding tux rental styles come in a range of sizes, for a made-to-order look. If you don't know your size, use their Fit Formula to help find what's best for you based on answers to a few questions like your height and weight. You can also visit any one of their 21 showrooms across the country to be measured in person. Your outfit will ship two weeks prior to your wedding, so plan ahead and secure your rentals at least three months in advance. That will give you enough time to make alterations (should they be necessary). The Black Tux will cover minor fixes to jacket sleeves and pants, up to $15 with a receipt. If the thought of renting a tux or suit without first seeing it in person makes you nervous, take advantage of The Black Tux's free, at-home try-on. You'll get to test drive one of their rentals for up to 48 hours for peace of mind before you commit.
The Process: The six-step rental process takes about 25 minutes to complete, including adding your measurements. You'll first choose your tux or suit, and a name for it (like groom). If you're looking to differentiate your best man's look from the rest of your groomsmen, this will help keep you organized. Next, build your outfit with a shirt, tie, shoes and accessories. Then add all your event details and enter your measurements. If you don't know what your size is, use their guide. Shipping is free, unless you need it expedited, which can run from around $20 to $40. Once your event is over, you have three days to return the rental with prepaid postage.
Standout Service: If you're looking to make a serious fashion statement at your wedding (do it. iIt's your day too, after all!), The Black Tux offers plenty of unexpected suiting options like mixed tartan prints, gingham, oversize pinstripes and rose-colored jackets.
Price: From $95, TheBlackTux.com
Generation Tux
The Selection: While Generation Tux has a smaller lineup of formalwear styles with a selection of 21 suits and tuxedos in classic shades like blue, gray and black, its extensive collection of accessories more than makes up for the difference. You can choose from an assortment of neckwear, socks, cuff links, pocket squares, suspenders, belts, tie bars and even satin flower lapel pins in a range of colors and prints—you know, the trendy add-ons that will guarantee you and your guys look extra dapper.
The Fit: Without a brick-and-mortar store, Generation Tux relies on its eTailor to determine your perfect fit with a few questions about your body profile, including height, weight and jean size. Order your rental three months prior to your wedding date and you'll have plenty of time to flag any fit issues. Generation Tux will cover minor alterations up to $20, and if your suit requires more extensive fixes, they will send you a free replacement.
The Process: The first order of business to get the best tuxedo rental from Generation Tux is creating an event on the website. Once that's done, enter your measurements using the instructional videos. During this step, you can also set up a free at-home try-on or order free fabric swatches if you want to touch and feel the suit you're planning to order in person. Then you'll pick out your tux or suit, add accessories and check out. The whole process takes under 30 minutes. Once you secure your own rental, you can then invite your groomsmen to get started on their orders. Generation Tux's management system allows you, your partner or even your wedding planner to view the status of each groomsman. (So, if one of your friends is seriously slacking and hasn't been measured yet, you can follow up before it becomes a full-blown crisis.) And with friendly automated reminders of rental deadlines, all of the stress of managing (read: nagging) your wedding party is out of your hands. Another plus: When five or more of your groomsmen rent tuxedos through Generation Tux, your outfit is free. Your rental will arrive two weeks prior to your wedding. Once your receive your rental, you have 48 hours to flag any issues. After your event, return your rentals within three days with prepaid postage.

Standout Service: In addition to killer accessories, Generation Tux also offers a solid selection of suits and tuxes in boy sizes—so even the most pint-sized members of your wedding party will look polished in photos.
Price: From $69, GenerationTux.com
Men's Wearhouse
The Selection: Men's Wearhouse is the go-to for off-the-rack designer suits for every style, but it also slays at online tuxed rental. There are 38 options to choose from, including looks for junior groomsmen and ring bearers. The selection is more traditional, with two- and three-piece suit and tux rentals in black, gray, blue and tan, plus a variety of accessories.
The Fit: Use the Fit Evaluator offered by the online tuxedo rental service at Men's Wearhouse to get precision sizing in no time (in fact, they tell us it will take less than 60 seconds). Just like the other services, Men's Wearhouse tells you how to get accurate measurements for your wedding suit so that you can make sure you get the right fit. As always, order as early as you can so you have time to troubleshoot. Men's Wearhouse recommends 4 months in advance, but 15 days in advance is the bare minimum. If an item doesn't fit right once you get your suit, they'll send a replacement right away or you can get fitted at a store.
The Process: Your rental will arrive seven days before your event, but you should place your order at least 15 days in advance (if you're cutting it super close). Start by selecting a pre-styled outfit, or build your own look by choosing a suit or tux and adding accessories. Then specify the type of event you're renting for and the date before entering your measurements and checking out. Similar to Generation Tux and The Black Tux, Men's Wearhouse offers an online group management tool to help you keep tabs on your wedding party. And, if five or more of your groomsmen rent suit or tuxedo packages, you get a $400 shopping credit toward the balance of your outfit. After your event, you only have one day to return your rental, but you can either use a prepaid shipping label or return it to any store location.

Standout Service: Men's Wearhouse hits the mark with their size-inclusive range of rentals, with jackets going all the way up to 70 long and pants that go up to a 70-inch waist.
The Price: From $100, MensWearhouse.com
Menguin
The Selection: While Menguin offers slightly fewer options with 20 tuxedos and suits in its collection, it offers a variety of different traditional styles and colors, like black, blue, gray, white and tan.
The Fit: Similar to Generation Tux, the entire fit process is done online. Then, their fit guide walks you through how to find your sizes using clothes you already own. You'll have to answer a few questions to create your body profile, including your age, height, weight, shoe and jean size. If you're ordering for junior groomsmen or ring bearers (Menguin's sizing starts at 3T for most styles), you'll have to enter their exact measurements.
The Process: The five-step process begins by selecting your tux or suit and then building the rest of your outfit with a shirt, shoes and various other accessories. You'll then create an account, then an event, and then go through the measurement process. Like the other companies listed, you can follow the provided directions to measure yourself or have a local tailor do it. It's best to rent your outfit at least 16 days in advance, but if you have a shorter lead time you can contact their customer service number for help. Once your outfit arrives you have 48 hours to try it on and report any issues. If you need a replacement, Menguin will send it out within two days. Once your event is over, return your outfit within three days with the prepaid postage.

Standout Service: Looking to match your groomsmen to that exact Pantone color of the year or another specific shade? Menguin offers up to five complimentary fabric swatches so you can see exactly what you'll be ordering, before you spend a dime. Just make sure you start the process early enough that you can get your swatches and then order your tux with plenty of time to spare before your wedding day.
Price: From $89, Menguin.com
Stitch & Tie
The Selection: Stitch & Tie has a collection of 27 suits and tuxedos in traditional shades, as well as a couple of bolder options like red and teal. Unlike other sites, they also have a classic black tuxedo rental specifically tailored for women.
The Fit: Stitch & Tie offers a range of sizes in slim and modern cuts. To ensure an accurate fit, you'll have to enter your specific measurements. If you're not sure how to take your measurements, watch the instructional videos that make measuring yourself virtually fool proof. If your rental arrives and the fit is off, contact them within 48 hours for a replacement or reimbursed up to $15 for minor alterations. For added peace of mind, try the at-home trial service and borrow a suit or tux for 48 hours for $40, which is later applied to your final costs if you decide to take the plunge. This is great news for women looking to wear a tuxedo, and this will be the best place to rent a tux for their wedding.
The Process: To avoid rush-shipping charges, start shopping for your rental at least 21 days before your event. After creating your account, build your custom look or choose from a selection of curated outfits, then enter your event date and add your sizes before checking out. Their group management tool can save different looks for each groomsman and even send out friendly reminders to place their orders. Your rental will arrive a week before your event date, and you'll have 48 hours after the event to return it. If you need to keep it longer (or forget to pop it in the mail), there's an extra fee.
Standout Service: No formalwear is complete without the right accents, and while Stitch & Tie offers the usual accessories to complete your outfit, its bespoke service is pretty innovative. It works like this: Mail in your fabric of choice, and they'll send you a custom bow tie, tie or pocket square within four weeks. Let your groomsmen choose their favorite print, or send in a swatch complementary to your bridal party's dresses to match.
Price: From $120, StitchandTie.com
Want more wedding-worthy tuxedos? Right here!