Home

Rev. & DJ CherishTheLuv
About this Vendor
Officiant and DJ, Cynthia CherishTheLuv Malaran
I coordinate surprise proposals, then I DJ and officiate the weddings! I have been DJing events and weddings, and as an ordained minister I write humorous and memorable ceremonies that friends and family talk about. Other officiants have asked if they could copy some of my lines, and I say sure! I just want everyone to have laugh, cry, and have a wonderful day at the start of a forever marriage. I light up inside when I do weddings— it warms me to the core knowing that one of the happiest days of my life is the happiest day of yours. I read out of a lovely heart-shaped binder made of flowers that I handmade for that special touch folks adore. I hope to speak with you! My rates start at $500 for officiating, and $1500 for DJing. Packages/Discounts avail. Visit www.djcherishtheluv.com
Details
Civil Union, Commitment Ceremony, Elopement, Interfaith Ceremony, Non-Religious Ceremony, Religious Ceremony, Same Sex Ceremony, Second Wedding , Vow Renewal Ceremony
Newlywed Life, After The Wedding, Getting Engaged, Premarital Counseling, Ceremony, Wedding

Reviewed on

12/11/2016
Ross D
I could not have planned or wrote a more personal ceremony if I had done it myself! Cynthia went above and beyond to get to know each other personally and ask questions that allowed for a fun and memorable ceremony for all included. Many laughs and crying all around!
---
Reviewed on

10/13/2017
Valerie G
Cynthia is an incredible human being and the most fabulous officiant ever. Within five minutes of our first conversation, I knew we had found the person to marry us. In fact, she was so great we also hired her to be our DJ! (See her DJ page for that review, sneak preview, she... Read More killed it!!) The level of care and amount of time she put into making our ceremony so unique and personal to us was extraordinary. She gave my husband and I assignments to help her get to know us inside and out. Just working on the assignments together made us closer as a couple. The ceremony itself was beyond what we could have ever hoped for. It was so personal to us. There were even a few surprises that really touched us. The ceremony resulted in lots of happy tears and laughs from our guests; the majority of whom have not stopped raving about the ceremony and our amazing officiant. My now husband is terrified of public speaking. Knowing this, Cynthia managed to keep the ceremony short while still fitting in everything we threw at her. Astonishingly, the way Cynthia conducted the ceremony had my husband utterly at ease. He told me after how shocked and happy he was that he was able to truly enjoy the ceremony and be present in the moment. We both cannot thank Cynthia enough for that. In the process of getting to know us we also got the chance to get to know Cynthia. She is nothing short of incredible. She is an inspiration to all and an utter joy to be around. Cynthia was our officiant and is our friend for life.
---
Reviewed on

12/31/2016
Aunt Lynne C
I recently attended a wedding officiated by Cynthia Cherish Malaran. It was one of the most beautiful, personalized ceremonies I have ever heard (I am 68 and have attended a lot of weddings!). She spoke about each of the grooms and also passed their tied together rings among all... Read More the guests for each of us to add our blessing. Her benediction to the couple (and guests included) was so meaningful. I did not learn until later that this was Cynthia's first wedding. Couples who choose her will be in for a lovely service.
---
Reviewed on

12/31/2016
Jordan B
She knows how to capture the love that couples have and is able to share it with their friends and family. You will walk out of the ceremony feeling like you just got the best hug ever....that's Rev & DJ Cherish the luv.
---
Reviewed on

12/31/2016
Jen M
DJ Cherish the Luv was the best!! She really brings the warmth and love. She gives that extra to make things truly special and unforgettable.
---
Reviewed on

12/30/2016
Jesse A
Was my fiancée's guest at her girlfriend's wedding in San Francisco. Good people, fun crowd, but what really made my night was the music. I ate a bite of dinner and heard the music. Stood straight up grabbed my girl's hand and that was it. All night long we danced laughed and... Read More said more than 20 times "I love this song". With having an eclectic taste for music it's hard to get me out all night on the dance floor. In fact I was sad when the music stopped and knew I wanted to hear more. We are one of the three last couples still dancing at the end of the night and it's all on the wedding video. So Cynthia will be our DJ FOR LIFE AND OUR WEDDING in July in San Diego. —Jesse
---
Reviewed on

12/28/2016
Maike B
A few weeks ago, I was invited to attend my friends Ross' and Russel's wedding. To be honest, weddings are not really my thing, and I dreaded the day a little bit. But how lucky was I to be part of it. The wedding was the most wonderful event, and that is in great part thanks to... Read More Rev. CherishTheLuv . The ceremony she created was beautiful, so personal, it felt as though she had been a part of the couple's life for years. The stories she shared of them brought a smile to people's faces, as well as tears of emotion. DJ CherishTheLuv created a strong, positive memory that will forever stay in my heart.
---
Reviewed on

12/27/2016
JoAnn G
You'll get a truly heartfelt ceremony written by Cynthia. She really got to know my friends and wanted the absolute best day for them. She really cares... about both the music when she DJs and in writing the ceremony. Big heart.
---
Reviewed on

12/16/2016
As Rev. Cherishtheluv brought our wedding couple together with the most moving and profoundly beautiful words of bond and joyful love, I couldn't hold back the tears - the most moving ceremony EVER - and I have been to a few weddings in my time as a senior. I would recommend... Read More her big red heart speciality for reminding us love is still the most precious gift and when we find it with another it is a time to celebrate. And for that, the one and same DJCherishtheluv asks you to wipe away your happy tears and get on that dance floor and let the joy flow in all directions. A magnificent wedding party, What a unique gift and talent Rev/DJ Cherishtheluv brings to your event.
---
Reviewed on

12/16/2016
Brad Z
Cynthia is great! As an officiant, she brings joy, energy and experience to a wedding. You could say she performs the service from the heart and it transcends to everyone. I worked with her in Palm Springs and she provided audio during the ceremony and created a heart momento... Read More for the couple. If you're looking for the right efficient for your wedding, hire Cynthia. You won't regret it!
---
Reviewed on

12/13/2016
I first met Rev & DJ Cynthia at my brother's rehearsal dinner. I was instantly taken with her and her genuine excitement to bring my brother and his partner together in matrimony. She is a compassionate and thoughtful professional who is also super fun! I believe she truly loves... Read More bringing people together and isn't that they kind of person we want to marry us?
---
Reviewed on

12/12/2016
We have such fond memories of the wedding officiated by Cynthia. She brought such warmth and humor to the ceremony. We loved the originality when she had both partners read what they loved about each other and the passing of the rings for blessings. It was a day to cherish... Read More and we thank her for that.
---
Meet The Owner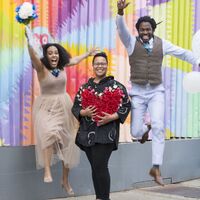 Rev. & DJ Cynthia "CherishTheLuv" Malaran
Radio Host, DJ, Author, Musician, and Party-Rockin' Reverend. Surprise Wedding Proposal Coordinator Have Music, Will Travel I'm new to The Knot, but not new to bringing out the joy in people, check out my site at www.djcherishtheluv.com Also, for some reason, a handful of my clients are having difficulties leaving reviews. The reviews either vanish or don't post. Please check out my other The Knot page for more reviews at https://www.theknot.com/marketplace/dj-and-rev-cherishtheluv-new-york-ny-1012464 or google DJ CherishTheLuv and read my reviews on Yelp and Wedding Wire.