5 Things You Need for a New Orleans–Inspired Wedding Parade
by Rachel Torgerson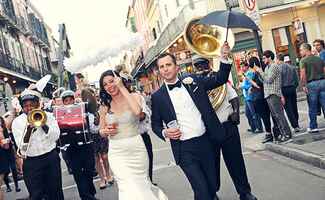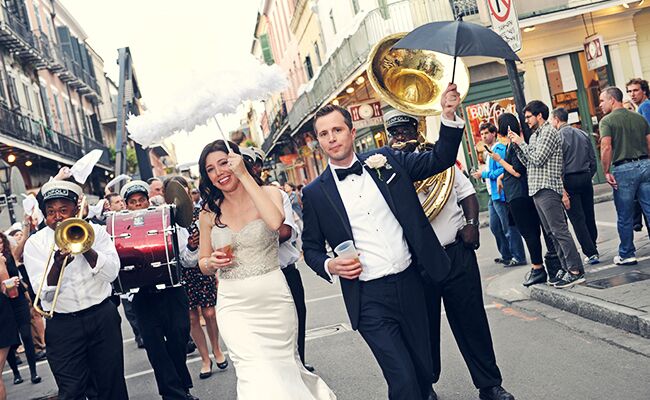 photo by
Lauren Carroll Photography
The second line parade is a New Orleans, brass band processional tradition that predates the Civil War. Modern brides and grooms usually incorporate this historic custom as a means to get between the ceremony and reception sites. The "first line" consists of the wedding party and the band (whoever paid for the parade permit), and the "second line" refers to any onlookers that want to join the party. In honor of Fat Tuesday and the end of Mardi Gras, we're rounding up the five things you'll need for the perfect second line parade.
1. The band, obviously.
You can't have a second line parade without the band. Some scholars believe that the tradition comes from West African circle dances, where children would form a circle around dancing adults. It was thought that later the circles straightened out into lines to form processionals for major events, like funerals and weddings. After the Civil War, these customs merged with military brass bands to form the modern second line parade.
From the album: Katie and John's Destination Wedding in New Orleans, LA
2. Colorful props.
From the Album: Katie and John's Destination Wedding in New Orleans, LA
The goal of the parade is to get as many people celebrating with you as possible. The more colorful and energetic your party is, the more likely you are to make a scene and have others join in. Traditionally, revelers twirl parasols and whip handkerchiefs down the street.
From the album: A Cheerful Yellow Wedding in New Orleans, LA
3. Custom bride and groom umbrellas.
From the album: A Quirky, Retro Wedding in New Orleans, LA
The most important props are the bride and groom's parasols. Traditionally, the groom carries a black umbrella while the bride spins her matching white one and both are decorated with feathers for extra pizzazz.
4. Fabulous masks.
Masks are an important part of New Orleans culture. In fact, during Mardi Gras, float riders are required to wear masks by law. Historically speaking, masks were a way for people of all classes to mingle together with no restraints.
From the album: A Glam, Peacock-Inspired Wedding in New Orleans, LA
5. An energetic wedding party.
Make sure your wedding party and all your guests get into the parade spirit!
From the album: A Candlelit Wedding in New Orleans, LA
Want more? Of course you do!
>9 Ancient Wedding Traditions From Around The World