35 Jazzy First Dance Wedding Songs
Jazz up your dance floor debut with a first-dance song that captures the elegance and energy of the party.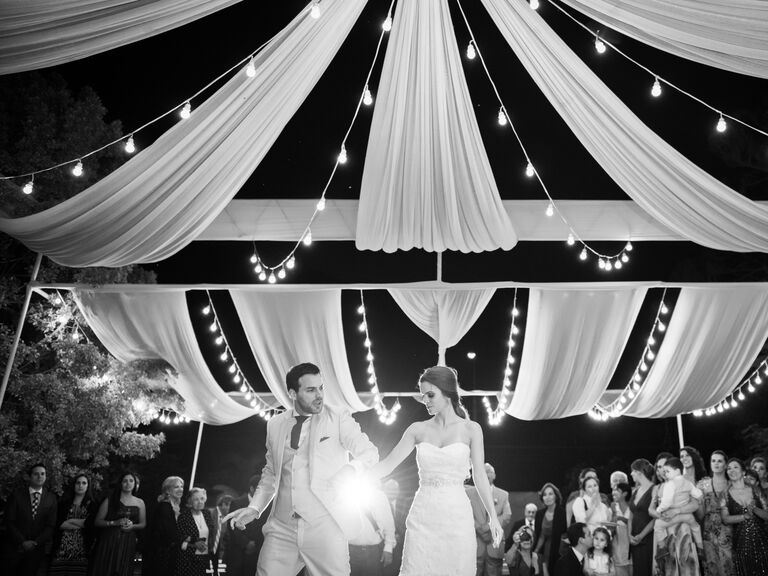 Maik Dobiey Wedding Photography

Can you see yourselves dancing cheek to cheek at your wedding, as if you were in a snazzy nightclub? Live jazz is a feature of today's most elegant weddings. Check out our list of 35 classic and contemporary tunes. Learning the fancy footwork's up to you.
1. "All The Way" (Frank Sinatra)
2. "Always" (Sarah Vaughan & Billy Eckstein)
3. "Because Of You" (Tony Bennett)
4. "Come Rain Or Come Shine" (Bette Midler)
5. "Come Rain Or Come Shine" (Frank Sinatra)
6. "Flamenco Sketches" (Miles Davis)
7. "Fly Me To The Moon" (Frank Sinatra)
8. "For Once In My Life" (The Four Tops)
9. "Giving You The Best that I've Got" (Anita Baker)
10. "I Get A Kick Out Of You" (Frank Sinatra)
11. "I'm In The Mood For Love" (Ella Fitzgerald)
12. "It Had To Be You" (Frank Sinatra)
13. "It's De-Lovely" (Sarah Vaughn)
14. "I've Got A Crush On You" (Linda Ronstadt)
15. "I've Got My Love To Keep Me Warm" (Ella Fitzgerald)
16. "Let's Do It (Let's Fall In Love)" (Louis Armstrong)
17. "L-O-V-E" (Nat King Cole)
18. "Moon Dance" (Van Morrison)
19. "More" (Bobby Darrin)
20. "My Baby Just Cares For Me" (Nina Simone)
21. "My Favorite Things" (John Coltrane)
22. "Night And Day" (Frank Sinatra)
23. "Our Love Is Here To Stay" (Harry Connick, Jr.)
24. "Same Ol' Love" (Anita Baker)
25. "Someone To Watch Over Me" (Frank Sinatra)
26. "Summer Wind" (Frank Sinatra)
27. "Sweet Thing" (Van Morrison)
28. "'S Wonderful" (Ella Fitzgerald)
29. "The Way You Look Tonight" (Harry Connick, Jr.)
30. "The Way You Look Tonight" (Frank Sinatra)
31. "They Can't Take That Away From Me" (Ella Fitzgerald & Louis Armstrong)
32. "Time After Time" (Tony Bennett)
33. "You Do Something To Me" (Frank Sinatra)
34. "You Stepped Out Of A Dream" (Sarah Vaughan)
35. "Your Love Is King" (Sade)
SOURCE
New York City professional DJ Nicole Batchelor, who has spun for celebrity clients such as Steven Spielberg, Alec Baldwin, and President Clinton, helped us compile this list. To book her, contact [email protected]