The Best Affordable Suits for Weddings and Wear to Buy Them
Need to look great at a bargain rate? These suits and retailers will have you looking your best for prices you wouldn't believe.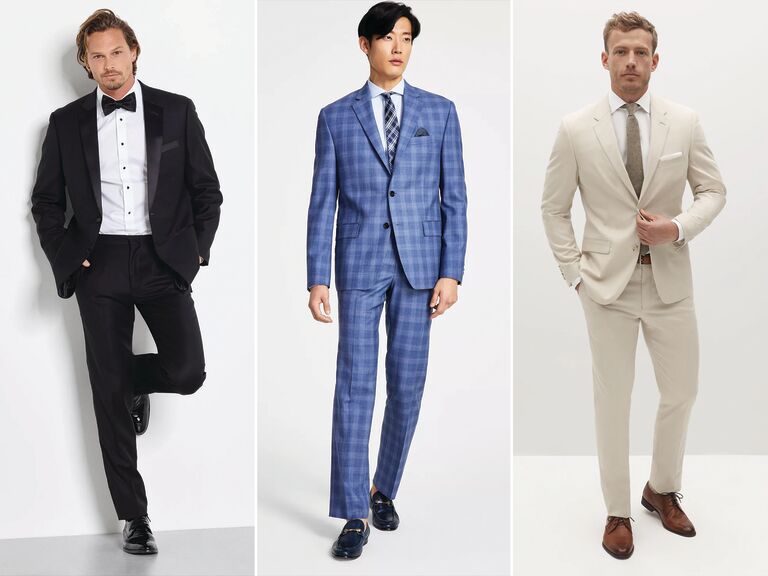 Photos, left to right: The Black Tux, Macy's, Suitshop
We have included third party products to help you navigate and enjoy life's biggest moments. Purchases made through links on this page may earn us a commission.
Buying a suit or a tux for a wedding can be an intimidating endeavor for many reasons (especially if you're the one walking down the aisle). The average price of a suit is very much one of them. Your average suit rings up around the $400 mark, and many are pricier. Fortunately, the world of affordable men's suits is a vast one (in this case affordable means anything below the average, and especially anything around the $150 range). Looking your best does not and should not require half a paycheck or more. There are plenty of options (many of which lean into our favorite suiting trends) out there that will have you looking great at a budget-friendly rate.
In this article:
Best Affordable Men's Suits for Weddings
Is that save-the-date on your fridge right around the corner? Are you the one sending the save-the-dates out and trying to figure out how to look great walking down the aisle without decimating your wedding budget? Look no further than these killer suits that all come in at affordable prices.
Jos. A. Bank Executive Fit Suit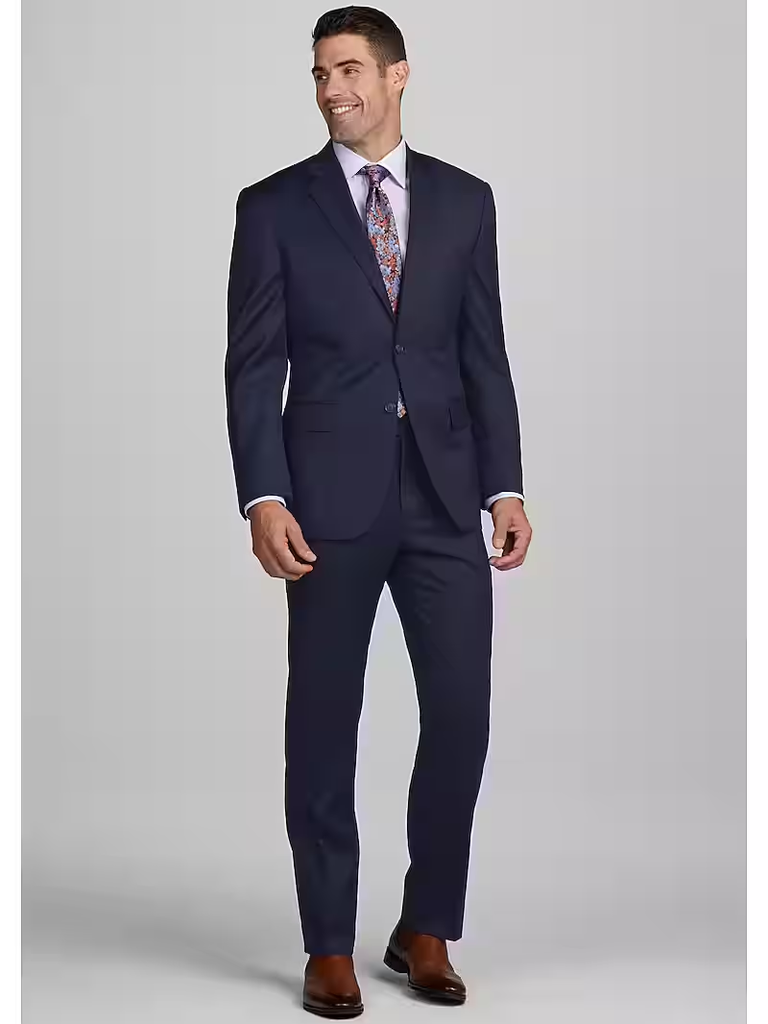 Jos. A. Bank has long been one of the most recognizable names in affordable suiting. As the years go by, their quality and great pricing have largely stayed the same. Their Executive Fit suit is a top-tier wedding suit and a great foundational piece for anybody looking to have one great suit in their wardrobe.
Savile Row Co. Brixton Suit
This brand takes their name from London's most esteemed suiting district, big shoes to fill for an affordable suiting brand. Fortunately, they live up to the namesake. The Brixton suit comes in a suave charcoal gray and sports unique peaked lapels for a European flair.
Saks Fifth Avenue Modern Fit Wool Suit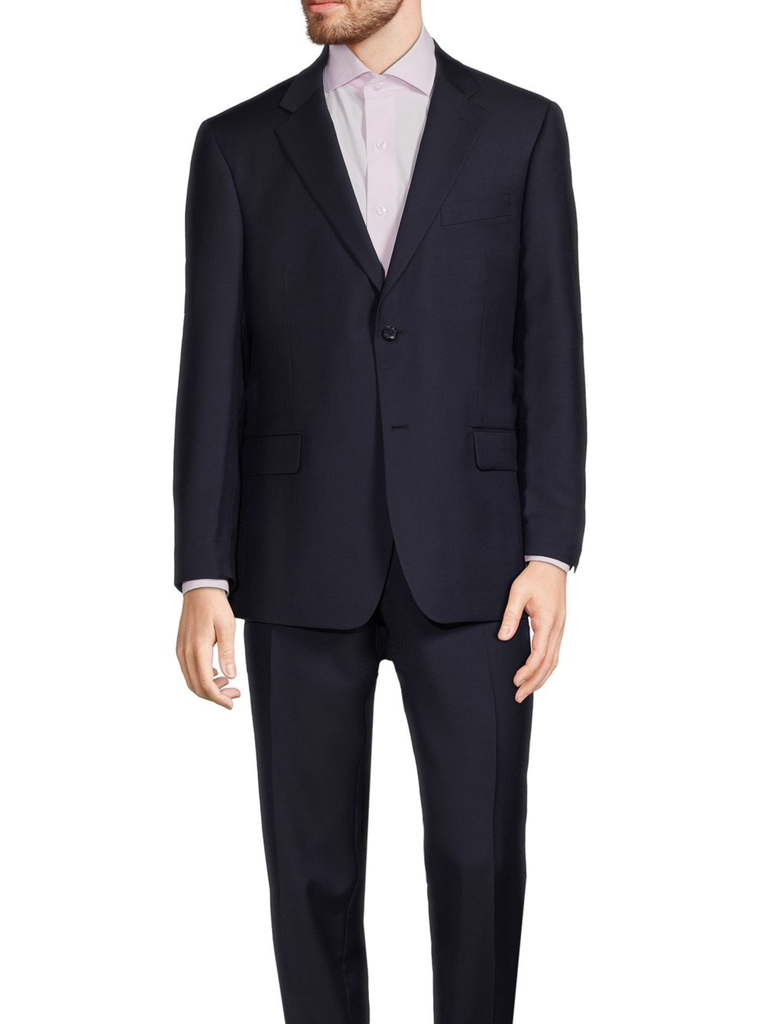 Saks Fifth Avenue may be known for their high-end wares but don't sleep on their offshoot of Saks Off Fifth. Their house brand makes quality suiting at affordable prices, like this killer take on a navy wool suit. It comes in a slightly boxy cut and is proportioned perfectly.
Awearness Kenneth Cole Brown Plaid Suit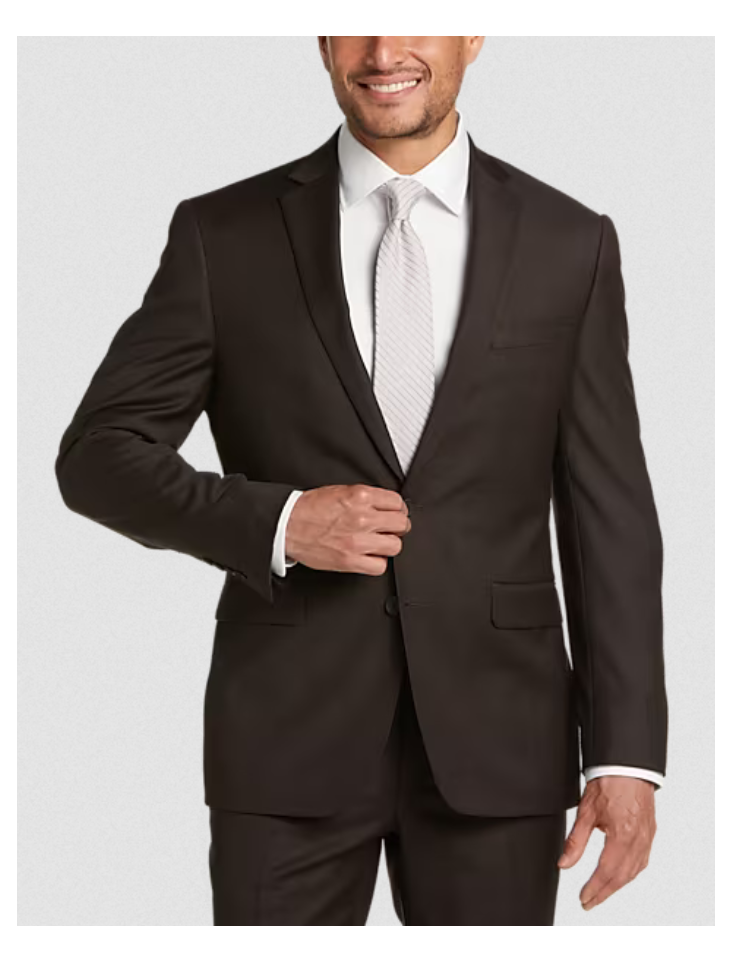 Coming in a beautiful brown plaid, Kenneth Cole's Awearness suit comes in a unique fabric designed to keep you as warm or cool as necessary at all times. It's functional, sure–but it's also fashionable as hell.
Suitshop Tan Suit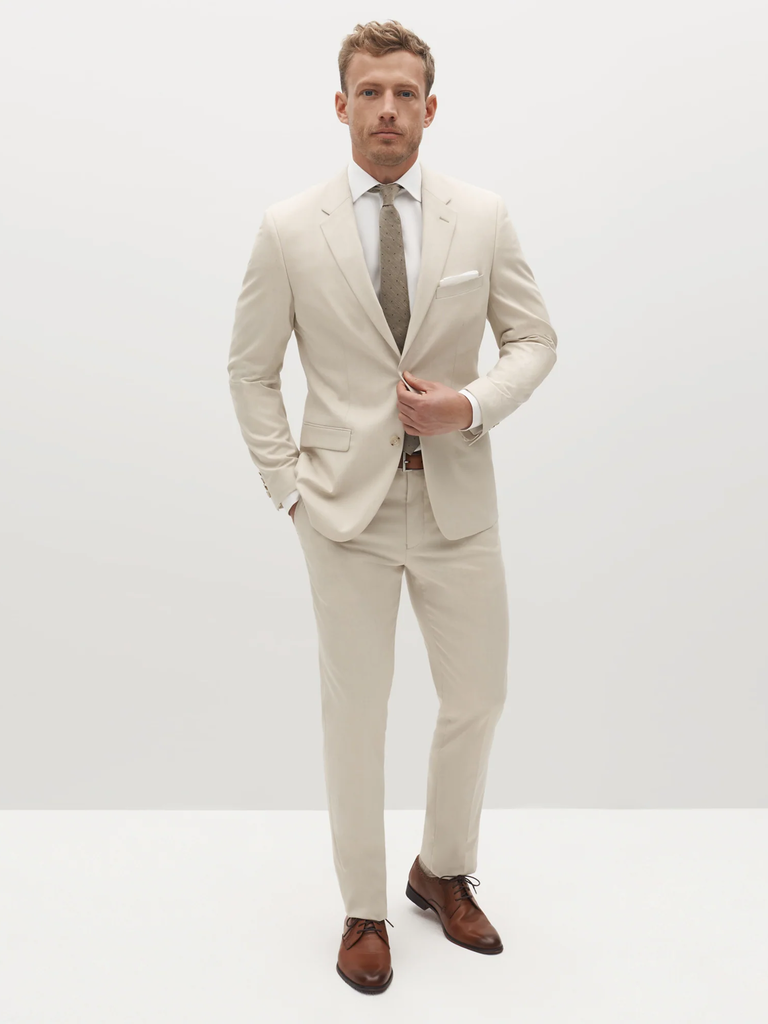 Tan suits are a killer look for outdoor weddings or spring and summer affairs. Suitshop's take on this menswear classic will work wonders on your wedding wardrobe without doing too much damage to your wallet.
The Black Tux Notch Lapel Tuxedo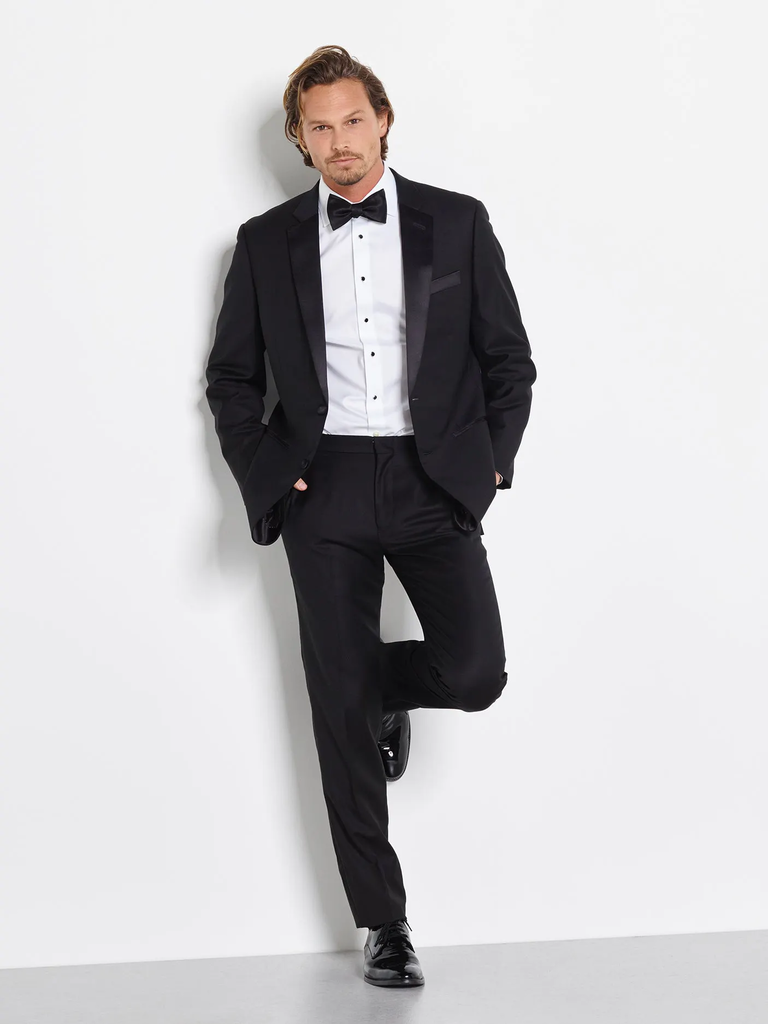 Need a tux for a black-tie wedding but not sure if you'll wear it enough in the future to justify the hefty price tag? "Rental" isn't a four-letter word in fashion anymore. The Black Tux will deliver you a full wedding look in time for your special occasion for a fraction of the price. When you're done, just pack the suit up and mail it right back to them–one less thing to worry about.
Savile Row Co Slim Fit Satin Tux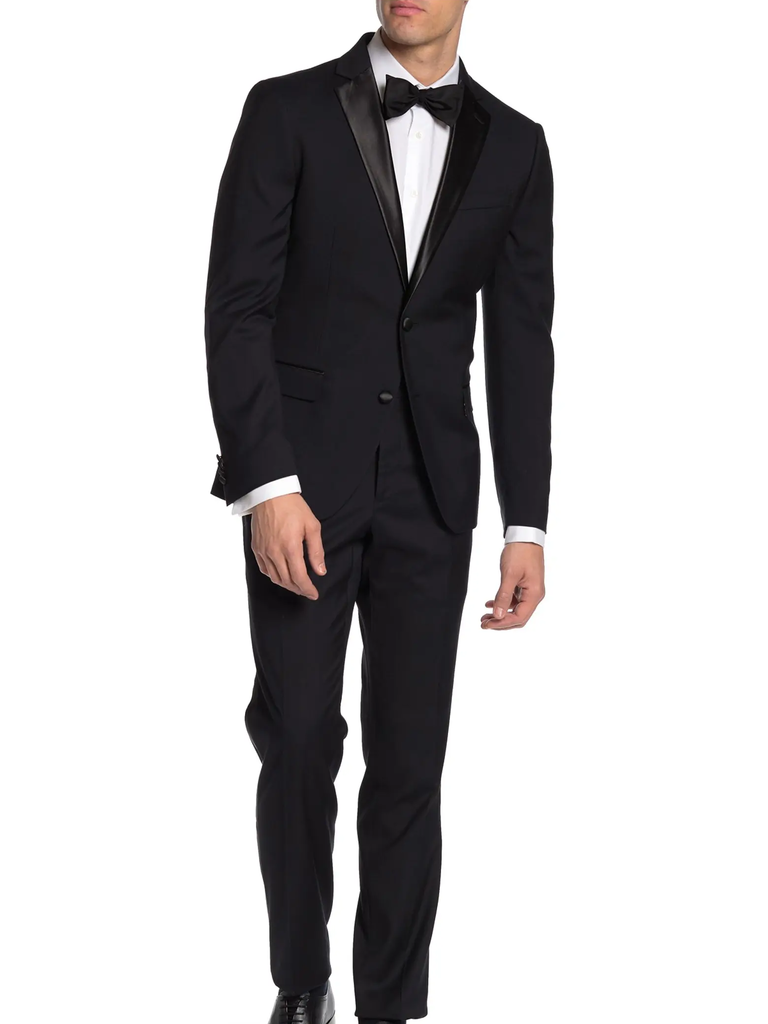 If you're looking for a tux to keep, Savile Row Co has you covered. Their slim-lapel satin tux is a budget-friendly gem sure to have you looking great at plenty of black-tie affairs down the road.
Lauren by Ralph Lauren Classic Fit Stretch-Suit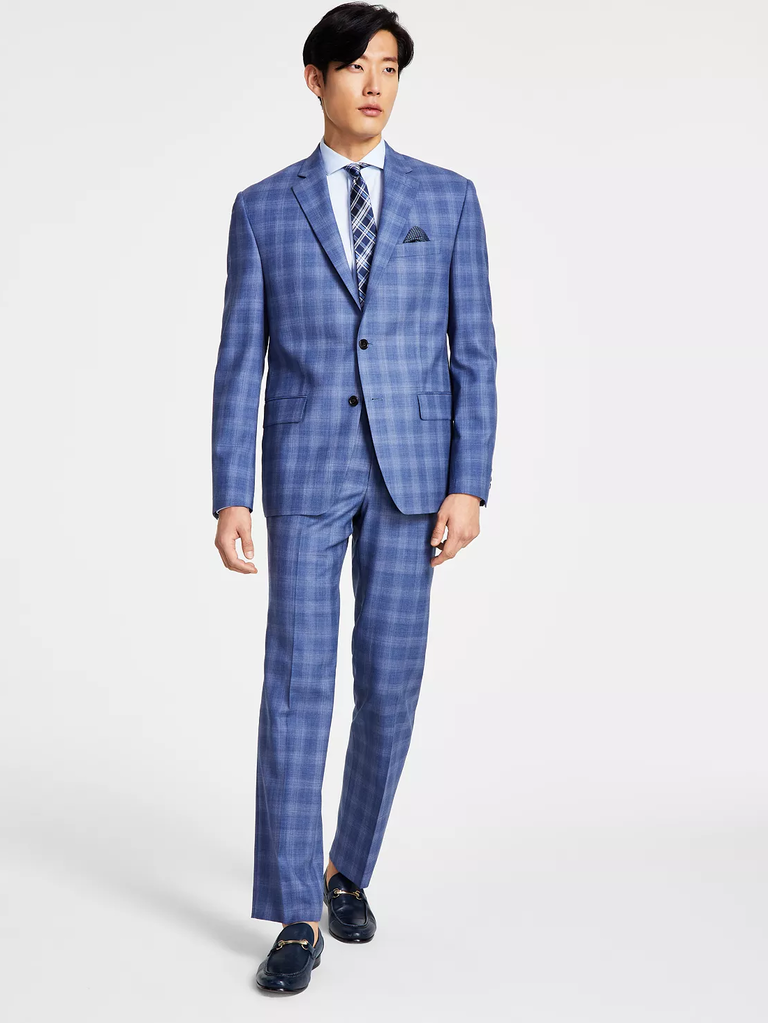 Make a statement with this bold plaid number from Lauren by Ralph Lauren. The pattern is available in a number of colors, though I'm personally partial to this deep blue take on it. It's a great option for spring and summer weddings, leaning into seasonally appropriate hues.
Original Penguin Rose Wool Blend Suit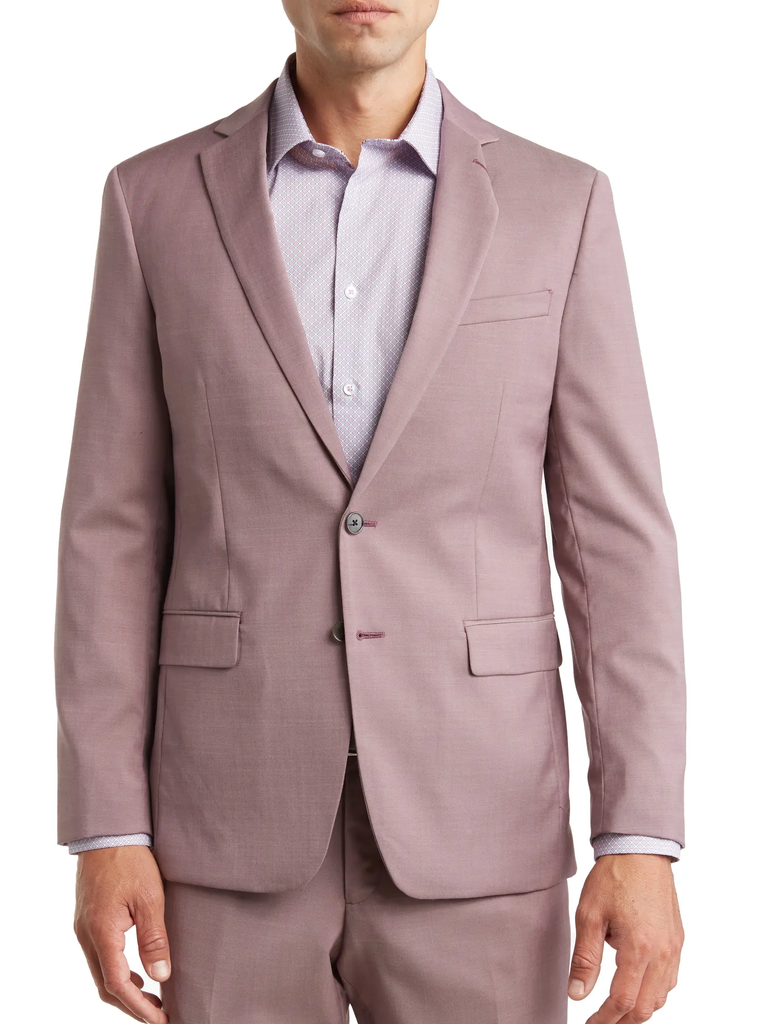 Dusky hues like rose and soft pinks are a killer wardrobe flex at any wedding. Original Penguin can get you in on the trend without breaking the bank–this one is great for walking down the aisle or watching from the pews.
Suitshop Shawl Lapel Burgundy Tuxedo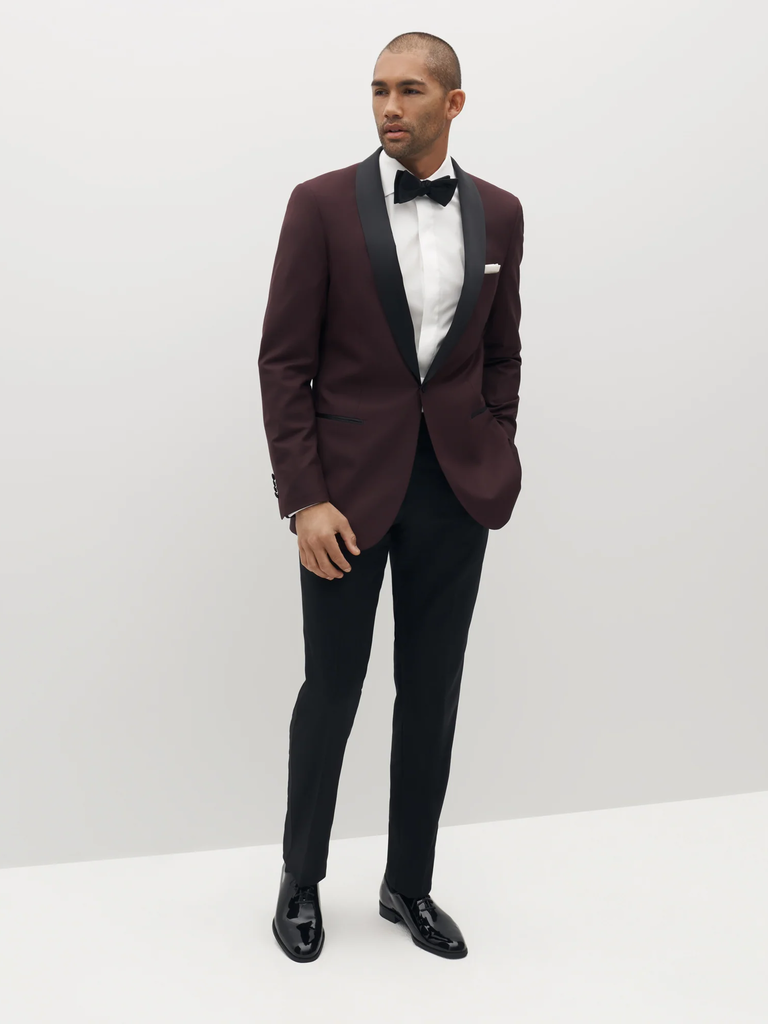 Black-tie weddings don't necessitate a black tuxedo, or even a navy one. No, if you want a real sartorial swerve, try this burgundy take on the formal classic from Suitshop. It'll make for an unforgettable wedding look in the fall or winter, ideally in a classy indoor venue full of hardwood and candlelight.
English Laundry Slim Fit Peak Lapel Plaid Suit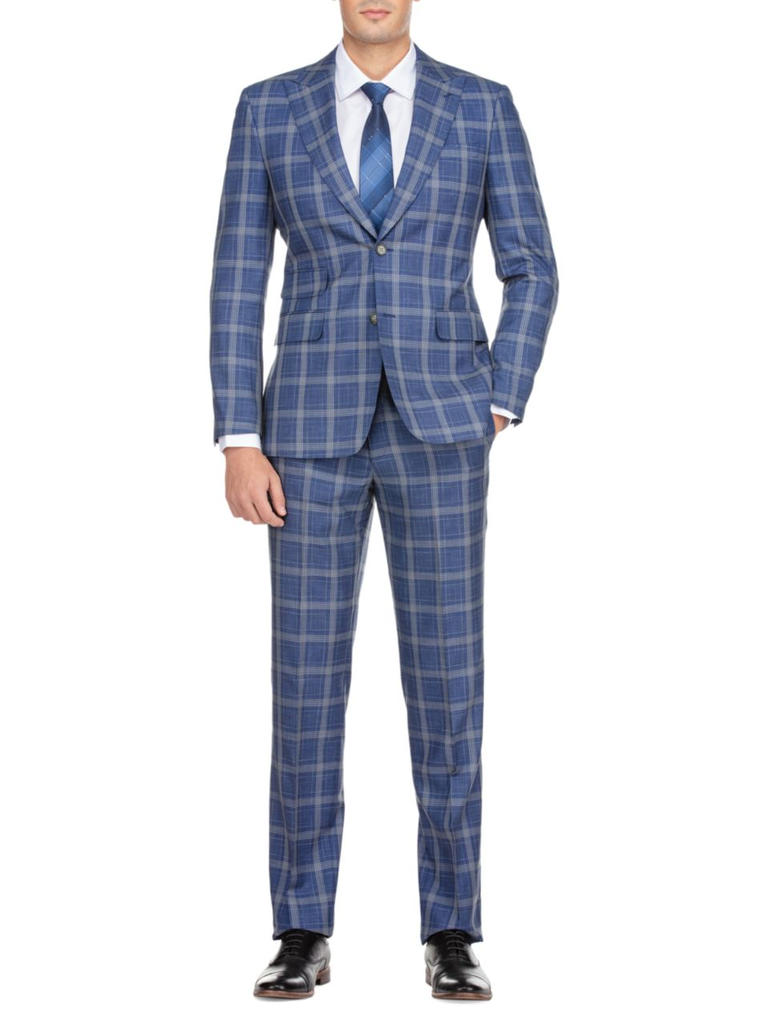 These days there are few suiting icons quite like Harvey Specter from the smash-hit show Suits. This pick from English Laundry is exactly the sort you'd see him wearing, with wide peak lapels and a powerful pattern. You should always be aiming to look as good as Harvey when you suit up, and with this pick English Laundry does all the hard work for you.
H&M Slim Fit Suit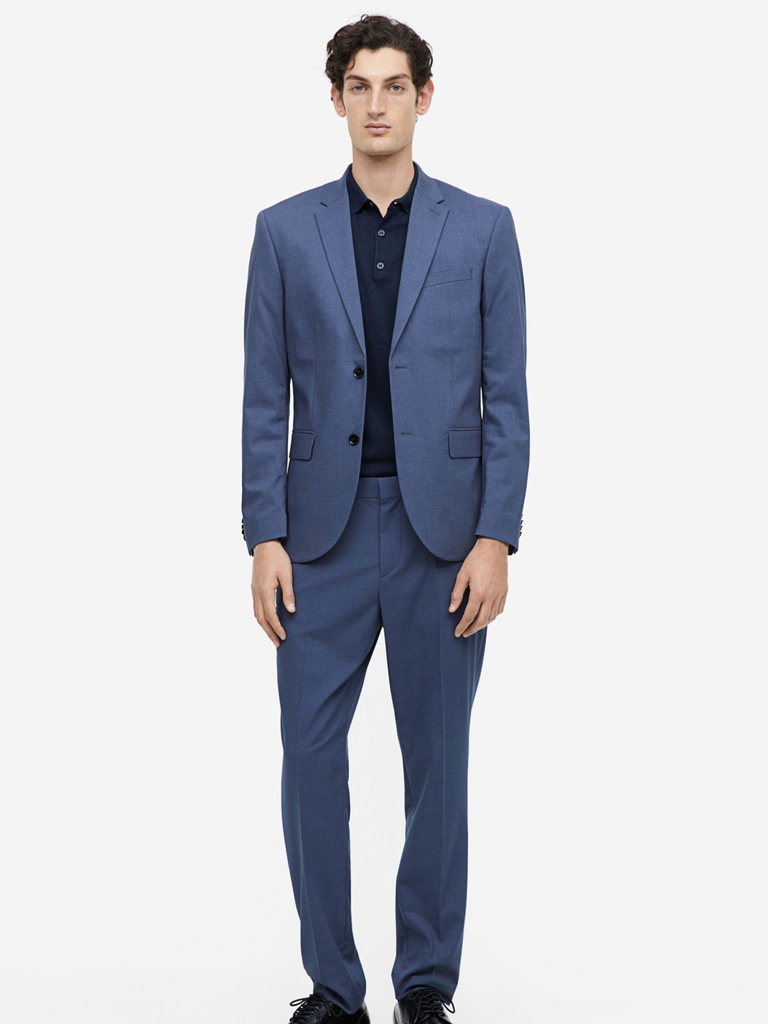 When you need something simple, reliable, and budget-friendly for your wardrobe, H&M has long been the place to go. When it comes to suits, that hasn't changed. Their slim-fit suit is available in three classic colors and can take you from tee-shirt casual to formal wedding-friendly for under $200.
Perry Ellis Big & Tall Performance Tech Suit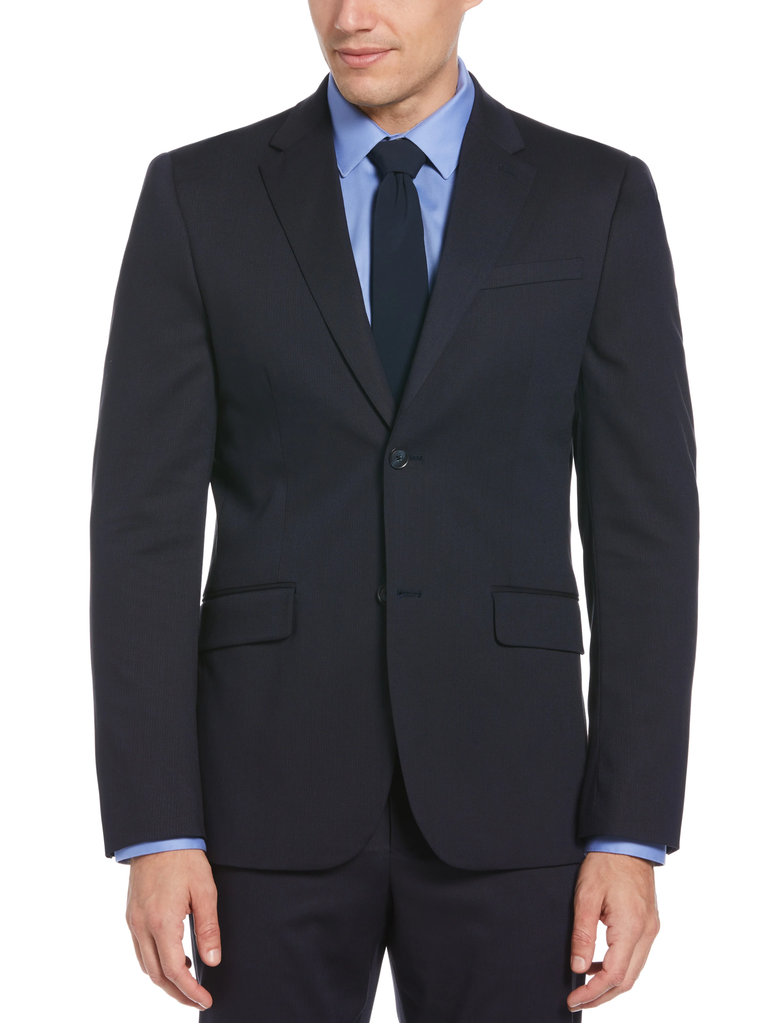 Affordable formalwear has long been the name of Perry Ellis's game, and that includes options for anyone who wears a suit in a larger size. Their Performance Tech Suit is a rock-solid piece of classic tailoring that you can wear anywhere from the office to a wedding.
Hawes & Curtis Olive Knitted Stretch Suit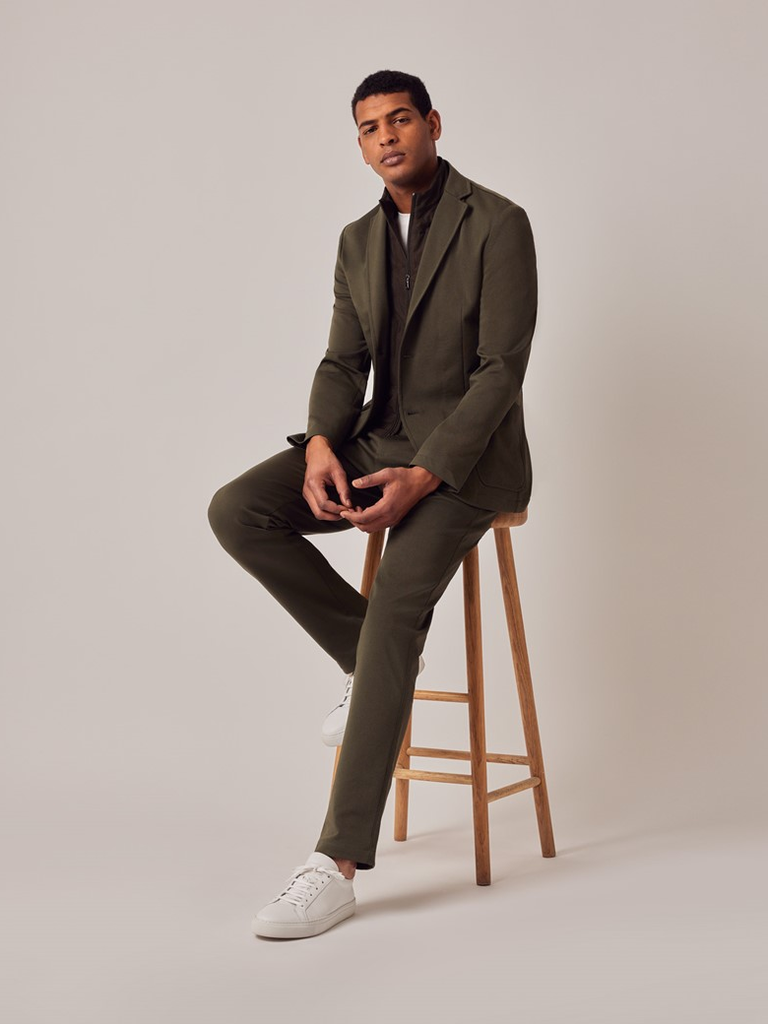 We're all about earth tones and neutrals for suiting this year, especially in the fall. This suit from Hawes & Curtis not only leans into the trend perfectly, but it also comes in a unique knit material that can be dressed up for a semi-formal wedding or down for a more casual one.
Moss Tailored Fit Charcoal Stretch Suit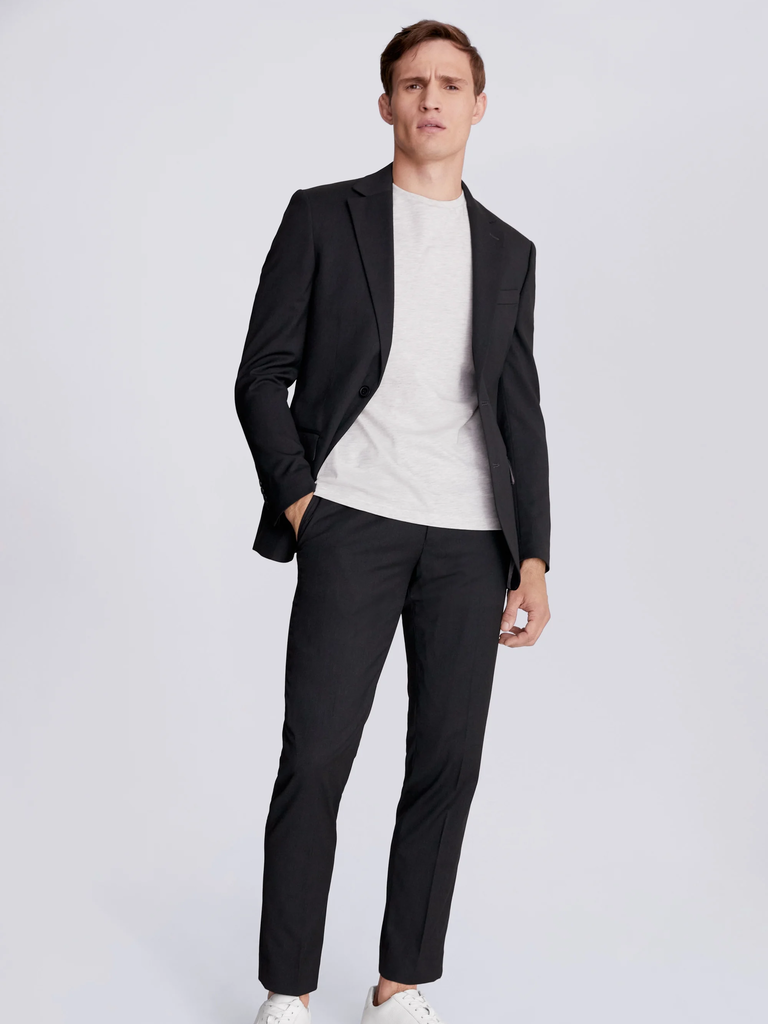 Suiting doesn't need to be flashy or complicated. Sometimes the best suit is the simplest one, like this charcoal standard from Moss. It's affordable but not cheaply made, it looks good, and it's available in slim, tailored, and regular fits. It's the suit for everybody, and the suit's price matches that ethos.
Where to Buy Affordable Suits
If you're looking to browse a solid selection of affordable suits, look no further than these retail hubs. From department store standbys to specialty designers who cut good suits that won't break the bank, these are the best places to buy suits under $500.
Suitshop
Suitshop's whole ethos is selling suits for the price you'd usually pay to rent them. For a great price (often under $300) you can get a great suit for a great price. Their sizing ranges are inclusive and while they aren't the place to go for extensive customizations or high-fashion looks, they've got classic suiting down to a science and won't let you down.
Saks Off 5th
Walking into a Saks 5th Avenue (or even just browsing their website) can be an intimidating endeavor for anyone looking for a simple, affordable wedding suit. Fortunately, their sister store Saks Off 5th won't give your bank statement a panic attack. They have a great selection of suits from brands like Original Penguin and Michael Kors for as little as $150, and they're constantly stockingnew options.
Hawes & Curtis
If you're looking for a great suit under $500, and maybe even one influenced by classic British tailoring, Hawes & Curtis are the place to go. They draw from menswear's highbrow history with rich textiles, great patterns, and stylish sportcoats, most of which look like they'd cost twice what you paid for them.
Shop Vintage with eBay
Want to get a designer suit for a fraction of the price? eBay is the place to go. The vintage suiting market is booming there, with pieces from classic designers like Ralph Lauren, Zegna, and Giorgio Armani available for prices you won't believe–you can easily find designer suits under $100. The one hitch here is that it's a bit more time-intensive than going to a traditional retailer–you may need a few days, or even a few weeks, to browse around and find the right suit for you. Still, it's worth it if it means at the end you get to walk into a wedding wearing vintage Armani that cost you less than a dinner date.