Couple Renews Vows As Groom Battles Alzheimer's Disease
"The man of my dreams fell in love with me and asked me to marry him, twice. He chose me again."
Peter and Lisa Marshall first met when they were neighbors in Harrisburg, Pennsylvania. Both were married with children at the time and it was a purely platonic, neighborly connection that brought them together. "Our five children played together every day while we were neighbors in those five years," Lisa tells The Knot. "Our families vacationed together and we were friends."
Peter and his family later moved to Connecticut. "We lost touch," she says. "Until he reached out, one day, out of the blue… He called to say that he and his wife were separated. Ironically, my husband and I were separated [then] as well." It was 2001 when they reconnected. Only this time, Peter and Lisa were no longer neighbors and they fell in love. 
After eight years of raising their respective children and maintaining a long-distance relationship, the time finally arrived for the pair to settle down together. "We didn't want to uproot our children, so we sacrificed [on our ends] until my youngest went to college," she says. "In 2009, I sold my home. I left my job, my friends and everything familiar to be with Peter." 
That same year in August, the couple married in Turks and Caicos in an intimate destination wedding with just their immediate loved ones. "Our 'family-moon' was perfect for us," says Lisa. "We were surrounded by our five children on a gorgeous Caribbean island. It was lovely."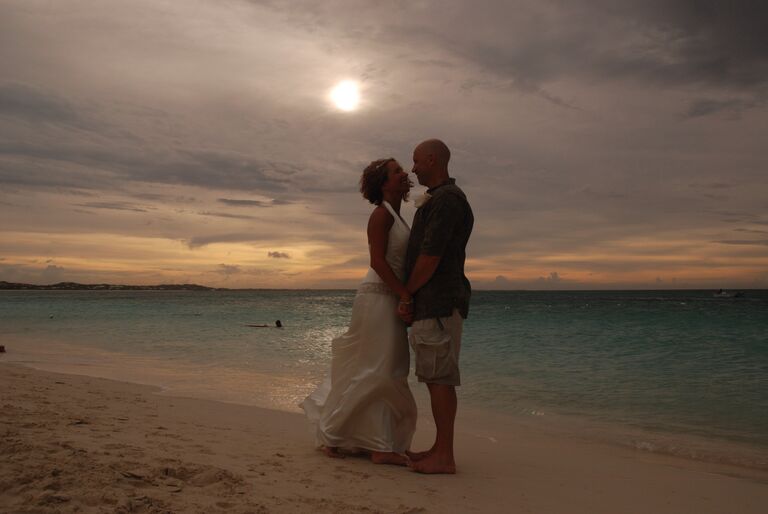 Decades later, they would truly confront those very words, "in sickness and in health," when Peter was diagnosed with early onset Alzheimer's disease. The situation proved to be so challenging that Lisa turned to social media to document her continued efforts in caring for Peter. Through her platform, she's sought to support others battling Alzheimer's while providing a support network. "It is my mission through Oh Hello Alzheimer's to connect caregivers to help them feel less alone," she reflects. "I want to create awareness of this awful disease, particularly early-onset Alzheimer's." (It's a condition, according to Johns Hopkins, that creates behavioral changes, severe mood swings and confusion about life events and place. Even time is warped to the patient who battles this debilitating disease.)

The Marshalls encountered many obstacles along the way as Peter slowly forgot it all, including his wife. Still, she remained devoted to her husband despite his condition, even finding bright pockets of meaningful life moments along the way. When December 2020 arrived, he had all but forgotten his wife and their wedding day. "We were watching an episode of New Girl and a couple got married. I was getting emotional… He said, 'Let's do it!' And I replied, 'Do what?'" she shares. Her husband then pointed to the screen and remarked, "Get married?" Forgetting they had exchanged vows decades earlier, Peter then proposed in a moment that attracted much attention on her platform.
"I had no intention of renewing our vows, but as Peter continued to decline rapidly I decided in February to do it," she says. After all, Lisa's daughter Sarah is a wedding planner (Brehant Creations based in Connecticut) and the opportunity was ripe to readily involve her generous vendor friends. "My daughter had been urging me to let her plan it, and I finally said yes," recalls the bride. "She explained the situation to her network of wonderful vendors [how Peter no longer remembers that I'm his wife and had recently proposed to me a second time]. The outpouring of love was incredible. Each vendor provided their services, talents and products for free."
This spring, the pair once again exchanged vows, this time replacing the sand and sea with a loft space called Mill 1 at Open Square. Instead of a beach wedding aesthetic, their florist It's So Ranunculus also arranged beautiful blooms to fill the spacious venue. The couple's wedding planner just so happened to have walked her mother down the aisle. "It was absolutely magical and Peter was bright and present the entire day," she says. "The sweetest moment of the day was when he had a very lucid moment and he leaned in and whispered in my ear, 'Thank you for staying.'"
After two decades of marriage and an unconventional love story, Lisa has one message to impart upon newlyweds and to-be-weds. "The only thing that matters is love and respect," she muses. "You treat each other with gentle kindness every day and you reach deep into your heart for more patience and understanding than you think you have. You love deeply and immensely and you make memories intentionally. Be present."

Despite everything that transpired in their own love story, the Marshalls exemplify commitment and lasting love. "I'm the luckiest woman in the world. The man of my dreams fell in love with me and asked me to marry him, twice," she reflects. "He chose me again. Peter has forgotten most of our memories, but he's forgotten more beautiful memories than many couples [won't even have the opportunity to make]."
 Each day to the couple is a gift. "Peter doesn't know I'm his wife. He doesn't know my name and he's long forgotten the nickname he gave me, Tart," she concludes. "He knows he loves me and I feel that love every single day. I don't need a label or a name. Our hearts are connected and always will be." 
Donate to Peter and Lisa Marshall's Walk to End Alzheimer's here.