10 Memorable Ways to Celebrate Your Anniversary at Home
You don't have to go out to have a great time.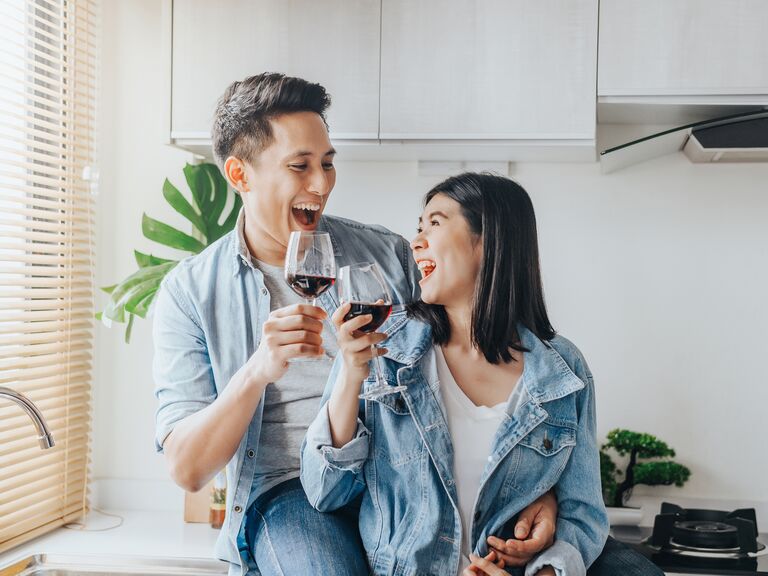 interstid / Shutterstock
We have included third party products to help you navigate and enjoy life's biggest moments. Purchases made through links on this page may earn us a commission.
We're all playing our part and social distancing right now, but it's still as important as ever to celebrate all of life's milestones. Commemorating your anniversary at home might not have been your original plan, but it's a fun opportunity to get creative—being in quarantine is no reason to let your anniversary go unmarked! Choose a thoughtful anniversary gift for your love to show them how much you care, then plan an innovative way to spend some time together. Whether you want to stay indoors or hang out in the backyard, it's surprisingly easy to transform your space into someplace magical. Here, you'll find our favorite inventive ideas for an anniversary at home, as well as some of our favorite supplies that can help bring them to life. These suggestions also double as inspiration for a stay-in date night!
1. Go Camping in Your Own Backyard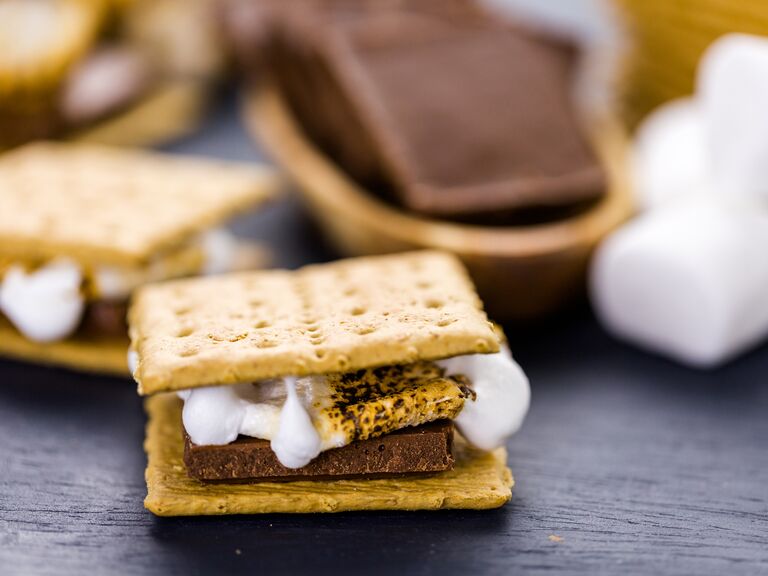 If you both love the great outdoors, what about an evening of exploring your own garden? Get out of the house and take advantage of your yard with tried-and-true camping activities. Cozy up under the night sky in a two-person sleeping bag. This unique Name a Star kit will make stargazing even more romantic. And don't forget about classic camping cuisine! These trusty YETI camp mugs double as excellent anniversary gifts, and a gourmet s'mores kit only sweetens the deal. The best part about celebrating your anniversary by camping at home? Your warm house is never too far away, if the weather takes a turn.
2. Create an At-Home Cinema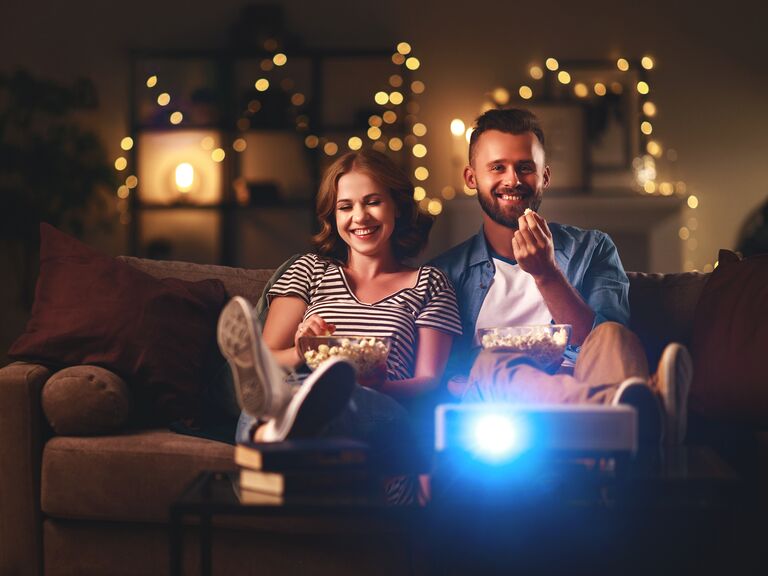 Do you miss going to the movies and catching the latest blockbuster? Or are you more of a theater-loving couple? Either way, you can turn your passion into a stay-at-home anniversary idea. Set a movie-theater atmosphere with freshly made popcorn—if there was ever a time to spring for a personal popcorn popper, it's now! Serve it in couple's popcorn buckets for an extra-fun touch. (You could go for classic gummy candies too, if you both have a sweet tooth.)
Of course, snacks are just the start. Swap out movie posters for this custom marquee print, and you've got yourselves an easy at-home anniversary decoration. Or, if you prefer the thrill of musicals, opt for some Playbill-themed decor. Really want to up the ante? Create your very own movie trailer. Tribute turns messages from all your loved ones into a tear-jerking video. Talk about a super-sweet anniversary gift for your sweetheart. Finish off your setup with an impressive speaker system for that big screen-worthy sound.
3. Plan a Themed Dinner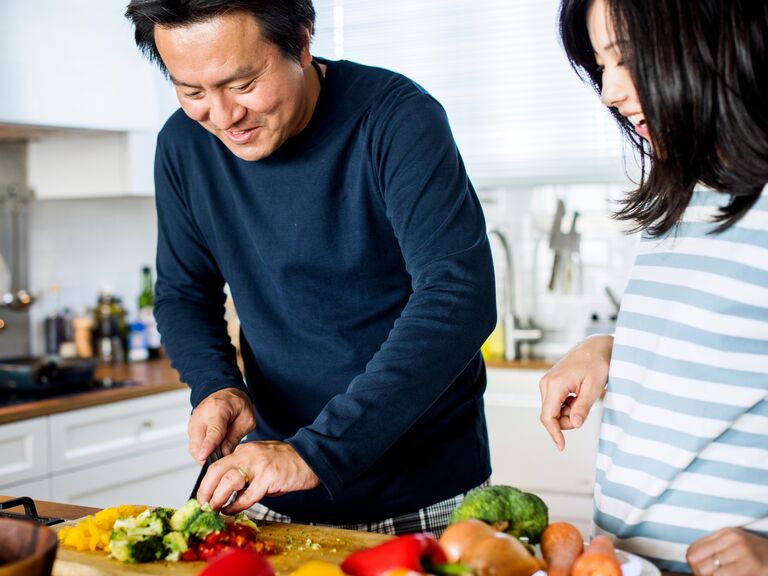 If you love going out to eat together and you miss the fun of grabbing a bite, bring the restaurant vibes home with an anniversary dinner. A meal subscription service like Hello Fresh gives you a bunch of gourmet recipes to choose from, as well as all the ingredients you need to cook a romantic meal. If you want to kick things up a notch, feel free to break out your wedding china!
What makes dinner at home even better? Picking a playful theme. You can find loads of coordinating supplies and decor on The Knot Shop and Etsy. Some string lighting can also really help to set the mood by making your dining room or patio feel completely new. Ready for the finishing touch? Customize a menu with your courses for the night to finish off this romantic idea for an anniversary at home.
4. Shake It Up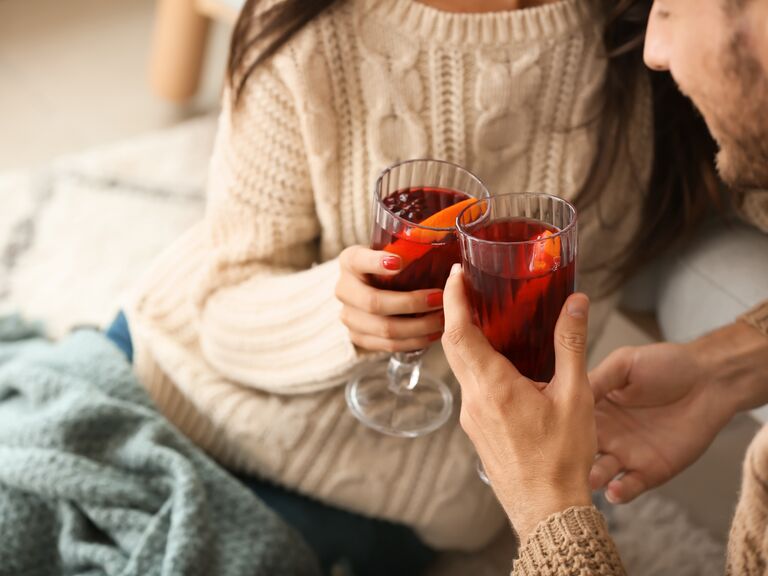 Whether you're master mixologists or you've had the same drink orders since college, a virtual cocktail-making course is a unique stay-at-home anniversary idea. If you're looking for anniversary gift ideas, this home bar set features all the essentials you'll need without breaking the bank. Treat yourselves to a pair of chic cocktail glasses to make your concoctions look ultra professional, and snag this speakeasy-inspired scented candle to really set the tone.
5. Get Crafty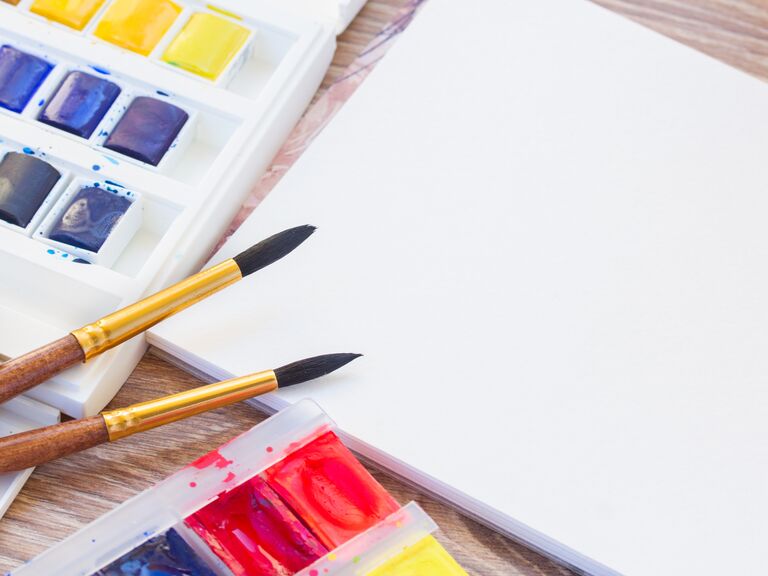 Unleash your inner artists by dedicating a night to crafting together. You can find loads of kits online for all skill levels, from beginners to connoisseurs. This Love is Art kit from Uncommon Goods is a single canvas that you work on together. Or, if you're feeling really romantic, make a plaster keepsake of your hands. It'll serve as a lasting symbol of your relationship and love for one another, all while being a fun and creative way to pass the evening.
If you'd prefer to make crafting nights a part of your routine, you can sign up for the Maker crate from KiwiCo. It's marketed for all ages, with the goal of getting you and your S.O. to unleash your creativity. Previous projects have included everything from macrame planters to terrazzo clay organizers!
6. Outsource the Planning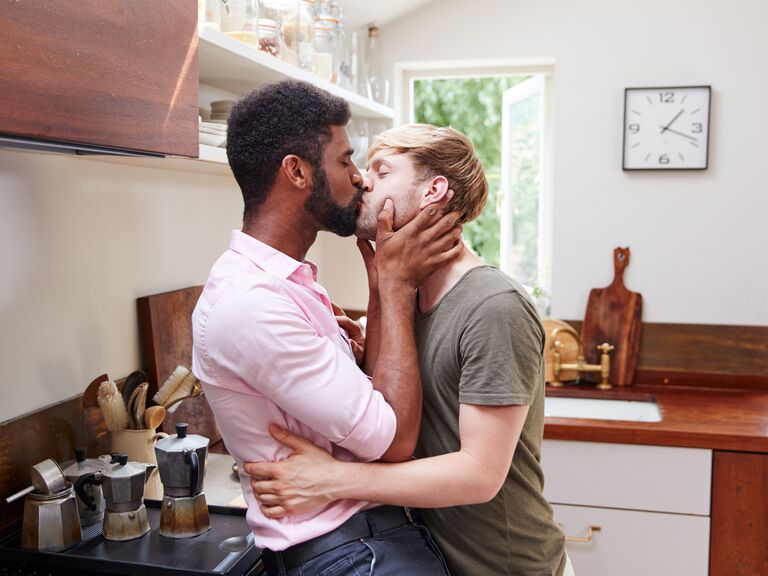 Looking for simple anniversary ideas you can do at home? There are loads of subscriptions for couples worth signing up for this anniversary. With DateBox Club, a themed box is delivered every month to make sure you're always celebrating your time together. The service does all of the prep work for you, so you can focus on each other. It also offers affordable digital date nights, where you get a PDF of inspiration instead of a box. Crate Joy carries some date night subscription boxes of its own, including the Date Night In box. Whether you want just a once-off box or a monthly surprise is entirely up to you. You can use the code KNOT20 for 20% off your first shipment.
7. Go on a Virtual Vacation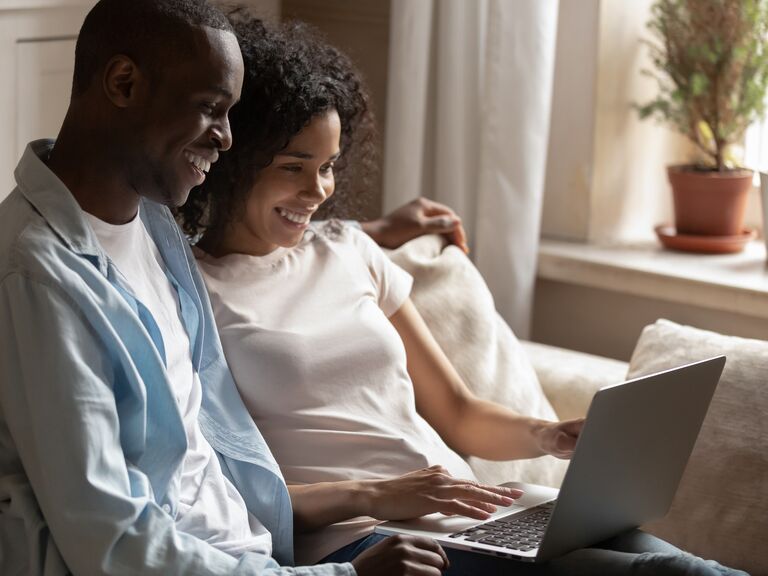 You might start your anniversary at home in your living room, but by the end of a virtual tour you'll feel like you've traveled the world. PlacePass has tons of fun options for you to choose from, wherever you want to explore. You can visit the gilded halls of Versailles and learn interesting anecdotes from an experienced tour guide. What about hopping all over Europe, from sunny Alicante to picturesque Santorini? Or maybe you'd prefer something more contemporary, like a walk through some of the street art Miami has to offer? There's even a guided tour of vibrant and historic Kyoto to make this an at-home anniversary to remember.
8. Have a Slumber Party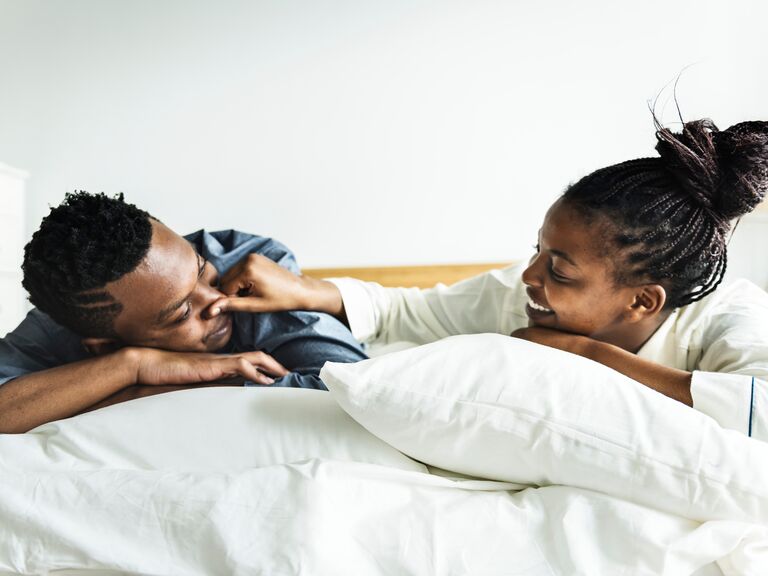 If you'd prefer something more relaxing, a slumber party-style evening is perfect to help you both unwind. Stay up late talking under a cozy blanket for some quality time together. (And don't forget to squeeze in an impromptu pillow fight.) Then, when it's time to go to sleep, settle down with mugs of Belgian hot chocolate and luxurious silk eye masks for a restful night of sleep. How's that for a simple anniversary idea at home?
9. Get Ready to Roll (the Dice)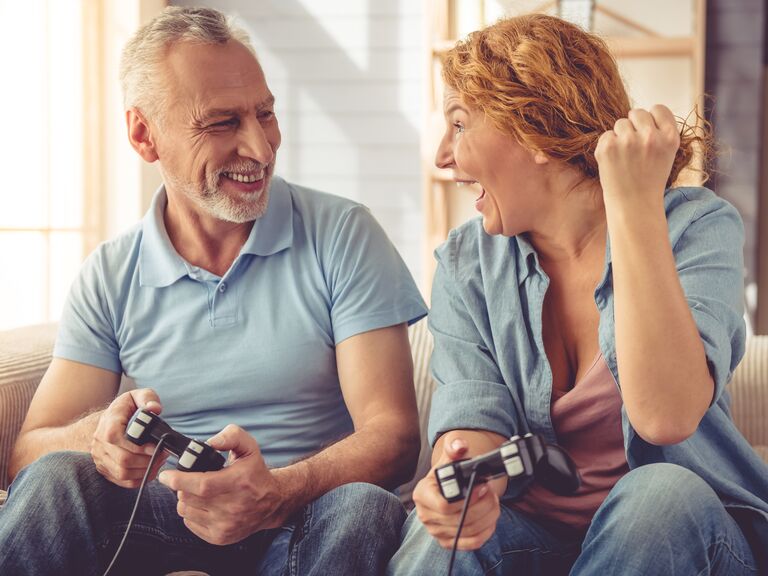 Make staying in for your anniversary fun by organizing a game night. We recommend classics that have a unique, personalized twist, like wooden tic-tac-toe and Guess Who with a few familiar faces. If you're going for a more romantic vibe, a battle of compliments is sure to delight. Or, stick to a refined game of Scrabble that comes in a cool linen book-shaped box (psst: linen is the 12th anniversary gift theme). Find even more of our favorite games for couples right here.
10. Take a Walk Down Memory Lane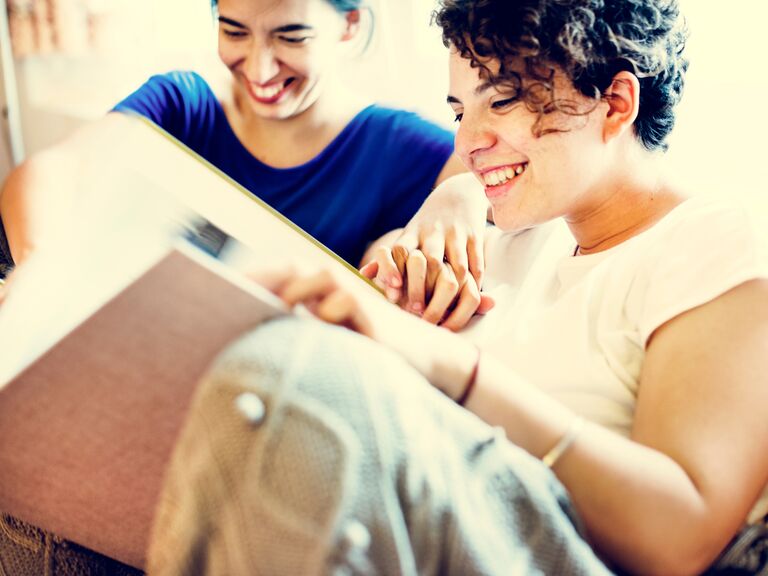 Whether it's your first anniversary or your 50th, there's something so special about looking back on your time together. Compiling a photo album is a fun activity to do, as well as a great way to remember years past. Another idea? Reminisce using a home theater projector. If you're celebrating a wedding anniversary at home, what better way to mark the occasion than by watching your wedding video?
If you want to do more to reflect on good times, have a go at recreating your first date! "Go" for a coffee in the kitchen, turn the living room into an arcade with some retro video games or get dressed up and go dancing around the house. Get creative with it!