40 Unique 1-Year Anniversary Gifts for That First Major Milestone
Shop our list of creative, traditional (hello, paper!) and modern presents.
We have included third party products to help you navigate and enjoy life's biggest moments. Purchases made through links on this page may earn us a commission.
Three hundred and sixty-five days—and counting! The first year of marriage is in the books, which means it's time to celebrate. Any couple who tied the knot in the midst of a global pandemic deserves an epic first anniversary celebration (and a seriously thoughtful one-year anniversary gift too). Whether you're shopping for your spouse or your favorite newlyweds, we've raised the bar when it comes to finding the best presents for this amazing milestone. From sentimental keepsakes to cool, practical presents, there's something on our list to suit every spouse and every couple. But before we get started, find out everything you need to know about the traditional and modern first-year anniversary gifts below. (Hint: This year is also known as the paper anniversary.)
In this article:
What Is the First Anniversary Gift?
If you didn't already know, each year of marriage has a traditional gifting theme that couples and their loved ones can look to for inspiration. "Typically, the longer you or the couple have been married, the more valuable or durable the gift or material becomes," says Kathy Flynn, Senior Vice President of Merchandising and Creative at Personalization Mall. With that in mind, it's no surprise that paper is the traditional one-year anniversary gift. It's fragile yet substantial, representing the newness of a young marriage.
Of course, paper isn't your only option. Many marriage milestones also have a modern theme that lends itself to great gift ideas. The modern present for this wonderful milestone is a clock—and believe it or not, you've got much more than watches to choose from. Clocks can actually be a super-meaningful gift. "The idea of placing it in a part of the home can be symbolic for a first anniversary," says Susan Chandler, Chief Merchandising Officer, Citizen Watch America, representing both Citizen Watch and Bulova brands. Chandler continues, "The clock also represents the movement of time and is a reminder to spend time nurturing your relationship for years to come." (Awwh!)
If neither of those options speaks to you, there are still plenty of other gift ideas that can help you celebrate with your other half or the happy couple. Feel free to take inspiration from the traditional first anniversary metal, which is gold, or color, which is gold or yellow. Carnations—a fitting token of passion and young love—are the flowers associated with the first year of marriage. It's also totally acceptable to ditch the traditional symbols altogether if that's what feels right. At the end of the day, you should pick whatever you think they'll most appreciate.
Paper Anniversary Gifts
Decided to go down the traditional route? There are so many creative ways to honor the paper anniversary (aside from writing a sweet anniversary card, of course). We've found some of the coolest paper gifts you've probably never thought of before, from origami earrings to book subscriptions. Ready to get started? Find the perfect first anniversary gift for your husband, wife or the happy couple right here.
Fun Adventure Journal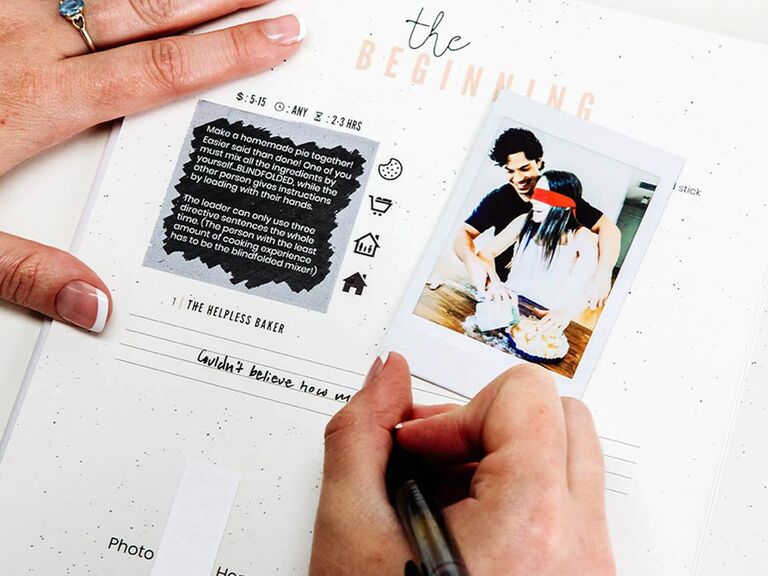 You've probably had your fair share of date nights after a year of marriage, so it's totally normal if you're starting to run out of ideas. If that's the case, this bestselling book is the solution. The pages come printed with surprise, scratch-off activities for you two to do together, from blindfolded baking to recreating your grandparents' first date. To help hold onto every memory, you can also upgrade to a gift set that comes with an instant camera. And if that's not enough to convince you, we've got an exclusive 10% discount with code THEKNOT10.
Keepsake Anniversary Journal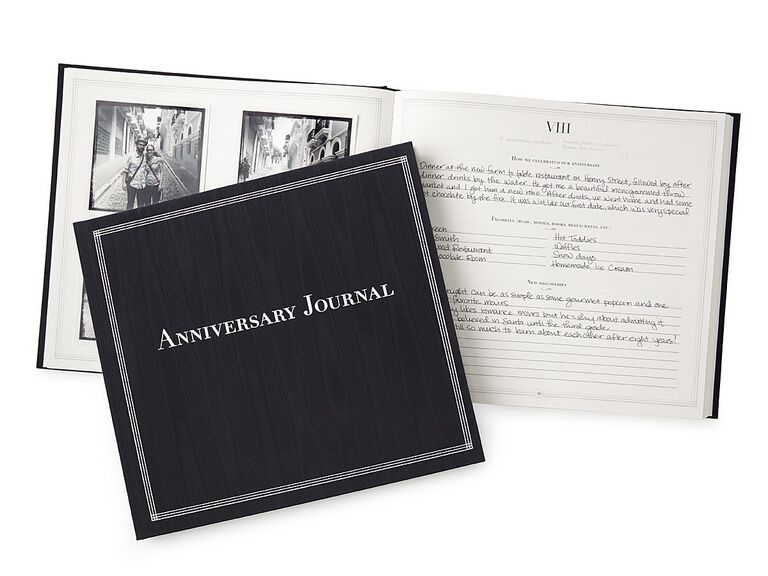 This classic journal is the ultimate first wedding anniversary gift. It's got a page for every year, from now right up until the couple's 60th milestone, with space to jot down how they celebrated, their favorite things from the past year and any notable new discoveries. There are also photo pages to help illustrate the memories, as well as keepsake pockets every decade for other important mementos. Want to go the extra mile? Upgrade to this personalized version.
Meaningful Sheet Music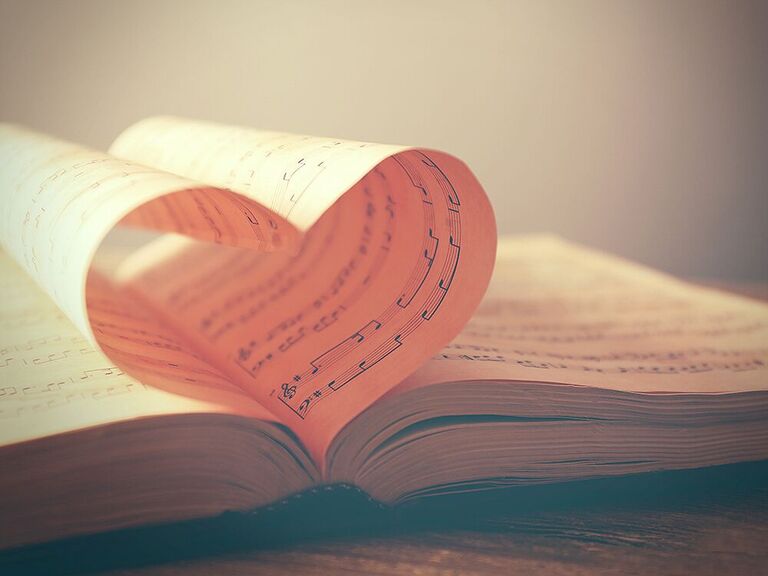 A super-meaningful way to honor your first year together is to pay tribute to an important detail from the big day. Since the theme this year is paper, it's a great opportunity to bring your first dance song to life on sheet music, which always looks beautiful framed (try Framebridge). Musicnotes has a library of over 400,000 sheet music arrangements you can download and print on the spot, including some of the most popular first dance songs (ahem, Ed Sheeran's "Perfect"). Pair it with a recording of the song on vinyl (because Spotify is great, but sometimes you just want the physical thing).
Decorative Travel Map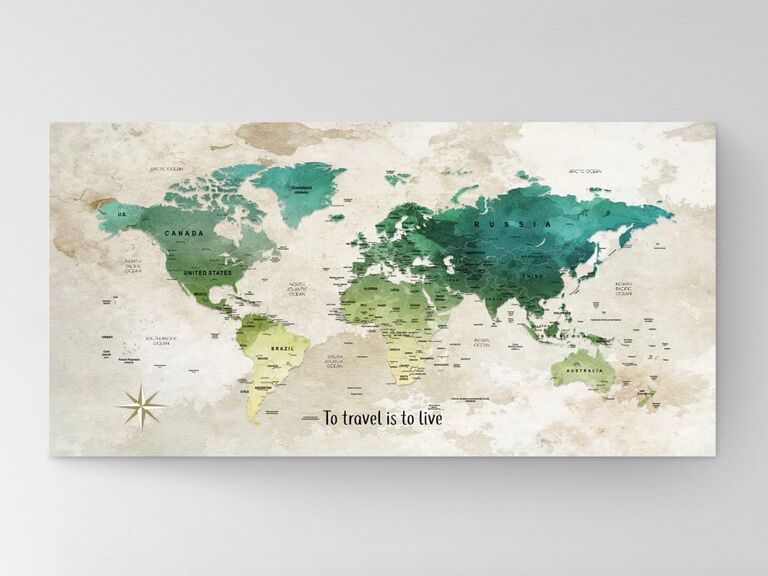 Travel is back, baby! If your favorite couple is itching to start fulfilling their destination bucket list, they'll appreciate this cool canvas map to track their travels on. This gorgeous push-pin map will remind them of all the adventures still to come and it'll look gorgeous in their home. Still not sold? You can get it personalized with their names, wedding date or a heartfelt quote.
Unique Paper Earrings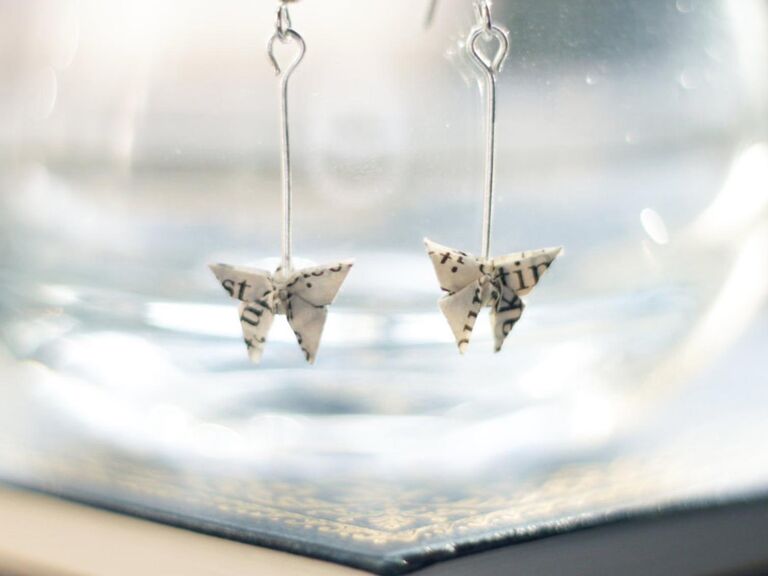 "Just like choosing a gift for a couple, it's important to remember that a gift for your spouse should be personal, intimate and as unique as they are," says Flynn. She suggests paying attention to your S.O.'s hobbies and interests before picking out a meaningful paper wedding anniversary gift. These cute butterfly earrings are made from recycled book pages, making them a romantic present for anyone who's into reading or quirky accessories.
Sentimental Wall Art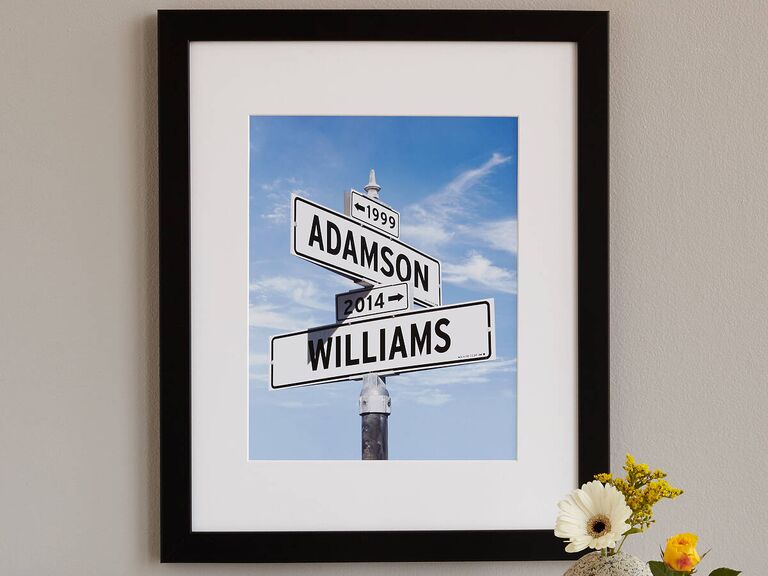 According to Dana Selarnick, Senior Buyer, Home and Technology at Uncommon Goods, the retailer's most popular anniversary gifts are always customized. Throw it back to where it all started with a personalized print showing when your paths first crossed. This cute gift idea comes printed on luxe matte paper with a choice of framing options. Choose gold to pay tribute to the first anniversary's traditional color and metal.
Romantic Couples Portrait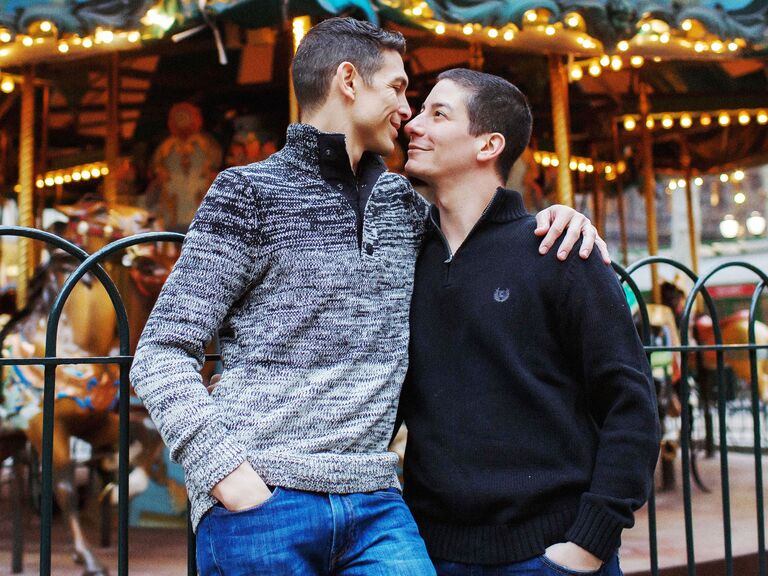 Believe it or not, you can even give an experiential gift without veering off the paper anniversary theme. Treat the now-seasoned newlyweds in your life to some glossy couple portraits they can proudly place on their mantelpiece, display cabinet or desks. Shoott's portrait sessions work by booking a free 30-minute session with a professional photographer, meaning your gift card will go toward the actual pictures the couple ends up purchasing. They only have to buy the ones they really love—there's no obligation to buy them all.
Custom Star Map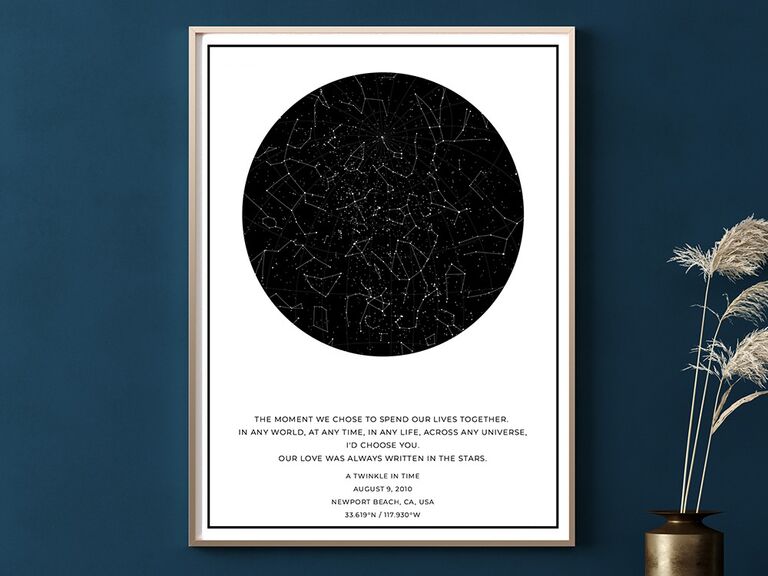 A custom map of the stars from the day you both said "I do" is an ultra-romantic gift to give your spouse one year later. You can include a sentimental quote, the date and even the coordinates of where you tied the knot. There are different sizing and design options available to suit your S.O.'s style or the interior of your home. Spring for a fancy wooden frame, or if you're shopping on a budget you can request an unframed print or digital version instead. Whatever you choose will be a romantic one-year anniversary gift for him or her.
Wedding Invitation Cuff Links
Here's another unique paper accessory you might not have seen coming. These special cuff links are personalized with little pieces of your wedding invitations. Durable and designed to last, your S.O. can truly wear their heart on their sleeve in the form of this romantic paper-themed present. They come in a luxury keepsake box that's ready to hand over right away. Just make sure you leave enough time for the Etsy seller to receive your wedding invitations in the mail—from there, they aim to provide a quick turnaround.
Letterpress Wedding Vows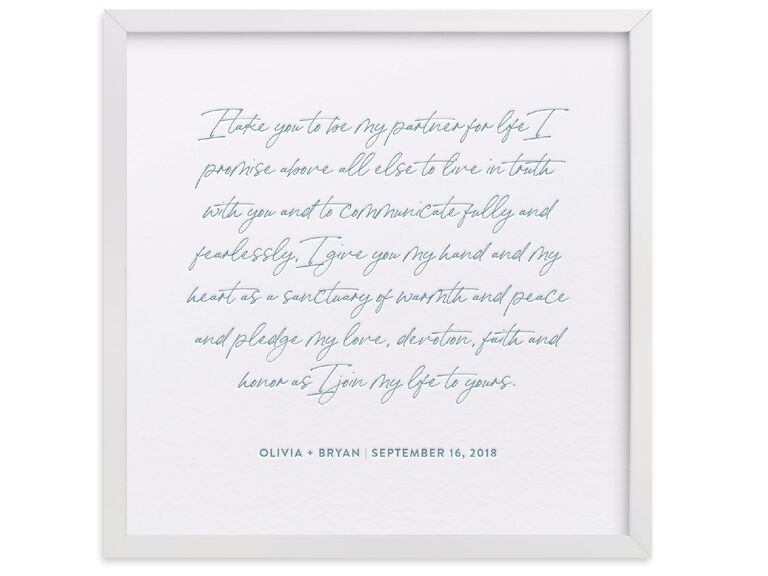 Why not have your wedding vows elegantly printed on luxe paper? Not only is this a lovely look back at your wedding day, but it's also a reminder of the promises you both made. There are lots of different customization options at Minted, meaning you can choose colors that reflect your wedding palette or home decor and complete the wall-worthy letterpress art with a classic or specialty frame. You'll receive a free digital proof of the final work for approval before it's professionally printed and shipped.
Unique Paper Bouquet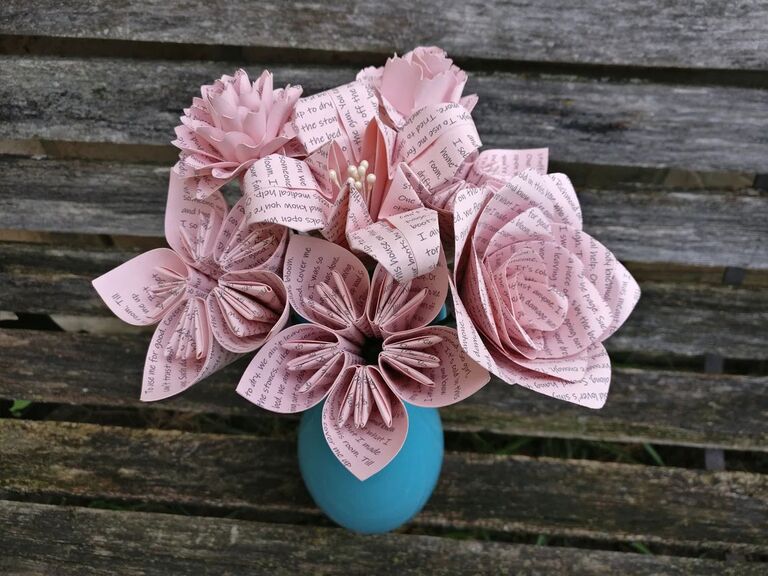 For the person who never turns down beautiful blooms, get them a bouquet that'll last forever—a paper bouquet. These faux flowers are printed with the lyrics to the song of your choosing. It's another sweet opportunity to relive your first dance, but that's not the only option. Why not start a sweet tradition of picking out a new song for every year you're together? Yep, we know: It's one seriously romantic paper gift idea.
Meaningful Marriage Poem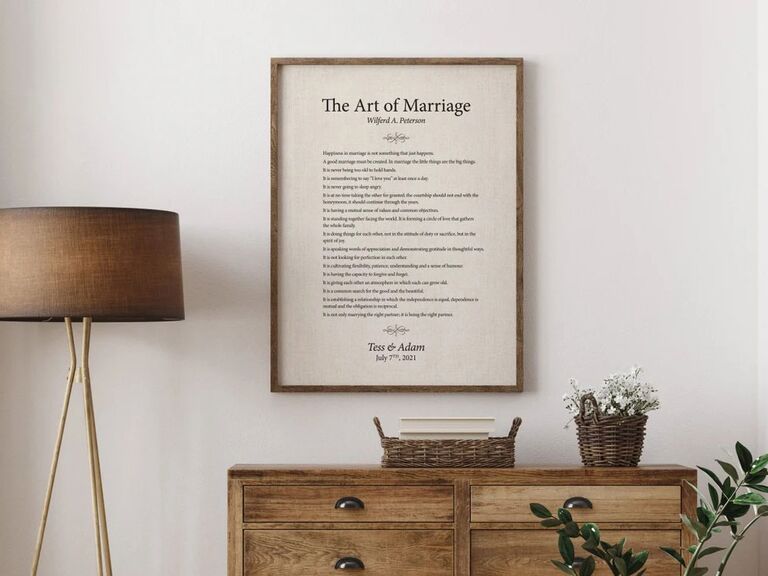 "The Art of Marriage" by Wilferd A. Peterson isn't just a popular ceremony reading; it also makes for a sentimental gift for any couple in the early stages of their marriage. The poem is a sweet reminder to always show up for each other and prioritize joy and love in your relationship. Who knew marriage advice could double as an eye-catching piece of home decor? The Etsy seller offers five different dimensions and four paper styles: canvas, chalkboard, classic or vintage.
Thoughtful Photo Book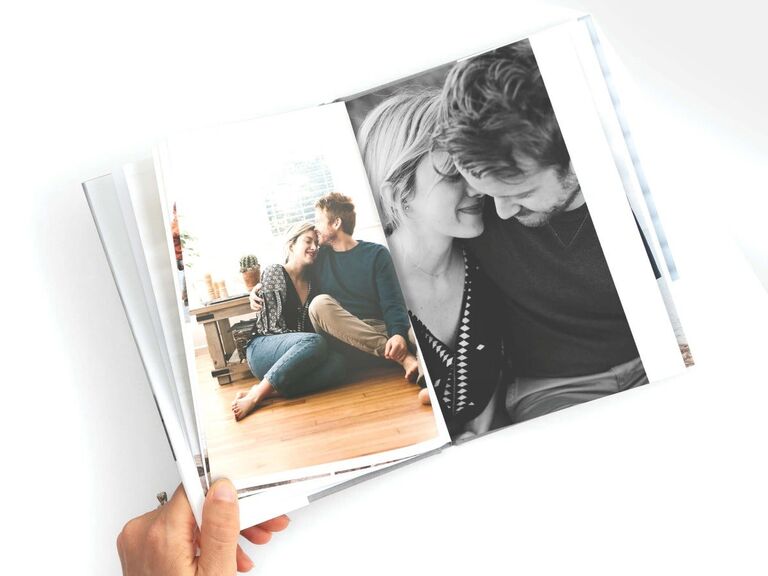 As far as paper gifts for your first anniversary go, a custom photo book is one of the most sentimental. Fill it with snapshots looking back on your first year together, starting from the day you each said "I do." This timeless photo album comes with a linen cover protected by a full or partial dust jacket showcasing an extra-special memory (one of your favorite wedding photos, maybe?). Take this as your reminder to keep documenting your lives together—your wedding album shouldn't be the only book of memories on your shelf.
Monthly Book Subscription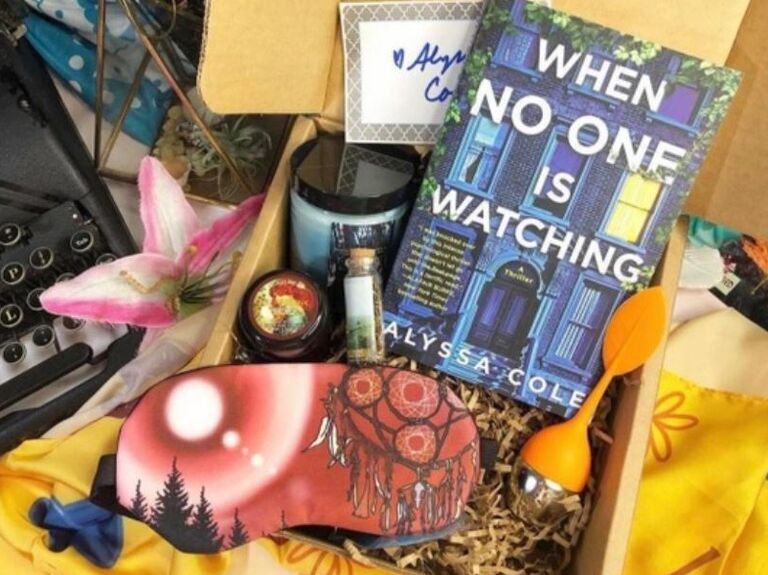 If your partner is an avid reader, see if you can hunt down their favorite publication as a first edition or signed copy (try Biblio). If not, consider treating your boo to this book subscription. Each month, they'll receive a new piece of adult fiction, as well as a handful of book-themed self-care goodies. It's a great way for them to broaden their horizons with new reading material while also taking some me-time.
Clock Anniversary Gifts
It's a tale as old as time! While the traditional first anniversary gift is paper, there's also a modern option: a clock. Giving your spouse (or a couple) a clock-themed present commemorates the year that has passed—and looks ahead to all the years to come. What could be a greater vote of confidence than that? We thought of everyone, from vintage lovers to the tech-obsessed, when we compiled this list of gifts.
Classic Hourglass Timer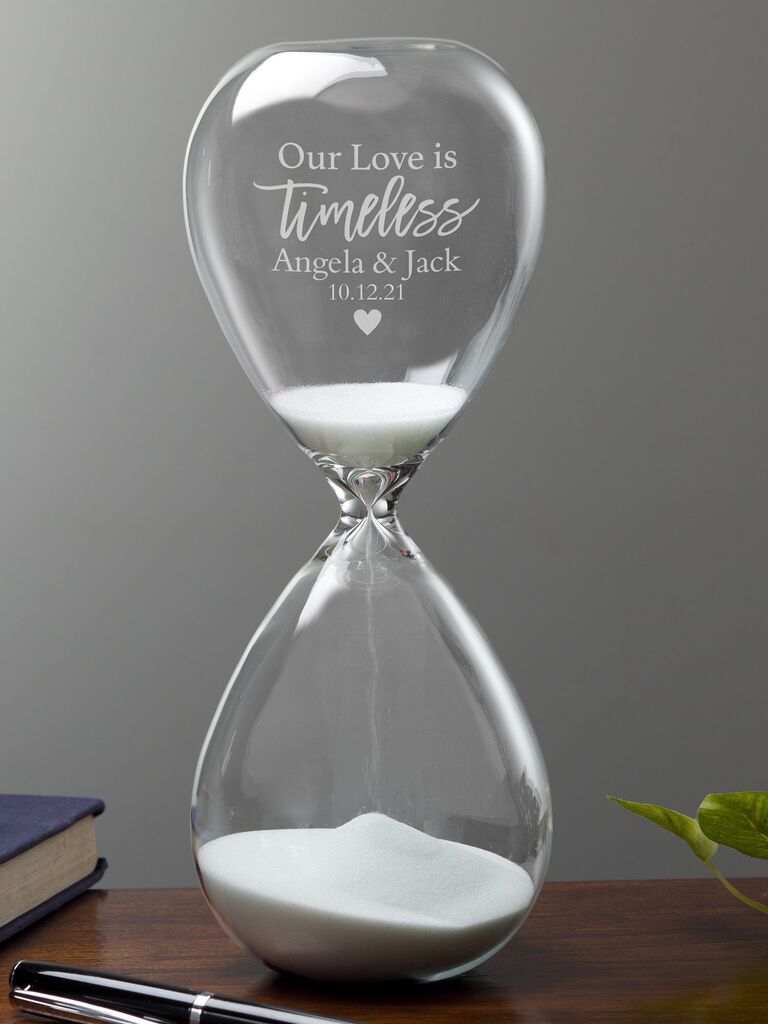 Not all clocks are created equal. This sophisticated sand timer will be a beautiful new addition to the couple's coffee or console table. Have it personalized with their names, the date of their nuptials and a sweet quote like "our love is timeless." Bonus: You'll save time on gift wrapping as the hourglass arrives beautifully presented in a satin-lined gift box.
Farmhouse-Style Clock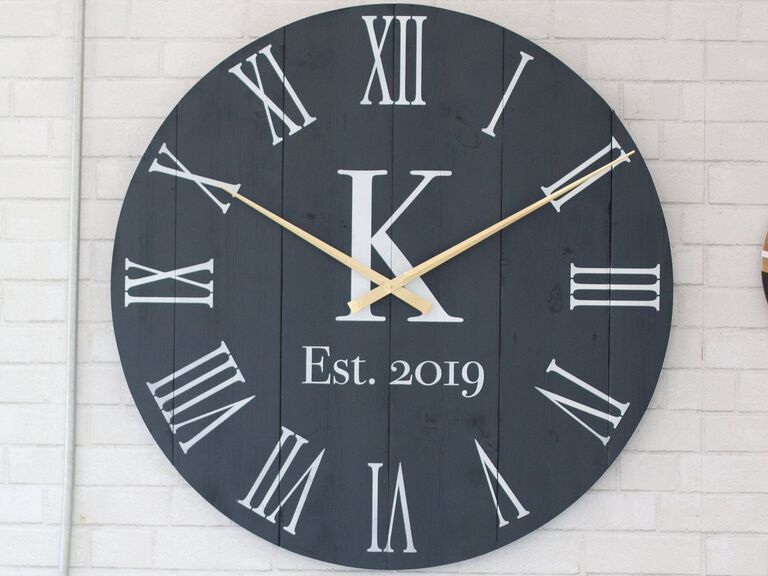 For a sentimental couple or spouse, try this custom farmhouse-style wall clock personalized with their last name (if they're sharing one, that is) and the year they said "I do." It's an especially sweet present if they recently moved into a new home or they're planning on making a few interior design upgrades. The clock itself is made from repurposed barn siding, so they'll be bringing a totally unique feature into their abode.
Retro Pocket Watch
For the spouse who already has a favorite wristwatch (or has a more vintage sense of style), a pocket watch is a stylish alternative. This made-to-order gift features a stunning exposed movement any clock aficionado will appreciate. Have the cover engraved with your partner's monogram for an extra-personal finishing touch. Trust us, they won't ever want to lose this heirloom-worthy accessory.
Modern Metallic Watch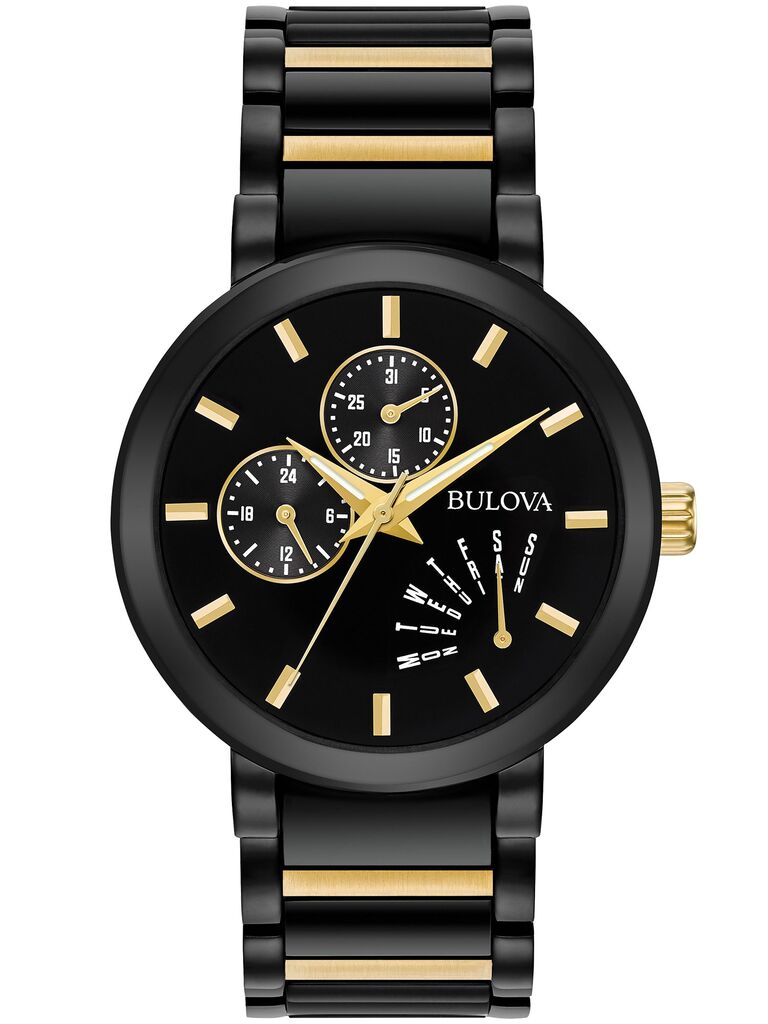 On the flipside, if you think your partner would prefer something a little more contemporary, go for it! Watches make great gifts for any occasion, but they're an especially thoughtful way of marking one year married to the love of your life. This sleek black and gold option from Bulova's modern collection is effortlessly cool and subtly plays up the gold theme. Chandler says it's perfect for the couple who seeks contemporary, refined lines.
Elegant Pearl Watch
Of course, you don't have to go for gold if that's not your S.O.'s style. This shiny stainless steel watch is equal parts timeless and modern thanks to its monochrome, minimalist design elevated by eight hand-set Cabochon pearls. Equal parts pretty and precious, pearls have been known to have many different meanings. Often, they're seen as a symbol of beauty, purity and grace (AKA: your wonderful spouse).
Upgraded Apple Watch Straps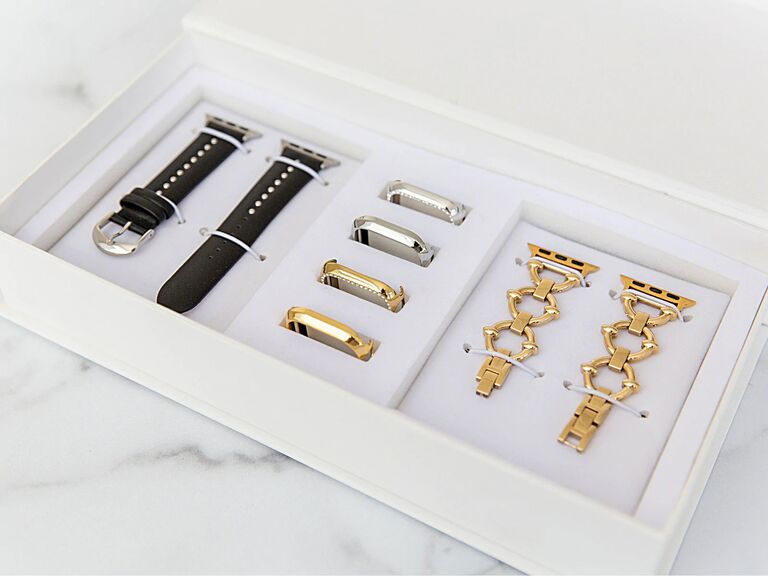 If your other half never leaves home without their Apple Watch, they might not be in the market for a traditional timepiece. Instead, why not upgrade the watch they already have? This beautiful gift set includes two stylish Apple Watch straps: a sleek metallic link band and an edgy black stud band. There are several color and size customization options available to suit your S.O.'s style and watch model. Their smart watch just became a chic new accessory all over again.
Unusual Agate Clock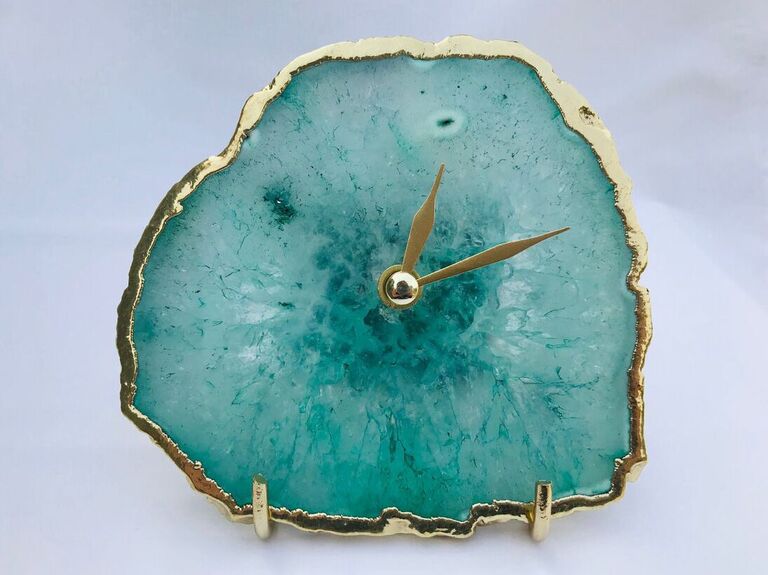 A tabletop clock is a fun and functional way to elevate their desk or nightstand, and what could be trendier than agate? The gold electroplated edges give another nod to the first anniversary's traditional metal (and are much more durable than gold-leaf or gilded edges). Finally, have this first anniversary clock gift personalized with a sweet message marking the one-of-a-kind milestone.
Eye-Catching Cuff Links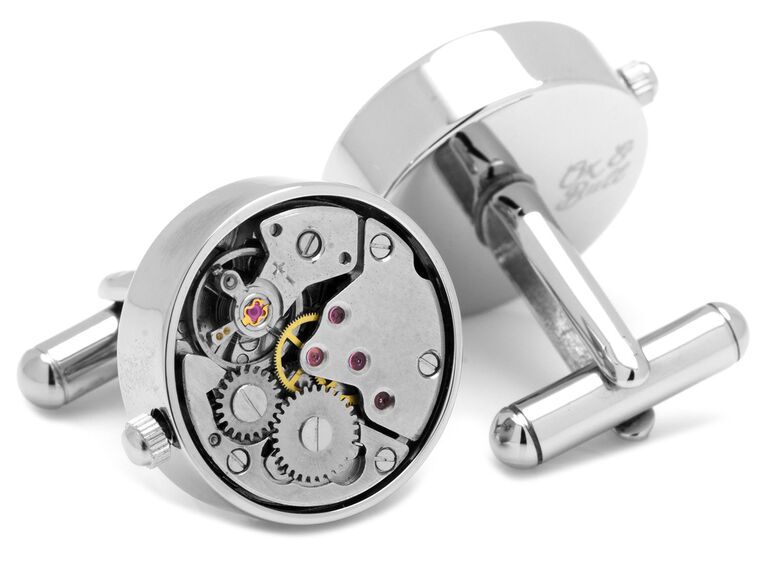 Looking for a super-unique first anniversary gift? We've got you covered. This unusual pick is ideal for the timepiece aficionado who already has enough actual watches. The one-of-a-kind cuff links are made from vintage watch parts—how cool is that? The base metal is silver-plated for shine and durability and there's an easy bullet back closure.
Beautiful Anniversary Sundial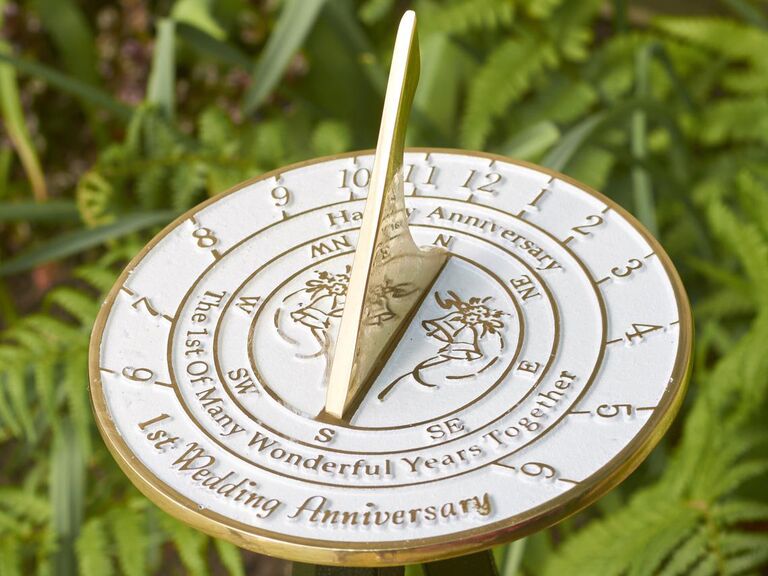 A sundial is the perfect clock anniversary gift for your husband, wife or the couple who loves spending time in the garden. This stunning white and gold keepsake is handmade with brass and reads: "The 1st of many wonderful years together." Cue the happy tears. (Psst, if you're torn about which gift to get, The Metal Foundry makes sundials for other milestone years too—just wait until the fifth anniversary.)
Showstopping Anniversary Clock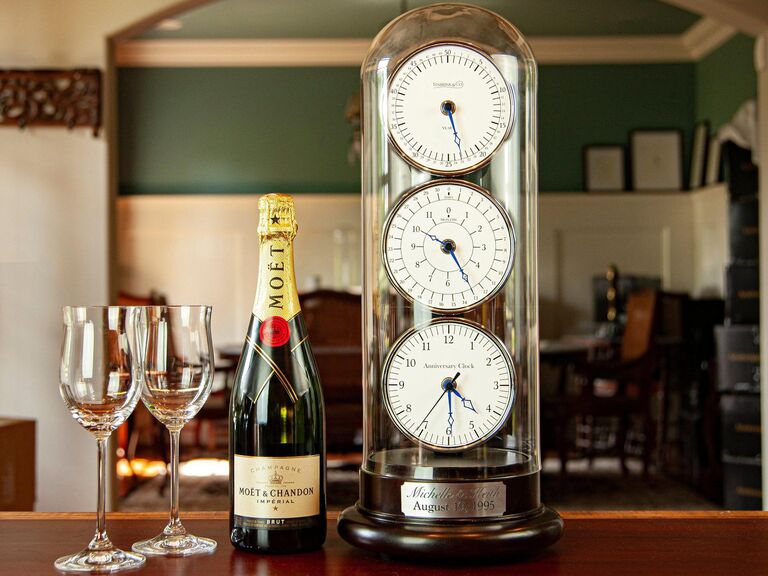 If you're going to splash out on a slightly more expensive present, make it this one. This incredibly meaningful clock doesn't just tell the time—it automatically plays the couple's song every year on their special day (or any time with the push of a button) thanks to a built-in MP3 player. The first clock face counts the years, the second one counts the months and days, and the third tells the time. A fairytale-inspired glass dome and engraved plaque add the finishing touches.
Alternative First Anniversary Gifts
With a full year of marriage done and dusted, you probably know them better than ever before. Even still, we get it if you're struggling to find a truly show-stopping first anniversary gift for your husband, wife or favorite couple. Not set on the modern or traditional themes? Don't worry, we've got your back—here are our favorite alternative presents that'll shower them with love.
Mesmerizing Rose Memento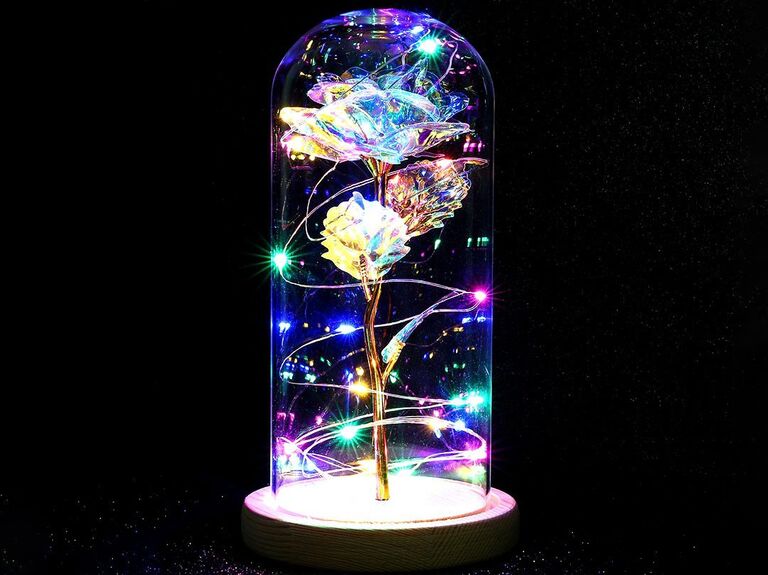 There's no right or wrong when it comes to finding good anniversary gift ideas—it's all relative to what your partner (or the couple) would appreciate. Any Disney fan would be over the moon to receive one of these romantic Beauty and the Beast-inspired enchanted roses. So much care and precision goes into making each one, from the colorful fairy lights to the carved wooden base. Because of the association with time and eternity, it loosely plays up the modern first anniversary theme too.
Cute Matching Underwear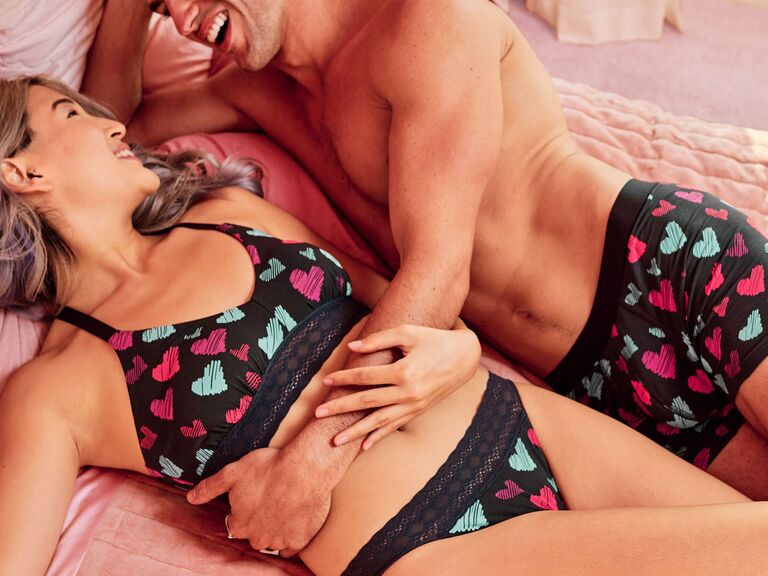 For the couple that appreciates a good laugh, consider the hilarious gift of matching couples underwear. Choose between playful patterns, bold colors and understated neutrals depending on just how funny you want your gift to be. You can even sign them up for a subscription so they can build up a collection of high-quality coordinating undies. MeUndies offers a range of inclusive sizes, underwear styles and pairing options for different genders.
Virtual Cooking Lesson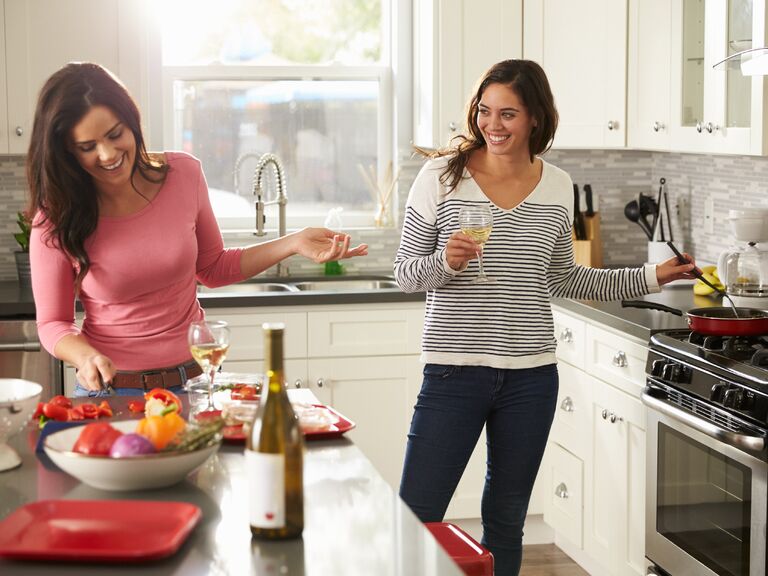 Shopping for a pair of lovers who love to learn? Gift the couple a cooking class, which they can take together for an informative (and tasty) date night. Sur La Table offers online lessons, so they can cook from the comfort of their own kitchen. There are new interactive classes added all the time with recipes to reflect seasonal ingredients and occasions. From baking workshops to globally-inspired meal demonstrations, there's bound to be a class that speaks to them.
Cozy Bath Robes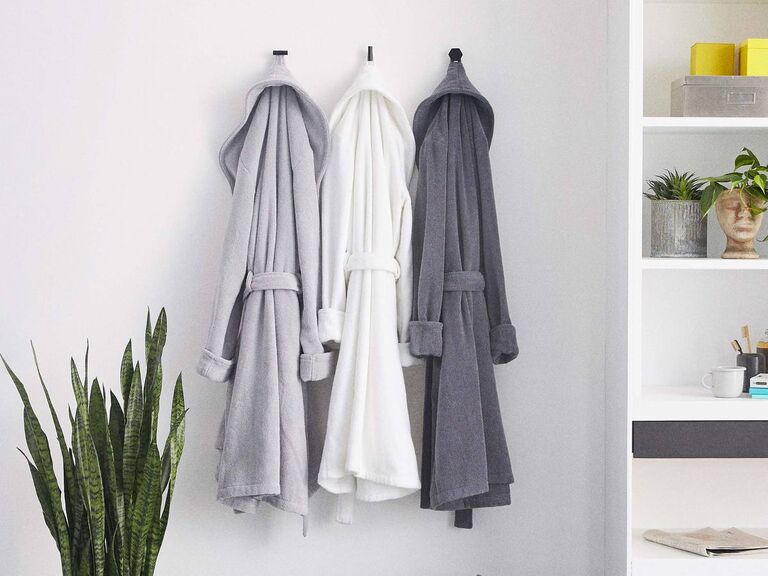 If you're someone looking to splurge (Mom or Dad, perhaps?), consider gifting the lovebirds each a luxury bath robe. The softness of these ultra-plush pieces is just divine. They're made from 100% Turkish cotton that's soft to the touch and super absorbent—ideal for wearing first thing in the morning, just out of the shower and any other time day they want to feel the plush embrace that only a luxury robe can provide.
Celebratory Bottle of Wine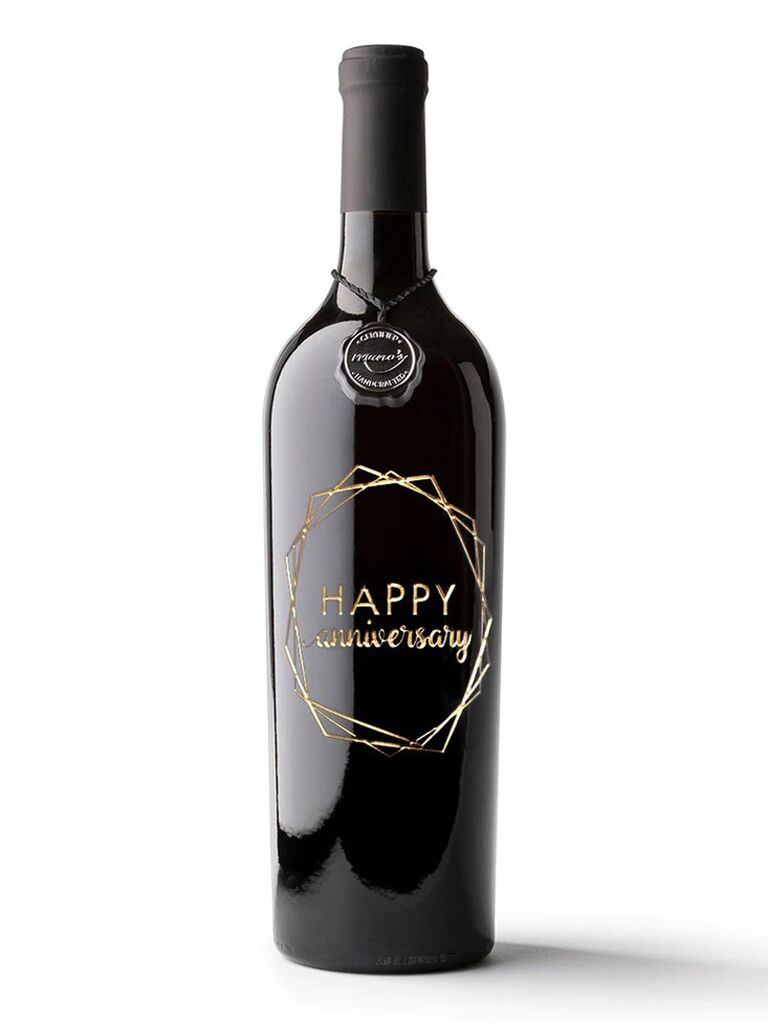 This full-bodied California cabernet sauvignon comes in a unique bottle etched with the words "Happy Anniversary" in a shiny gold frame. It's a sweet way to help two oenophiles mark their first year together or encourage a celebratory toast. Alternatively, you could choose an anniversary-worthy wine with their wedding year as the vintage—or a bottle meant to age and open on another milestone anniversary. Basically, wine is one of the best first anniversary gift ideas for a couple from their parents, siblings or friends. If they weren't sure what to do to celebrate their one-year anniversary, they will be now!
Luxurious Silk PJs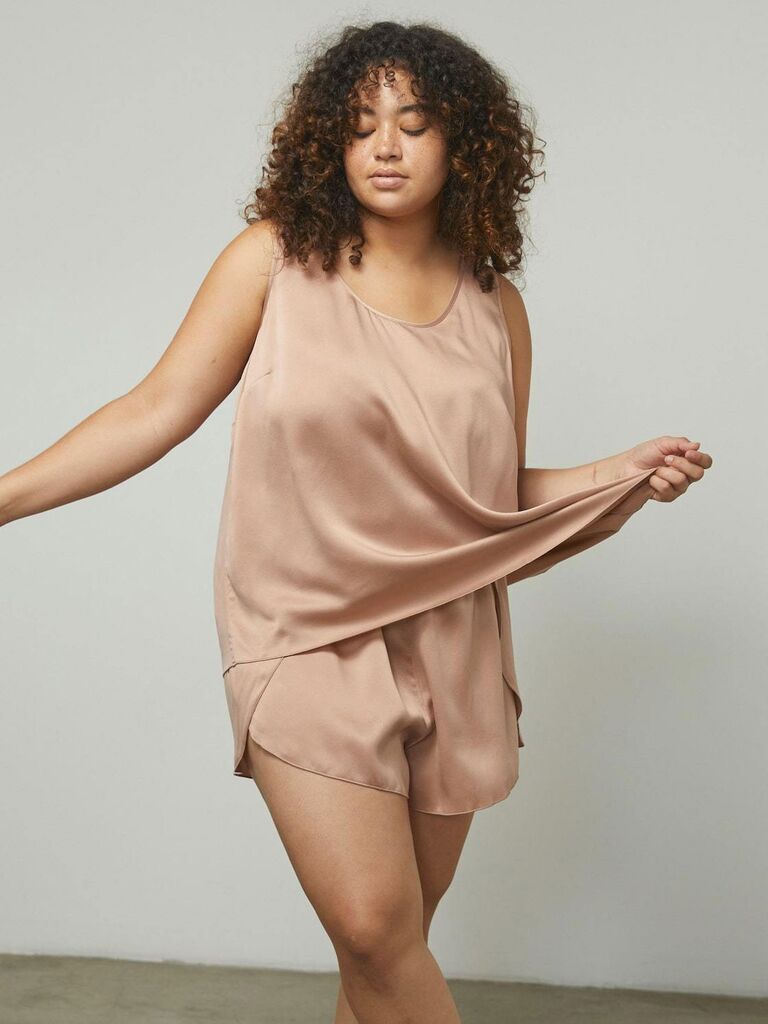 Want to really blow your other half away? Two words: silk loungewear. These luxurious PJs from Lunya will be their new go-to WFH outfit, sleepwear and lazy Sunday attire. Choose from a selection of cute colors to suit your spouse's personal style, including limited edition hues that change every few months. When she's ready to, she can just throw them in the wash like any other pair of pajamas (yes, really). Shopping for your hubby? Luxe silk loungewear is a winning one-year anniversary gift for her or him. Check out Lunya's sister site, Lahgo, for menswear options.
Monthly Date Night Delivery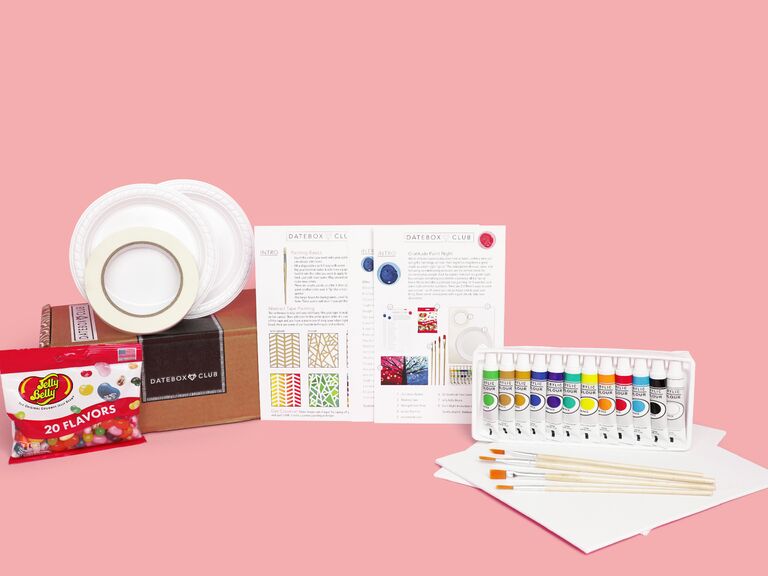 This date night subscription service takes the pressure out of planning romantic activities with your other half. Order physical packages that come with everything you need to enjoy a new activity at home, or opt for the digital subscription instead (it's a little more DIY but totally budget-friendly). Either way, there's no need to organize a babysitter or trip to the store. Past date box activities have included painting, tie-dye, baking, game nights and more.
Once-in-a-Lifetime Experience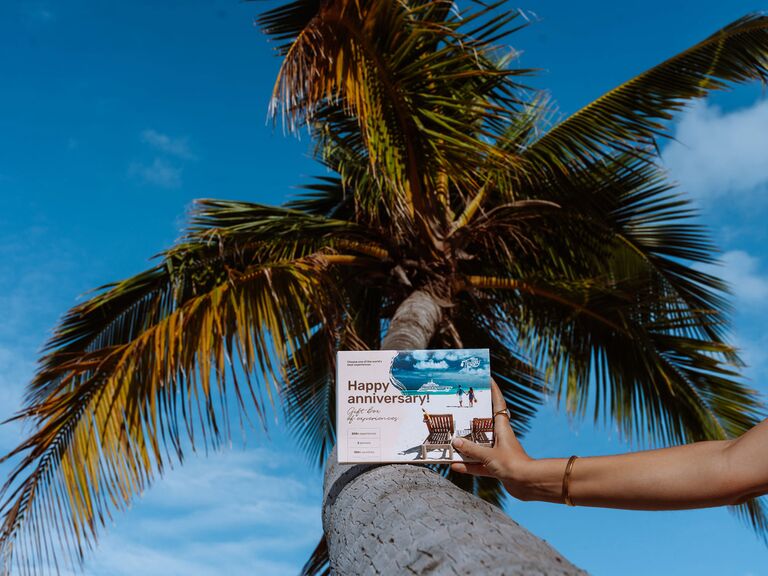 Anniversary gifts for your first year as a married couple don't have to be physical items or keepsakes. Spending the day looking back on memories from your wedding is undoubtedly romantic, but make sure you're not missing out on the opportunity to create new memories together. Tinggly's "Happy Anniversary!" gift includes an incredible experience for two people. The recipient gets to choose from more than 800 options in over 100 different countries (think: snorkeling with turtles in Saint John, cooking classes in Malaysia or cruising above Lake Tahoe in a helicopter). You have the option of sending your gift via email or in the form of a beautiful gift box. Once your S.O. or couple friends have settled on an experience, they can easily redeem it online.
Wedding Cake-Flavored Cupcakes
Didn't save wedding cake? (Or maybe you just want a backup treat?) Chow down on these popular (and adorable) mini wedding cupcakes filled with Bavarian cream and topped with vanilla icing and white chocolate shavings. One-year wedding anniversary gifts have never been so sweet! Order a tray of 25 if they're just for the two of you or pick up 50–100 for an anniversary party or sequel wedding celebration.
Symbolic Necklace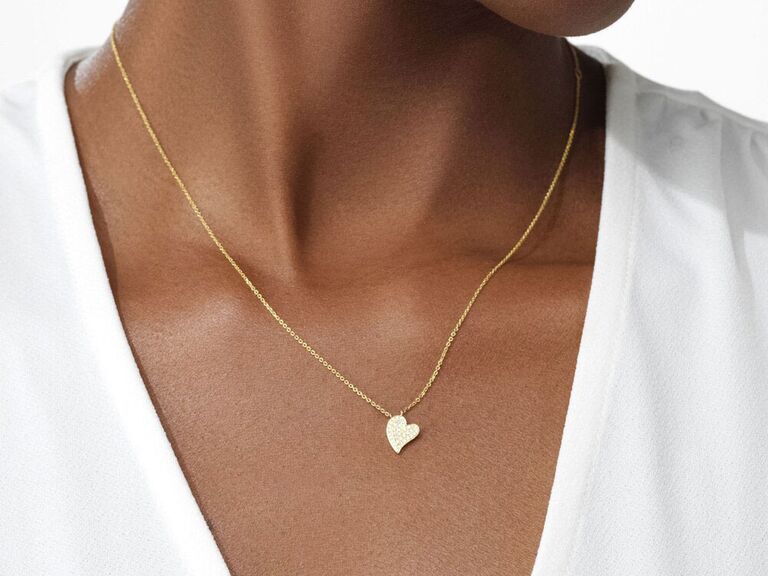 The first anniversary metal is gold, so we couldn't complete our one-year anniversary gift guide without some gorgeous gold jewelry. This romantic heart pendant is one of many stunning pieces from Serena Williams Jewelry. The dainty 10-karat gold chain will sit delicately around your S.O.'s neck and boasts a sparkly diamond heart that suspends slightly askew.
Smart Indoor Garden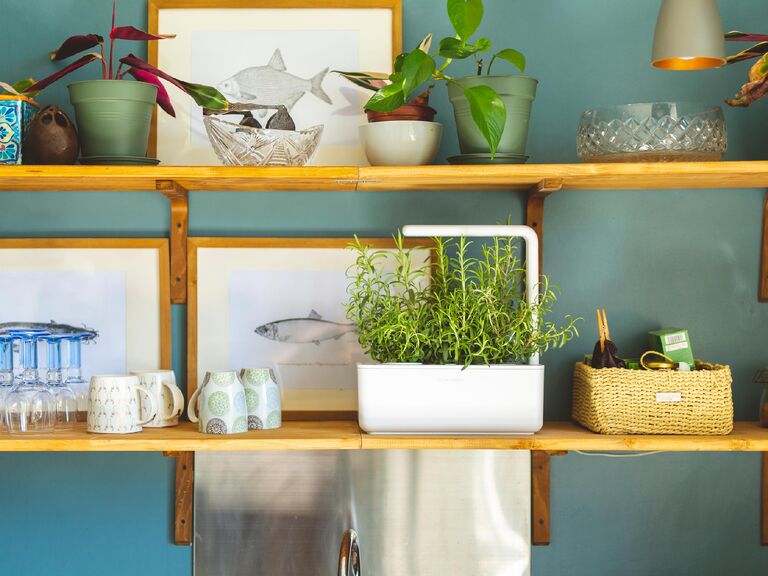 A compact indoor garden will be a dream come true for any pair of lovebirds who don't have a lot of outdoor space. This clever little device does all the work for them, providing just the right amount of light, nutrients and water for optimal plant growth. It's one of the top first anniversary gift ideas for couples who appreciate good home cooking (or even just a fresh garnish).
Sexy Lingerie Subscription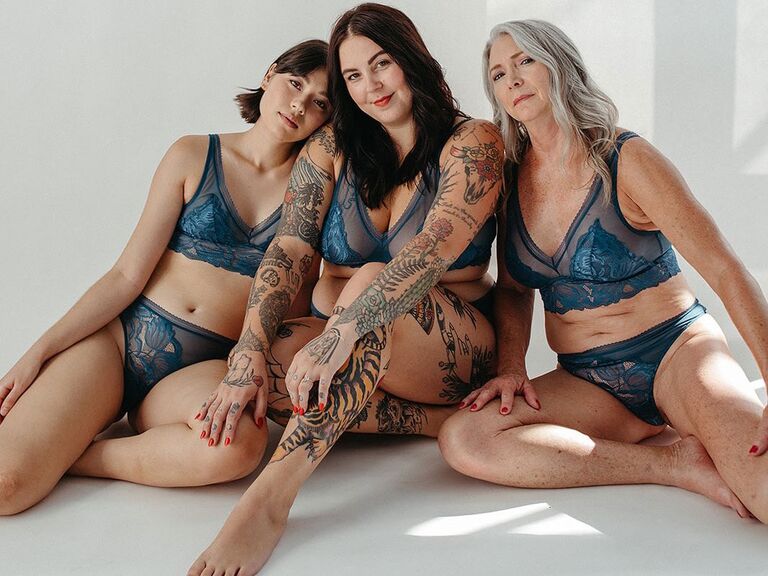 On the hunt for romantic gifts for your wife? Sign your spouse up for a luxury lingerie subscription from Underclub. They'll receive news of their gift via email and you can choose the date you want them to receive it. From there, your S.O. will be invited to complete a style questionnaire on Underclub's website so the team can curate their next delivery. Want to wow your other half even more? You can add a few stylish (and sexy) extras onto their first delivery.
First Anniversary Flowers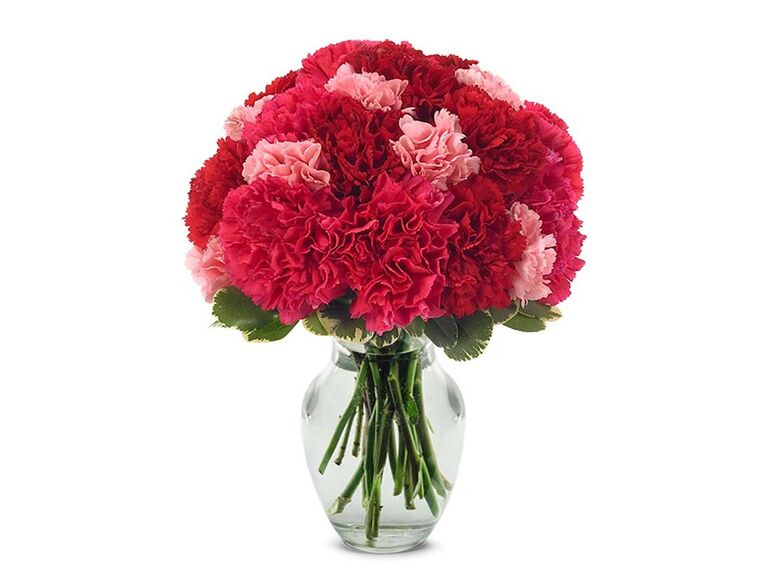 Who doesn't love a bouquet of beautiful blooms? Take it up a notch by selecting an arrangement of the traditional one-year anniversary flower: carnations. When associated with the first year of marriage, carnations represent the passion of young love. This beautiful bouquet features romantic hues of pink and red. Add a teddy bear, chocolates or anniversary balloons to your order to turn your thoughtful gift into a grand romantic gesture. Shopping for an extra surprise at the last minute? From You Flowers offers same-day and next-day delivery options.
Contemporary Whiskey Tumblers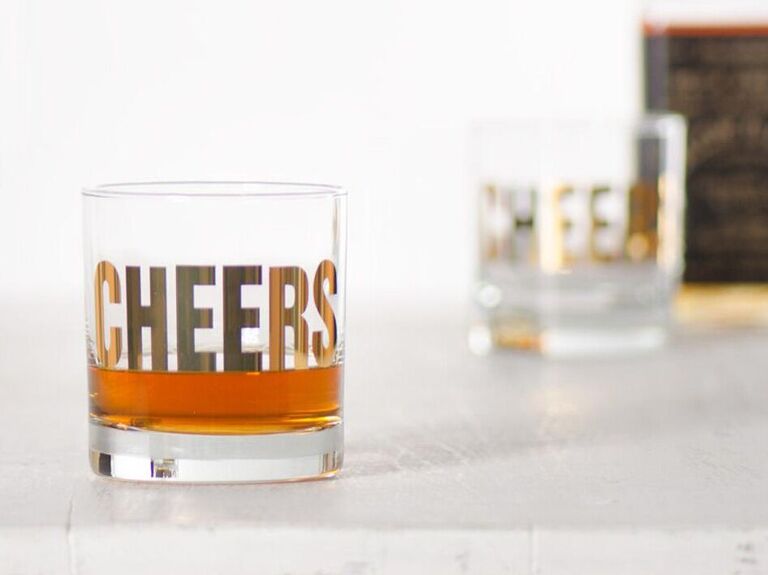 Fun fact: Every marriage milestone is associated with a gemstone or metal. And like we mentioned earlier, the first year's metal is gold. How about these "cheers" rocks glasses for the person who appreciates the finer things? They're printed with real gold, making them perfectly celebratory. (Psst, the seller also makes a set you can personalize based on your S.O.'s favorite types of liquor.) Bonus points if you pick up a bottle of their favorite booze too.
On-Theme Preserved Roses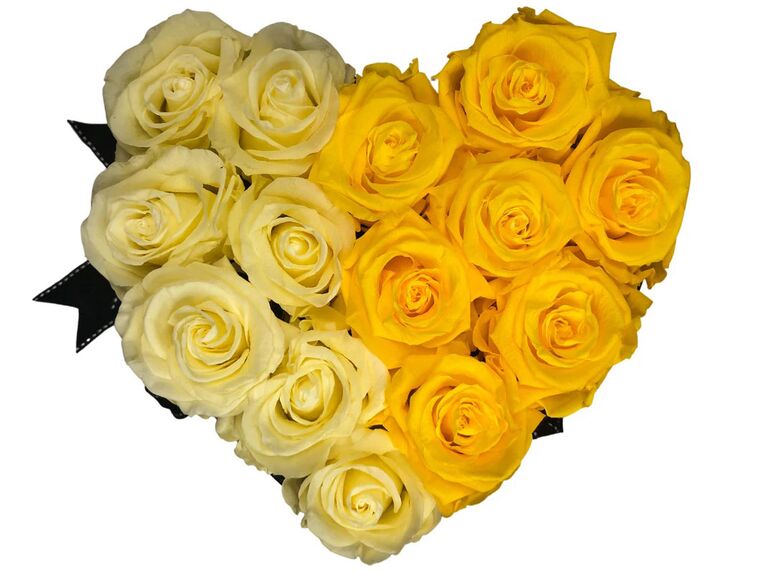 As a refresher, each year of marriage is also assigned a special color. The first year has two: yellow and gold. This gorgeous arrangement is made with beautiful preserved roses in two different yellow tones. The roses arrive in a romantic heart-shaped box, which is designed to keep them safe and secure during transit. Once your other half removes the lid, the roses will pop up ready to display. Preserved flowers are a little more expensive than fresh blooms, but they last for much longer. Plus, you can get 15% off your order using our exclusive code THEKNOT15 (you're welcome).
A Tree Planted in Their Name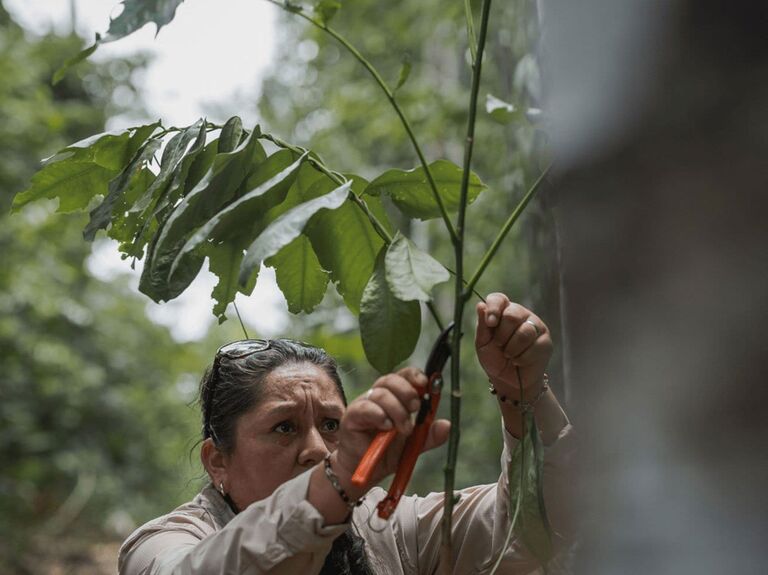 Shopping for the spouse or couple who already has everything? Instead of stocking their home or jewelry box with keepsakes, opt for a gift that gives back. One Tree Planted allows you to gift a tree in another person's name. The tree (or trees) will be planted in an area affected by environmental disaster, helping to restore native biodiversity and improve local communities. The recipient will receive a gift card via email letting them know a tree will be planted in their honor. What better way to look forward to your continued growth as a couple? And since paper comes from trees, it's also a creative spin on the traditional first anniversary material.