40 Unique 1-Year Anniversary Gifts for That First Major Milestone
Looking for the perfect first anniversary gift? Shop our list of creative, traditional (hello, paper!) and modern presents.
We have included third party products to help you navigate and enjoy life's biggest moments. Purchases made through links on this page may earn us a commission.
Three hundred and sixty-five days—and counting! The first year of marriage is in the books, which means it's time to celebrate. And while COVID-19 restrictions might mean throwing the romantic getaway or fancy dinner reservation out the window for now, you can still pick out a thoughtful one-year anniversary gift for your spouse or favorite couple. To make up for the lack of elaborate celebrations, we've seriously raised the bar when it comes to finding the best presents for this amazing milestone. Whether you're shopping for something sentimental or prefer to keep things practical, one of these unique picks is sure to please. But before we get started, find out everything you need to know about the traditional and modern first-year anniversary gifts below. (Hint: This year is also known as the paper anniversary.)
What is the one-year anniversary gift?
Paper is the traditional one-year anniversary gift. It's fragile yet substantial, representing the newness of a young marriage. That said, paper isn't your only option. The modern present for this wonderful milestone is a clock—and believe it or not, you've got much more than watches to choose from.
Of course, if neither of those options speak to you, there are plenty of other gift ideas that can help you celebrate with your other half or the happy couple. Feel free to take inspiration from the traditional first anniversary metal, which is gold, or color, which is gold or yellow. Carnations are also associated with the first year of marriage, making them another fitting token of passion and young love. 
While sticking with traditional symbols is a nice way to make a gift feel special, it's not the only way. At the end of our list, you'll find alternative ideas that are just as thoughtful. Use your best judgment to pick out whatever you think they'll most appreciate.
In this article: 
Paper One-Year Anniversary Gift Ideas
Decided to go down the traditional route? There are so many creative ways to honor the paper anniversary (aside from writing a sweet card, of course). We've found some of the coolest paper anniversary gifts you've probably never thought of before, from origami earrings to book subscriptions. Ready to get started? Find the perfect first anniversary gift for your husband, wife or the happy couple right here.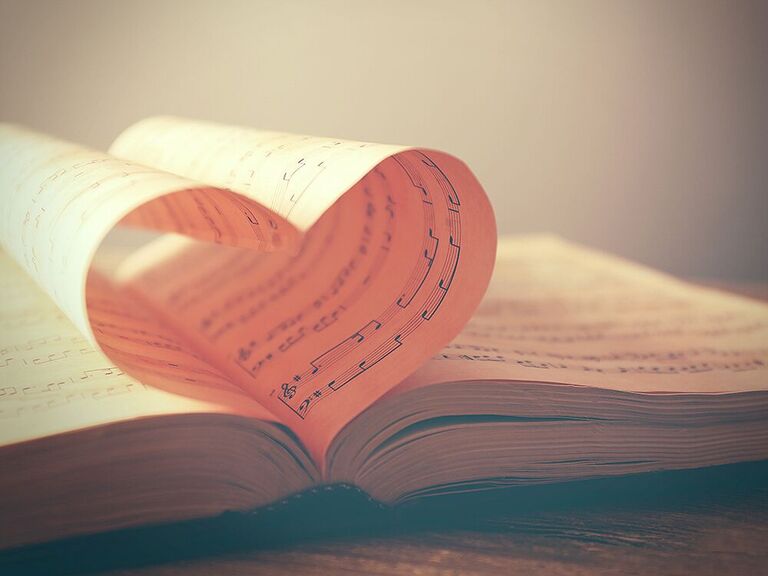 A super-meaningful way to honor your first year together is to pay tribute to an important detail from the big day. Since the theme this year is paper, it's the perfect opportunity to bring your first dance song to life on sheet music, which always looks beautiful framed (try Framebridge). Pair it with a recording of the song on vinyl (because Spotify is great, but sometimes, you just want the physical thing).
Musicnotes sheet music downloads, prices vary, Musicnotes.com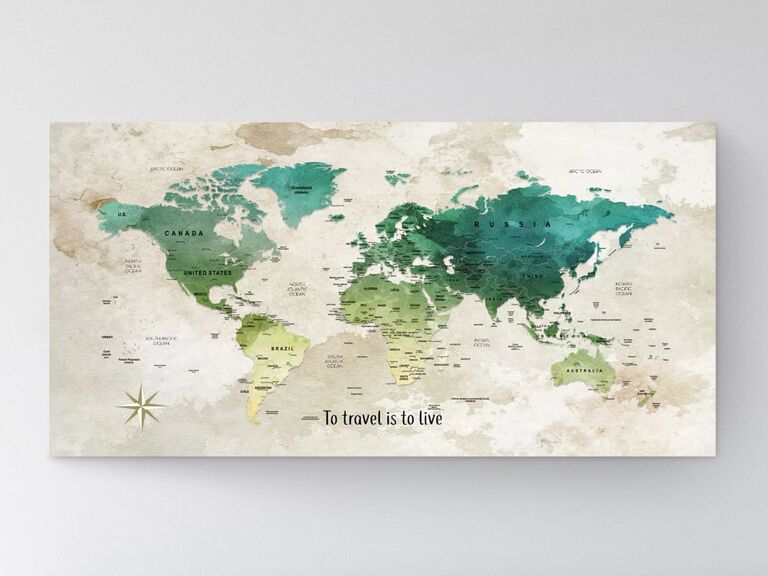 Travel may have been put on the back burner for a while, but that's not to say you can't still give a great travel-themed gift. This gorgeous push-pin map will remind them of all the adventures still to come and it'll look gorgeous in their home. Still not sold? You can get it personalized with names, a wedding date or a heartfelt quote.
Canvas Vows green and yellow push pin travel map, from $159, CanvasVows.com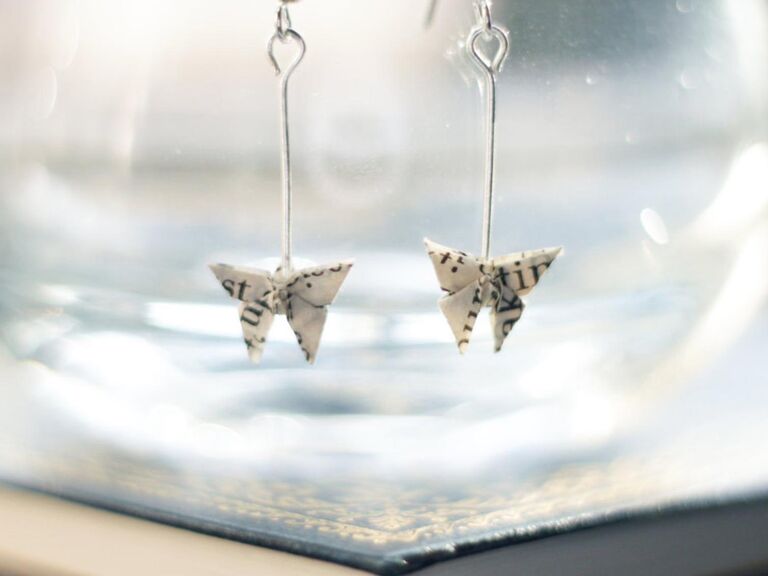 You might not have expected to see jewelry on our list of paper wedding anniversary gifts! These cute butterfly earrings are made from recycled book pages, making them a romantic present for anyone who's into reading or quirky accessories. 
The Paper Circus Shop origami butterfly earrings, from $18, Etsy.com
Here's another unique paper accessory you might not have seen coming. These special cuff links are personalized with little pieces of your wedding invitations. Durable and designed to last, your S.O. can truly wear their heart on their sleeve in the form of this romantic present.
Paper Anniversary Love 1 year anniversary gift for him wedding invitation cufflinks, from $89, Etsy.com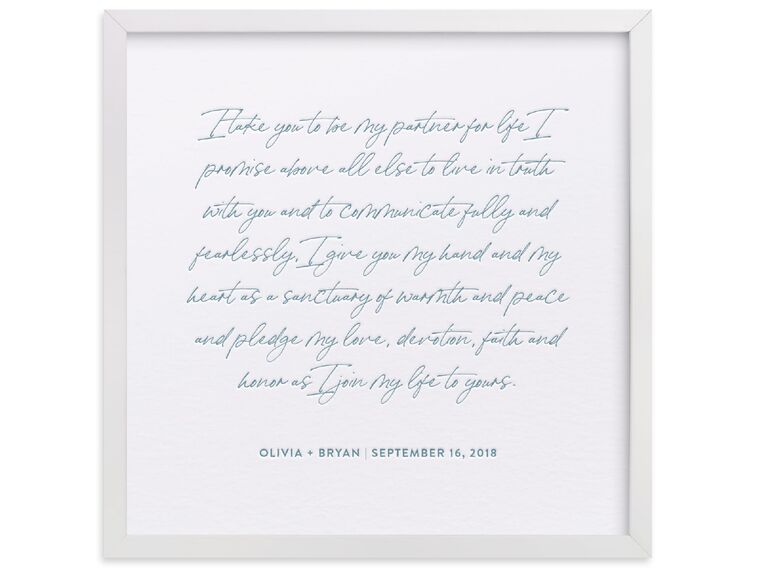 Why not have your wedding vows elegantly printed on luxe paper? Not only is this a lovely reminder of your wedding day, but of the promises you both made. Print them out yourself or leave it to a professional; this letterpressed option is totally wall-worthy. 
Minted Your Vows as a Letterpress Art Print, from $158, Minted.com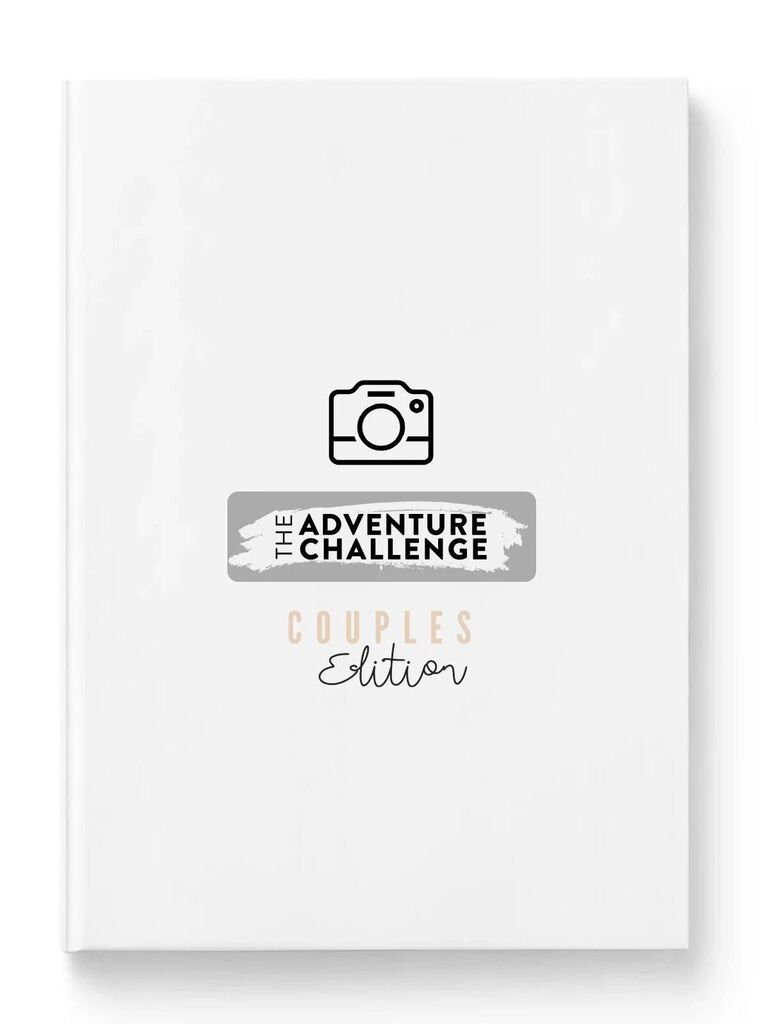 You've probably had your fair share of date nights after a year of marriage, so it's totally normal if you're starting to run out of ideas. If that's the case, this bestselling book is the solution. The pages come printed with surprise, scratch-off activities for you two to do together, from blindfolded baking to recreating your grandparents' first date. To help hold onto every memory, you can also upgrade to a gift set that comes with an instant camera. 
The Adventure Challenge Couple's Edition, $40, TheAdventureChallenge.com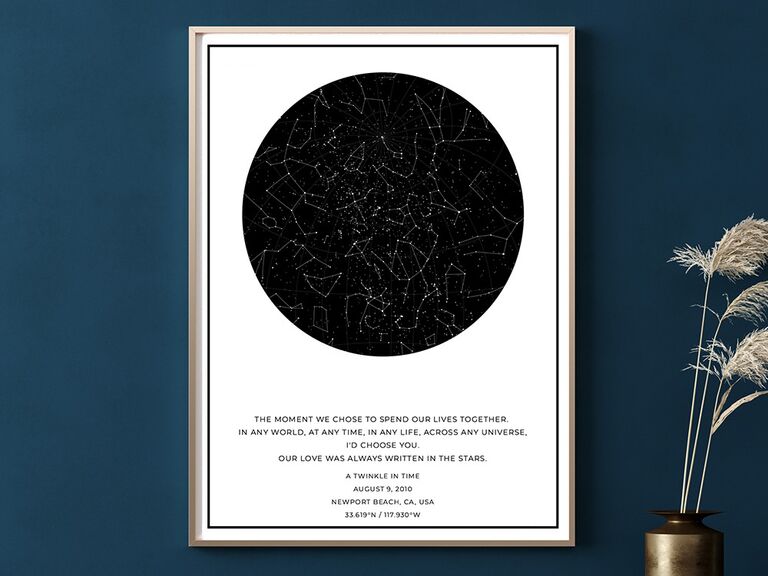 A custom map of the stars from the day you both said "I do" is an ultra-romantic gift to give your spouse one year later. You can include a heartfelt quote, the date and even the coordinates of where you tied the knot. 
Twinkle In Time Your Custom Star Map, from $60, TwinkleInTime.com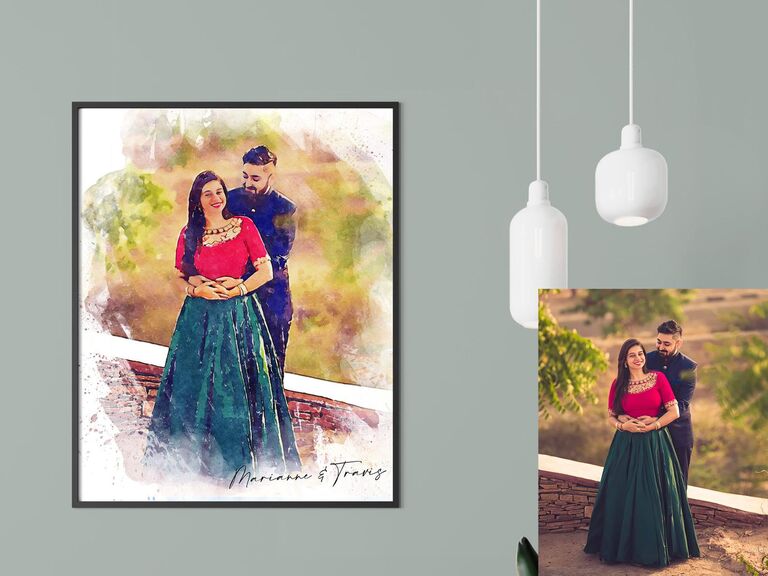 Experience gifts like photo shoots are always popular (check out Flytographer to book yours). That said, there's a lot of uncertainty around booking pretty much anything right now. Instead, why not send a photo to this Etsy seller and have it transformed into a keepsake couple portrait? Print it out yourself on the paper of your choice.
Magic Brush Design custom couple portrait from photo, from $50, Etsy.com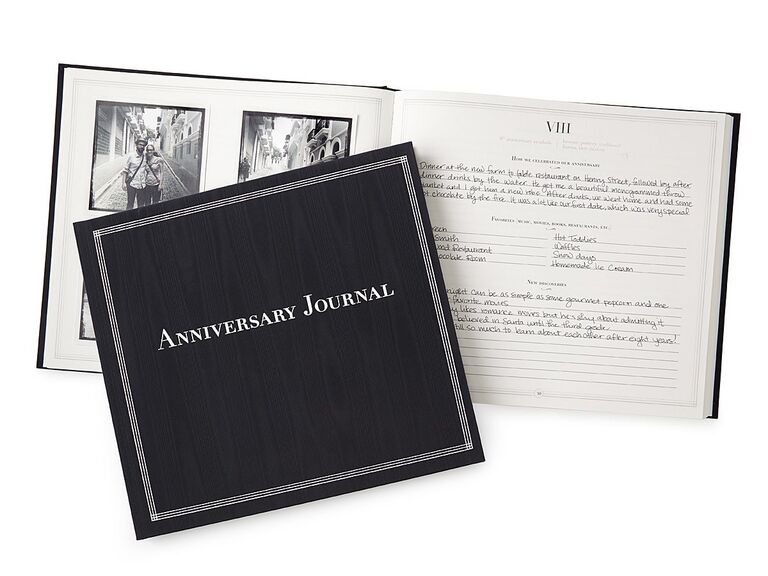 This classic journal is the ultimate first wedding anniversary gift. It's got a page for every year, from now right up until the couple's 60th milestone, with space to jot down how they celebrated, their favorite things from the past year and any notable new discoveries. There are also photo pages to help illustrate the memories, as well as keepsake pockets every decade for other important mementos.  
Uncommon Goods The Anniversary Journal, $85, UncommonGoods.com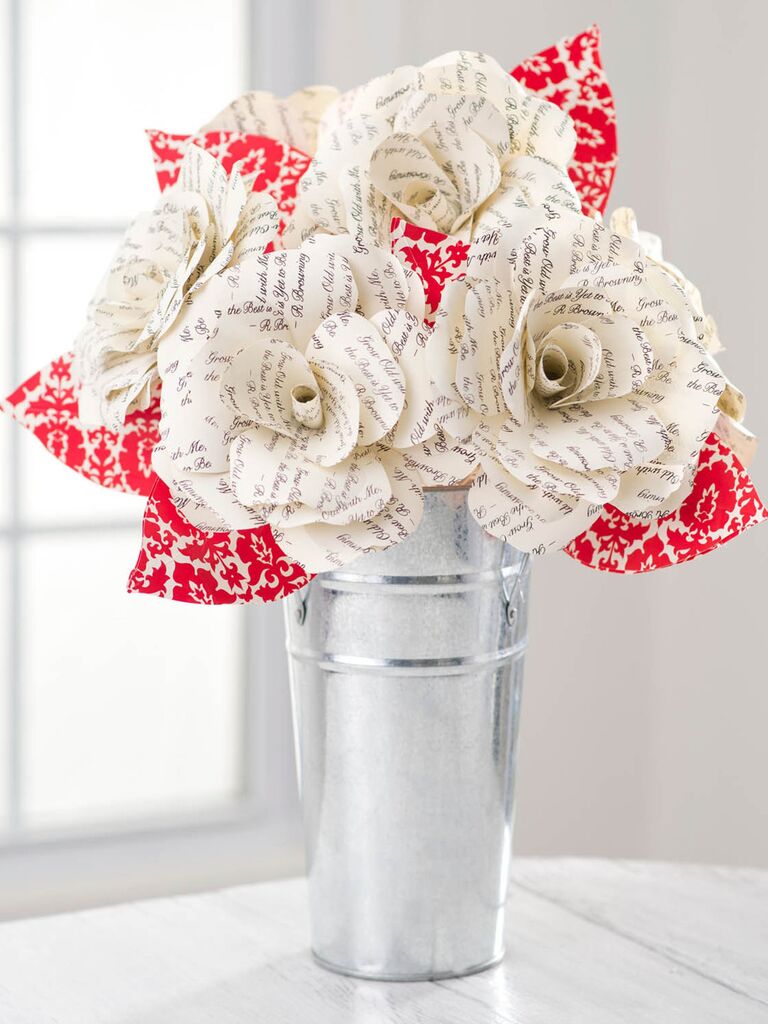 For the person who never turns down beautiful blooms, get them a bouquet that'll last forever—a paper bouquet. These faux flowers are printed with meaningful quotes that look to the future, such as "grow old with me" and "the best is yet to come." They're easily one of the most romantic paper gift ideas we've ever seen.
Bloomatini Grow Old With Me flowers paper anniversary gift, from $49, Etsy.com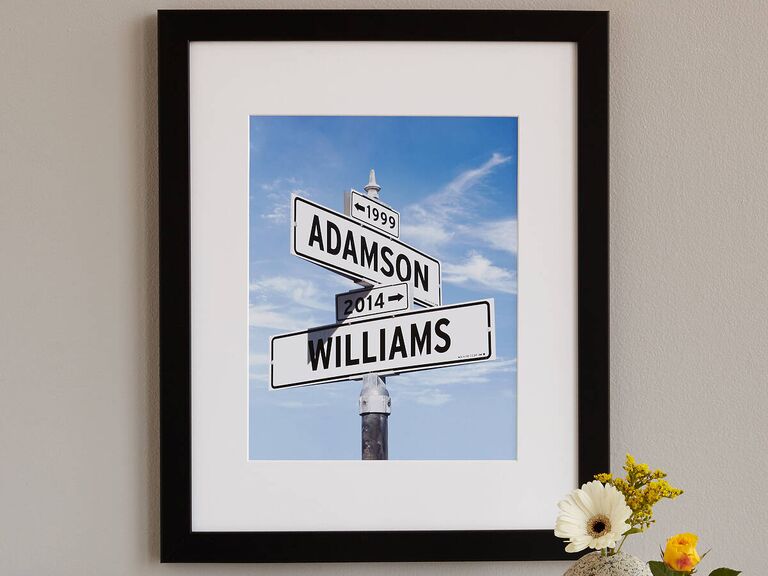 Throw it back to where it all started with a personalized print showing where your paths first crossed. This cute gift idea comes printed on luxe matte paper with a choice of framing options. Choose gold to pay tribute to the traditional color and metal.
Patricia Carlin Intersection of Love photo print, from $75, UncommonGoods.com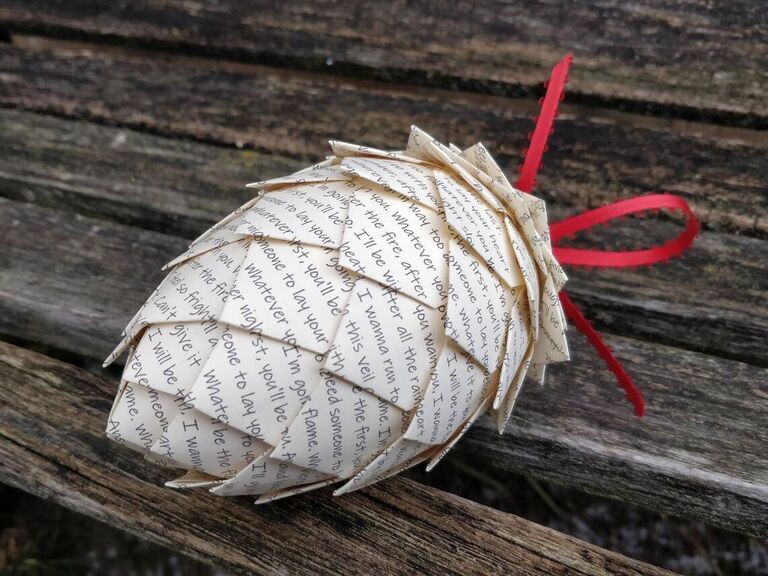 For the most festive couple you know—especially one that got married during the holidays—get them a paper ornament. This one is shaped like a pine cone and crafted from song lyrics. What a cute way to nod to their first dance! After all, something that reminds them of their wedding day is a perfect one-year anniversary gift.
Tree Town Paper your song pinecone ornament, $30, Etsy.com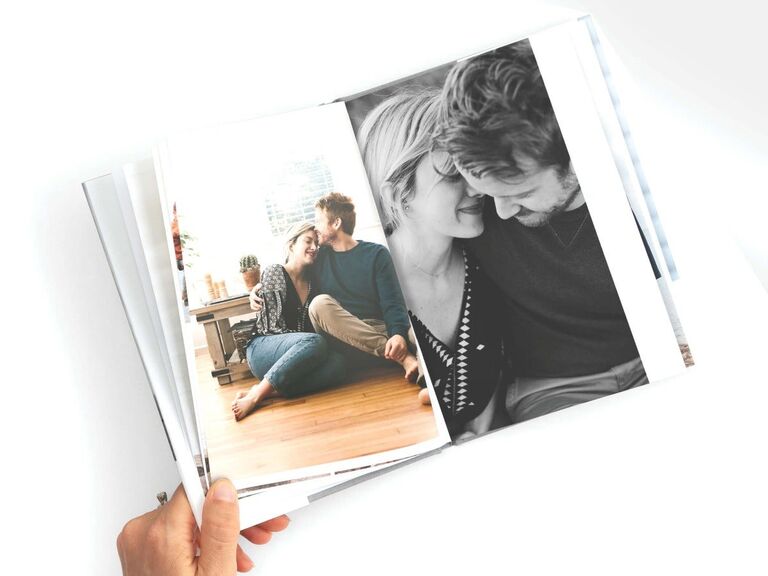 As far as paper gifts for your first anniversary go, a custom photo book is one of the most sentimental. Fill it with snapshots looking back on your first year together, starting from the day you each said "I do." This timeless photo album comes with a linen cover protected by a full or partial dust jacket showcasing an extra-special memory (one of your favorite wedding photos, maybe?).
Artifact Uprising hardcover milestone photo book, from $69, ArtifactUprising.com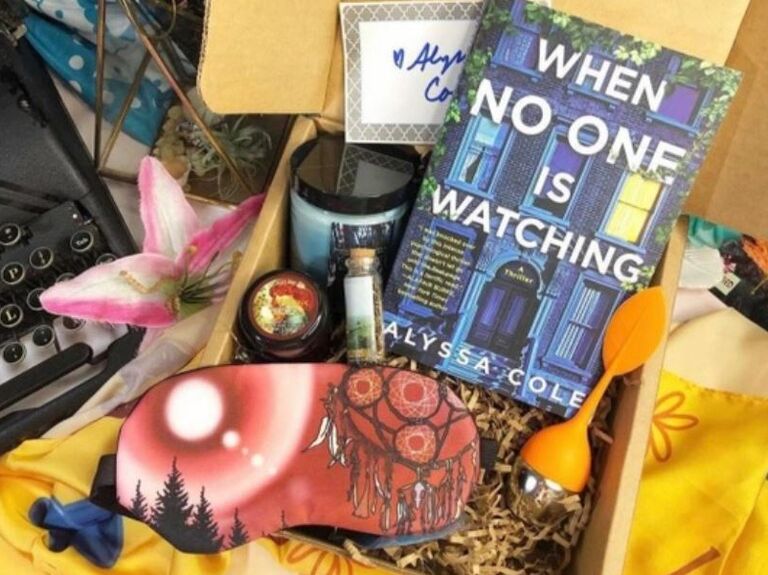 If your partner is an avid reader, see if you can hunt down their favorite publication as a first edition or signed copy (try Biblio). If not, consider treating your boo to this book subscription. Each month, they'll receive a new piece of adult fiction, as well as a handful of book-themed self-care goodies. It's a great way for them to broaden their horizons with new reading material while also taking some me-time.
Cratejoy Unplugged Book Box adult fiction monthly box, from $38 per month, Cratejoy.com

Clock One-Year Anniversary Gift Ideas
It's a tale as old as time! While the traditional first anniversary gift is paper, there's also a modern option: a clock. Giving your spouse (or a couple) a clock-themed present commemorates the year that has passed—and looks ahead to all the years to come. What could be a greater vote of confidence than that? We thought of everyone, from vintage lovers to the tech-obsessed, when we compiled this list of gifts.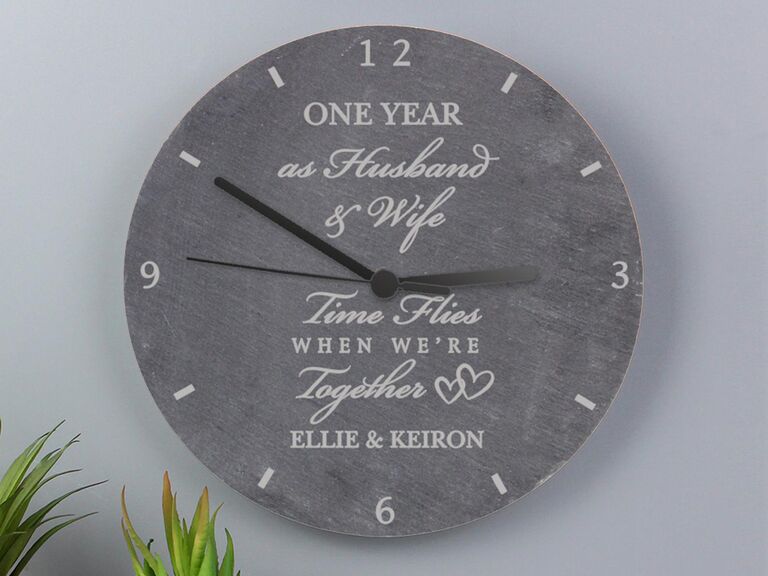 For a sentimental couple or spouse, try this custom slate wall clock personalized with whatever you choose. The minimalist piece of home decor reads: "Time flies when we're together." If there was ever a time for a romantic pun, it's now. 
Special Occasion G Shop personalized slate clock, $32, Etsy.com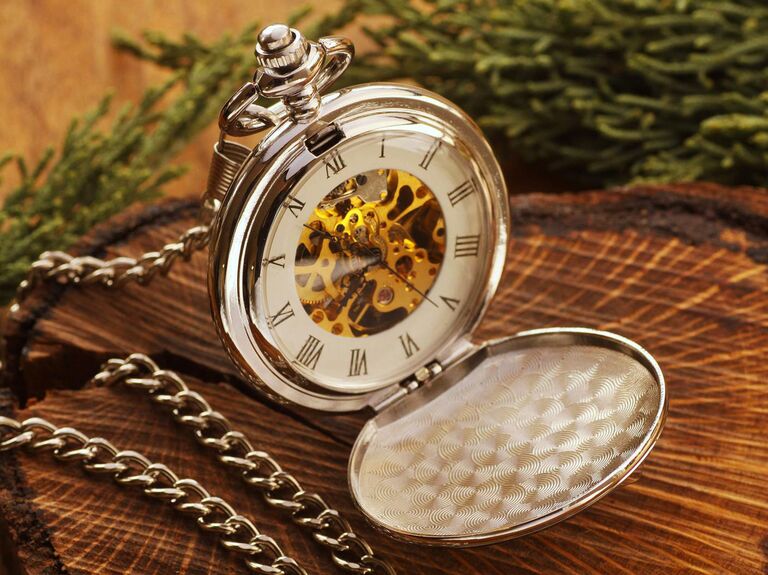 For the spouse who already has a sleek wrist watch (or has a more vintage sense of style), a pocket watch is the perfect alternative. This made-to-order gift features a stunning exposed movement, and the cover can be engraved with your partner's monogram. Trust us, they won't ever want to lose this sentimental accessory.
The Engraver engraved silver mechanical pocket watch, from $33, Etsy.com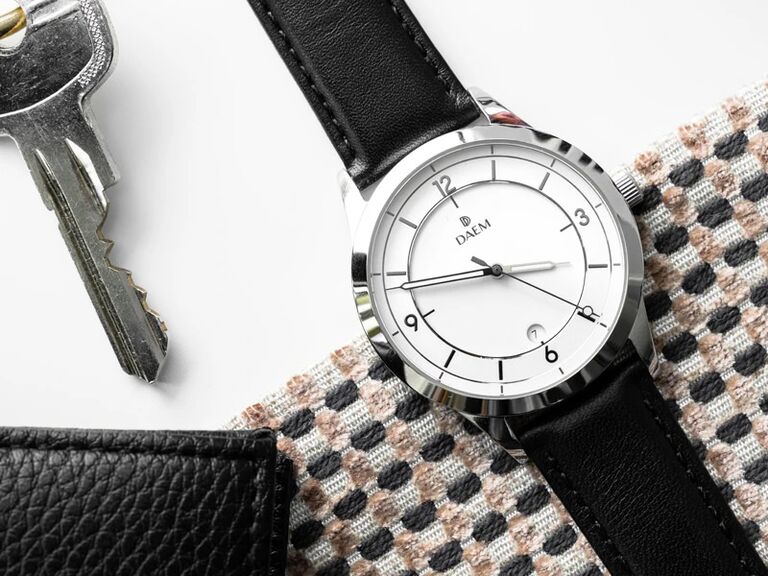 On the flipside, if you think your partner would prefer something a little more modern, go for it! Watches make great gifts for any occasion, but they're an especially thoughtful way of marking one year married to the love of your life. This classic leather-strap option is effortlessly cool.   
DAEM Slate x Black watch, $300, DAEMWatches.com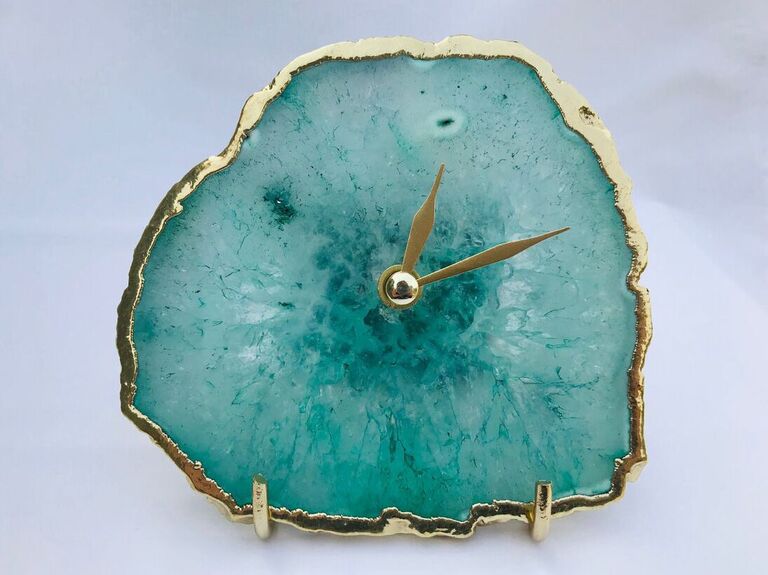 A tabletop clock is the perfect way to elevate their desk or nightstand, and what could be trendier than agate? The gold-plated edges give another nod to the traditional metal, and you can have it personalized with a sweet message too.
Aanthropology agate desk clock, from $56, Etsy.com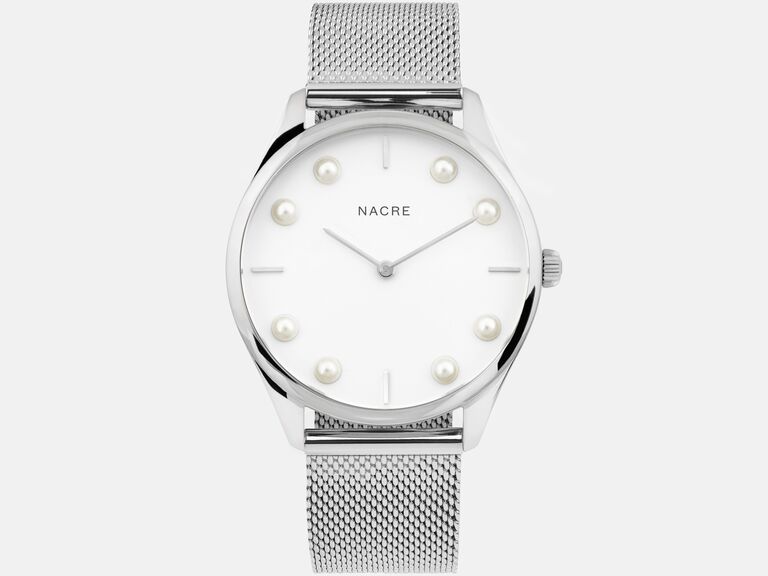 Of course, you don't have to go for gold if that's not your S.O.'s style. This shiny stainless steel watch is equal parts timeless and modern thanks to its sleek, minimalist design elevated by eight hand-set Cabochon pearls. 
Nacre Lune 8 in Stainless Steel, $240, NacreWatches.com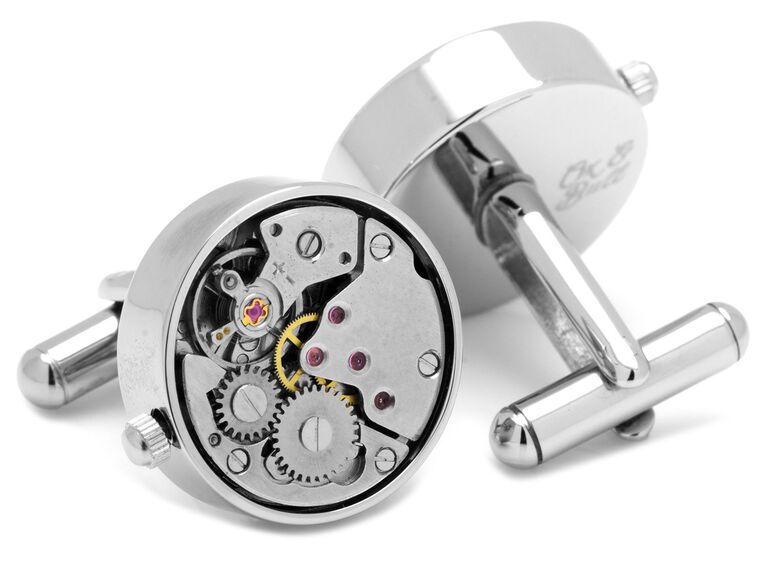 Looking for something super unique? We've got you covered. This unusual pick is ideal for the timepiece aficionado who already has enough actual watches. The one-of-a-kind cuff links are made from vintage watch parts—how cool is that?
Ox & Bull Trading Co. silver watch movement cufflinks, $175, Cufflinks.com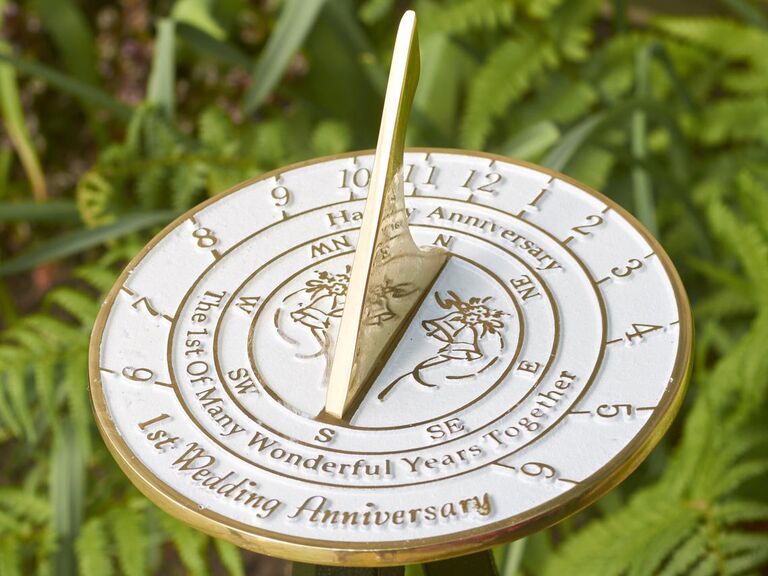 A sundial is the perfect gift for your husband, wife or the couple who loves spending time in the garden. This stunning white and gold keepsake is handmade with brass and reads: "The 1st of many wonderful years together." Cue the happy tears.
The Metal Foundry unique 1st wedding anniversary sundial gift for him or her, from $80, Etsy.com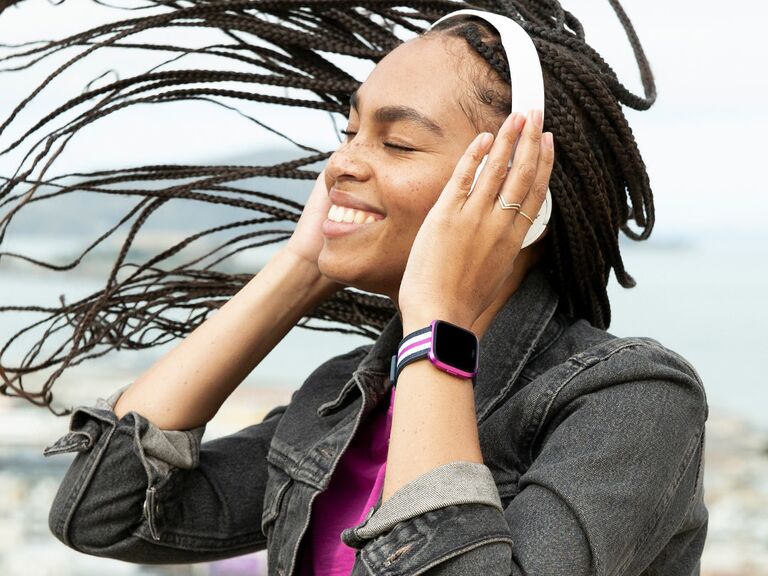 What's a roundup of clock-inspired gifts without a smartwatch? We're big fans of the latest offering from Fitbit. It's designed to help with stress management, keeping tabs on heart health and more. Whether your spouse loves hitting the gym or prefers hiking on the weekend, this clever gadget will be their new BFF (next to you, of course).
Fitbit Fitbit Sense, from $300, Fitbit.com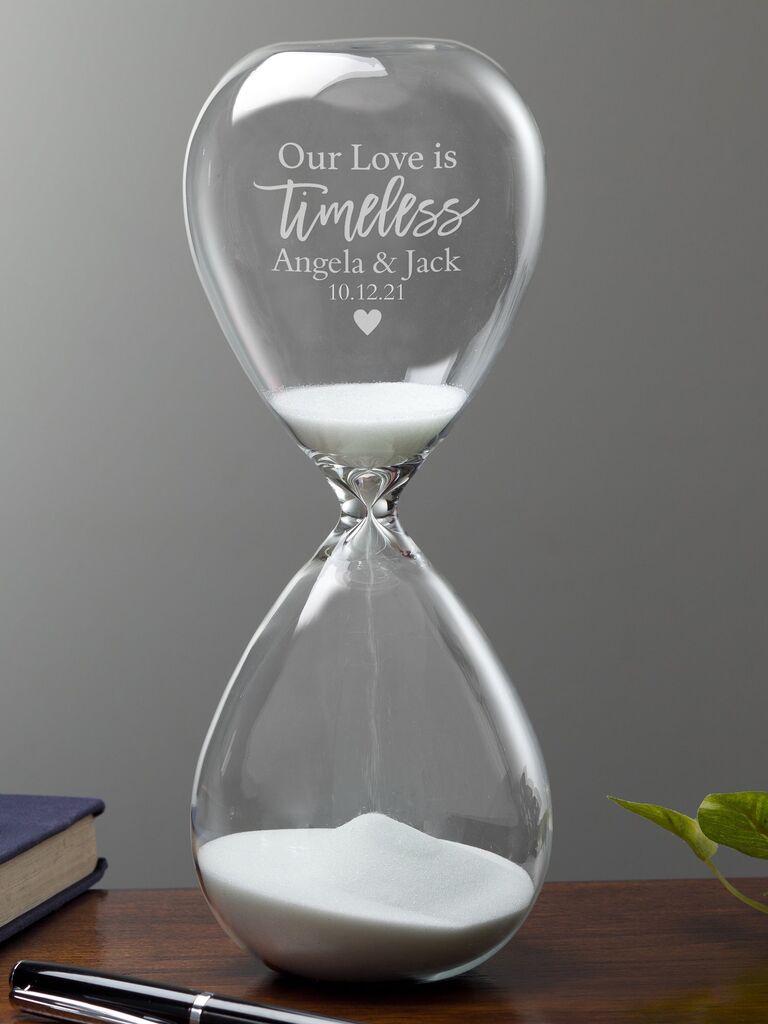 Not all clocks are created equal. This sophisticated sand timer will be a beautiful new addition on the couple's coffee or console table. Have it personalized with their names, the date of their nuptials and a sweet quote like "our love is timeless."
Personalization Mall Timeless Love personalized sand-filled hourglass, $60, PersonalizationMall.com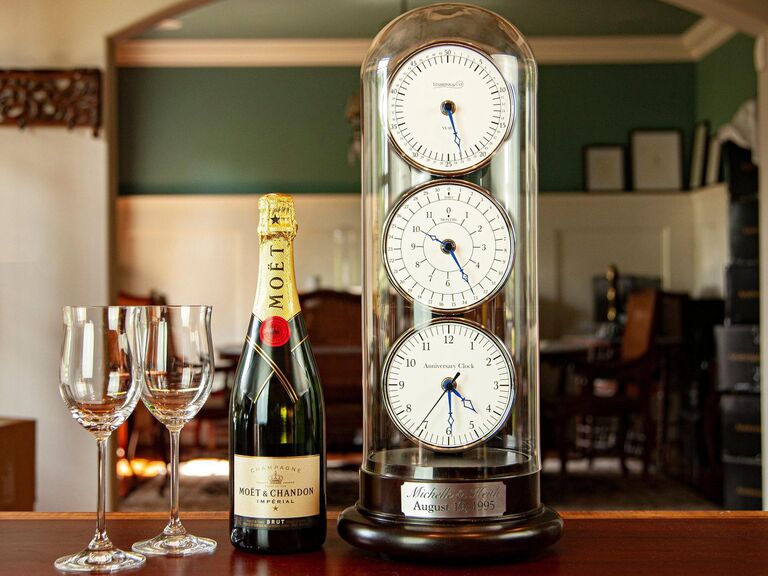 If you're going to splash out on a slightly more expensive present, make it this one. This incredibly meaningful clock doesn't just tell the time—it automatically plays the couple's song every year on their special day (or any time with the push of a button) thanks to a built-in MP3 player. The first clock face counts the years, the second one counts the months and days and the third tells the time. A fairytale-inspired glass dome and engraved plaque add the finishing touches.
The Anniversary Clock The Anniversary Clock, from $350, Etsy.com
Alternative One-Year Anniversary Gift Ideas
With a full year of marriage done and dusted, you probably know them better than ever before. Even still, we get it if you're struggling to find a truly show-stopping first anniversary gift for your husband, wife or favorite couple. Not set on the modern or traditional themes? Don't worry, we've got your back—here are our favorite alternative presents that'll shower them with love.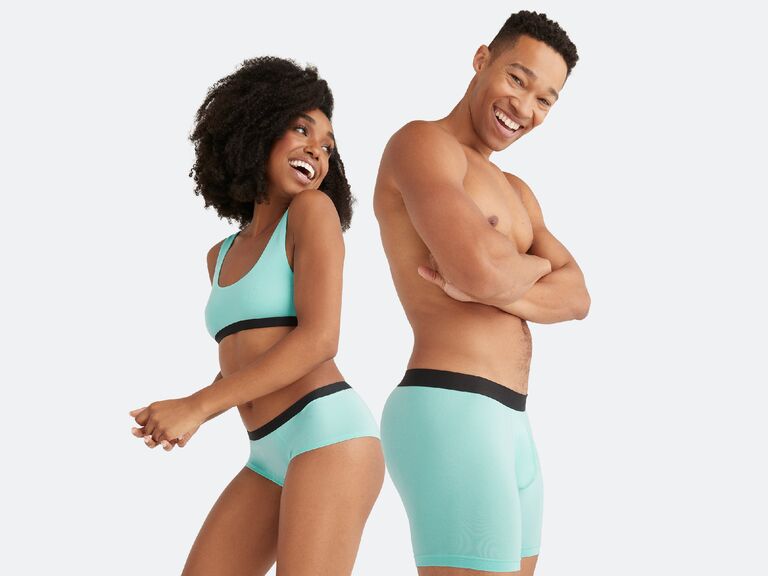 For the couple that appreciates a good laugh, consider the hilarious gift of matching undies. Choose between playful patterns, bold colors and understated neutrals depending on just how funny you want your gift to be. You can even sign them up for a subscription so they can build up a collection of high-quality matching underwear. 
MeUndies matching undies, prices vary, MeUndies.com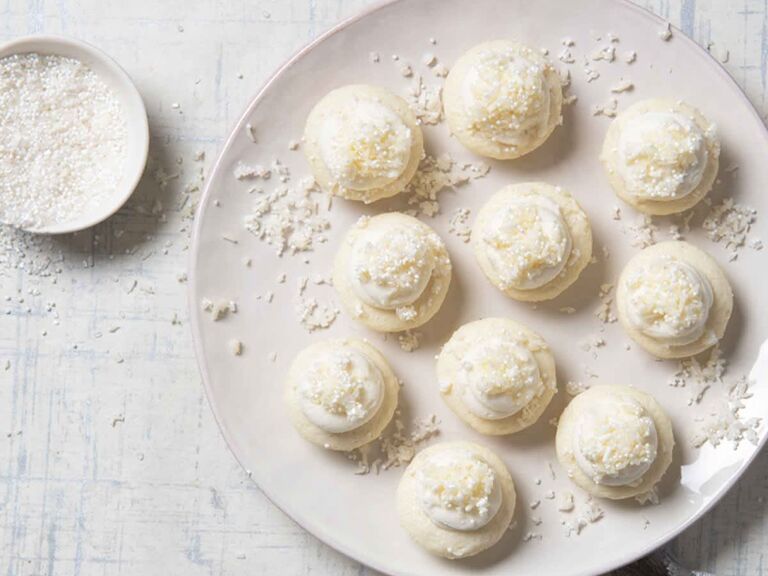 Didn't save wedding cake? (Or want a backup treat?) Chow down on these popular (and adorable) mini wedding cupcakes filled with Bavarian cream and topped with vanilla icing and white chocolate shavings. One-year wedding anniversary gifts have never been so sweet!
Baked by Melissa wedding cupcakes, from $35, BakedbyMelissa.com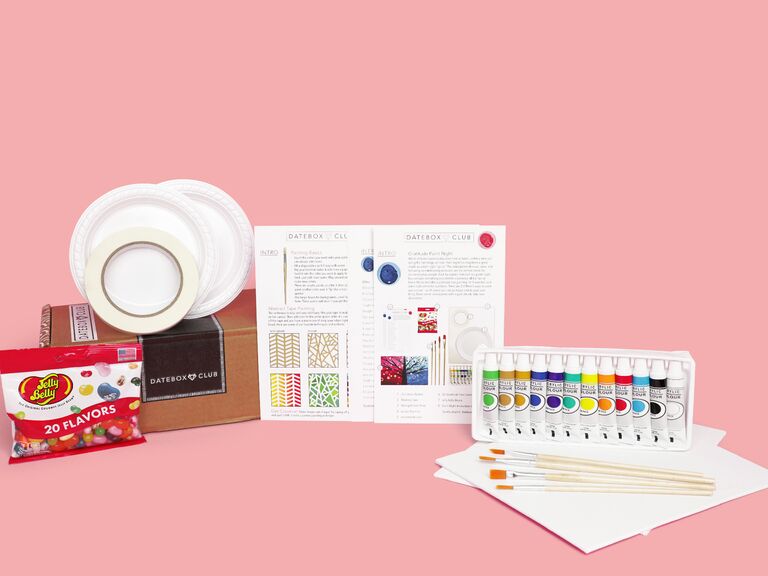 This subscription service for couples takes the pressure out of planning date night. Order physical packages that come with everything you need to enjoy a new activity at home, or opt for the digital subscription instead (it's a little more DIY but totally budget-friendly). 
DateBox Club subscription, from $5 a month, DateBoxClub.com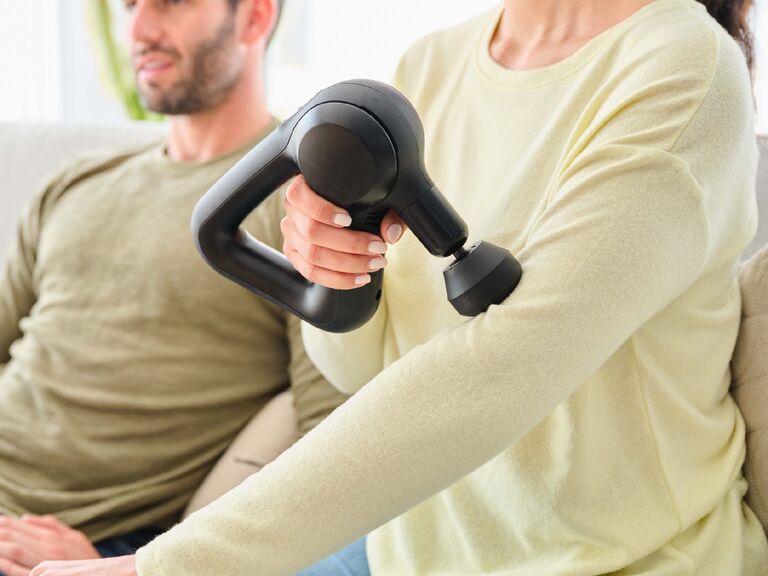 Anniversary gifts for your first year as a married couple definitely don't have to be sentimental. We can't imagine anyone being disappointed after unwrapping one of these deep-muscle massage tools. Designed with an ergonomic multi-grip handle, the Theragun is easy to use wherever they need it most. An extra-long battery life means they can enjoy longer sessions, while the super-quiet motor helps to make the experience all the more relaxing. 
Therabody Theragun Prime, $299, Theragun.com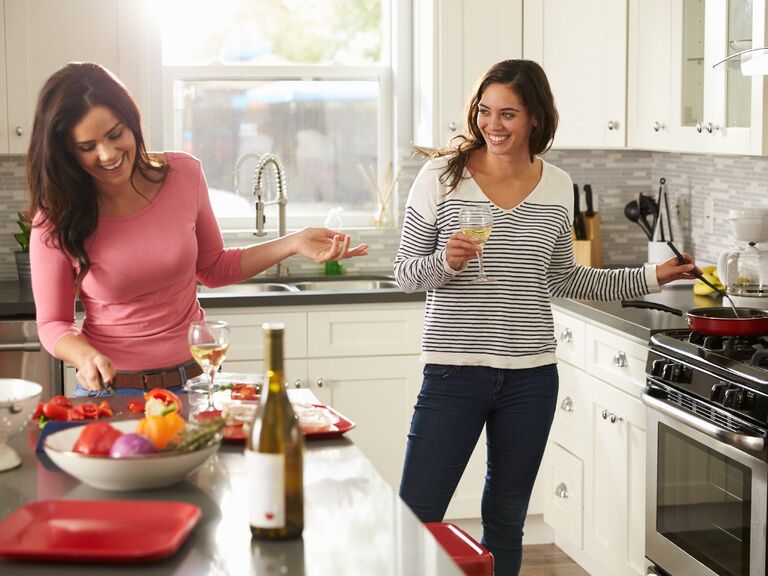 Lovers who love to learn? Gift the couple a cooking class, which they can take together for an informative (and tasty) date night. Sur la Table offers online lessons, so they can cook from the comfort of their own kitchen.
Sur la Table online cooking classes, from $29, SurlaTable.com
Auvere has tons of stylish one-year wedding anniversary gifts that'll work for him and her. This on-trend chain is made from classic yellow gold and features a wishbone charm. It's a sweet way to commemorate the day all your wishes came true.
Auvere small satin wishbone pendant & chain, from $850, Auvere.com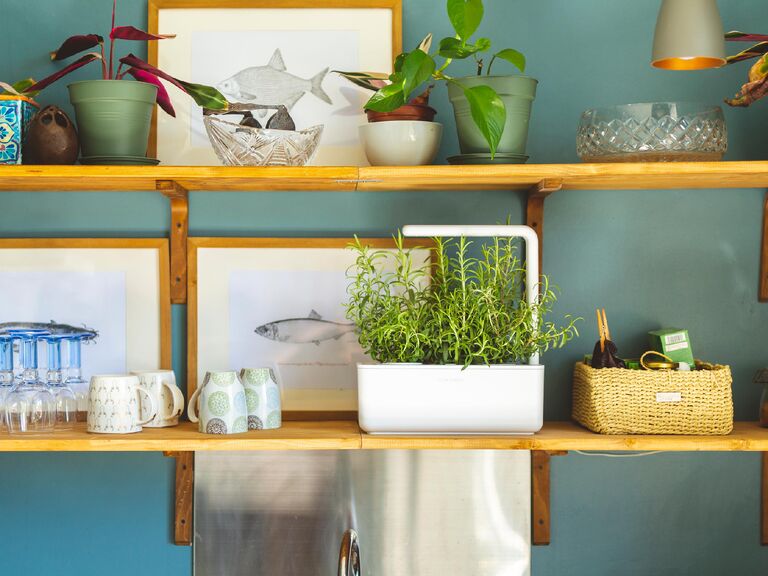 A smart indoor garden will be a dream come true for any pair of lovebirds who don't have a lot of outdoor space. This clever little device does all the work for them, providing just the right amount of light, nutrients and water for optimal plant growth. It's one of the top first anniversary gift ideas for couples who appreciate good home cooking (or even just a fresh garnish).
Click & Grow The Smart Garden 3, $100, ClickandGrow.com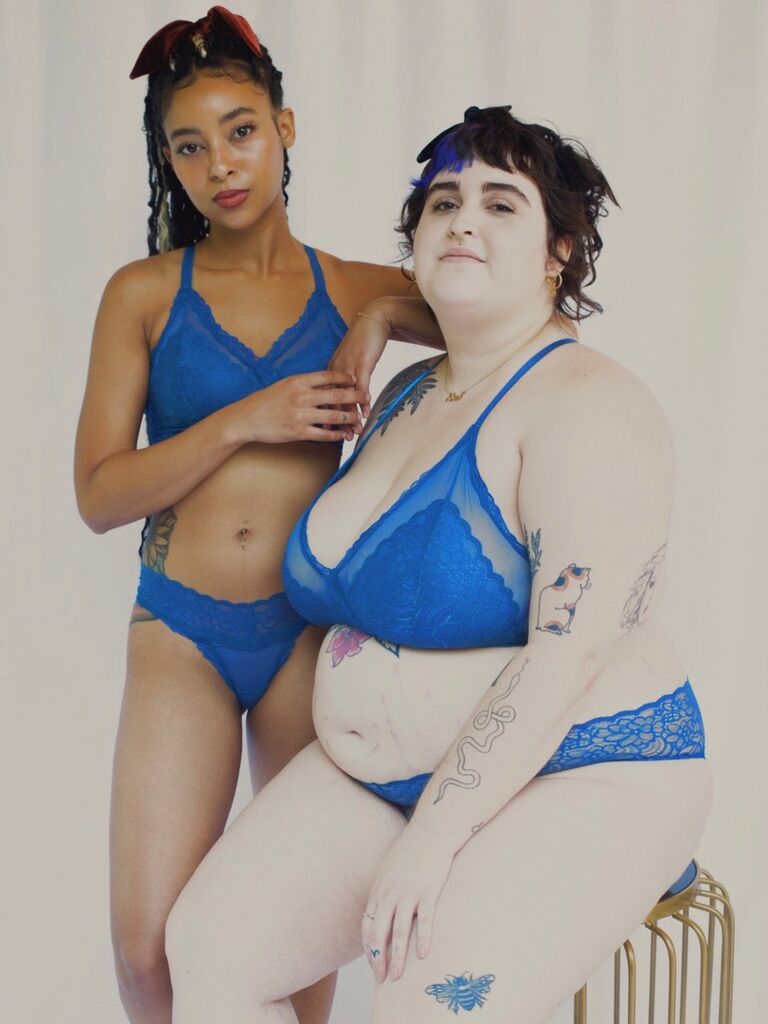 On the hunt for romantic gifts for your wife? Sign your spouse up for a luxury lingerie subscription from Underclub. They'll receive an email with their gift on your selected date and from there they can fill out a style questionnaire to curate the subscription. Want to wow your other half even more? You can add a few stylish (and sexy) extras onto their first delivery. 
Underclub gift subscription, from $45, Underclub.com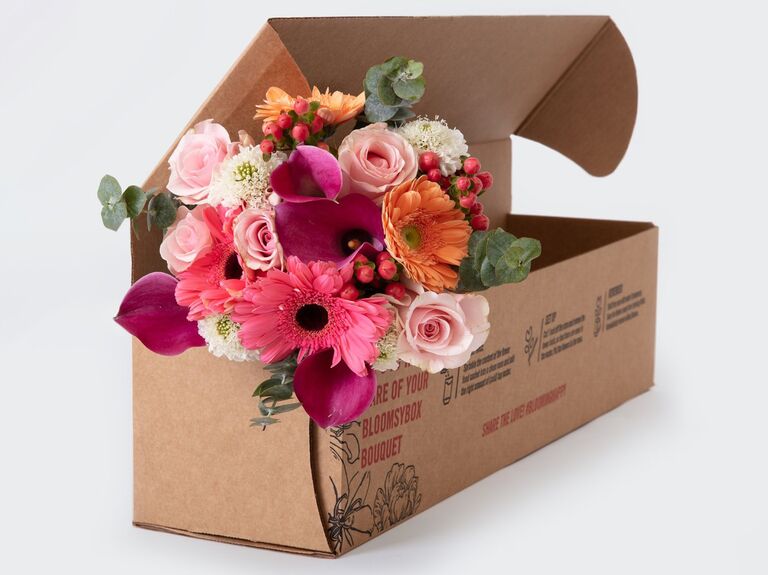 Who doesn't love a bouquet of beautiful blooms? Take it up a notch by organizing a delivery of pretty flowers every month until your next big milestone. We especially love the farm-fresh bouquets from BloomsyBox. They even come with flower food and a helpful information card so each bunch lasts as long as possible.
BloomsyBox Bloomsy Farm Classic subscription, $44 per month, BloomsyBox.com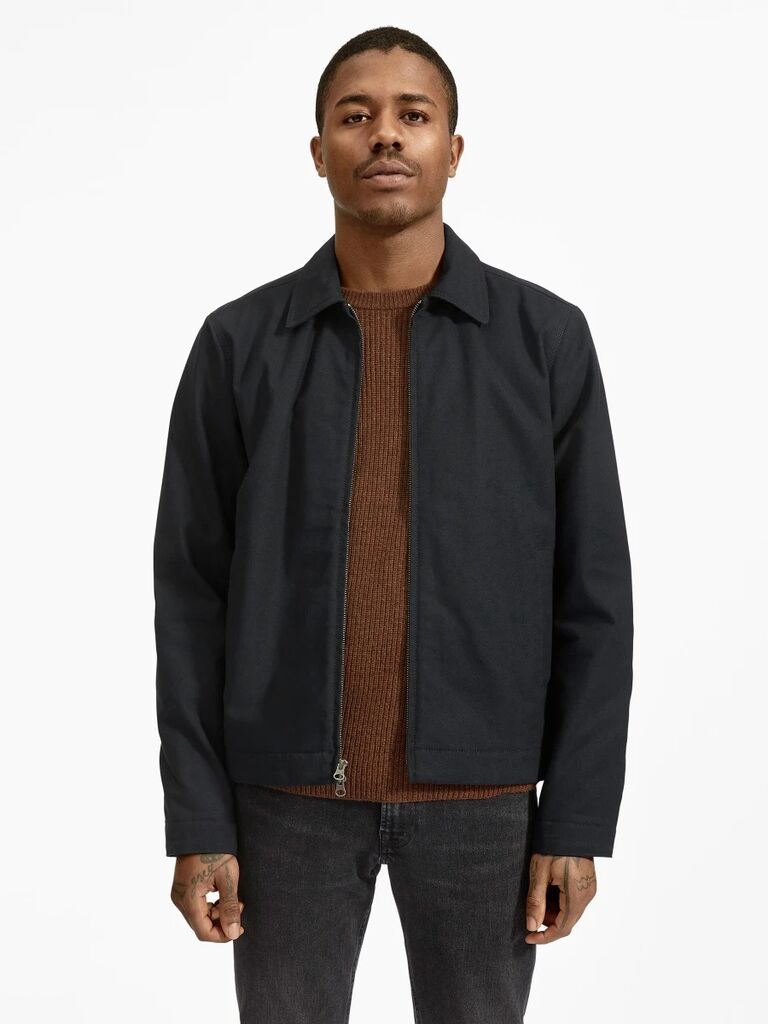 You're pretty much guaranteed to find a stylish first wedding anniversary gift for your husband or wife at Everlane. Sustainably produced with cotton and other recycled materials, this minimalist jacket is a quick and easy way to dress up a casual outfit. Other useful features include a two-way zipper, hidden inside pocket and cozy flannel lining. What's not to love?
Everlane The Filled Canvas Jacket, $98, Everlane.com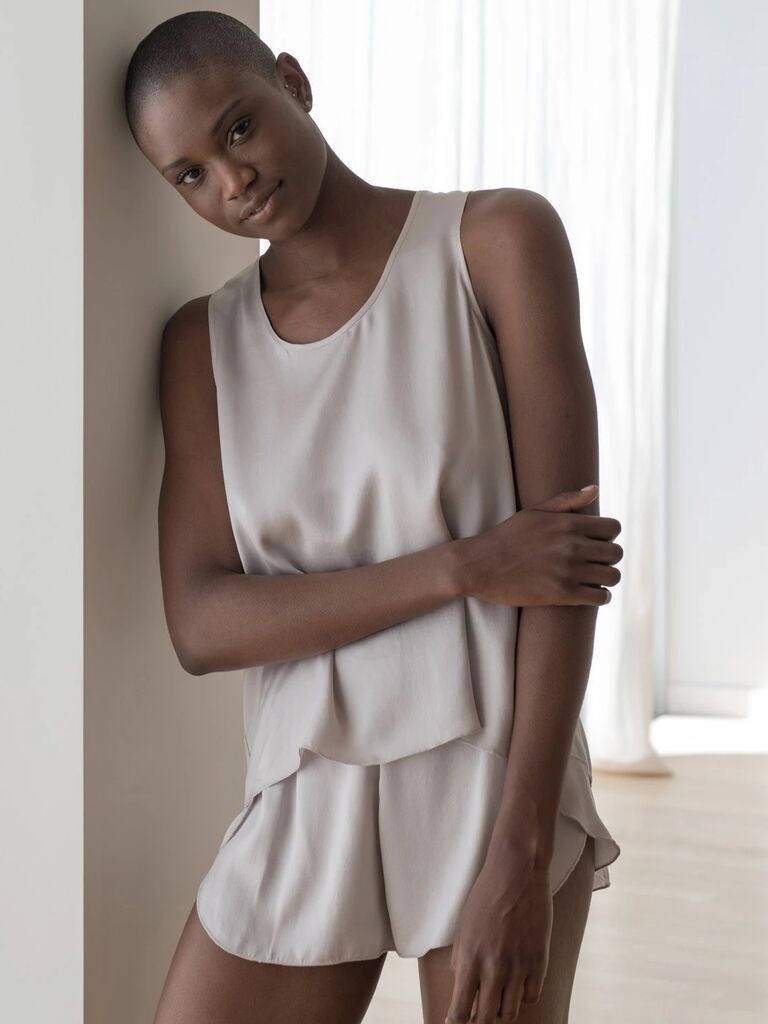 Want to really blow your other half away? Two words: washable silk. This life-changing loungewear from Lunya will be their new go-to WFH outfit, sleepwear and more. Choose from a selection of cute colors to suit your spouse's personal style.
Lunya washable silk set, $178, Lunya.co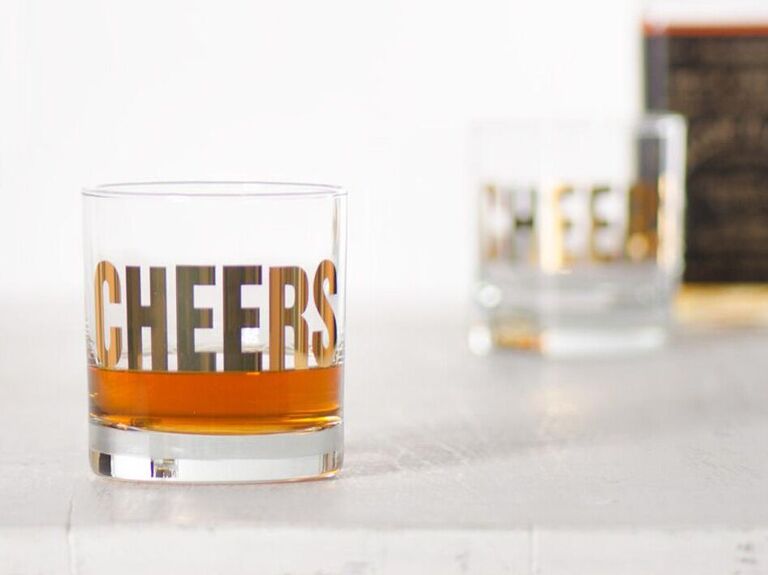 Fun fact: Every marriage milestone is associated with a gemstone or metal. And like we mentioned earlier, the first year's metal is gold. How about these "cheers" rocks glasses for the person who appreciates the finer things? They're printed with real gold, making them perfectly celebratory. (Psst: The seller also makes a set you can personalize based on your S.O.'s favorite types of liquor.)
Vital Industries 20k gold Cheers rocks glasses, $32 for a set of 2, Etsy.com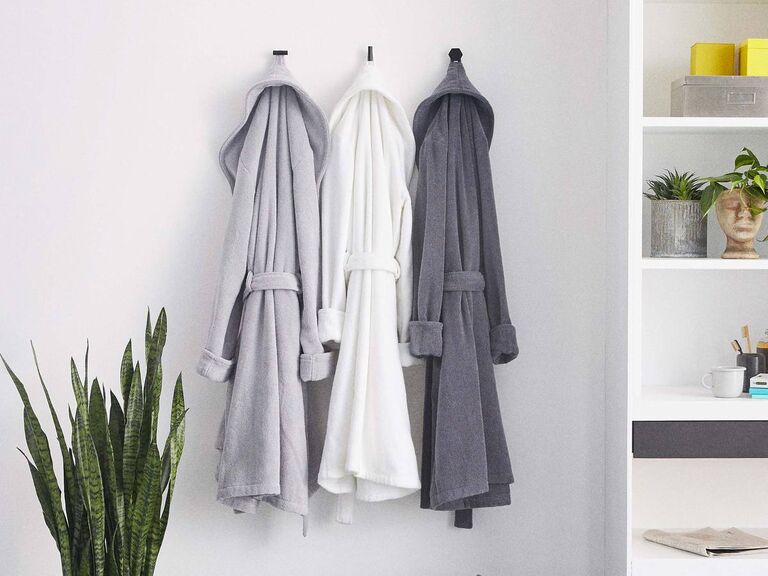 If you're someone looking to splurge (Mom or Dad, perhaps?), consider gifting the couple each a luxury bath robe. The softness of these ultra-plush pieces is just divine.

Brooklinen super-plush robes, $98 each, Brooklinen.com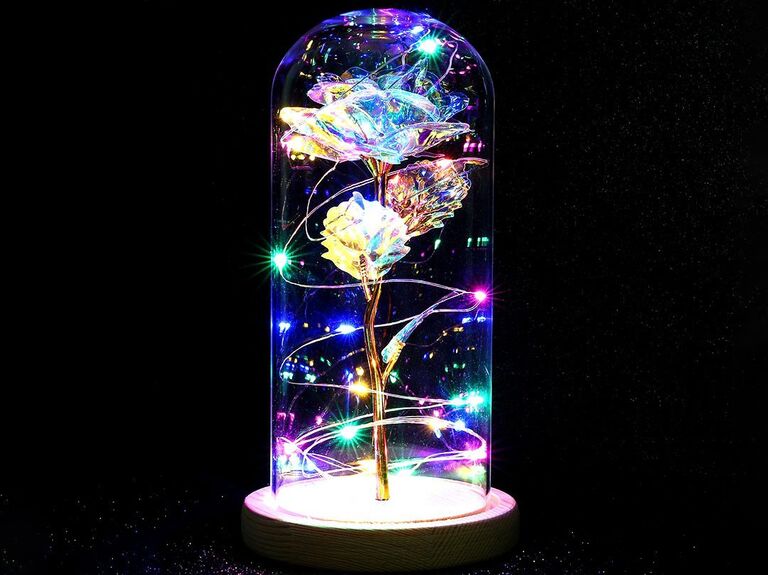 There's no right or wrong when it comes to finding good anniversary gift ideas—it's all relative to what your partner (or the couple) would appreciate. Any Disney fan would be over the moon receiving one of these romantic Beauty and the Beast-inspired enchanted roses. So much attention to detail goes into making each one, from the colorful fairy lights to the carved wooden base. 
Rose Lives Love Galaxy Rose, $95, RoseLivesLove.com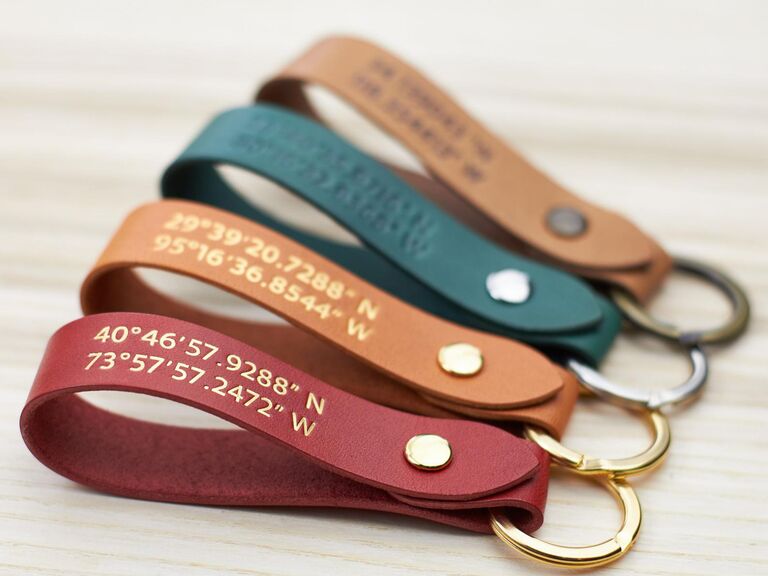 As a refresher, each year of marriage is also assigned a special color. The first year has two: yellow and gold. Customize one of these handy keychains to feature both, plus additional personalization. You pick the shade of the leather, the hardware and the foil text. Now your spouse can carry you—and memories of your milestone—with them wherever they go.
Green Skin Gifts custom keychain for men leather gift, from $11, Etsy.com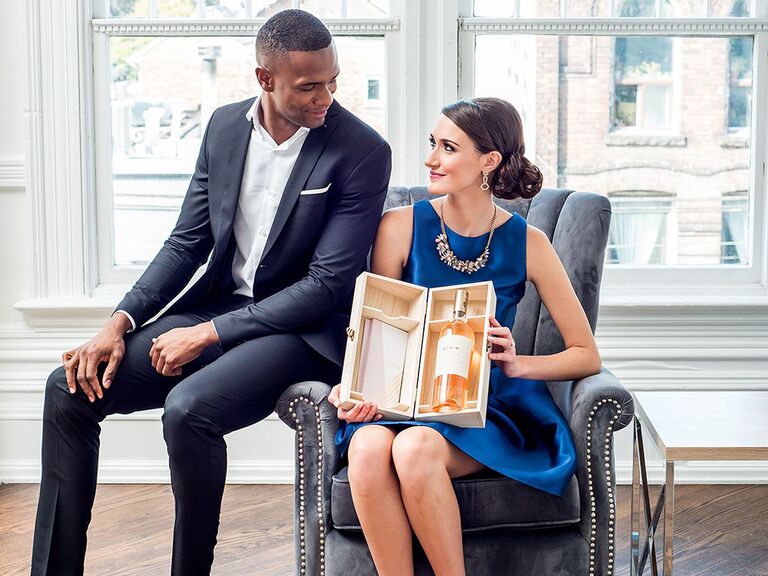 There's nothing wrong with a classic bottle of wine—but why not give the go-to gift an upgrade? Package it in a personalized box to make it feel fancier. You can even choose a bottle with their wedding year as the vintage—or a bottle meant to age and open on another milestone anniversary. It's one of the best first anniversary gift ideas for a couple from their parents, siblings or friends.
The Knot Shop personalized wooden wine gift box with lid, $20, TheKnotShop.com