1-Year Wedding Anniversary Gifts Worthy of the 1st Marriage Milestone
Here are our top traditional and modern gift ideas for the first wedding anniversary.
We have included third party products to help you navigate and enjoy life's biggest moments. Purchases made through links on this page may earn us a commission.
Every anniversary is worth celebrating, but few are as uniquely momentous as the first year of marriage. Such a special occasion deserves a truly meaningful one-year anniversary gift. Whether you're celebrating a happy couple or your own wedded bliss, there's something on our list for everyone. We've found traditional and modern first-year anniversary gifts that'll instantly make them feel appreciated, from romantic artwork to keepsake pieces of jewelry. But that's not all—we're also sharing the best alternative presents that any couple or spouse will love.
In this article:
Traditional One-Year Anniversary Gifts
The traditional one-year anniversary gift is paper. Fragile yet substantial, this everyday material represents the newness of a young marriage. If you want to go beyond writing a sweet anniversary card, here's our guide to finding the perfect paper anniversary gift. Whether you're shopping for your husband, wife or favorite happy couple, there are so many creative ways to celebrate year one with this classic first anniversary symbol.
Keepsake Anniversary Book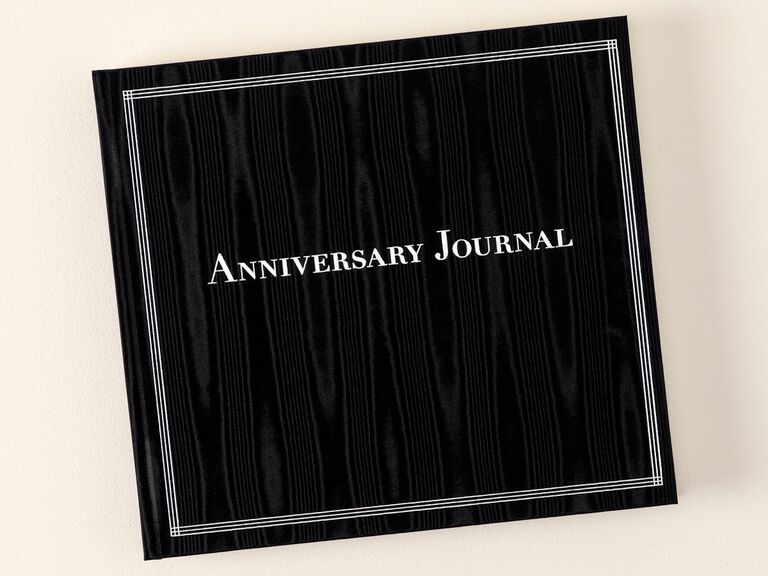 This classic journal is the ultimate first wedding anniversary gift for any couple. It has a space for every anniversary, from now right up until the 60th milestone, with room to jot down memories and discoveries from each year. There are also photo pages to help illustrate the notes, as well as keepsake pockets every decade for other important mementos. Want to go the extra mile? Upgrade to this personalized version.
Adventure Challenge Journal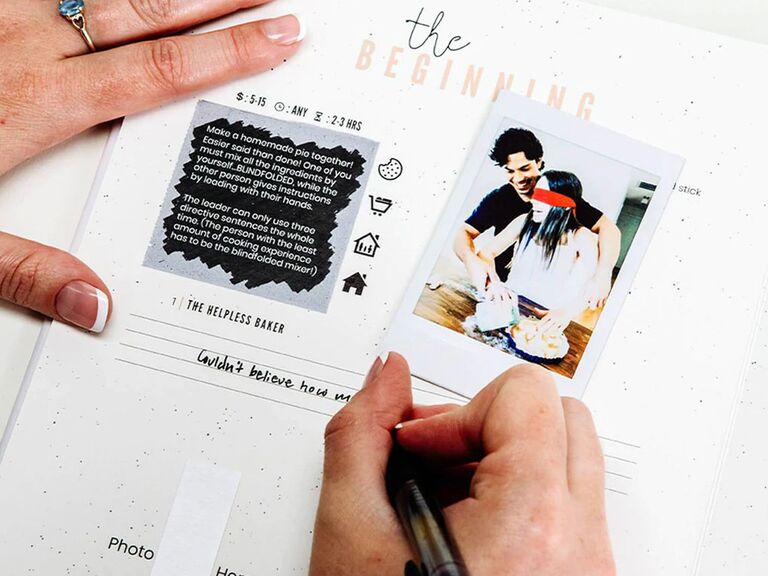 You've probably had your fair share of date nights after a year of marriage, so it's totally normal if you're starting to run out of ideas. This bestselling book is the solution. It's full of surprise scratch-off activities to do together, from blindfolded baking to recreating your grandparents' first date. To help hold onto every memory, you can also upgrade to a gift set that comes with an instant camera. And, lucky for you, The Knot readers get 10% off sitewide with the code THEKNOT10.
Personalized Anniversary Material Art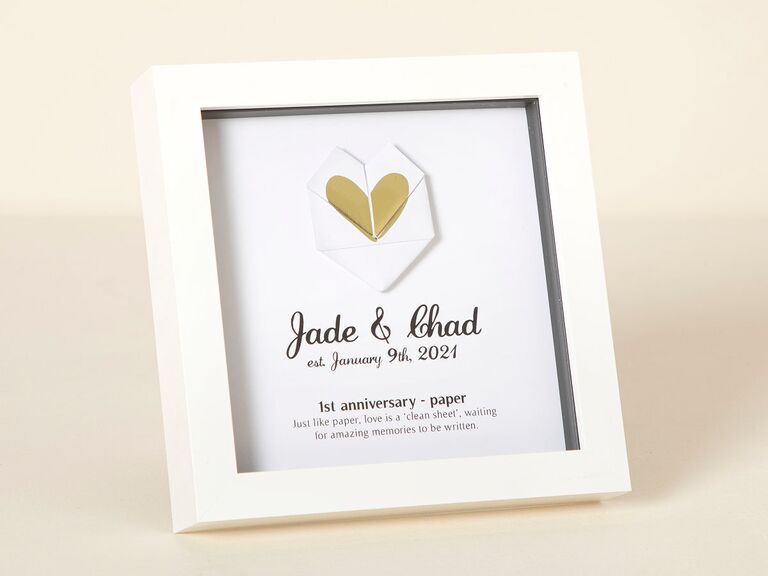 For couples who love the sentiment behind each traditional wedding anniversary material, this personalized artwork is bound to be a hit. Inside a simple box frame, an origami heart motif sits above the couple's names and wedding date. A message about the symbolism of the paper anniversary adds a thoughtful note.
Wedding Invitation Cuff Links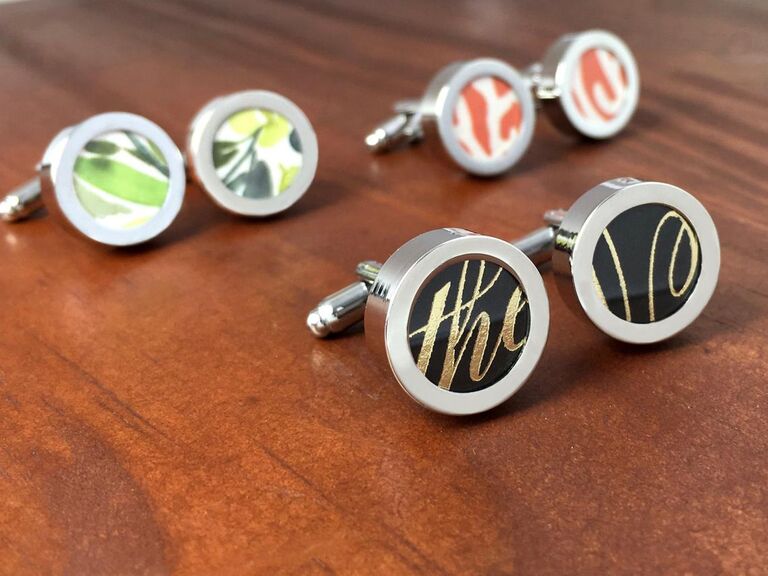 Here's a unique paper gift for the first anniversary you might not have seen coming. These special cuff links are customized with little pieces of your wedding invitations. Durable and designed to last, your S.O. can truly wear their heart on their sleeve in the form of this romantic paper-themed present. Just make sure you leave enough time for the Etsy seller to receive your wedding stationery and create your custom gift.
Sentimental Wall Art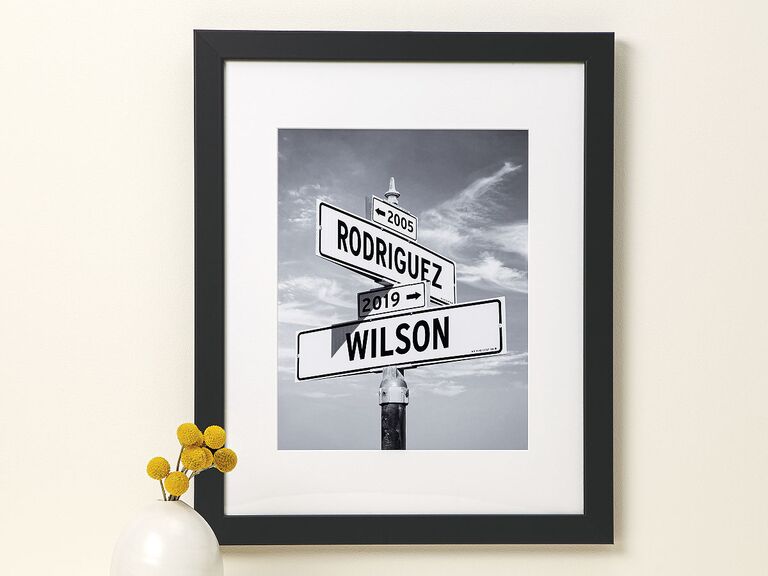 Throw it back to where it all started with a personalized print showing when your paths first crossed. This artwork pictures intersecting street signs representing you and your spouse, plus up to two dates important to your relationship. This cute gift idea comes printed on luxe matte paper with a choice of framing options. Choose gold to pay tribute to the first anniversary's traditional color and metal.
Wedding Song Sheet Music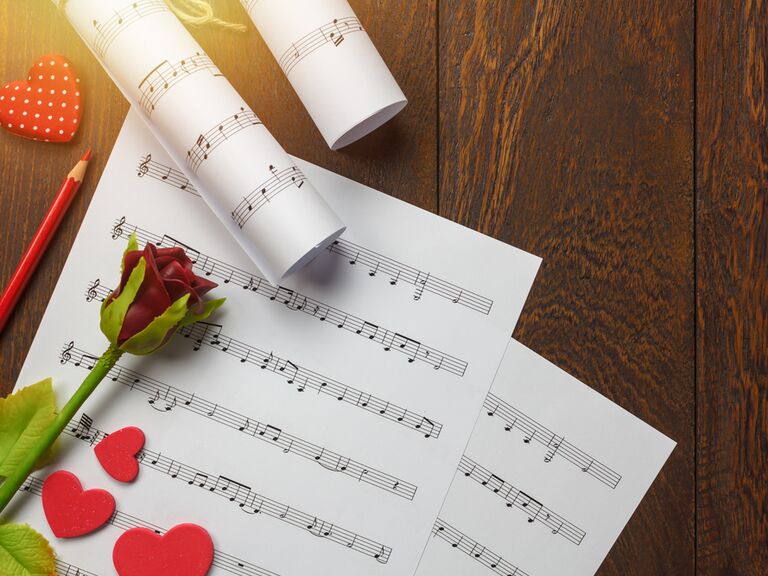 Honoring an important detail from the big day is a nice way to commemorate one year of marriage. Since the theme this year is paper, it's a great opportunity to bring your first dance song to life on sheet music, which always looks beautiful when framed. Musicnotes has a library of over 500,000 sheet music arrangements you can download and print on the spot, including some of the most popular first dance songs (ahem, Ed Sheeran's "Perfect"). Pair it with a recording of the song on vinyl (because Spotify is great, but sometimes you just want the physical thing).
Unique Paper Clip Earrings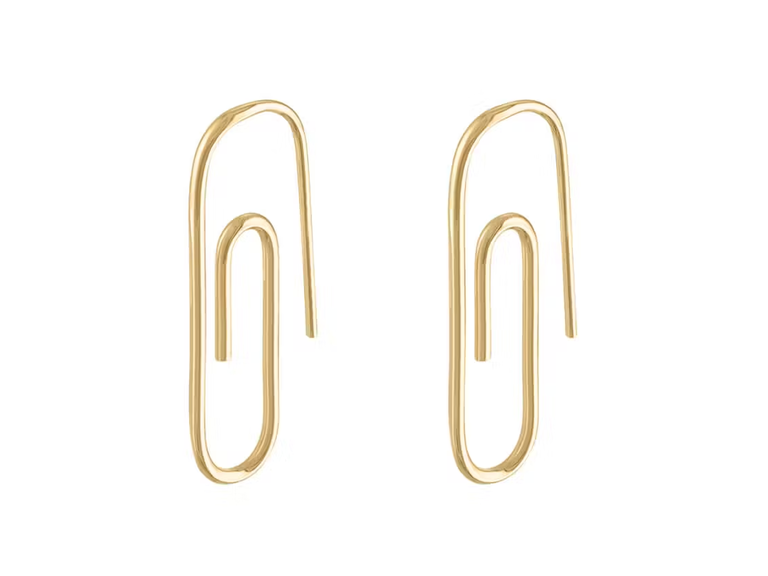 While not technically made from paper, these unique paper clip earrings are a novel one-year anniversary gift idea. Sleek and simple, the minimalist design is sure to appeal to those who love quirky accessories. They're made from 14K gold-plated brass and they'll definitely attract lots of compliments.
Love Letter in a Bottle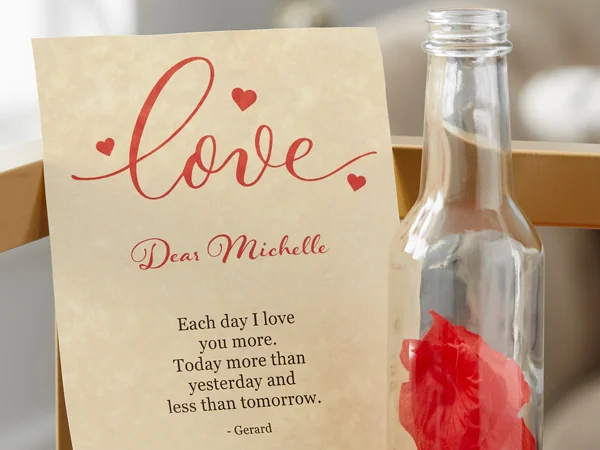 Is there anything more romantic than a heartfelt love letter? We don't think so! With this message in a bottle, you can show your spouse how much you adore them. Add your details and pick from three poetic verses to let your love really shine. The letter is printed on parchment paper, rolled and tied with red ribbon, then placed in a corked glass vessel alongside decorative rose petals.
Custom Star Map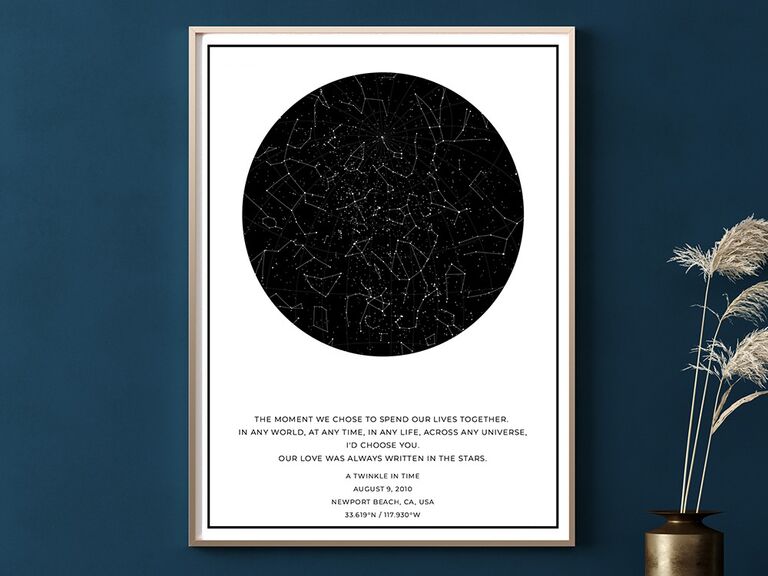 A custom map of the stars from the day you both said "I do" is an ultra-romantic gift to give your spouse one year later. You can include a sentimental quote, the date and even the coordinates of where you tied the knot. There are different sizing and design options to suit your S.O.'s style or your home's interior. Whatever you choose will be a romantic one-year anniversary gift for him or her.
Date Night Passport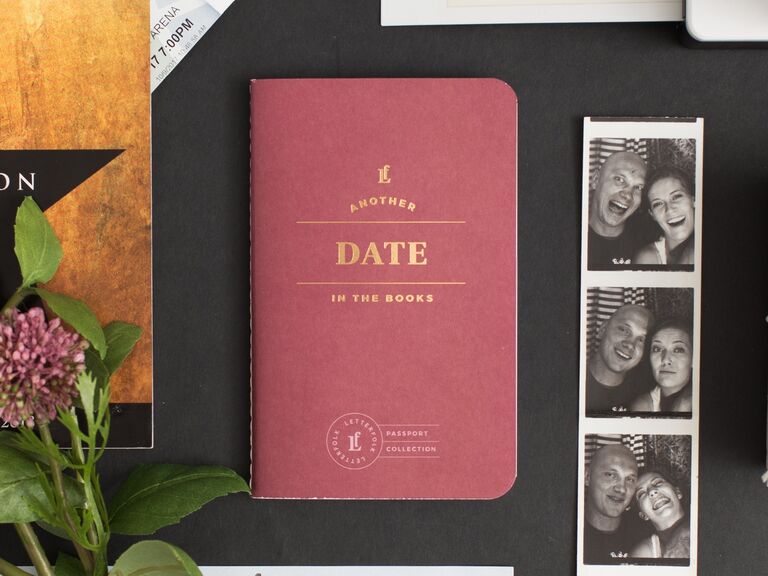 This clever passport perfectly fits the traditional first anniversary gift theme. Inside, your spouse (or the happy couple) can keep track of romantic moments big and small, from local dinner dates to adventurous activities like ice skating or hiking. There's space to record the small (and all-too-easy-to-forget) details from date nights, like what they wore, what they ate and how they felt when they got home.
Modern One-Year Anniversary Gifts
What is the modern first anniversary gift? A clock. Practical yet stylish, a carefully chosen timepiece makes an incredible token of love and appreciation. Giving your spouse (or a couple) a clock-themed present commemorates the year that has passed—and looks ahead to all the years to come. What could be a greater vote of confidence than that?
Classic Hourglass Timer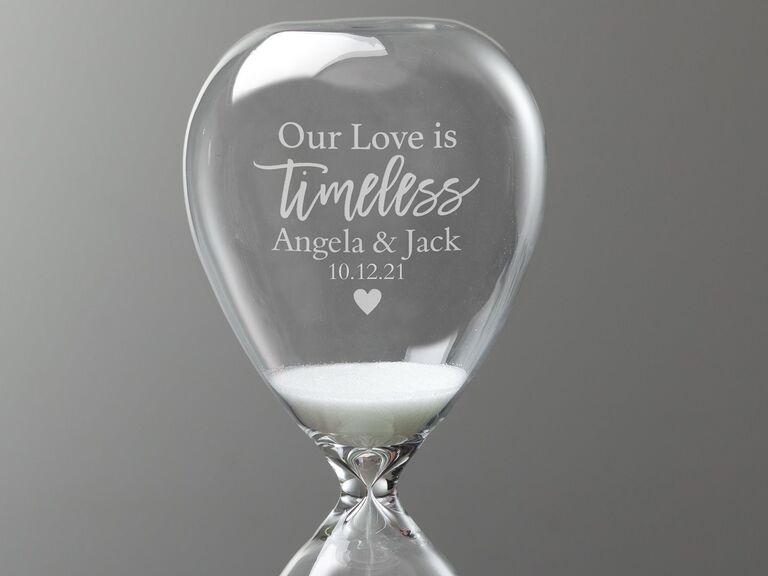 This sophisticated sand timer will be a beautiful addition to the couple's coffee or console table. Have it personalized with their names, the date of their nuptials and a charming quote. Bonus: You'll save time on gift wrapping as the hourglass arrives in a satin-lined gift box.
Elegant Apple Watch Band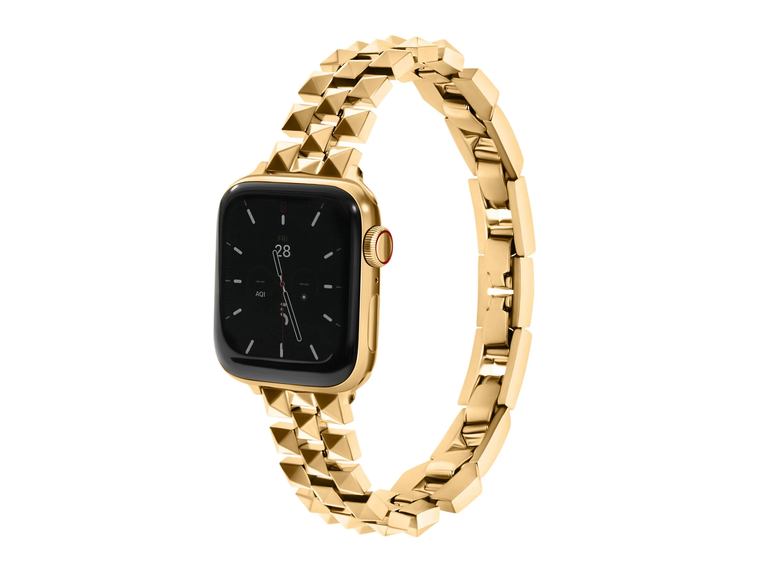 If your other half never leaves home without their Apple watch, they might not be in the market for a traditional timepiece. Instead, upgrade the watch they already have. With this gorgeous stud band, they can transform their smart watch into a completely new statement piece. There are several color and size customizations available to suit your spouse's style and watch model.
Sunrise Bedside Clock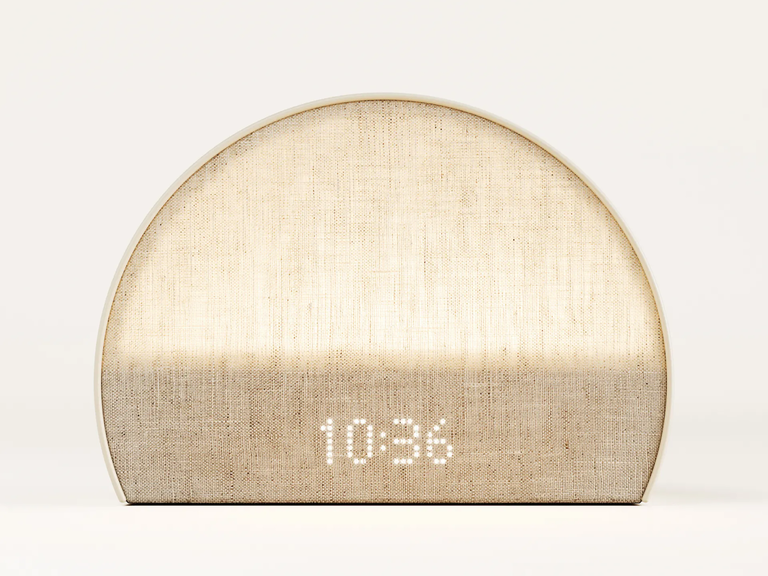 Give your spouse the gift of good mornings with this sunrise alarm clock from Hatch. Thoughtfully designed and scientifically supported, it'll help them wake up naturally with a gentle light source, leaving them refreshed rather than startled. And if they find it hard to wind down at night? This clock also mimics the sunset and plays sleep sounds to help them drift off.
Daily Anniversary Countdown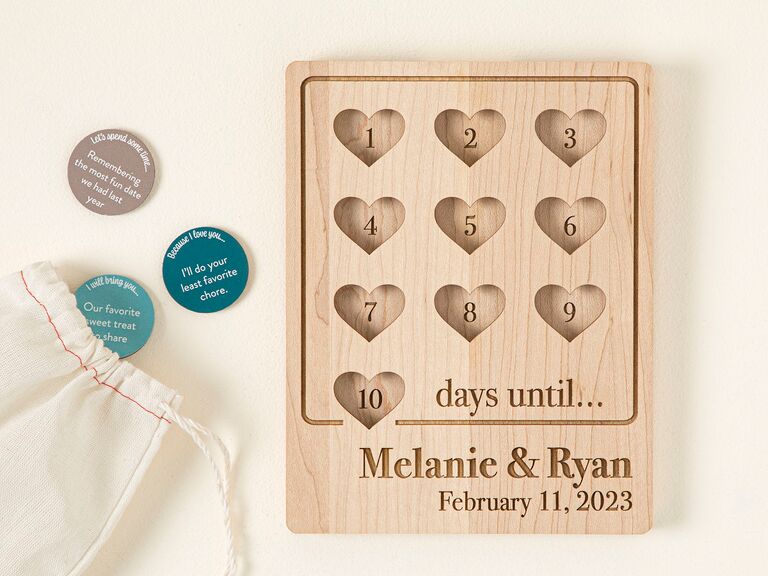 This first anniversary gift isn't technically a clock, but it does kind of measure the time (and we think it's a really great gift idea). The unusual countdown gets the excitement going 10 days before each all-important anniversary milestone. Each day has a fun prompt to help level up the romance and nostalgia, like bringing each other something that reminds you of when you first met.
Frank Sinatra-Inspired Watch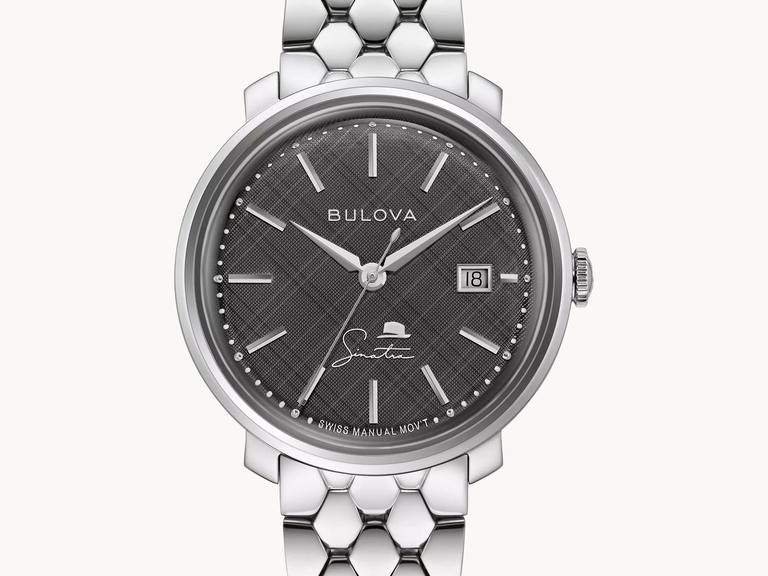 Luxury watches make special gifts for important occasions, including the first-year wedding anniversary. This sophisticated silver and black timepiece, from Bulova's vintage-inspired Frank Sinatra collection, is named after the song "The Best Is Yet to Come." The romantic music reference makes this modern one-year anniversary gift even more meaningful and appropriate.
Musical Anniversary Clock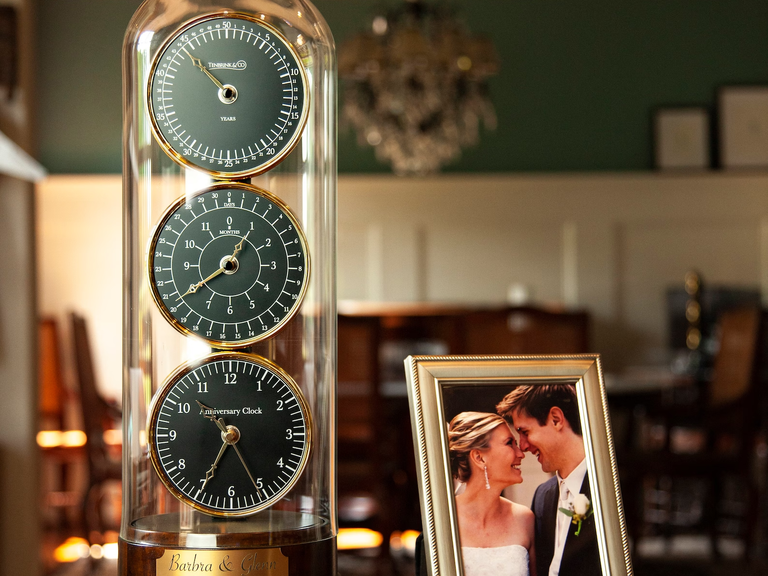 If you're going to splash out on a fancy clock, make it this one. This sentimental gift counts the years, months, days, hours, minutes and seconds since the wedding day—but that's just part of the appeal. On top of all that, it automatically plays the couple's song every year on their anniversary (or any time with the push of a button) thanks to a built-in MP3 player. A classy glass dome and engraved plaque add the finishing touches.
Sparkly Crystal Watch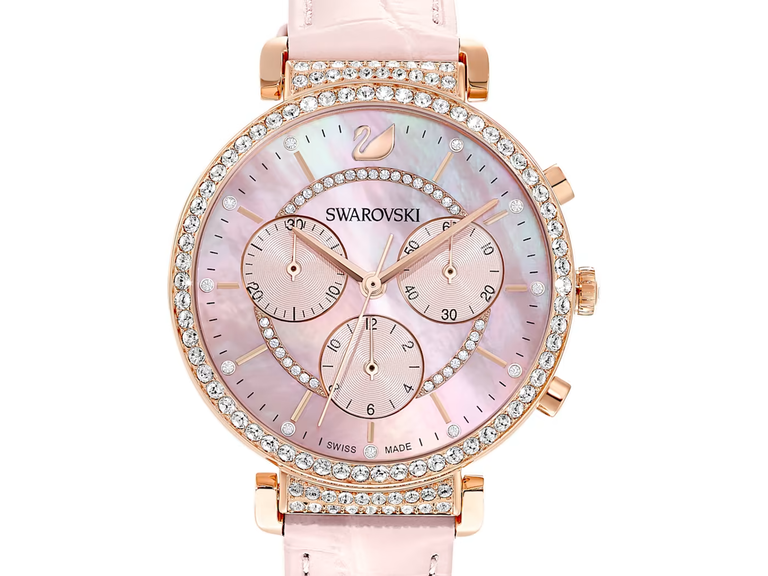 If your spouse likes to add a little sparkle to every ensemble, they'll adore a crystal-studded Swarovski watch. From the Italian leather strap to the dazzling watch face (with 100 clear crystals, might we add), this stylish pick is a winner in our book. Bonus: It comes in three delightful colors: dreamy pink, romantic red and mystical gray.
Custom Moving Tide Clock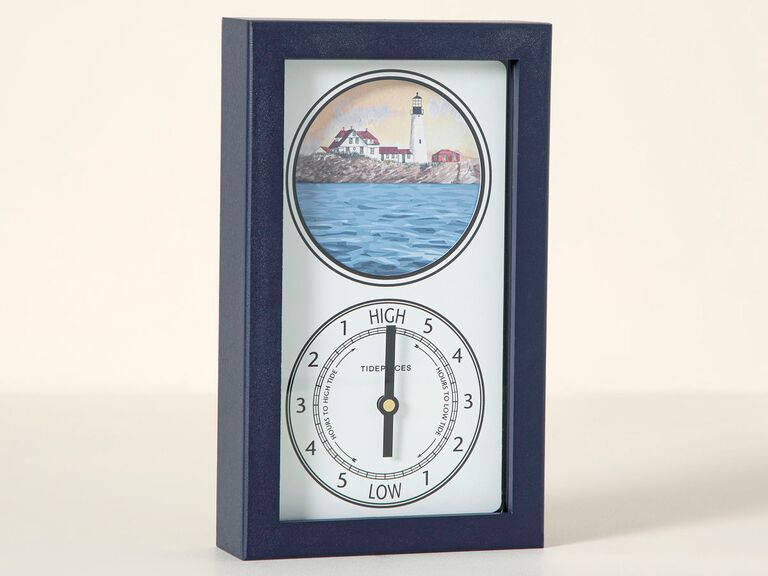 What better way to celebrate the first wedding anniversary than a walk by the ocean? With this handmade sea-themed clock, your favorite couple can track the tide when planning their romantic strolls. On the lower part, a traditional dial counts the hours between high and low tides every day. At the top, a watercolor lighthouse painting of your choice (there are 60 options!) brings the nautical theme home.
Retro Flip Clock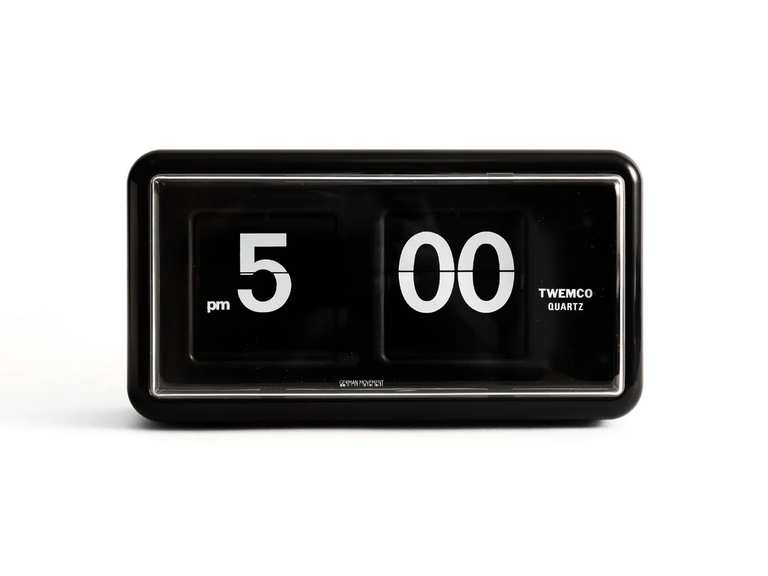 For the couple or spouse who loves vintage vibes, this retro flip clock will surely impress. Inspired by mid-century interiors, its minimalist design makes a statement in any room. Every morning they'll be reminded to have the time of their lives with this cool anniversary gift.
Photo Wall Clock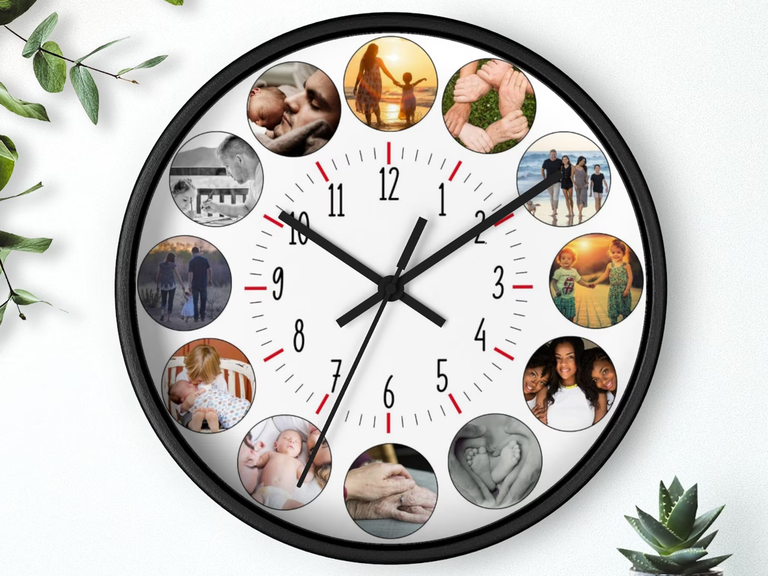 Take every opportunity to put your love on display in your home. This wooden frame clock shows your favorite photos at every hour of the day. Choose up to 12 snapshots of you and your family to celebrate the clock anniversary.
Unique One-Year Anniversary Gifts
If the traditional and modern themes aren't your thing and you still don't know what to get, you have other options. Yellow and gold are the colors that represent the first year of marriage, while the carnation is the official first anniversary flower. And gold (the metal) is also associated with this precious milestone, offering even more gift inspiration. Even if you don't want to incorporate any of those one-year anniversary symbols, we can help you find a showstopping gift. Here are our favorite uniquely alternative present ideas.
Decorative Travel Map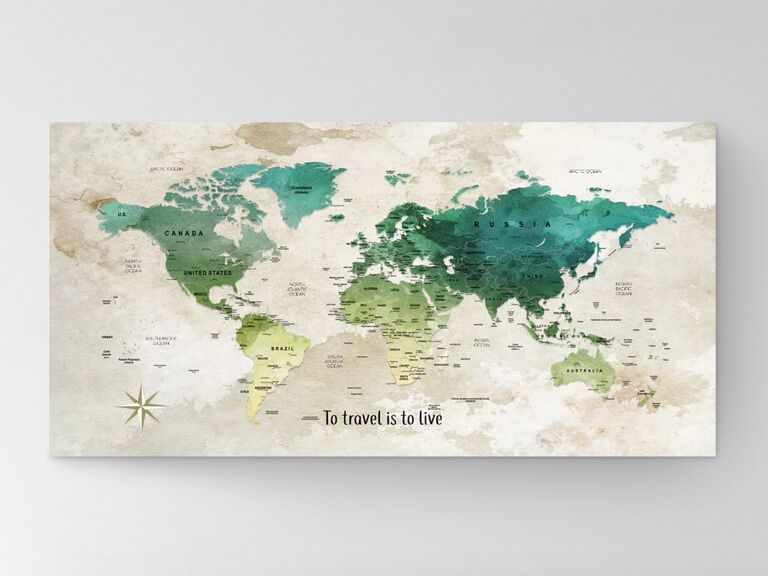 Travel is back, baby! If your favorite couple is itching to start fulfilling their destination bucket list, they'll appreciate this cool canvas map to track their travels on. This push-pin map will remind them of all the adventures still to come and it'll look gorgeous in their home. Still not sold? You can get it personalized with their names, wedding date or a heartfelt quote.
Luxurious Silk Nightgown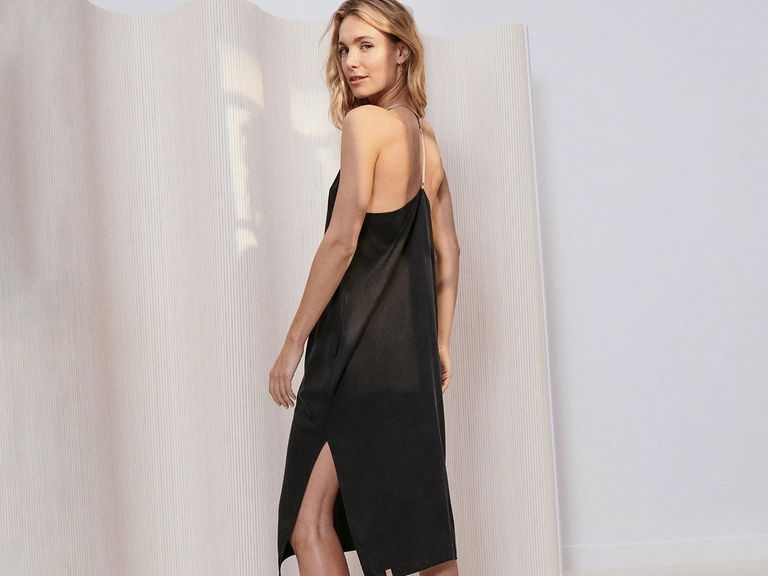 Want to really blow your other half away? Two words: something silk. This luxurious silk nightgown from Lunya will become their go-to sleepwear and loungewear. They can even throw it over a white T-shirt to look stylish when out and about. Choose from a selection of cute colors, including limited-edition hues that change every few months. When it's time to wash this lovely nightgown, they can toss it in the machine like any other pajamas (yes, really).
Smart Indoor Garden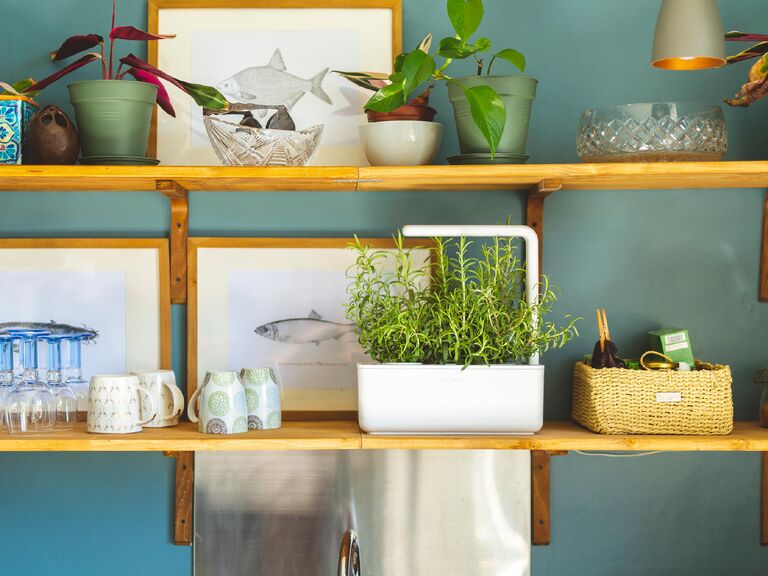 A compact indoor herb garden will be a dream come true for any pair of lovebirds who don't have a lot of outdoor space. This clever device does all the work for them, providing just the right amount of light, nutrients and water for optimal plant growth. It's one of the top first anniversary gift ideas for couples who appreciate good home cooking (or even just a fresh cocktail garnish now and then).
Diamond Heart Pendant
The first anniversary metal is gold, so we couldn't complete our one-year anniversary gift guide without some gorgeous gold jewelry. This romantic heart pendant is one of many stunning pieces from Brilliant Earth, an ethical and eco-conscious jewelry brand. Whether you choose the 14K gold option or slick silver, your partner will be delighted with this dainty diamond-studded gift.
Cute Matching Underwear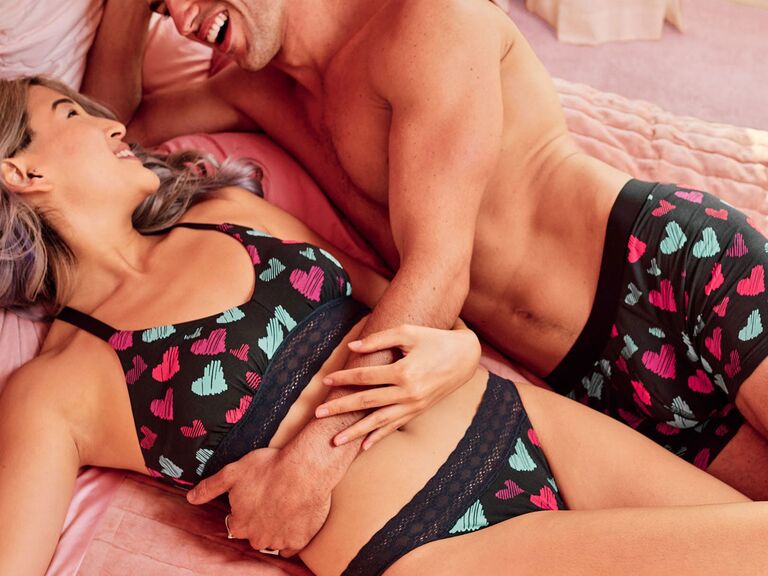 For the spouse who appreciates a good laugh, consider the cheeky gift of matching couples underwear. Choose from playful patterns, bold colors and understated neutrals depending on your personalities. You can even sign up for a subscription if you're committed to coordinating regularly. MeUndies offers a range of inclusive sizes, underwear styles and pairing options for all couples.
Fresh Flower Delivery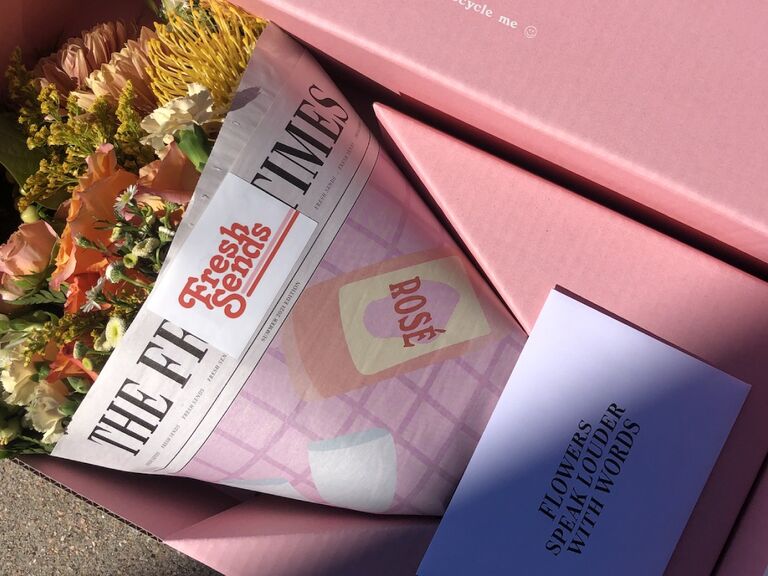 When it comes to a romantic occasion, you can almost never go wrong with flowers. Fresh Sends has given flower delivery a makeover. The Send bouquet changes daily to ensure the best pick of petals. (If you're lucky, the first anniversary flower—the carnation—will be the fleur du jour!) Each bunch of stems is wrapped in pretty newspaper-inspired packaging and presented in a pink box. Choose between the Regular size (15 to 18 stems) or the Full size (24 to 27 stems).
Cozy Bath Robes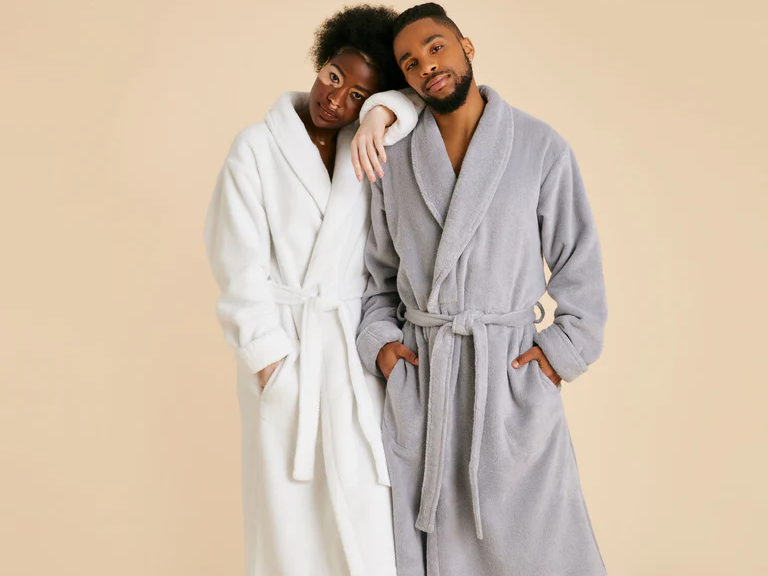 If you're celebrating your first anniversary with your spouse, you both deserve some pampering. Treat yourselves to these luxurious bath robes. They're made from 100% Turkish cotton that's divinely soft and super absorbent—ideal for wearing first thing in the morning or just out of the shower.
Once-in-a-Lifetime Experience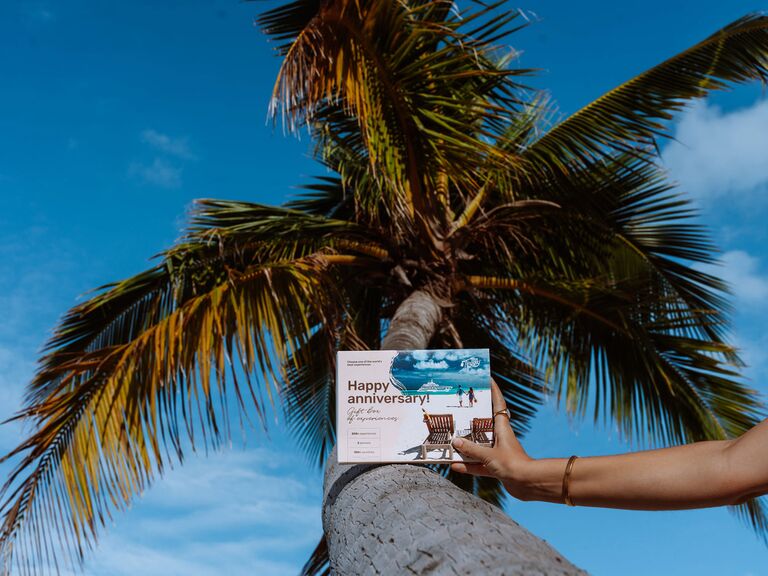 Searching for first anniversary gift ideas for the couple from their parents? Give the lovebirds the opportunity to create more amazing memories together. Tinggly's "Happy Anniversary!" gift lets them choose from more than 750 two-person experiences in over 100 countries (think: snorkeling with turtles in Saint John or cruising above Lake Tahoe in a helicopter). Whether they want to do something local or start planning their next international getaway, they'll find something that satisfies their wanderlust.
Handmade Coconut Shell Candle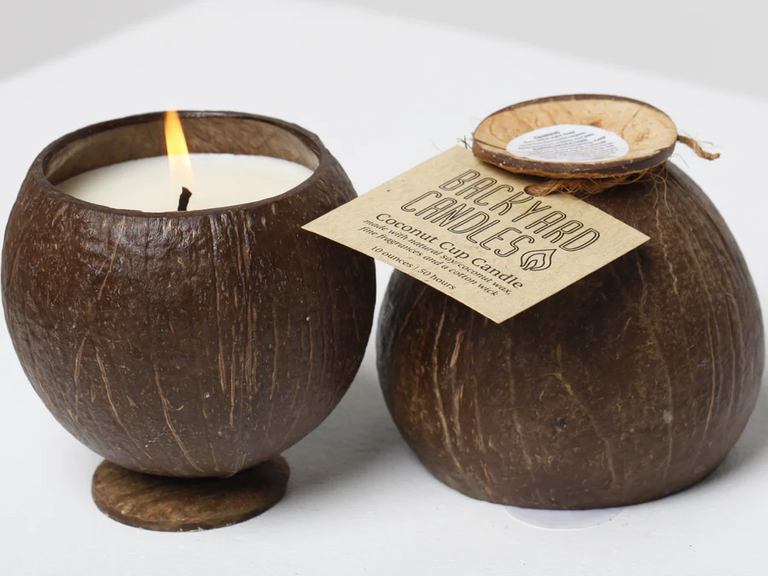 One-year wedding anniversary gifts can be as sweet and simple as a scented candle. Want to relive your honeymoon from the comfort of home? This candle is handmade from natural soy wax in a coconut shell that'll take you right back to the beach. Non-toxic and lightly fragranced, it creates a romantic vibe perfect for date night.
On-Theme Preserved Roses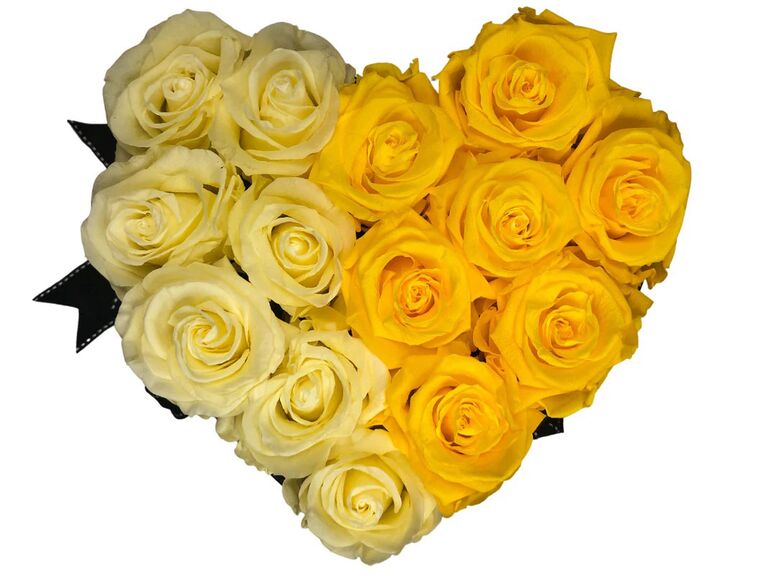 Still looking for the right gift for a first wedding anniversary? Don't forget that each year of marriage is assigned a special color, or in this case, two: yellow and gold represent year one. This beautiful arrangement is made with preserved roses in two different yellow tones. The roses arrive in a romantic heart-shaped box, which is designed to keep them safe and secure during transit. Once your other half removes the lid, the roses will pop up ready to display. Get 15% off your order using our code THEKNOT15 (you're welcome).