The One Event Most People Have Leading Up to Their Wedding
Based on real data.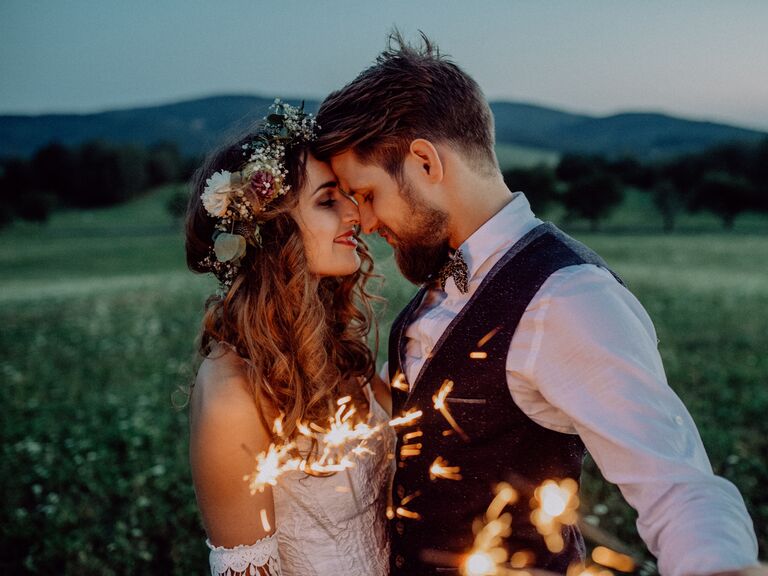 Halfpoint / Shutterstock.com
As you start planning your wedding, you may notice that other events will be taken into account as well. To-be-weds may consider having an engagement party, a shower, a bachelor party or a bachelorette party (or all of the above). But bachelorette party statistics reveal it's the most popular pre-wedding event. That's right—according to The Knot 2019 Real Weddings Study, most people are prioritizing their bachelorette bashes leading up to their wedding day. This statistic isn't completely shocking considering bach parties are all about spending time with loved ones before the nuptials. To-be-weds are getting creative with their bach parties by going glamping, planning tastings, and adding exploration to the itinerary. Read on to see how all the prewedding events stack up according to over 27,000 survey respondents.
Bachelorette Parties are the Most Popular
Bachelorette parties proved to be the most popular pre-wedding festivity, as 78 percent of couples who got married in 2019 reported having one. According to bachelorette party statistics, an average of 10 people attend the gathering. Oftentimes that headcount includes friends and family members who aren't officially in the wedding party, but are still close enough to the couple. (For context, our study found the average size of a wedding party is 10 people total. Typically, the maid of honor hosts the bachelorette party, but some to-be-weds are beginning to take matters into their own hands by planning their own pre-wedding events from start to finish.
Couples are continuing to buck tradition, and bachelorette parties are no exception. The most notable change is that they are no longer restricted to only women. Soonly-weds are creating gender-inclusive wedding parties, thus making their bachelorette and bachelor parties mixed as well. Bachelorette party activities are also shifting. Rather than being a massive party moment (they still can be!), they're becoming more about spending quality time with family and friends—and scoring the perfect Insta, of course! As social media continues to rise, it makes sense that this grid-friendly party would become the most popular pre-wedding event.
Wedding Showers are Close Behind
Wedding showers—or bridal showers—are the runner-up, according to our study. Seventy-two percent of couples who wed in 2019 decided to have a wedding shower before their nuptials. Of course, it's up to the couples on whether they want to have a wedding shower or a bridal shower. A wedding shower includes both members of the couple, while a bridal shower involves the bride or brides.
However, the couple doesn't usually host the shower. Standard etiquette is that a family member or a friend hosts the wedding shower. If you're wondering what kind of shower you should have, consider our comprehensive list of bridal shower themes.
Other Popular Pre-Wedding Events
The next runner-up was the bachelor party. Seventy-one percent couples who wed in 2019 held a bachelor party to celebrate their upcoming nuptials, according to our study. Similarly to bachelorette parties, bachelor parties are changing as well. They are also becoming gender-inclusive and focused on bonding with friends and family. Looking for some bach party inspo? Check out this list of creative bachelor party ideas.
After the bach party, there is a steep dropoff in participation of pre-wedding parties. Just one out of four couples reported having an engagement party in 2019. A common misconception about engagement parties is that they have to happen on the day of the engagement. They can actually take place whenever you'd like! (Psst: check out our massive roundup of 60 engagement party ideas and themes for some inspiration.)
The Wedding Weekend is a Different Story
Apart from pre-wedding festivities is the actual wedding weekend. Our study found that the participation was higher than the bachelorette and other pre-wedding event statistics. For example, 79 percent of all couples who got married in 2019 reported participating in a rehearsal dinner. Nearly 100 percent of couples hosted a wedding ceremony and wedding reception (98 percent and 96 percent, respectively).
However, participation in post-wedding activities varies greatly. Just three out of 10 couples decided to have some kind of party after the reception, while 28 percent of couples opted for a morning-after brunch. Honeymoons proved to be the most popular wedding-related activities, as about seven out of 10 couples jetted off after their nuptials.