The Best Elopement Packages in Georgia
These Peach State offerings are truly picture-perfect.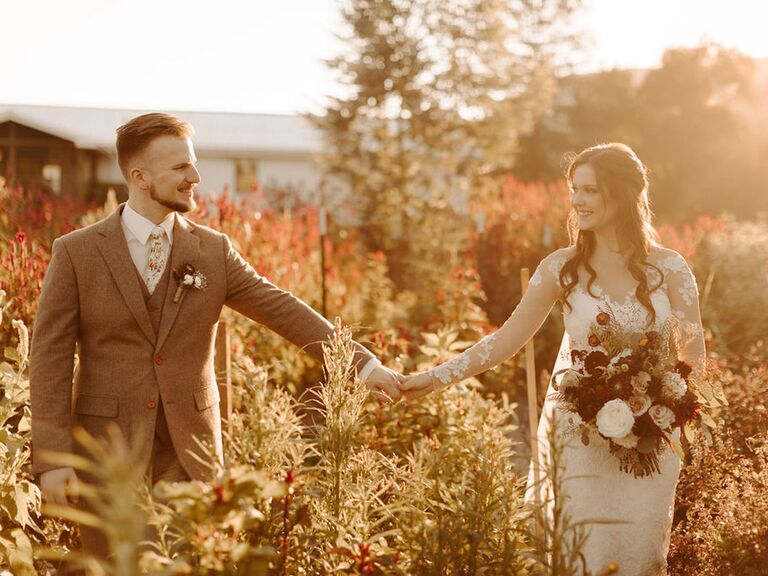 Photo: High Point Farms
We have included third party products to help you navigate and enjoy life's biggest moments. Purchases made through links on this page may earn us a commission.
From the waterfront resorts on Jekyll Island to the iconic Spanish moss and oak trees in Savannah, Georgia offers numerous backdrops for a stunning wedding. However, a Peach State wedding can cost more than a pretty penny. The typical couple will shell out $26,000 to get married in Georgia, which is slightly higher than the national average of $23,000.
Though the trimmings of a big bash with pomp and circumstance are appealing, you don't need much more than a piece of paper to get legally married in Georgia. There's a happy medium between the two: a Georgia elopement. Elopement packages from wedding planners and venues include intimate ceremonies on farms, at quaint inns and beside the water. Some all-inclusive elopement packages in Georgia come with photography, cake, bubbly and flowers too, making Georgia an underrated star for couples searching for the best places to elope. Unsure where to start your search? Here are some of the best elopement packages Georgia offers.
Elopement Package, The Gastonian, Historic Inns of Savannah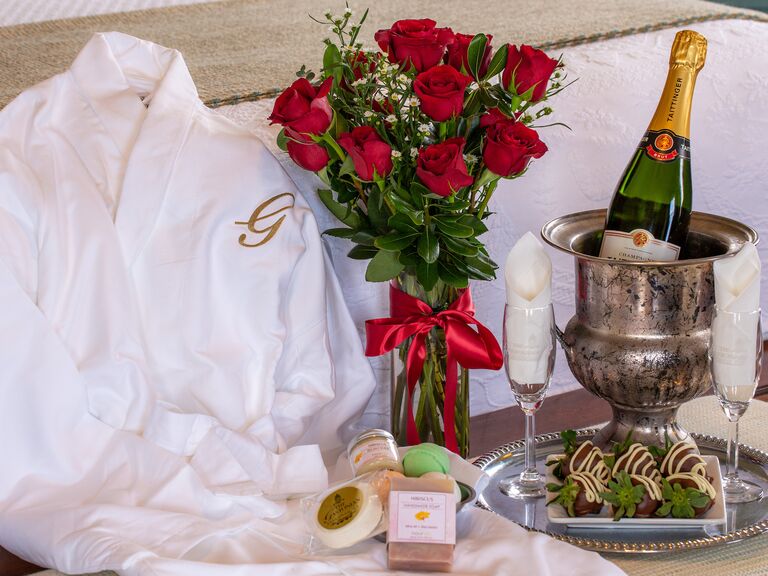 The Gastonian, a stunning B&B built in 1868, is a hop, skip and jump away from Forsyth Park. The grand mansions and pristine grounds will offer plenty of inspiration for a Georgia elopement photographer. The Elopement Package allows couples to choose between a private garden courtyard and a refined-yet-glamorous parlor for an intimate ceremony performed by a justice of the peace or minister. Floral arrangements, such as a simple bouquet, are included. The inn will provide a delectable and petite 8-inch wedding cake—the flavor is up to the couple, who also get a two-night stay at the historic inn, complete with silver-tray breakfast service and other goodies. Pricing starts at $1,899.
220 E Gaston St, Savannah, GA 31401
4.4 Star Rating | Read Reviews
Savannah Elopement Package, The Kehoe House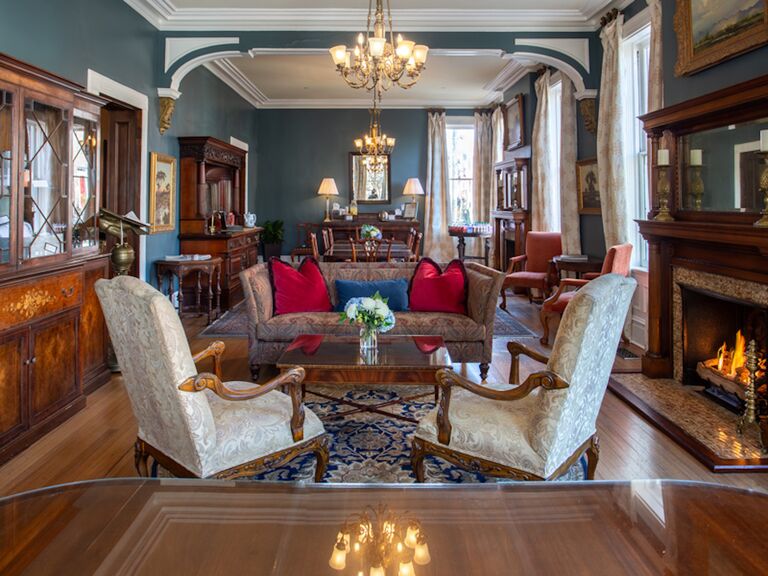 Another historic and intimate spot to elope in Georgia, The Kehoe House is set in a 1982 Renaissance Revival mansion. The Savannah Elopement Package is perfect for parties of two, though up to four guests can sneak off and witness the ceremony performed by an included justice of the peace. An 8-inch cake, floral arrangements for the couple, a Champagne toast, and a two-night stay at the upscale inn are part of the deal, which begins at $1,799. Couples hoping to explore the area will love its location near Rousakis Riverfront Plaza and Telfair Museums.
123 Habersham St, Savannah, GA 31401
5.0 Star Rating | Read Reviews
Elopement Package, Cavender Castle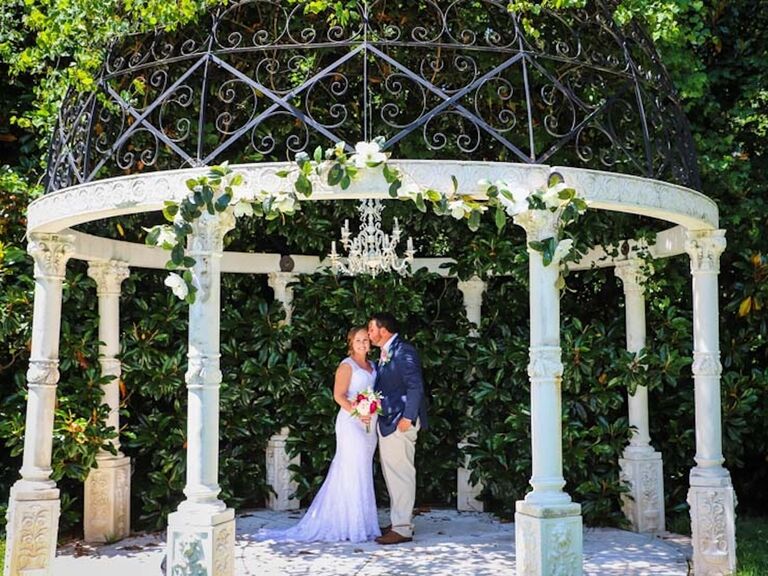 Feel like royalty at this wedding venue offering North Georgia elopement packages. Couples can invite up to 10 guests to witness a customized and personal ceremony performed by an included minister at Cavender Castle. An in-house team member will take photographs and provide the couple with at least 100 images of the day's events. The venue, which looks like an authentic vintage castle, boasts endless opportunities for photographs that would make Disney aficionados swoon. The package costs $1,295.
121 Cavender Castle Dr, Dahlonega, GA 30533
4.3 Star Rating | Read Reviews
Elopement/Vow Renewal, Forsyth Park Inn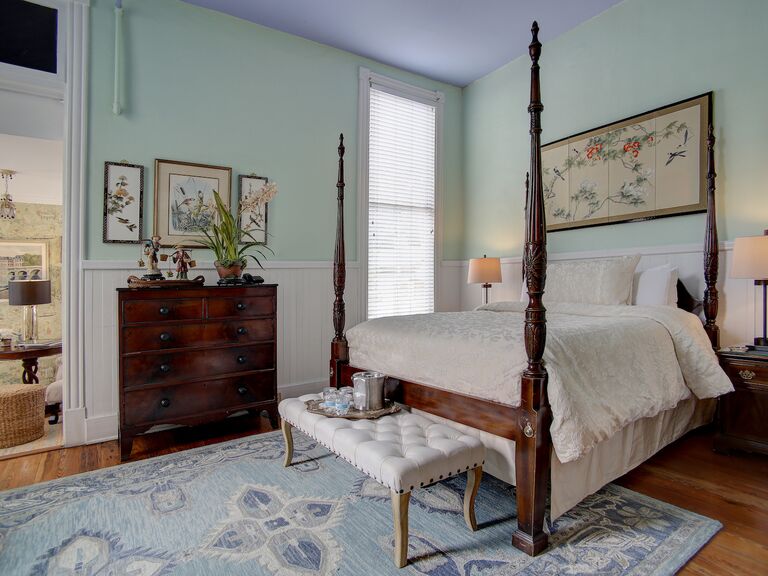 Set in a circa-1896 Queen Anne Victorian mansion, Forsyth Park Inn's turn-of-last-century elegance makes it an idyllic spot for your big day. Say "I do" in a quiet garden or parlor ceremony, which is all yours for up to 90 minutes. A veteran officiant will perform the ceremony and can help you with your vows, while your wedding coordinator will help you with all the little details. The package (for two to 10 people) includes a bridal rose bouquet with a boutonnière to match. Guests can enjoy tea and water upon arrival, as well as cake after the ceremony. Couples can then retreat to one of the 11 rooms reserved for them for two nights. Night one includes bubbly and chocolate-covered strawberries. You'll also receive a pair of keepsake etched flutes to toast with for anniversaries to come.
102 W Hall St, Savannah, GA 31401
5 Star Rating | Read Reviews
Small Outdoor Ceremony, Cherokee Pines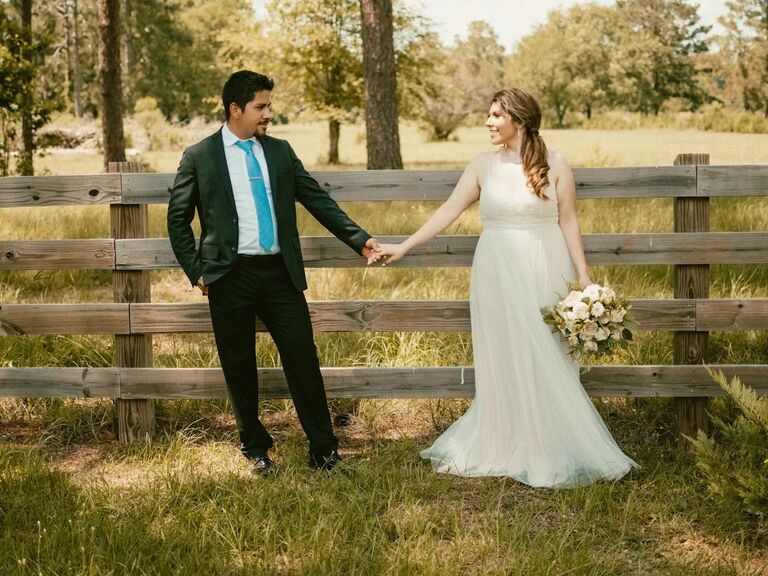 Escape to forest-like surroundings with stunning oak trees for an intimate ceremony at Cherokee Pines. At just $180, the elopement package is one of the most affordable the Peach State offers. The fuss-free package includes rental of an outdoor location of your choice and restrooms for two hours. Cherokee Pines will provide tables and chairs if available. Couples will need to bring in their own vendors if they wish to have them. This option is ideal for to-be-weds with a distinct vision in mind for their Georgia elopement or those who are simply looking for a gorgeous get-in, get-out ceremony.
1000 N Davis Dr, Perry, GA 31069
4.8 Star Rating | Read Reviews
All-Inclusive Elopement Package, Forest Hill Park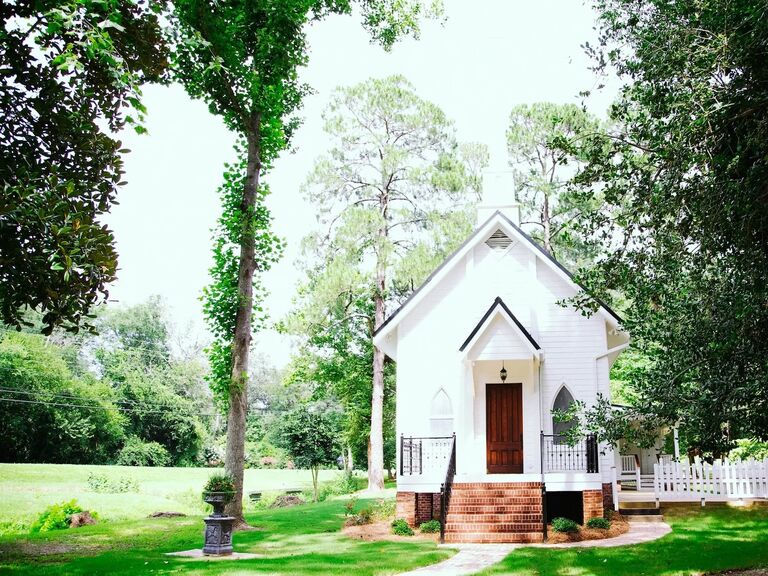 A privately owned venue surrounded by lush greenery, Forest Hill Park is a beautiful spot for a classic elopement in Georgia. The venue recently unveiled one of the sweetest all-inclusive elopement packages Georgia offers. The deal gives access to the venue for 90 minutes, which will include a ceremony at the location of a couple's choosing. Up to 10 guests can hear the most personal vows and watch an included officiant pronounce you partners for life. An hour of photography with a link to images is also part of the bundle, which begins at $740.
1251 Forest Hill Dr, Perry, GA 31069
4.9 Star Rating | Read Reviews
All-Inclusive Elopements, The Jewell House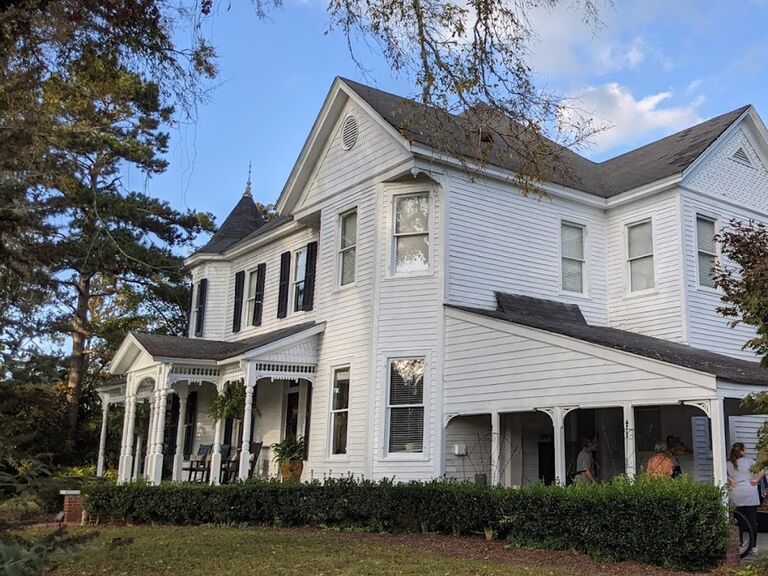 A stunning estate located on 42 acres of land with river vistas, The Jewell House's sprawling and meticulously kept grounds make for the perfect setting for an intimate ceremony. The venue is a popular all-inclusive elopement package for Georgia couples. The included amenities go above and beyond—couples receive two suites to get ready and practice their vows, as well as an officiant, tables, chairs and personal flowers. The ceremony can take place indoors or outside, and a private indoor reception with a gourmet meal, a cake and centerpieces is part of the package. Couples can bask in just-wedded bliss with an included one-night stay in a private cottage complete with a clawfoot tub.
79 Hamburg State Park Rd, Jewell, GA 31045
4.7 Star Rating | Read Reviews
Island Getaway Elopement, Beachview Club Hotel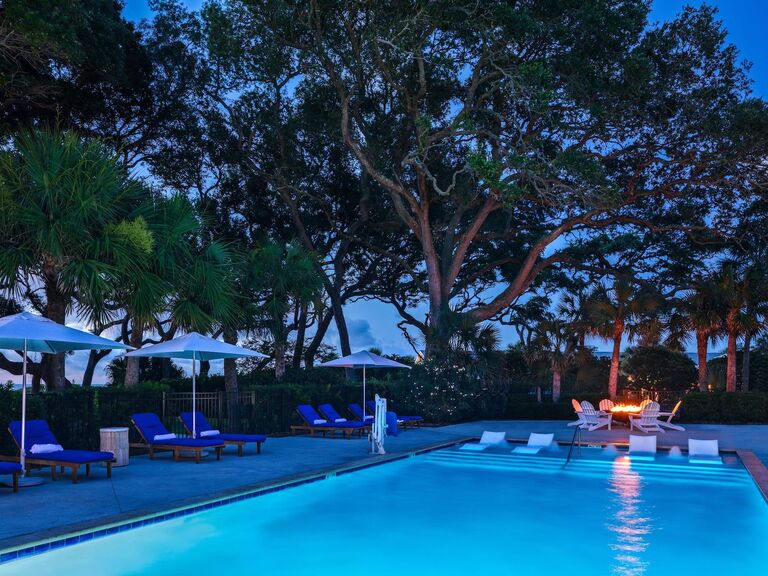 Just the name of the Island Getaway Elopement package at Beachview Club Hotel screams "Georgia elopement." The Jekyll Island venue along the Atlantic Ocean is equally stunning and serene. An on-site ceremony can take place underneath a canopy of oaks, on the lawn or by the ocean. Regardless of the location, the ocean waves will provide a soothing and natural soundtrack to your evening. A local officiant will declare the couple life partners, and afterward, you can head to a private reception for up to 15 guests that includes a small, customizable wedding cake. Food and beverages can be added, and couples receive a two-night stay at the hotel. The all-inclusive package starts at $4,500 for 15 guests.
721 Beachview Dr N, Jekyll Island, GA 31527
4.6 Star Rating | Read Reviews
Elopement, Vow Renewal and Second Marriages, Hemlock Ridge Vintage Mountain Weddings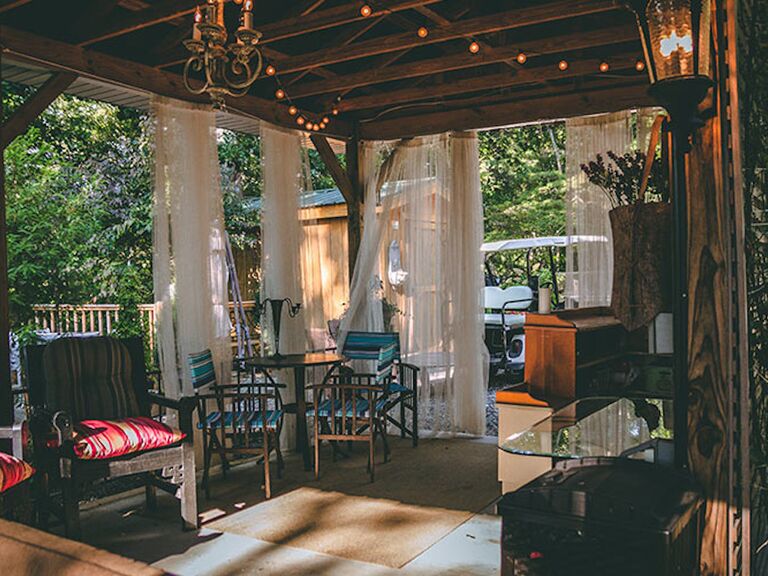 Set amid the North Georgia mountains, this relative newcomer to the wedding space has been offering rustic weddings full of natural elegance since 2015. Couples seeking an elopement in Georgia can opt for this package with Hemlock Ridge Vintage Mountains Weddings, which includes a ceremony, use of the venue, personal flowers, a Champagne toast and a petite cake. The package accommodates up to eight guests, but couples can host up to 15 for an additional cost.
540 Young Cane Creek Rd, Blairsville, GA 30512
5.0 Star Rating | Read Reviews
Elopement Packages in North Georgia, Lake Rabun Hotel and Restaurant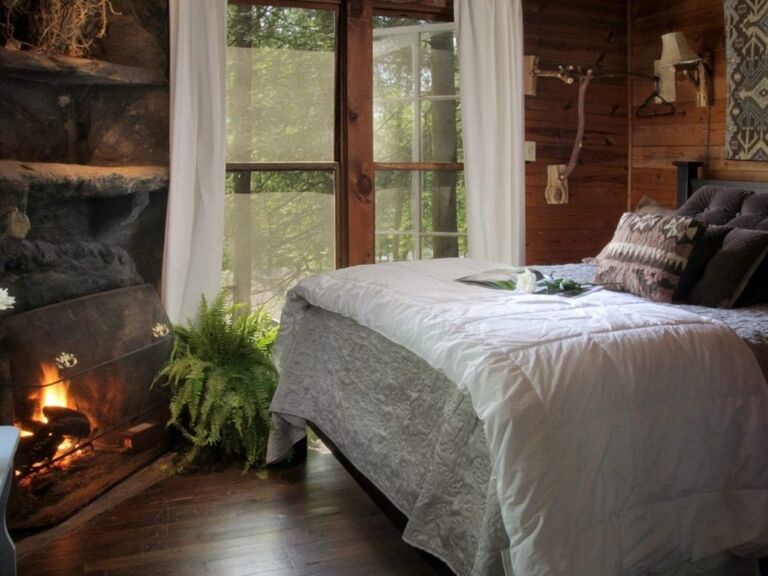 Nestled in the hills by Lake Rabun, this cozy mountain escape exudes quiet intimacy. The rustic-chic ambiance at Lake Rabun Hotel and Restaurant is a gorgeous canvas for a small affair. The package accommodates two to 16 guests, and couples receive a two-night stay in one of the individually decorated rooms complete with wooden furnishings. Gourmet breakfast will be served each day. A non-denominational minister will perform a personalized ceremony, and couples can chime in to craft nuptials that fit their vision and character. The package also includes personal flowers; photos before, during and after the "I do"s; and a $70 credit for dinner at the lauded on-site restaurant.
35 Andrea Ln, Lakemont, GA 30552
5.0 Star Rating | Read Reviews
Elopement Package, High Point Farms
Although it's located near Chattanooga, Tennessee, and only 90 minutes from Atlanta, High Point Farms still feels like it's a world away. The 75-acre spot at the base of Lookout Mountain sets the stage for nuptials brimming with rustic charm. The barn illuminated by string lights adds to the ambiance. An Elopement Package allows the couple to invite 50 of their nearest and dearest, making it an option for couples looking for a larger headcount. Couples receive access to the venue for five hours. A coordinator will help with the timeline, and staff will set up and break down everything, allowing the pair to focus on each other and their guests. Dinnerware and a portable sound system are included, and couples can add upgrades like a cake and lodging.
263 Parrish Ln, Flintstone, GA 30725
5.0 Star Rating | Read Reviews
The Peony Package, Daughter's Barn at Cedar Ridge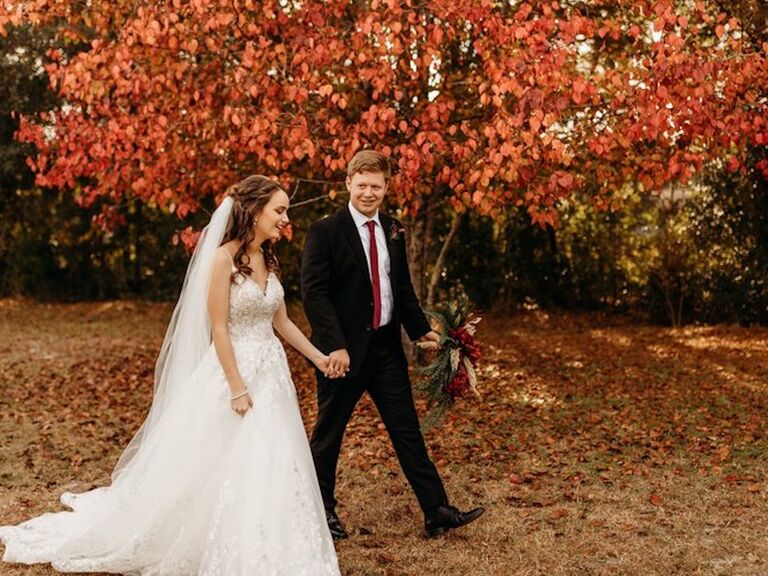 Set in charming Folkston, this venue's expansive, 3,200-square-foot barn sits on nine pristine-kept acres of land in Southeast Georgia. Daughter's Barn at Cedar Ridge provides ample opportunities for gorgeous snaps, and eloping couples will have access to any photo sites on the property as part of the Peony Package. Couples can get ready in the Lilavin Bridal Cottage—which is available to them beginning at 9 a.m. on their wedding day—and will have access to the beautiful barn for three hours. The ceremony is also included. The package doesn't have a reception, but is available seven days per week. Pricing begins at $900.
86 Padgett St, Folkston, GA 31537
5.0 Star Rating | Read Reviews