The Best European Destination Wedding Locations of 2023
From London to Lake Como, here are the most idyllic places to say "I do" abroad.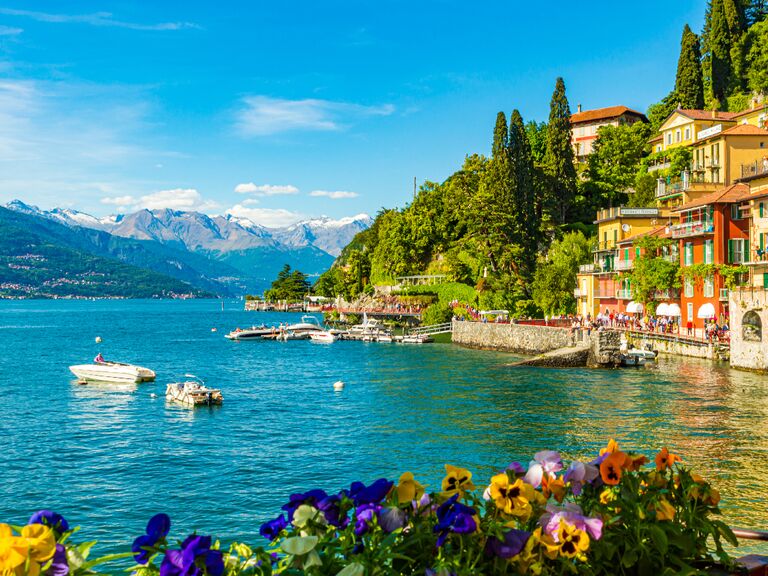 Daniele Mezzadri/Getty Images
For many couples, choosing a venue is often one of the very first steps in their wedding planning timeline. After all, your location has a direct impact on the cost, size and overall vibe of your big day. So, where in the world should you say your I do's? If a far-flung destination wedding is calling your name, there are so many incredible spots to get married internationally—especially in Europe. From the lush lavender fields in Provence, France to the rustic hills of Tuscany, Italy, European destination weddings offer a fascinating combination of culture, history and exquisite scenery.
According to The Knot Real Weddings Study, nearly one in five couples say they hosted a destination wedding. Of course, a destination wedding is defined as any celebration that doesn't take place in the couple's hometown. But if you have your heart set on a European fête, you're in the right place. Below, we've curated the best European destination wedding locations by country, along with planning tips and standout venues for each.
In this article:
The Best Destination Wedding Locations in Italy
When in Rome, get married. (At least, that's our motto.) Jaw-dropping sights and unforgettable experiences await you and your guests at a destination wedding in Italy. There are so many different backdrops you can pick from your big day, like a rustic estate in Tuscany or a ritzy villa in Lake Como. Of all the distinct regions and cities to choose from, here are a few of the best places to get married in Italy.
Florence & Tuscany Destination Wedding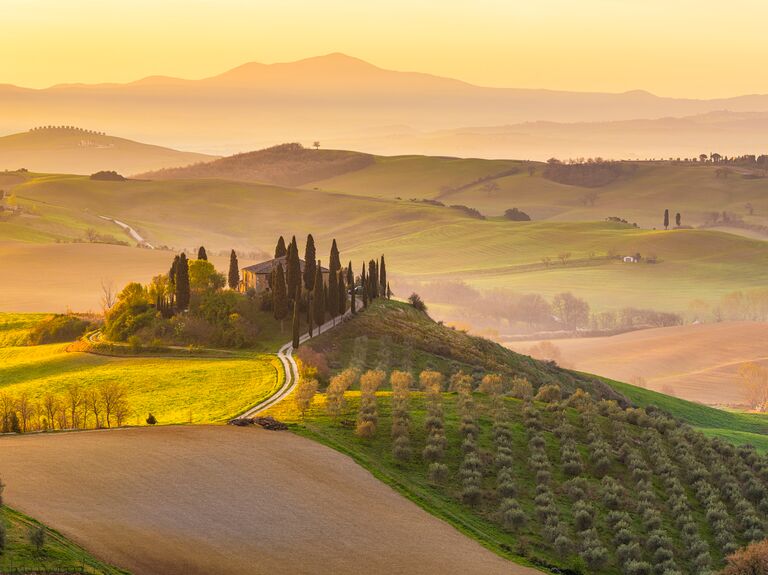 Looking for an Italy destination wedding location that's perfect for oenophiles? Consider Florence or the greater Tuscany region. Those with a penchant for fine wine and good food will be blown away by the exquisite cuisine this beloved part of Italy is known for. Planning a destination wedding in Tuscany gives you plenty of diverse choices when it comes to the venue. While you can opt for an urban backdrop like Florence, you can also whisk your guests away to the vast, rolling hills of San Gimignano or Val d'Orcia. If you're really looking for the VIP experience, consider renting a celebrity's mansion for your wedding—legendary singer Sting opens up his private Tuscan home, Il Palagio, for special events.
Lake Como Destination Wedding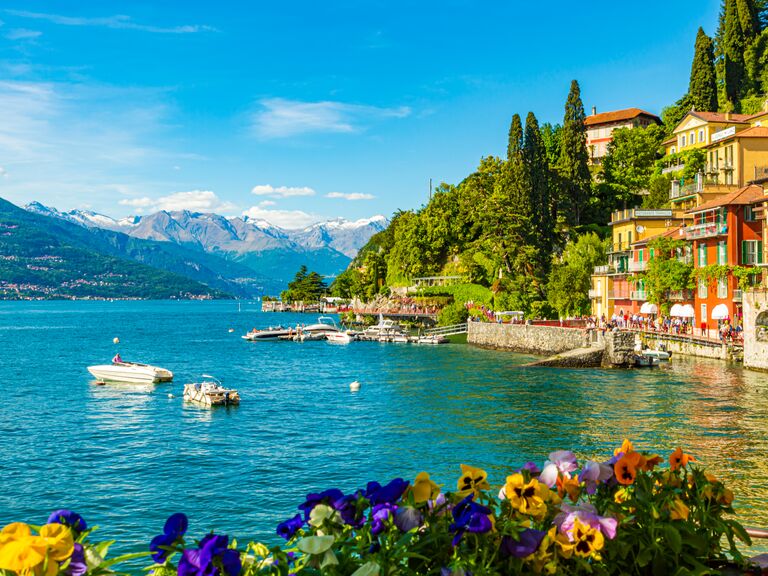 Known as being a playground for the rich and famous, it's no surprise that Lake Como is one of the best places to get married in Italy. (Take it from celeb couples like John Legen and Chrissy Teigen or Emily Blunt and John Krasinski.) Nestled within the foothills of the Swiss Alps in Italy's Lombardy region, Lake Como is an upscale location dotted with historic mansions and estates—all of which make dreamy backdrops for nuptials. Check out Villa Pizzo, Villa Balbiano, Villa Regina Teodolinda, and Villa Monastero for a glimpse of all the jaw-dropping views that await your Lake Como destination wedding.
Amalfi Coast Destination Wedding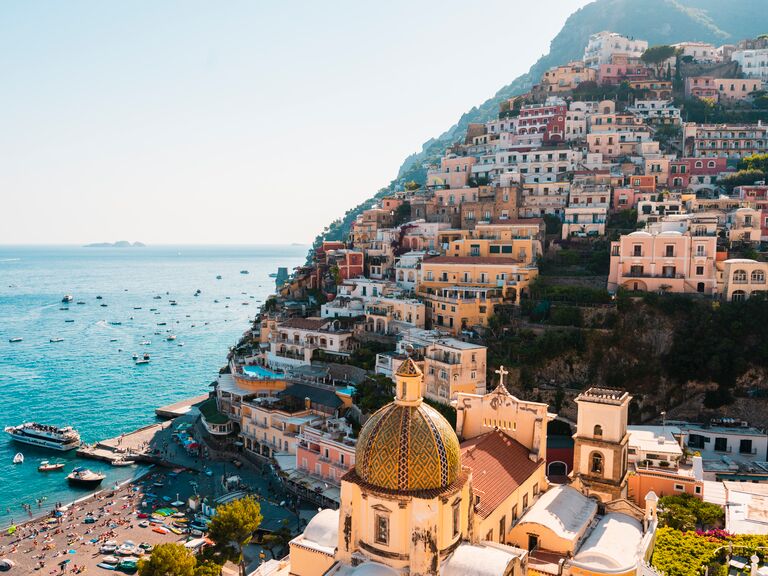 There's so much to love about the vibrant beaches of the Amalfi Coast. Located on the southern edge of Italy's Sorrentine Peninsula, this beloved stretch of land is home to popular destinations like Naples, Sorrento, Capri and Positano, making the Amalfi Coast one of the best places to get married in Italy. Be mindful of this area's peak season, though, which runs from June through September. Although the weather is at its prime, you will encounter busy crowds and higher prices. If you're open to booking your Amalfi Coast destination wedding during an off-season month, you'll have access to more venues (and potentially lower prices). Your ideal Amalfi Coast wedding venue will depend on your overall wedding aesthetic, but we recommend Villa Cimbrone, Grand Hotel Convento di Amalfi, Hotel Poseidon and Villa Eva.
Rome Destination Wedding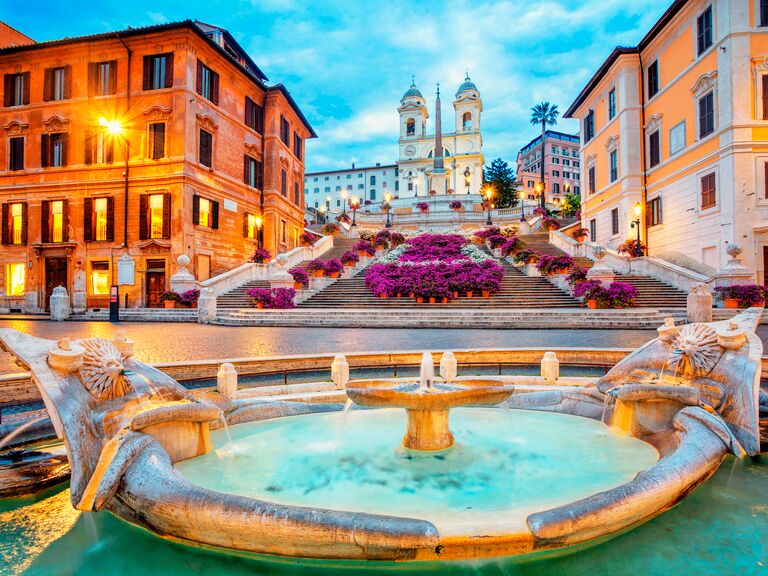 Not sure where to get married in Italy? You can't go wrong with Rome as the setting for your destination wedding. Channel la dolce vita in the country's capital city, which is home to iconic architecture, accessible transportation and downright incredible food. The best part about hosting a destination wedding in Rome is your ability to turn it into a bucket list vacation. After you swap vows, check out beloved sights like the Colosseum, St. Peter's Basilica, Villa Borghese Gardens, and the Trevi Fountain (where you can wish for a prosperous marriage). We love the idea of hosting your nuptials at Castello Ruspoli, a renovated castle from the 1500s, or La Vista Boutique Resort, a charming hotel just outside the city center that's perched on the edge of an old volcano.
The Best Destination Wedding Locations in Greece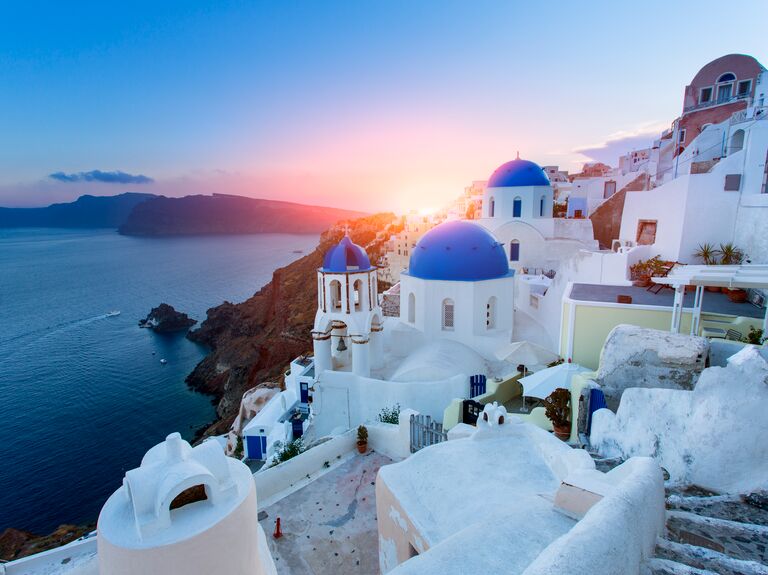 Live out your Mamma Mia fantasy with a destination wedding in Greece. Located in southeastern Europe bordering the Ionian and Aegean seas, Greece is a wildly popular honeymoon locale, but it's also a stunning place to get hitched. When you imagine getting married in Greece, you might associate the country with well-known islands like Santorini and Mykonos. While there's no denying these are gorgeous settings for your big day, they're not your only options. In fact, Greece is home to plenty of smaller islands that offer the same postcard-worthy views you associate this Mediterranean hotspot with, such as Crete, Corfu and Zakynthos. (Psst: You can even rent out *the* Mamma Mia wedding chapel in Skopelos.) Plus, planning your Greece destination wedding at a less-touristy location may actually help you save money in the long run—a total win in our eyes.
The Best Destination Wedding Locations in Spain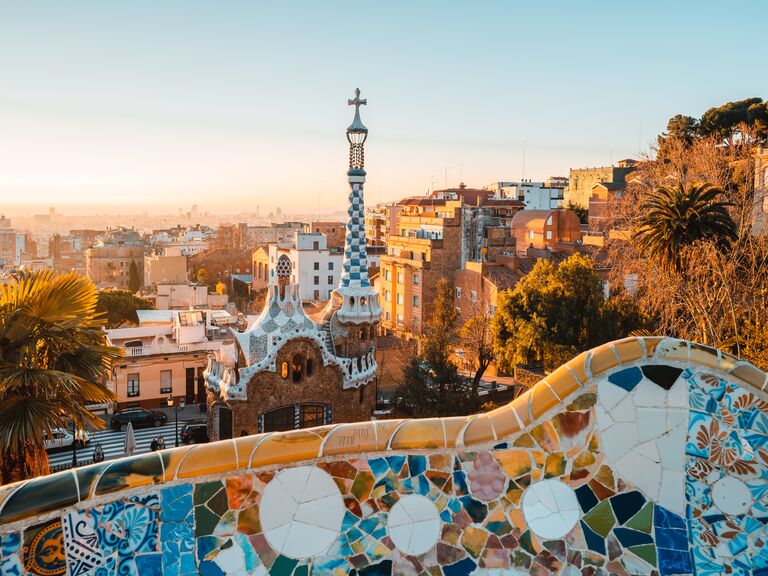 When it comes to the best destination wedding locations in Europe, Spain is home to some of the liveliest. Spanish cities like Barcelona, Madrid and Seville are chock-full of vibrant art, ornate architecture, and world-class dining experiences. City-loving couples will enjoy the bustling streets of Madrid, whereas foodies will enjoy treating their guests to the unique dining culture of Basque Country. Those looking for a seaside destination wedding in Spain might fall in love with the charming aesthetic of Costa Brava, a fishing village that boasts exquisite blue waters and sparkling sea views.
The Best Destination Wedding Locations in Portugal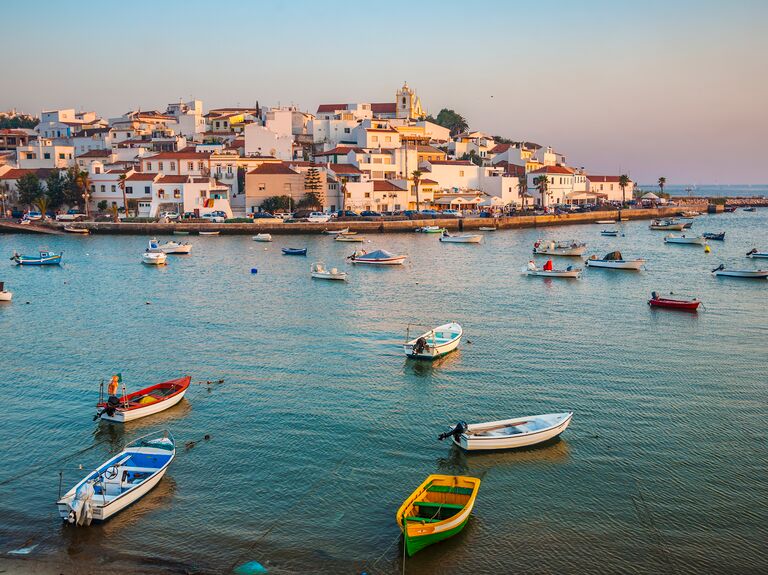 You'll find quintessential Mediterranean charm in Portugal, Europe's westernmost country. From the metropolitan streets of Lisbon to the cliffside coasts of Algarve, there are so many scenic locations to host your vow swap. A destination wedding in Portugal is also a prime location for couples envisioning an "old world" wedding aesthetic, as it's home to many historic estates (such as the Palacio do Freixo in Porto). Many travel experts recommend visiting Portugal in the spring when the weather is mild and sunny and colorful flowers are in full bloom, so plan your big day accordingly.
The Best Destination Wedding Locations in France
France is home to some of the most romantic and elegant cities in the world, making it incredibly apropos for your destination wedding. Thanks to the multitude of amazing cities, though, narrowing down the best places to get married in France certainly isn't exactly easy. After all, French regions are incredibly nuanced, and what you're looking for in a venue may depend on a variety of factors. The good news, though, is that there's no such thing as a bad destination wedding location in France. Here are some top picks to get you started.
Paris Destination Wedding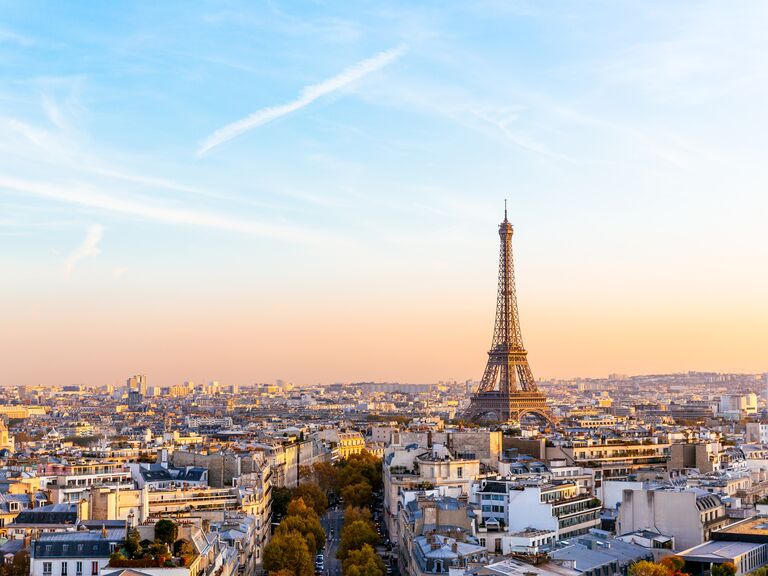 Considering Paris is the City of Love, there's not a more romantic place to host your destination wedding in France. You'll have plenty of exquisitely beautiful wedding venues to pick from, like the lush botanical gardens at Parc de Bagatelle or the swanky halls of the Ritz Paris. Given its convenient location, you can continue the festivities by jumping right into your honeymoon when the wedding day ends. Stroll the Parisian cobblestone streets with a baguette in hand, pop into world-class museums and Michelin-star restaurants, or take a romantic newlywed cruise along the Seine River. Then, extend your adventures to neighboring towns like Champagne and the Loire Valley.
French Riviera Destination Wedding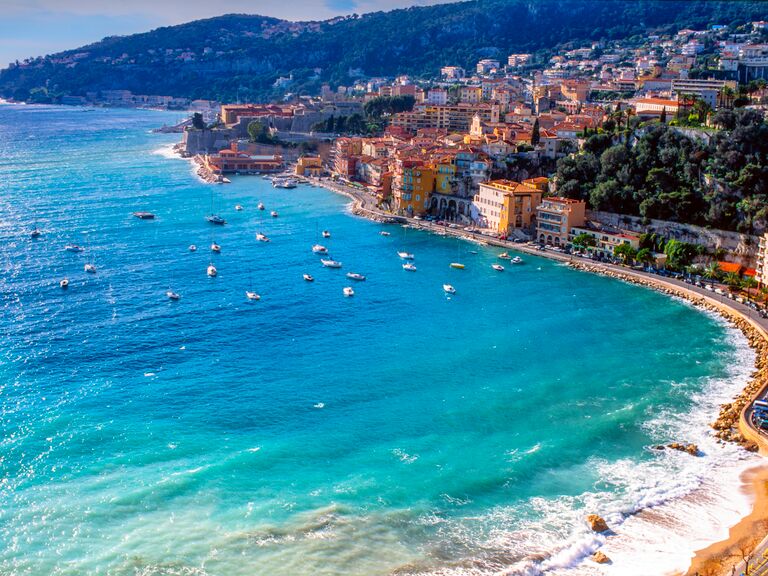 On the southern edge of France sits the French Riviera, a glamorous beachfront destination that meets the Mediterranean sea. Here, you can host your destination wedding at highly sought-after luxury resorts in Saint-Tropez, Cannes or Monaco. If you dream of getting married in France on the grounds of a storied chateau, you'll have plenty to choose from on the French Riviera. Venues like Hotel du Cap-Eden-Roc, Villa Ephrussi de Rothschild, and Chateau Saint Georges will transport you and your guests to an other-worldly oasis on the Blue Coast.
Provence Destination Wedding
Also located in the South of France, Provence offers a completely different experience than the French Riviera. Known for its diverse terrain, which includes lush lavender fields, olive groves, sprawling vineyards and mountainous hills, this region is one of our favorites for a destination wedding in France—for obvious reasons. Consider booking one of Provence's delightful chateaus for your big day, such as Chateau Saint Roseline, Domaine De Manville or La Lauren. Your loved ones will be swept away by Provence's rolling countryside... and the Provençal rosé, of course.
The Best Destination Wedding Locations in the UK
Getting married in the United Kingdom presents you with a few options. Are you envisioning a metropolitan celebration? London might be right for you. If you'd rather scour venues that are more rugged and off-the-beaten-path, Ireland and Scotland may have better options for your vision. Regardless, a destination wedding in the UK will offer a special sense of magic you can't find anywhere else in Europe.
Ireland Destination Wedding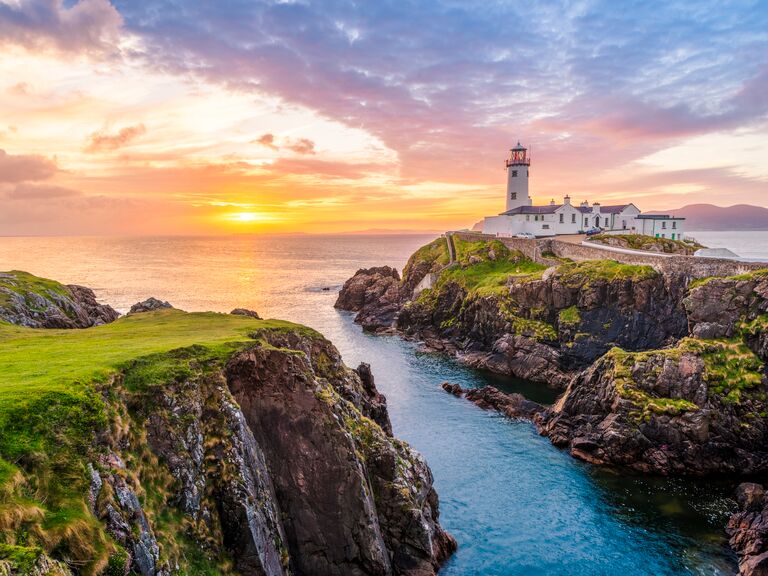 From rugged coastline bluffs to bustling city streets and quaint countryside castles, Ireland makes for a lovely place to host your destination wedding. Consider having your big day in Dublin, the capital of the Emerald Isle. While experts note that Ireland's wedding industry is a bit smaller compared to other European locations, you'll find stunning venues just outside this city, like Carton House, Finnstown Castle and Summerhill House. About three hours away in Galway, live out a royal fantasy by saying your "I dos" at Ashford Castle. Those looking for the quintessential rocky Irish aesthetic may prefer the dramatic coastline of Dingle, where Star Wars: Episode VIII was filmed.
Scotland Destination Wedding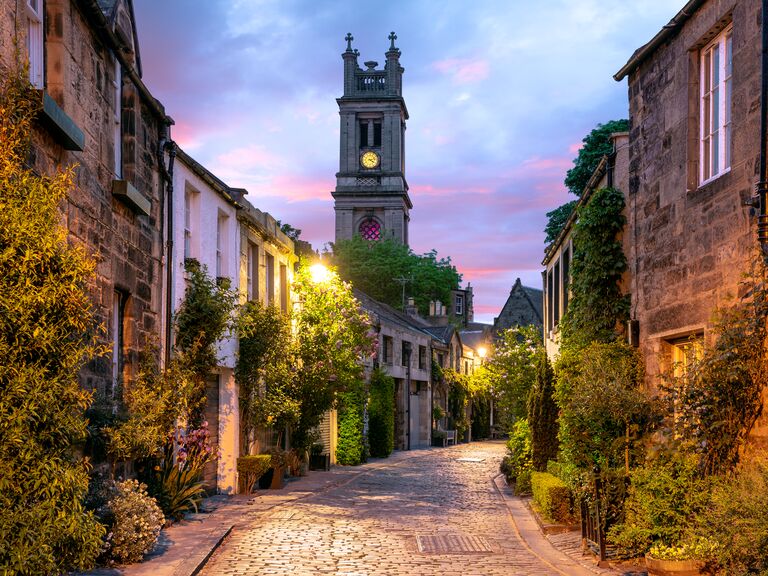 For a celebration that marries whimsy and fantasy, a destination wedding in Scotland will deliver all the magical vibes. This UK country has over 790 islands, making it easy to tailor the experience for your guests. While you can certainly host your nuptials in Edinburg, Scotland's capital, you can also immerse yourself in the country's unique bucolic countryside cities like Glasgow, The Scottish Highlands or Aberdeenshire. Here, you'll find every wedding venue imaginable, from ancient castles to quaint country homes. To begin your search for the perfect setting, start by checking out Archerfield House, The Edinburgh Grand, Secret Herb Garden and Barnbougle Castle.
London Destination Wedding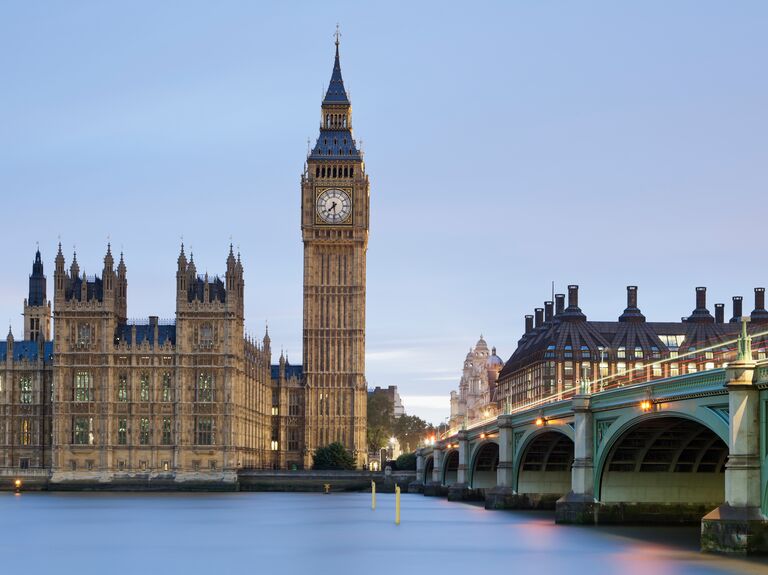 Is London calling you for a destination wedding? You might want to answer—after all, there's no better way to honor your love story than by swapping vows in England's beloved capital city. While London often gets a bad rap when it comes to weather, the temperatures are generally mild all year long. Channel old-world British charm by swapping vows at an ornate estate like 10-11 Carlton House Terrace. For something a little swankier, consider the top floor of Searcys at The Gherkin, which boasts sweeping views of the London skyline. While you're across the pond, allot enough time to swing by Big Ben and wave to the royal family at Buckingham Palace.
The Best Destination Wedding Locations in Croatia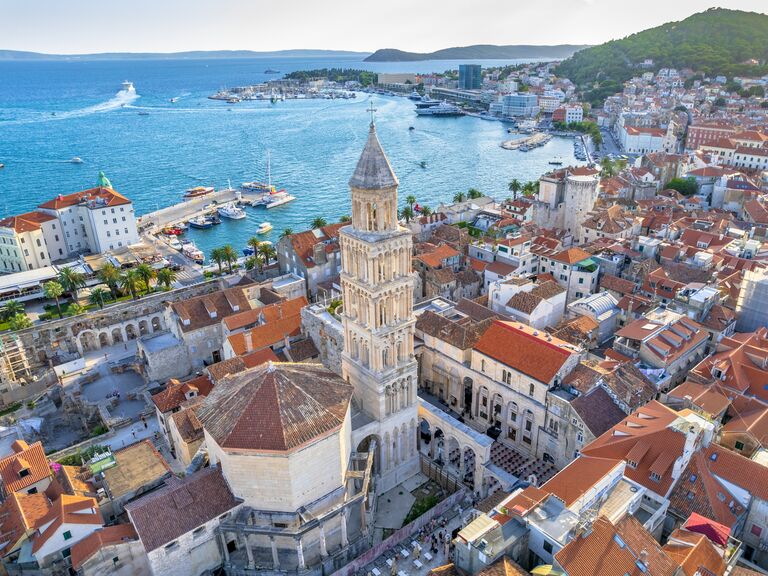 Perhaps you're looking for a destination wedding location in Europe that's not as popular, as, say, France or Italy. For a unique location that blends culture, cuisine and architecture, we recommend a destination wedding in Croatia. Consider looking for wedding venues in Dubrovnik, the country's most popular tourist spot which has been dubbed the "pearl of the Adriatic," or Hvar, one of the sunniest cities in the region perched within the town's harbor. When planning a destination wedding in Croatia, consider selecting a date in the country's "shoulder" seasons: May to June and September to October. While summer is peak travel season in Croatia, you may be able to snag better deals and more accommodations in the off-season months. If you don't mind the bustle, your summer wedding in Croatia will coincide with festivals, the opportunity for seaside adventures, and so much more.