The Complete Guide to Planning a Destination Wedding in Belize
Plan a wedding adventure near one of the world's largest barrier reefs.
If you desire a tropical locale that's a bit more off-the-beaten-path over, say, the usual Caribbean experience, a Belize destination wedding beckons. Belize, a Central American country on the Caribbean sea, features an incredible range of terrain and gorgeous beaches. Belize is known for its exclusive private islands, Mayan ruins and vibrant and rich snorkeling options.
Plus, there are multiple jaw-dropping wedding venues, where couples can entrust the entire planning process to an experienced Belizean team of vendors.
Why Couples and Wedding Guests Love Belize
For warm weather-loving couples, the beautiful sandy beaches and lush tropical flora and fauna of Belize makes for a dream wedding destination. Add in an easy legal wedding process for foreigners and a multitude of adventures, including caving and snorkeling, to keep a wedding party having fun for days, and it's the perfect getaway to say, "I do."
This friendly country welcomes foreigners from across the globe to explore rainforest jungle, ancient Mayan ruins, incredible waterfalls, and one of the largest barrier reefs in the world. A Belize wedding isn't just about the day-of –– it's about experiencing the magic of this country bordering the Caribbean and witnessing the diversity of its landscape, from the jungles in the west to the pristine beachfront in the east. Though, no one will judge if you do decide to spend a few days relaxing with a drink in hand at a beach resort.
The Best Places to Get Married in Belize
Have you ever seen a turquoise waterfall? Imagine your guests' eyes as they watch you and your beloved exchange vows framed by the romance of a misty waterfall in the midst of a dense green forest and soaring rock formations.
San Pedro is a lively destination and the most populated of Belize's islands. It's also known as the party capital of Belize, but that doesn't mean it can't make for a romantic wedding location. You'll find white sandy beaches and gorgeous Caribbean water, but with the convenience of being in the city. Plus, your guests will have no trouble finding a spot for the afterparty.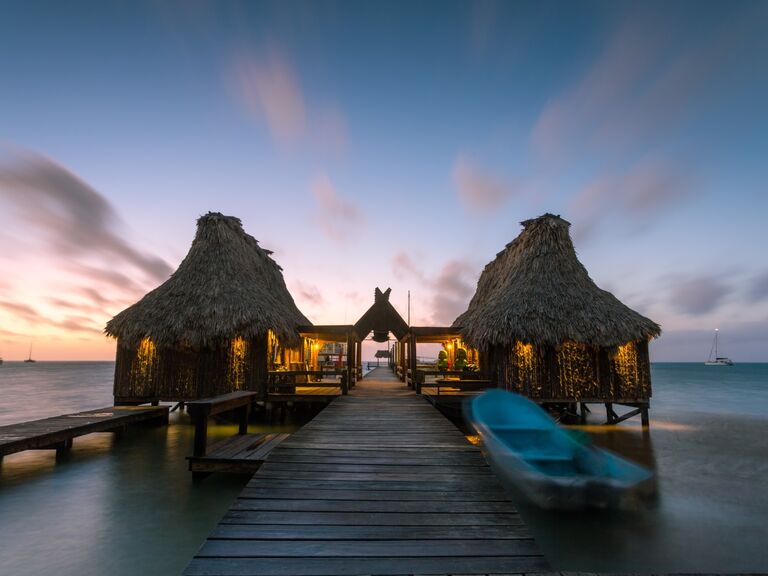 If you prefer a more traditional island vibe, than Ambergris Caye is calling your name. Book an island resort wedding and bring all your closest friends and family together for a celebration that involves days of scuba diving and starlit evenings on the beach. Want to feel the wind in your hair as you walk down the...starboard? You can get married while sailing on a sailboat or catamaran off Ambergris Caye and watch the sunset from sea.
You'll find a taste of paradise on the secluded island of St. Georges Caye. This historically important slice of the Caribbean is accessible only by boat and is perfect for a couple looking for the most exclusive of Belize resorts. It's quiet, romantic and perfect for a small, intimate celebration with your loved ones.
For a splurge-worthy wedding experience, visit the palm-lined beaches of Placencia. The Placencia Lagoon is worth a visit, but don't dare dive in. It's not only home to friendly manatees, but also not-so-friendly saltwater crocodiles. Imagine a beachfront ceremony, followed by a dancing reception under cabanas strung with twinkle lights and the glow of the Caribbean moon.
Ancient Mayan Ruins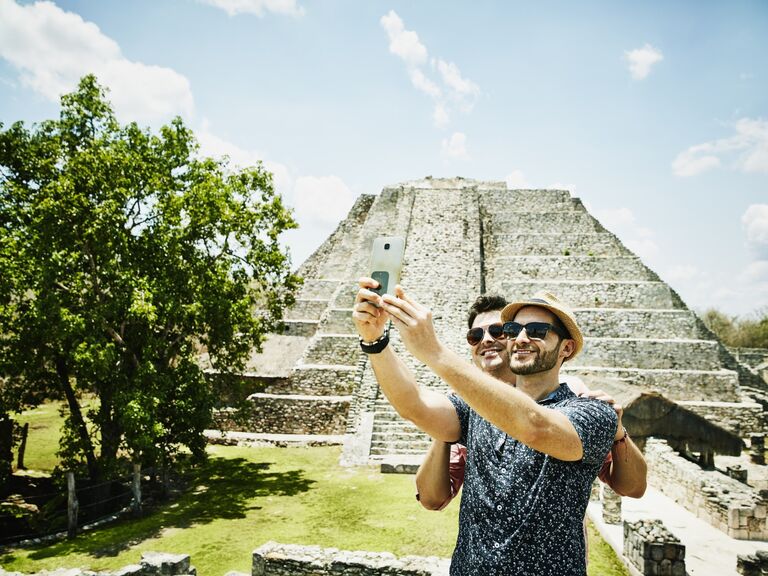 Couples looking for an unconventional and historic place to celebrate their ceremony can get married atop or at the foot of historic ancient Mayan ruins like those of Caracol, Cayo. It's an incredibly moving experience to begin a new life together, standing in the same spot that humans have walked for thousands of years. And it's a wedding your guests will never forget!
Belize Wedding Legal Requirements
It's easy to get married in Belize. Couples may raise an eyebrow at the citizenship requirement to get married in the country, but that only requires a couple to be in the country for three days before applying for a marriage license. The application is submitted to the Register General and is completely valid in the United States and worldwide.
Legal Weddings v. Symbolic Weddings
Couples who choose to marry abroad tend to host only a symbolic wedding at their destination. They hold an official ceremony at home, and then invite friends to witness their vows and honor their commitment to each other, without jumping through the legal hoops in another country.
Since the marriage application process is fairly seamless in Belize, that may not be necessary. A legal wedding in Belize simply requires a marriage application and must be performed by a Senior Justice of the peace, a boat captain or a registered minister. There are elopement rules, so look into those details too.
Required Legal Documents
To fill out a marriage application, couples will only need to prove three days of citizenship and bring a passport or birth certificate. If they have been previously married, they will also need to prove that marriage is no longer valid in order to obtain a new marriage license. The application will have to be signed with a Senior Justice of the Peace as a witness.
Legal Marriage Timeline
While you need to stay in Belize three days to qualify for citizenship to get married, your marriage application process will only take a day. After 24 hours, you can pick up your marriage license.
Legal Marriage Costs
It costs $105 USD to obtain the required wedding license to get married in Belize.
Belize Wedding Planning Tips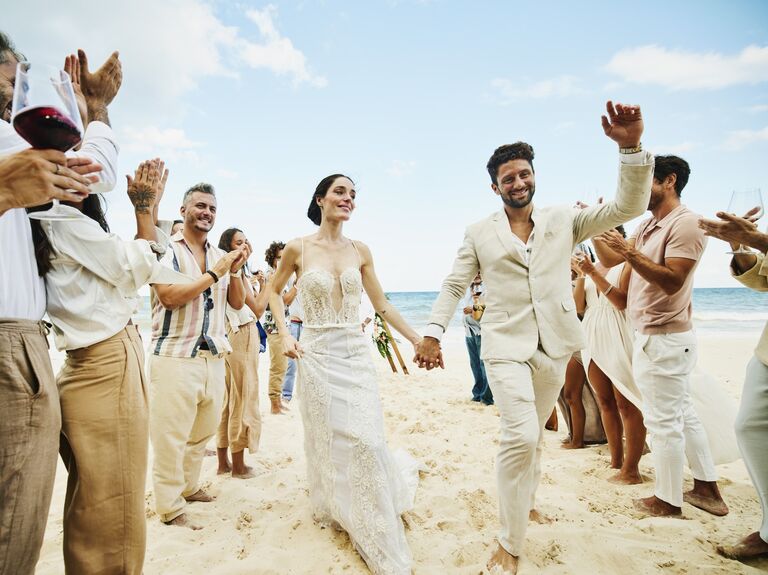 Often the first thought when look at Caribbean and Central American wedding destinations is, "Will my guests be able to get there?" Founder of KIS Events Nirjary Desai says, "The most important thing to consider when planning a destination wedding is having enough time to plan. Your guests also need as much time as possible to coordinate being part of your special day."
In terms of timing, leave it to the pros. Larissa Banting has planned over 600 weddings in nearby Costa Rica, so she knows her way around a tropical climate and has advice for those looking to plan a Central American wedding. She explains, "The closer you are to the equator, the earlier sunset is, so keep that in mind while planning your big day. Allow enough time for your wedding ceremony, photos and cocktail hour before the sun dips. We don't recommend having the ceremony when the sun is bright and hot, making it uncomfortable for your guests and less than stellar for photos."
How to Get There
Belize is an easy two-to-four hour flight from most metropolitan locations across the US. You can fly via United, Delta, Southwest and other airlines into Philip S. W. Goldson International Airport (BZE) in Belize City, including direct flights from Houston, Dallas, Miami, Chicago, Los Angeles and Denver.
While Belize is only a bit larger than the state of Massachusetts, you may want to rent a car to get around. It's the best way to see a large swatch of the landscape in one trip. However, if you plan on island hopping, you'll take either a water taxi or small plane.
Belize Weather
Belize is going to be hot, with temperatures year-round around 71°F to 88°F. The dry season, which runs from November to April, is the best time to visit for sunny skies. Of course, that's also the peak season.
Banting says your biggest issue may be battling the humidity with your wedding day look. "Consider an updo for the wedding day, as it will keep you cooler in the heat and will stay neat throughout the celebration," she says. "Central America can be quite humid, turning those carefully coiffed curls into straggly strands in under an hour. If you're prone to frizz, bring along a good anti-frizz product to tame those tresses."
Banting continues, "Waterproof makeup and a good setting spray will help you put your best face forward despite the heat and humidity. If you can afford it, hire a professional local hair and makeup team as they'll know best how the climate is and what tools and techniques will work best."
Choosing Your Venue and Vendors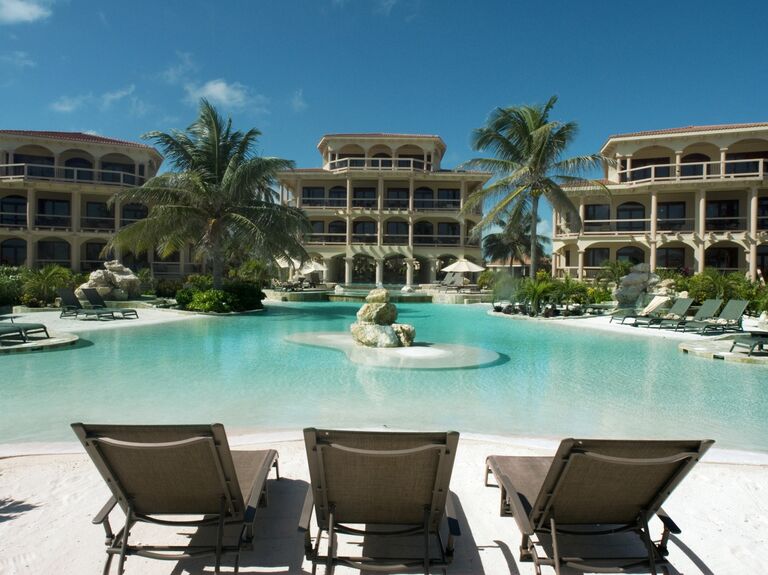 Desai reminds couples, "The destination and time of year are all details that can be sorted out, but having enough time to figure it out is what matters most."
Don't leave decisions on venue and vendors until the last minute when you're planning a wedding in Belize. Instead, start conversations early and find vendors who will help you make the most of your tropical setting. When wedding packages are available to bundle vendors, consider it, as that could make things more efficient and stress-free on your end.
Keep in mind, planning from afar can be tough, particularly if you don't speak the language in the country. Luckily, there are wedding planners who specialize in helping couples who are planning a destination wedding in Central American and Belize. Plus, reputable hotel groups like The Belize Collection, which boasts numerous properties for every type of couple. Check out The Knot Marketplace for recommendations.
Budgeting Tips
In terms of nearby countries, Belize is similar to the US for wedding pricing. It's a popular destination and the costs reflect that. Belize uses the Belize dollar, which current stands at a $0.50 to $1 exchange rate with the US dollar.
Couples planning a beach wedding onsite at a resort could consider an all-inclusive wedding Belize wedding package for a more affordable option. Some even consider adding a honeymoon package for immediately after the wedding. A few weeks exploring a stunning country on the Caribbean Sea, getting married, and going on your honeymoon? That sounds like a dream destination wedding.