The 5 Best Countertop Ice Makers, Coming From Someone Who Drinks *Everything* Chilled
Iced coffee in the winter fam, rejoice.
We have included third party products to help you navigate and enjoy life's biggest moments. Purchases made through links on this page may earn us a commission.
Picture this: It's seven degrees and snowing and I'm cuddled up on the couch, plush blanket splayed over my lap, with a space heater toasting up the room and an ice-cold sip within reach. This is my happy place—and precisely why I'll say finding the best countertop ice maker was one of the best shopping decisions of my life. I grew up with refrigerators that all had ice makers built into their freezer doors, I filled plenty of plastic ice cube trays up in college (because my pre-game cocktails of choice—including shots—were only drinkable when they were frosty), but every cold beverage experience in my 35 years of life has been bested by the drinks chilled with our magical ice maker.
Case in point: I'm typically a water fanatic, but last year—when I was pregnant with my third baby—the mere thought of water repulsed me. I was severely dehydrated and sick, but I couldn't even keep a few sips of water down, let alone the recommended eight to 10 glasses per day. All I can say is thank goodness we had a counter ice maker. For some reason, ice cubes were more tolerable to me (I'm living proof that pregnant people and ice chips are a match made in heaven) and—as long as I could fill up glasses upon glasses upon glasses of ice cubes and chomp away—I could handle my hydration like a champ (and yes, this is how I hyped myself up during those four to five months of pregnancy sickness hell).
Of course, you don't have to be pregnant to appreciate a great ice machine. It beats dealing with filling freezer trays and can help keep bevs chilled in bulk for parties—plus make your daily iced latte or nightcap at home much more aesthetic, depending on the model you choose.
The Best Countertop Ice Makers
Ice is one of those things you don't think about until you need it most. But with a tabletop ice maker, you'll always have cubes at the ready, just in time to cool down summer BBQ guests' sweating spritzers. Here are five of our favorite options for fellow chilled-beverage connoisseurs:
Why I Chose These Ice Makers
There are plenty of countertop ice makers on the market today, but don't let that fact freeze you up. I considered the following key features as we scoured the web for the best options:
Speed — When you need cold water, lemonade, soda, seltzer, even milk (yes, I enjoy milk with ice) fast, ice makers that swiftly spit out cubes are the stone-cold contenders.
Shape — Not all ice is created equal. You might love nugget ice—because the chewy, shaved/frosted texture is almost snackable—but your bestie might prefer clear ice, because it looks clean, polished and it melts more slowly.
Output — How much ice do you get? Typically, the yield is X # of pounds per 24-hour period).
Size — The size of your countertop ice maker is a big deal. If you're short on space, you'll do well with a compact machine. If you host a lot of parties, you might want to spring for a large-capacity model that not only produces more ice, but features a larger water reservoir that doesn't need to be refilled too often. If you like to bring your ice with you (out to the pool or on your deck/patio), you'll probably want to check out portable options.
Maintenance — Ice that isn't clean (or made from fresh water) might not look that bad, but it likely won't taste that good. Models that accommodate self-cleaning cycles (i.e. you can run the machine with a non-toxic cleaning solution or a diluted vinegar wash to flush out the inner compartments) sparkle among the rest.
Every ice maker on this list hits on one of these factors extremely well and boasts a handful of others, too boot. We also included a range of options to suit different lifestyles, so you're sure to find the best one for you.
1. Frigidaire Nugget Ice Maker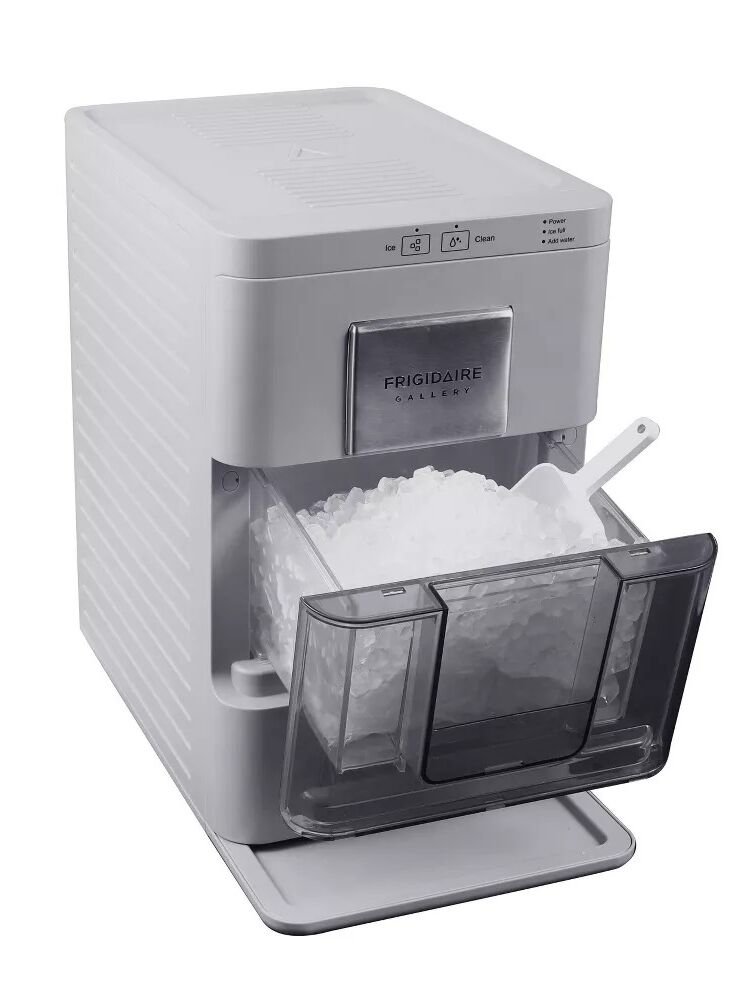 Best: nugget ice maker
Pros: intuitive touch controls, user-friendly maintenance prompts, ice shape great for party drinks
Cons: expensive, 15-minute production time, lack of color options
Nugget ice is the best thing to ever happen to iced coffee and slushy signature cocktails, IYKYK. So, if you start each day with a cold-and-then-some cold brew, this countertop ice maker—which can easily fit on a kitchen island or large coffee cart—is going to make your world go round. To start, it can make up to 44 lbs of ice per day (three lbs in the bin at once), with no water hookup needed (a tray pulls out up top and you just pour in water to fill the reservoir). There's a scoop to collect your nuggets and give your drinks a healthy dose of ice cold refreshment. And when you want to clean it, you just push the "clean" button to trigger the automatic self-clean cycle. I've tried the nugget ice from this one before and each cube is soft and crunchy—I'm not even a soda fan, but a cream soda or root beer over a full glass of the nuggets is giving "drive-through fountain drink" in the best, frothy way.
2. Igloo 13'' Automatic Self-Cleaning Ice Maker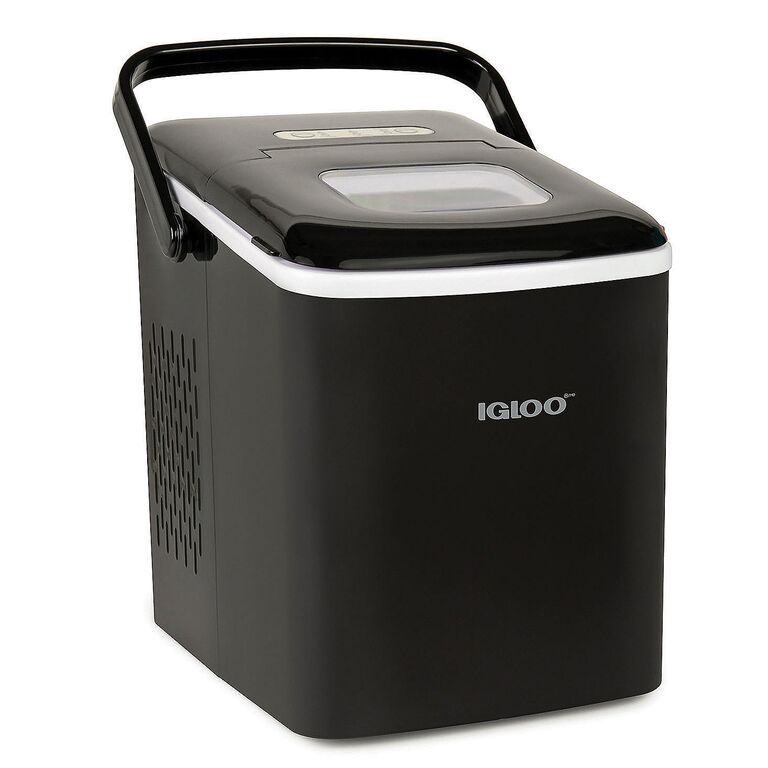 Best: portable ice maker
Pros: makes batches seven minutes, carry handle, handy drain plug
Cons: bullet ice cube shape isn't ideal, fairly expensive, self-cleaning function is a bit fickle
There are lots of countertop ice makers to shop, but if you're looking for a portable pick, one with an easy-to-tote-around handle is probably what you'll want to start with. There aren't a whole lot of compact ice makers with built-in handles, but Igloo makes one that's pretty great. The color options make it stylish and versatile, too. It can make up to 26 lbs of ice in 24 hours and hold 1.25 lbs at a time. So, you can make a batch, add it to a cooler and then make a second batch to bring with you—for 2.5 total lbs of ice for wherever life takes you (your backyard, the park, the lake, picnic grounds etc. The LED control panel illuminates all of the machine's basic functions (telling you when the ice basket is full and when you need to add water) and asks you what size ice cubes you want. Plus, with a five-cycle self-cleaning mode, you can keep your ice-making operations clean and seamless, and always have the freshest cubes when you want/need them.
3. Insignia 26 lb. Portable Ice Maker With Auto Shut-Off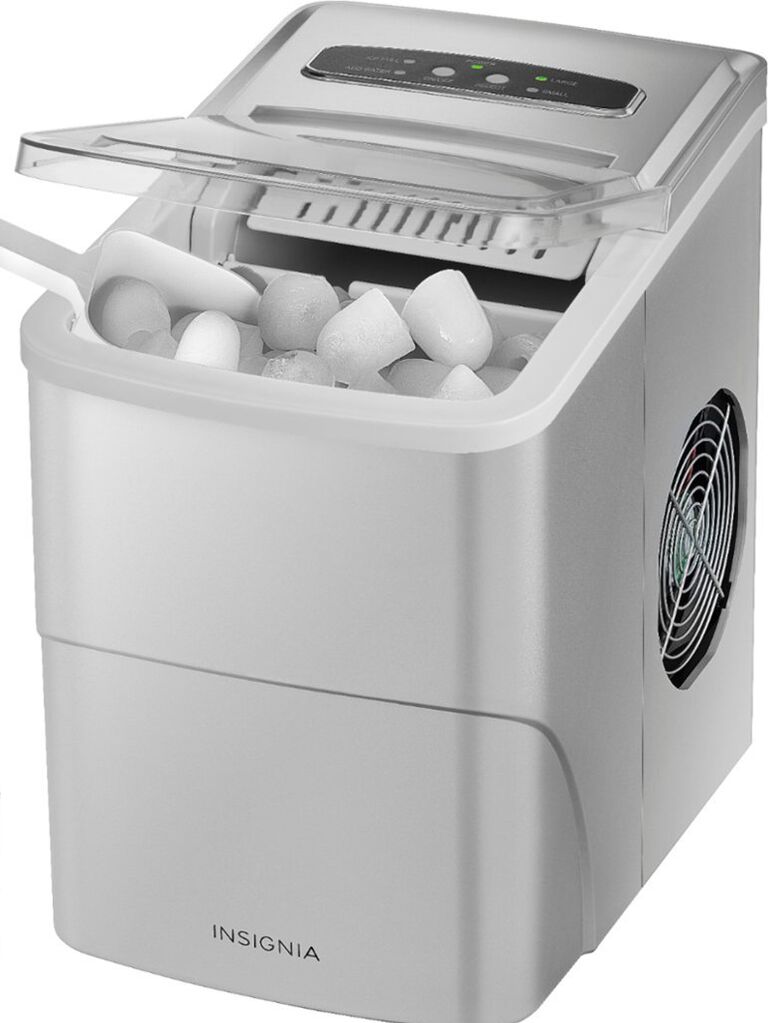 Best: mini ice maker
Pros: silent ice production, two ice cube sizes, no drain needed
Cons: recycled water ice can taste funky, small batches, no self-cleaning function
If you're short on space, it's often a lot easier to have a fridge with a built-in ice maker—but sometimes those modern conveniences just aren't available (maybe you're living in an older apartment building with a kitchen that's not updated. I'm a big fan of the Insignia ice maker first and foremost because it's a great value, but also because the silhouette is slim and can be stowed in a cabinet or put away when it's not in use—dimensions are 12 ⅝'' (height) x 8 ¾'' (width) x 12 5/16'' (depth). Like the Igloo iteration, this one can make up to 26 lbs of ice in a 24-hour period—with 1.5 lbs of ice held at one time. Unlike the Igloo model, it features a water recycling system built into the 2.1 quart reservoir that collects the water left by the melted ice and then filters it to be reused. So, not only does it cut down on the times you have to go over to fill it, it also eliminates the need for a drain. Oh! And that auto shut-off? It just means it'll stop the ice production before anything starts to overflow (as someone who empties our freezer ice machine a handful of times per week, because it's pumping out ice and getting all clogged up, this is a huge win).
4. Newair Countertop Clear Ice Maker With FrozenFall Technology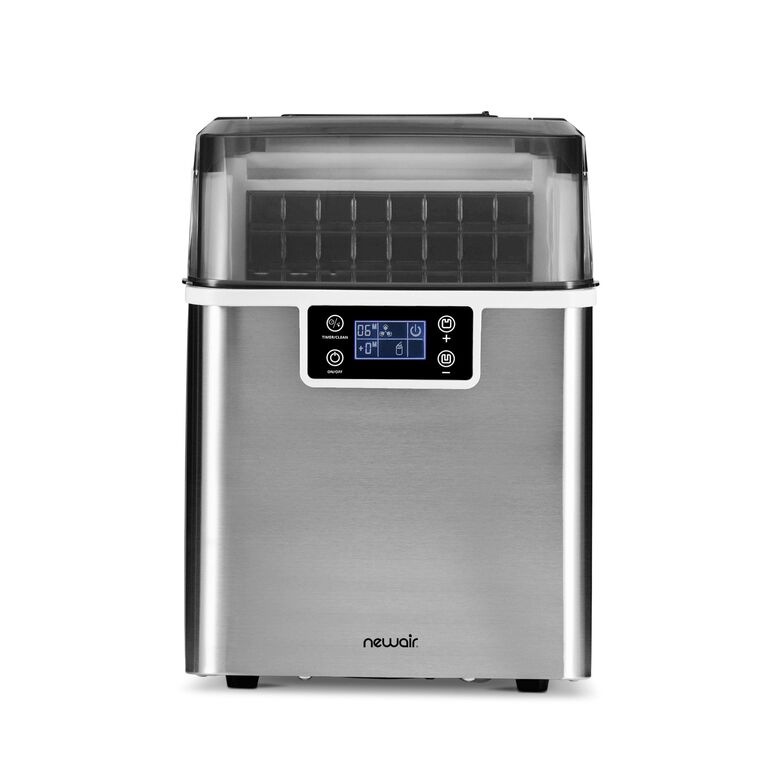 Best: clear ice maker
Pros: BPA-free parts, cranks out 12 cubes in 12 minutes, transparent look
Cons: expensive, full cubes take time to freeze, takes up counter space
Some people are chewy, crunchy ice fanatics, others prefer ice cubes that are crystal clear in appearance. The see-through cubes make a sparkly statement in cocktails (show it off in some colored glassware) and also melt at a slower rate (less air bubbles means more ice to melt through), so you can chill your drinks without diluting their flavor. The rationality for clear ice is on-point, really. So, if you're okay spending more (clear ice comes with a price), you can turn out beautifully transparent cubes with the Newair Countertop Clear Ice Maker. The magic behind this maker is the brand's FrozenFall Technology where "water cascades over a super-cooled ice tray to freeze water layer by layer, leaving no room for air bubbles or impurities in each ice cube." Fancy, right? You can choose the thickness of your cubes: hollow, semi hollow or full cube (which can take a little longer to freeze, of course—over six minutes). It can produce up to 45 lbs of ice in 24 hours and, with the intuitive LCD screen, you can monitor everything to ensure a likewise crystal-clear process. If you need to add more water, it'll tell you; if you're filling up on cubes, it'll give you a heads up.
5. EUHOMY Countertop Ice Maker Machine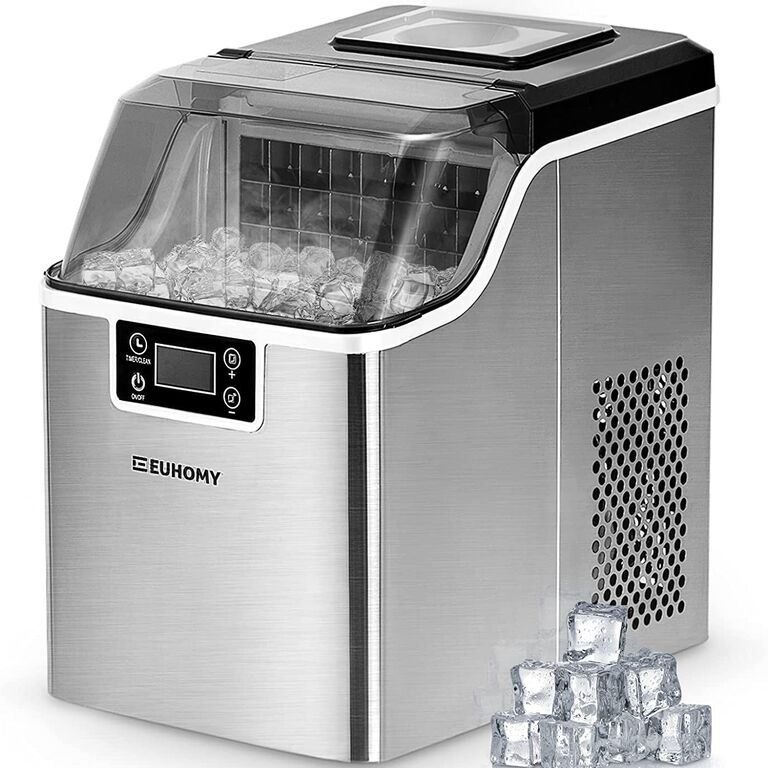 Best: cocktail ice maker
Pros: produces 24 ice cubes in 12 minutes, pretty ice for cocktails, uses less water
Cons: shallow ice basket, no freeze function to preserve ice
And finally, to round out our list, let's dish on a 40-lb-capacity ice maker that I'd gladly add to the wet bar we have in our home theater. This stainless steel ice maker is sexy. (can I say that?) and has a pretty small footprint. But what it can do is what makes it perfect for a bar or elevated cocktail setup/station. (The sparkly square cubes are too pretty). The control panel lets you know when the water needs to be reupped or the ice basket is full. And it collects and filters the water from the melted ice so it can be reused with ease. It's quiet, too, so it won't disturb party guests as it cranks away. We also just love how consistently sized the cubes are—you'll seriously even have your bartender friends impressed with your setup.