15 Rosé Wines You Have to Try This Summer
A new bottle for every weekend and what to pair it with. (Plus our top five favorites!)
We have included third party products to help you navigate and enjoy life's biggest moments. Purchases made through links on this page may earn us a commission.
In the name of rosé season, we asked our editors to taste test some wine—okay, a lot of wine. Whether you're looking for the best sparkling variety to pop during your bachelorette bash (like at Pinknic, this rosé-themed festival) or something sweet to sip on while honeymooning, you can't go wrong with one of these picks.
To make sure there wasn't any bottle bias, we had a blind tasting and scored each glass according to color, taste and bouquet. We put in all the leg work, cut zero corners and came out on the other side with the 15 best rosés and what you should be pairing them with. We even highlighted the top five winners!
Why 15, you ask? Well there are 15 weekends between Memorial and Labor Day weekend, which means one bottle for each of your summer Fridays. You're welcome.
Best Rosé for Posting a Trendy Instagram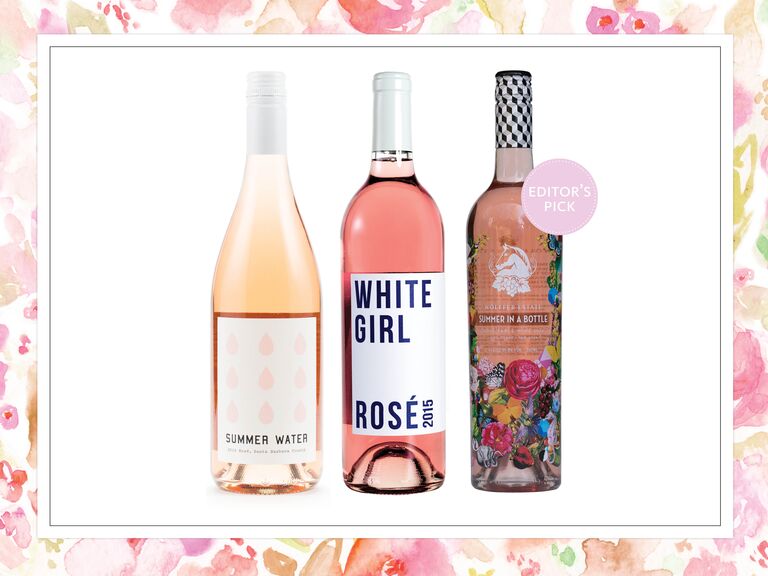 Summer Water
Tasting notes: Citrus, fresh raspberry (as opposed to watermelon), grapefruit, lighter body and a nice acidity for a crisp finish
Pair with: Grapefruit salad, sliced grapefruit, shrimp cocktail, tuna, white bean crostini, crudo ceviche, lobster rolls, and ricotta or burrata cheese
Summer Water rosé, $13, WINC.com

White Girl Rosé
Tasting notes: Watermelon, strawberry and floral notes balanced with hints of citrus
Pair with: BBQ chicken, burgers, grilled shrimp and Asian food
White Girl Rosé wine, $17, Minibar.com
Wolffer Estate Summer in a Bottle*
Tasting notes: Complex and balanced rosé with loads of flavors and fruit complementing the wine's natural vibrant acidity
Pair with: Hors d'oeuvres such as smoked salmon, lobster, shrimp, carpaccio and soft cheeses
Wolffer Estate Summer in a Bottle rosé, $24, Wolffer.com
*Editor's pick! We think it tastes like: You're relaxing on a lake-side hammock with your favorite book.
Best Rosé for Feeling Like an A-Lister
Barrymore Rosé
Tasting notes: Flavors of fresh red fruits, along with notes of peach and apricot, complemented by a bright, mouthwatering acidity and a crisp, vibrant finish
Pair with: Ahi tuna salad, sushi or grown-up grilled cheese
Barrymore by Carmel Road rosé, $18, CarmelRoad.com
Miraval Rosé Côtes de Provence
Tasting notes: A lovely mineral freshness with delicate aromas of citrus, red fruits and white flowers
Pair with: A tuna tataki, tuna tartare or tuna sushi
Miraval Rosé Côtes de Provence, $27, Sherry-Lehmann.com
SAVED Magic Maker*
Tasting notes: Fruit flavors of grapefruit, ripe strawberry and honeydew, accented by a hint of thyme and grapefruit zest
Pair with: Arugula salad with grapefruit, shaved parmesan cheese and light balsamic vinaigrette
SAVED Magic Maker rosé, $20, ExpressionsoftheVine.com
*Editor's pick! We think it tastes like: a sunshine-filled Sunday morning brunch (with your squad, of course)
Best Rosé for Popping Bottles and Celebrating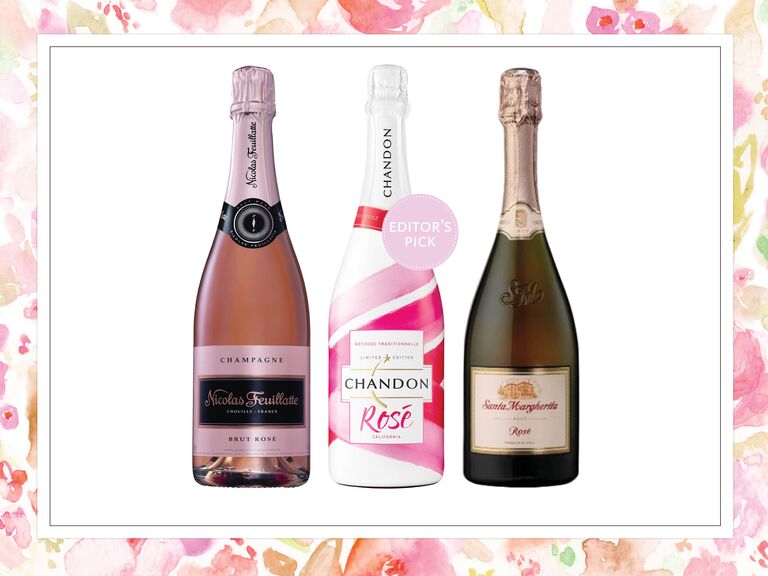 Champagne Nicolas Feuillatte Brut Rosé
Tasting notes: Like a basket of fresh-picked strawberries on the nose, subtly mixing on the palate with notes of ripe plum, violet, spice and graphite
Pair with: Chicken and vegetable samosas or a sweet strawberry soufflé tart
Champagne Nicolas Feuillatte brut rosé, $47, Sherry-Lehmann.com
Chandon*
Tasting notes: Ripe strawberry, juice watermelon and fresh red cherry fruit aromas and flavors
Pair with: Grilled salmon and shellfish in paella or gumbo
Chandon Rosé Limited Edition American Summer bottle, $26, Chandon.com
*Editor's pick! We think it tastes like: Basking in the sun at an outdoor café, donning the chicest midi skirt and crop top combo.
Santa Margherita
Tasting notes: A subtle succession of floral fragrances lifted by white fruits and delicate hints of red berry fruits
Pair with: Fish-based savory starters or spicy foods
Santa Margherita sparkling rosé, $23, Wine.com
Best Rosé for Impressing Your Friends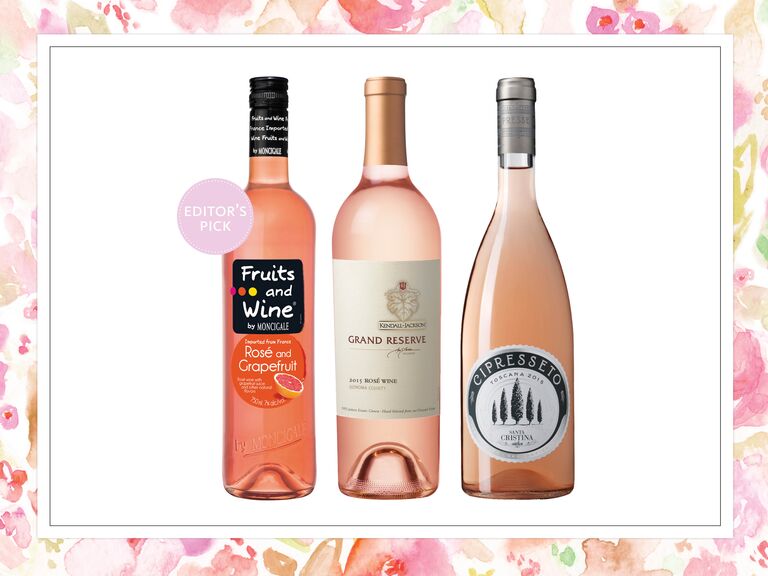 Fruit and Wine Grapefruit Rosé*
Tasting notes: A mix of rosé wine and grapefruit juice with fruity and tangy notes
Pair with: Gruyere, aged Gouda, pound cake
Fruits and Wine Grapefruit rosé, $10, Saq.com
*Editor's pick! We think it tastes like: a tropical umbrella-clad cocktail straight from a tiki hut.
Grand Reserve
Tasting notes: Aromatics of English Tea roses, gardenias, peaches and orange blossom with white peach and watermelon flavors
Pair with: Sweet corn risotto, flat-iron steak or a simple ham sandwich
Kendall-Jackson Grand Reserve rosé, $22, KJ.com
Santa Cristina Cipresseto Toscana
Tasting notes: A dry rosé with notes of jasmine and raspberry
Pair with: Cheeses and white meats like light chicken
Santa Cristina Cipresseto Toscana rosé, $14, FindWine.com
Best Rosé for When You Deserve a Splurge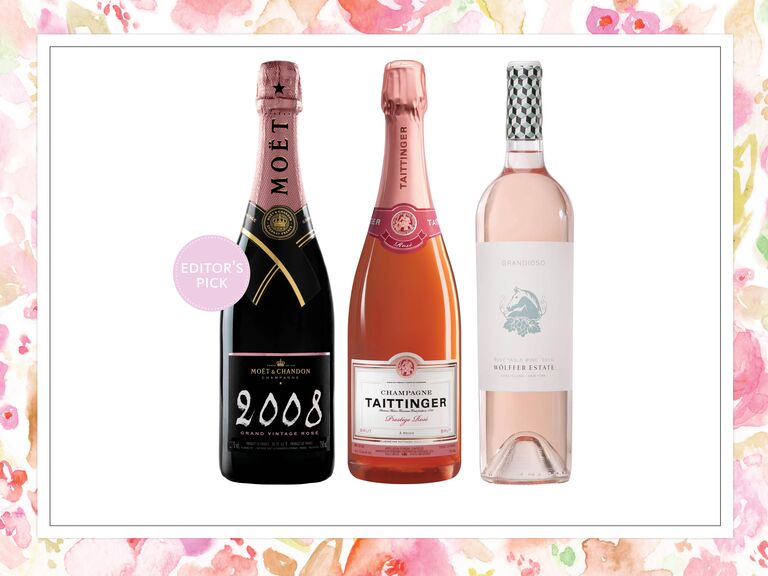 Moët & Chandon Grand Vintage*
Tasting notes: Floral notes of rose and hawthorn and botanical nuances of boxwood and lime zest followed by fruity, fresh notes of raspberry, cherry and blood orange
Pair with: Fresh goat cheese, mozzarella, mascarpone, black olives and red onions
Moët & Chandon Rosé Impérial, $56, ReserveBar.com
*Editor's pick! We think it tastes like: You're hand in hand with Leo Dicaprio strolling on the red carpet—yep, that'll do it.
Champagne Taittinger Prestige Rosé
Tasting notes: A deeply expressive bouquet of crushed raspberries, cherries and black currants is paired with a full-bodied flavor of red fruits
Pair with: Fruit desserts, including fruit tart, fruit salad and red fruit crumble
Champagne Taittinger Prestige rosé, $84, Sherry-Lehmann.com
Wolffer Estate Grandioso
Tasting notes: Balanced by a lovely acidity, hints of soft tannins and a whiff of mature oak followed by great minerality
Pair with: Smoked salmon, poached or grilled lobster or shrimp, marinated meats and soft cheeses
Wolffer Estates Grandioso rosé, $29, Wolffer.com