30 Birthday Wishes for Your Daughter-in-Law To Celebrate Her Special Day
No writer's block here.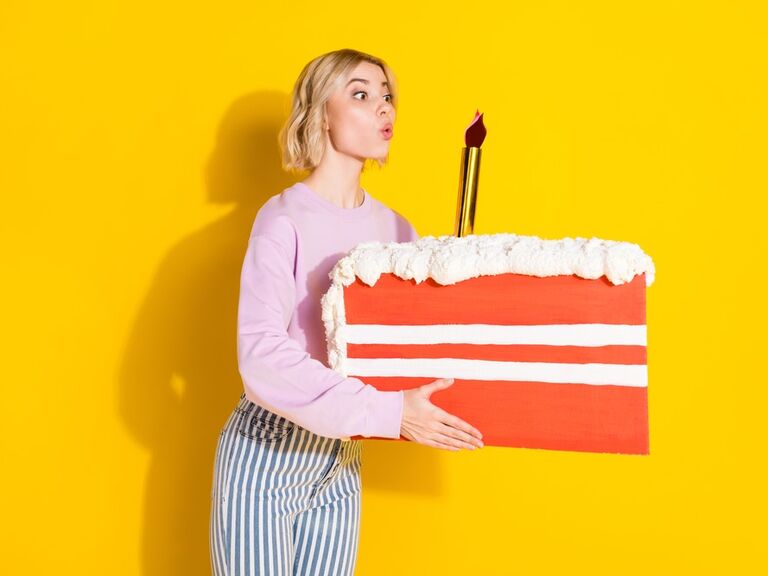 Photo: Roman Samborskyi / Shutterstock
Your child is all grown up and said "I do" to someone special. With that comes a new family member: your daughter-in-law. Like you, she sees the good qualities in your child and she likely adds a new, vibrant energy to your squad. That said, birthday wishes for your daughter-in-law—whether they're written in a card, text or social media post—are a surefire way to make her feel extra special as she celebrates another year in the books. And they're a sweet thing to pair with your perfect gift for your daughter-in-law. If you're unsure of what to write in your daughter-in-law's birthday card, you're in luck. We've rounded up some ideas for an eloquent and personal birthday message for your daughter-in-law. From funny, to heartwarming, to special iterations coming from a mother-in-law and a father-in-law, these "happy birthday" wishes will help her feel celebrated and appreciated.
In this article:
What to Write
Visit any store and you'll find plenty of birthday cards with expressive poems and warm well-wishes. However, to truly make your daughter-in-law feel appreciated on her birthday, adding a sincere and personal birthday wish to the card will show her you care and acknowledge her important role in your family.
First, consider your daughter-in-law's personality. Is she the life of the party, always inspiring everyone around her to laugh and have fun? Then consider going with a funny birthday greeting. If she's sentimental and likes to save her birthday cards through the years, go with a more poetic and heartfelt "happy birthday" to your daughter-in-law.
Also consider your relationship with her. Is she new to the family? You may want to keep your birthday sentiments to your daughter-in-law simple, but earnest, as you build your new relationship. Don't be afraid to get personal, especially if she's been in the family for years. While you didn't raise her, you do share a unique bond. Bring up a fond memory you shared from a family vacation or holiday. Compliment some of the specific things you love about her, such as her delicious cooking, chic style or witty jokes.
Whether you go simple or sentimental, a happy birthday wish can show your daughter-in-law your love and admiration for her. Feel free to use our ideas as inspiration or copy them word-for-word. As long as it's in your handwriting, your daughter-in-law will know it's coming from your heart.
Heartwarming Birthday Wishes
We won't lie: New in-law relationships are tricky to navigate at first. But if you've made it to the other side with a close bond, your daughter-in-law's birthday is the perfect opportunity to express a heartfelt message showing your gratitude for her. Show her how much she means to you and the family with these heartwarming birthday wishes for a daughter-in-law straight from the heart.
Happy birthday to my lovely daughter-in-law! You are such a special part of our family and we are lucky to know you.
It's a wonderful day to celebrate someone as special as you! Have an amazing birthday!
Your smile, warmth and kindness all make this world a better place.
Thank you for bringing so much happiness to our family. We love and appreciate you!
Here's hoping your birthday is as special as you. We're so lucky to have you as a daughter-in-law.
Funny Birthday Wishes
You can never go wrong with a good joke, if the person on the other end loves to laugh. Invite some giggles into your daughter-in-law's birthday with these funny and special birthday wishes for a daughter-in-law. Pair it with a funny memory and you've got a top-tier birthday card sure to make her chuckle.
You prove that my child actually has good taste. Happy birthday!
Thank you for volunteering to be part of our wacky family.
My kiddo is lucky to have you as a wife and [he'd/she'd/they'd] better treat you to something super special on your birthday. We parents said so!
We have a lot of embarrassing relatives. Thank you for not being one of them.
I always told my child to marry someone smart, loving and successful. I'm glad to see they actually listened to me for once!
Simple Birthday Wishes
Sometimes less is more. There's nothing wrong with keeping it simple. If you're adding these daughter-in-law birthday wishes as a sign off to an already-thoughtful greeting card, you only need a few words to add your personal touch.
Cheers to you on your birthday!
Happy birthday to my beautiful daughter-in-law. May this year be full of happiness, laughter and light for you!
I can't wait to celebrate your birthday with you!
Happy birthday to my fantastic daughter-in-law!
I hope you enjoy a special day with family and friends.
From Her Mother-in-Law
There's two women your child loves most: their mother and their wife. And you both give that love right back. Having that in common definitely serves as a strong foundation for a close bond between you (the mother-in-law, or whatever she may call you) and your daughter-in-law. If you're lucky enough to have a close friendship with her, celebrate her special day with one of these birthday greetings.
Cheers to you, daughter-in-law! Let's celebrate with a birthday brunch on me soon!
To me, you are more than just a daughter-in-law. You're also a great friend and cherished family member.
It's so fun having you as a daughter-in-law. I appreciate all the memories we've made together and can't wait for the memories to come!
Being a mother-in-law is easy with a daughter-in-law as sweet, smart and thoughtful as you.
Today is all about celebrating you. Cue the cocktails and cake!
From Her Father-in-Law
You may not be her biological dad, but as a father-in-law, you still play the important roles of handyman extraordinaire, advice giver and dad joke expert. Win some brownie points by sharing some birthday sayings with your daughter-in-law that'll show her she's special.
Our [son/daughter/child] is lucky to have you as a wife. Thank you for being part of our family!
I never knew I'd be the father-in-law to such a special person. Happy birthday!
Happy birthday! It seems like just yesterday you were a whole year younger.
Raise a glass to the best daughter-in-law I could ask for. Enjoy your special day!
Thank you for being a great daughter-in-law. I think the other father-in-laws are jealous!
For a Future Daughter-in-Law
If she hasn't officially reached in-law status, you can still say a sincere "happy birthday" and show her your excitement for her to be part of the family. Keep it short and sweet to avoid scaring her back up the aisle. (And don't feel too pressured to buy a gift just yet—we're sure you had that covered with your parent engagement gift. A sweet note will do just fine.)
We're so excited for you to join the family and celebrate many birthdays to come.
Planning a wedding is stressful. I hope you are able to relax, unwind and have fun on your birthday!
Happy birthday to my [son/daughter/child]'s other half.
I hope the future holds a lot of happiness, love and success for you. I can't wait for the big day!
We love how happy you make [your child's name]. I'm so thankful and lucky you are joining our family.