30 Warm Birthday Wishes for Your Son-in-Law
He's the son you never knew you needed, but now can't imagine life without.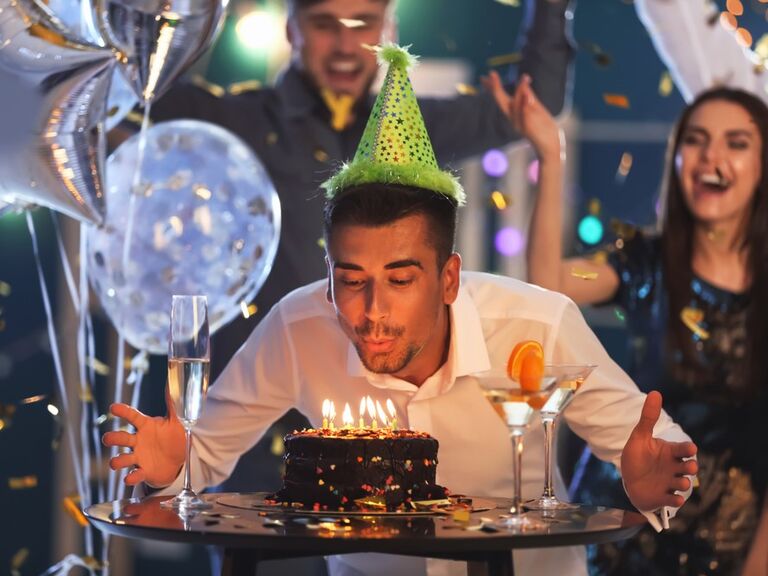 Photo: Pixel-Shot / Shutterstock
Saying "happy birthday" to your own child may be a piece of (birthday) cake, but when their husband's special day comes around, the birthday wishes for your son-in-law might not come as easily. Don't fret, though! All you need is a little inspiration and a few helpful examples of how to say "happy birthday" to a son-in-law to get you on your way. And we're here to help you. Whether you'll be spending the occasion with the birthday boy himself, jumping on a call or video chat to send warm wishes his way or writing something sweet in his birthday card and mailing it off with just the right gift for your son-in-law, you're guaranteed to get a "thank you so much" call and a big hug.
In this article:
What to Write
We'll fill you in on a little secret: Your son-in-law will love and appreciate any birthday wishes he gets from you, so don't overthink it. Just remember to weave in some mention of how happy you are he's in the picture now, how thankful you are for all the wonderful things he's brought into your child's world and how excited you are to celebrate another trip around the sun for your son-in-law, who might even feel like a bonafide son to you.
Yes, it's his birthday, but it's also a very important day to your child, because their husband was born on this day, X years ago. Keep that in mind as you're brainstorming your son-in-law's birthday wishes and don't shy away from noting some of the aspects of their personality that you've witnessed make positive impressions on your kiddo. Maybe your own child never made a big deal about turning another year older until your son-in-law came around and gave them a gentle nudge to take a moment and celebrate themself Or perhaps your son-in-law is the reason you had a surprise birthday planned in your honor last year—AKA he convinced your fam to go big or go home with your party and you had a blast (something even your own partner or kids didn't think was possible). Expressing gratitude for the impact he's had on your family and acknowledging that his efforts haven't gone unnoticed will bring a smile to his face.
Need more help? Because you can certainly check in with your child to see what kinds of in-law-extended birthday wishes have stuck with them and craft something in the same vein. Or you can take some direction from us—and riff on any of the below happy birthday wishes for a son-in-law, from simple to inspirational.
Simple Birthday Wishes
We love words around here, so cutting to the chase in a card usually isn't our MO, but that's not to say that the best birthday note can't be short and sweet. These simple birthday wishes for a son-in-law get the point across without compromising on thoughtfulness.
Happy birthday to a superb son-in-law!
It's your birthday, [son-in-law's name]—party hard!
Hope your day is truly terrific, you deserve it more than you know.
We love you, [son-in-law's name], have a great time celebrating today.
[Son-in-law's age] has never looked so good—cheers to you, [son-in-law's name].
Funny Birthday Wishes
Is your son-in-law the one who has everyone in stitches at all your family parties and holiday festivities? Great! Then he's sure to appreciate some comedic charm in your birthday message for a son-in-law. Give him all you got!
Wow, this last year went so fast, but get used to it—that's what happens when you get old!
Thank goodness [your child's name] gave us the heads up about your birthday. We knew something important was happening this week, but we could have sworn it was the dog's vet appointment…kidding, of course!
Having you as a son-in-law is a piece of cake…Get it?
Wish we could tell you you'll have birthday breakfast in bed, but cheffing it in the kitchen just isn't [your child name]'s bag. You'll have to make your own pancakes, but they're good for the candle!
Happy, happy birthday to our second favorite son!
Inspirational Birthday Wishes
It wouldn't be a birthday wish from an in-law without a little festive meddling, right? All kidding aside, an inspirational birthday card entry for your son-in-law should be a heartfelt message that encourages him, uplifts his spirits and motivates him to do something fun, unexpected and/or especially fulfilling on his special day. Check out these heart-touching birthday wishes for your son-in-law below.
To our favorite son-in-law, happy birthday! Hope you have something great planned—we want to hear all about it when we talk next.
Happy birthday, dear son-in-law! We put in a good word with [your child's name], so if they don't deliver, you know who to call. But also, do something for yourself today, too!
Our kiddo really got lucky with you, [son-in-law's name]. We're so happy you were born X years ago and came into our lives not too far after. Enjoy the day and make some memories!
Excited to have a few birthday drinks with you later, son—cheers to another trip around the sun.
As an homage to "The Office," we'll have a mint chocolate chip ice cream cake thawing in your honor.
From His Mother-in-Law
A mother usually just wants one thing: for their child to find their perfect match and live a long, happy life. Now, if your son-in-law just so happens to know your Starbucks order by heart and will drop off your Grande White Chocolate Mocha Latte (with almond milk and extra foam) if he's on a coffee run in your area, then you can thank your lucky stars—he's a keeper. Here are a few birthday wishes to a son-in-law from a very grateful MIL.
You're really the best, [son-in-law's name]. Hope you know how thrilled I am to be your mother-in-law. Have a great day.
Happy birthday to the guy who helped make me a grandma—your crew better spoil you today!
[Your child's name] said their last birthday was the best of the bunch, because of you. Now, I can't promise I've got the same b-day game, but hopefully you can put this gift toward a special night out you'll always remember. Love, Mom
The best son-in-law deserves the best birthday. Here's to you, [son-in-law's name]!
When [your child's name] was turning 10, I remember closing my eyes and making my own birthday wish when they blew out the candle. I thought about the future and I wanted them to end up with a soulmate and best friend for life. I got my wish and I hope you get yours this year and all the years to come. Love, Your MIL
From His Father-in-Law
Whether you've had a bond with your son-in-law since day one or you've just warmed up to him (hey, you're a protective father, we get it) over the last few years, you can say pen your birthday greetings for your son-in-law in a way that feels right for you. If that means getting real with your feels, then you have our blessing! But if you'd like to keep the birthday wishes as your main focus, then that's all good, too.
Happy birthday to my new son! Proud to be your dad-in-law.
[Your child's name] made such a great call marrying you. You make me proud every day, buddy. Enjoy your birthday!
I definitely don't say it enough, but thank you for being such a wonderful husband to my kiddo, [son-in-law's name]. You'll always have my support whenever you need it. Have a very happy birthday.
A toast to you, son-in-law. Would love to catch a game to celebrate your birthday our favorite way.
The Sazeracs are on me tonight, happy birthday, my guy.
For Your Future Son-in-Law
There still may be a lot to learn about your future son-in-law (all good things) and, even if you haven't had the official parents-meeting-parents moment yet ahead of the wedding day, you can join in on the birthday salutations without it feeling forced or ingenuine. When it comes to what to write in your soon-to-be son-in-law's birthday card, the inscriptions below bid him a very happy birthday and also let him know that you're looking forward to that wedding on the horizon (and how excited you are to execute all of your mother-of-the-bride duties, father-of-the-groom responsibilities or whatever tasks fall to your special parental role.
Future son-in-law, we're excited to share in your birthday and we can't wait for even more cake in a few months (wink, wink).
It's your birthday, [future son-in-law's name], have so much fun!
Thanks for being [your child's name]'s right hand with all the wedding preparations. Take the night off for some well-deserved celebration: You only turn [son-in-law's age] once, right?
I always knew you were a [son-in-law's birthday season] baby, but what a great time to have a birthday—hope it's a terrific day!
Don't judge, but we've already started scoping out the "Happy Birthday Son-in-Law" birthday cards for next year and, boy, they are few and far between. I think we'll have to get crafty with Canva. Just wanted to give you a warning—also, happy birthday from your favorite future in-laws!