25 Great Wedding Gifts for the Groom From Mom or Dad
Surprise your son with one of these thoughtful presents.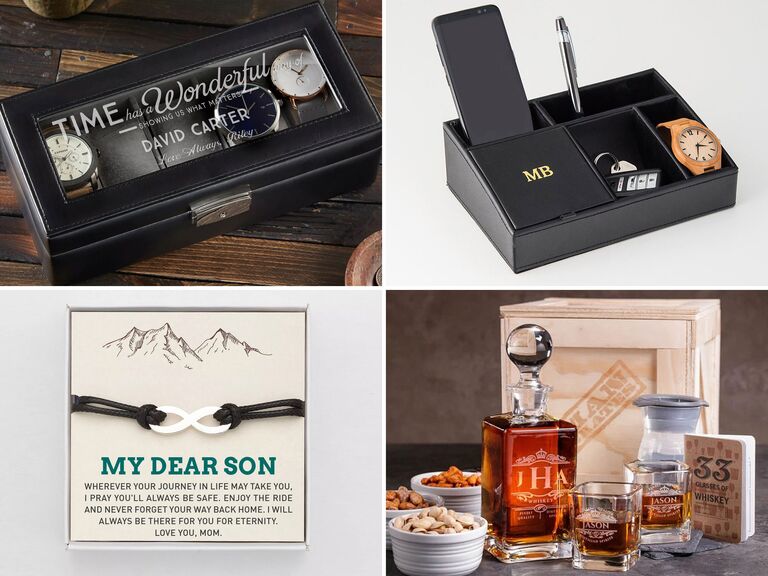 We have included third party products to help you navigate and enjoy life's biggest moments. Purchases made through links on this page may earn us a commission.
Watching your son grow up and get married is an emotional time for any parent— in a good way! And choosing a thoughtful gift for your son on his wedding day is a sweet opportunity to show him how proud you are. Of course, finding the right gift isn't always easy. It's not every day your child gets married to the love of their life. Luckily, we've got some tips to help you out.
If you're searching for a gift to give your son and his new spouse, you're welcome (in fact, encouraged) to use the couple's wedding registry. But, if you want to give your son a little something extra that he can treasure forever, you might have to shop around a little. Here, we've rounded up the most thoughtful wedding day gifts for grooms from a mother, father or both parents.
1. Nostalgic Wallet Card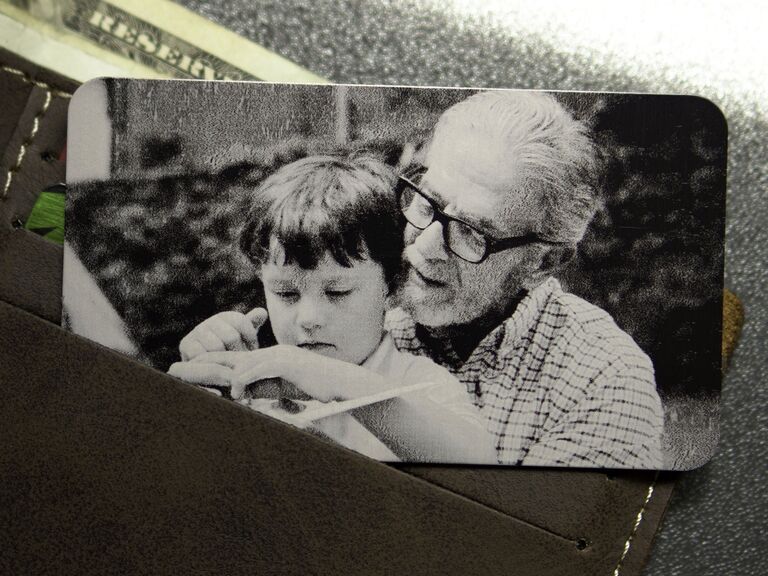 We love this photo wallet card as a wedding gift from parents to their son because he can carry it with him wherever he goes. Print a sweet snapshot from his childhood that he can pull out and reminisce over anytime, anywhere. Bonus: You can also engrave a personal message on the back wishing him many years of happiness with his new spouse.
2. Keepsake Watch Box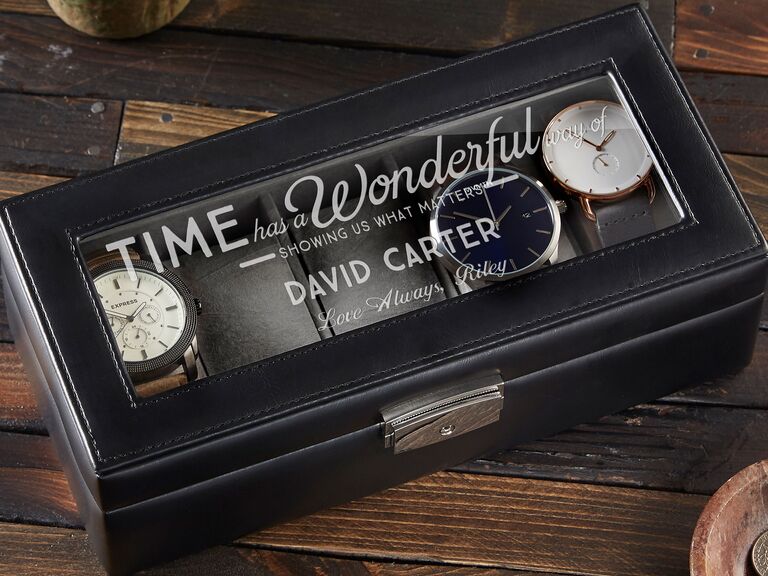 A personalized leather watch box is something he'll reach for every time he's looking to impress. We think it could make a really thoughtful father-to-son wedding gift, especially if you both share an appreciation of nice watches. Make it all the more meaningful by placing one of your beloved timepieces in the box before you hand it over. Your son will think of you every time he wears it. And who knows, maybe one day he'll pass it onto his own kid.
3. Turntable Cheese Board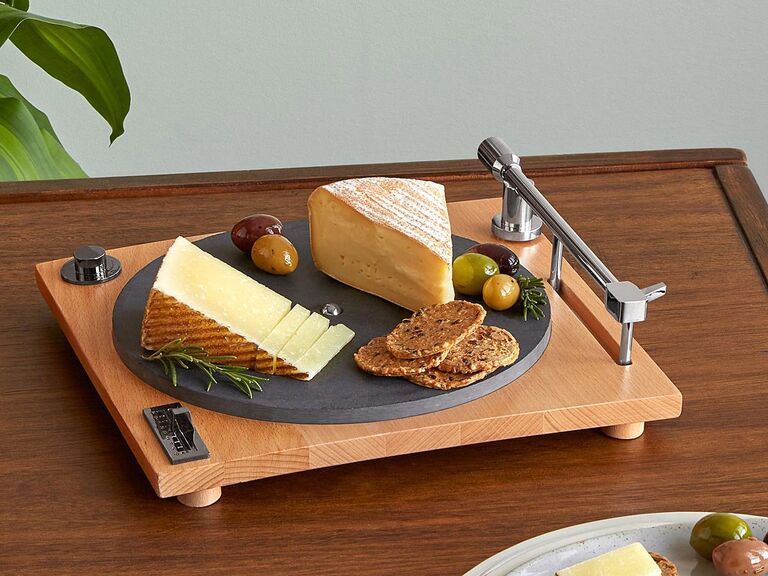 What about something that'll make him laugh? This turntable-style cheese board even has a cheese slicer disguised as a record needle for something he'll enjoy showing off at parties. It's a thoughtful present for a music lover (and we bet your new son- or daughter-in-law will get a kick out of this wedding gift idea too).
4. Framed Wedding Vows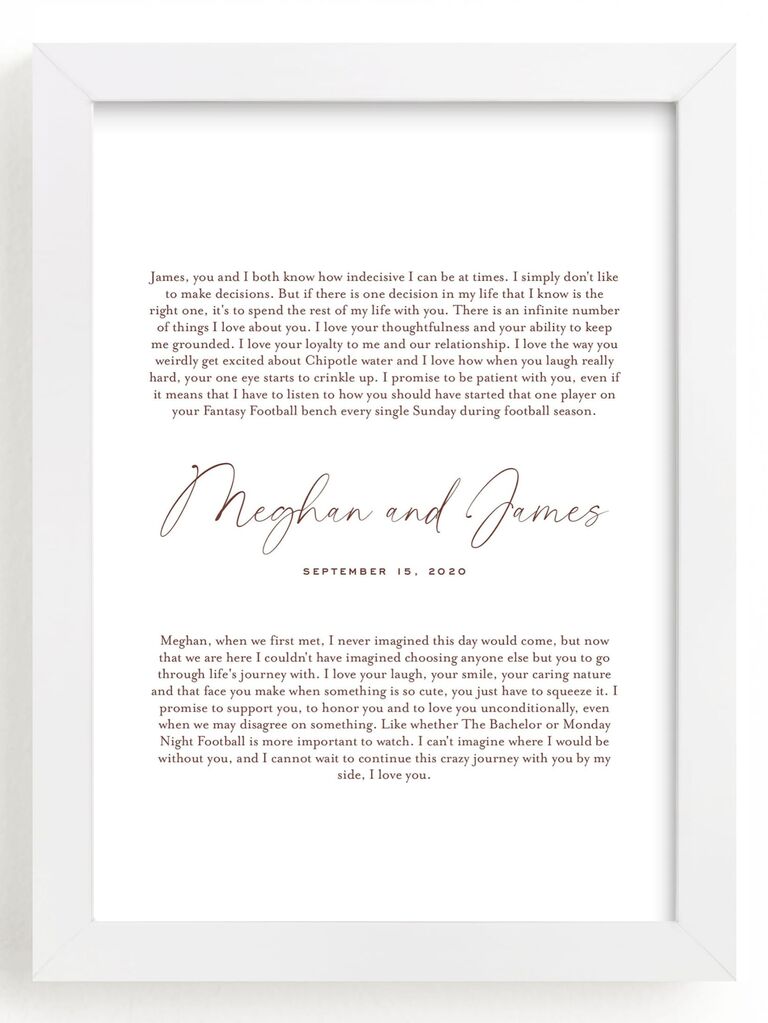 This keepsake for your son on his wedding day may take a little bit of sleuthing. It's a beautiful art print of his and his soon-to-be spouse's wedding vows. The couple might want to keep their vows under wraps until the actual ceremony, but if that's the case, you can always put this present together after the wedding. Minted takes the couple's vows and artfully arranges them above and below their names and wedding date. Add a frame before checking out so it's display ready.
5. Craft Beer Subscription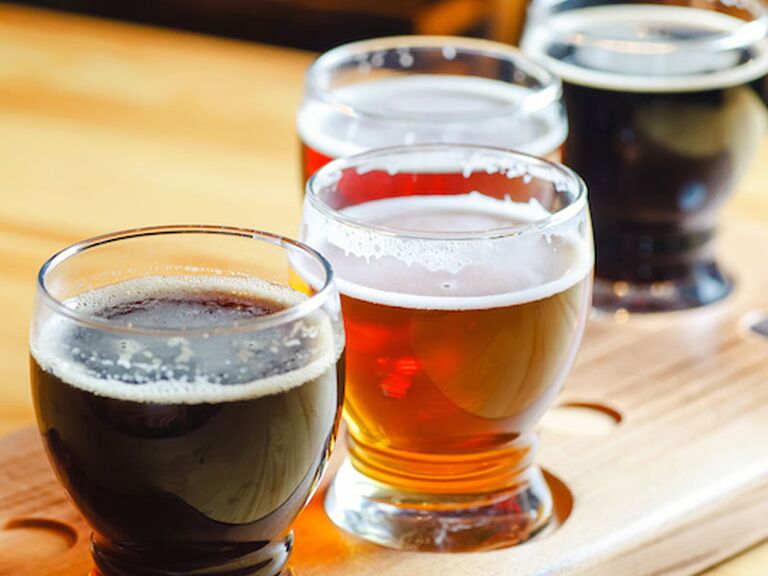 You'll officially win the title of "world's coolest parents" with this unique wedding gift for the groom. Every month, he can be treated to craft beers from microbreweries all over the country. Who knows, maybe he'll find his new favorite drink? Cheers to newlywed life!
6. Heirloom-Worthy Watch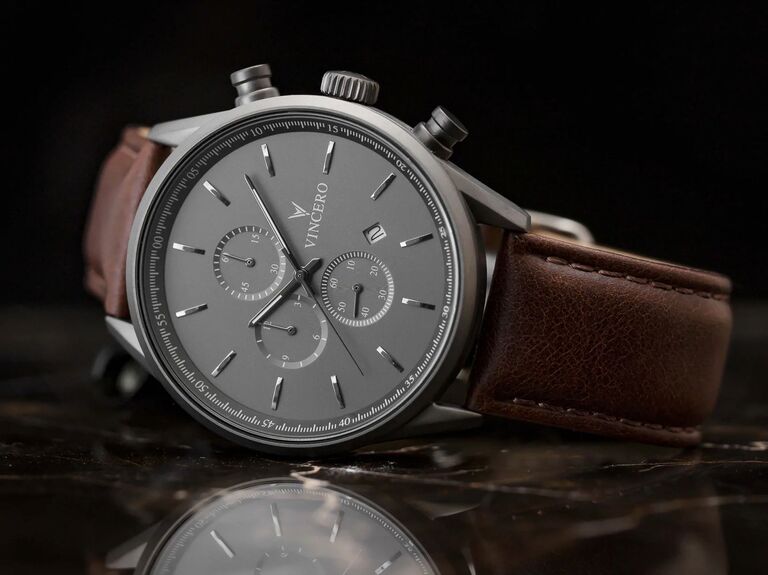 If you're really stuck on what to give your son for his wedding day, we've got a classic idea. Sometimes, a watch is the only accessory you need. This style is casual enough to wear every day, but that doesn't mean it's basic. The leather strap and streamlined black face feel equal parts sophisticated and modern. Engrave the back with a hidden message for your son on his wedding day.
7. Custom Cuff Links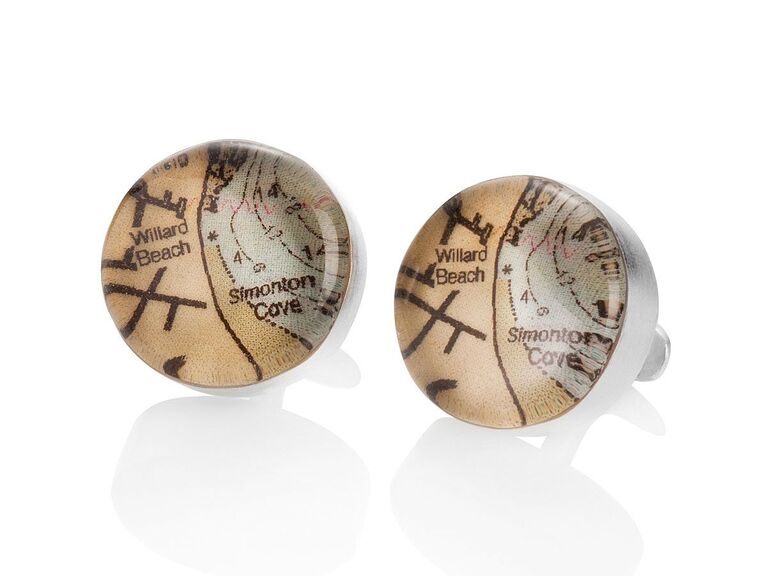 Is your son moving far away to start his new life? Make sure he brings a bit of home with him with these customizable map cuff links showcasing the neighborhood of your choosing. This unique gift for your son's wedding can also double as a souvenir from the big day. Simply include an engraving on the back with the date, and both his and his sweetheart's initials. With these unique accessories on his wrists, he'll never forget where he came from.
8. Personalized Handkerchief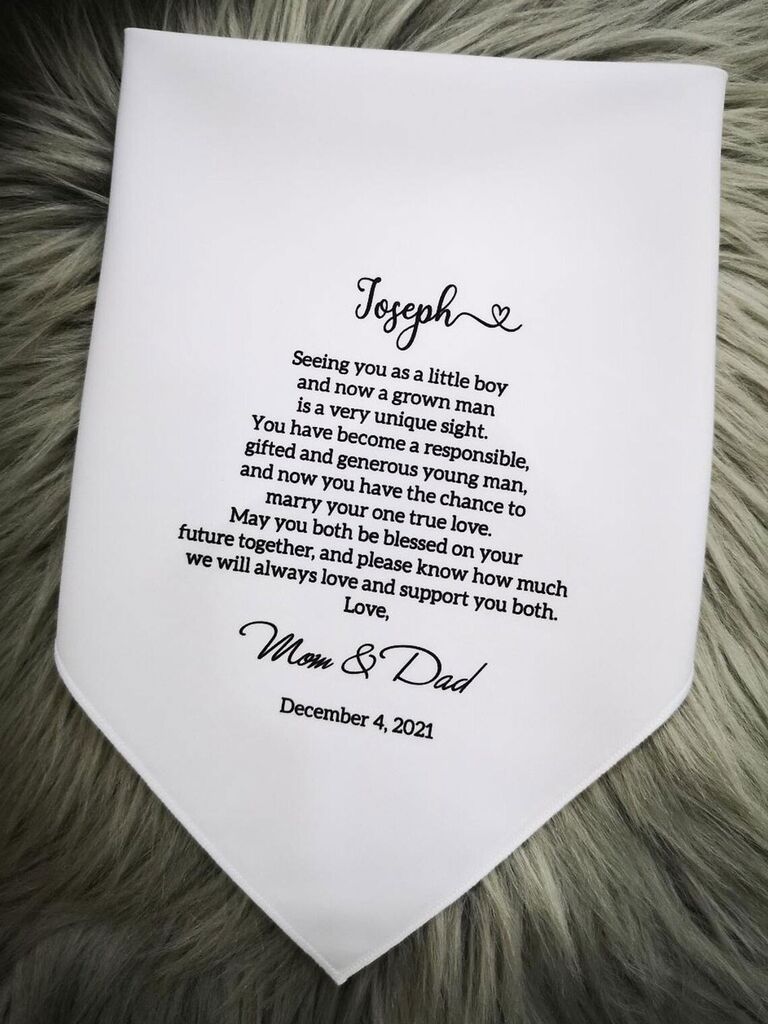 Do you think he'll get a bit misty-eyed on his wedding day? Give him a handkerchief he can keep with him during the festivities, and hope that the special message on it doesn't bring on a fresh wave of tears. All you need to give the Etsy seller is your son's name, the date of the nuptials and who it's from. This one is lovingly signed "Mom & Dad."
9. Whiskey Lover's Crate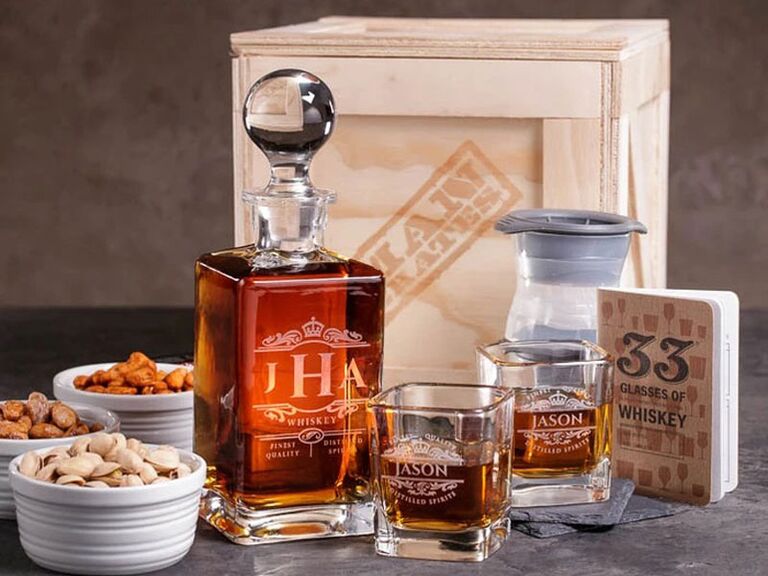 This one's for the son who likes to celebrate with a special bottle of bourbon. The gift set includes a beautiful glass decanter and two matching rocks glasses, all personalized with his name or initials. But that's not all: There are also two molds for making sphered ice, two rustic slate coasters, a journal to keep track of his tasting journey and a selection of tasty nuts to snack on. Now that's an impressive gift for a son who's getting married.
10. Monogrammed Docking Station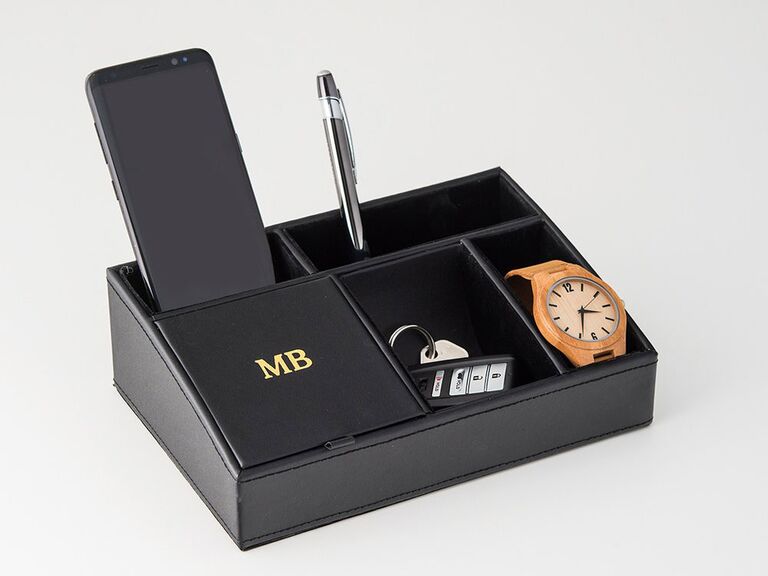 As long as you choose something you know he'll appreciate, you've got an appropriate wedding gift for your son. If sentimental keepsakes with heartfelt exclamations of your love aren't quite your thing, that's okay. Sometimes a simple personalization (think: a name, date or monogram) is all the sentiment you need. It shows your kiddo that you went the extra mile to choose something special just for them. Exhibit A: This cool personalized valet tray for keeping his desk organized.
11. Sweet Infinity Bracelet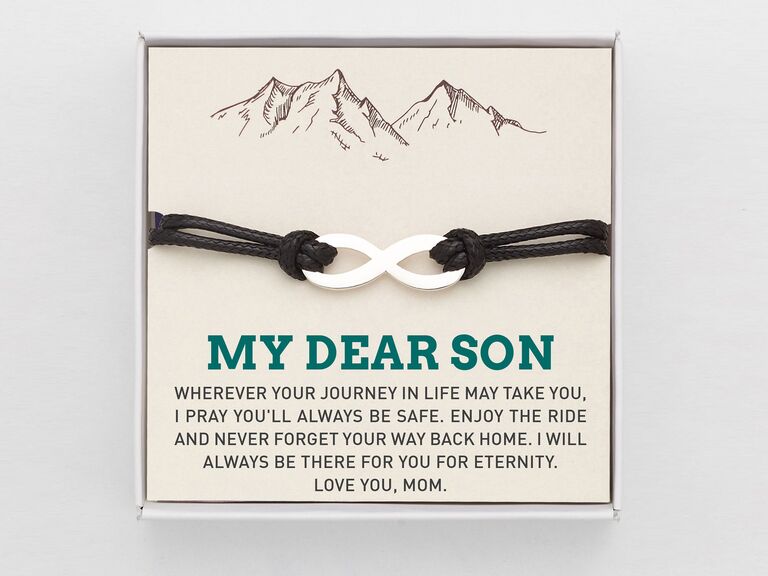 An understated bracelet goes with every outfit, and the infinity symbol on this one reminds your son how much love you have for him every day. It's a super-sweet wedding gift for a groom from his mother. (FYI: The Etsy seller also makes a special bracelet for stepsons.)
12. Embroidered Bath Robe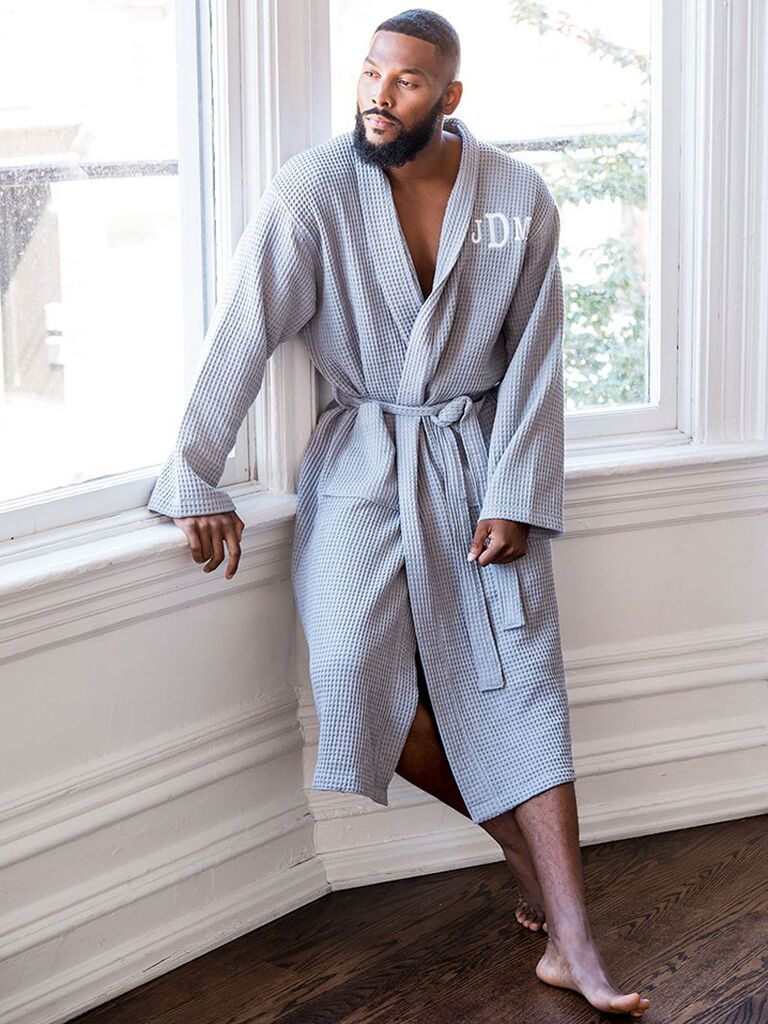 Help him relax and bring the spa home with this cozy waffle robe. Top tip: Give this personalized wedding gift to your son a few days before the big day so he can wear it while he's getting ready. Just because you can monogram his initials on it doesn't mean his new spouse won't "borrow" it, though. (And who could blame them? It's just so cozy!)
13. Meaningful Star Map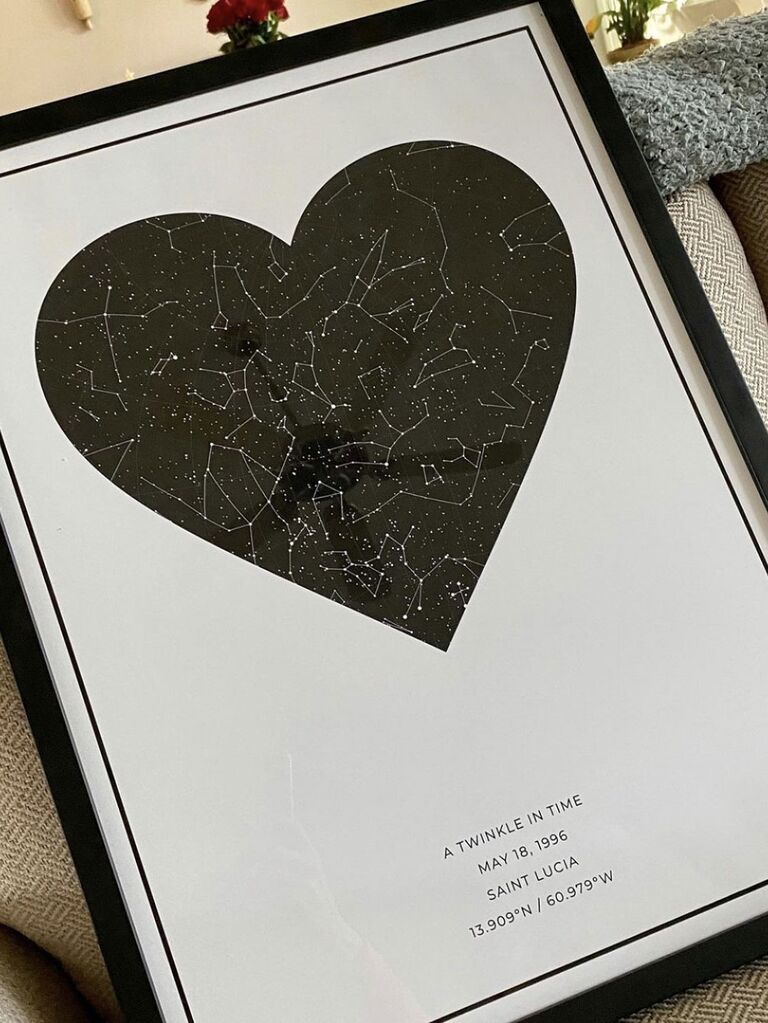 Check this out for a thoughtful gift to give your son on his wedding day. It's a map commemorating the day he said "I do"—but not just any old map. This unusual art print is a map of the night sky. Let him know you believe his love was written in the stars by handing him this lovely snapshot of the stars from the time and place he tied the knot. The best part? You can input the date and location in advance so it's ready to gift on the day.
14. One-of-a-Kind Experience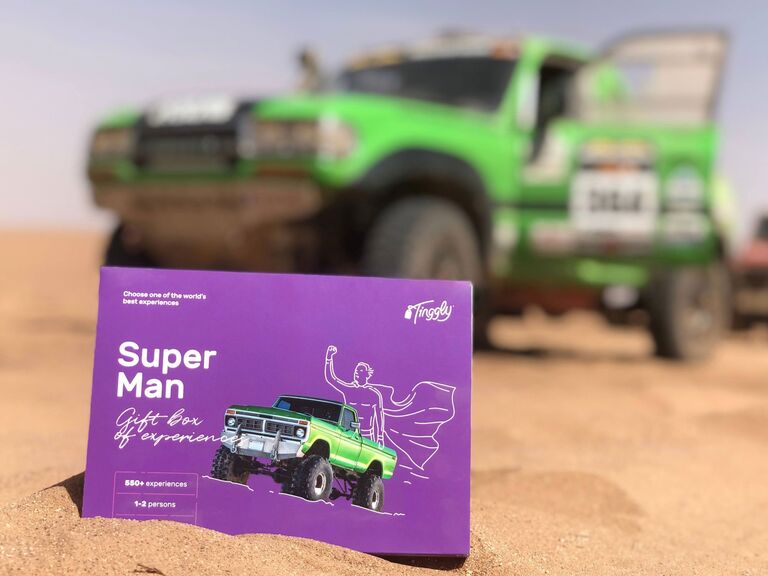 How much you love and support your son can't be put into words, so give him a gift that's equally intangible. Tinggly's Superman gift set gives your son the opportunity to embrace a brand new experience, like swimming with manatees or learning to surf with his other half. You'll be giving him an awesome gift that comes with an encouraging life lesson: to never stop making memories. It's basically the perfect wedding gift for a son from his father or mother.
15. Leather Wedding Scrapbook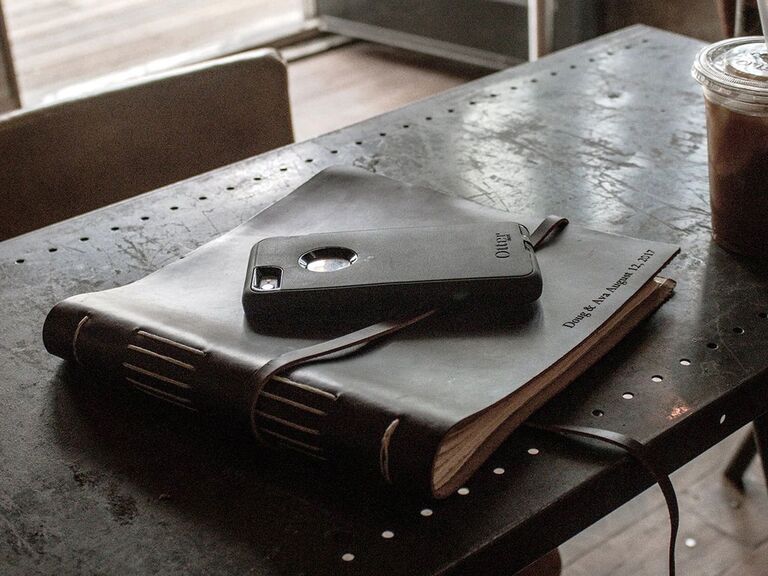 The couple might already be ordering a wedding album from their photographer, but that doesn't mean they can't have fun scrapbooking their own favorite pictures from the day as well. This gorgeous leather scrapbook is chock-full of blank pages just waiting to be filled with photos and personal notes. For the finishing touch, have the cover engraved with their names and wedding date or a sweet phrase like "Our Special Day." It's a personalized wedding gift for your son that your new daughter- or son-in-law will love too.
16. Heartfelt Token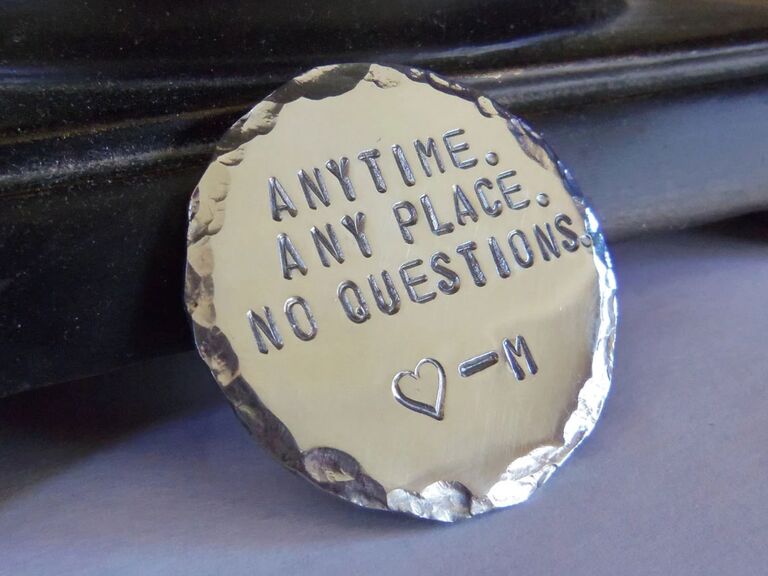 You don't need an extravagant gift to let your son know you'll always be there for him. Really, all it takes is a heartfelt exchange of words or a handwritten note. That said, if you do want to take it a little bit further, this small, personalized token is a thoughtful gesture. It's engraved with the words "anytime, any place, no questions," and can be signed "M" for Mom or with another initial. He can slip it in his coat pocket or stow it in his car somewhere so it's always with him when he's on the go.
17. A Book of Childhood Memories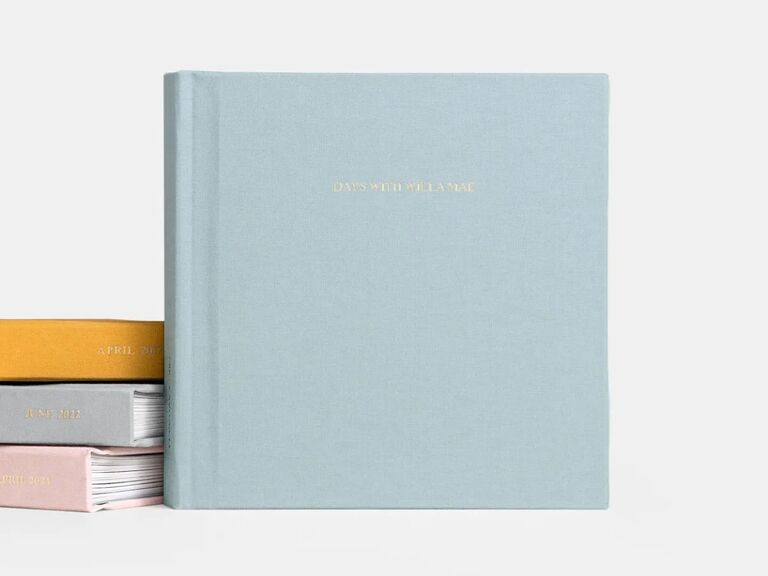 Artifact Uprising can help you create the perfect keepsake for your son on his wedding day. The site's beautifully finished photo albums have thick, sturdy pages, a foil-stamped linen cover and streamlined page layouts that let your photos do the talking. Our idea for a heartfelt memento? Fill it with pictures from his childhood that'll give him a welcome dose of nostalgia before his exciting new future starts to unfold.
18. Illustrated Art Print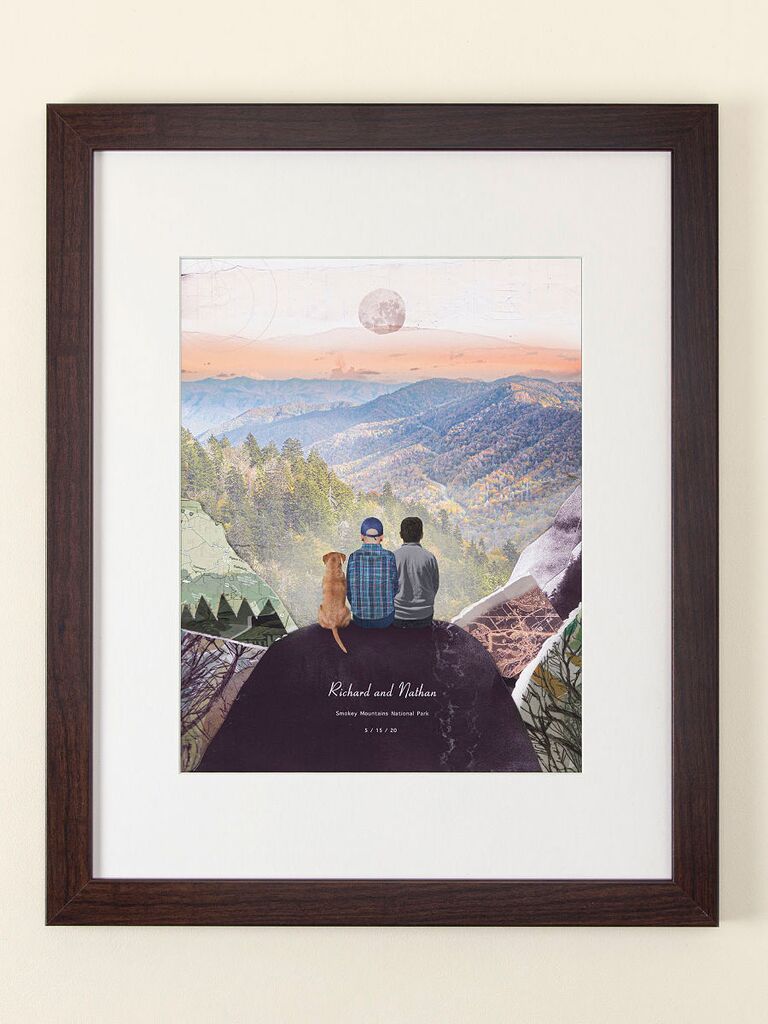 If your kid has always had an adventurous spirit, go with a gift that celebrates his outdoorsy interests. This customized art print depicts your son and his partner (children and pets optional) looking out over one of the country's stunning national parks. It's an extra-meaningful wedding gift idea for your son and his new wife or husband if they share a love of nature.
19. Leather Dopp Kit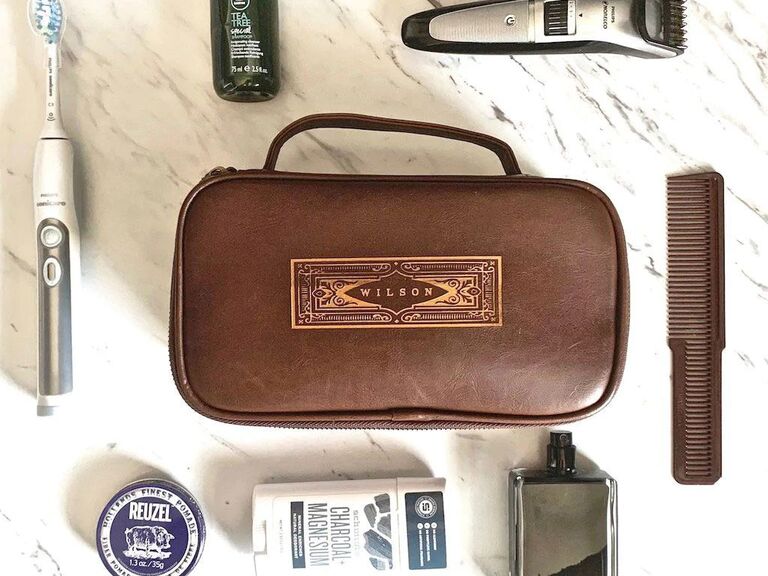 Personalized presents always feel special, and this vintage-style toiletry bag is no exception. The faux leather dopp kit is laser-engraved with your son's first or last name in gold lettering with an intricate Art Deco frame. It's roomy enough for all his grooming essentials (or travel essentials, if he wants to take it on the honeymoon).
20. Classic Cologne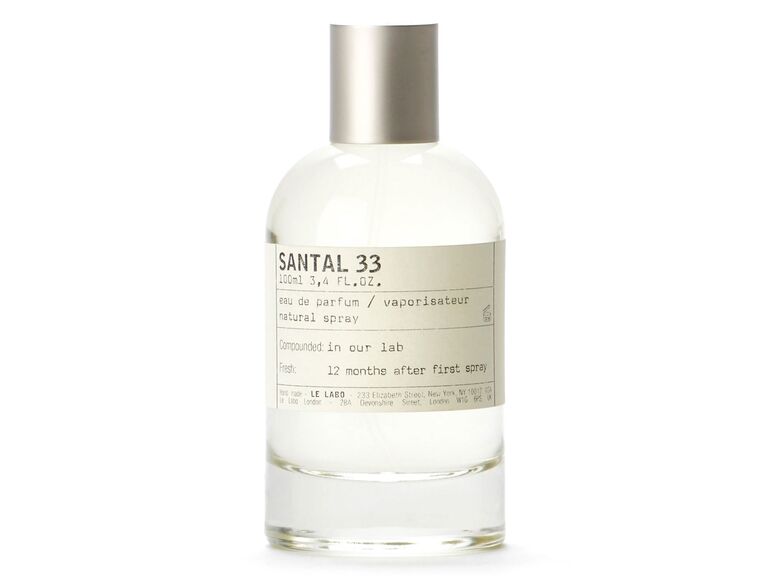 How about some luxury he can use all the time? This rich fragrance has notes of iris, sandalwood and leather, making it classic enough for everyday wear as well as sophisticated enough for the office (or wedding!).
21. Beard Grooming Essentials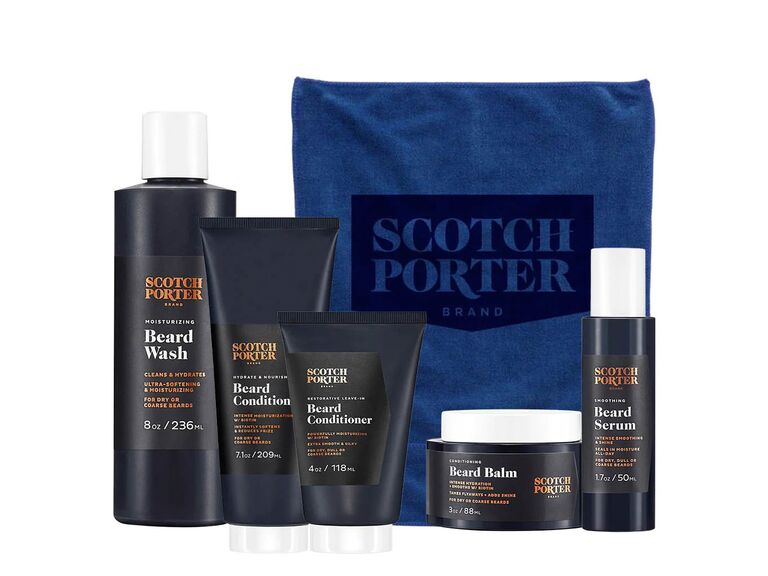 If your son takes pride in the appearance of his facial hair, spoil him with this set of luxury grooming products from the beloved Black-owned brand, Scotch Porter. The gift set includes everything he'll need for a soft, perfectly groomed beard, including beard wash, hydrating conditioner, leave-in conditioner, beard balm, beard serum and a super-soft microfiber towel.
22. Golf Gift Set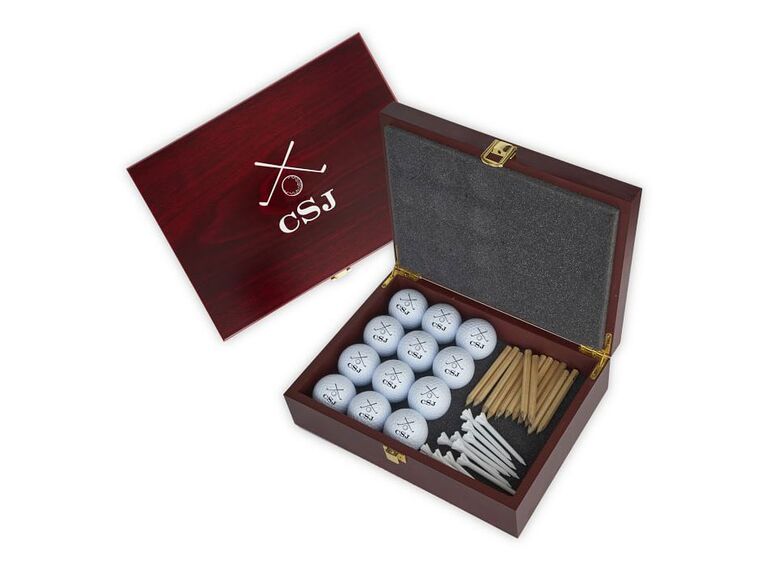 Buying a gift for a golfer? If your son spends his Sundays on the fairways, he'll be thrilled with this personalized present. Inside a monogrammed wooden box are 12 matching custom golf balls and a dozen tees and pencils to keep him going for plenty of rounds to come. It's a sweet wedding day gift that celebrates your son as an individual before he officially couples up with his wonderful spouse-to-be.
23. Sentimental Pocket Watch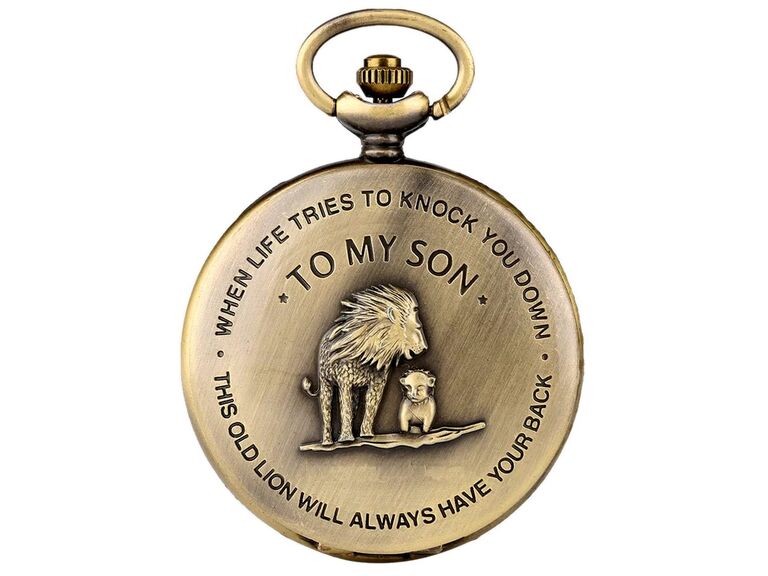 Here's a special gift for a son on his wedding day from his father. The bronze-colored stainless steel pocket watch is stamped with an image of a lion and his cub walking together. A sweet message is engraved around the picture, reading: "To my son, when life tries to knock you down, this old lion will always have your back." It's an even more meaningful gift if you used to watch The Lion King together.
24. Pop Culture Subscription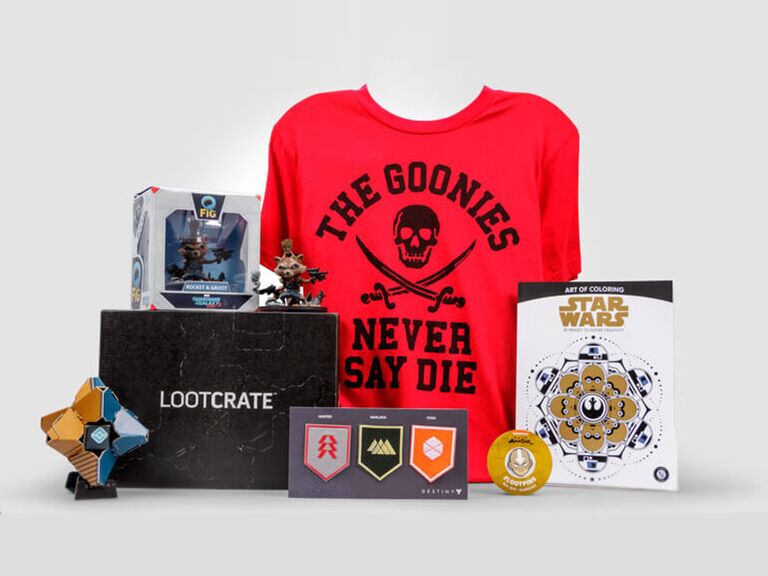 Is your son a fan of comics and all things pop culture? You really can't go wrong with this subscription box from Loot Crate. It features all manner of collectibles and apparel that are carefully sourced by other fans. Subscriptions are a gift that keeps on giving, so he'll be thanking you for this one long after the wedding day.
25. Elevated Weekend Bag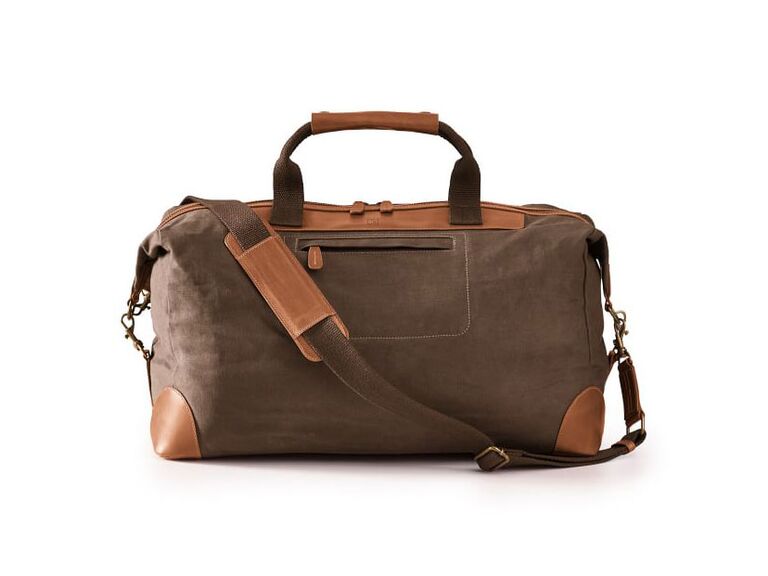 Made from waxed canvas and classic brown leather, this timeless weekend bag will serve him on many romantic getaways and weekend breaks with his new spouse. The spacious interior includes a 15-inch laptop compartment and the outside is finished with stunning antiqued brass hardware. Go the extra mile by having it debossed or foil-stamped with his initials.