22 Winning Gift Ideas for Any Daughter-in-Law
We've found pleasing presents for Christmas, her birthday, the wedding and well beyond.
by Emily Platt
Your child has found their partner in life—now how do you best welcome her into yours? While material things obviously aren't everything, giving her thoughtful daughter-in-law gifts on special occasions still means a lot. It tells her that you've put effort into getting to know her; it also shows that you want to include her in your family traditions. If you're not sure about what to get a future or brand-new DIL or you're stumped with how to surprise the one you've had for years, we have you covered no matter your situation. That goes for any celebration too—from the wedding day to Christmas and everything in between. Rest assured that no matter who she is, how close you are, or how long you've known her, there's a present she'll actually want on this list.
1. For the Zodiac-Obsessed: A Constellation Necklace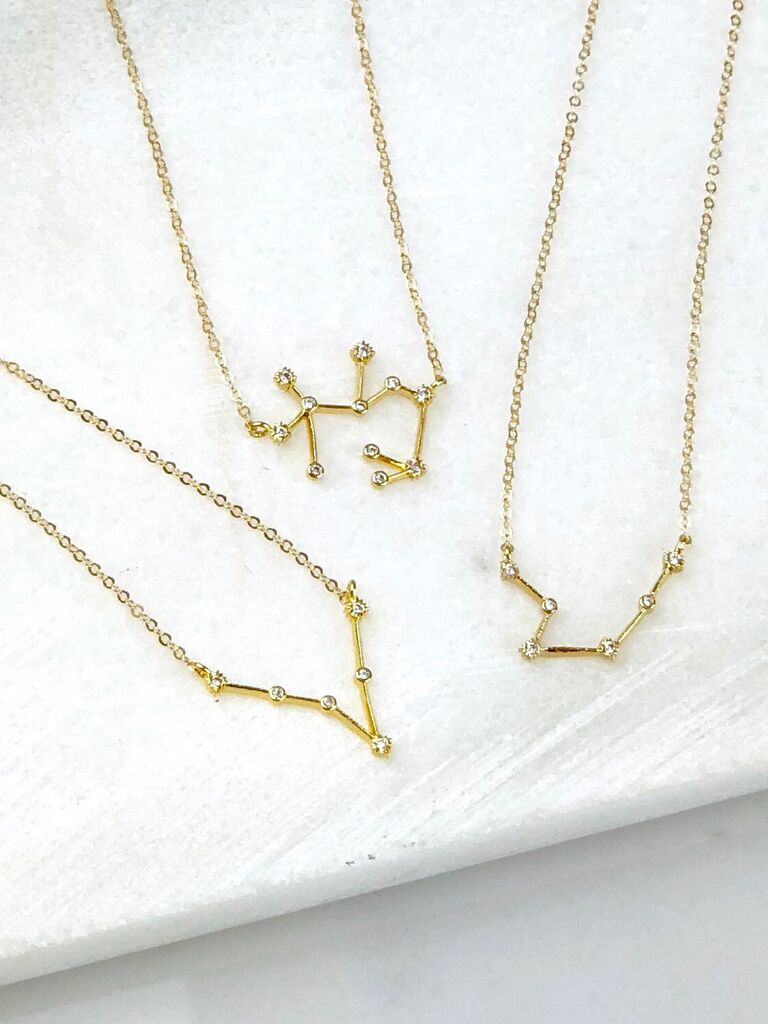 She strongly identifies with her astrological sign and reads her horoscope on the regular. So gift this everyday necklace inspired by her zodiac constellation. The personalized jewelry makes an excellent birthday gift for daughters-in-law.

The Silver Wren zodiac necklace, from $32, Etsy.com
2. For the Sentimental DIL: A Custom Photo Book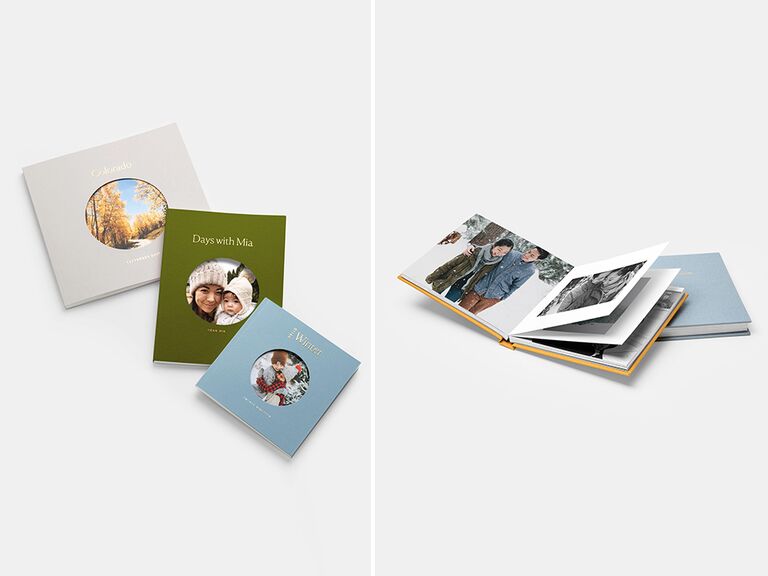 Is she always asking to see childhood pictures of her (future) spouse? Compile a photo timeline of your child's life so far—including special moments with her and the rest of the family. It'll help your DIL get to know her partner and her relatives even better. Some of our favorite photo books come from Artifact Uprising—the brand sells a wide range of pretty designs to choose from.

Artifact Uprising Color Series photo book, from $20, ArtifactUprising.com; Artifact Uprising Everyday photo book, from $59, ArtifactUprising.com
3. For the Passionate Hostess: The Coolest Wine Cooler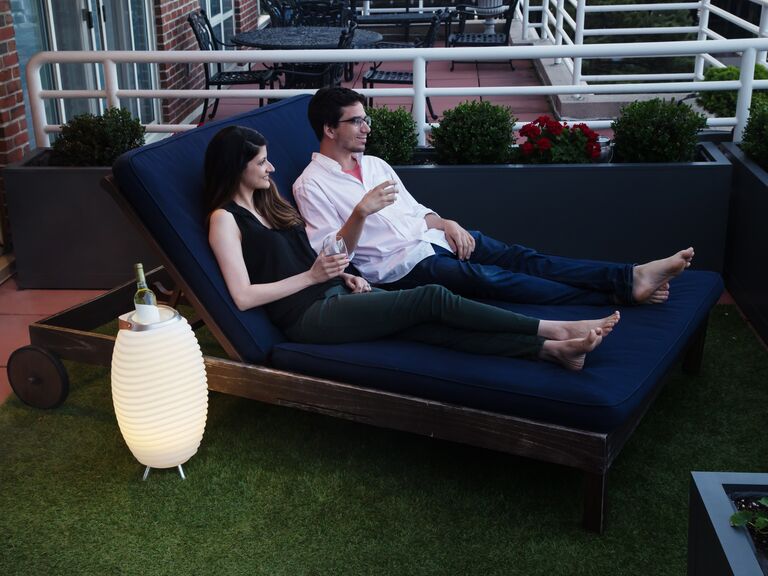 This one-of-a-kind product is a speaker, a cooler and a stylish lamp all in one. Basically, it's any frequent entertainer's new best friend. Better yet, it comes in multiple sizes and the hollow compartment can be used for storage when it's not chilling vino. If it's a gift for a future daughter-in-law, don't be surprised if she shows it off at her bachelorette party.

Kooduu Bluetooth speaker & wine cooler lamp, from $139, TheGrommet.com
4. For the Self-Care Lover: The New Coloring Book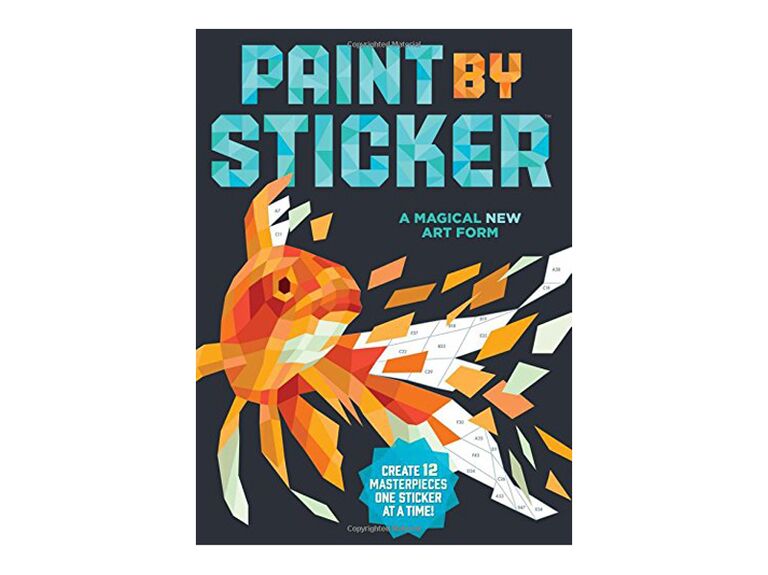 Searching for smaller gift ideas for your daughter-in-law? This paint-by-sticker book will give her hours of fun "me time." It's way less messy than a traditional paint-by-number kit, and it's just as relaxing as a coloring book—only trendier. If you're looking for Christmas gifts for your daughter-in-law, this makes a great stocking stuffer.

Workman Publishing Paint by Sticker, $10, Amazon.com
5. For the Soonlywed: A Bridal Gift Box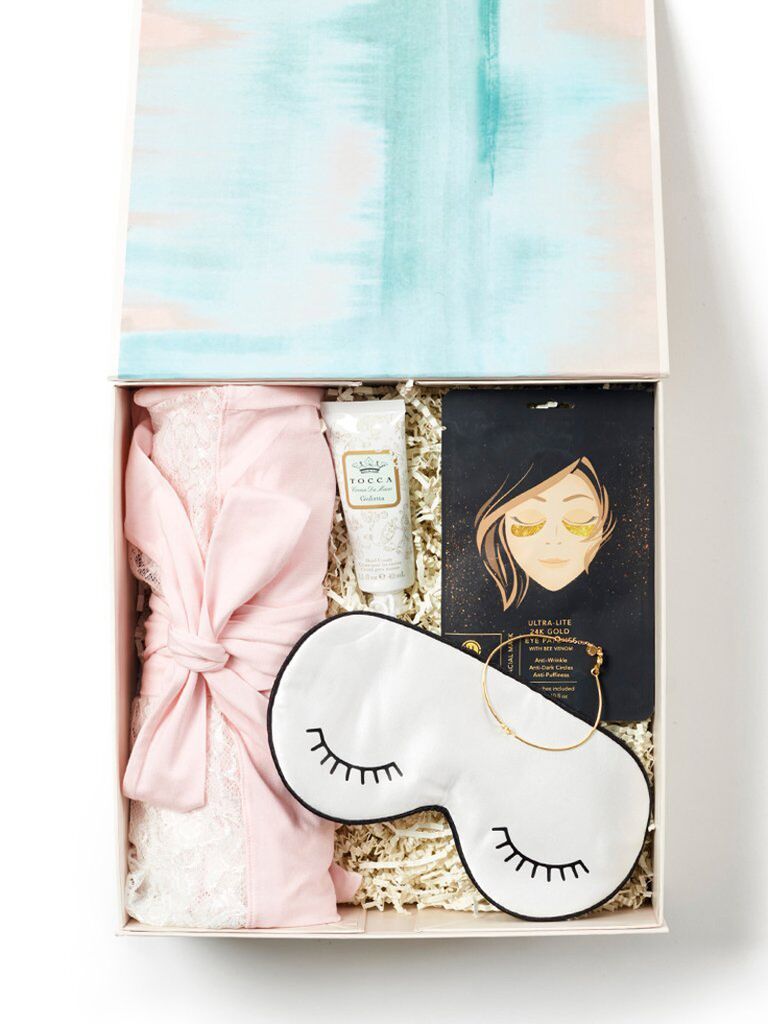 On the hunt for a great gift for your daughter-in-law's bridal shower? While you're welcome to buy something on the couple's registry, you can also save that gift for the wedding and treat her to something just for her this time around. How about this luxurious set curated specifically for brides? The box contains a lovely floral robe, a cute sleep mask, fancy hand cream, under-eye masks made from real gold, and a bracelet bearing her initial. 

Brideside Pamper / White Blossom gift set, $100, Brideside.com
6. For the Classy Lady: A Monogrammed Mug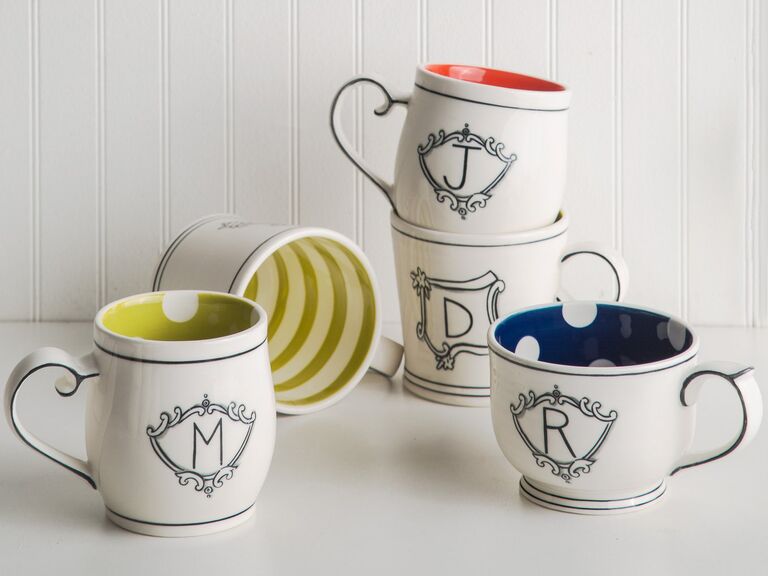 A personalized gift for your daughter-in-law is the perfect way to prove you value her as an individual, not just as your child's partner. This monogrammed mug looks way more expensive than it is, which is always a win in our book. It's bound to cheer her up on dreary mornings.

Molly Hatch monogram mug, $14, MollyHatch.com
7. For Her First Married Christmas: A Couple's Portrait Ornament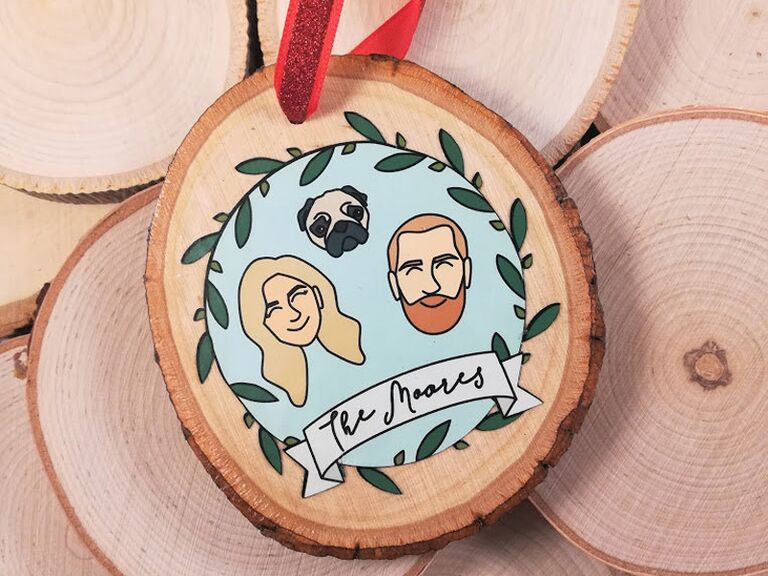 Almost all the gifts on this list work as Christmas gifts for your daughter-in-law, but here's an especially festive pick: A custom Christmas ornament bearing illustrations of her, her spouse and any pets or children they have. It shows just how happy you are to see their family unit blossoming.

Tiny Buffalo Designs custom portrait personalized ornament, $50, Etsy.com
8. For the Perfect DIL: A Symbolic Bracelet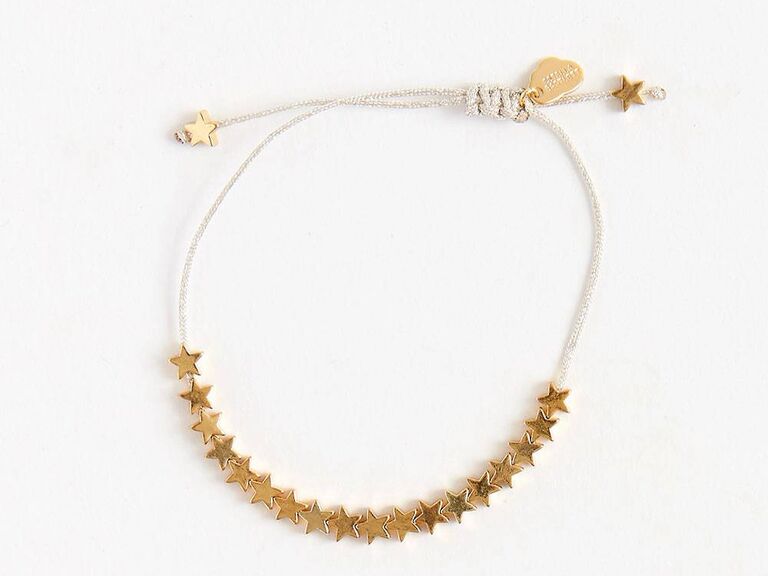 She's been a blessing since the moment she graced your lives, so give her something sweet and symbolic. Pair this stellar daughter-in-law gift with a note that says, "I'm thanking my lucky stars for you." It's an especially cute gift from a mother-in-law to a daughter-in-law. 

Estella Bartlett star bracelet, $24, PaperSource.com 
9. For the Plant Mom: A Desk Garden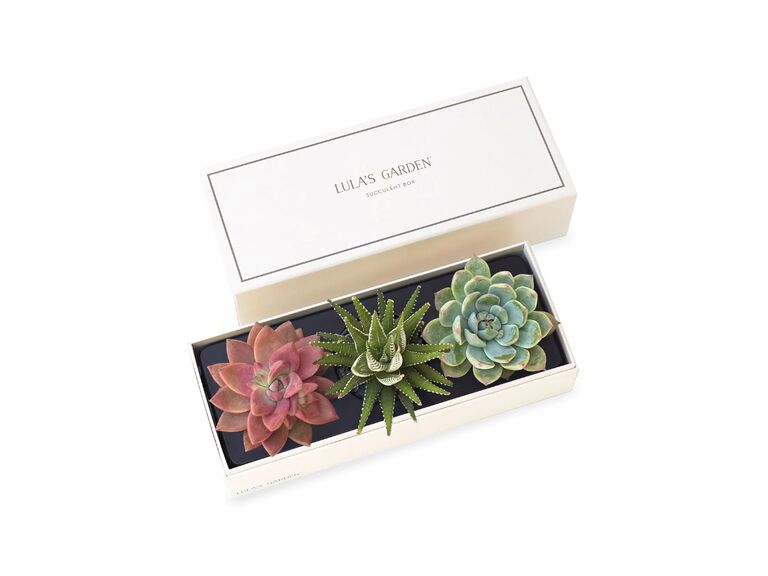 This gift box-turned-planter contains three gorgeous succulents to spruce up her home or workspace with. It also comes with two care essentials: a water dropper and a wooden stick that'll help her know when the soil is dry.

Lula's Garden Deluxe Garden verdant succulent garden, $55, SaksFifthAvenue.com
10. For the Real Mom: A Tote That Means Business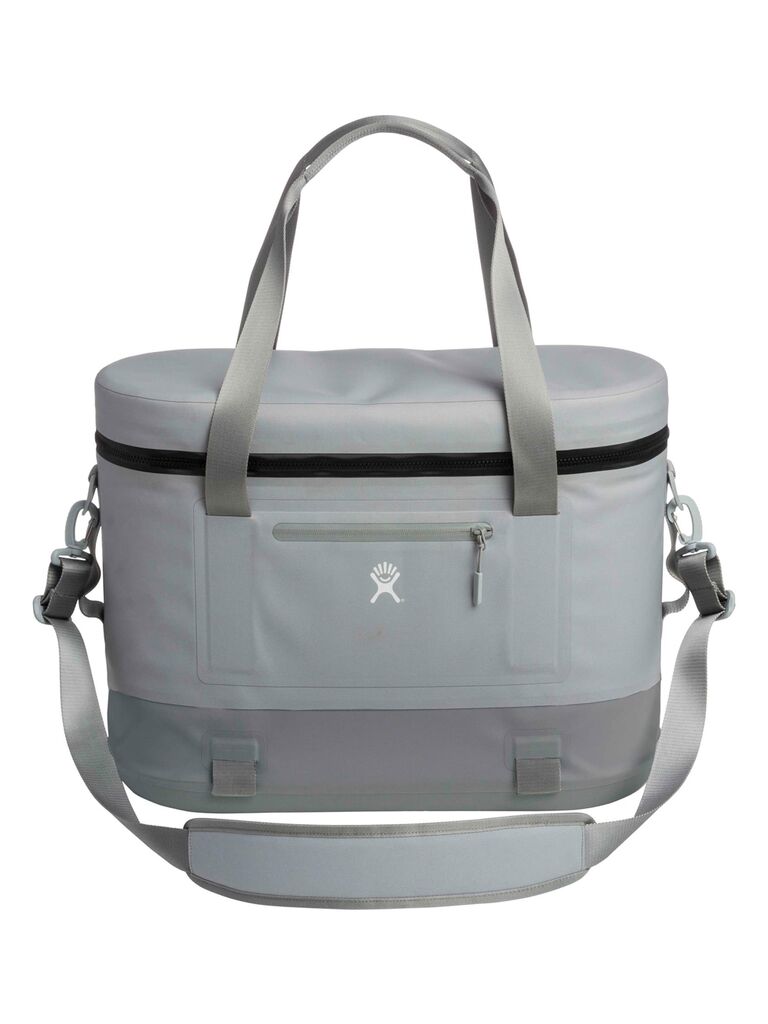 The best daughter-in-law gifts are useful daughter-in-law gifts. And if she's always frequenting the farmer's market, taking her kids to the beach and park, going on family road trips or all of the above, this waterproof tote is a total lifesaver. It's huge but still pretty easy to carry and can store all the food and drinks she brings with, plus her phone, keys and other essentials (there's a protective exterior pocket just for those). Thank you, Hydro Flask, for the ultimate Mother's Day gift for daughters-in-law.

Hydro Flask 24-liter waterproof tote, $275, Nordstrom.com
11. For the Trendy DIL: Fancy Scrunchies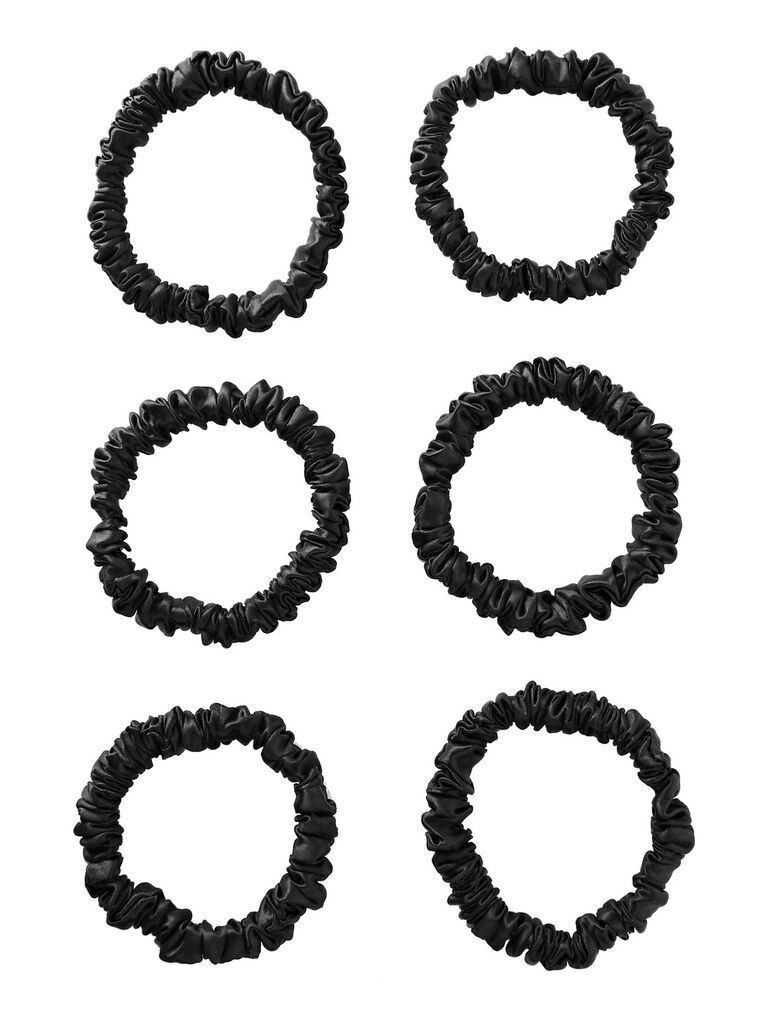 Is your DIL a '90s kid? Chances are she has fond memories of childhood scrunchies. Well now, the hair accessories are back, so surprise her with a blast from the past. These skinny hair ties are grown-up versions, and since they're made of silk, they'll protect her hair too.
Slip skinny silk hair ties, $39 for a set of 6, NET-A-PORTER.com
12. For the DIL with Timeless Style: Go-with-Everything Earrings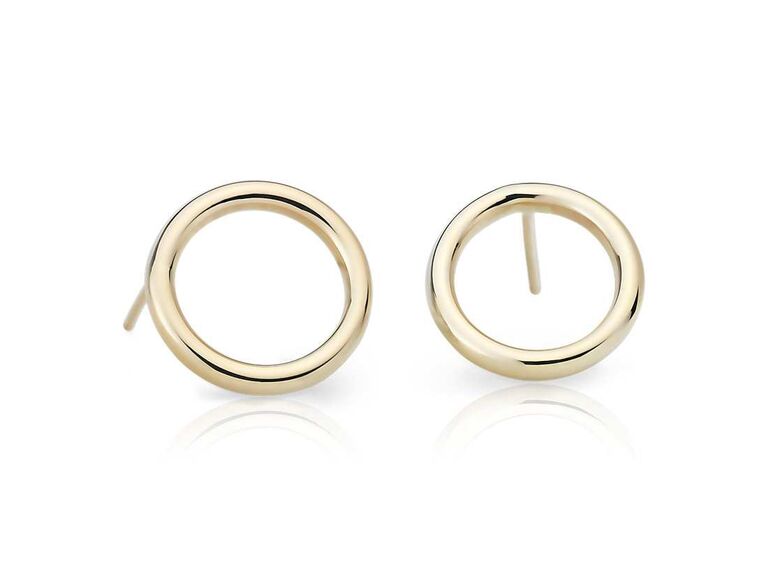 These gorgeous, minimalist earrings are great daughter-in-law gifts for the wedding day, Christmas, her birthday, you name it. That's because they're so effortlessly gorgeous and suited to a whole range of tastes.

Blue Nile open circle studs, $95, BlueNile.com
13. For the Beauty Queen: A New Makeup Bag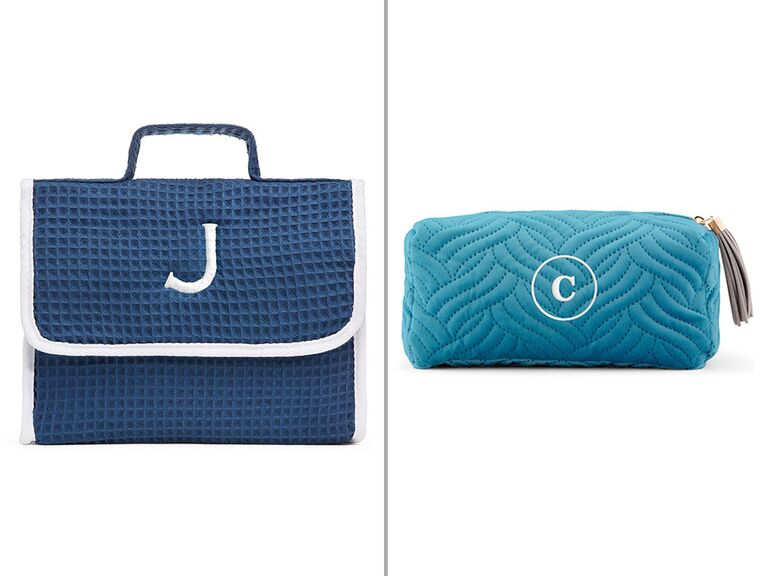 Toiletries can get out of hand fast, so chances are if she has a lot of products, she'll appreciate a new makeup bag. Our very own The Knot Shop carries a few different styles, including a handy standing case ideal for travel plus a luxe faux-velvet bag. Both can be monogrammed, which makes them good personalized gifts for your daughter-in-law.

The Knot Shop women's personalized stand up cotton waffle makeup bag, $8, TheKnotShop.com; The Knot Shop small personalized velvet quilted makeup bag for women, $10, TheKnotShop.com 
14. For the Seasonal Decorator: A Scented Candle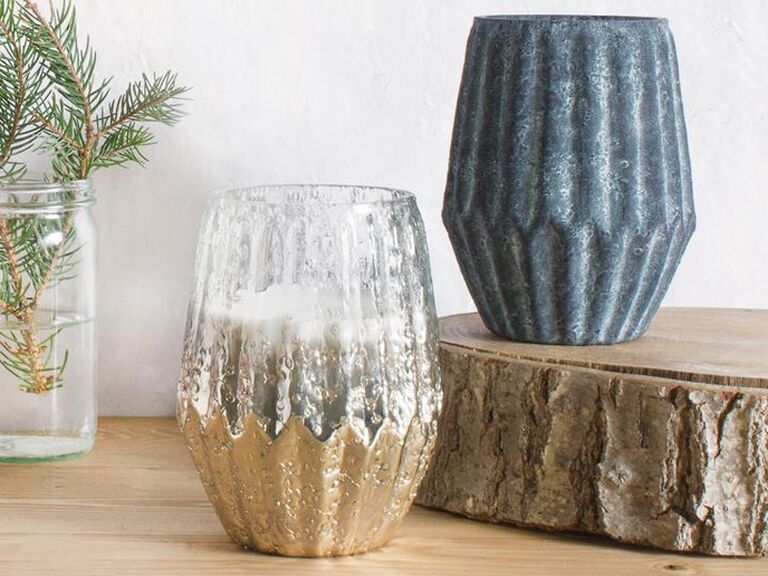 If she's super-into seasonal scents, flavors and motifs, she'll want to light one of these winter candles as soon as she unwraps it. Fragrance options include Balsam + Birch and Frosted Mint, and the stunning jars can be repurposed as vases once she burns through all the wax.

Northern Lights Candles Maribelle candle, $28, NothernLightsCandles.com
15. For the Avid Traveler: A Keepsake Passport Cover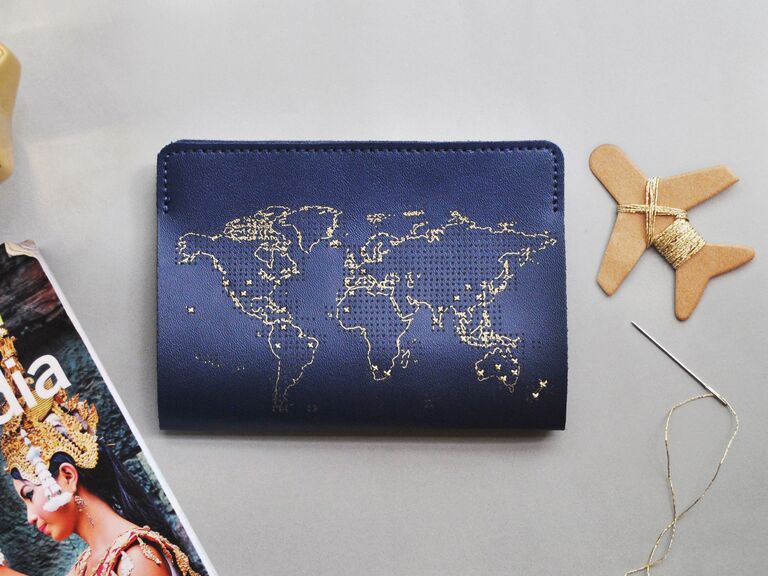 Talk about a unique daughter-in-law gift! This genius passport cover comes with colorful thread so she can stitch her way around the globe pattern as she checks destinations off her bucket list. It's a really thoughtful gift for a daughter-in-law on the wedding day that she can bring on the honeymoon.

Chasing Threads Sitch-Your-Travels leather passport cover, $35, TheGrommet.com 
16. For the Modern Vino Drinker: A Portable Wine Glass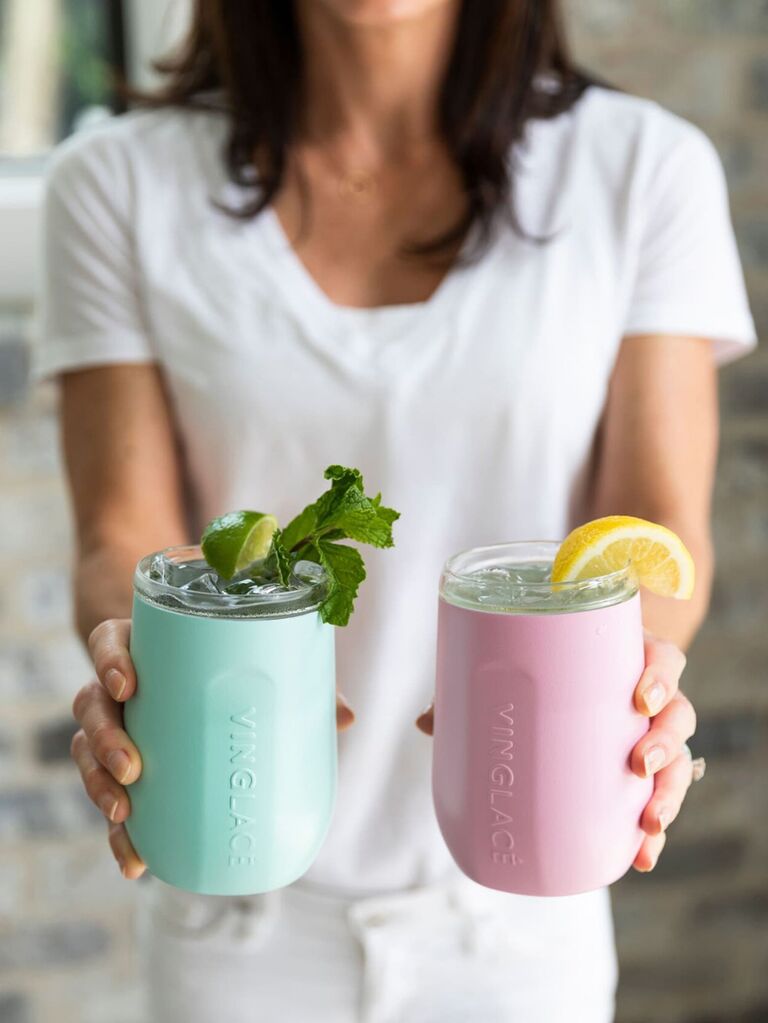 These cute little cups keep wine (or anything else) at the ideal temperature for hours on end. They're also way more durable than the crystal glasses she may have gotten from her registry.

Vinglace stemless wine glasses, $35 each, Nordstrom.com
17. For the Honeymooner: An Airplane Cocktail Kit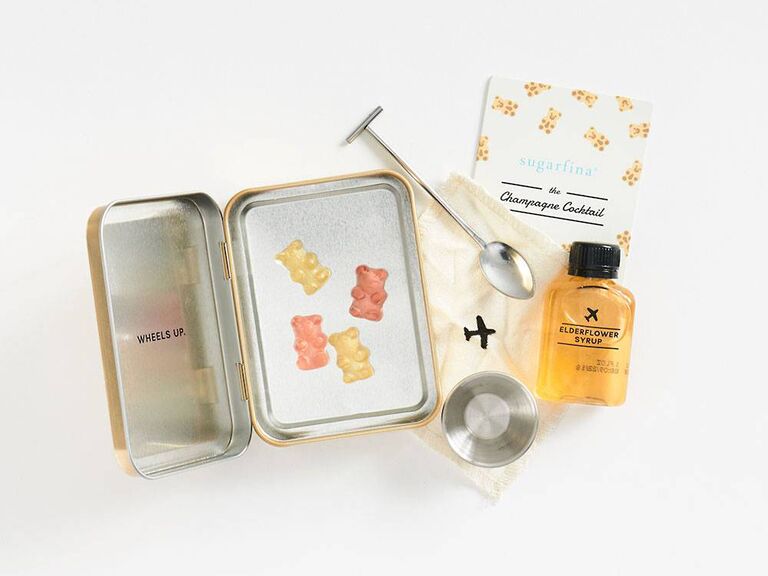 Here's another good pick for the honeymoon: a celebratory cocktail kit to bust out on the plane ride. All she has to do is ask the flight attendant for a glass and some champagne. Now she can properly toast to married life!

Sugarfina Champagne Bears cocktail kit, $25, PaperSource.com
18. For the Caffeine Craver: A Creative Coffee Fix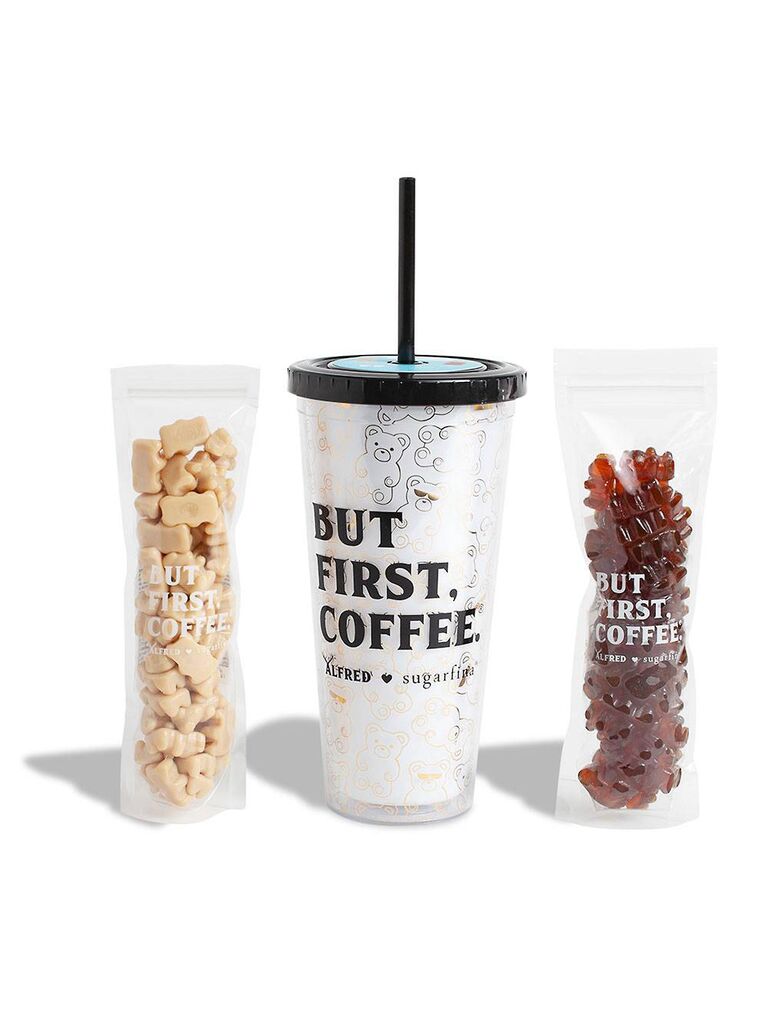 Whether she's got a sweet tooth or a coffee-drinking habit, she'll smile at this creative daughter-in-law gift. The reusable drink tumbler is stuffed with two types of super-yummy, caffeinated gummy bears: iced vanilla latte bears and cold brew bears. 

Alfred x Sugarfina caffeinated gummies tumbler, $30, PaperSource.com
19. For the Glamorous DIL: Instagrammable Skincare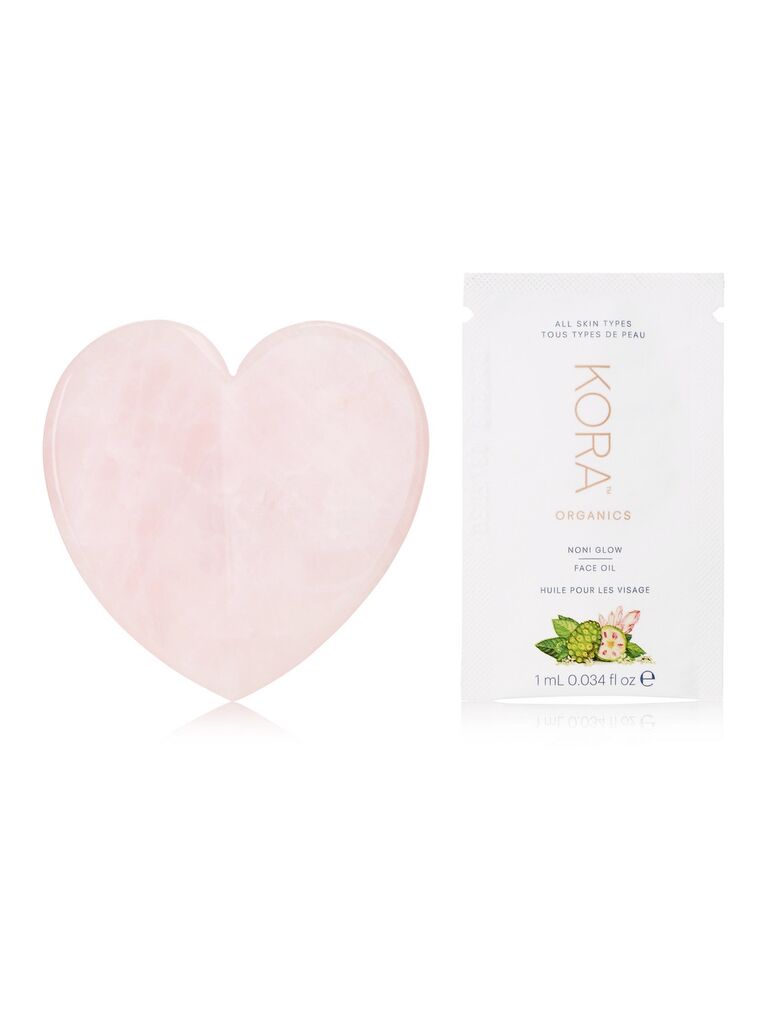 What exactly is this, you ask? The beauty product she never knew she needed. Or maybe she knows exactly what it is—courtesy of her favorite beauty bloggers—and has been dying to get her hands on one. Either way, the heart-shaped stone is called a "facial sculptor." It's made from rose quartz, which is said to promote happiness, and when she massages it over her face with the accompanying facial oil, it promises a bunch of beauty benefits too.  

KORA Organics rose quartz heart facial sculptor, $58, NET-A-PORTER.com 
20. For the Uber-Organized: A Personalized Notepad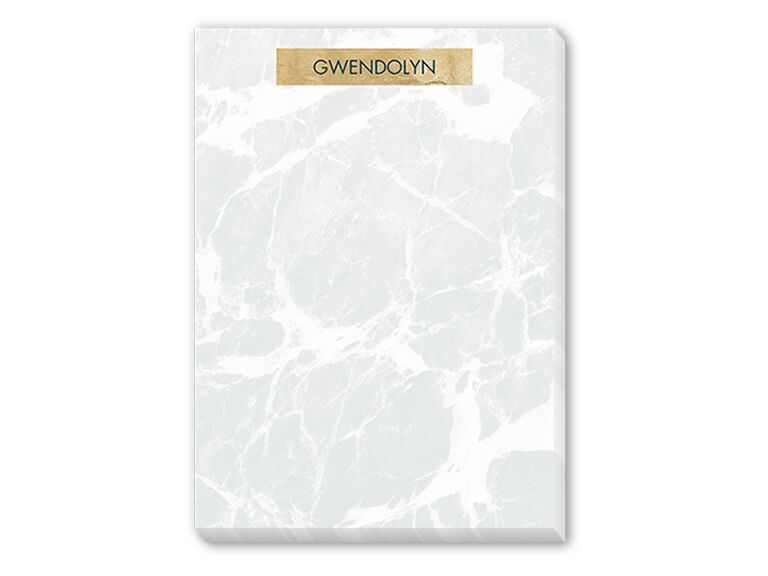 Personalized paper goods are go-to gifts for future daughters-in-law planning their weddings. But even if she's long been married, she'll thank you for this chic notepad. It can help her keep track of her to-dos, grocery lists and more.

Poppy Studio Stellar Granite 5x7 notepad, $15, Shutterfly.com
21. For the Flower Fan: Real Roses That Don't Die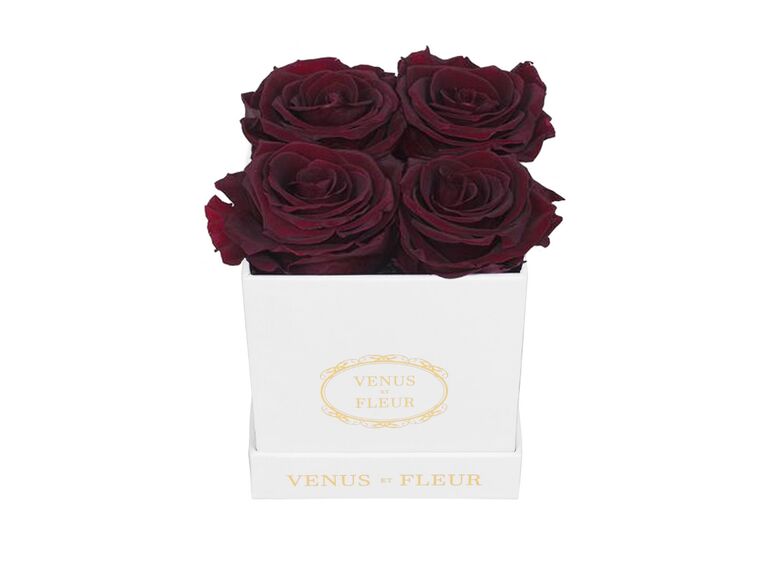 Bouquets of flowers will never go out of style, but that doesn't mean you can't swap the classic daughter-in-law gift for a contemporary upgrade. Believe it or not, these treated blooms last for up to a whole year. Heck, you're set with daughter-in-law gifts for an eternity—just replace them every Christmas.

Venus ET Fleur Eternity De Venus Le Petite Square Eternity roses, $139, SaksFifthAvenue.com
22. For the Impressive DIL: An Equally Impressive Book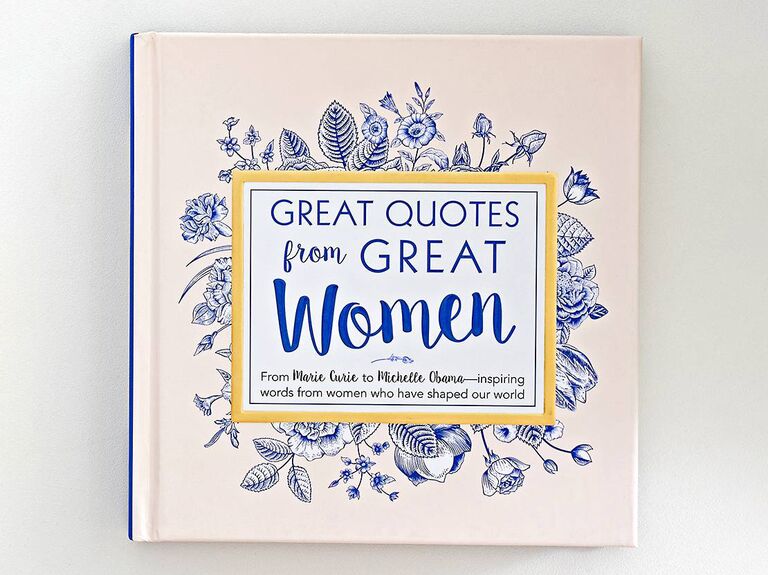 If she's constantly inspiring you, it's time to let her know. Present her with this motivational and empowering anthology of quotes from "great women." Then, in your card, say it reminded you of her because she's such a great woman herself.  

Peggy Anderson Great Quotes from Great Women, $16, PaperSource.com
Disclosure: This post contains affiliate links, some of which may be sponsored by paying vendors.
Published September 2019