The 35 Best Son-in-Law Gifts for Any Occasion, Holidays and Birthdays Included
We've found something for every SIL—even the one who's hard to buy for.
We have included third party products to help you navigate and enjoy life's biggest moments. Purchases made through links on this page may earn us a commission.
Looking to impress your child's spouse with a thoughtful present? That's exactly why we've put together this practical guide filled with gifts for your son-in-law—future, new and long-established alike. Whatever his personality, interests or the gift-giving occasion, we've rounded up the best son-in-law gifts from a mother-in-law, father-in-law or both of you together. Whether you just need a little inspiration to get started or you're at a total loss, we've done all of the hard work for you! Browse our top gift ideas for the grill master, sports fan, avid hiker, coffee connoisseur, mixologist (and more) in your life, as well as presents that will help welcome him into the family with style and sentiment. So sit back, relax and scroll through these 35 editor-approved gift ideas for your son-in-law for his birthday, holidays or the wedding.
1. Speakers Specifically for the Shower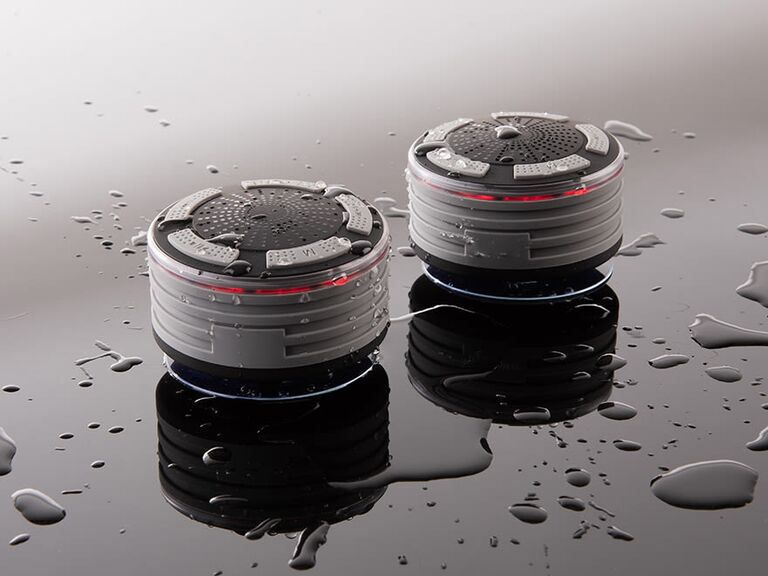 Does your daughter or son always complain about how long their husband spends in the shower? Make his happy place an even better escape by gifting him a set of Bluetooth speakers designed to be used in water. This set of two waterproof speakers will provide a surround-sound experience, with built-in suction cups so they easily stick to the wall (but can still be removed whenever he needs to recharge them) and controls that allow him to skip, pause and reverse songs right from the speaker. Plus, LED lights help really set the mood for some uninterrupted R&R. (That said, if he does happen to be interrupted, he can answer phone calls right in the shower thanks to the built-in microphone.)
2. Seriously Cool Stadium Model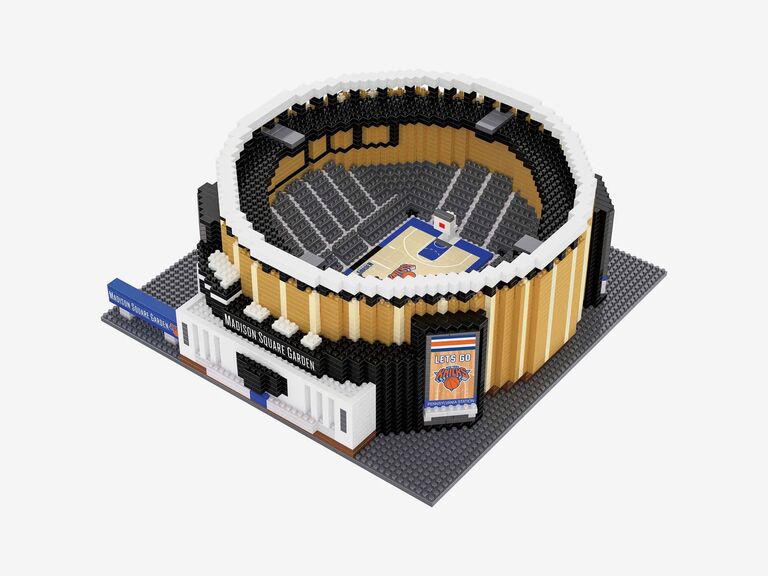 Shopping for a sports fanatic? Whether he loves football, baseball or basketball, FOCO has sets to build almost any stadium or arena out of Legos. These building blocks aren't for children though. This model of Madison Square Garden has over 5,000 pieces to help intricately capture the building's iconic features. He'll have a blast putting it together and will love showing off the finished product in his man cave. Simply choose his favorite team's home stadium and you've got a great holiday or birthday gift for your son-in-law.
3. His Own Signature Hot Sauce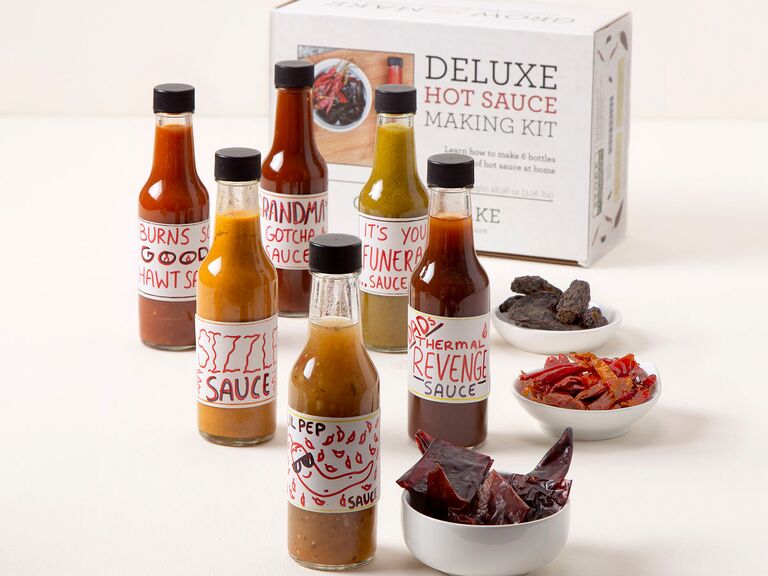 This one is for the son-in-law who spices up every meal—literally. This hot sauce kit has all the necessities (flavorful ingredients, six glass bottles and labels for creative sauce names) so he can mix up his own fiery condiments. While the kit comes with instructions, you can take the gift up a notch and pair it with a live, virtual class so he can learn the art of chili sauce from an expert.
4. A High-Tech Wallet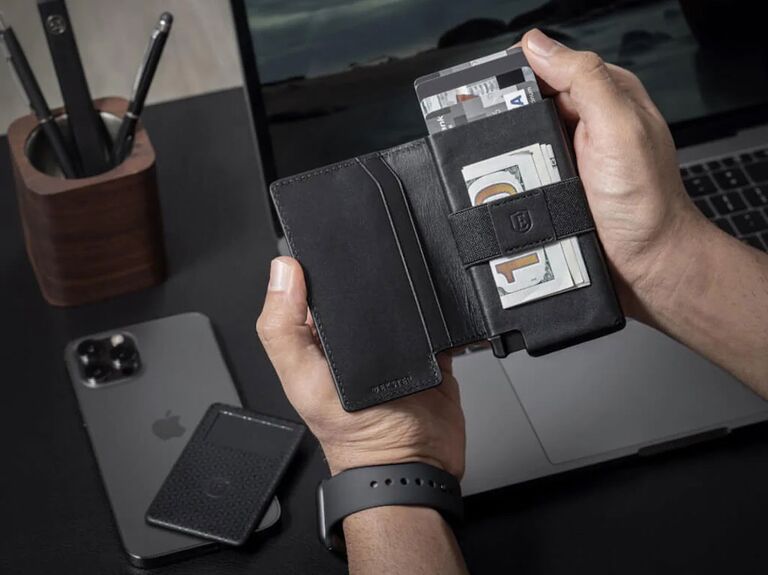 How about something practical? This premium leather wallet fits all the essentials while still maintaining a low profile. It's slim enough to fit in his pocket, durable enough for daily use and handsome enough for his spouse to approve of. Best of all, it has quick card access so, at the push of a button, it'll fan out his cards for easy retrieval. It even has room for an optional tracking device so he never loses his new favorite gift (or his license).
5. A Versatile Backpack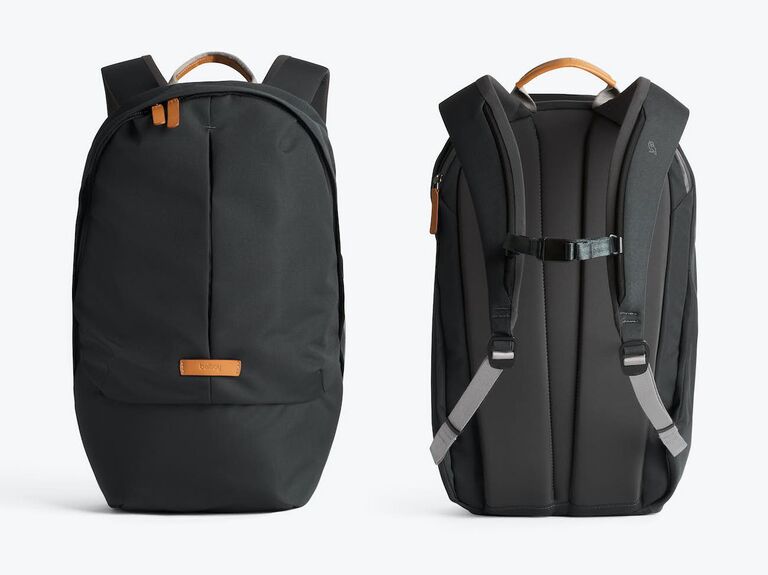 This stylish backpack is designed to hold all your son-in-law's necessities, whether he's commuting to work or hopping on a plane. There are two zippered compartments to separate his laptop and tech accessories from other valuables, along with internal pockets to organize his sunglasses, wallet, keys, water bottle and more. If that's not enough, it has padded back panels with lumbar support and contoured, rolled-edge shoulder straps for all-day comfort. A good backpack is something he might never think to splurge on for himself, but will come in clutch regularly.
6. A Weather-Resistant Jacket
If you're shopping for the outdoorsy type, consider this bestselling jacket that's equal parts functional and fashionable. It has a waxy, sailcloth exterior designed to lighten over time in the creases for a truly personal piece of outerwear, plus a soft flannel lining for extra warmth and coziness. Trust us, a jacket this good is a welcome present for your son-in-law all year round, from his birthday to Father's Day.
7. A Self-Cleaning Water Bottle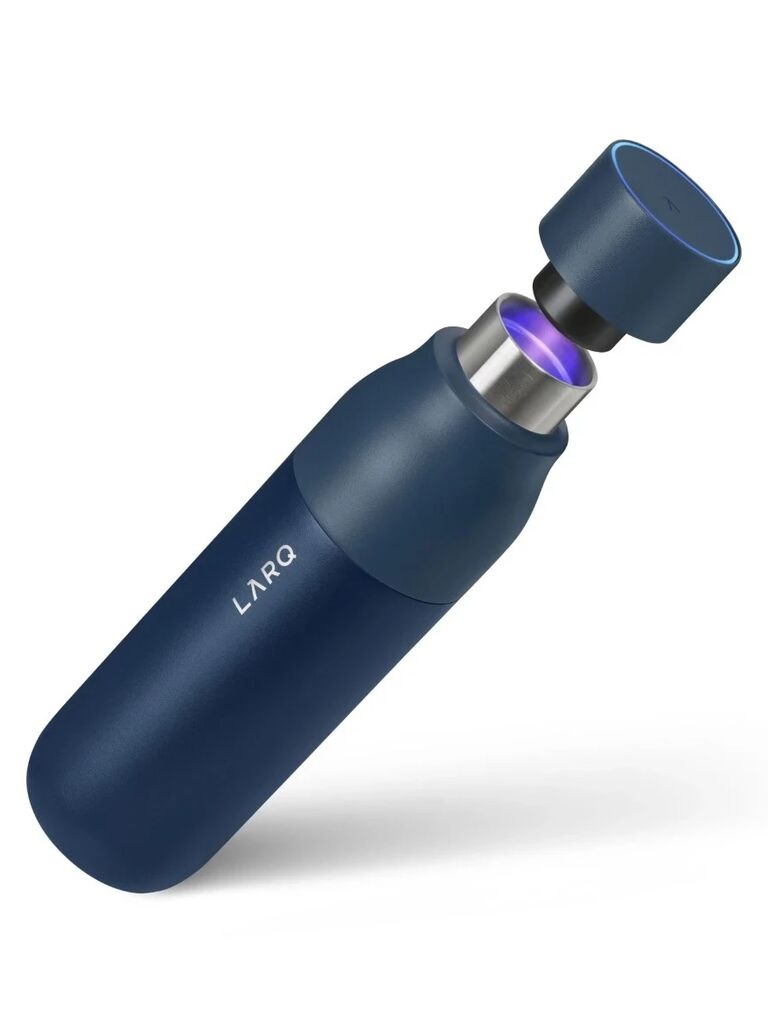 If unique gifts for your son-in-law are what you're after, look no further than this genius reusable water bottle. Not only is it insulated to keep his drink cold or hot all day, but it also has a built-in UV-C LED light that acts as a water purifier and bottle cleaner, keeping every sip as fresh as the last. To top it all off, a percentage of all sales goes to 1% for the Planet, a nonprofit dedicated to protecting the environment.
8. Lightweight Multi-Tool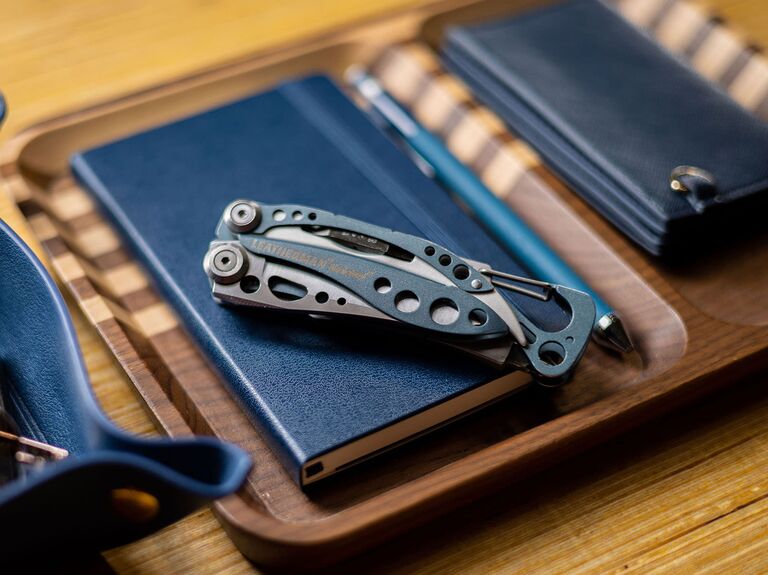 Whether your son-in-law is an avid backpacker or the neighborhood handyman, this stainless steel multi-tool will make sure he's equipped for almost any scenario—even if it's just opening a bottle. It weighs just half an ounce but boasts seven tools, including pliers, wire cutters, a combo knife, a carabiner and a large bit driver. It also comes in six colors and can be customized with an image, text or fun pattern for a personalized son-in-law gift idea.
9. A Gadget to Keep His Beer Cold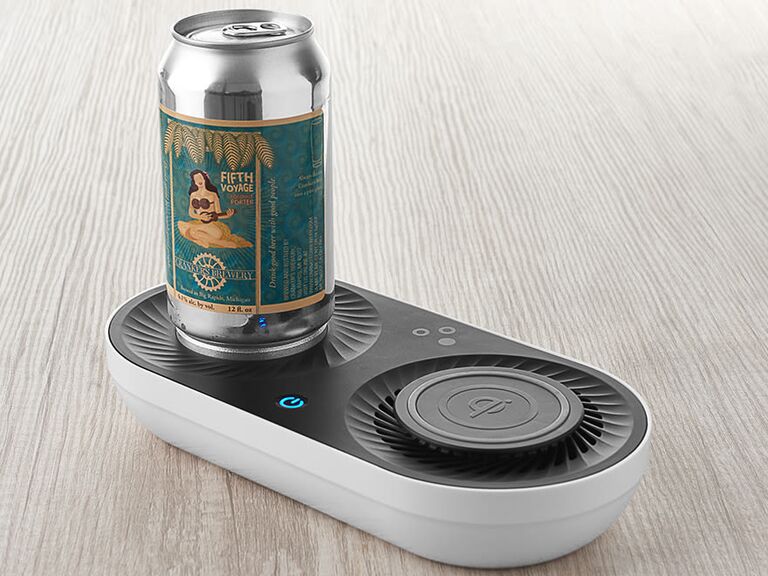 Upgrade your son-in-law's side table with this clever device. Not only is it a wireless charger, but it's also a temperature-regulating coaster that will keep his drink hot or cool. Now he can kick back after work with his cold beer and phone conveniently right next to him. Or he can keep it on his desk so his coffee is always warm—in fact, the gadget comes with a special mug for just that purpose.
10. A Bottle Opener That Doubles as Sports Memorabilia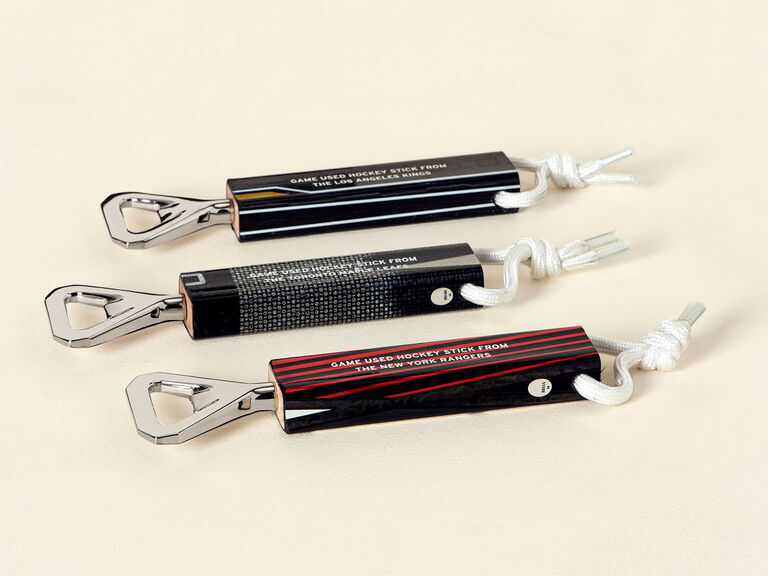 This handy bottle opener has a one-of-a-kind handle: It's made from a game-used NHL hockey stick! He'll light up instantly when he realizes just how special this gift is and won't be able to resist showing it off. Simply select his favorite team and you've got a bespoke, authenticated gift for your son-in-law for Christmas or his birthday.
11. An Indoor Mini Fireplace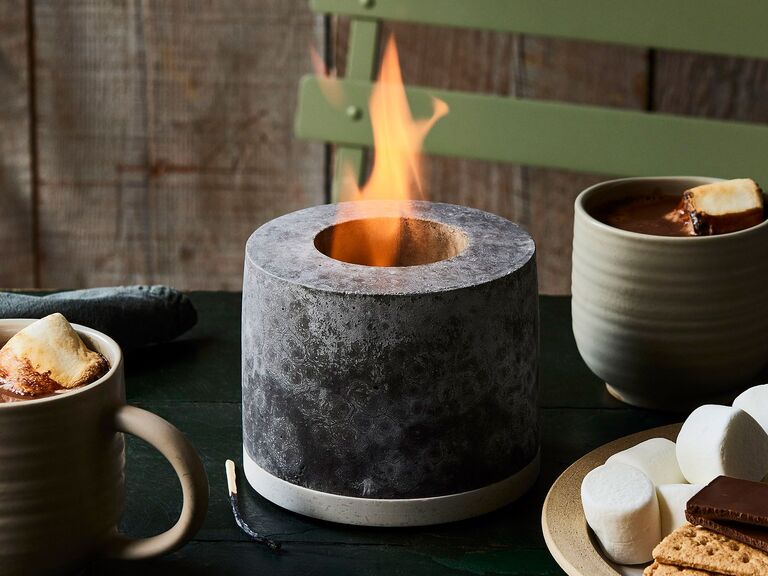 If you're not sure what to get your son-in-law for Christmas or Hanukkah, how about a gift that brings the ambiance of the holidays right into his home? This personal-sized concrete fireplace can be used indoors or outside to create a warm flame with just rubbing alcohol and a match. It's also food-safe, meaning he (and his spouse) can make s'mores anywhere. Consider a gift for your hard-to-buy-for son-in-law sorted.
12. A Portable Outdoor Speaker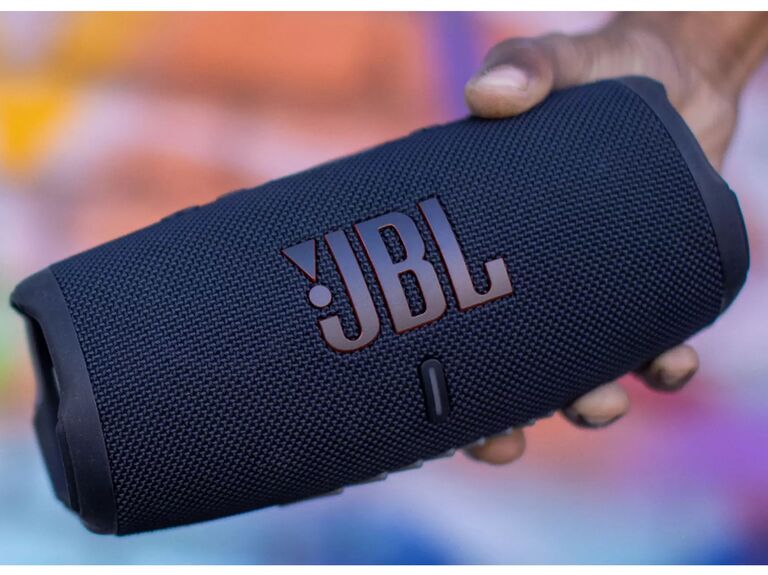 If he's well-known as the life of every party, impress your son-in-law with this highly-rated portable Bluetooth speaker. Not only does it deliver big sound despite its small size, but it also has 20 hours of playing time and is water- and dustproof so he can take the fun outdoors. It's definitely a splurge-worthy Christmas or birthday gift idea for your son-in-law. We bet he'll bring it to every family gathering for years to come.
13. An Upgraded Apple Watch Strap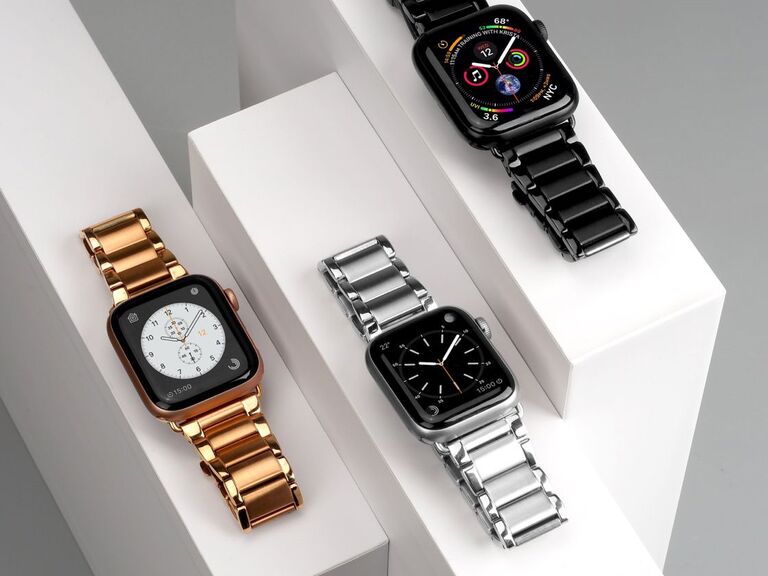 Any SIL who wears an Apple watch will appreciate one of these sleek stainless steel straps. While it looks luxe, it's scratch resistant and water-and sweatproof, so even if he wears it every day, everywhere (which you know he does) it'll hold up beautifully. Each link is removable so he can adjust it to his wrist size and it comes in five versatile colorways to suit his style. He'll be making the swap right away.
14. Cards Inspired By His Favorite Film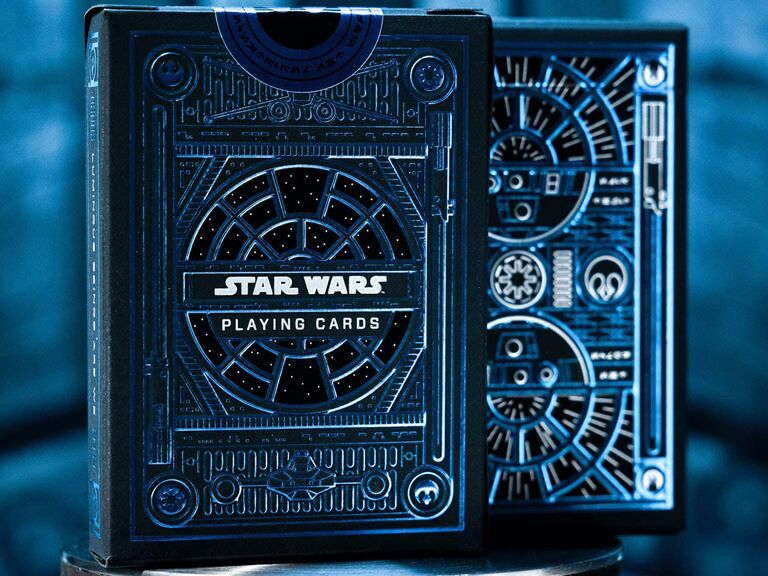 Need a stocking stuffer for your son-in-law? These stunning playing cards are inspired by the iconic Star Wars franchise and come in two different editions: Light Side and Dark Side. The Light Side deck is a vibrant shade of blue and features Luke Skywalker's lightsaber, R2-D2 and fighters from the Rebel Fleet, while the black-colored Dark Side deck has Darth Vader's lightsaber, the Death Star and the Empire's fleet of starships. Everything about these unique playing cards is heirloom-worthy, from the stunning foil packaging to the character-adorned cards themselves.
15. A Global Coffee Experience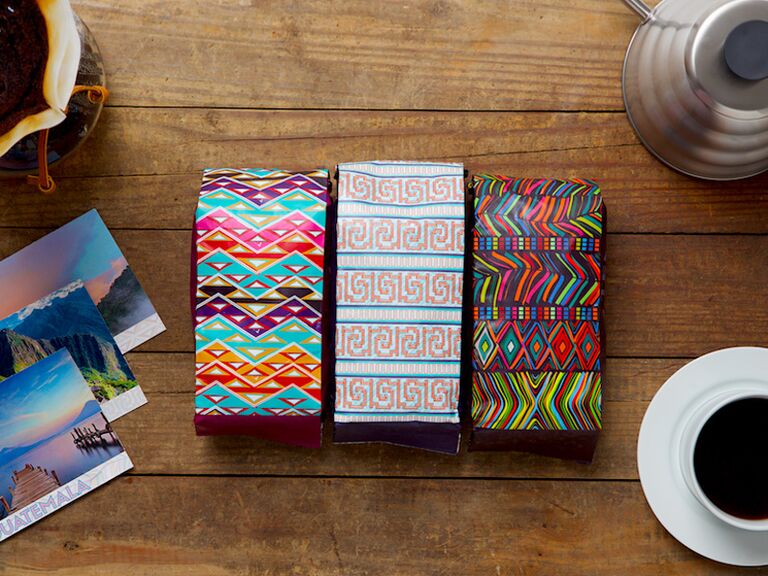 On the hunt for a Father's Day gift for your son-in-law? If he starts every day with a cup of coffee (or two, depending on how many kids he has), you can't go wrong with a gourmet coffee subscription. Every month, Atlas Coffee Club will send him beans or grounds from around the world so he can expand his palette while still getting his caffeine fix.
16. Personalized Cast Iron Pan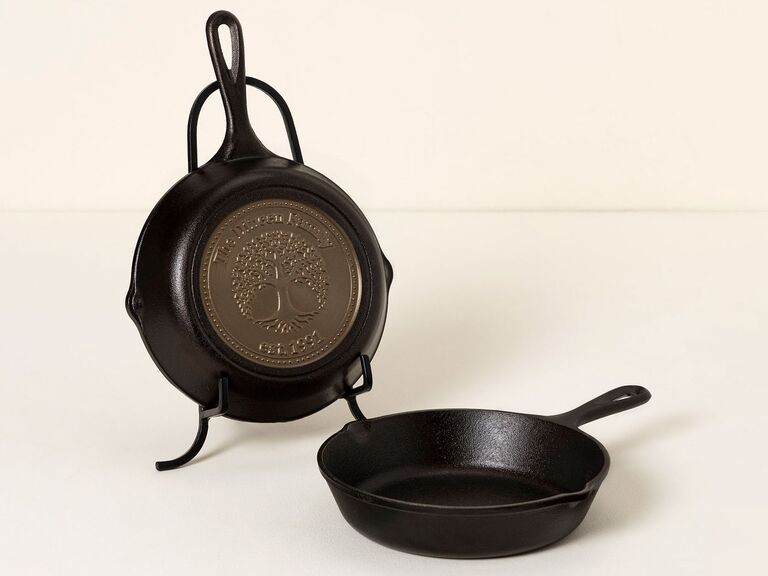 If you're looking for an extra-special wedding gift for your son-in-law, up the ante on classic cookware with a personalized cast iron skillet. The base of this pan is bronzed and features a tree of life motif along with two lines of personalized text, such as his name or the couple's soon-to-be shared name along with their wedding date. Ironware is already made to last (just like his love for your daughter or son), but the emblem makes it really heirloom worthy. Pair it with a secret recipe passed down from generation to generation for a gift that really welcomes him into the family.
17. An Indoor Herb Garden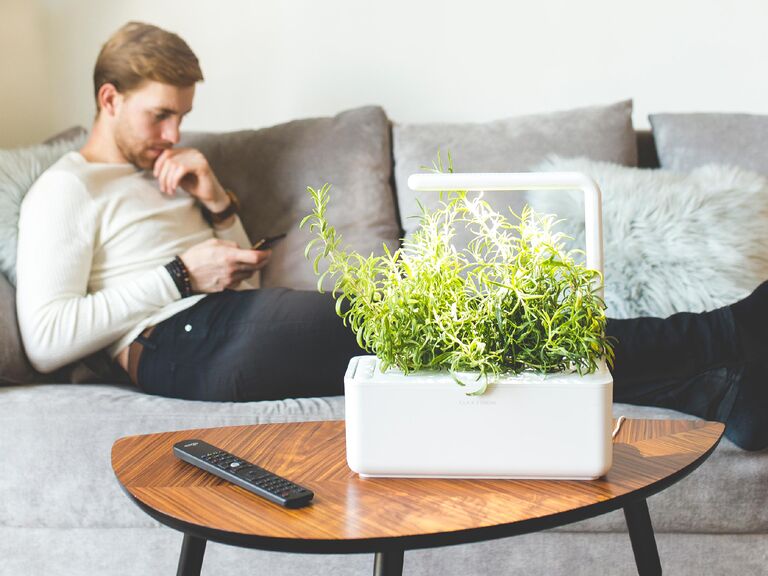 If your son-in-law loves cooking with fresh ingredients, consider this smart, indoor herb garden for your next gifting occasion. The creative present lets him grow anything—like cilantro or chili peppers—no matter his living situation by automating plant care (from light to water) so he barely has to lift a finger. It'll help him save money on groceries, plus it's just plain fun to watch in action.
18. A Seriously Cozy Sweater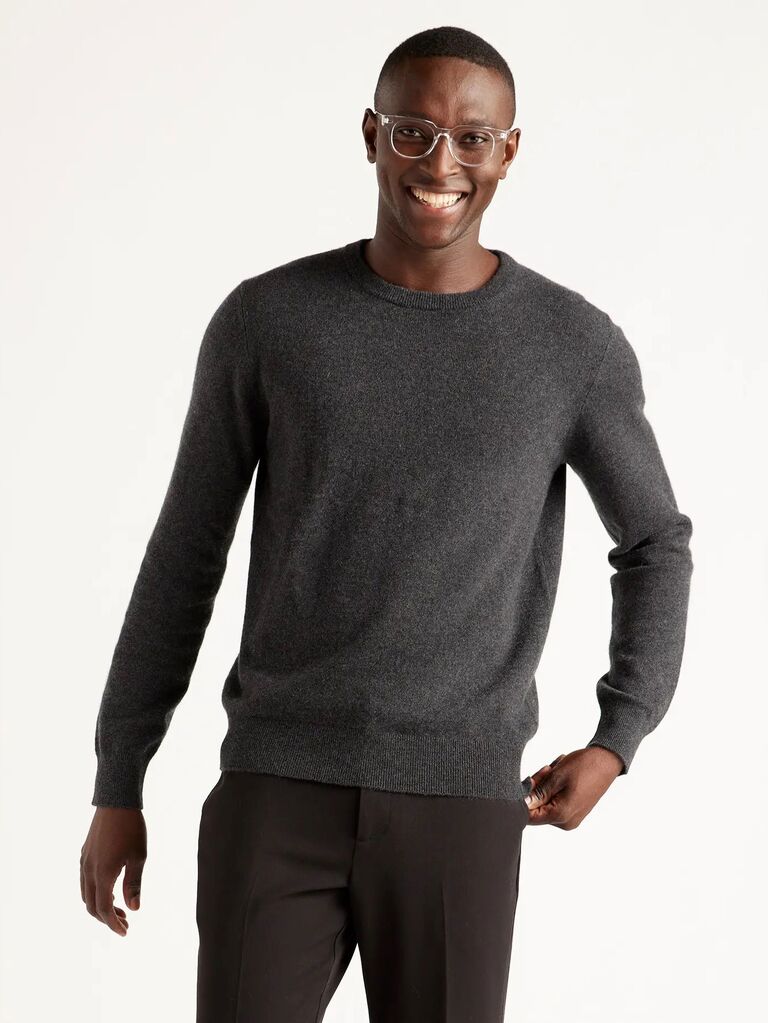 Looking for a good Hanukkah or Christmas gift for your son-in-law? Stop your search here. Ethically sourced and sustainably produced, this Mongolian cashmere crewneck sweater is super soft and will keep him warm and in style all winter long. Just wait and see, it'll be his go-to for many holidays to come.
19. The Chance to Learn a New Skill
If you're shopping for a son-in-law who has everything, experiential gifts are an excellent idea. Uncommon Experiences has dozens of virtual classes, from mixology and cooking to magic lessons so you can refine or inspire his hobbies. It'll be unlike any gift he's received before, and he might even let you sit in on the class with him for some in-law bonding.
20. The Ultimate Skincare Set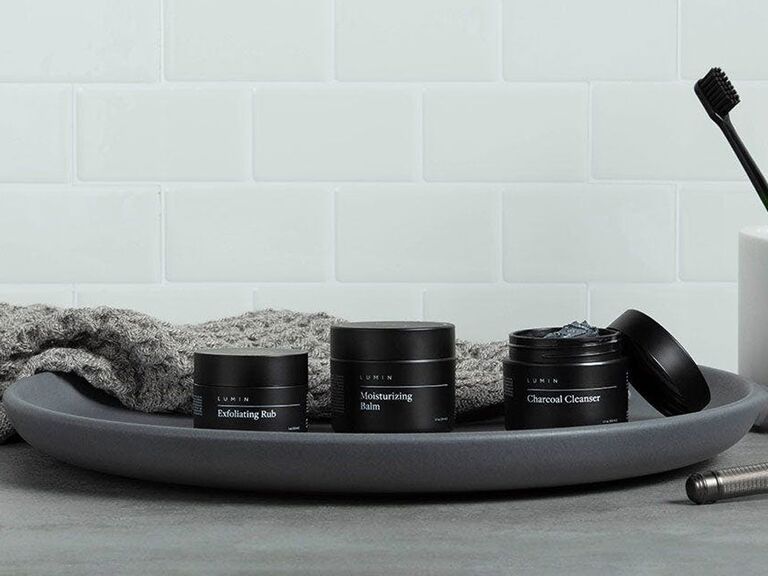 Encourage your son-in-law to get his self-care on with this gift set of cleansing and rejuvenating heroes, including a charcoal cleanser for daily detox, a moisturizing balm for hydration and an exfoliating rub (each is customizable based on his skin type). It's one of our favorite son-in-law gifts for Christmas because he can start the new year feeling fresh as a daisy.
21. A Custom Decanter Set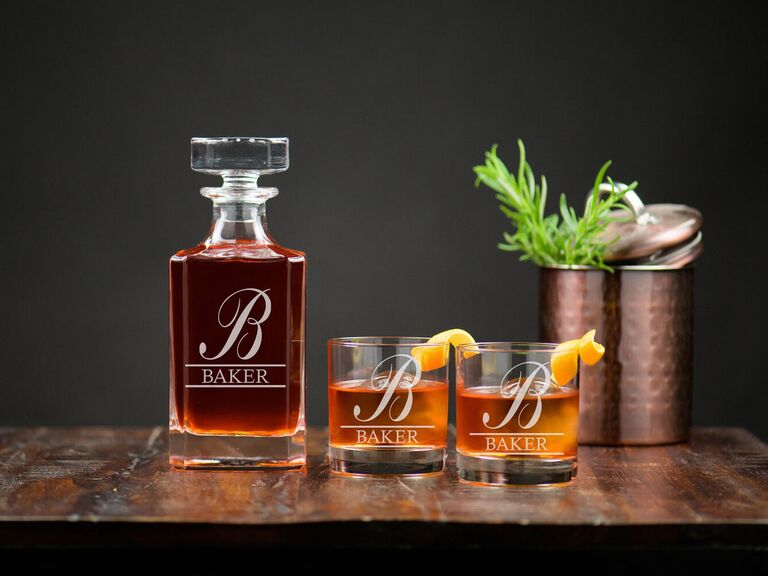 This thoughtful son-in-law wedding gift will certainly make him feel special. It's a personalized decanter, which can be purchased on its own or with matching glasses. Pick from a few different label options, all of which you can customize with his name or initials. To really go the extra mile, pair it with a bottle of whiskey you can sip together on the big day to toast to him joining the family.
22. A DIY Cocktail Kit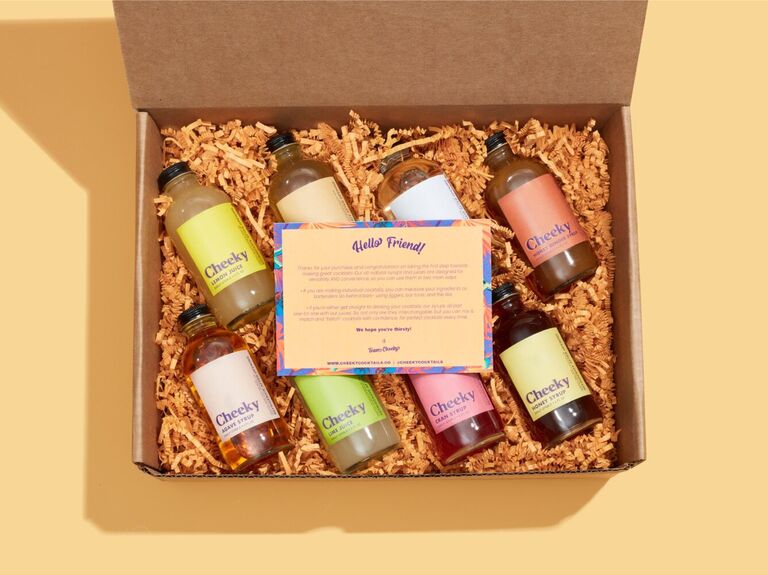 Here's a gift idea for the son-in-law who doubles as the family bartender. It's a gift set of eight different syrups and juices for mixing delicious cocktails. Thanks to clever flavor combinations, it can be used to create over 50 different concoctions—simply add a bottle of his favorite booze so he can start making drinks for everyone right away.
23. Smart Clock for Better Sleep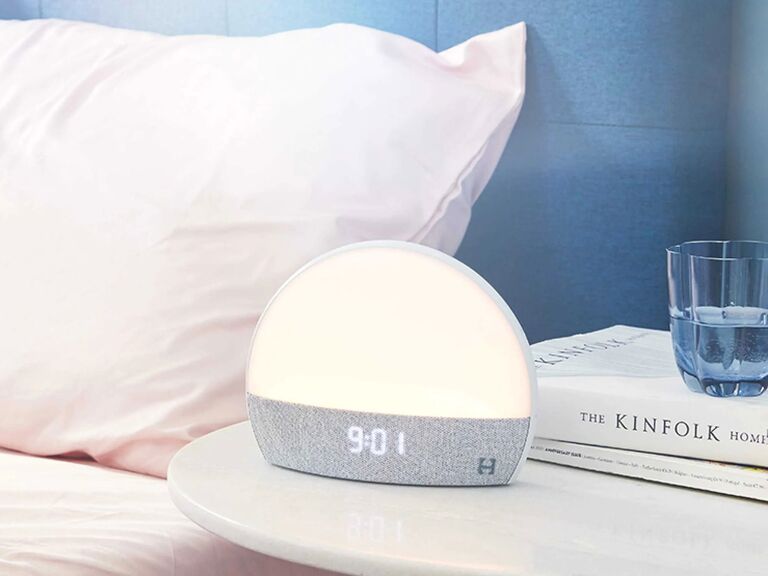 There's nothing quite like the gift of a good night's sleep. Help your son-in-law start the new year on the right side of the bed with a restorative alarm clock that can relieve stress and improve energy. Hatch's smart clock uses pink noise, music, dreamscapes, rest exercises and sleep stories to help him fall and stay asleep. Then, instead of a jarring alarm, the sunrise light gradually wakes him up. Even his spouse will appreciate this calming gift.
24. Weighted Blanket for Hot Sleepers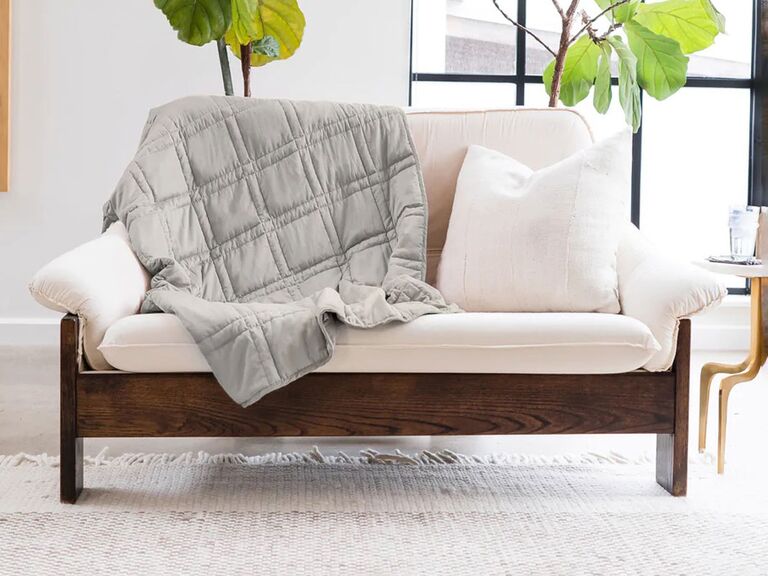 Weighted blankets help stimulate serotonin (the happy hormone) and reduce cortisol (the stress hormone) so your son-in-law (and his spouse) will feel more relaxed after each couch cuddle. Win! But why should you buy this specific weighted blanket you ask? Baloo's quilts are made from 100% cotton, so they're breathable and cooling. Plus, it's machine washable and dryable for easy care.
25. An On-the-Go Massage Gun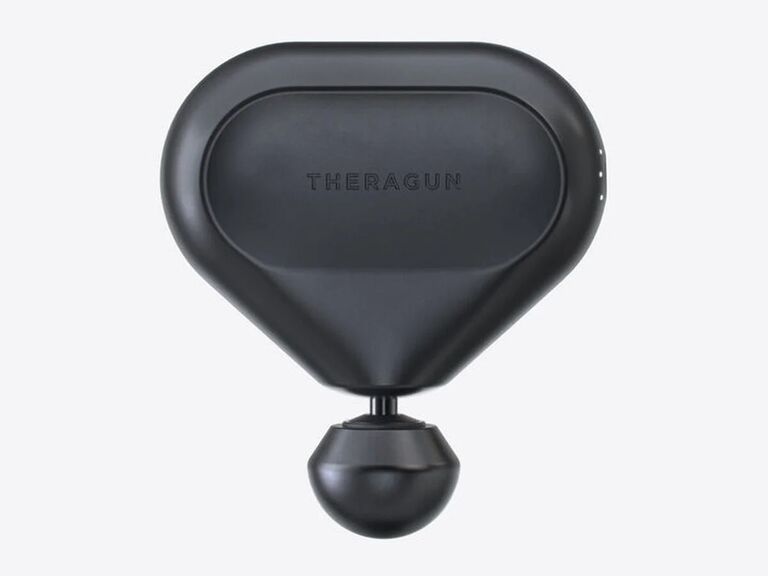 If you came here looking for tech gifts for your son-in-law, here's a crowd-pleaser. This mini version of the Theragun is the perfect size for on-the-go use, making it a great present for amateur athletes and fitness enthusiasts alike. The splurge-worthy gadget has three different speed settings, an impressive 150-minute battery life between charges and an unusually quiet motor.
26. Cozy Loungewear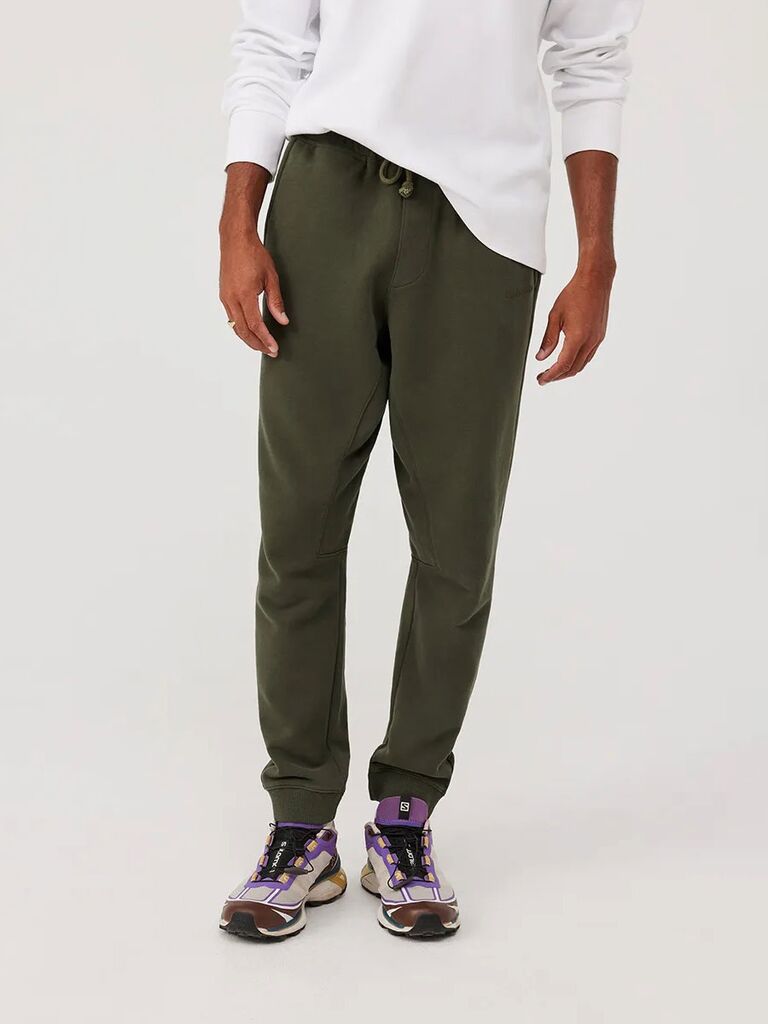 Does your family wear matching Christmas PJs each year? Don't let your son-in-law miss out on the fun! Pair a thematic shirt with these comfortable cotton sweatpants that he'll definitely still want to wear even after the holidays are over. They have a relaxed fit with a drawstring waistband and large pockets.
27. An Artisanal Pair of Slippers
Encourage him to leave his shoes at the door with this pair of oh-so-comfy slippers, which are made with sustainability in mind. Featuring a cozy wool footbed, fluffy lining and eco-friendly outsoles, they're pretty much the perfect house shoe. Need a little more convincing? They also have built-in arch support and shock-absorbing insoles—now that's an impressive Christmas gift idea for your son-in-law.
28. A Handy Insulated Travel Mug
If you're searching for a personalized son-in-law gift you know he'll love, look no further than YETI drinkware. Whether he's always exploring the outdoors or regularly commuting to the office, he'll get plenty of use out of a travel mug customized with his initials or a logo. This stainless steel drinkware has double-wall vacuum insulation to keep drinks hot or cold for longer, plus a leak-proof lid and convenient carrying handle so he can take his morning coffee to go.
29. Heavy-Duty Apron
If your son-in-law takes cooking or grilling seriously, this is the ultimate gift for his birthday, Christmas or Father's Day. Hedley & Bennett aprons are trusted by top chefs around the world, so he'll look (and feel) just like a professional. It has pockets and a utility loop for all his kitchen tools, plus a thick canvas fabric that is washable and stain-resistant.
30. Ceramic Pizza Stone For Homemade Pies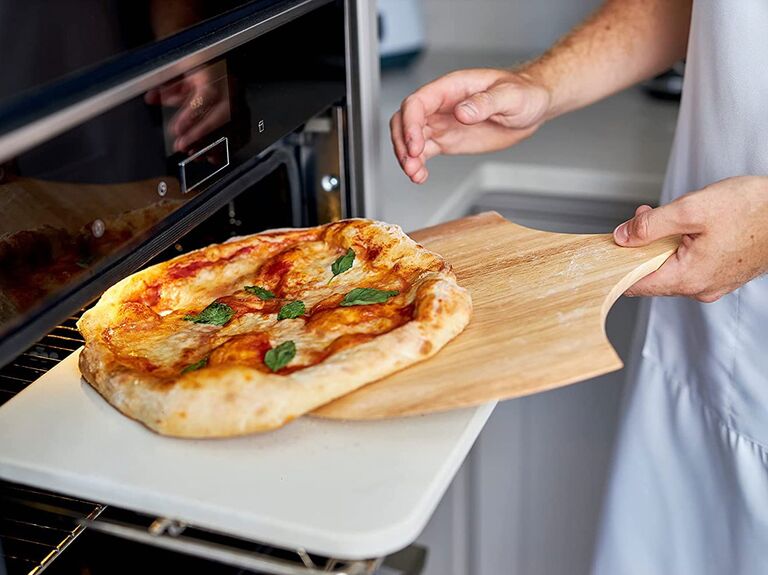 If you need a last-minute gift for your son-in-law's birthday, don't panic. This pizza stone and wooden paddle are available on Amazon Prime. It's the perfect gift idea for a creative home chef as it allows him to make pizza right from the oven. Hopefully, he'll have you over for a pizza party as a thank you!
32. Stylish Sunglasses
Gift your son-in-law a pair of sunnies to wear on the next family beach vacation. These stylish shades pair a classic tortoise design with fun blue lenses for a style that looks great on everyone. They're even compatible with subscription lenses—what a win!
33. Personalized Catchall Tray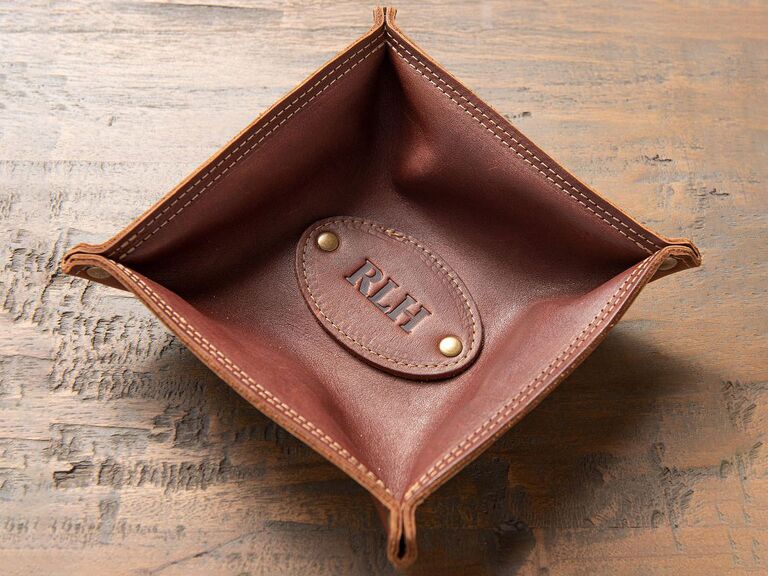 If you're looking for a small gift for your new son-in-law on the wedding day, snag this small leather tray personalized with his initials. It's a great place to store (and thus not lose) the rings before the ceremony, plus he can keep using it in their shared home after the big day to store his wedding band, watch or keys.
34. Beer History Pint Glasses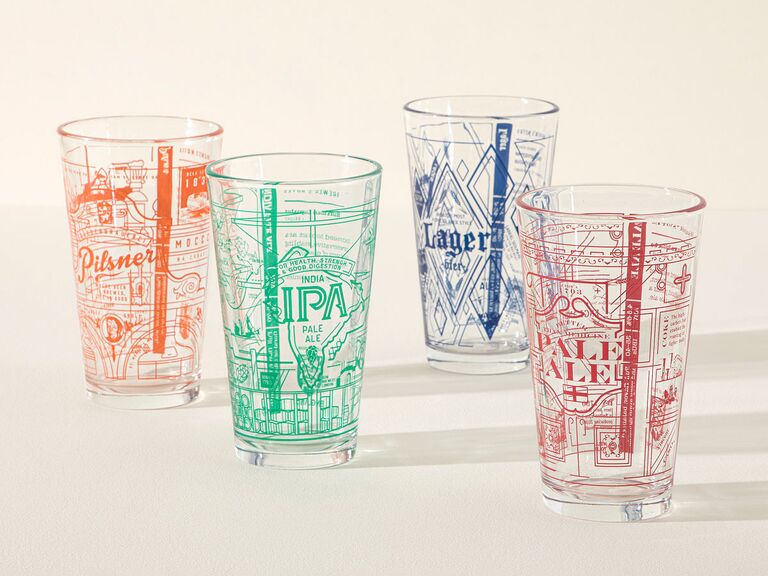 Thinking of what to buy your son-in-law for Christmas, his birthday or really any occasion doesn't have to be a challenge. Spend a few minutes considering his interests—if the first thing that comes to mind is beer, these unique pint glasses will be a fitting gift. They can be purchased individually or as a set of four, with each featuring facts on popular beer styles, including IPAs, pale ales, pilsners and lagers. Every beer shared will now also be a history lesson.
35. Craft Beer Delivery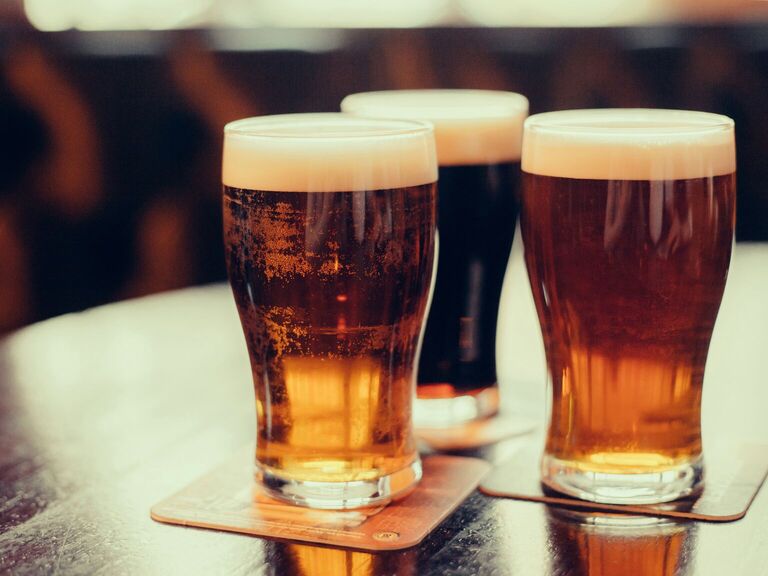 How about a beer subscription for your zythophile son-in-law? Craft Beer Club will send him a monthly, bimonthly or quarterly delivery of delicious brews from the country's best small, independent brewers. Each box includes 12 beers from different regions in the US, plus background info about the breweries, tasting notes and pairing recipes. It's a refreshing holiday or birthday gift for your son-in-law that will really help get the party started.