The Best Gifts for Any Son-in-Law (And Any Occasion Too)
We've found something for every SIL—even the one who's hard to buy for.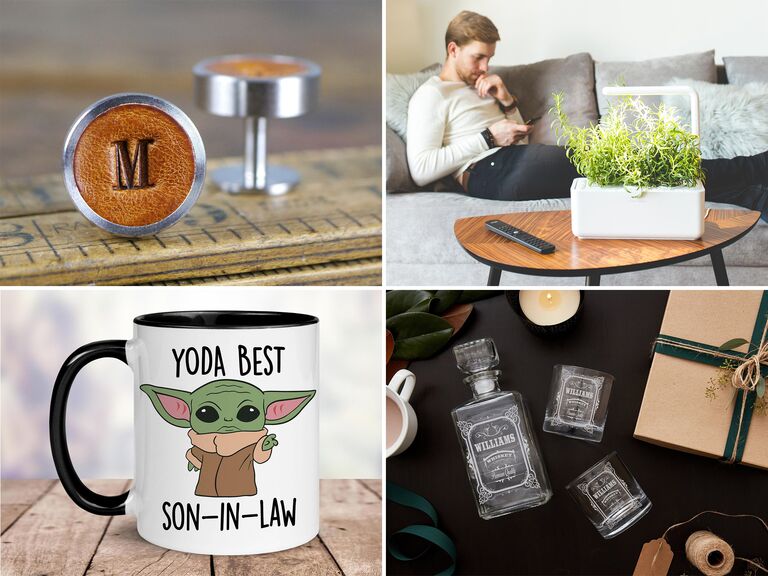 We have included third party products to help you navigate and enjoy life's biggest moments. Purchases made through links on this page may earn us a commission.
What makes a good gift for your son-in-law? We have more than a few ideas. Maybe he's a future SIL and you're still getting to know him. Or maybe, he's been in your life for a while and you've run out of inspiration. We know picking presents can get tricky fast, and that goes double if he's your only son (what do sons like, anyway?) or he's seemingly got everything (ahem, a totally fulfilled wedding registry wish list). That's why we're sharing this list of thoughtful gifts for your son-in-law. Below, you'll find presents for all sorts of personalities, from outdoorsy types to diehard sports fans. There are gifts for your son-in-law's birthday, the holidays or even the wedding day right ahead.
1. A Global Coffee Experience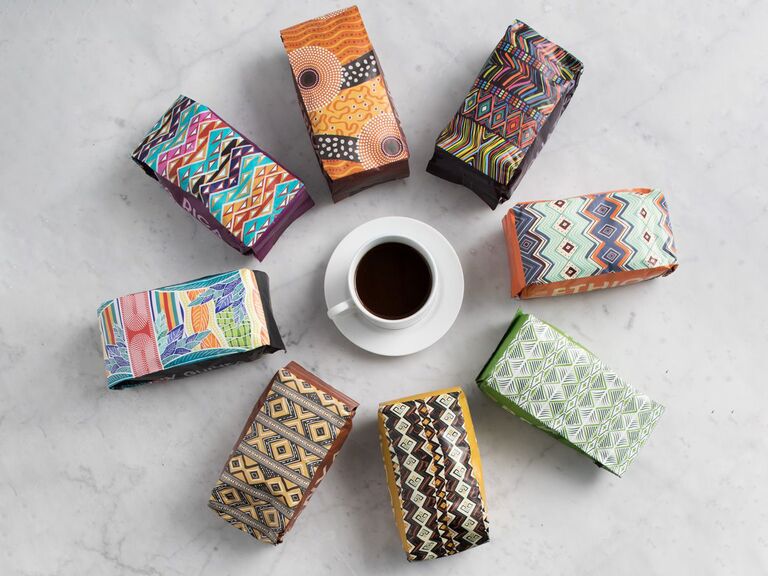 Whether you're on the hunt for Christmas gifts for your son-in-law or something sweet for Father's Day, you can't go wrong with some gourmet coffee. Take it up a notch by gifting him a subscription. Your SIL will get to taste blends from across the globe, and he'll fully appreciate the practical side of this unique present. 
Atlas Coffee Club monthly subscription, from $60 for a gift subscription, AtlasCoffeeClub.com 
2. A Smart Bluetooth Speaker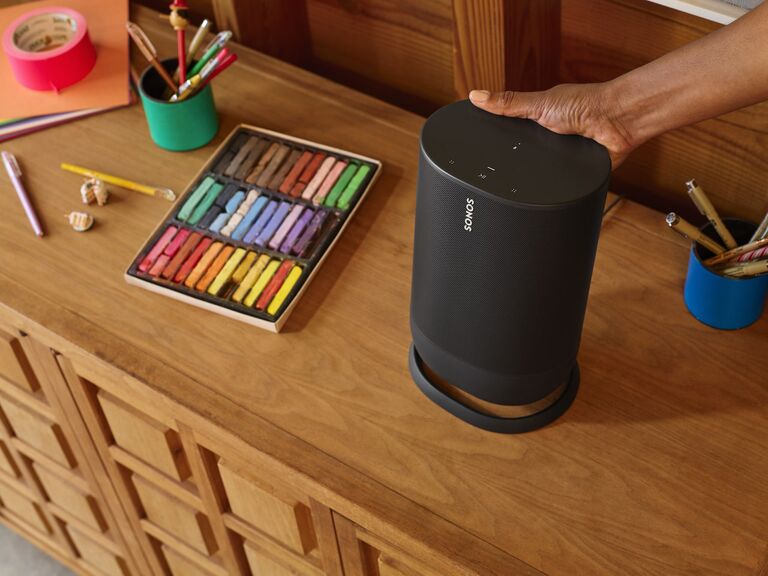 If he loves playing music, he'll love this versatile speaker. The durable, weatherproof device works indoors or out, and it also boasts smart assistant capabilities. (That means it can tell him the weather, set a timer for him and more.) It's battery-powered and has a sleek, built-in handle, which is perfect for the guy who likes on-the-go entertainment.

Sonos Move smart speaker, $399, Sonos.com
3. A Bottle Opener That Doubles as Sports Memorabilia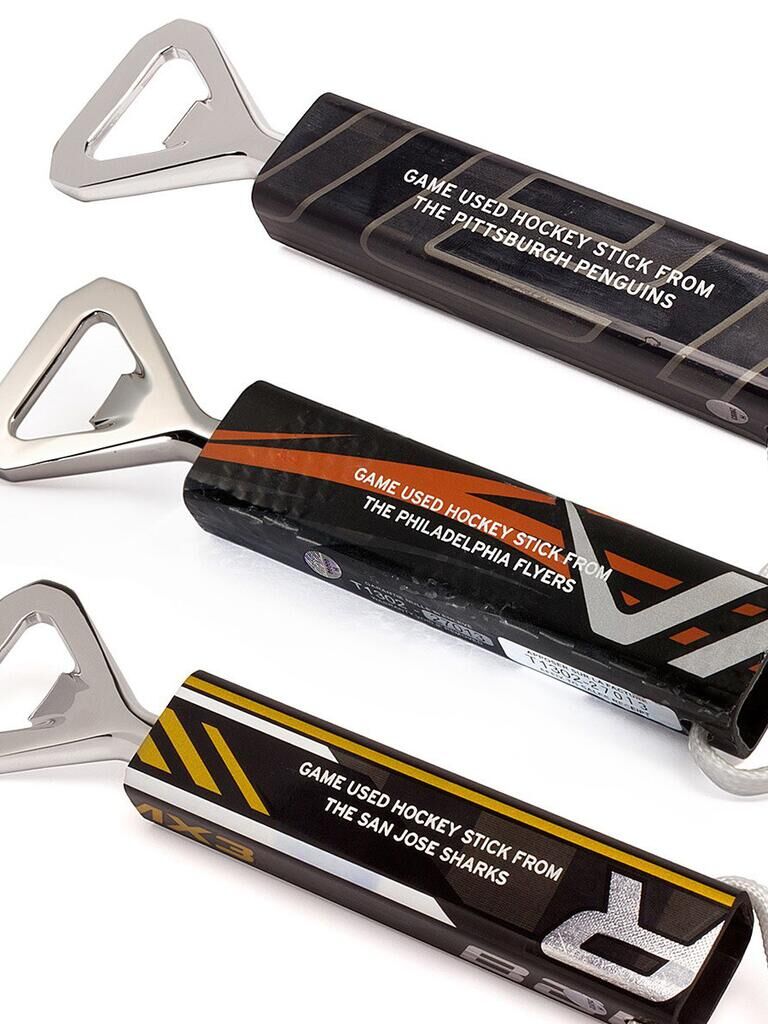 This handy bottle opener has a unique handle: It's made from a game-used NHL hockey stick! He'll light up instantly when he realizes, and whenever he gets to show it off. Simply select his favorite team and you've got a bespoke, authenticated gift. 
Ward Wallau NHL game used hockey stick bottle opener, from $125, UncommonGoods.com
4. A Seriously Cozy Sweater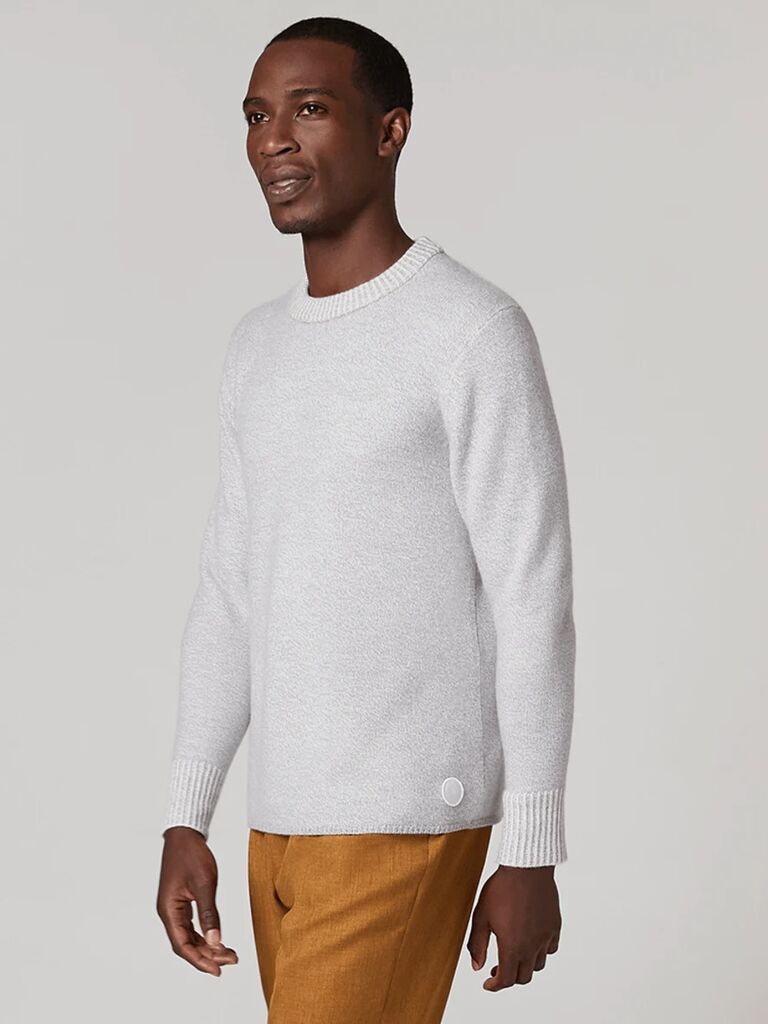 Looking for a good Christmas gift for your son-in-law? Stop your search here. This sweater will keep him warm into spring and well beyond. Even better, it's made sustainably with 100% merino wool. Plus, thanks to its smart structure, this super-comfy knitwear won't lose its shape. Just wait and see, it'll be his go-to for many holidays to come.
Allbirds men's wool jumper, $135, Allbirds.com
5. A Counter-Worthy Coffee Machine
Whether he forgot to register for one or he's in the market for an upgrade, an espresso machine is a great gift for the son-in-law who enjoys a daily cup o' joe. This ultra-slim option is designed to fit neatly in his kitchen. It's also made from 54% recycled materials, delivering a machine that's both stylish and sustainable. 
Nespresso Vertuo Next, from $159, Nespresso.com
6. A Minimalist Wallet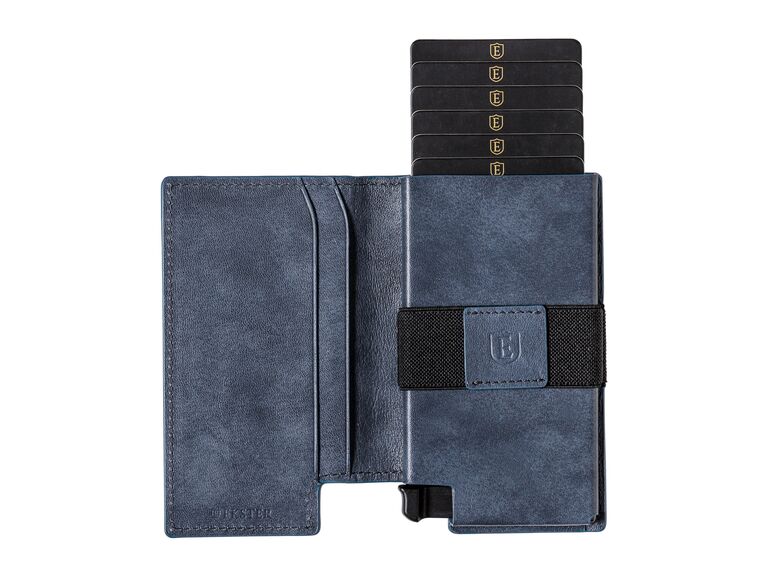 Here's a gift for the son-in-law who values practicality. This premium leather wallet fits all the essentials while still maintaining a low profile. It's slim enough to fit in his pocket, durable enough for daily use and handsome enough for his spouse to approve of. Plus, it features a clever little button that'll instantly fan out his cards for easy access.

Ekster Parliament wallet, $89, Ekster.com
7. A (Secretly) Smart Watch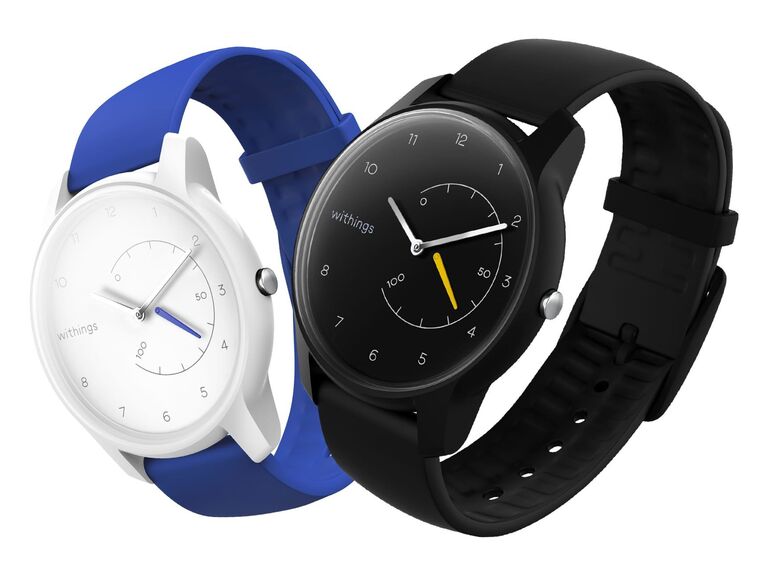 If he's got an understated style but likes to keep active, this minimalist watch is a great gift for him. Behind a simple analogue face, it can track your SIL's activity, route, sleep and more. To top it all off, the battery lasts for up to 18 months, so he won't need to lug around an emergency charger. Add this one to the list of super-cool things to get your son-in-law for Christmas, his birthday or whatever the occasion.

Withings Move activity and sleep watch, $70, Withings.com
8. A Custom Decanter Set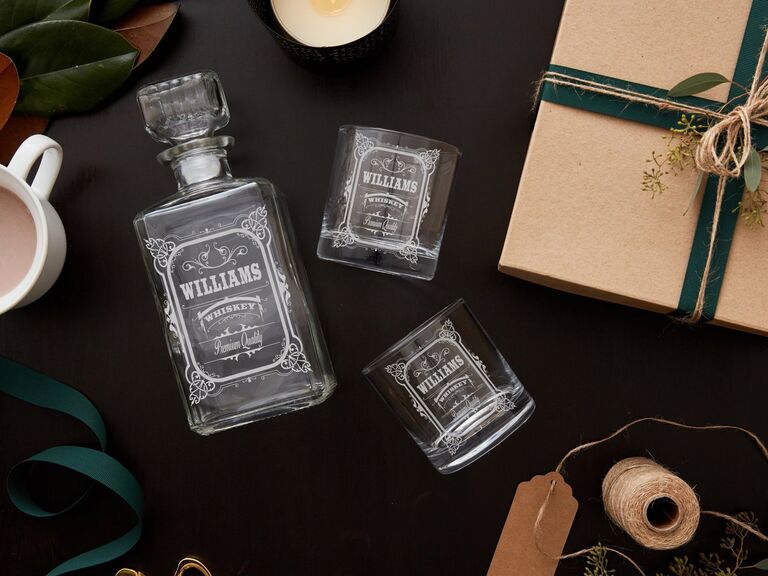 Make him feel special with this thoughtful gift for sons-in-law: a personalized decanter with matching glasses. Pick from a few different label options, all of which you can customize using his name or initials. To really go the extra mile, pair it with a bottle of whiskey you can sip in each other's company for some quality in-law time. It'll make a great wedding gift for the son-in-law you want to welcome to the family.
Flowertown Weddings personalized decanter set with glasses, from $35, Etsy.com
9. A Selection of Gourmet Hot Sauces

This one's for the SIL who spices up every meal—it includes three of Truff's delicious truffle-infused hot sauce blends for him to try. Bonus points for the luxe presentation!
Truff variety pack, $70, Truff.com
10. A Versatile Backpack

Some of the best gifts for sons-in-law are the most practical ones. This stylish backpack is designed to hold all his necessities, whether he's commuting to work or heading out on a hike. There are separate compartments for his laptop, valuables like his phone or sunglasses, and a handy loop for latching his keys to. If that's not enough, it's also designed to feel sturdy and comfortable all day long. A good backpack is something he might never think to splurge on for himself, but it'll come in clutch regularly.
Bellroy Classic Backpack Plus, $115, Bellroy.com
11. Toothpicks That'll Make Him Feel Fancy
What's a good gift for a hard-to-buy-for son-in-law? Something surprising. These aren't just any toothpicks—they're infused with fine scotch. To unleash the flavor, all he has to do is gently bite. Pleased reviewers call it an "unusual but fun gift," "a perfect stocking stuffer" and an excellent default for "when you have no idea what to get for a man." Hey, if he always has a toothpick in his mouth anyway, it might as well be a fancy one.
Uncommon Goods scotch-infused toothpicks gift set, $36, UncommonGoods.com 
12. A Pair of Personalized Cuff Links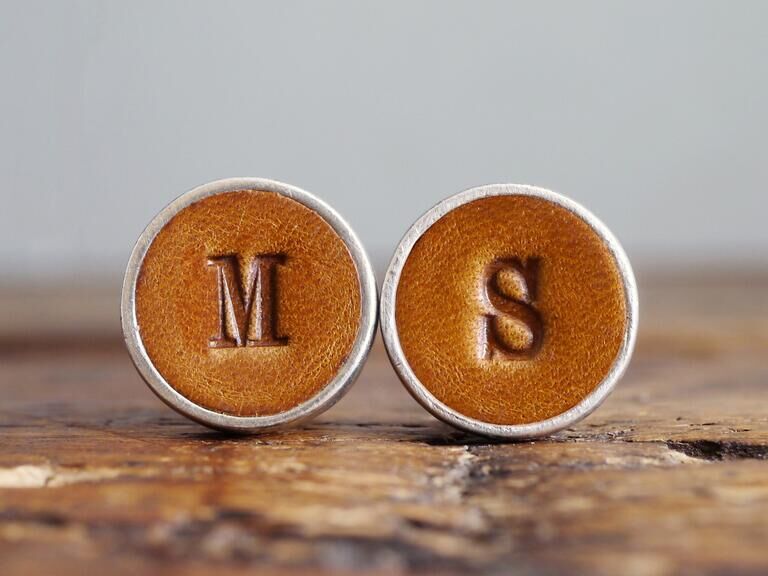 These dapper leather cuff links make for meaningful gifts for your future son-in-law on the wedding day—especially if he chooses to wear them down the aisle. Each one comes stamped with a single letter. Turn it into an extra-sweet gesture and get one with his first initial and the other with his partner's. It'll show him how happy you are with their union.
Kingsley Leather personalized cufflinks for groom, $68, Etsy.com
13. An Indoor Herb Garden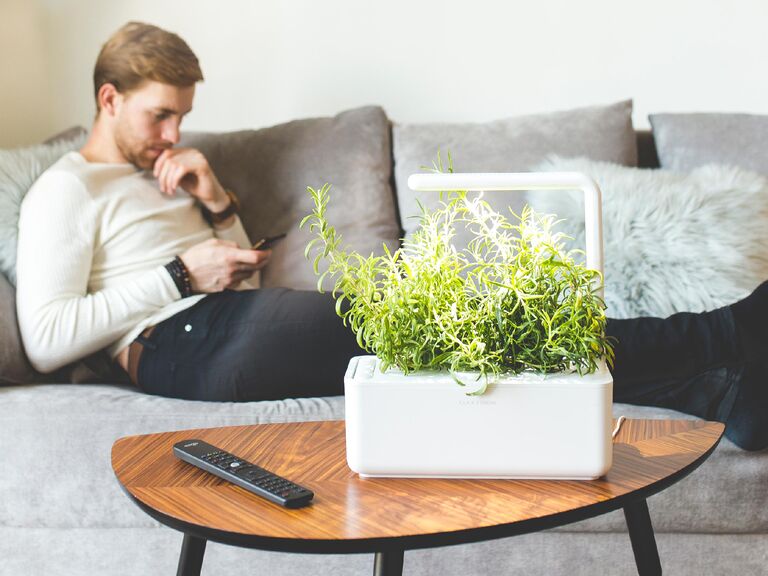 If he loves cooking with fresh ingredients, consider this smart herb garden. The creative gift lets him grow anything—from cilantro to chili peppers—no matter his living situation. The compact device automates plant care, which means he barely has to lift a finger. It'll help him save money on groceries, plus it's just plain fun to watch in action. In fact, we tested it ourselves and it made it into The Knot Registry Awards!
Click and Grow The Smart Garden 3, $100, ClickandGrow.com
14. A Weather-Resistant Jacket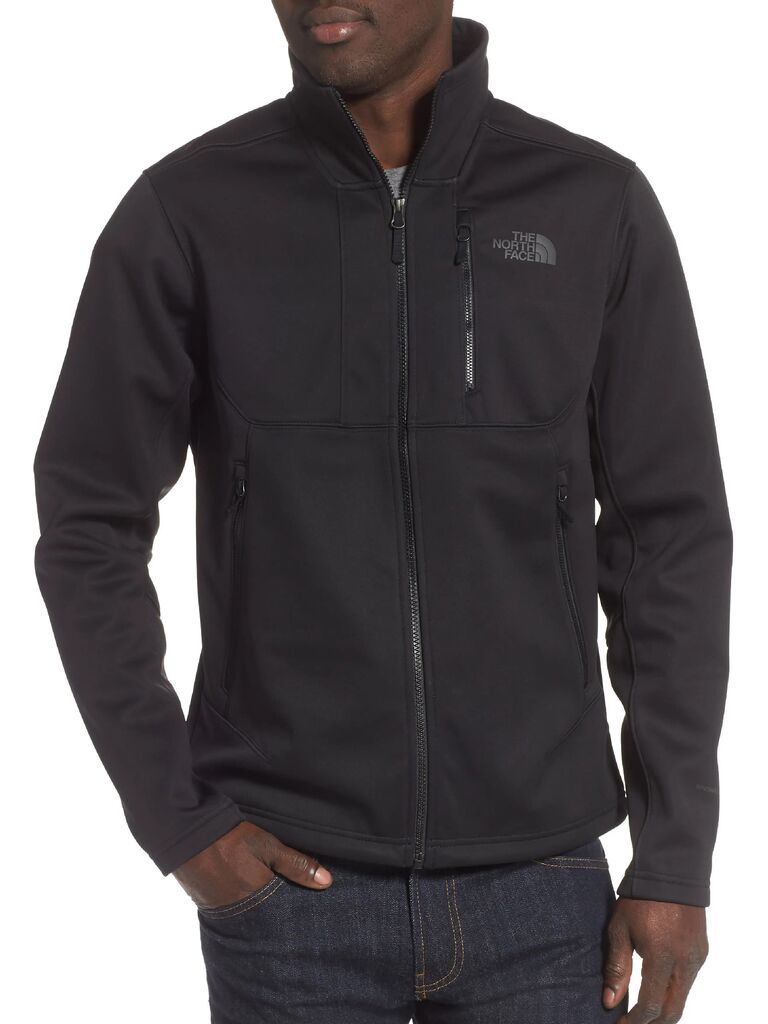 If you're shopping for the outdoorsy type, consider this versatile jacket that's equal parts functional and fashionable. The waterproof exterior will help keep him dry, while a cozy fleece lining locks in the warmth. A jacket this good is a welcome present all year round, from his birthday to Father's Day.
The North Face Apex Risor water repellent jacket, from $149, Nordstrom.com
15. A Custom Desk Calendar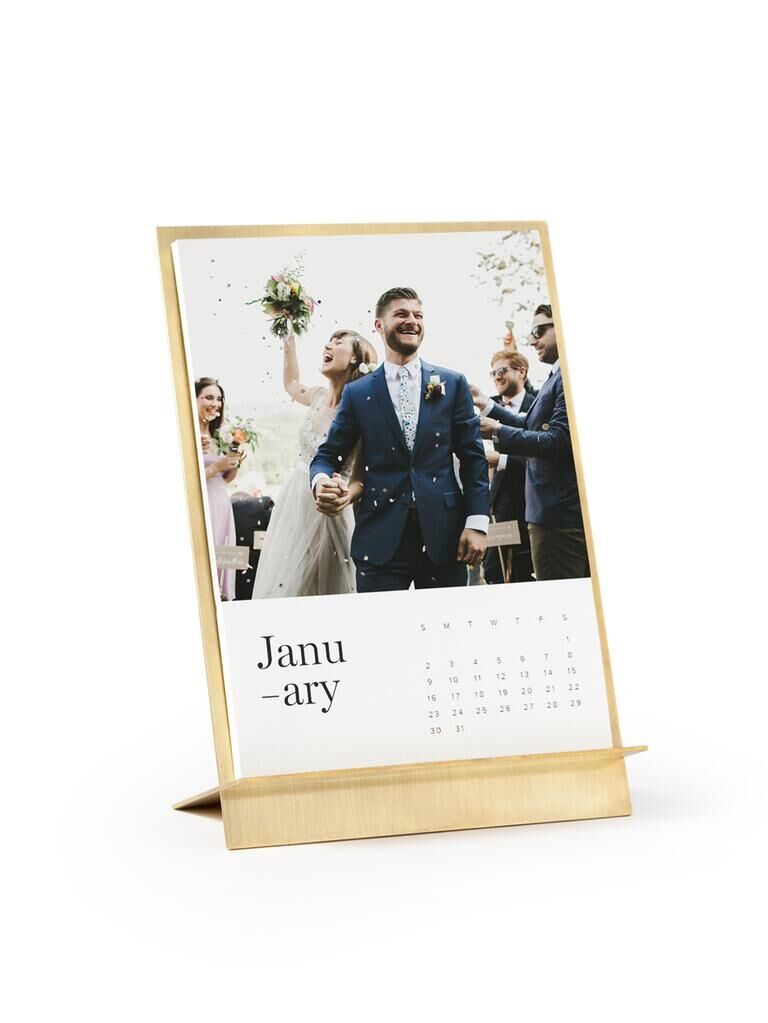 Shopping for a sentimental SIL? Photo gifts are the way forward. Get this personalized desk calendar printed with special pictures of him and his family. We recommend it as a Hanukkah or Christmas gift for your son-in-law. That way, he can use it as soon as the new year arrives. 
Artifact Uprising brass easel & calendar, from $49, ArtifactUprising.com 
16. A Caring Caramel Gift Set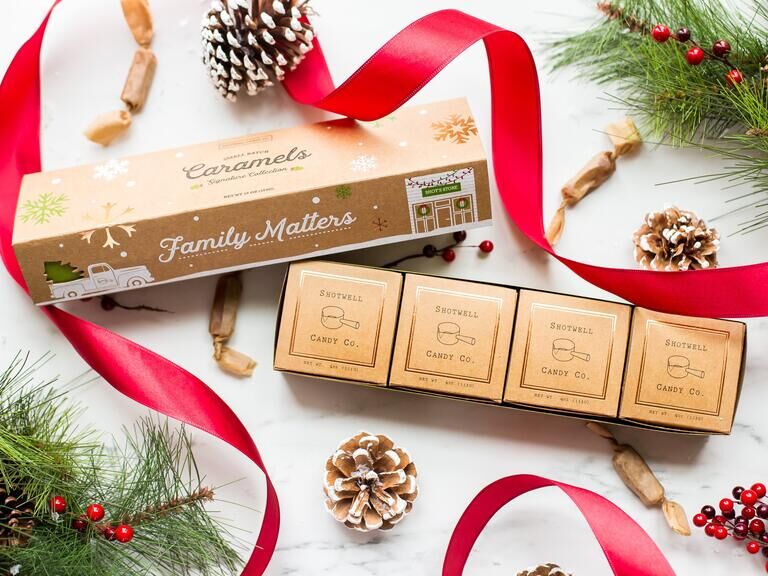 Satisfy his sweet tooth with this customizable caramel gift set. Mix and match flavors that he'll love—you have your pick from Original Salted, Hand-Crushed Espresso, Irish Cream, Smoked Butterscotch and Chocolate Peppermint Crunch. But the thing that really sets these specific candies apart is the way they're packaged. The holiday-themed gift box reads, "family matters," which is a really nice sentiment to share with an in-law. Hence why this is one of our favorite Christmas gifts for sons-in-law.
Shotwell Candy Co. custom holiday caramel gift set, $40, ShotwellCandy.com
17. An Artisanal Pair of Slippers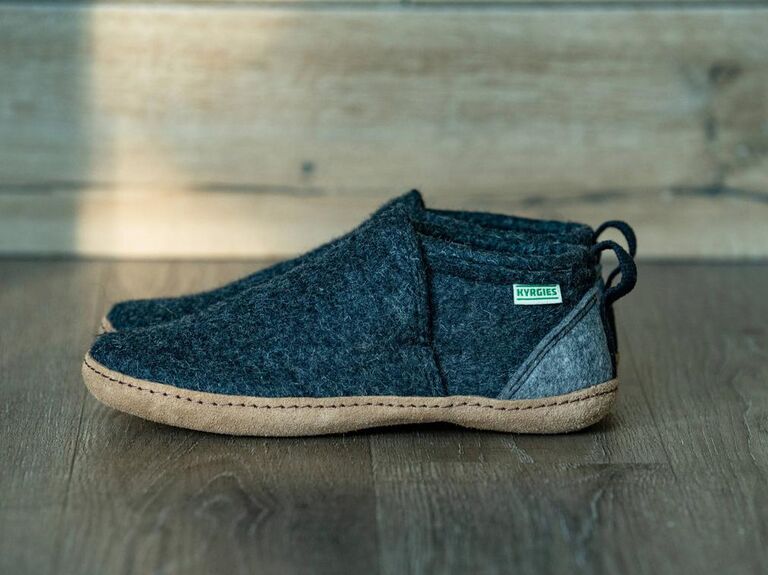 Encourage him to leave his shoes at the door with this pair of oh-so-comfy slippers, which are lovingly handmade from responsibly sourced wool and leather. They're snug enough for lounging around the house while still looking perfectly put-together. (He might even get away with them in the office!)
Kyrgies men's all natural Tengries felt slippers, $79, Etsy.com
18. A Monogrammed Lighter
Having a spare lighter never hurts, and this one looks surprisingly elegant. It's gold-plated and engraved with his initials. We like it as a small but thoughtful gift for your son-in-law on the wedding day.
The Knot Shop custom brushed gold windproof lighter in Traditional Monogram Engraving, $15, TheKnotShop.com
19. Glassware That Honors a Cherished Hobby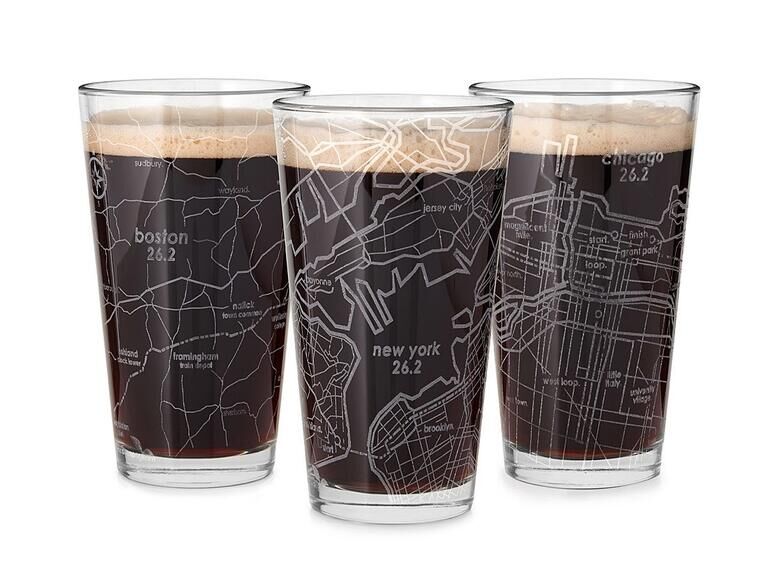 Shopping for a runner? Show him you've been listening—and that you're proud of him—with this special pint glass. It comes etched with a map of his latest marathon route! FYI: Uncommon Goods sells tons of other stuff decorated with all sorts of different meaningful maps.
Brian, Dave, Neil and Colin etched marathon pint glass, $18, UncommonGoods.com
20. Seriously Cool Stadium Art

The Grommet carries a few impressive map gifts too. This seller makes beautiful laser-cut maps of stadiums around the country—national and college teams included. If he has a man cave, this great birthday gift for your son-in-law will make the perfect addition.
Stadium Map Art laser cut stadium state map, from $125, TheGrommet.com
21. A Punny Pop Culture Mug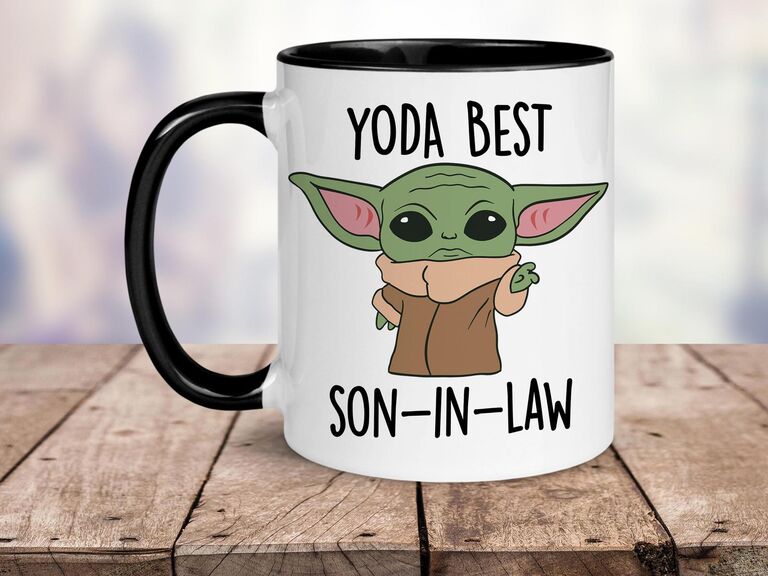 If he's always cracking wise, funny gifts for your son-in-law are fair game. This fun coffee mug is a small token that's suited to any celebration. And if your kid's spouse is obsessed with the latest Star Wars spin-off, they'll love it even more.  
Weekend Riches Yoda Best Son in Law mug, from $14, Etsy.com
22. A Stylish, Personalized Keychain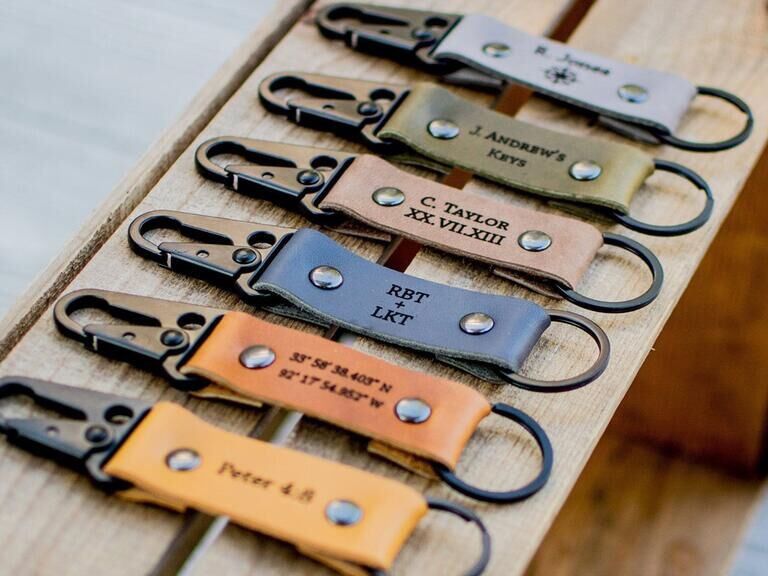 Like we always say when it comes to gift-giving: When in doubt, go with a useful item that's still special in some way. This customizable leather key chain fits the bill, and it's sturdy and attractive to boot. It can even be engraved with a quote, his name or a meaningful date. What about the day he officially became your son-in-law? That may just make him tear up.
Iron + Grain Leather Co. personalized keychain, from $17, Etsy.com
23. A Bespoke Subscription Box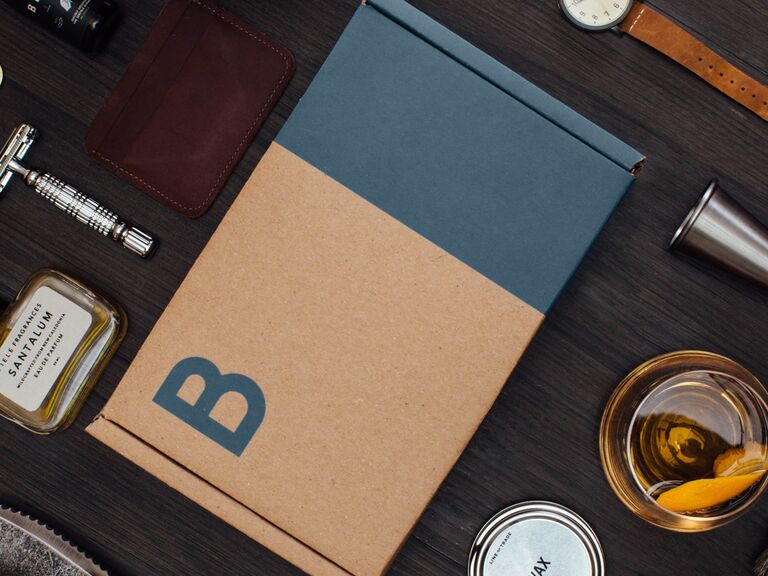 Running out of birthday or Christmas gift ideas for your son-in-law? Show him you know him well with a subscription box tailored to his tastes. Choose the categories he's most interested in, from bar- and cookware to grooming accessories and camping supplies. Every month, he'll receive a box of goodies that reflect his favorite hobbies. 
Bespoke Post subscription membership, $45 per box, BespokePost.com
24. A Gaming Headset (That's Actually Comfy)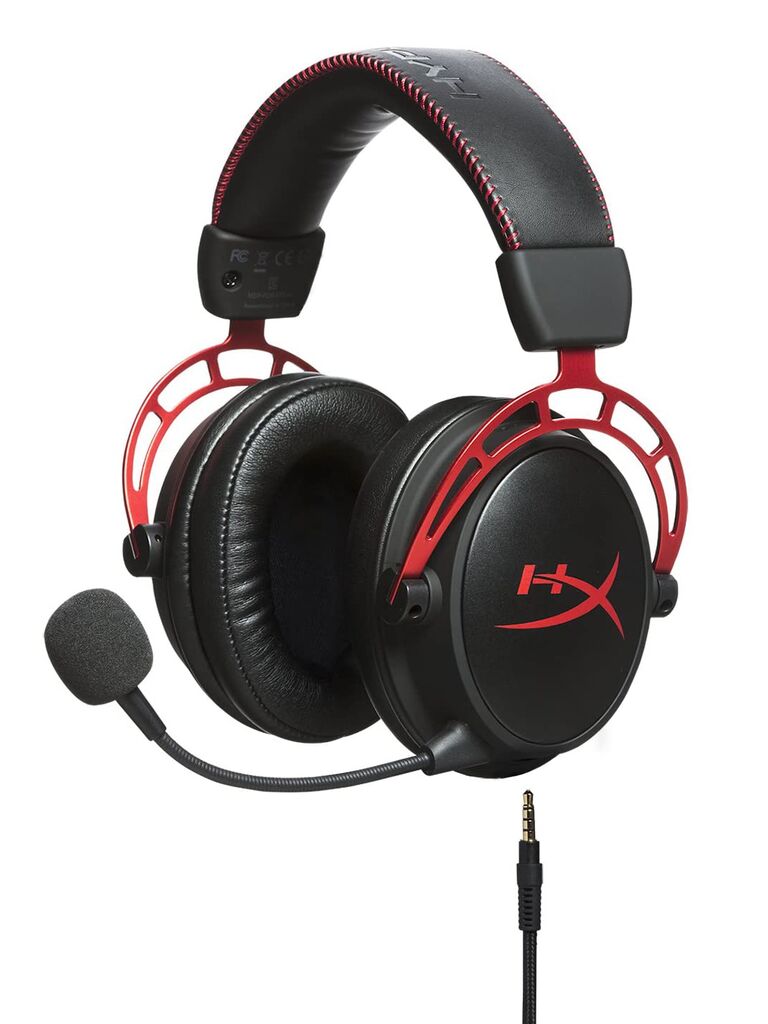 If his idea of chilling out is playing the latest version of Call of Duty, try tech gifts for your son-in-law that'll enhance his gaming experience. This sleek headset has thousands of rave reviews thanks to its excellent quality and ergonomic design. Plus, it works with all sorts of consoles, whether your SIL prefers his PC or PlayStation.

HyperX Cloud Alpha gaming headset, from $100, Amazon.com  
25. A DIY Cocktail Kit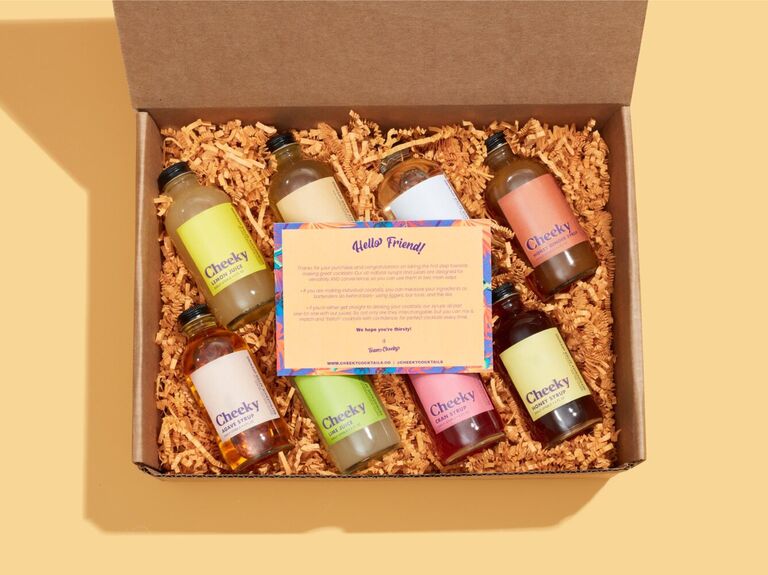 Here's another fitting gift for the son-in-law who has everything. Buy him a set of syrups and juices made for mixing delicious cocktails. This clever combination of flavors can be used to create over 50 different concoctions. Add a bottle of his favorite booze or give it as a solo gift—it's up to you.
Cheeky Cocktails 8 bottle kit, $60, CheekyCocktails.com  
26. A Self-Cleaning Water Bottle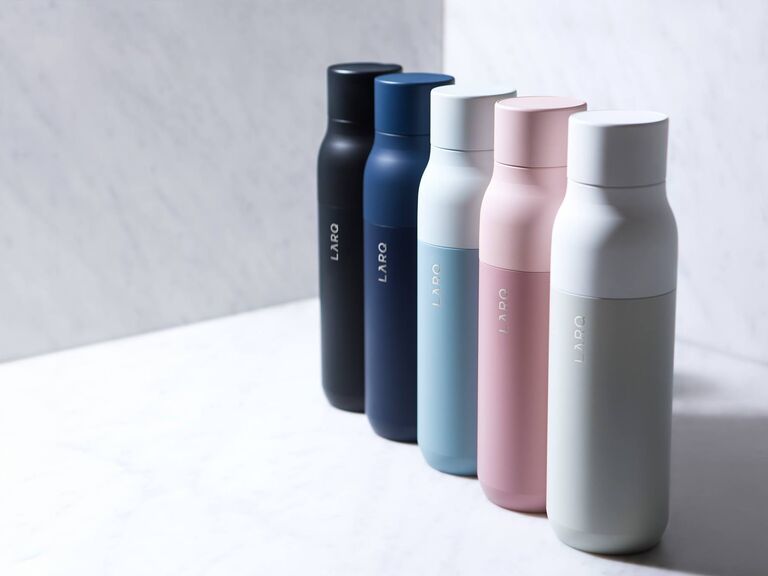 If clever gifts for your son-in-law are what you're after, look no further than this genius reusable water bottle. A built-in UV-C LED light acts as a water purifier and bottle cleaner in one, keeping every sip as fresh as the last. To top it all off, a percentage of all sales goes to 1% for the Planet, a nonprofit dedicated to protecting the environment.
LARQ reusable bottle, from $95, LiveLARQ.com    
27. An Indoor S'mores Set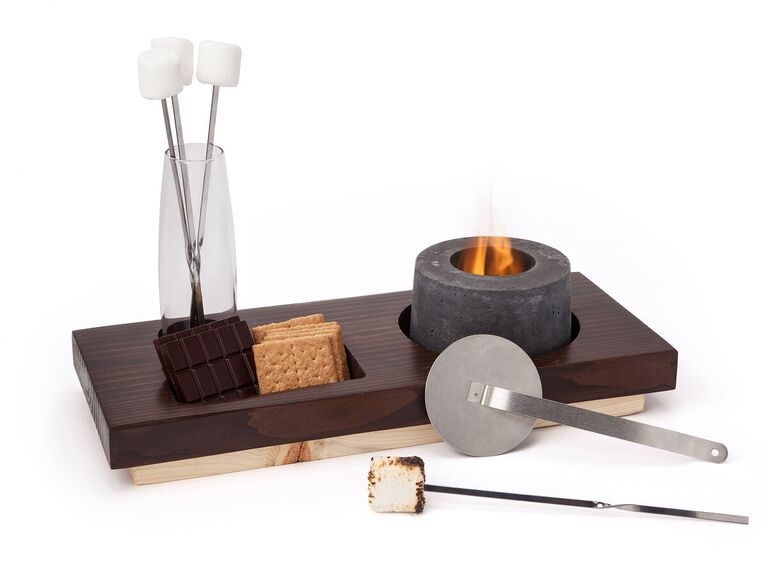 Bring the best part of a night out under the stars to the comfort of his living room. This unique set contains everything he'll need to successfully make s'mores, including a handy glass votive, stainless steel skewers and a cute mini fire pit. Consider a gift for your hard-to-buy-for son-in-law sorted!
Patrick Fitzpatrick indoor s'mores fire pit, $175, UncommonGoods.com
28. A Luxe Leather Dopp Kit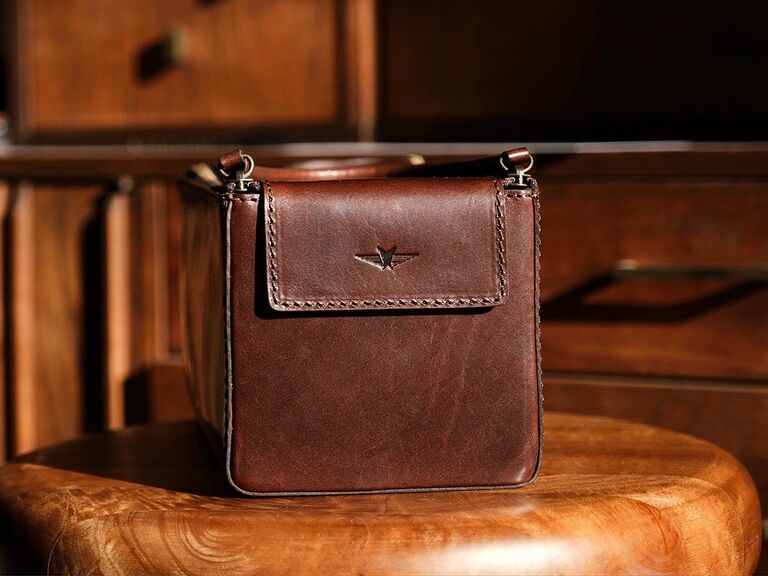 Go all in on holiday gifts for your son-in-law this year with an Italian leather toiletry bag. It's a timeless accessory he'll hold onto forever.
Satchel & Page dopp kit, $145, SatchelandPage.com
29. A Gadget to Keep His Beer Cold

This awesome device has a different setting for keeping drinks hot and cold—ideal for enjoying a relaxing beer at home and coffee in the office. Plus, not only will it control the temperature of his drink, it's also a wireless phone charger. Talk about a good gift for your son-in-law!
Sharper Image heating/cooling beverage base with wireless charging, $100, SharperImage.com  
30. A 2-in-1 Gardening Kit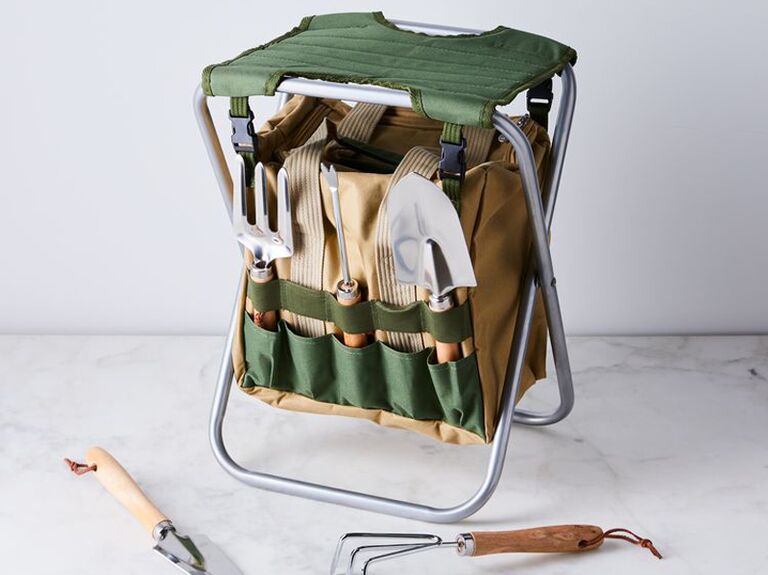 Shopping for the son-in-law with a green thumb? This gardening kit comes with a bunch of useful tools, including a fork, a cultivator, a weeder and two trowels. The best part? The kit itself folds out into a chair so he can work comfortably (or just take a well-deserved rest). There's also a chic tote bag for neatly stacking it away.  

Picnic Time The Essential garden seat & tool kit, $76, Food52.com 
31. A Golf-Inspired Scented Candle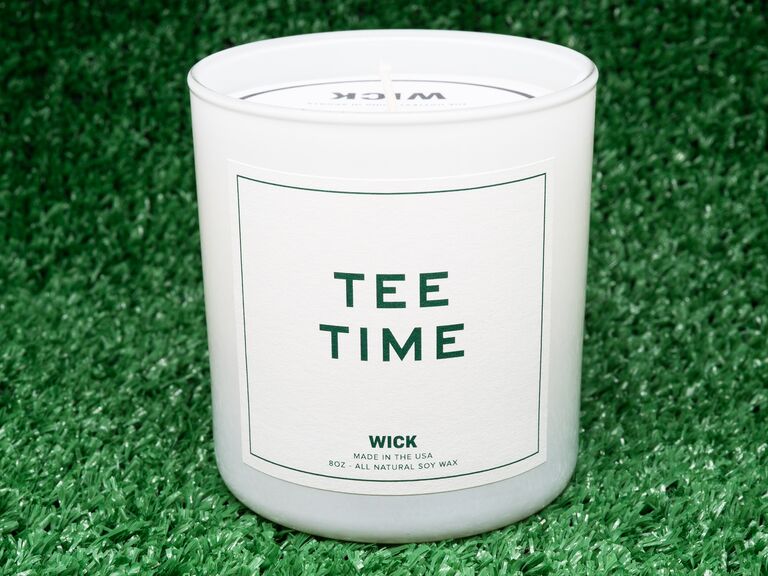 This sweet, scented candle will make a great "welcome to the family gift" for your son-in-law, especially if your family is big into golfing. It's all the more meaningful if you invite him to play a game with you sometime. The candle comes in a choice of two golf-inspired fragrances: Velvet Moss & Citrus or Leather & Suede.
Wick Sports Tee Time scented candle, $30, WickSports.com
32. A Funny Grooming Non-Essential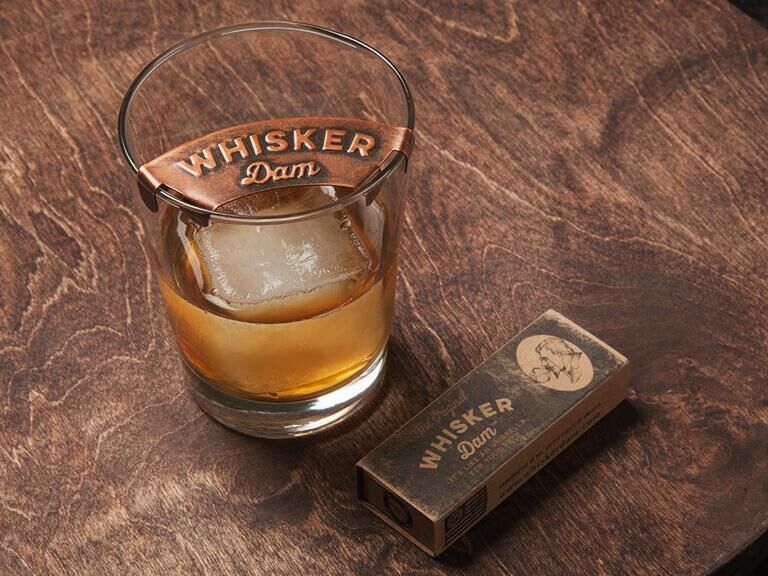 Last but not least, here's one more lighthearted pick. This funny gift for a son-in-law attaches to his cup to protect his mustache from getting wet! If he's particularly proud of his facial hair (and has a good sense of humor), this one will make him crack up.
Whisker Dam handmade copper mustache guard, $20, TheGrommet.com