10 Things to Know Before Introducing Your Parents to Your In-Laws
It's a rite of passage, but that doesn't make it easy. Here's how to handle the first meeting with ease.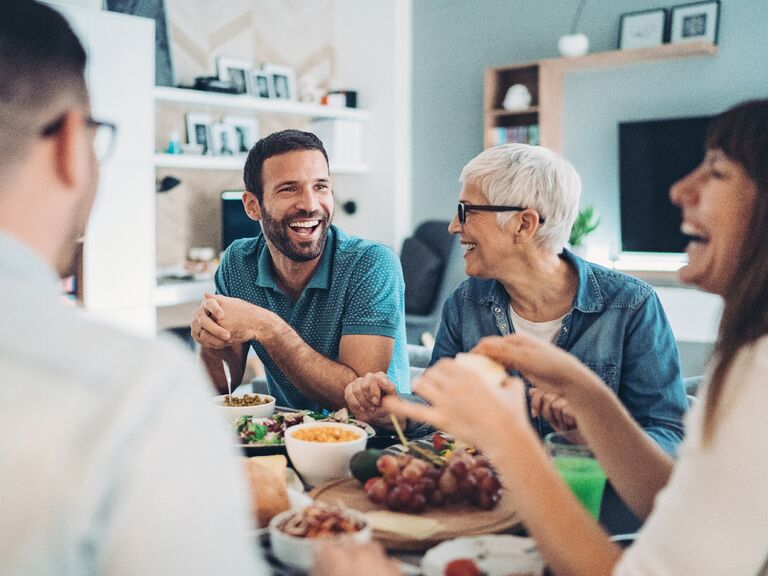 Pixelfit/Getty Images
First comes love, then comes marriage—but before you and your partner swap vows, it's important for your parents to meet your future in-laws. The thought of parents meeting parents for the first time can certainly be overwhelming. After all, your in-laws will soon become your family for life, and you probably want them to have a great relationship with your parents. Just like you might have had the jitters when you met your in-laws for the first time, similar feelings may arise when it's time for your parents to do the same. Not to worry, though, because we've created the ultimate guide for parents meeting parents etiquette. Here, we explain everything you need to know to make sure the meeting of the in-laws goes as smoothly and pleasantly as possible.
Introduce them before the wedding.
Whether your parents live in different states, different countries, or twenty minutes down the road from each other, we recommend making an effort for everyone to meet prior to the wedding. You'll have so many things on your mind when the big day arrives, and the last thing you want to worry about is facilitating your parents meeting for the first time. There are no rules that indicate when everyone should meet, so, if you're thinking, "Should the parents meet before an engagement?" or, "Should the parents meet before the wedding?" the answer really depends on your personal preference.
Perhaps you have a feeling your moms will really hit it off—if so, introduce them as soon as possible. If you aren't sure the best way to orchestrate the parents meeting parents for the first time, consider assigning them last-minute wedding duties to tackle together (such as packaging favors or stuffing invitations). If that's just not possible, try to make sure that everyone can convene a few days before the wedding to get acquainted.
Make the meeting fun—and on neutral ground.
If your parents live in the same town, meet for coffee, brunch or dinner at your house. For those planning to meet a few days before the wedding due to distance, take them out to a nice restaurant or a local hotspot. The best way to encourage fun conversation is for everyone to meet during an interactive meal, or an activity like a sports event as this will supply everyone with plenty of conversation starters. When it comes to proper parents meeting parents etiquette, try to avoid having it at one of your parent's homes, that way no one feels awkward about the meeting.
Extend an invitation.
Your parents meeting for the first time is a big deal, and we recommend treating the event accordingly. Reach out to your respective loved ones well in advance to find a day and time that works. Once your plans are solidified, extend an invitation with all the details they need to know. Doing so will make the occasion feel extra special.
Handle divorce with empathy.
Navigating divorce can be tricky, especially when parents are meeting for the first time. In a perfect world, all of your parents (and step-parents) could meet at once. If that's not possible, don't stress. Instead, set up as many dates as possible to ensure everyone meets the future in-laws in a timely manner.
Set guidelines in advance.
Every family likely has topics or experiences they tend to steer clear of talking about. Whether it's politics, news, a past divorce, or anything else that's off-limits, share all the do-not-go-there subjects with your parents and partner alike.
In addition, remember all parents—and couples—have their eccentricities. If you foresee clashing quirks, have a word with anyone you think might be sensitive just to be safe.
Have conversation topics at the ready.
You might not need a stockpile of conversation starters at the ready when meeting the parents for the first time, but it never hurts to come prepared. To bridge awkward silences, stockpile interesting conversational topics for emergency saves. What do they have in common? What's in the news? Read up on some current events (but beware of topics that might be too controversial) and make a mental list of your parents' hobbies, recent trips or community activities. (Pro tip: Think of things to reveal about their personalities and not their paychecks, so you don't alienate your partner's parents if they happen to come from lesser means.)
Know your cultures.
If you're marrying someone from another culture, religion or race, ask your partner if there are any beliefs or protocols you and your parents should know about or heed before they meet. This will alleviate awkward moments or confusion for both sets of parents.
Determine who's paying ahead of time.
There are plenty of activities you can organize when your parents meet your partner's parents for the first time. If your chosen excursion involves a check at the end, you and your S.O. should determine who's paying ahead of time. (After all, the last thing you want is a moment of awkward silence when the bill is placed on the table.) Instead of expecting either set of parents to get the bill, it's recommended for you and your partner to cover it, particularly because you organized the event and extended the invitation. If covering the bill isn't feasible, we recommend doing something that doesn't require payment, such as a picnic at a local park, dinner at your house, or anything else you and your S.O. enjoy doing.
Consider a virtual meeting.
Perhaps meeting the parents for the first time isn't possible to do in person. Whether you're separated by distance or another factor, a virtual meeting is a good alternative to something in person. Thanks to FaceTime, Zoom and Skype, you can easily organize a digital hangout for your parents to meet virtually. Follow the same steps as above, and be sure to have a list of talking points to avoid long pauses or silence.
Have fun!
Forget all the horror stories you may have heard about parents meeting parents for the first time. This is an exciting opportunity to introduce your parents to your soul mate, so you should treat it as such. Go into the experience with a good attitude and a positive outlook, because your energy will carry over to your parents and your fiance's parents. Be yourself, have fun, and maintain the perspective that this can be the first of many great memories shared in your growing family.