How to Choose the Perfect Lingerie for Your Bridal Boudoir Session
We've got expert advice and boudoir outfit picks to get you started.
We have included third party products to help you navigate and enjoy life's biggest moments. Purchases made through links on this page may earn us a commission.
There's a reason why many wedding photographers also offer bridal boudoir photo sessions as part of their services. A boudoir photo shoot is an empowering experience that allows you to get to know your wedding photographer before your big day—plus, you'll have a reason to shop for bridal boudoir outfits and cute lingerie. Even better? Your finished boudoir album will make for an amazing wedding gift to surprise your partner on the wedding day.
To get the most out of your bridal boudoir photo shoot, it's important to choose lingerie that makes you feel comfortable, sexy and indisputably you. Shopping for your bridal boudoir lingerie can be an especially fun part of the wedding planning process, but with so many options to choose from, you might be wondering where to start.
We consulted with seasoned boudoir photographers for their expert opinions on how to shop for lingerie prior to your boudoir session. Below, we're sharing their advice, along with some of our favorite bridal boudoir outfit ideas you can buy right now.
In this article:
How to Choose Your Bridal Boudoir Outfit
From finding the right lingerie fit to unique bridal boudoir outfit ideas, here's everything you need to know about shopping for your prewedding boudoir lingerie.
Choose lingerie that you feel good in.
When it comes to choosing lingerie for your bridal boudoir session, the cardinal rule is to go with pieces that you feel good in. "If you are into feminine and dainty styles, for example, now would not be the time to go for a bold dominatrix patent leather outfit," says Eroula Dimitriou, boudoir photographer and owner of Eroula Dimitriou Photography in northern New Jersey. "You want to feel like yourself and be true to your style because that's when you will feel most comfortable and end up looking the most beautiful."
According to boudoir photographers, the types of lingerie that photograph best are ones that you love the most. "If you are comfortable and adore the pieces you chose, it definitely will reflect through in the images," says Stacey Salerno, owner of Stacey Salerno Boudoir in Hampton Roads, Virginia.
And if you're feeling nervous about posing in a bridal boudoir outfit, remember that your photographer is there to help you relax and guide you. "At the end of your session, you'll wonder why you waited so long and will already be thinking about what pieces to buy for your next session," says Salerno.
Get a fitting, if necessary.
If you're not sure what kind of lingerie best suits you, visit a brick-and-mortar lingerie boutique that offers fittings and in-person styling advice. "I can't begin to tell you how much more confident someone will feel coming into a shoot if they have invested in lingerie that they know fits," says Trevor Sherwin of Provocateur Images Boudoir in Toronto, Canada.
Visiting a lingerie boutique also gives you the opportunity to try on different looks—something that Salerno emphasizes when helping her clients prepare for their bridal boudoir photography session. "I also suggest they choose at least one piece that is out of their 'norm' so that they can see themselves in something they may never have tried otherwise," she says. "Often, these end up being their favorite sets of images."
Pick styles that create an hourglass shape.
When shopping for your bridal boudoir outfits, Sherwin suggests looking for pieces that create an hourglass silhouette. "If it has angles starting from the bust that angle inward over the tummy and back out to the hips, it will create an illusion of that hourglass. This can also be achieved with a 'V' shape too," he says.
If you're looking for flattering lingerie that photographs well, you can't go wrong with a sexy bodysuit, especially one with a high-cut leg, which will give the appearance of curves. "Low-waisted underwear is a thing of the past," says Julia Loglisci, boudoir photographer and owner of Julia Loglisci Photography in Victoria, British Columbia. "I always tell my clients, no matter their body shape, to high rise that thong! Show off that sexy crease between your thighs, it shows off your curves."
Choose underwire styles—but only if you want more support.
Whether you're shopping for a sexy bodysuit or bustier and matching thong, you'll want to make sure that your lingerie provides your desired breast support. While boudoir photographers agree that bras with an underwire provide more support and tend to photograph well (they can give your curves an added boost), it all depends on what makes you feel sexiest and comfortable. For some people, this may be a corset or bodysuit with built-in underwire support. For others, it could be a dainty cotton bralette and panty set. There's no wrong answer.
Look for lingerie with interesting details.
When choosing lingerie for a bridal boudoir photo shoot, look for pieces that have a lot of strappy details, embellishments or accents that you wouldn't find on everyday underwear. "The more details make the photograph richer and more visually exciting," says Dimitriou. "Think lace accents, buttons, zippers, garters, thigh highs, strappy accents, embroidery, etc."
When in doubt, Sherwin says you can't go wrong with a classic bridal boudoir outfit, like a three-piece set consisting of panties, a bra and a garter with stockings. The best part: After your boudoir session, you can re-wear the lingerie on your wedding night, during your honeymoon or another special occasion.
Add a personal touch.
To make your boudoir photographs feel truly special and one-of-a-kind, Loglisci suggests wearing something personal. "Maybe your partner gave you some special jewelry, or they have a favorite dress shirt or tie," she says. "When your partner goes to look at the photos after, it will be fun to see their reaction when they say, 'Hey, isn't that my favorite dress shirt?'"
And if you're worried about feeling nervous, wearing something that evokes a special memory of your partner will help you relax during your boudoir photo shoot. Having a little piece of your S.O. there with you during the shoot will be comforting, and it will help keep you in a strong mindset.
Shop for multiple looks.
Depending on the type of package you book, your bridal boudoir photo shoot will typically involve multiple looks or outfit changes. This is a great opportunity to experiment with a range of bridal boudoir outfits that speak to both you and your partner's personal tastes. "I would often recommend one classic white bridal look, one a little on the naughty side in black or red (or a favorite color), and one that caters to a fantasy, like a sexy schoolgirl, a favorite character or even a favorite sports team theme," says Candy Keane, a former boudoir stylist and editor in chief at GeekMamas.
Before your boudoir session, try all of your looks on at home and organize them in advance. When the day arrives, you'll know exactly how your lingerie fits (and how to handle any tricky straps), which will be essential when it's time to relax in front of the camera.
Don't forget about the shoes.
When we think of boudoir outfits, what initially comes to mind is lingerie. However, the right footwear can help complete the look, giving your bridal boudoir photographs a beautiful, polished feel. As Dimitriou says, "Don't forget a great pair of sexy heels with a clean bottom, as the bottoms show. Red bottoms are always amazing, but if [that's] not in budget, try a black-bottomed shoe. Just make sure they aren't all scratched up."
If you don't normally wear heels, putting them on for your boudoir session is a fun way to surprise your partner (without much walking actually required on your part). But heels aren't your only option—bridal slippers and flats are equally cute.
Invest in a bridal robe or cover-up.
It's human nature to feel self-conscious in front of the camera, especially when you're wearing lingerie. That's where a robe or other cover-up comes in handy. A lace bridal robe (or even one of your partner's dress shirts) provides some coverage until you get comfortable in front of the camera. If you're looking for boudoir photography ideas and poses, slowly removing your robe throughout the shoot creates a lovely transition between bridal boudoir looks. Using a wedding veil as a prop during your boudoir session (for example, delicately draped across your back) is another great way to show some skin while still remaining somewhat covered up.
Our Favorite Bridal Boudoir Lingerie
Ready to start shopping for your bridal boudoir outfit? From bodysuits and corsets to garter belts and panty sets, we've rounded up some of our favorite lingerie ideas that you can shop online.
Adore Me Anouchka Unlined Bodysuit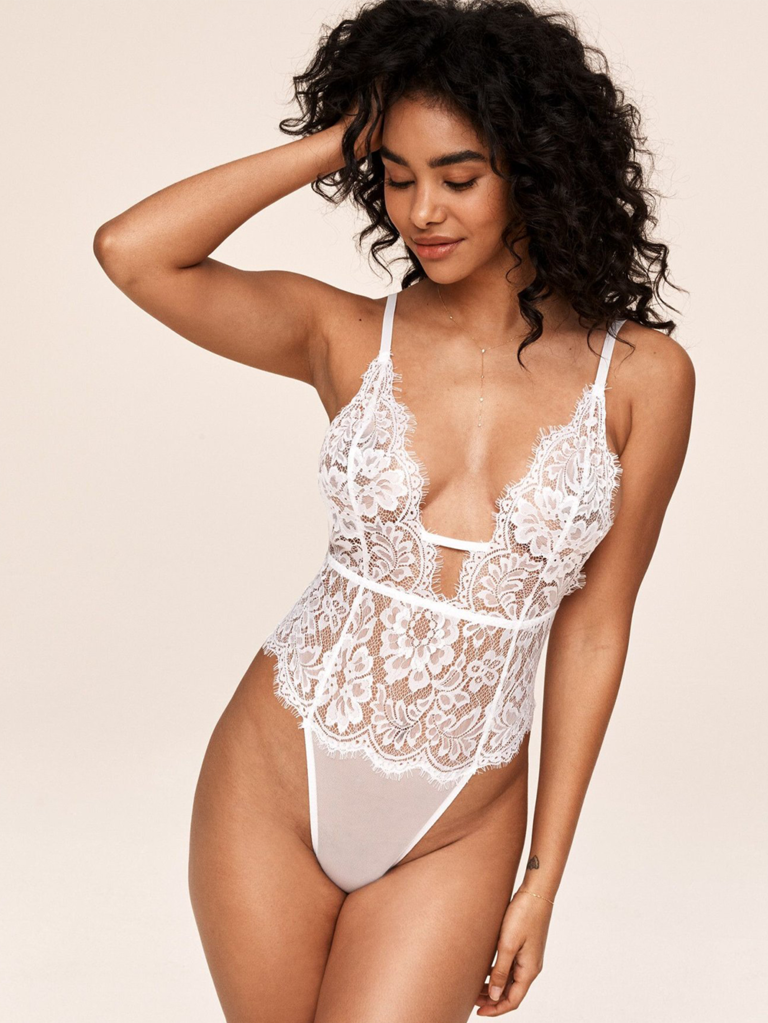 White lingerie is a boudoir session staple. Made of beautifully detailed eyelash lace, this white bodysuit features an alluring plunging V-neckline with white piping around the waist to create an hourglass silhouette. A sultry low back and G-string complete this sweet, sexy look.
Elegant Moments Sheer Lace Babydoll and Chemise Set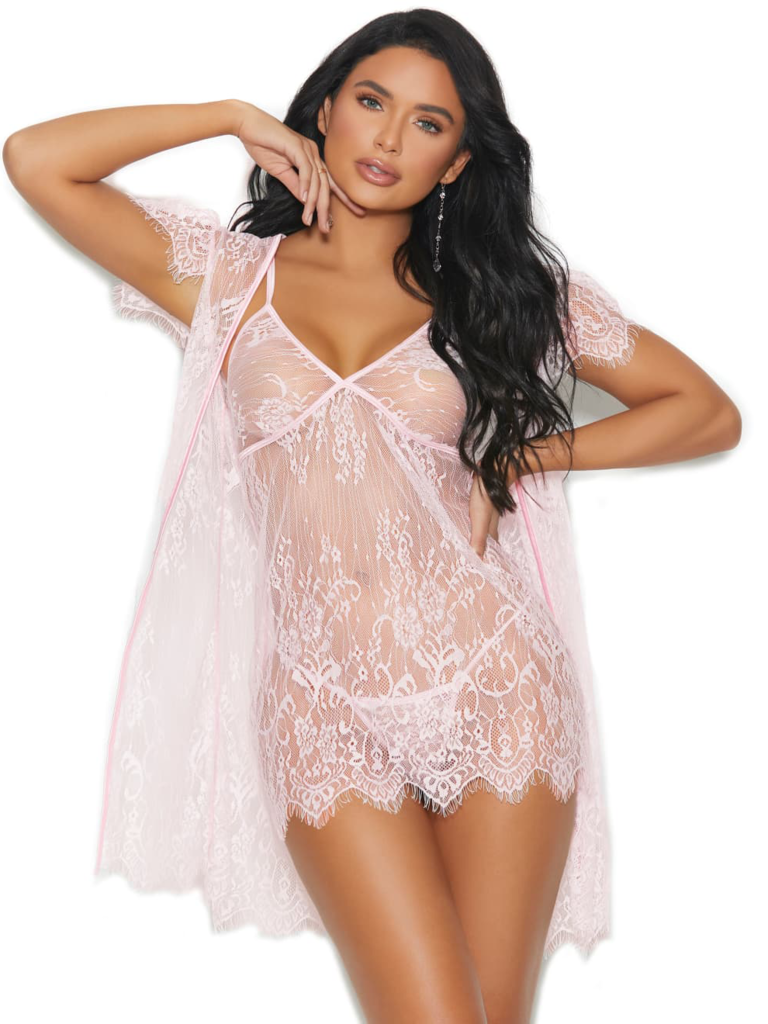 This sheer lace lingerie set features two popular bridal boudoir outfits in one: a flirty chemise and a lace bridal robe. The unlined stretch lace is equal parts comfy and revealing, while the robe gives you something to play with as you become comfortable in front of the camera.
Oh La La Cheri Jeana Plus Size Lingerie Skirt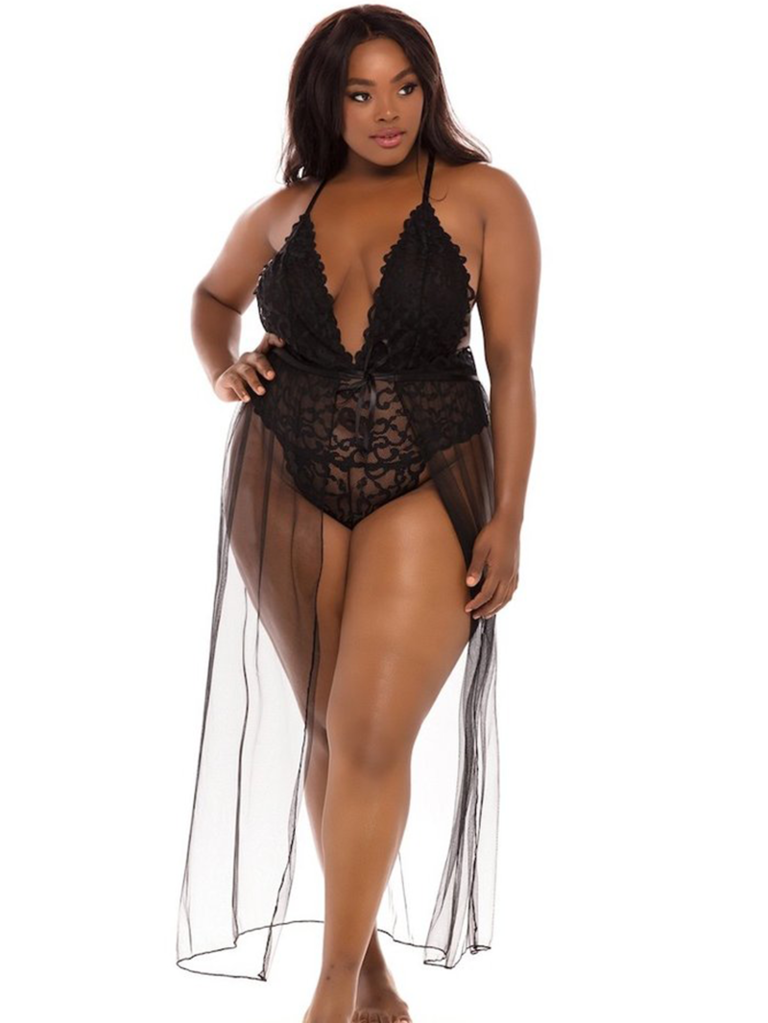 On the hunt for lingerie that will add a romantic feel to your bridal boudoir shoot? Made of sheer chiffon, this adjustable skirt is dreamy and alluring. Paired with a sultry bodysuit or bra and panty set, this flowy skirt gives the appearance of floating on air as you move, which translates to gorgeous boudoir photographs.
Savage x Fenty Embroidered Lace Corset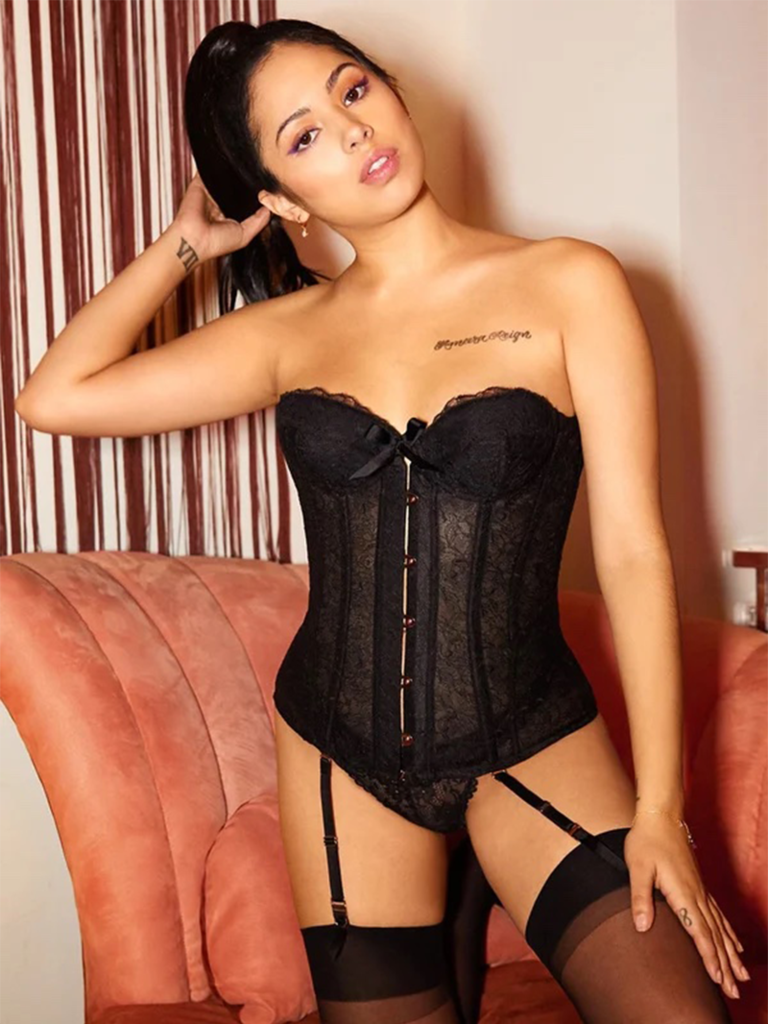 When it comes to accentuating your curves, you can't go wrong with a classic black corset. Available in inclusive sizing from XS to 3X, this universally flattering piece features vertical boning that draws attention to the waist with an underwire bust for added support. Pair with a black garter and panty set for a classic yet unforgettable bridal boudoir outfit.
KAFEMME Lumina Lace Gown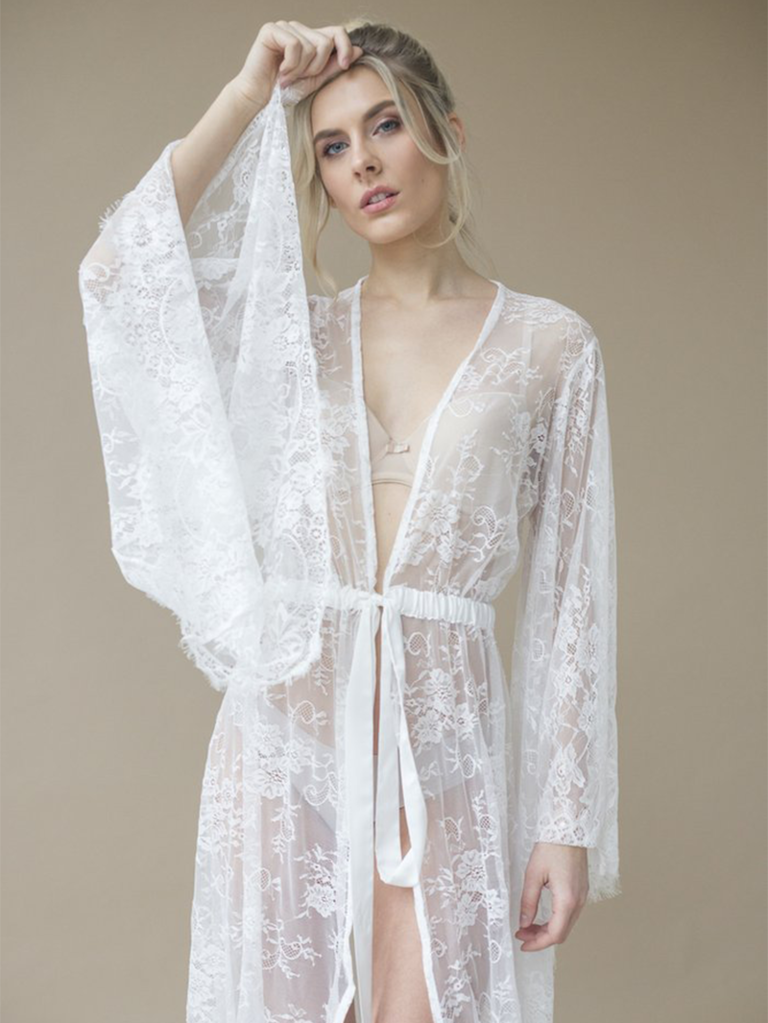 Made of gorgeous French lace that elegantly drapes the body, this pretty white robe is perfect for a boudoir session. The statement sleeves and train create drama while the tie-front gives you a custom fit. Pair the robe with matching white lingerie or wear it alone for an extra-daring look.
My Sew Lovely Studio Lace Boudoir Robe with Slip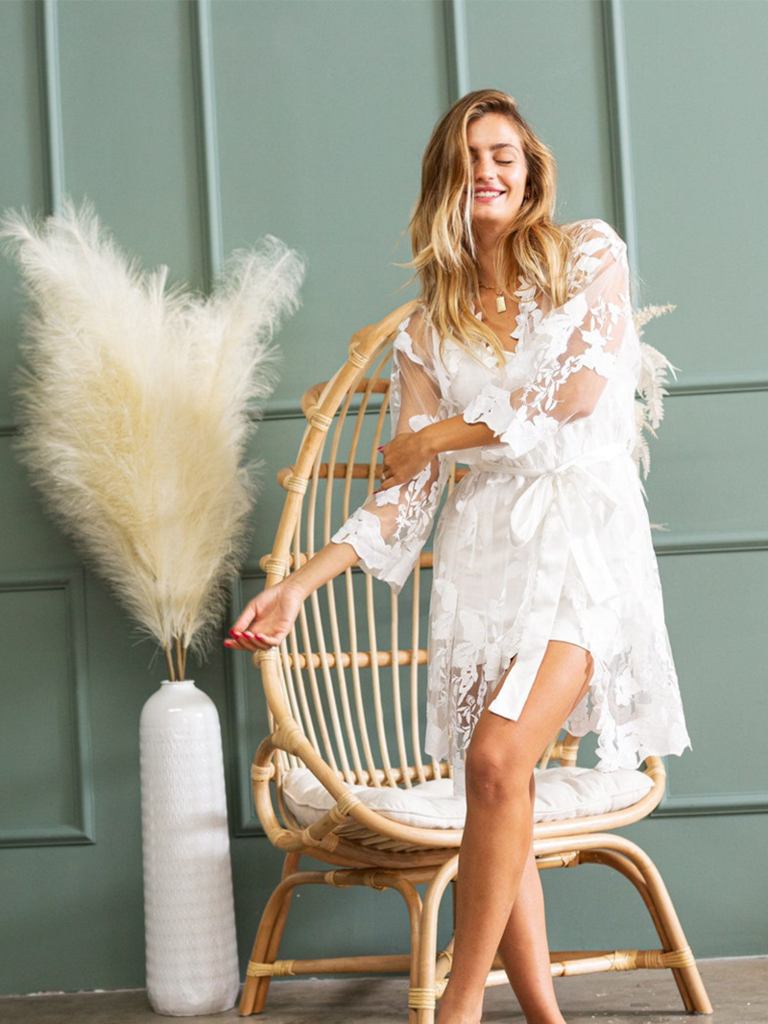 With its sheer floral fabric and flounce sleeves, this lace bridal robe will look amazing in front of the camera. The robe includes a matching white slip, which you can swap out for panties (or nothing at all) if you want to show more skin.
Adore Me Veronique Bustier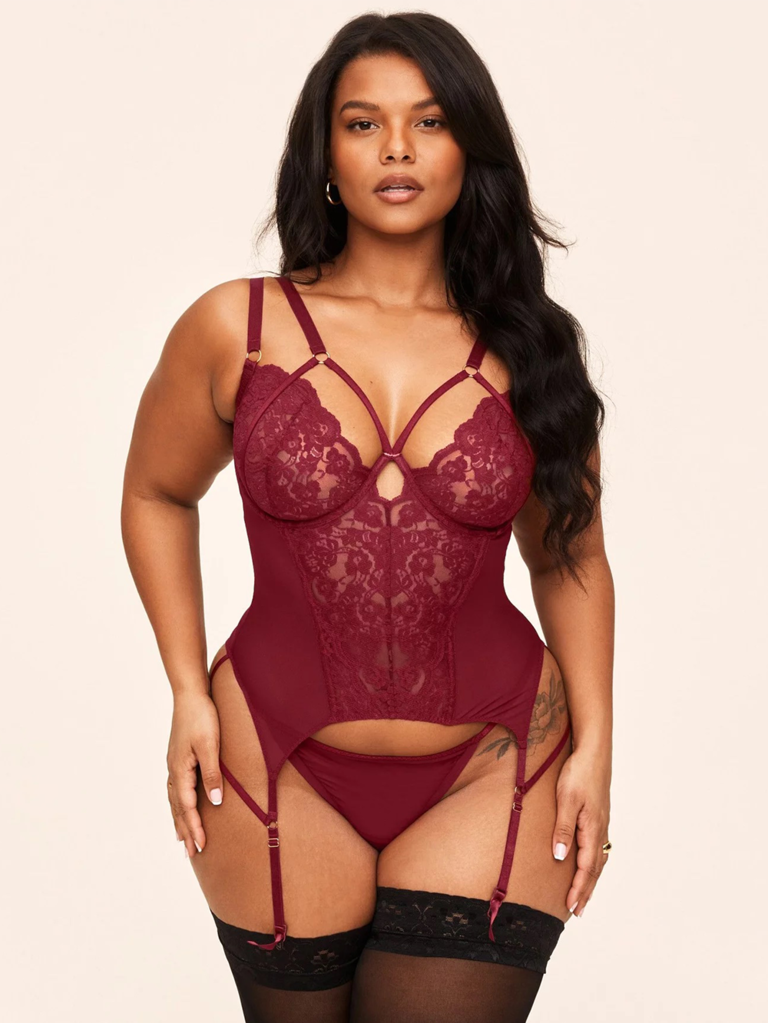 You'll feel like a retro pin-up girl in this gorgeous wine-colored bustier set, which has supportive underwire cups and a lace panel in the front to accentuate your waist. The double-strap harness detail on the neckline and the attached garter belt create a sexy caging effect.
Savage x Fenty A Peek Behind the Lace Maxi Slip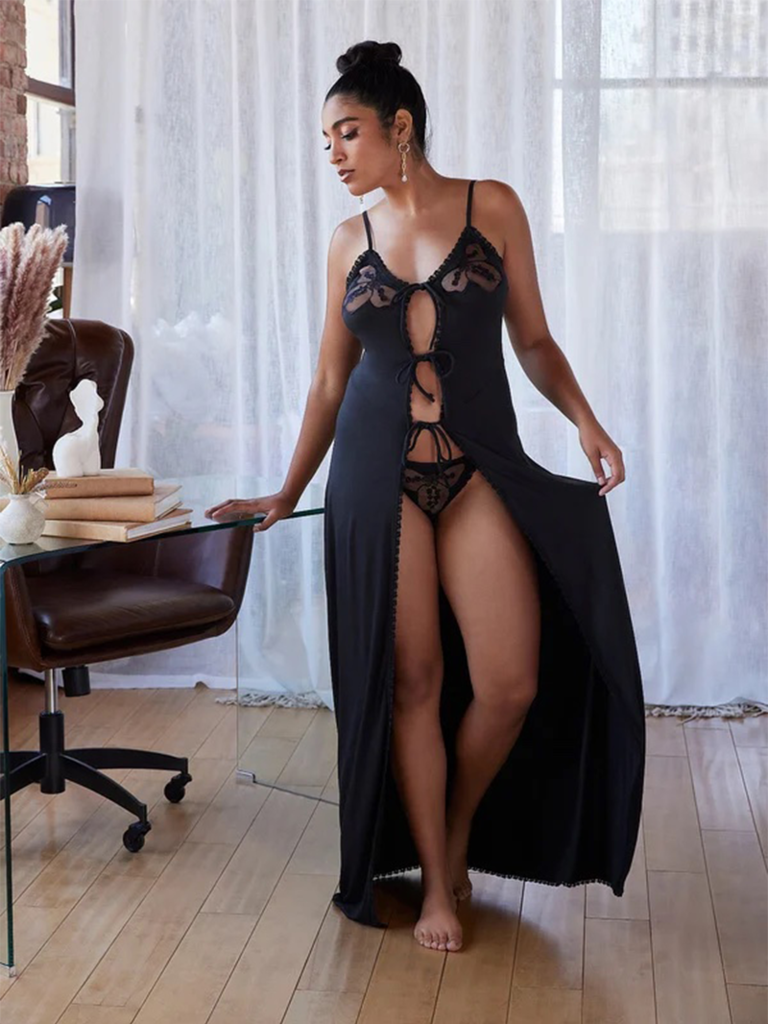 Dramatic and romantic, this flowy maxi slip is the perfect layering piece for your boudoir photo shoot. The floral lace cutouts create visual interest while the open tie-front reveals your figure.
Collette and Sebastian Bridal Lingerie Set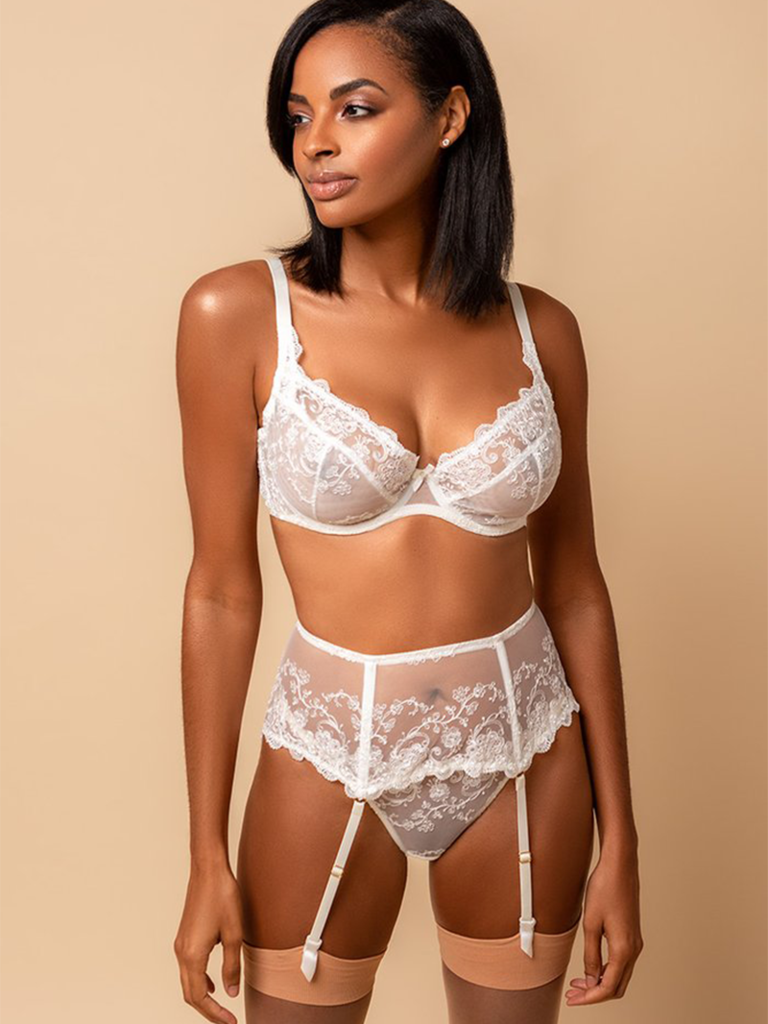 This classic bridal boudoir outfit is a stunning option for anyone with a larger bust. Made from beautiful Italian embroidered lace, the underwire bra offers coverage and support while the high-waisted garter belt helps create a flattering hourglass shape. Thigh high stockings and a lace thong panty complete the look.
Lovehoney Plus Size Jewel Satin White Chemise Set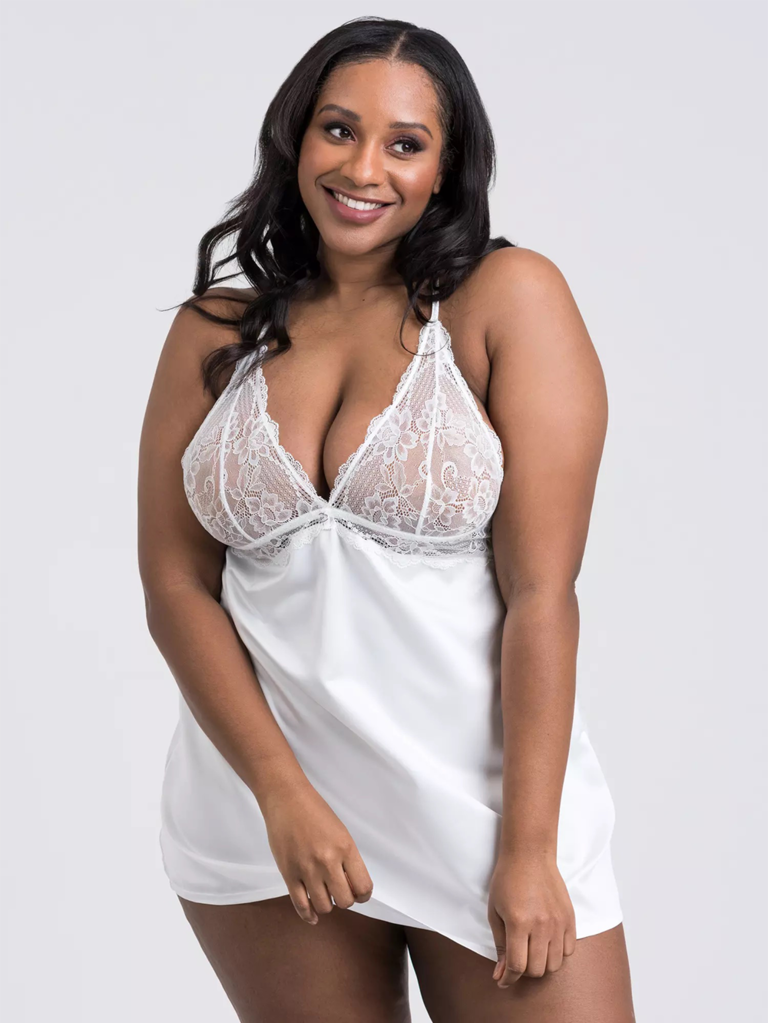 Sweet yet sexy, this white satin chemise set is perfect for your boudoir session. It's comfortable enough to sleep in (hello, wedding night and honeymoon), and it's available in sizes up to 6X. The sheer lace draws attention to the bust while the body-skimming stretch satin skirt creates a flirty effect with coverage on the bottom.
Adore Me Clarisse Body Suit with Garters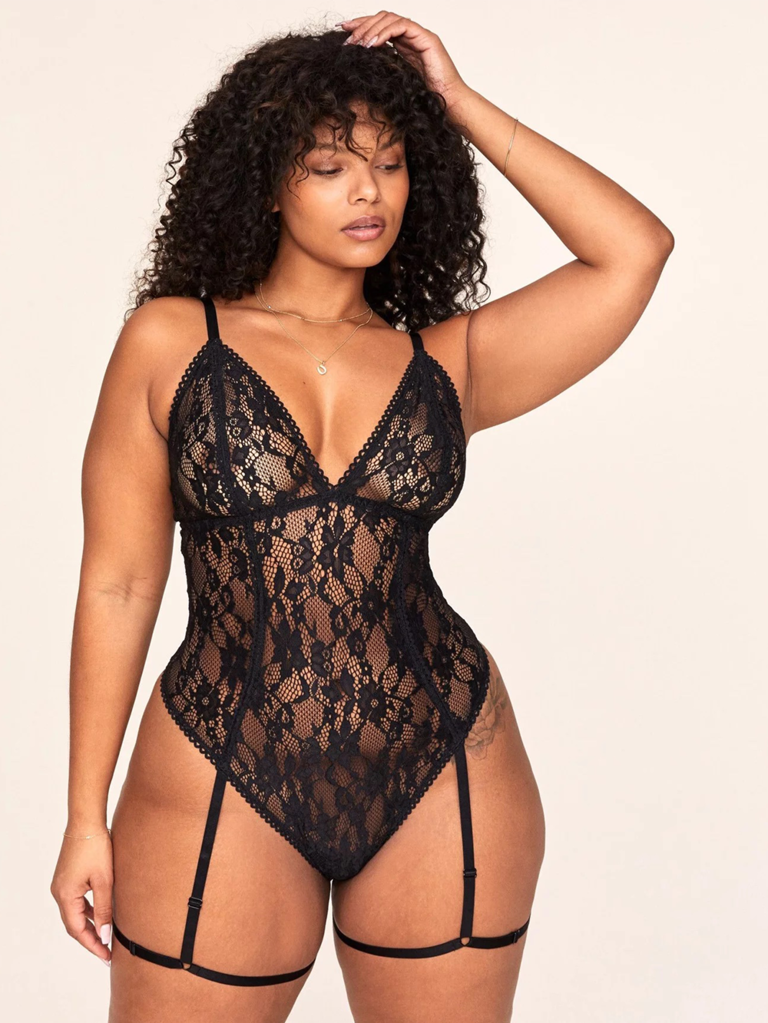 This black lace bodysuit delivers comfort and sex appeal in droves. Made of ultra-soft stretch lace, the vertical piping creates a beautiful hourglass silhouette that flows seamlessly into eye-catching adjustable garters. A corset back finishes the set.
Colette and Sebastian Juliette Black Lace Lingerie Set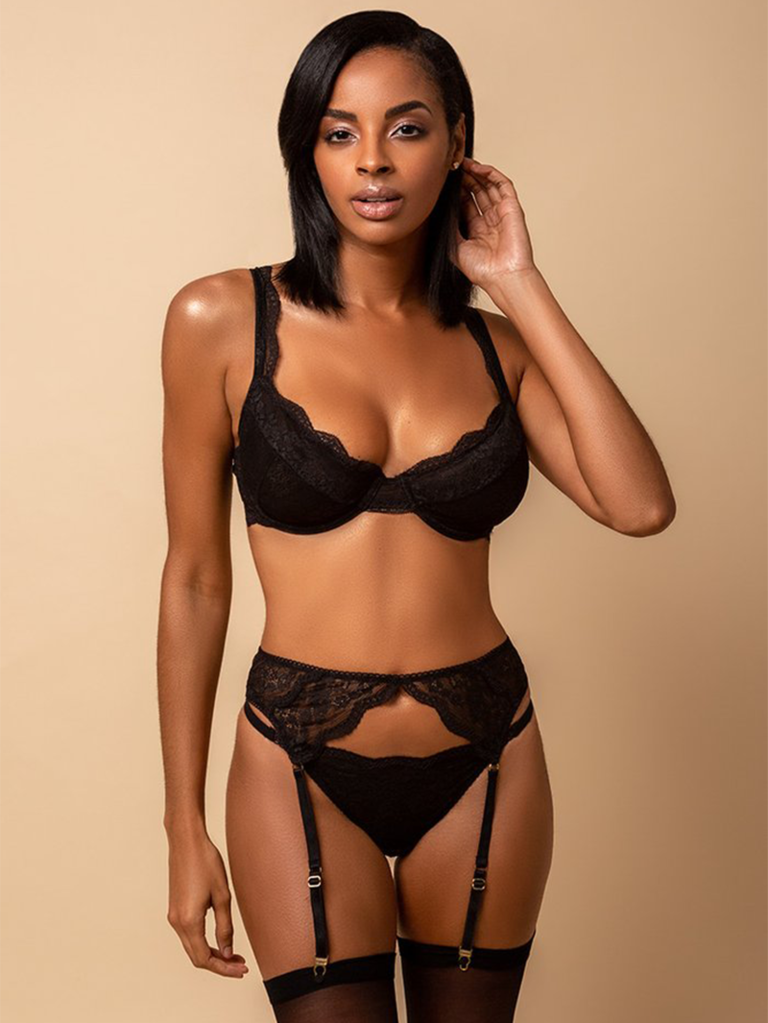 When in doubt, you can't go wrong with a simple lingerie set that includes a matching bra, panties and garter belt. The underwire bra offers flattering support while the scalloped edges of the tanga panties and garter belt create sexy points of interest.
Lovehoney Sheer Black Lace Top Thigh High Stockings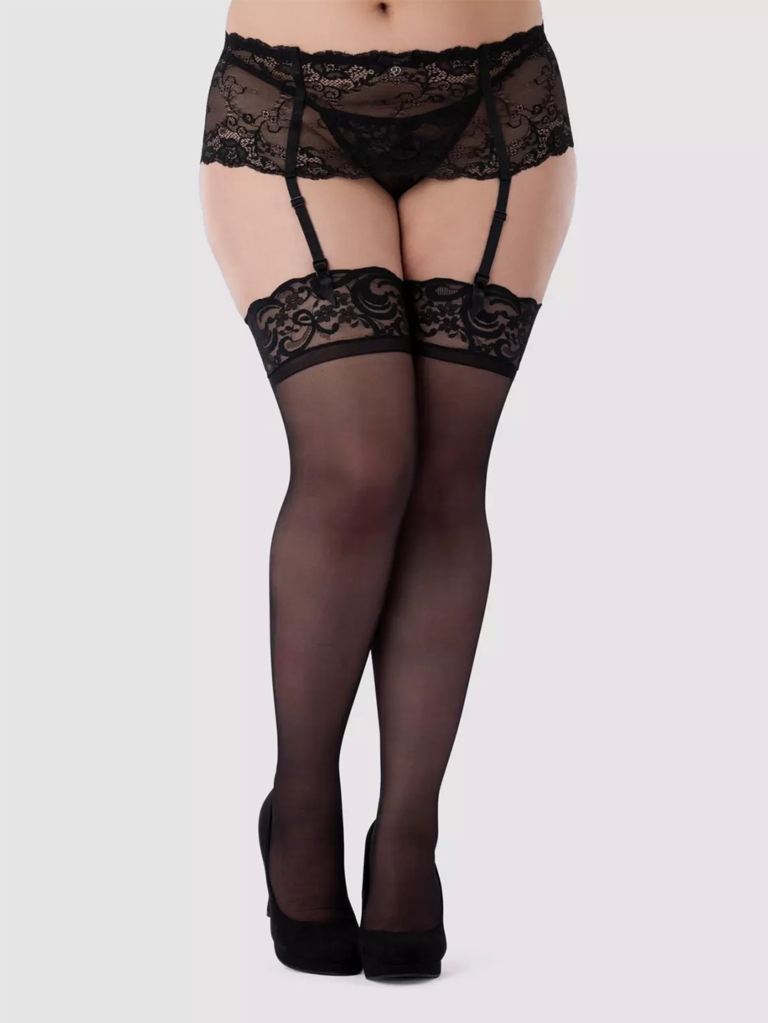 No bridal boudoir shoot is complete without a pair of thigh high stockings. Available in a variety of hues, a thick band of lace creates comfort and highlights your legs beautifully. Pair these stockings with a coordinating garter belt for maximum effect.