The Complete Cancun Bachelorette Party Guide and Itinerary
This sunny, coastal town in Mexico is a partygoer's paradise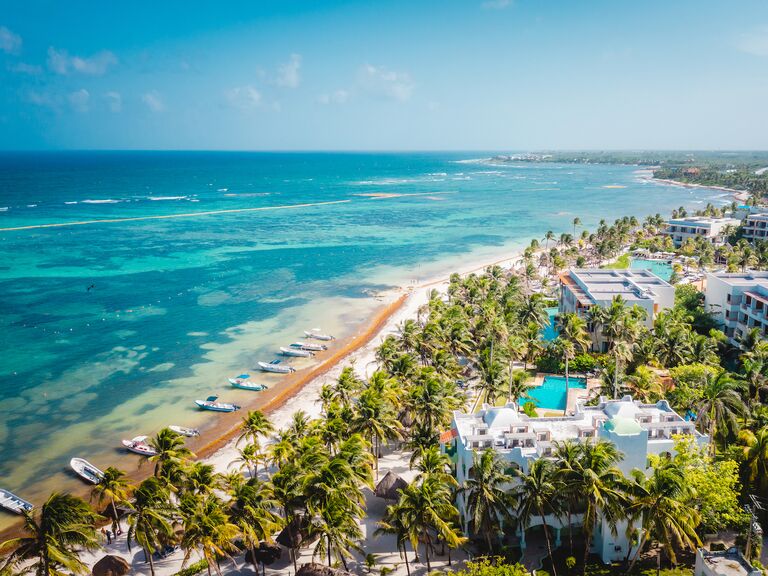 Photo: Алексей Облов / Getty

We have included third party products to help you navigate and enjoy life's biggest moments. Purchases made through links on this page may earn us a commission.
Endless stretches of white sandy shores, sunsets beyond compare, a whole district dedicated to partying—do we need to continue counting the reasons why a Cancun bachelorette party is always a good idea? This resort town has earned its reputation as a top bachelorette party destination for a reason. But whether it's your first or fourth time in Riviera Maya, we have everything you need to plan a dreamy getaway on the sun-drenched shores of the Mexican Caribbean.
Cancun Party Planning in This Article:
Cancun Bachelorette Party Ideas and Themes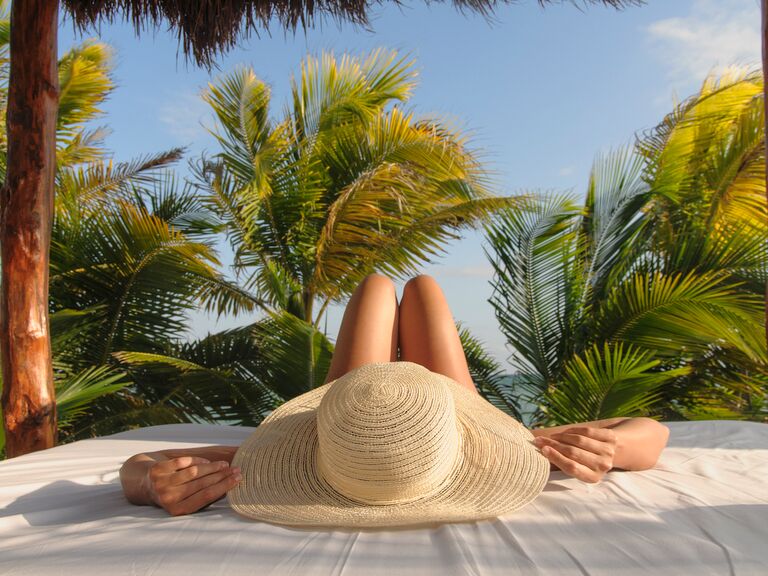 From exploring ancient Mayan ruins to taco tours and bar hopping by the beach, your group will find plenty of things to do in Cancun. Here are a few ideas to get you started.
For the Water Enthusiasts
Cancun has a good number of beaches for travelers to choose from, whether you prefer the hotel-free shores of Parque Nacional Isla Contoy, a wildlife sanctuary where you'll spot manta rays swimming through crystal-clear waters, or Playa Forum, which sits in the heart of the Hotel Zone's nightlife scene. Scuba or snorkel in the sea or in one of the nearby cenotes, sinkhole pools that are considered sacred by the ancient Mayans.
For the Sightseers
Some of Riviera Maya's most impressive archaeological sites are a day trip away from Cancun, but the largest, El Rey, sits right in the Hotel Zone. For those who have more time to explore, visit Tulum, Cobá or Chichen Itza, considered one of the New Seven Wonders of the World.
For the Foodies and Tequila Lovers
Arrange for a tequila tasting before dinner at a spot like La Joya, where mariachis will serenade your table and you can sample authentic Mexican staples like tortilla soup (plus churros, of course). Don't leave without visiting one of the markets, like Manos Mágicas, for traditional food and handmade souvenirs like woven bags.
Cancun Bachelorette Party Itinerary and Activities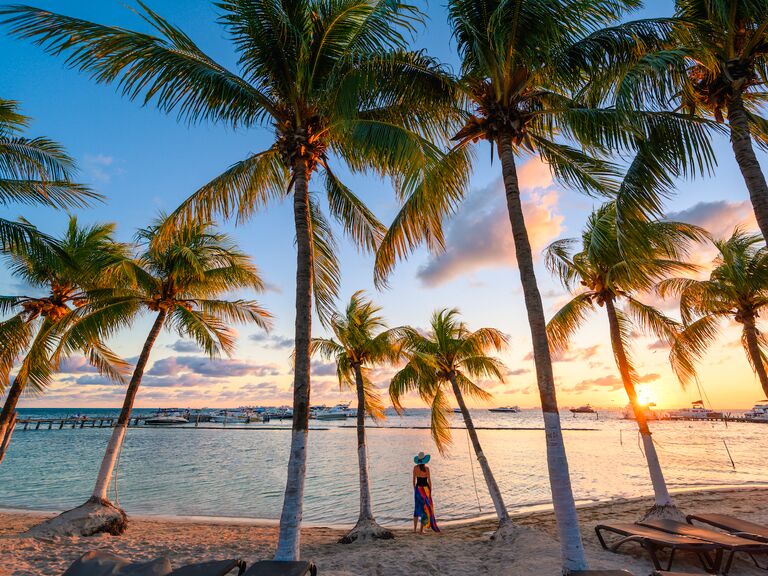 With our three-day itinerary, you'll have plenty of options for Cancun bachelorette party activities that are great for groups looking for a relaxing beach day, sightseeing in the jungle, or swimming in ancient cenotes.
Day 1
Start the weekend on the water with a snorkel trip or a glass-bottom boat tour in the turquoise lagoon, where you'll spot tons of marine life like starfish, turtles and manta rays before reaching the Caribbean Sea and cruising to a colorful reef. Head back to your hotel and continue lounging at the swim-up bar of your all-inclusive or in the privacy of your villa's infinity pool.
Tonight's dinner is at the gorgeous, Mediterranean-inspired Taboo Restaurant, where you'll dine on artisanal bread baked in a stone oven and wood-fired octopus tacos topped with hummus and tzatziki. The cocktails aren't to be missed here, so go for mezcal-infused The Alchemist or the Fire Chalice with vodka, Ancho Reyes chile liqueur and pineapple. Continue the evening at one of the nearby nightclubs, like Mandala.
Day 2
Hop on board a luxe catamaran for the day and cruise over to the nearby Isla Mujeres, a tiny island that's practically car-free and lined with stunning beaches, natural parks and a temple on the southern tip dedicated to Ixchel, the Mayan goddess of love and the moon. The half-day sailing trip will take you snorkeling along the Caribbean coastline and includes an open bar and lunch on board before you arrive at the island. Once you reach Isla Mujeres, shop or dine downtown in El Centro or swim at Playa Norte, considered one of the 10 best beaches in the world.
Spend the night in the Hotel Zone with dinner at Lorenzillo's, a staple in the city for its fresh-caught lobster sourced from fishers in Isla Mujeres (it's served every way imaginable, from breaded and deep-fried to bathed in creamy poblano chile sauce). Continue the evening with a show at Coco Bongo or dancing to hip hop and R&B at La Vaquita. If you'd rather leave the planning to the pros, book the all-you-can-drink Cuncrawl, where you'll be escorted to reserved tables at three of the best bars and clubs in town.
Day 3
End your weekend by visiting Tulum. Have brunch at Papaya Playa Project's beach club, where you can feast on avocado or crab tacos and sip cold-pressed juices (or take a much-needed "Morning After Shot" with activated charcoal and local bee honey). Lounge on the sand with a signature cocktail while the resident DJ spins tunes before relaxing with natural clay treatments and massages at the spa. When you're ready to add some culture to the mix, explore the ancient Mayan city of Tulum that towers over the water on limestone cliffs.
Head back to town for a late dinner (Tulum is a bit of a drive!) at one of the most scenic restaurants in Cancun, Thai Lounge, whose palapa-roof huts hover over the Nichupté Lagoon. If you want to keep the party going, head up to MUMMA Rooftop for laid-back drinks poolside, foosball tournaments and a DJ spinning beats.
Places to Stay in Cancun for a Bachelorette Party
Cancun hotels range from cute boutique spots to sprawling all-inclusive properties where your group can spread out and indulge in multiple bar and restaurant concepts. Larger parties may want to book a villa or home rental near downtown, but if you want to be in the heart of the action, stay near the bars and clubs in the Hotel Zone.
Best Cancun Bachelorette Party Hotels
If a hotel with stunning views and nice digs is your group's vibe, one of these properties will surely deliver.
Paradisus Cancun: This five-star all-inclusive hotel sits between the Nichupté Lagoon and the Caribbean Sea, meaning your group will have fantastic views of the water from your room. Everything from 24-hour room service to eight a la carte restaurants, five bars (including a swim-up bar), and a lounge are part of the all-inclusive package. If you want something even more exclusive, upgrade to The Reserve, which comes with its own concierge to help with activity planning, plus a private pool and beach area.
Live Aqua Beach Resort Cancun: Located in the Hotel Zone, one of the major draws to this adults-only all-inclusive is the gorgeous, white-sand shore. Between dips in the water, massages at the spa, and meals at beachfront seafood spot Sea Corner, you won't need to leave the hotel the entire weekend you're here.
NIZUC Resort and Spa: If you want a retreat that feels more like a sanctuary than an extension of the buzzy nightlife scene in the Hotel Zone, book your group in an adults-only ocean suite near the beach. Or, go for something grander where the whole party can be together, like one of the private villas with an infinity pool surrounded by a tropical garden.
Hyatt Zilara Riviera Maya: This adults-only all-inclusive is modeled after a modern hacienda, with airy suites featuring a terrace, a balcony or an outdoor lounge perfect for toasting with Champagne before a night on the town. One of the highlights is the hotel's own beach club, where you can sip tequila and mezcal cocktails while a DJ spins. Another option: Take a seat in a swing at the swim-up bar for tropical, hand-blended drinks and sea views.
Pro tip: The Knot has partnered with Hotel Planner to help you secure the best group hotel rate and get free hotel advice from an expert travel planner.
Best Cancun Bachelorette Party Home Rentals
There are plenty of housing options for a Cancun bachelorette party, so check out TripAdvisor, VRBO, Airbnb, Expedia and Hopper Homes. If you're looking to supplement your vacation rental stay with some hotel amenities such as a swimming pool or a fitness facility, you can secure Cancun hotel day passes on ResortPass.
Castillo II: This four-suite villa—each room with its own private bath—is the perfect place for a small group to post up for barbecues, private chef-led dinners, and rosé-fueled pool days. When you're ready to hit the bars or shops, you're a quick drive away.
Camila Residence: Stay in the heart of the Hotel Zone, with the beach just 40 steps away, at this four-bedroom villa. The three-level home features an outside deck for group breakfast or lunch, a private pool with a waterfall, and a private pool garden outfitted with lounge chairs for sunbathing.
Emma Residence: At this beachfront condo, your private plunge pool is perched on a deck overlooking the sea and nearby Isla Mujeres. Host group meals or sundowner drinks on the beautiful beachfront terrace.
Cancun Nightlife for a Bachelorette Party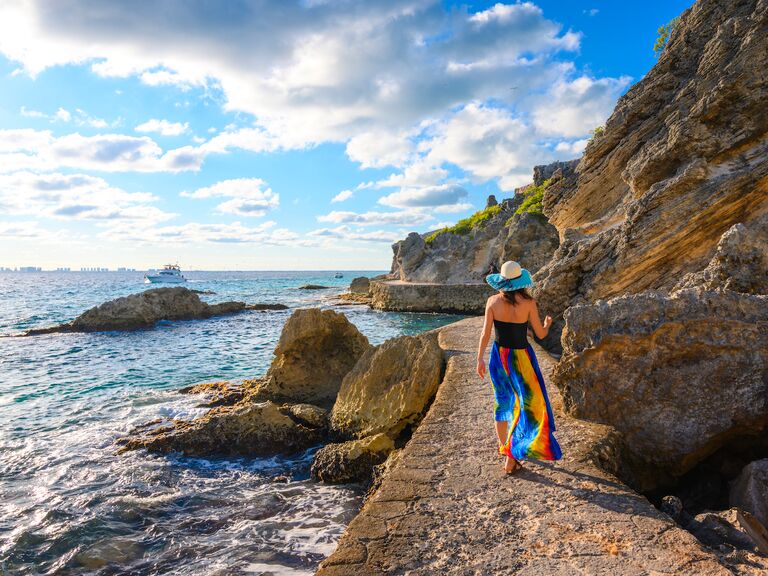 The beating heart of the Mexican Caribbean's nightlife, Cancun is a place that's made for partying. Whether you want a club experience with a show or prefer more intimate bars and restaurants, you'll find something to fit the style of your group.
Best Cancun Bachelorette Party Restaurants
Sirena Morena: This spot's tree-filled patio is the perfect place for groups to reset over light fare like superfood smoothies, grain bowls and fresh juices. This is one spot where your gluten free, vegan friends will find more than enough options.
Nicoletta: Plan to come here at sunset, since the floor-to-ceiling windows overlooking the water frame some of the best views in town. You'll also welcome a break from tacos with gastronomic Italian dishes like gnocchi in sage butter and pasta alfredo prepared tableside.
RosaNegra Cancun: For a night complete with all the bells and whistles (and by this, we mean fire dancers, sparklers and a fireworks show over the lagoon), RosaNegra continues to top the list. Party on the wooden terraces extending over the water while yachts bob in the dock nearby. Every evening is a fiesta with plenty of live entertainment to get the group in the groove for a night out on the town.
Best Cancun Bachelorette Party Bars
Coco Bongo: It's your bachelorette party, so if you're going to do one over-the-top show, this should be it. Located in the center of the Hotel Zone—making it easy to bar hop before or after—this disco comes with everything from acrobats to Rio de Janeiro Carnival-costumed performers dancing samba.
Señor Frog's: This has long been the place if you're looking for a fiesta. Expect live music, games, plenty of shots and frozen margaritas in the signature 28-ounce yard glasses. While technically a restaurant, the nachos and chicken taquitos are just the bar snack you'll want before the congo line and nightclub action begins.
Mandala Beach Club: This day club exudes Las Vegas pool party vibes, so get ready for tropical drinks and world-class DJs spinning house music by the beach. Dance through sunset and into the evening pool party (complete with a bikini contest) that runs until 3 a.m. on Wednesdays.
Expert Cancun Travel Tips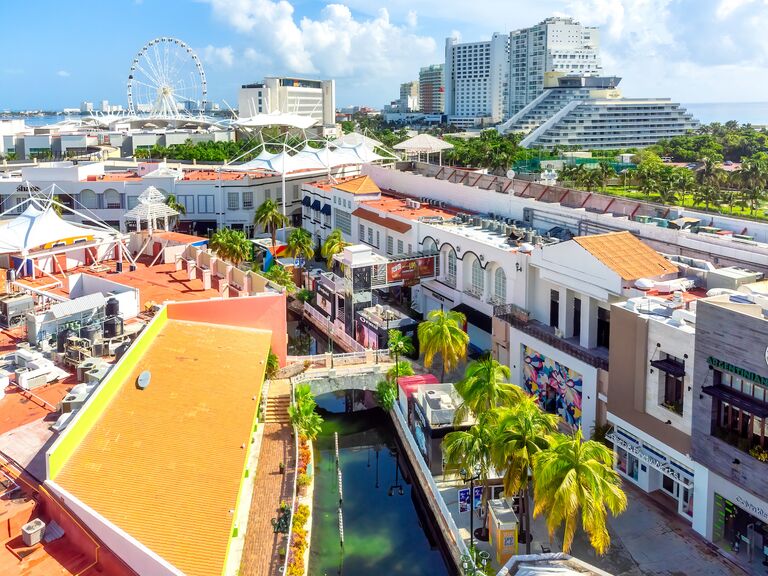 When planning a Cancun bachelorette party, there are a few things to keep in mind. Luckily, this gateway to the Mexican Caribbean is easy to reach thanks to direct flights from across the US.
Cancun Tourism Tips
The weather is warm here year-round, but summer months can be sweltering (although this is when you can usually snag serious hotel deals). May to October is the rainy season, and your trip may be impacted by a hurricane, so it's better to try and avoid these months. While the official currency is the Mexican peso, you can use credit cards and US dollars at many tourist spots like hotels and more established restaurants. If you need an ATM, you'll find plenty throughout town, but it's not a bad idea to carry pesos just in case.
Best Airlines Flying to Cancun
Hop on a nonstop flight from cities like New York, Austin, Denver and Miami on airlines like American, Delta, Southwest and United. Keep an eye out for flash deals to Cancun, which are common around the holidays.
How to Get Around
Most hotels offer a shuttle service from the airport, or you can take an Uber or taxi. Skip renting a car—it's easier to get around via rideshare or taxi, or you can take a public bus throughout the city and tourist sites, if you're looking for an affordable option.