The Guide to a Romantic Cartagena, Colombia Honeymoon
Discover why discerning globetrotters are flocking to this destination in South America.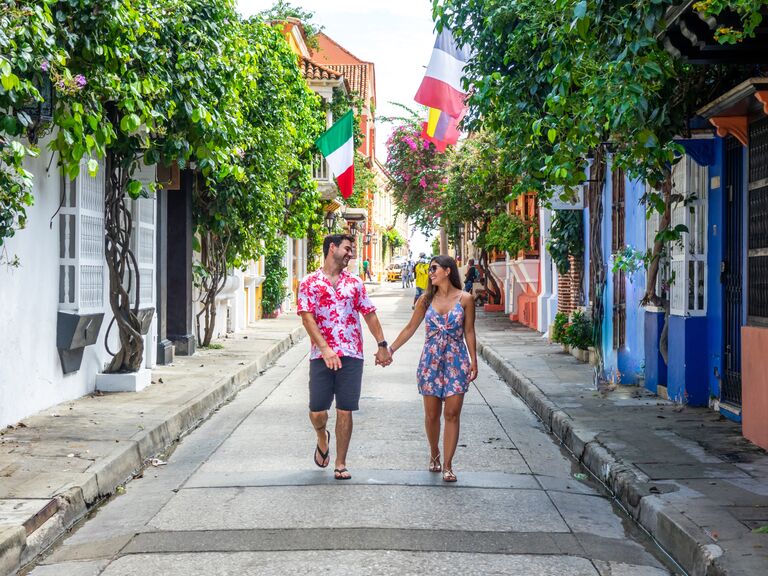 Looking for an off-the-beaten-path honeymoon destination? Want to honeymoon somewhere culturally enriching, filled with history and with fantastic, warm weather? Look no further than Cartagena. This Colombian city is an enchanting mixture of old and new, European influence and Latin flair, daytime diversions and nighttime fun. In fact, just about any couple could find something to love about Cartagena. Not to mention, for all of this luxury and elegance, you won't be forced to pay extreme prices. Travel costs in Cartagena are much more palatable than what you'll find across comparable European destinations.
So, what are you waiting for? It's time to pack your bags and explore one of the most romantic destinations on this side of the globe. Here's what to expect from a Cartagena honeymoon.
Is Cartagena Good for a Honeymoon?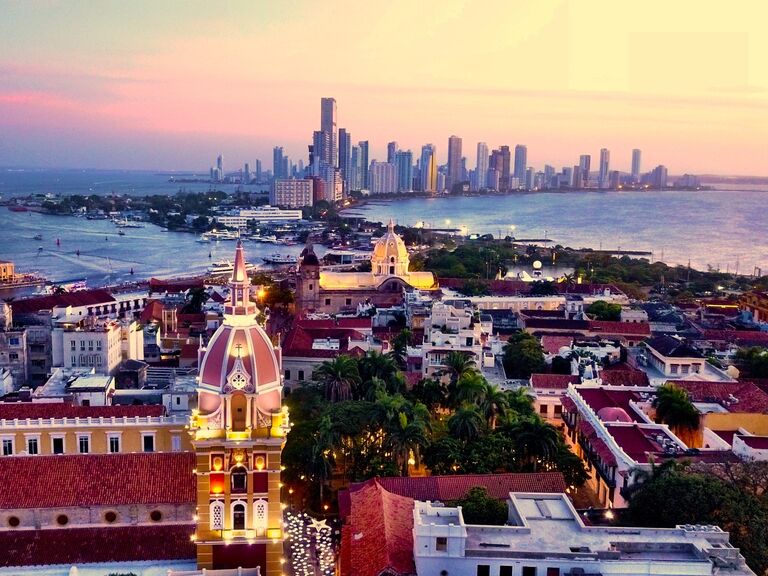 Pros of a Cartagena Honeymoon
Cartagena ticks the majority of honeymoon boxes for most couples. It's a destination packed with culture, food, history and fun. You'll have no problem packing your itinerary. It's also relatively affordable, making it a worthy pick if you're on a budget. The travel times are palatable as well, with non-stop flights whisking you away from the Northeast in as little as five hours, or from Miami in as little as three. If you're traveling from the West Coast, you'll face a likely layover, though you'll arrive in less than one day.
Cons of a Cartagena Honeymoon
If you desire a romantic getaway that's more jungle-themed or nature-centric, you may want to opt for another destination. You can find relaxation aplenty at resorts throughout the Caribbean, and nature-heavy honeymoons can be better found in other nearby destinations such as Costa Rica or Belize.
The Best Times of Year to Go on a Cartagena Honeymoon
Cartagena boasts consistent warm temperatures, in the mid-80s. However, Colombia does have wet and dry seasons. To avoid the rain, plan your honeymoon for December through April when the climate is sunny and pristine.
If, however, you'd rather avoid the crowds and you're willing to put up with a little precipitation, you can still find relatively agreeable weather from June through September. The average rainfall is under four inches per month (for comparison, this would make the city similar to Seattle in the spring or fall).
Things to Do During a Cartagena Honeymoon
Explore the Walled City.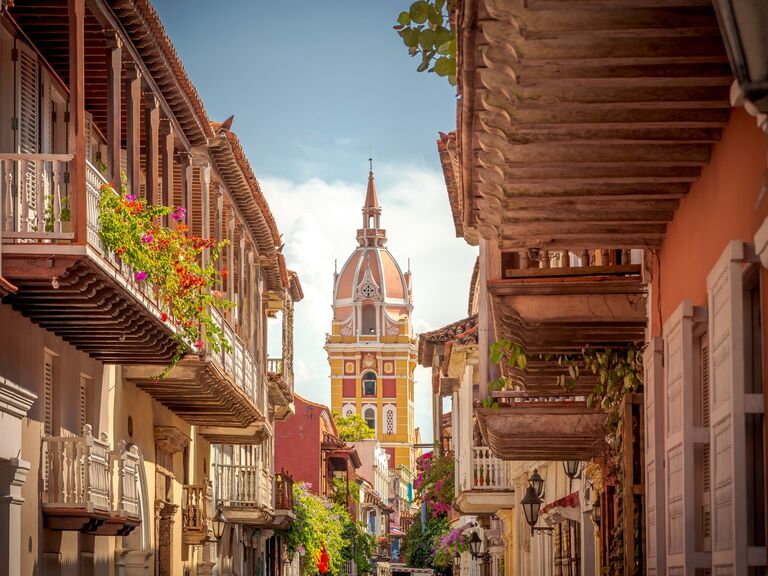 Most travelers spend the bulk of their time in Cartagena within the Walled City (sometimes also called the Old City or Old Town). If you stay within this historic neighborhood, your days will be teeming with gorgeous colonial buildings, cobblestone streets, delicious restaurants and tons of history.
You can get a taste of this history at Castillo de San Felipe de Barajas, a historic fort where self-guided tours allow you to go at your own pace. Stroll through the plazas (Plaza San Pedro Clever and Plaza Santo Domingo are favorites) and spectate the landmark Clock Tower. Whatever you do, though, don't miss climbing atop the wall to take in the romantic sunset views and, for extra romance, hop aboard one of the horse-drawn carriages you'll see around the plazas, for a quick jaunt around the neighborhood.
Savor the food scene.
Walking food tours are a favorite in Cartagena. Enjoy some of the city's best bites without doing a ton of restaurant research on your own (it is your honeymoon, after all). Plus, if you schedule your food tour for the beginning of your trip, you can find restaurants to revisit throughout the duration of your stay. One top eatery to consider is Alma, where you'll find fine cuisine accented by live music every evening. Other romantic meals can be had at La Vitrola and Carmen.
Fill your suitcase with souvenirs.
Shopping is a favorite activity for travelers in Cartagena, whether you're looking for luxury goods or local wares. Mercado Bazurto is a large local market filled with food vendors, so a nice spot to shop around lunchtime. For a mall atmosphere, try La Serrezuela, in the Walled City, where five stories of shops are set within the remains of a bullfighting ring. Bookworms will want to make tracks for Abaco Libros y Cafe, a colorful bookstore and coffee shop.
Expand your exploration to the islands.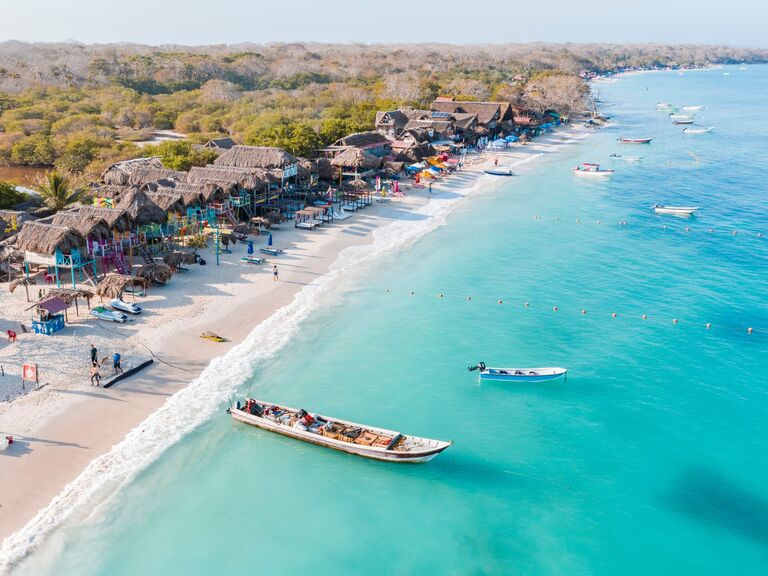 Don't just stay within the Walled City, though. Head further afield to explore Cartegena's islands by crossing the Bay of Cartagena. Baru and the Rosario Islands are just a quick boat ride away, and where you can find beautiful beaches surrounded by the Caribbean, as well as water sports like snorkeling. In fact, most honeymooners plan to spend a few extra days on the islands, either at the start or end of their trip.
Getsemani is also a popular neighborhood filled with street art and hip restaurants and bars. Another popular day trip from the city is to El Totumo, a mud volcano where you're encouraged to take a dip in the warm mud.
Best Hotels and Resorts in Cartagena for a Honeymoon
The first luxury hotel on Isla Barú opened in December 2021 and couples are clamoring to experience it. Honeymooners will first take a private yacht ride from Cartagena, an easy and scenic 25-minute ride, to the luxurious resort. With 187 rooms and locally-sourced dining options, the beach property also offers a range of relaxation activities. (That way, they can let go of all wedding planning stresses at this pristine destination.)
Casa San Agustin is hands down one of the most romantic hotels in Cartagena. Situated within Old Town, it's also where you'll find Alma. But beyond the acclaimed restaurant, you'll also enjoy the historic and architecturally stunning digs, the pool, the rooftop bar and the daily teas. Book a suite with a balcony for a truly luxurious experience.
This celebrity-studded boutique hotel is truly exclusive, with fewer than 10 guest rooms. The Instagram-worthy setting is just as lavish and posh as you'd expect. An underground bar in a cave-like atmosphere, outfitted with chandeliers, offers cocktails and cigars. The hotel is also a lovely place to hold an outdoor destination wedding, in the greenery-covered courtyard.
If, though, you'd rather stick with an international hospitality brand, opt for the much larger Sofitel Legend Santa Clara. It features more than a hundred guest rooms set within a 1600s convent and is filled with artwork. Plus, this hotel boasts the largest pool in the Old City, perfect for some afternoon relaxation. You're also a few steps away from the Caribbean Sea.
What to Pack for a Cartagena Honeymoon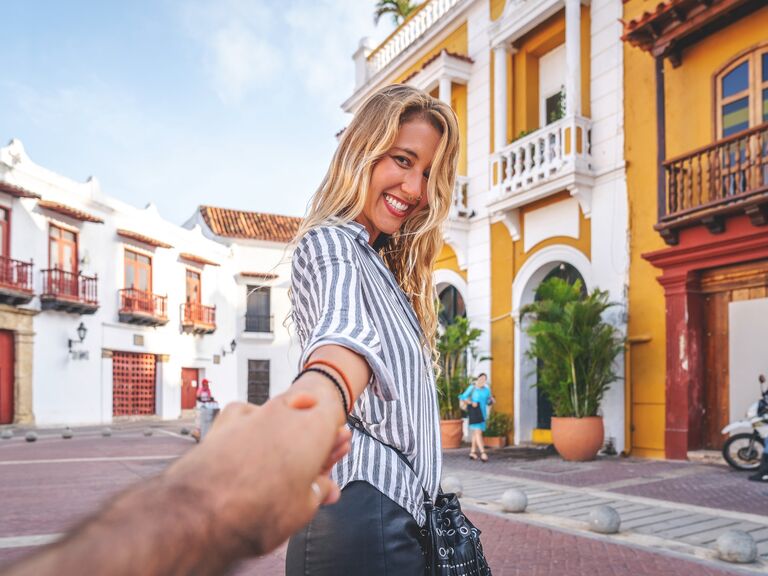 In addition to your honeymoon basics, couples will want to pack streetwear that can stand up to the heat. Cartagena is also known for its sultry nightlife, so suitable outfits for when you decide to enjoy the city's vibrant dining and dancing scene are a must-pack. If traveling during the summer months, pack an umbrella and rain jacket. Sunscreen, bug spray and sunglasses are all recommended as well.