The Best Honeymoon Destinations for Foodies
Food is where many couples find common ground.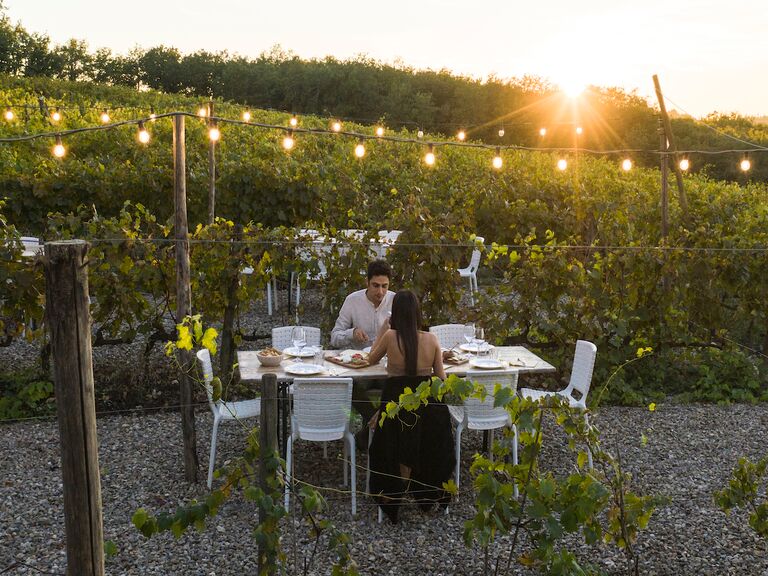 Westend61 / Getty Images

We have included third party products to help you navigate and enjoy life's biggest moments. Purchases made through links on this page may earn us a commission.
When considering your best honeymoon destination, it's important to look to your hobbies. You might be happy relaxing on the beach for a few days, but if you're going to be using time away from work and connecting as newlyweds, think about what really makes you bond. Food is where many couples find common ground.
Not only is it a great way to explore a new city, as well as its culture and traditions, all while bonding over culinary experiences, but you can also eat your way through a new destination. Here, we share our list of the best foodie honeymoon destinations with top-notch culinary experiences and international eats.
In This Article:
The Best Foodie Honeymoon Destinations in the US
Fairbanks, Alaska
When visiting Fairbanks, expect beautiful scenery and landscapes, the Northern Lights, plenty of bear sightings in the spring, and delicious, locally-sourced food. Check into Borealis Basecamp in one of their stargazing and Aurora-viewing igloos for a truly romantic experience. Right on property, guests can enjoy excursions like dog sledding, reindeer walking, and UTVing through the mountains. Latitude 65 is the restaurant right on the property run by Chef Easter, whose selective standards require the freshest fish, local meats and produce. Sometimes, he even forages it himself. Under his seasonal menus, couples can expect things like wild blueberry dressing on the salads, halibut stew, creamy asparagus soup, Alaskan King Crab legs, pork belly, seared wagyu beef, fresh salmon roe and delicate scallops. Before the Northern Lights emerge in the evenings, guests can roast s'mores near the bonfire pits in the common area.
Another great itinerary option for a stay is A Taste of Alaska Lodge with its spacious, cozy cabins. Nearby, as part of the property, Aurora Pointe activity center offers Northern Lights viewings with professionals–cookies, coffee, and light refreshments, included. For dinner or lunch, consider The Pump House Restaurant Fairbanks for its crispy beer battered Alaskan halibut and seafood chowder or Lavelle's Bistro for a rack of lamb served with a kiwi lime marmalade. (A tip: the banana bread pudding is incredible.) For activities, visit Running Reindeer Ranch to walk through the woods with reindeer and head to Chena Hot Springs–don't forget to keep your eyes peeled for moose along the way. After relaxing in the hot springs, take a tour of the ice museum and have an apple martini in an ice martini glass. To round out your visit, swing by Santa Claus House for Christmas gifts or pan for gold at Gold Daughters.
Hawaii, US
The Big Island in Hawaii has Hawaii Volcanoes National Park where you can see lava bubbling and popping at night, beautiful beaches, coral reefs, marine life, and of course, fresh seafood among other traditional dishes. Check into the Royal Kona Resort for a modern, but simplistic feel, with terraces overlooking the beach. The hotel has pools and private beach access, among luaus and special experiences for guests. On property, guests can grab sushi or a cocktail at Don's Mai Tai Bar & Restaurant.
A recommended tour is the Kailani Tours Hawai'i Deluxe Volcano Experience, where guests will have the chance to try Kona Joe's Coffee and visit a black sand beach called Punaluu Beach to view sea turtles on the shore. During the day, a visit to Hawai'i Volcanoes National Park is a must. Consider a lunch at Kīlauea Lodge for fresh fish, before heading back to the park at night to view the lava. (Always heed officials' warnings.) Couples who enjoy the water will want to snorkel at Kahalu'u Bay, where they'll learn about coral reef conservation and protecting ocean life. They can also swim with manta rays during a night snorkel with Anelakai Adventures. Of course, poke is a must while in town and Umekes Fish Market Bar & Grill is a great place to get it. You can get bowls with plenty of fresh fish options, ranging from sweet and salty, to hot and spicy. Mix that with some sides like mac salad and seasoned rice. You can also beat the heat with shaved ice mixed with lychee cream from Kat's Kau Kau across from Magic Sands Beach Park. Foodland's raw blue kimchi crab boasts an unforgettable silky texture, while couples on-the-go should consider picking up sushi kits, onigiri rice triangles, musubi and other Japanese goodies from the local 7-Eleven. (Yes, you read that right.)
Louisville, Kentucky
There's nothing quite like visiting the south to indulge in some truly special Southern cuisine and of course, plenty of bourbon. Check into the Brown Hotel for a classic stay, in a hotel full of charm and history. It's known as the site where the traditional Louisville dish, "the hot brown" was created. The ultimate comfort food, the hot brown is an open face sandwich drowned in cheese sauce with crisp bacon, fresh tomato, and thick turkey slices. For street art and fun restaurants, explore the Nulu neighborhood. Stop into Royals Hot Chicken for fried chicken or Feast for BBQ for some of the best bourbon slushies in the area. The Logan Street Market has a bunch of vendors selling everything from cheese and cocktails, to coffees and artisan handcrafted items with old school arcade games in the back. You can't visit Kentucky without tasting a little bit of bourbon. Some bourbon distilleries are right in town, like Angels Envy, where others are set back from the city. You can work with Mint Julep Tours to safely get around to a few different distilleries you want to visit like Maker's Mark, Buffalo Trace, and Woodford Reserve. Stop into Pizza LUPO to try the Pizza Fiore shaped like a flower. The "petals" are filled with fresh ricotta and the center has plenty of mozzarella, tomato sauce, arugula, basil, and it's topped with a ball of burrata.
Miami, US
This cosmopolitan city in Florida has an incredible food scene, particularly Cuban eats. Honeymooners may want to splurge with a stay at the Faena Miami Beach, a five-star property with ornate and spacious suites, oceanfront art installations, and world-class restaurants. Enjoy a decadent and romantic meal at Los Fuegos By Francis Mallmann or highly-rated meals at Jaya at The Setai. For a more affordable option, they'll want to stay at the Kimpton Surfcomber with pool and beach access, among other amenities for guests like happy hours. There's incredible snorkeling close by at Biscayne National Park Eco Adventures, where the boat brings you out to a few different destinations to snorkel and view animals among the coral reefs. Ball Buoy Reef was incredible, filled with beautiful fish and nurse sharks swimming peacefully through the reefs. Explore some of the Cuban food in the area at restaurants like Havana 1957 (definitely get the black beans) or Marabú for sampler platters. Motek Aventura - Mediterranean Cafe & Restaurant has impressive Israeli cuisine with the softest pitas, dips and spreads, salads, halloumi and lamb shawarma.
Napa Valley, California
Napa Valley is the place to go if you love wine and food pairings. Honeymooners will want to stay at Hotel Yountville for its beautiful spa and pool overlooking the courtyard. For the points-conscious newlyweds, the Napa Valley Marriott Hotel & Spa has a large pool and plenty of restaurants right on site. The best way to safely see multiple wineries is to hire a local tour operator like Beau Wine Tours & Limo. You can customize your tour experience based on your favorite wines and those you want to explore, such as Charles Krug, Robert Mondavi Winery, and Beringer Estate. Nosh at Angele Restaurant & Bar for French fare, while overlooking the river with smoked salmon mousse or escargot with garlic parsley butter and puff pastries. Allegria, a former bank transformed into a popular Italian restaurant, serves delicious dishes like linguine con le vongole with Manila clams in butter, garlic, white wine, fresh basil, and topped with a sprinkle of red chili flakes for a little heat.
New England, US
If you're a seafood lover, the New England region needs to be on your list. Home to some of the best lobster, clams, and briny oysters, there are numerous towns to visit up and down the coast. When in Maine, oysters and light dishes at the The Portland Oyster Shop by Island Creek Oysters are a must. Hotel options across the state include Portland Regency Hotel & Spa in the heart of the historic Old Port District or the Hidden Pond Resort & Tree Spa (an L.L. Bean catalog dream) in Kennebunkport, which is also home to The Clam Shack and its buttery lobster rolls. After any meal, a scoop from Rococo Ice Cream is a must. After spending the day at Nauset Beach on Cape Cod or taking a Hyannis Whale Watcher Cruise, couples will want to debrief at Spanky's Clam Shack to get their Lobster Caesar Salad and some steamers dunked in broth and butter before checking in at Ocean Edge Resort & Golf Club. Check out Newport Rhode Island, staying at the Newport Harbor Island Resort or The Chanler at Cliff Walk. Benjamin's often has specials on their raw bar items like $1.50 oysters, $1.25 clams, and $1.75 shrimp among other deals on Tuesdays. Stop into The Mooring Seafood Kitchen & Bar for their scallop chowder and Maine Lobster stuffed with shrimp and scallops then baked until tender, and cooked through.
New York, New York
New York City is an obvious choice when it comes to the top honeymoon spots for foodies. You could discover hole in the wall, incredible places like Mr. Sun for peking duck or explore dumpling spots in Chinatown. Find your favorite pizza place by trying cheese slices throughout the city at places like John's of Bleecker or Scarr's Pizza. Explore the local markets like Chelsea Market with plenty of incredible places to grab food inside at vendors like Very Fresh Noodles before visiting their Artists & Fleas Chelsea.
High-end dining experiences are everywhere across New York, including three-Michelin Star restaurant Eleven Madison Park, a delicious tasting menu at Kochi or Cote, a Korean steakhouse (the wagyu is a must). High tea is another fun way for foodies to enjoy experiences in the city. We recommend the The Plaza or Bergdorf Goodman. The possibilities are endless and there are so many wonderful hotels to call home for a few days while in the city. However, if you're splurging for your honeymoon, the Carlyle or Aman New York are both worthy experiences.
The Best International Foodie Honeymoons
Amsterdam, The Netherlands
Amsterdam in the Netherlands is known for history, incredible architecture, and of course, plenty of stroopwafels. Check into the Grand Hotel Amrâth Amsterdam, a five-star property in Amsterdam within an old shipping house. The INK Hotel Amsterdam - MGallery has an incredible theme, being the site of a previous Dutch newspaper. Stop by van Wonderen Stroopwafels, a cookie shop in town where you can try their famous stroopwafel, a very thin, but soft, round waffle with caramel in between. They pair well with a piping hot cup of coffee. You could even place the stroopwafel on top of your coffee cup and let the steam soften the cookie and the caramel. Moeders is a classic Dutch restaurant where locals and visitors can try traditional Dutch dishes. If you're torn as to where to begin when visiting Amsterdam, an Amsterdam Food Tour is never a bad place to start. You can explore different neighborhoods and areas of the city, taking a few hours to visit local gems, restaurants, and markets throughout the city.
Mexico City, Mexico
Mexico City is the perfect place to visit for a food centric honeymoon for some delicious dishes like roasted pig with crisp, salty skin and authentic Mexican cuisine. While in town, check out the Four Seasons Hotel Mexico City. The Four Seasons has a positive reputation for a reason, offering luxury and comfort to their guests. The Secrets Huatulco is a luxury property off the coast of Conejos Bay, and another option when in Mexico City. Pujol offers everything from their classic tasting menus with beverages optional to an Omakase, inspired by the Japanese Omakase tradition where the chef chooses each entrée, no exceptions. El Cardenal serves traditional plates like Chile relleno Oaxacan style and chicken breast packed with creamy goat cheese and smothered in mole coloradito. Stop into Azul Historico for tamales or suckling pig tacos with fresh corn tortillas and cabbage.
Tuscany, Italy
You can't go wrong with anywhere in Italy as far as a food centric honeymoon goes. Tuscany is known not only for their architecture, but for having some incredible vineyards, olive oils, and food. Check into the Monteverdi Tuscany complete with a relaxing spa and incredible views. The Conti di San Bonifacio Wine Resort - Vineyard Hotel in Tuscany is right on the coast in the Tuscan countryside with rooms overlooking the vineyard. Reach out to Grape Tours to visit some of the best wineries in the area and end the tour with cheese to pair the select wines with. Enjoy a fancy dinner at Ristorante Arnolfo where they create the dishes using seasonal ingredients. For traditional Italian food, dine at La Taverna di San Giuseppe for plenty of homemade pasta dishes.
Tel Aviv, Israel
Whether you're visiting Tel Aviv, the Negev Desert, the Dead Sea, or Jerusalem, Israel is full of history, religion, and incredible Mediterranean and Middle Eastern food. Check into a small, cozy room with modern amenities in Tel Aviv at Center Chic Hotel, walking distance from bars and restaurants right in town. Dr Shakshuka near the Jaffa Flea Market is a perfect place to try some classic shakshuka in Tel Aviv. After exploring local sites and the incredible street murals in town, browse through The Carmel Market to buy spices, taste fresh potatoes, roasted beets, bourekas, falafel, cheeses, Turkish delight, and more. Be on the lookout for muhallebi, a custard, usually rose flavored dessert. In the Negev highlands, check into the Kedma Hotel or the Isrotel Beresheet Mitzpe Ramon for a luxurious experience with pools overlooking views of the Makhtesh Ramon and excursions for guests like star viewing or a jeep ride through the Makhtesh Ramon. Splurge for a pool room for an extra romantic touch. While in the area, learn about the incredible desert agricultural efforts, growing olive trees and grapes for wine in a challenging desert climate at places like Marom-Eshkolot boutique winery and olive oil orchard. Head to the Dead Sea and be sure to check out the Incredible skin care products available using dead sea mud. Check into the Isrotel Nevo Hotel to enjoy the two story pool, modern, comfortable rooms, and a huge spread of Middle Eastern and Mediterranean foods on the buffet in the hotel. Stroll through the Mahane Yehuda and explore some local cuisine, parties, nuts, candies, breads, knafeh, the freshest, juiciest olives, and more. Spend the night at the Brown Machne Yehuda Hotel in Jerusalem. The hotel itself has stuffed grape leaves, dates, and other incredible snacks out for guests, and that's in addition to the character, colorful ambiance, and charm the hotel has.
Loire Valley, France
Paris has incredible food and wine, of course, but there are other areas of France to explore that also have an impressive food scene including The Loire Valley in Central France. Check into the Domaine De La Tortinière, Château Hôtel Val de Loire with views overlooking the Indre valley. Another amazing option is this 5 star castle hotel, Château d'Artigny, both elegant and comfortable. For traditional French crêpes, stop in to Au Petit Troglo. The French restaurant, La Roche Le Roy serves classic French cuisine. Be sure to save room for plenty of cheese and the chocolate pear soufflé for dessert. If you're looking to experience a little of everything in the area from wines and gourmet cheese, to chocolate and fresh bread, check out Loire Valley Food Tours. They have a variety of tour options from private food tours and gourmet experiences, to bread making workshops and truffle hunting.
Rome, Italy
There's no greater shock than visiting Rome and realizing that super heavy dishes like Fettuccine Alfredo or giant portions don't really exist there. Italians really cherish smaller portions of high quality ingredients like fresh, handmade pasta and even plenty of light seafood. Check into the Hotel Artemide for clean and modern accommodations or Rome Cavalieri, A Waldorf Astoria Hotel in a great location right near the city center and the Vatican City, but set back a little from the chaos. When exploring Rome, pasta and pizza is a must. Be sure to stop into Sbanco to try their potato pizza or the cacio e pepe pizza where they bake the crust with a little bit of ice in the middle to keep the center moist, so it absorbs the cheese and pepper. If you're looking to really explore the city, a tour with Walks of Italy is a fantastic option. The Pizza Tour brings you around the city through local markets, cheese shops, delis, bakeries, and more, sampling along the way and collecting ingredients through the Campo de Fiori Market and local small shops. After collecting everything you need to create your pizza, trying not to get too full sampling all of the amazing spreads, meats, fresh cheeses, and baked goods along the way, we ended the tour at a pizzeria where we created the toppings for our pizzas and slid them in the oven. Once cooked, the small tour group joined each other at the table for wine, pizza, and good conversation.
Bermuda
When visiting Bermuda, the area is known for teal waters, pink beaches, friendly locals, and colorful architecture. In addition to all that, Bermuda is known for some truly special seafood and sustainability programs on the island. Check into The Loren at Pink Beach for a luxurious experience. For your honeymoon, splurge for a room with a soaking tub and a covered balcony. That way, if rain moves in, you can still sip your tropical drinks and enjoy the waterfront views while staying dry. Bermuda is big on sustainability, and even when dining at local restaurants, some even have maps where you can see where local meats, produce, seafood, and other goods come from right within the island (like they do at the Loren at Pink Beach's restaurants). If you take a moment to dive or snorkel, you'll see the abundance of sea urchins, lionfish, and a wide variety of colorful fish and seafood available right off the shore. Visit Pearl in town for fresh sushi, especially rockfish sushi. Local restaurants, including the restaurants at the Loren, serve delicious seafood dishes like octopus, fresh catches, rockfish, scallops, and spiny lobster. The Loren even has equipment available so guests can go snorkeling right off of their private pink beach. Don't forget to visit Bermuda's Crystal Caves to see sparkling stalactites.
Dubai, UAE
Dubai has some truly special food experiences, in addition to having some of the best architecture in the world. If you end up in Dubai for Ramadan, it's fascinating to see how locals break their fast at Iftar. Iftar celebrations not only had entertainment like dancers, musician's, plays, and live shows, but pretty much every Middle Eastern food you could possibly imagine was there as part of the buffet. Save room for the desserts like baklava and knafeh. Check into the Jumeirah Beach Hotel right on the Persian Gulf with beach access for guests and views of the Burj Al Arab. If you're looking to really splurge for your honeymoon, consider staying right at the Burj Al Arab. Not only is it high-end luxury with over the top suites available, but the spa is spectacular. Even if you don't stay at the hotel, consider a treatment at the Talise Spa. Bab Al Shams is set a little outside the city, more like a desert oasis, with huge soaking pools overlooking the desert. In addition to the Iftar celebrations, check out SAL for some incredible crab dishes and fresh tomato gazpacho. Dinner at Bastion is a special experience with rich dishes like foie gras, calamari, lamb, Kiwami Wagyu, tableside steak tartare, and more. Atmosphere is right inside the Burj Khalifa, allowing brunch guests a chance to soak in incredible views while drinking golden coffees, and dining on fresh charcuterie, fruits, eggs, and crêpes. Dinner at Ossiano is definitely something for any foodie to check out while visiting Dubai. You're surrounded by huge fish tanks filled with all kinds of marine animals while sipping your espresso martinis and enjoying the tasting menu from Chef Gregoire Berger. Each dish is carefully thought out with its own background story. The Aura Skypool is absolutely beautiful with views of the skyline. Inside, they have delicious sushi dishes and plates to share, among fresh coconut water and cocktails to sip later while cooling off in the pool. After soaking in the culinary scene in the city, take a ride with Balloon Adventures Dubai to get one last taste of the beautiful views of the desert sunrise from the sky.
Lima, Peru
Although it's tempting to go straight to Machu Picchu, don't ignore other areas of Perú. Paracas, along Peru's west coast, is filled with incredible wildlife, beaches, islands, and even desert sand dunes. Check into Hotel Paracas, A Luxury Collection Resort to have your own private bungalow, some even with their own pool. The property has two beautiful pools overlooking the beachfront and the hotel. They even offer plenty of excursions for guests, including a ride out to The Ballestas Islands. In addition to all of this, being so close to the shore you have access to some of the freshest seafood. Chalana on Paracas Bay is serving some of the sweetest, raw scallops with the roe attached and ceviche overlooking the water.
Buenos Aires, Argentina
Buenos Aires in Argentina is full of attractions and art, in addition to good food. Check into the Alvear Palace Hotel for a luxury experience in the heart of Buenos Aires. Of course, the Four Seasons Hotel Buenos Aires is always a reliable option. They offer familiarity and luxury accommodations, in addition to incredible service. In town, if you're looking for traditional Argentinian food, head over to Aramburu Relais & Châteaux where Chef Gonzalo is creating an experience where guests can taste traditional dishes. Cabernet also serves classic dishes and Argentinian food with a nice wine selection. Buenos Aires Food Tours is the perfect way to experience a little of everything and learn about the food culture in town by neighborhood.
Tokyo
Tokyo has always been a mecca for foodies, and for good reason. Japanese cuisine is so unique and special, and in Tokyo they seem to take it a step further with all of the street market vendors and specialty dishes. Check into the Aman Tokyo complete with beautiful views and a relaxing spa. If you're looking for a reliable, but luxurious chain, the Four Seasons Hotel Tokyo At Marunouchi never disappoints. Head to Sumibi Kappō Shirosaka for an Omakase tasting course. There's no normal menu because the seasonal ingredients and chefs' creations are changing constantly. Tempura Fukamachi is an incredible tempura restaurant in Tokyo also serving pints of beer. There's so much to see when it comes to Tokyo's food scene, that sometimes the best way to explore is a food tour. Food Tours Japan offers half-day tours that take you around to local hidden gems and hotspots where you can try classic Japanese dishes, discover food markets, shops, and multiple local restaurants along the way. If you're feeling adventurous, give torisashi (raw chicken sashimi) a try at a local sushi spot.
Montreal, Canada
Montreal is an incredible city in Quebec, Canada with a thriving food scene from the restaurants to the markets. In Quebec, on the St. Lawrence River, Montreal has some truly amazing places to explore. Check into The Ritz-Carlton, Montreal for a luxurious stay during your time in Canada. For a boutique hotel experience, Le Mount Stephen has comfortable rooms and amenities. The Jean Talon Market is an open air market in Montreal featuring some of the most delicious cheeses, fresh meats, produce, seafood, and bakery treats. The Marché Atwater is a specialty market that has a variety of high-quality vinegars, spices, and olive oil. Stop into Restaurant Bonaparte for classic French cuisine like a duck foie gras crème brûlée or rabbit confit. If you're not sure where to start, check out a Local Montréal Food Tour, exploring dishes and hidden gems throughout different Montreal neighborhoods.
Chiang Mai, Thailand
Chiang Mai in Thailand is known for its beauty and wildlife, among the temples. Don't miss out on the traditional Thai food in Thailand. The Four Seasons Resort Chiang Mai among the rice fields with truly spectacular views. The Inside House is another great option in the heart of Chiang Mai with stunning views and comfortable rooms. Check out The Good View Bar & Restaurant Chiang Mai for some local cuisine overlooking the Ping River. Dash has flavorful Thai food and traditional dishes like Garlic Fried Squid with Chili Sauce and Massaman. A Chiang Mai Food Tour is the perfect company to match up with for a tour of the northern Thai food scene, featuring dishes like khao ka moo and treats from local markets.