Caribbean: The Cayman Islands, an Overview
If world-class dining, beautiful beaches and close encounters with sting-rays are on your to-do list, you'll love the Caymans.
by The Knot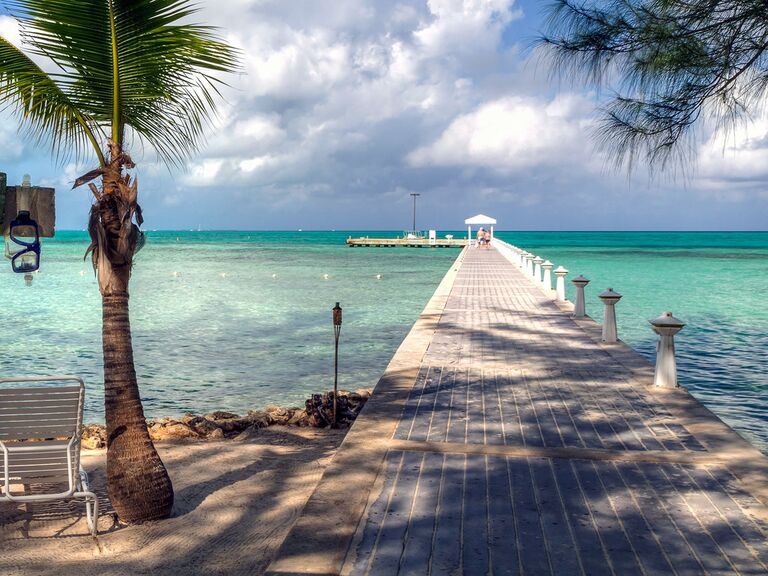 The beautiful Cayman Islands are located west of Cuba, 480 miles south of Miami, and include Grand Cayman, Little Cayman, and Cayman Brac (brac is Gaelic for "bluff"). Grand Cayman's starring role in the film The Firm introduced many travelers to this safe, serene escape. As one of the world's top banking centers and a British colony, the standard of living is high, crime is low, and public peddling is prohibited.
In a Word: Submerge
Ready, set, dive! Whether you're a certified diver or an aspiring snorkeler, you'll get an eyeful off these islands, where visibility ranges from 80 to 200 feet. Act out your Jacques Cousteau fantasies at more than 240 sites; two of the best are the Grand Cayman dropoff wall and Little Cayman's Bloody Bay Wall. If you don't scuba but would like to learn together, take a resort course and share your virgin dive offshore that same afternoon. Stay dry aboard the Atlantis submarine on Grand Cayman for a day or night tour 100 feet under to see fish and coral reef as colorful as candy gumdrops.
Why We'd Go: 6 Features You'll Never Forget
Stingray City: Swim with stingrays measuring from one to six feet across and as gentle as big gray kittens at this popular site on Grand Cayman. Petting and feeding are allowed.
Underground sightseeing: Go spelunking in one of the many large caves on Cayman Brac. Some of the best include Peter's, Bat, and Rebecca's.
Shopping: Browse the duty-free shops in George Town or pick up some uniquely Cayman souvenirs: Caymanite jewelry, made from a stone that resembles tiger's eye and is found only in the cliffs of Cayman Brac; Tortuga Rum Cake, made with 5-year-old Tortuga Gold Rum; or a bottle of Blackbeard's Rum.
Nature: Eco-tourists will enjoy Queen Elizabeth Botanic Park, a 65-acre park on Grand Cayman filled with native trees and wild orchids, reptiles, butterflies, and the raucous Caymanian parrot, the indigenous national symbol.
Hell: This unusual community is actually named Hell, and the area is filled with devilishly pointed rocks. Send a card home postmarked from Hell!
Island eats: Caymanian cuisine reflects the sea's riches and includes turtle and conch (pronounced "konk"). Islanders swear conch is a powerful aphrodisiac -- you be the judge -- try it as chowder, fritters, or marinated in lime juice as ceviche.
Pucker Up: Best Place to Smooch
Laze the day away under a willowy casuarina tree at Rum Point on the northern coast.
When to Go: Cayman Islands at their Best
Best weather: The Cayman Islands have an average temperature of 79 degrees year-round. March and April are driest; the rainy season (including hurricanes) is from mid-May to October.
Best prices: Mid-April to mid-December; exact dates vary by hotel.
Festival highlights: The colorful Batabano Carnival, for which revelers dress up as dancing flowers and stingrays, is held in April; the Queen's Birthday is celebrated in June; and the ten-day, Carnival-esque Pirates Week occurs at the end of October.
-- Paris Permenter & John Bigley, authors of Adventure Guide to the Cayman Islands (Hunter Publishing)
Photo: Cayman Islands Department of Tourism