A Cayman Islands Honeymoon Is the Ultimate Romantic Getaway
Your tropical beach vacation awaits.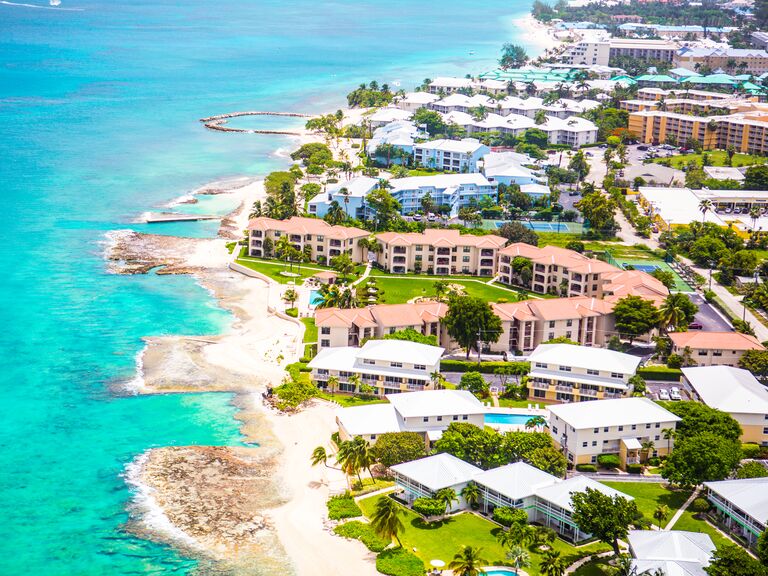 We have included third party products to help you navigate and enjoy life's biggest moments. Purchases made through links on this page may earn us a commission.
Local laws may restrict service availability to all. See the Equality Index for more information.
The three Cayman Islands are nestled in the western part of the Caribbean Sea, and they're truly a slice of paradise. A Cayman Islands honeymoon is the perfect romantic getaway—you and your sweetie can revel in the stunning white-sand beaches or spend the day exploring the coral reefs while snorkeling. This destination is a great pick for those looking for a honeymoon that combines relaxation with outdoor exploration.
A 90-minute flight from Miami, the Cayman Islands are an easy trip for travelers from the East Coast or the South. Additional cities offering nonstop flights to the Cayman Islands include New York, Atlanta and Tampa, Florida.
As of September 2021, visitors over the age of 12 are required to have received a full course of the COVID-19 vaccine in order to enter the country. Additionally, vaccinated travelers are required to participate in a seven-day quarantine upon arrival to the Cayman Islands.
Are the Cayman Islands Good for a Honeymoon?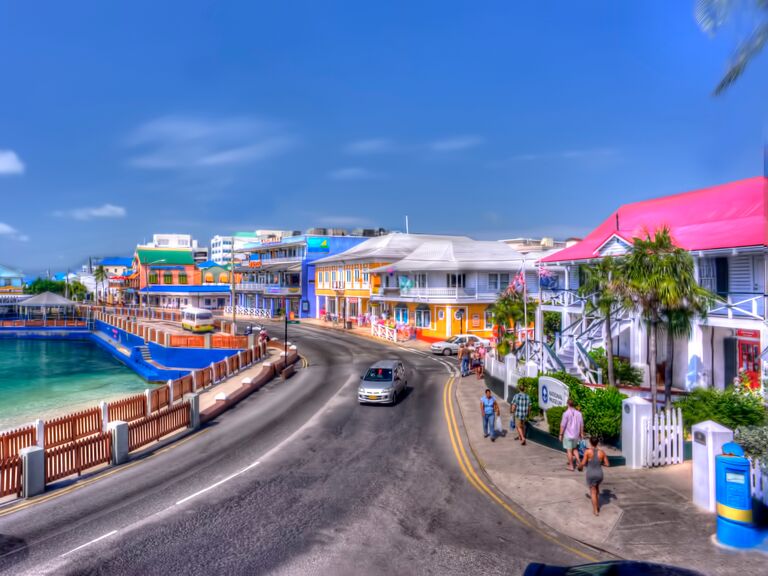 Pros of a Cayman Islands Honeymoon
The scenery on each of the three islands is breathtaking. Over the course of your honeymoon, you'll be surrounded by natural wildlife, stunning beaches and crystal-clear waters. The famous Seven Mile Beach, located on Grand Cayman island, is frequently listed as one of the world's top beaches. Whether you're an advanced diver or a first-time snorkeler, these islands have some of the best recreational diving and snorkeling sites in the world. Additionally, according to the US Department of State, this British territory has very low rates of crime and petty theft.
Cons of a Cayman Islands Honeymoon
While the islands have stunning beaches, you'll need to pick the right season for your visit. Rainy season is from May through October, while hurricane season is from June to November.
If you're planning on island hopping between the three islands, be prepared to open your wallet. In order to travel from one island to another, you'll need to take a quick flight or book a boat trip. Additionally, due to the limited agricultural production on the three islands, food is typically imported, making food prices high.
The Best Times of Year to Go on a Cayman Islands Honeymoon for Good Weather
Regardless of what time of year you choose to head to the Cayman Islands, you'll likely experience warm weather. Temperatures drop only to 75–85 degrees in the winter, while they reach 80–95 degrees in the summer. Plan to head to the Cayman Islands in the spring for the best weather.
Places to Visit in the Cayman Islands on a Honeymoon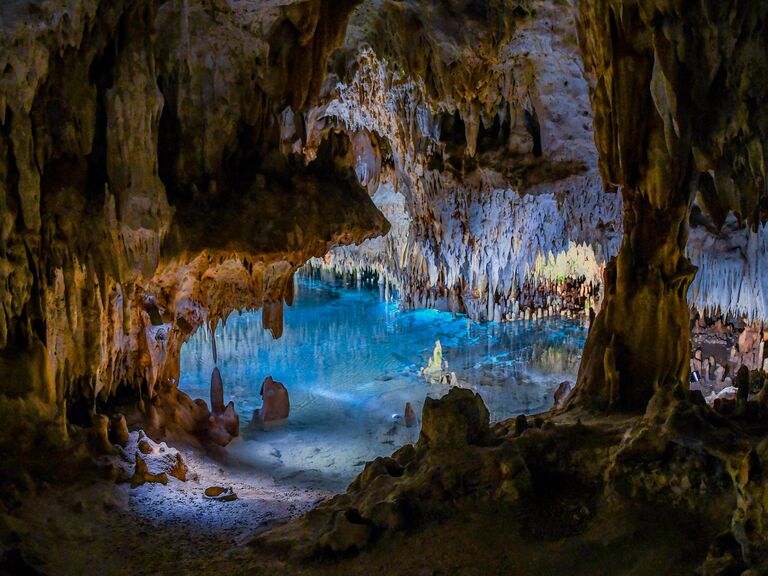 With three different islands to spend time on—Grand Cayman, Cayman Brac and Little Cayman—you'll never run out of places to explore (or relax on) in the Cayman Islands.
Seven Mile Beach
This famous beach on Grand Cayman island is well-known for a reason. The beach is open to the public, making it a great place for a long oceanfront stroll or leisurely swim. A few beach bars line the sand, in case you and your partner choose to celebrate your recent nuptials with a drink.
Stingray City
Located off of Grand Cayman island, you can interact with stingrays at this popular spot's sandbars. You can select from various tours that range from three to five hours long.
Crystal Caves
Head underground to explore these tucked-away treasures on Grand Cayman island. Book a 90-minute tour and walk among stunning million-year-old rock formations. Make sure to wear comfortable shoes and book your tour ahead of time.
George Town
Spend time exploring the capital city of this British territory, which is located on Grand Cayman. George Town has tons of places to explore, including the Cayman Spirits Co. Distillery, unique art galleries and duty-free shops.
Rum Point
Looking for a picturesque beach for a swim? Head to Rum Point on Grand Cayman. This beach is a little calmer (and less crowded) than Seven Mile Beach, but boasts some of the best water for swimming and snorkeling.
Queen Elizabeth II Botanic Park
If you head to Grand Cayman island in late spring, make sure to stop by this park to see the gorgeous orchids in bloom. Looking to catch a glance of some wildlife? You'll be able to spot blue iguanas and native birds year-round.
Cayman Brac Island
If you love nature, take a short 30-minute flight to Cayman Brac island from Grand Cayman island for green forests, hiking trails and breathtaking views of the oceanfront. Brac Reef Beach, the island's most famous beach, is a great area for diving, snorkeling and kayaking.
Little Cayman Island
This tiny island is a slice of paradise in the Caribbean Sea. If you're looking for a secluded place with some peace and quiet, this is the spot for you. Venture to South Hole Sound Lagoon for a relaxing beach day or spend your time listening to the birds at Booby Pond Nature Reserve.
Best Hotels and Resorts in the Cayman Islands for a Honeymoon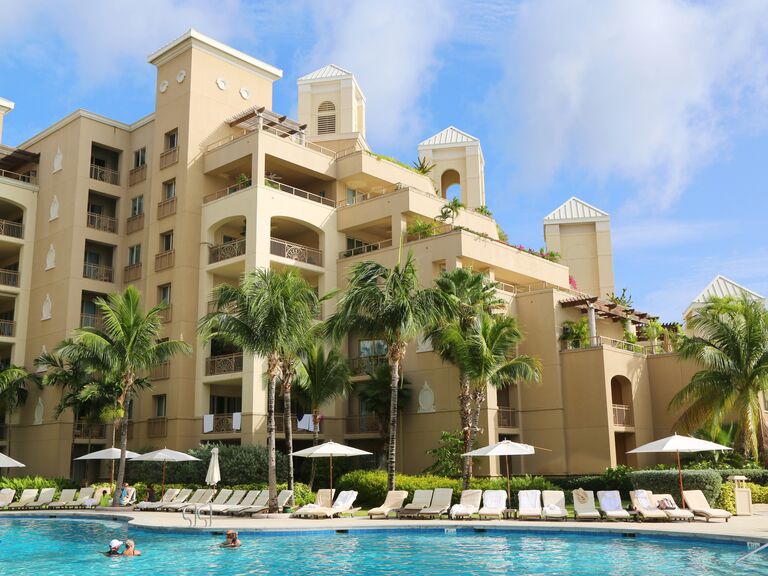 This luxurious resort is located right on the shores of Seven Mile Beach. You'll have uninterrupted views of the bright-blue water during your stay at this hotel. Additionally, this resort offers a pool, six bars and restaurants, and a spa.
Situated on Grand Cayman island, this oceanfront hotel is located on Seven Mile Beach and is in close proximity to Stingray City. With a stunning pool and romantic outdoor patio spaces, you'll never want to leave. Want to bring your furry friend along? This hotel can accommodate some pets upon request.
Looking for a honeymooners' paradise? Consider this resort on Seven Mile Beach. With water views, picturesque gardens and glistening pools, this hotel is a great place to spend your days on Grand Cayman island.
If you're searching for a resort with a little peace and quiet, you may want to head to this spot in Grand Cayman's East End. The perfect place for a relaxing getaway, this resort offers a room-only option, as well as an all-inclusive package.
Searching for accommodations with a bit more space? This boutique hotel offers suites and villas with one to three bedrooms. With oceanfront cabanas amidst towering palm trees and a pool with a direct view of Seven Mile Beach, this hotel is the perfect romantic getaway.
Looking to spend time on Cayman Brac island? Consider booking a stay at this upscale, ocean-view inn. The resort, which is nestled in the lush landscape of the secluded island, has a farm on site. Fresh fruit, vegetables and juice are available from the farm. You'll also have access to the inn's beach club, fitness center and oceanfront pool.
What to Pack for a Cayman Islands Honeymoon
When you head to the Cayman Islands, make sure to bring comfortable clothes that you can do multiple activities in. From kayaking and hiking to touring the island, you'll want to be in shoes you feel comfortable spending an extended period of time in.
If you head to the island during the summer months, be sure to pack a raincoat and rain boots. Stick some sunscreen and bug repellent in your bag to protect yourself from unruly insects and the (always) unruly sun.