A Costa Rica Honeymoon for Beach Babes and Adventure Lovers Alike
Costa Rica's honeymoon resorts, national parks and beautiful beaches make it an ideal getaway.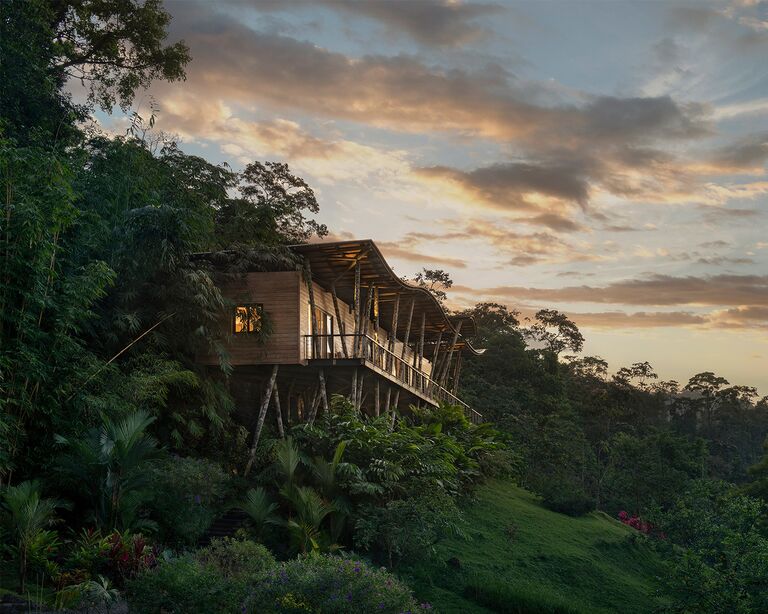 Origins Lodge

We have included third party products to help you navigate and enjoy life's biggest moments. Purchases made through links on this page may earn us a commission.
Costa Rica has much to offer beyond beautiful beaches. Whether you prefer meditating in a boutique hotel near the Arenal Volcano or whitewater rafting in the Pascuare river, you'll find your match in this Caribbean paradise known for embracing la pura vida, or "pure life."
A nonstop flight to San Jose, Costa Rica's capital, or to Liberia, Guanacaste in the northwest region of the country, takes about five to six hours from the East Coast. Southern honeymooners can reach Central America in about four hours. Couples in some US cities, including Seattle and St. Paul, might have difficulty finding nonstop flights, and one-stop flights can range from seven to 10 hours long.
A COVID-19 test is not required for travelers to Costa Rica, however, a health pass and health insurance are. Insurance must cover at least $50,000 in medical expenses and $2,000 in quarantine lodging, and policies are available locally. Travelers cannot travel if exhibiting COVID-19 symptoms, and quarantine is required after a positive test. Face masks are required in enclosed public spaces and on public transportation.
Is Costa Rica Good for a Honeymoon?
Pros of a Costa Rica Honeymoon:
All-inclusive resorts on the Pacific coast's white sands, remote villas, luxury eco-lodges nestled in rainforests are just a few accommodation options. Costa Rica has it all, and newlyweds shouldn't have any trouble finding spots for the perfect honeymoon.
Cons of a Costa Rica Honeymoon:
As you're surrounded by nature and eco-tourism, Costa Rica's natural wonders can sometimes present safety concerns: Not all the beaches are for swimming, and certain bodies of water can be dangerous thanks to sharks and crocodiles, among other wildlife. Mosquitos also thrive in Costa Rica's tropical climate, so carrying environmentally friendly repellant and antihistamines in case of reactions is recommended. The US Department of State says petty crime and theft is a concern for tourists in Costa Rica, so you'll want to stay at a well-recommended property.
The Best Times of Year to Go on a Costa Rica Honeymoon for Good Weather
Mid-December to April is the dry season in Costa Rica, and it's the ideal time to travel. The rain also takes a break in June and July. Since it's a tropical destination, you'll want to be prepared, regardless, for rainy patches throughout the day.
Things to Do During a Costa Rica Honeymoon
Costa Rica provides plenty of opportunities for outdoor adventures, including whitewater rafting, zip-lining and day or night hikes in the rain forest. It's also great for snorkeling, coast-hopping on a catered catamaran mini-cruise or simply lying back in the sand. But each city and province does have its specialties.
San Jose
Colonial architecture, an innovative food scene and bustling nightlife are some of what San Jose has to offer. From San Jose you can daytrip to Manuel Antonio National Park to see toucans and sloths or to take an "adrenaline" tour, if ATVs are your thing. The capital is also about two hours from the Pacuare river, where more outdoor adventures await.
La Fortuna
La Fortuna, a small town about three hours' drive from San Jose, is home to the Arenal Volcano, around which are several hot springs and resorts. There are also chocolate and coffee farm tours, whitewater rafting, animal sanctuaries, and nocturnal wildlife expeditions available in this eco-tourism playground.
Liberia
Liberia, Guanacaste in the northwest is home to several historical churches and attractions, including the Sabanero Museum, which displays the city's cowboy culture, and "sodas," or cafes with local cuisine. In Liberia, there are also craft brewery and chocolate tours available. For those sticking to nature, horseback riding trails and zip-lining tours abound.
Guanacaste
The province also includes the Papagayo peninsula, which is known for its hotels and commitment to sustainability. Tamarindo, another beachside town known for sea turtles and surfing, is also in Guanacaste, as is the quieter resort town of Punta Islita if you want to avoid crowds. Whether you want to go kayaking after spa treatments or nestle in a bungalow in the Nicoya Peninsula, Guanacaste is a popular and reliable destination. Along with hotels, Airbnb boasts several unique stays throughout, including rustic beach houses and treehouses.
Monteverde
This city in Puntaneras, a southwestern province, is home to Costa Rica's famous cloud forests. If you want to walk across suspension bridges above lush treetops, watch the sunset on horseback or explore the rainforest at night, this eco-tourism destination is for you.
Osa Peninsula
Also in Puntaneras province, Oso Peninsula is a remote, rural stretch for adventure lovers. The peninsula is home to Parque Nacional Corcovado, where travelers can hike trails accessible by boat. You can also visit a mangrove swamp, go gold-panning or fly above the small town of Bahia Drake.
Tortuguero
This town in the eastern province of Limon is famous for the turtles of Tortuguero National Park. Tortuguero is an eco-tourism hotspot, where you might spy species of monkeys native to Costa Rica, jaguars and of course, sloths. Tortugeuro can only be reached by boat or local flight, so it might not suit more relaxed travelers.
Costa Rica honeymoon packages
One benefit to choosing Costa Rica as your honeymoon destination is that planning simply requires picking a location. From honeymoon packages at Arenal Volcano to eco-tours from Wild Planet Adventures to private beaches at hotels, there's plenty of convenient fun to be had.
Best Hotels and Resorts in Costa Rica for a Honeymoon
Andaz Costa Rica Resort at Peninsula Papagayo
This Hyatt property offers glass-walled suites with jungle views on a 14-square-acre property. There are three private beaches to stroll through and a concierge available for planning adventure tours.
Four Seasons Costa Rica
You can't go wrong with a Four Seasons property. Along Costa Rica's pristine Peninsula Papagayo, suites at the Four Seasons are designed to feel integrated with the tropical landscape. An "on-site adventure outfitter" can help with planning your stay, and there's private dining and couple's spa services available.
ORIGINS Lodge and Spa
In the middle of a cloud rainforest, just two hours away from the Liberia Airport, is an open-air, luxury eco-lodge overlooking thousands of acres of land. The culinary offerings are Michelin star-rated with true farm-to-table meals, while couples will rise to the soothing chorus of birds in this rhythmic paradise. Activities are endless, including open-air meditation and yoga, spa experiences, hikes, horseback riding excursions and educational day or night walks to learn more about the lodge's focus on sustainability.
Pacuera Lodge
Another one of Costa Rica's luxury ecolodges includes honeymoon getaway packages with airport pickup, adventure tours and couples spa services. The lodge also features an infinity pool, and its suites are integrated into the surrounding greenery.
Tabacon Thermal Resort & Spa
Nestled next to Arenal Volcano National Park, this resort includes a honeymoon suite with two jacuzzis and a breathtaking view of the volcano itself. In addition to hot springs, there's an adults-only open-air lounge, couples spa packages and private dining experiences available.
Marriott Vacation Club at Los Sueños
The Marriott Vacation Club at Los Sueños is located near Manuel Antonio National Park (a national wildlife treasure) for those who prefer outdoor adventures like kayaking and jungle hikes, however, there's also a golf course and shopping available for a slower pace.
JW Marriott Guanacaste
The JW Marriott Guanacaste Resort & Spa provides storybook views of the sea from rooms nestled among palm trees. There are "staycation" deals for those who stay longer than five days and couple's massages at the spa.
What to Pack for a Costa Rica Honeymoon
When visiting Costa Rica, you'll want to pack eco-friendly insect repellant and reef-safe sunscreen, anti-histamine for bug bites, a whistle for hiking, a safe way to carry your cash, face masks, hiking shoes, a water bottle, some long-sleeved shirts and pants for sun protection and hiking, a lightweight rain jacket and plastic bags to keep your clothes dry.