Plan Your Amazing Surfing Honeymoon at One of These Top Destinations
From Bali to Biarritz, surf's up at these 13 hot spots for epic waves.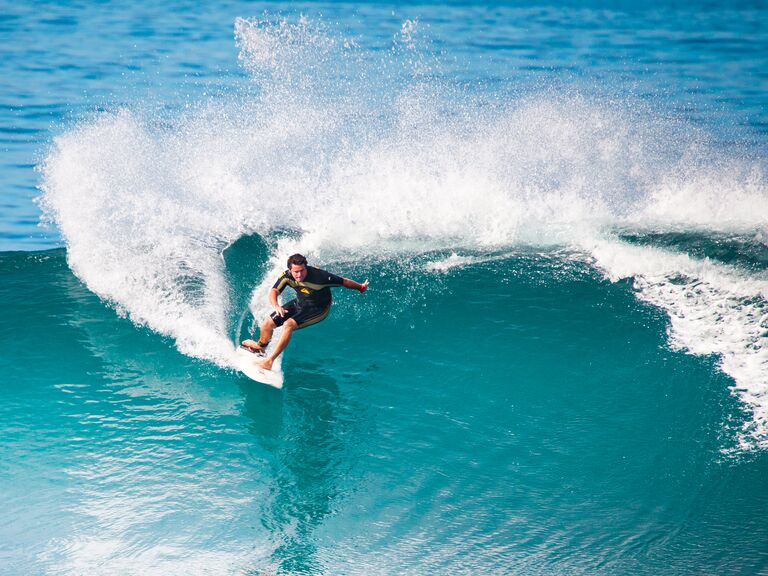 Tiago Sousa / Madeira All Year,Location: Maideira, Portugal
If deciding to officially tie the knot wasn't exciting enough, perhaps one of the best surfing honeymoon destinations in the world will add a little adventure to your first week or two of married life.
Planning a trip that includes at least a few days of surfing can be a super-exciting way to kick off your life together, whether you're experienced surfers or newbies who want to learn a new sport. The destinations below are some of the best places in the world to take a surfing honeymoon. And while they're all very different, they do have a few things in common: great accommodations, nearby surf shops and rentals, and enough breaks that you don't have to paddle out to the same wave every day.
Hang ten on your honeymoon with one of these 13 surfing destinations.
1. Tahiti, French Polynesia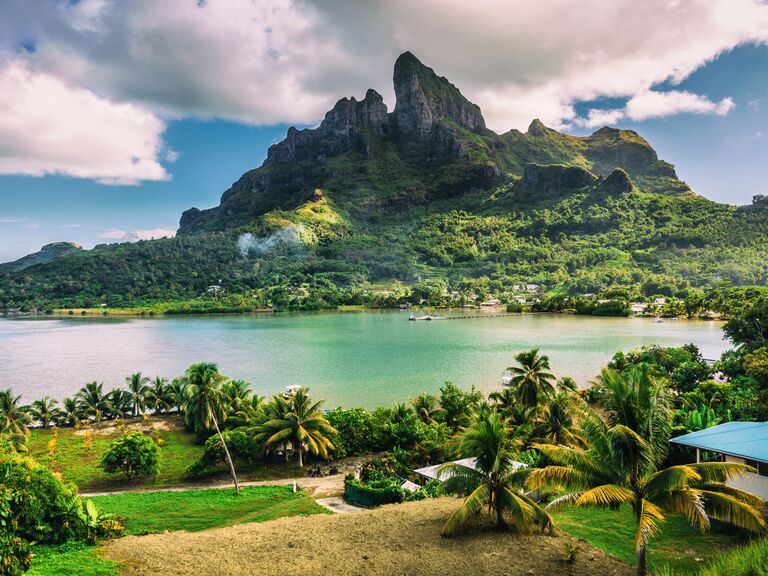 French Polynesia—also called Tahiti, after the country's capital island—is a world-class honeymoon destination. Even if you never step foot on a surfboard, you can lounge in overwater bungalows at luxury resorts, go horseback riding through the jungle or scuba dive in the lagoons around Bora Bora.
But if you do surf, you're in luck. Take the seven-hour direct flight from Los Angeles or San Francisco (on either United Airlines or Air Tahiti). Once you touch down, you won't have to bother traveling to other islands, as the surf breaks on Tahiti are more than enough to fill a week. There are more than a dozen popular surfing spots around Tahiti, and you can take lessons or rent gear from any number of retailers in the capital city, Papeete. Wave height ranges between 2 feet high at the Taapuna site near Papeete to up to 12 feet high near the southern break at Teahupoo.
Beginners should stick to the northwestern sites on Tahiti or take the 30-minute ferry to Moorea and surf at Hauru, a beginner spot where waves are typically a couple feet high. There are dozens of luxurious hotels just south of Papeete that can help arrange surfboard rentals and lessons. The waves here are biggest in the fall (which is March through May in the Southern Hemisphere).
2. Guanacaste, Costa Rica
Costa Rica is one of the world's most famous surfing destinations, so it's no wonder it has plenty of amenities and hotels to accommodate newlyweds who want to hit the waves. The country's most well-known region for surfing is Guanacaste, located on the Pacific side. Within Guanacaste, you'll want to base yourself near Tamarindo Beach, where the surfing is excellent during all four seasons (though summer is probably the best time). The stretch of beach in Guanacaste that has excellent surfing is more than 500 miles long, so it's also a great place for a surfing road trip.
If you're a proficient surfer, head north of Tamarindo Beach to Playa Grande, a national park and sea turtle sanctuary where waves can range from 3 to 8 feet high, give or take. Beginners will find plenty of spots off Tamarindo Beach or just south of the beach at Santa Teresa Beach.
Hotel options here are plentiful. Book an entirely surf-based honeymoon with a package deal at one of the area's many surf camps (for beginners or pros) or spring for a luxurious surfing honeymoon at one of the region's beachside hotels, many of which have infinity pools and on-site spas.
3. Bali, Indonesia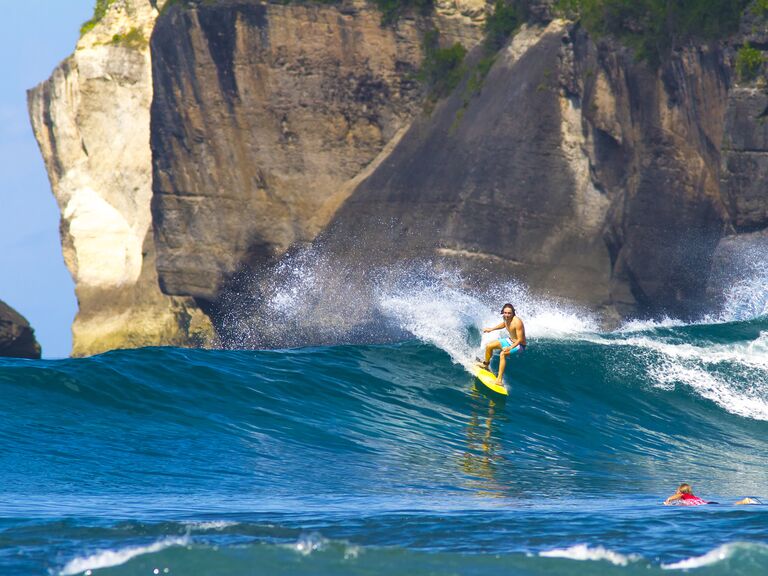 If you love jungle waterfalls, beach resorts and sunbathing under palm trees, the small island of Bali is probably already on your honeymoon radar. But what may bump it up to the top is the island's fantastic surfing, especially around Uluwatu, located on the southern end of the island. (Seminyak and Canggu are also good places to base yourself if you prefer a backpacker, digital nomad-vibe.)
The best surfing in Uluwatu is usually around the southwestern coast on the Indian Ocean. Bali can be a fairly affordable surfing honeymoon destination, and you'll find surf trips and tours for around $30 per person for a half-day. But because Bali is so popular with honeymooners, you'll find plenty of upscale options as well, like surf hotels with private villas and yoga classes. You can also book outdoor-focused vacation packages at many Bali resorts, which usually include a mix of surfing and a few days of experiencing the island's temples, farms, waterfalls and remote jungle villages. Expect some amazing sunrises if you're on dawn patrol.
4. Noosa, Australia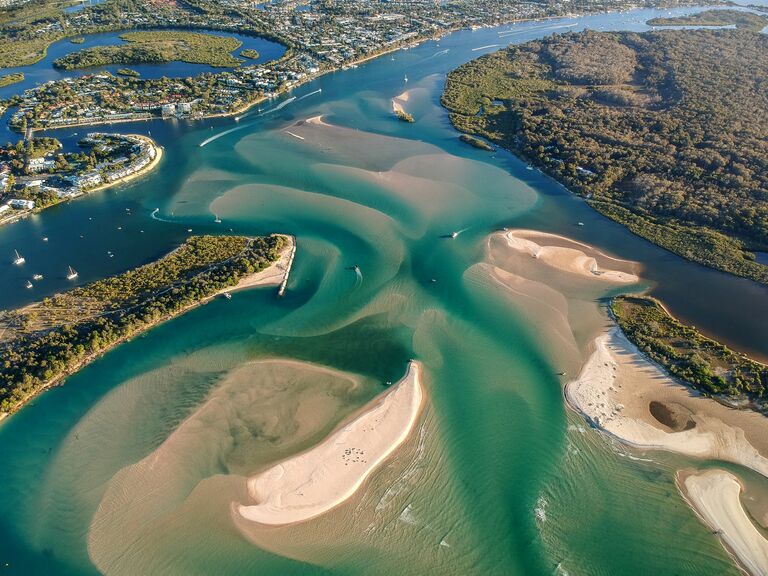 The surf's almost always up down under, so head to Australia for your honeymoon if you have at least 10 days or so, as the flight is super long from the US. You can surf pretty much anywhere along the country's 37,000 miles of coastline, but most people head to the eastern coast, roughly between Adelaide and Cairns.
As a starting point, research hotels and honeymoon resorts around Noosa in Queensland. Noosa is one of only 10 World Surfing Reserves, and it's also part of Noosa National Park, so it's clean, beautiful and safe—and it has five significant surfing areas, so beginners and advanced surfers will both be challenged. Almost every hotel around Noosa will have a partnership with a surf school, and your surf school or guide of choice may also be able to recommend hotels. Noosa is a very surf-focused town, so expect to find many likeminded travelers when you head out for an afternoon beer.
5. Huntington Beach, California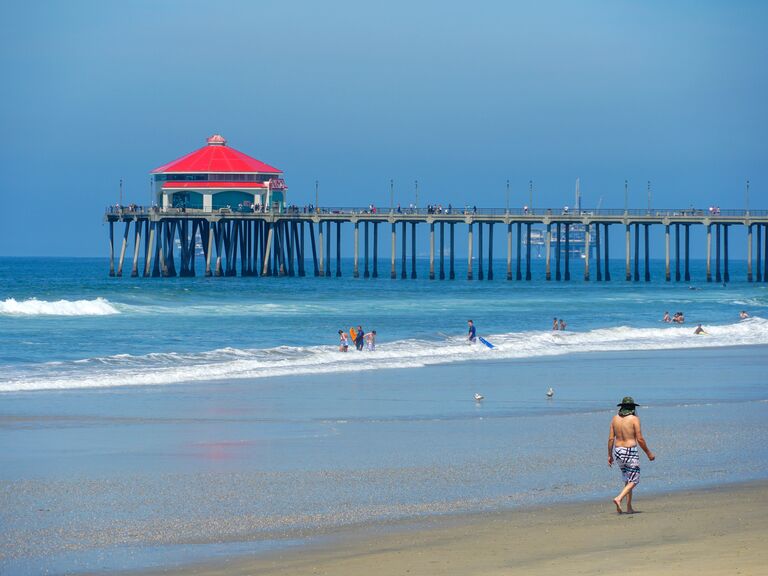 You don't need to take an expensive international flight to have an epic surfing honeymoon—just head to Southern California. The area between Los Angeles and San Diego is well-known for amazing surfing, from the intermediate waves near elegant La Jolla (which are around 3 to 5 feet tall) to the expert-only waves off Huntington Beach, the surf capital of the country. Plan a surfing road trip for your honeymoon, or base yourself at one of hundreds of beachside hotels.
Beginners should head to the north end of Bolsa Chica State Beach for small waves, while intermediate and expert surfers will find clean, consistent waves in every town. Experts will want to plan a winter trip when the crowds are smaller and waves are bigger, but beginners will be happier planning a honeymoon for summer when the surf is more mellow (but expect higher prices and bigger crowds).
6. Oahu, Hawaii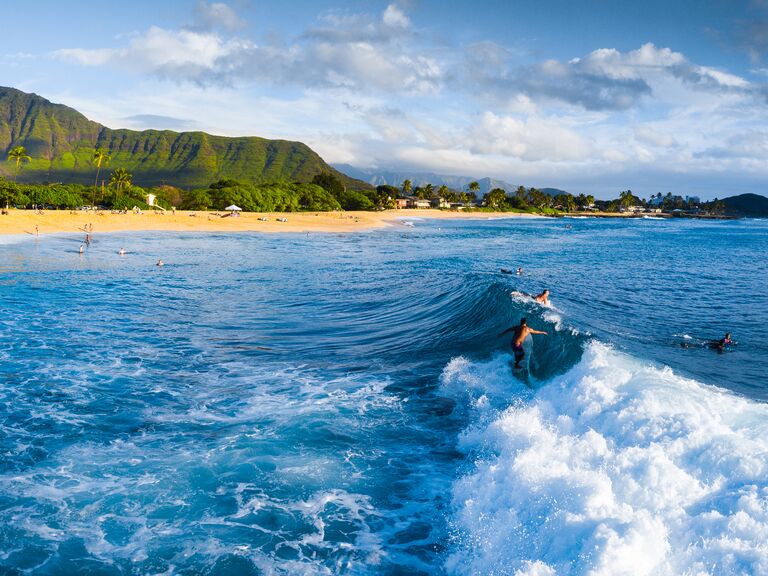 Even non-surfers know about the US's most famous surf break: the Banzai Pipeline, off the North Shore of Oahu. With waves regularly upward of 20 feet tall, most surfers hang out on land while watching the pros ride the barrels.
After you've been inspired by watching the best surfers in the world, head to a more beginner- or intermediate-friendly surf break like Oahu's Chun Reef or Pua'ena Point. Both are popular locations for surf schools, so you'll be able to rent a board on the beach if you didn't bring your own. There's also a lot of great surfing near Waikiki, though it can get a bit crowded in the summer when the waves are knee-high (beginner surfers will want to avoid visiting in the winter when waves are larger and more unpredictable). There are plenty of luxurious, sprawling resorts to choose from, most of which will have professional concierge teams to arrange just about anything you can imagine.
7. Essaouira, Morocco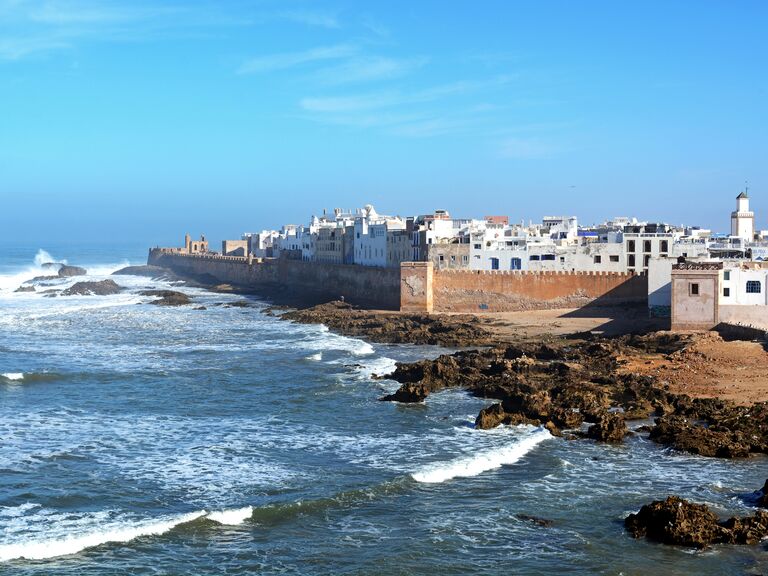 If you and your new spouse want an adventurous, exotic location, head to Morocco's western coast and base yourself around Essaouira for a few days. The area is easy to reach from Spain, so you can combine a few days of surfing in Morocco with a few days of surfing near Bilbao. The waves are the biggest along the southern coast between December and March (up to 15 feet tall), so plan your trip for summer if you're a beginner. You'll probably want a wetsuit year-round, which you can rent from surf shops.
Stay in Essaouira for the most lodging options, surf schools, restaurants and other activities like windsurfing. Waves in Essaouira proper can range from knee-high to 10 feet or taller, and there are breaks just a short drive out of town to suit more intermediate and advanced surfers. Tamraght (two hours south of Essaouira) has smaller, beginner-friendly waves and is a more laid-back alternative to Essaouira.
In Essaouira, consider staying in a traditional luxury riad for a classic Moroccan experience, usually complete with a traditional breakfast and rooftop living rooms. You can also book very budget-friendly surf packages from most major surf shops around big cities like Essaouira and Agadir.
8. Biarritz, France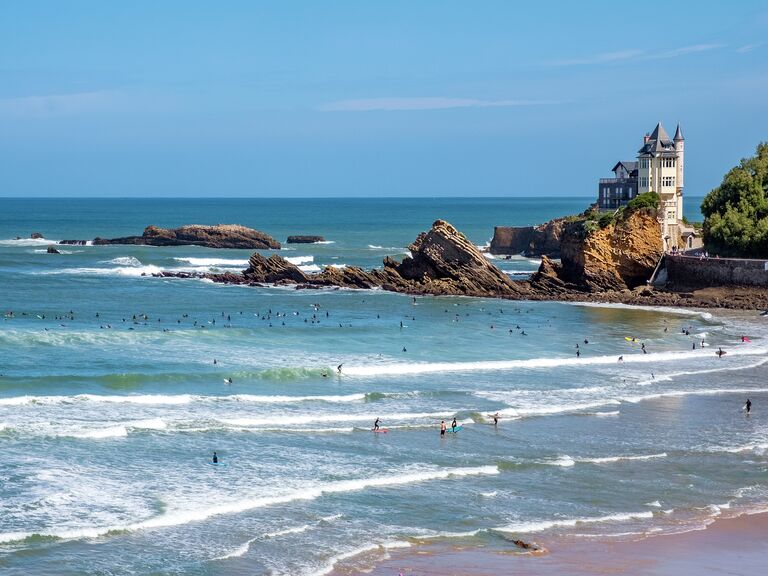 Few cities are more suited to a honeymoon than romantic Paris, and fortunately, few towns are better suited to a surfing honeymoon than Biarritz.
Biarritz is on the Atlantic side (as opposed to the Mediterranean side) of the France/Spain border. While Biarritz is in France, it's close to well-loved Spanish surfing destinations like San Sebastian and Bilbao. The water can be as cold as 50 degrees, so fall is usually the best balance between surfable waves and tolerably cold water—but you'll still want a wetsuit.
La Grande Plage is where most beginners hit the surf, as waves are usually less than 3 feet tall. Le Miramar, on the other hand, is the hang-out spot for anyone who considers their skills intermediate or above. You'll find no shortage of luxury hotels along this stretch of coastline, especially near Biarritz and Bilbao. There are also more budget-friendly getaways for less than $60 a night in some of the smaller beach towns.
9. Rosarito, Mexico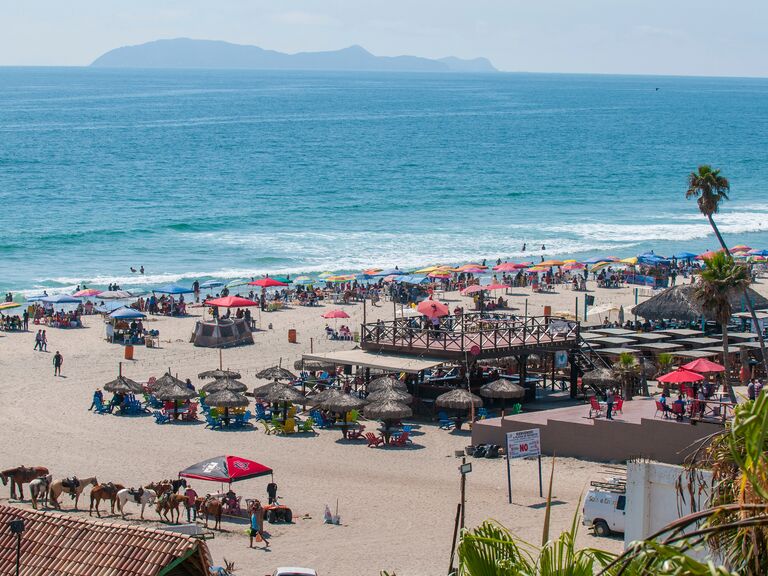 Laid-back, scenic, affordable and regularly listed as one of the top surfing destinations in Mexico, Rosarito is easy to reach for surfing honeymooners who only have a long weekend to spare. The roughly 100-mile stretch of coastline between Rosarito and Ensenada has consistent waves and dozens of well-known spots to hang ten. Because there are so many spots—ranging from mushy, beginner waves to unpredictable monsters for pros only—you'll be able to find some good waves no matter what your ability level is. Waves are smallest in the summer and regularly overhead in the late fall and winter.
Surfing in Rosarito is much like surfing in Southern California, except that hotels, food and drink, and activities are a good deal cheaper. You can also take advantage of non-surfing attractions like whale-watching tours, day trips to Mexican wine country and local food tours. Most hotels also have tour partners who can help arrange snorkeling trips.
10. Madeira, Portugal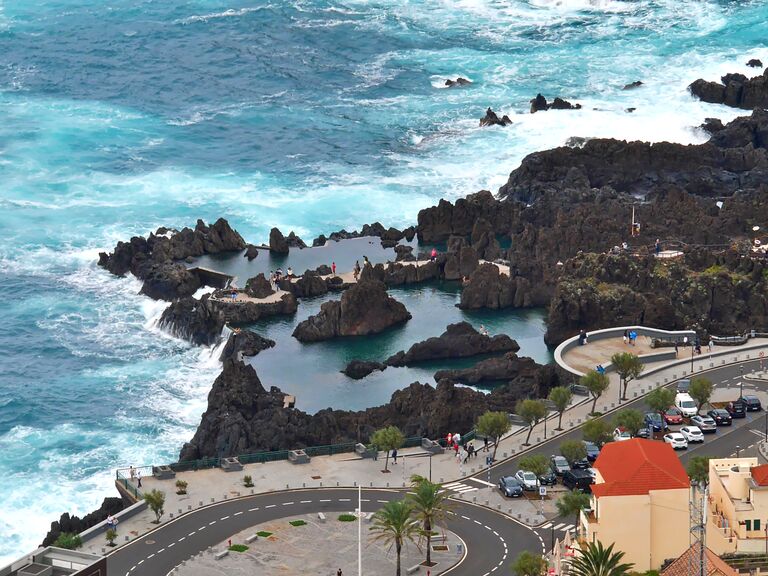 Madeira, the birthplace of surfing in Portugal, is an island off the coast of Morocco, north of the Canary Islands. The island isn't popular yet with mainstream tourists, but in the outdoor adventure community, it's known as a top destination for various extreme sports, including surfing. The sport started to catch on there in the 1970s, but the island is never as crowded as European mainland surf towns because it's so remote.
Madeira is best for intermediate and above surfers, with variable waves and rocky entrances and exits. The main breaks are around the northwest, though Machico, on the southeastern side, is usually safe for beginners. However, there isn't much landmass in the area aside from Madeira, so expect big waves rushing in off the Atlantic. In the winter, waves can easily be 10 feet high. Fortunately, the water is fairly warm, so you can likely get away with a light wetsuit even in February, when the waves are at their peak.
The biggest town is Funchal, which has plenty of nearby surf shops, as well as beautiful beaches. If you already know what you're doing, stay closer to the breaks in the north. Beginners can also occupy themselves with other activities on the island, like waterfall hikes, mountain biking and scuba diving in water as blue as anywhere in the Caribbean.
11. Santa Teresa, Costa Rica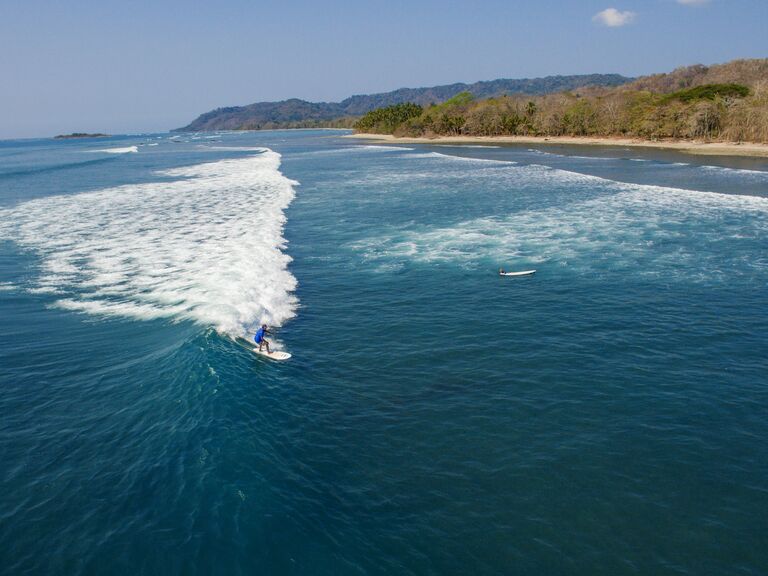 Another Costa Rica listing? You bet. Costa Rica is known as one of the best surfing destinations in the Western Hemisphere, and it doesn't hurt that it's affordable and safe, too. Oh, and 98 percent of the country's power comes from renewable resources, so traveling there is a great way to support a climate-friendly economy.
On the far southern tip of the Nicoya Peninsula is Santa Teresa, a laid-back beach town that backs to dense jungle. The breaks around Santa Teresa are best for intermediate surfers and above, and because it's still fairly undeveloped, it has an authentic Costa Rican feel untouched by chain hotels.
That's not to say there isn't anywhere romantic to stay. Do a quick search for beach resorts in Santa Teresa, and you'll find a few great options, many of which have amenities like outdoor showers and plunge pools. Most area resorts have beginner waves off their beaches and can arrange a class to get you ready to hit the larger waves down the street at Playa Carmen.
12. Cape Town, South Africa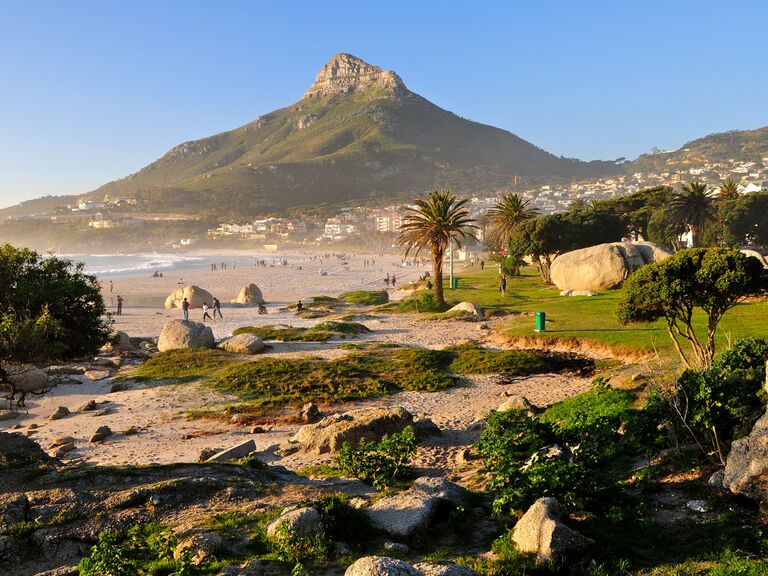 Surfing in South Africa is ridiculous in the best way possible. Expect entire beachside towns devoted to the sport, as well as waves that are B-I-G. If you're not comfortable in your abilities quite yet, be sure to take lessons for a day or two before heading out to some of the Cape Town area's most popular breaks.
The biggest waves come rolling in between early April and September and can be anywhere from 5 to 6 feet high in the summer and 15 to 20 feet high in the winter. The very biggest waves are usually at the "sunset" break near Cape Town—experts only, full stop.
An added bonus to taking a surfing honeymoon in South Africa is how much there is to do after you've peeled off your wetsuit. Go on a safari, scuba dive with sharks, or tour Cape Winelands wine country.
13. Rincón, Puerto Rico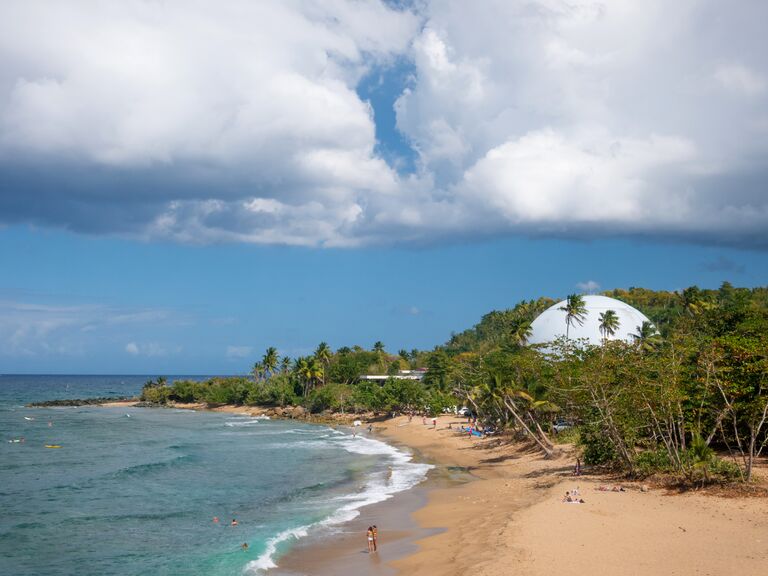 No passport? No problem. Check your board for the quick flight to Puerto Rico's capital city of San Juan, then head to the west side of the island and base yourself at pretty much any coastal town to have everything from beginner to advanced breaks within a quick drive.
If you're a pro who's comfortable with rocky shores and avoiding reefs, head to Dogman's or Little Malibu. Paddle out to Parking Lots (which should tell you how crowded it gets) for some small and intermediate morning waves. In general, waves are biggest in the winter, but fall can bring some massive barrels if tropical storms are forming in the Atlantic. If you're looking for smaller waves, visit during the summer when the sea is calmer.