5 Reasons to Say "Yes" to Couples Boudoir Photos
It might sound super awkward, but a joint boudoir shoot can be extremely romantic.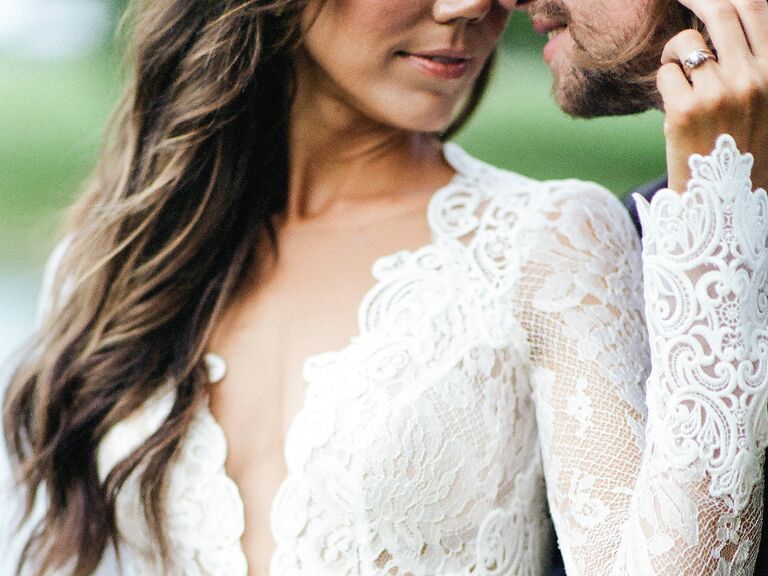 Tamara Gruner Photography
Thinking about showing some skin for a boudoir or dudeoir photo shoot? Gifting your partner a private collection of sultry photos of you is a sweet, sexy reminder that married life isn't only about paying bills, visiting in-laws and setting up your new place. It's about emotional and physical intimacy (aka sex and time to yourselves!). So why not turn the heat up in front of the camera together before getting married?
More brides and grooms are jumping on the couples boudoir train and hiring photographers to capture their most beautiful and intimate moments as a duo. Doesn't sound like something you'd ever be into? Don't shy away from the idea just yet. Here are few reasons why couples are opting to snap steamy photos as a pair, and why you shouldn't knock the idea before at least considering it.
1. It Can Be as Modest or Risqué as You'd Like
Go with your style, personality and comfort level. If you're tempted to give it a try, but don't want to get all Fifty Shades of Grey, your photo session can lean as far from X-rated as you're comfortable with. Whether you slip into lacy lingerie, wear your favorite camisole or strip down completely—your wardrobe, experience and resulting album should be an intimate reflection of you as a couple, whatever that may mean.
2. You Won't Believe How Beautiful You Both Look
There's nothing like the experience of a professional photographer taking your photos. They know how to work with light and your setting, and how to help you find your most flattering angles, poses and facial expressions. The best photographers allow you to find and thrive in your comfort zone (very important for a boudoir shoot, since you're both physically and emotionally exposed), but they'll also work with you to push your limits and try something beyond your comfort level. The results will exceed your expectations, especially in a shared boudoir shoot where your emotions will be so raw and authentic.
3. You'll Be Camera Shy No More
What better way to prep for a day in front of the lens (ahem, your wedding day) than a prewedding shoot? You may have already taken engagement photos (if not, you should!), but these up-close-and-personal shots will be for your eyes only and have a very different vibe. Once you strip down and get those organic emotions flowing for a photographer, you'll be able to handle any time in front of a camera, which means you'll look totally relaxed, natural and at ease in your wedding photos.
4. You Get to Spend Time Together
How often do you and your partner get to just hang out in bed in your underwear? Maybe for an hour on a weekend morning before you have to meet friends for breakfast, return a pair of jeans or rush to a cake tasting. Give in to the moment and relish the chance to cozy up with your favorite person ever with no obligation other than to be in love, feel sexy and let loose. Do we really have to twist your arm?
5. You'll Share a Secret, Romantic Memory
The only downside to starring in a prewedding photo shoot together isn't even a real one: Since you'll both know about the boudoir session, the album won't be a surprise gift. But that's part of what makes it so special. You can look at the final results together and laugh while remembering awkward moments from the shoot, and smile recalling the special, intimate moments when you both got really into it. You'll have a special, private treasure trove of photos and memories you get to share forever.
Now it's your turn to weigh in: