The Essential Interview Questions to Ask Photographers, According to The Knot Ones to Watch
Here's a snapshot of the interview questions you should ask.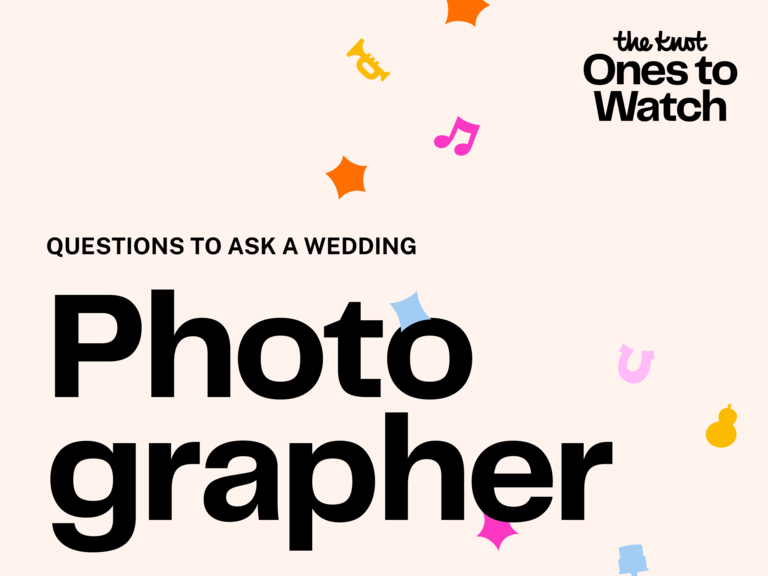 After the "I dos" are all said and done, your wedding photographs are one of the only mementos you'll have left from your big day. So, suffice to say, choosing a professional wedding photographer who matches your style and can expertly capture those special moments is an important decision in the wedding planning process.
You should always do ample research and narrow it down to a few wedding photographers you love. From there, you will go into the interviewing phase, where you reach out to each wedding photographer to assess whether they'll be a good fit for your wedding.
What important questions should you ask? First and foremost, make sure they have your wedding date available. If they do, you can then dive deeper by asking these essential questions.
In this story:
Meet Our Ones to Watch Experts
We connected with five expert wedding photographers who were recognized as The Knot Ones to Watch 2023 honorees to get their advice on what questions couples should ask prospective wedding photographers.
Novaes shares that it's important to interview a prospective photographer to gain an understanding of "their approach and finding a level of synergy. We work with couples for over a year—we need to make sure our personalities and goals align. Personally, I use any initial conversations as a starting dialogue or conversation to see who they really are." The pro goes in to add that, "if couples are interested in talking to a photographer about working together, they should review their website and pricing guide upfront to answer questions and identify any remaining items that should be covered. From there, you can spend your time getting to know the 'feeling' of working together, in addition to the values you share with your photographer (which you should). This is like dating in a way!" Below, these expert photographers weigh in with their wealth of knowledge on photography.
Wedding Photographer Questions About Background and Experience
As a starting point, ask questions that will reveal important information about a photographer's background and experience. Get a sense of why they started in the industry and the journey their career has taken since then. The questions below are a few you can consider to begin.
1. How do you personally view and value love and marriage?
Benson encourages engaged couples to ask this question to get a sense of a pro's personal values and perspective. The best way to ensure you're hiring inclusive wedding vendors who are aligned with your priorities is to ask them directly.
2. Do you love what you do? Why?
Wedding photography is a profession that is more intimate than, say, a meteorologist or accountant. This creative professional is capturing intimate moments of a major life milestone, which is why Benson encourages to-be-weds to ask this question. As such, it's advisable to have a photographer whose heart and soul are really in the job. You want someone who will go above and beyond for your wedding, not someone who is checked out and only interested in a paycheck.
3. What is your favorite part of a wedding day?
Similar to understanding if they love the profession on a broad scale, Shim encourages couples to ask about specifics. What moment on the wedding day really pulls at the pro's heartstrings? Their answer will illuminate where their heart is and what they really care about on the big day.
4. How many years have you been shooting weddings? How many weddings have you shot total?
Shim suggests to-be-weds ask this question to get a sense of a vendor's true experience. They may have a robust portfolio of styled shoots or portrait sessions, but you want to understand how well-equipped they are to handle your wedding day. In short, are they really cut out for the job?
Hiring a wedding photographer with less experience is not necessarily a deal-breaker, but it is something to consider when you're making your final decision. If they have less experience but have shot a wedding at your wedding venue before, consider this a bonus. This is also an excellent opportunity to ask for testimonials from past clients.
5. What atmosphere during a wedding day allows you to create your best work?
As fun and joyful as the wedding will be, the photographer is still doing a job and has to create stunning images. Everyone needs ideal working conditions to produce their best work, photographers included. Asking this question will help you get a sense of if the vendor will thrive in the environment of your wedding day. Does their vibe match the vibe you anticipate for the wedding?
6. When working with couples, what do you value the most?
You and your partner have likely talked extensively about your wedding priorities, but each of your vendors has their own priorities they'll bring to the mix, ones that should ideally align with your vision. Novaes encourages couples to ask prospective wedding photographers about what they value most from working with their clients.
7. Do you have any advice for us in terms of selecting the right wedding photographer?
Sometimes you simply don't know what you don't know. Novaes encourages couples to ask photographers about the factors they think should be weighed in the decision-making process in case you've overlooked something.
8. Can we see some of your past work from real weddings?
As the saying goes, pictures speak louder than words. In addition to hearing about the wedding photographer's experience and client testimonials, you should ask to see their past work. But it isn't enough to ask just to see a portfolio. You want to see full galleries from weddings, as opposed to styled shoots and social media highlight reels. This will show you the depth and breadth of a vendor's skill. Can they capture dimly lit reception photos just as well as they can snap golden hour portraits?
Wedding Photographer Questions About Style and Inspiration
The photos from your wedding day will become cherished keepsakes by which you remember your wedding day. Plus, you want a pro with a distinct point of view, not someone that is just going to copy what's trendy with other photographers. As such, it's critical that you ask questions pertaining to a pro's style and artistic approach. These questions will help you gain an understanding of their creative process and source of inspiration.
9. How would you describe your wedding photography style?
A wedding photographer can be the best in the business in terms of skill and quality, but if their aesthetic and style don't match your wedding vision, they might not be the best fit for you and your partner. In addition to checking out their website and social media accounts, have them describe their photography style to you to ensure it's a good fit.
10. What is your photo editing style?
The wedding photographer's photo editing style will also affect the end result of your wedding photos. Note if their style is bright, timeless or moody. Also, she recommends asking how they achieve a cohesive look when there are different lighting situations throughout the wedding day. If you're interested in additional photo editing services such as color correcting or retouching, this is a good time to ask about them.
11. What inspires you?
This is a broad question, but Benson encourages couples to ask it to better understand a pro's creative point of view. Listen closely as they share how they infuse their inspiration into a wedding day.
12. When you've photographed so many weddings already, how do you take photographs that tell our story in a unique way?
Weddings are taking place every day, but your wedding is still your own day to plan uniquely. And you want a photographer that appreciates that and will help make your day feel authentically yours.
Wedding Photographer Questions About Budget and Packages
As with all potential wedding vendors, you need to discuss budget so you can ensure you've allocated enough funds to cover the cost of the photographer you hope to book. Beyond simply asking about cost, this is the time when you should also discuss the types of packages a vendor offers and what's included at each tier of service. You want to walk away from the conversation with crystal clarity about what your budget will and won't cover.
13. At what price do your packages begin?
The final cost of your photography will depend on numerous factors, like how many hours of service you book and any add-ons you have. But you can ask about starting prices early in the inquiry process to gauge whether the business is roughly within the range you'd been planning on or if they're outside your budget. You want to ask this question early so no one's time is wasted by pursuing a partnership that won't be financially viable.
14. What do your wedding packages include?
Talking about packages and pricing is a must. Most wedding photographers will offer different packages that include a certain number of hours, engagement photos, a second photographer, prints and albums. Clarify what is included within the quoted price and what add-ons will cost additional fees, such as travel costs for destination weddings, overtime hours or shooting other pre-wedding events like the rehearsal dinner. If the photographer works with a team, such as an assistant or second shooter, double-check who will be shooting your wedding as part of the package.
Wedding Photographer Questions About Logistics
So you've covered all the preliminary questions, now it is time to ask your wedding photographer questions pertaining to logistics for the big day. These inquiries will help you iron out all the minutiae.
15. Are you available on our wedding date?
If the answer is no then the photographer's reply to everything else is moot. It's paramount that you ask early on if your photographer has availability on your wedding date.
16. What's your biggest tip for couples to get the best wedding photos?
Forsberg encourages to-be-weds to ask this question because sometimes you just don't know what you don't know. An open-ended question like this provides space for the photographer to tap into their expertise and relay a nugget of wisdom they feel is important.
17. How do you handle unforeseen circumstances?
While you hope nothing unexpected happens on the wedding day, it would be foolish not to have backup plans in place in case something goes awry. Asking this question will give you clarity around how a photographer rolls with the punches and if they'll be able to pivot quickly.
Life is unpredictable. If something should happen and the wedding photographer is unable to photograph your wedding, it's nice to know they have some sort of backup plan in place. The same goes for the photography logistics and backup equipment. From the day of the actual wedding all the way to post-production, the photographer should be taking certain precautions. This could mean everything from having extra memory cards on the wedding day to saving photos in multiple places.
18. What's your approach to posing and capturing a wedding day?
This is an especially helpful question if you tend to feel shy in front of the camera and want to know how a photographer will direct and instruct you, which is why Forsberg encourages engaged couples to ask it. Do they take a hands-on approach to posing and creative direction or do they prefer to allow things to happen more organically? There's no right or wrong approach, but you ultimately want to select a photographer whose unique approach gels with your vibe.
19. What is it like to work with you on the day of the wedding?
Your wedding photographer is one of your VIP wedding vendors. They'll be the one by your side every step of the way, capturing all of the magic.
Every photographer works differently. Asking the wedding photographer to walk you through how the wedding day will flow can give you a better sense of their energy, their shooting style and what it's like to work with them. Some might offer guidance when it comes to posing, while others may focus on shooting natural, more candid shots. There's no right or wrong option—the important thing is that the photographer's style matches your vision and they make you and your soon-to-be spouse feel comfortable.
20. Can we request specific shots?
As you've been planning your wedding, chances are you've accumulated Pinterest boards chock-full of photo inspiration that perfectly encapsulates your photography style. If you'd like to recreate some of those images on your big day, ask if this is something the wedding photographer is open to delivering. Many wedding photographers take photo requests and may also have you fill out a questionnaire in which you can indicate which shots are the most important to you. But also keep in mind that you're hiring the pro for their expertise so it's important that you don't limit them by enacting too many requests.
21. When will we receive our wedding photos?
Once the wedding day is over, the excitement to see your wedding photos starts building. Your wedding photographer will likely take their time editing the photos before getting them all back to you. Still, it's important to know upfront what that time frame will be so you're not refreshing your email 24/7. You can also ask for additional details about the images, such as how they'll be delivered (high-resolution, un-watermarked, etc.) and if they'll share teasers or sneak peeks shortly after the big day.
22. What are the next steps?
Once you've gotten through all of your pressing wedding photographer questions and you feel they are a perfect fit, the last question to ask is about the next steps needed in order to hire them for your big day. This might include asking how far in advance you need to book them, reviewing the contract, paying the deposit and going over other logistics, such as refund and cancellation policies, payment methods and liability insurance.
23. Can we buy albums through you?
Once the wedding is over and the photographs are edited, you don't want them sitting in an online gallery forever. Ordering prints and wedding photo albums is the best way to be able to enjoy these keepsakes fully.