Your Road Map to a Dreamy Croatia Honeymoon
From Dubrovnik to the Dalmatian Islands, this coastal country doesn't disappoint.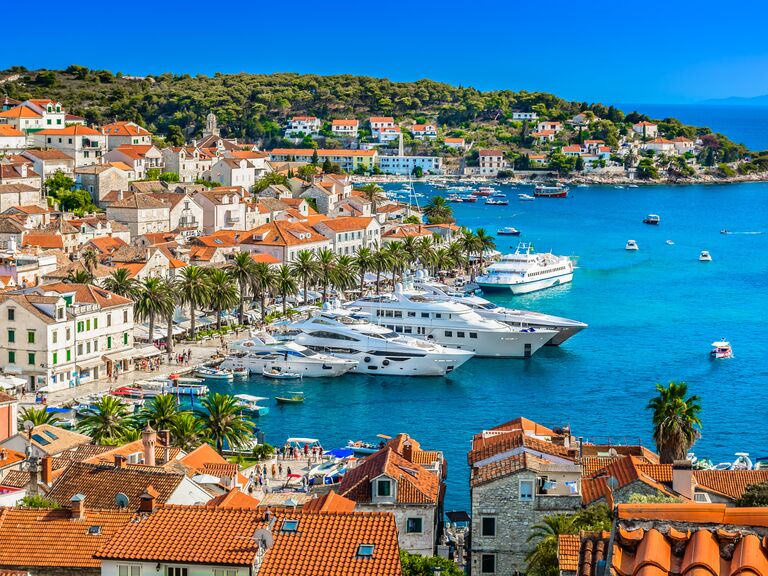 Dreamer4787/Shutterstock
We have included third party products to help you navigate and enjoy life's biggest moments. Purchases made through links on this page may earn us a commission.
A Croatia honeymoon continues to climb higher and higher on travelers' radars for good reason—couples will marvel at the glittering shores of the Adriatic Sea, romantic medieval architecture, and fascinating food and wine scene within the walled cities of this destination.
Whether you're planning to spend your days touring the island-speckled coast or you aim to uncover the wonder behind the cities' walls, read ahead for everything you need to know about planning a beguiling getaway in this Balkan locale.
Is Croatia Good for a Honeymoon?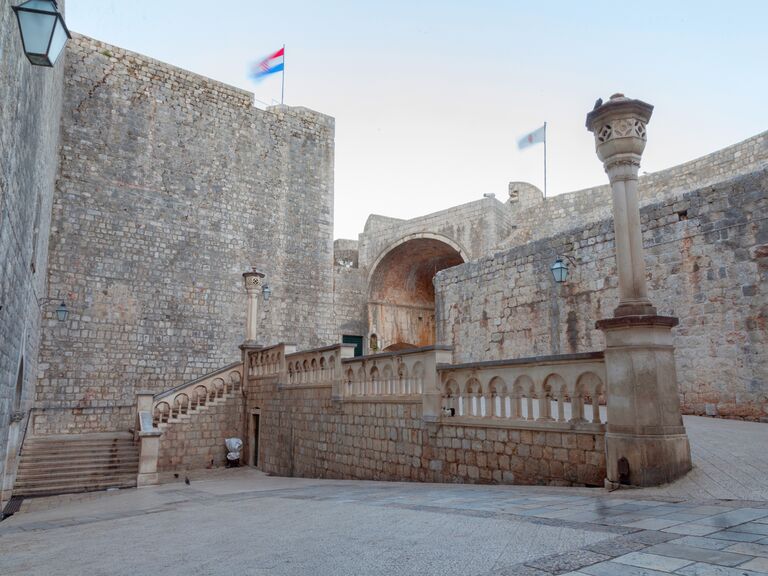 Situated in southeastern Europe, the crescent-shaped country has a lot to offer honeymooners, but the trek will be much easier for East Coast travelers, as flights from the West Coast often include two or more stops. Despite its consistently rising popularity, the only direct flights from the United States are from New York to Dubrovnik, and clock in at around 10 hours.
Pros of a Croatia Honeymoon
Croatia is an incredible country for couples seeking a honeymoon destination that shines in the summertime, is rich with cultural diversity and is home to an exciting culinary scene. Game of Thrones fans will also enjoy visiting familiar locations that served as the backdrop for iconic series settings, such as King's Landing.
Cons of a Croatia Honeymoon
Croatia is an extremely seasonal destination, so couples who have a specific window of travel time may not find as much to do or see in the country if their vacation dates fall outside of the peak tourism period.
The Best Times of Year to Go on a Croatia Honeymoon for Good Weather
Summer is undoubtedly high season because of its persistent sunshine and full schedule of festivals; these months are prime for exploring Dalmatia and sailing the Adriatic coast. However, the shoulder seasons (May to June and September to October) tend to be less expensive with more variety for accommodations and fewer crowds.
Places to Visit in Croatia for a Honeymoon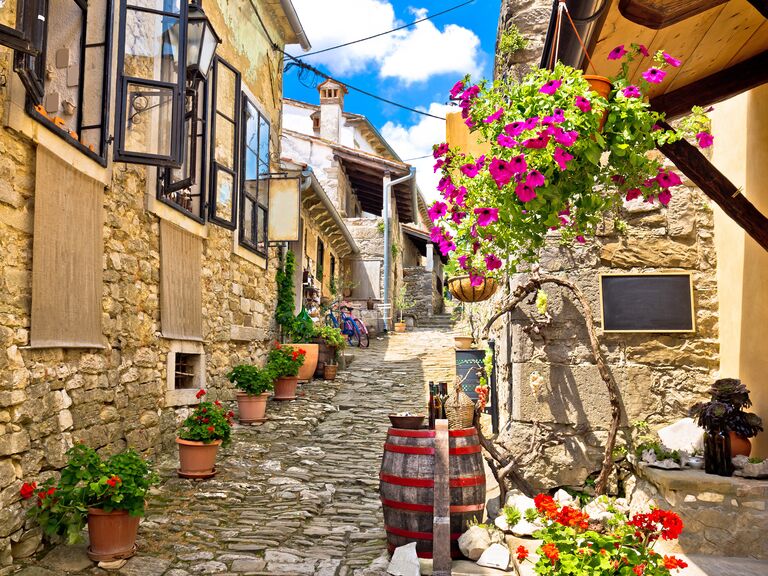 Istria
Though the southern coast of Croatia gets most of the attention in the summertime, the northernmost peninsula of Istria is an incredible off-the-beaten-path destination that will have year-round appeal, especially to gourmands. One of the most highly regarded gastronomic regions of the Mediterranean, Istria is famous for its wineries, olive groves and impressive number of truffles.
Dubrovnik
Largely considered the "pearl of the Adriatic" since being dubbed such by the famous English poet Lord Byron, Dubrovnik is the country's most prominent tourist landing spot. Get lost in the winding alleyways of the limestone streets or hop on a cable car up to Mount Srd for a bird's eye view of Old Town.
Hvar
Widely recognized as one of the best islands in Europe, Hvar is also said to be the sunniest in the Adriatic archipelago. Offering dazzling waterfront views, Hvar Town's main harbor is just steps from the speed catamaran connections to Split and Dubrovnik. It's also close to jumping-off points for yachting adventures, wine tasting tours and more.
Split
Wander through Split's enchanting Roman Old Town to Riva—the palm-lined promenade facing the sea—and enjoy a long coffee break like the locals. Soak up the daily life of Croatia's second-largest city, and take in the perfectly balanced blend of tradition and modernity in this buzzing municipality set on a stage of historic monuments and ancient ruins.
Things to Do During a Croatia Honeymoon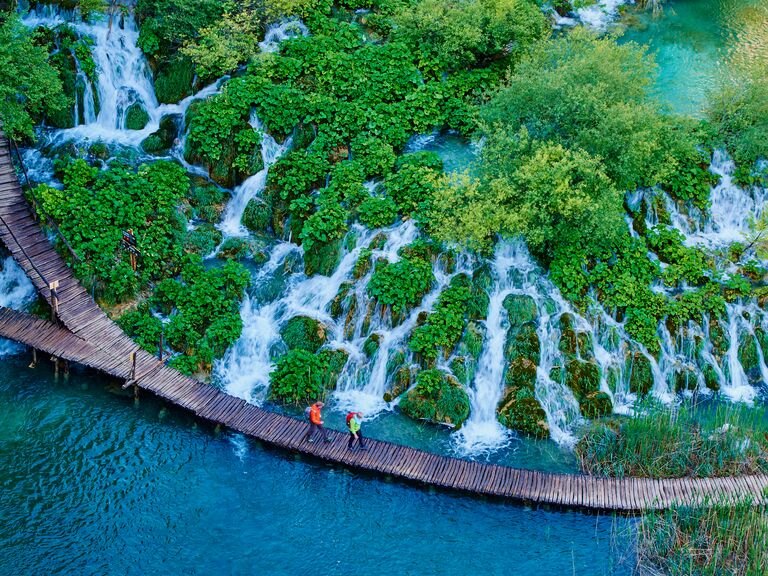 Attend the Festivals
The annual Lavender Festival takes place in Hvar, and a must-have moment includes visiting the fragrant fields during their July bloom for the perfect honeymoon photo shoot backdrop. The Hvar Summer Festival (continuously held since 1961) and the Split Summer Festival will bring you days filled with live dancing, drama and music from local performers.
Explore by Boat and Bicycle
Sail the Dalmatian Coast aboard a private charter and cycle into historic cities with VBT Bicycling Vacations. Take a lap around the medieval fortress, amble through the tiny villages on the island of Vis, visit one of the last remaining stonecutters' schools on the island of Brac, or spend an afternoon amidst the natural beauty of Mljet National Park.
Book a Croatian Cruise
If you're keen on seeing it all but want to deal with as few logistics as possible, book your flights and embark on a 10-day tour through National Geographic Expeditions. You'll discover the country's diverse cultural history in the Croatian capital of Zagreb and explore sites such as the Old City of Dubrovnik, Plitvice Lakes National Park, Diocletian's Palace and Montenegro's Gulf of Kotor.
Best Hotels and Resorts in Croatia for a Honeymoon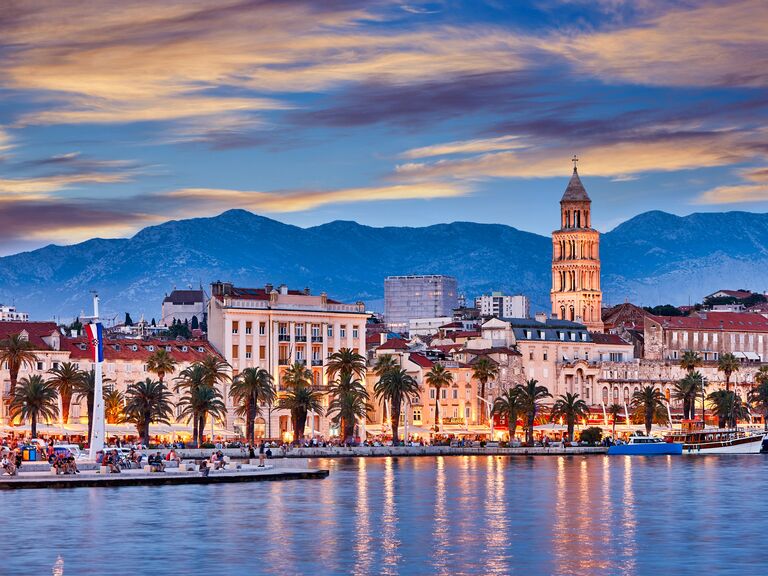 Positioned on a pristine stretch of coastline, this Marriott beach resort is set just outside the city and is the nearest five-star resort to Split. Laze the day away with a cocktail in hand at the trendy Gooshter Beach Club, or cycle through a circuit of steam baths and saunas in the spa to rejuvenate after a day of exploring.
Situated in the heart of Hvar, this luxurious landmark and its magnificent Venetian and Austrian architecture make it the island's first five-star heritage hotel. Rooted in history dating back to the 13th century, the property features all the modern amenities you could ever ask for, including stunning design details, an indoor pool, expansive terraces and a spa—all with unparalleled views of the harbor.
Overlooking the forested island of Lokrum, Villa Orsula is just a five-minute stroll from the white-stoned UNESCO World Heritage Site of Dubrovnik Old Town. Once the home of a local noble family, the retreat is now part of the Adriatic Luxury Hotels portfolio and has evolved into an ultra-stylish combination of historic architecture and trendsetting interiors that are complemented by five-star concierge service. Spend your days sunning on the private beach, reading a book in the oasis of wild orange trees, or bellied up at the bar for a craft cocktail served with live jazz.
This boutique hotel has been renovated with special care for Croatian tradition, offering an unmatched experience on the Istrian countryside that features locally influenced design and highly personalized service. A private dinner for two in the olive groves is the perfect honeymoon experience for couples seeking a secluded hideaway with authentic, village-inspired appeal.
What to Pack for a Croatia Honeymoon
A trip to Croatia is likely to involve beaches, boating or both—bring a couple of swimsuits along with resort-chic styles or sundresses that can double as swim coverups. Casual lightweight clothing is ideal for daytime activities, along with hats, sunglasses and plenty of sunscreen. Comfortable, sturdy footwear is recommended for sightseeing or climbing the city walls. Water shoes are a must for some of the rockier beaches.
A daypack and beach bag will offer convenience for both city excursions and days on the water.