13 Mediterranean Honeymoon Destinations That Are Seriously Romantic
From Santorini to Sardinia, delicious food, ancient ruins and luxurious beaches abound.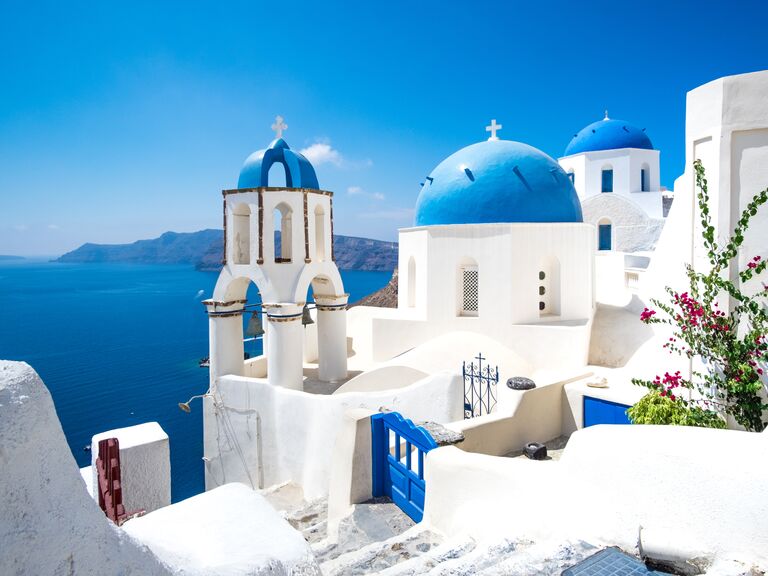 Martin M303 / Shutterstock,Location: Oia village, Santorini, Greece
The relaxing beaches, laid-back European culture and scrumptious food of the Mediterranean have made the area a popular vacation destination for good reason. If you're interested in celebrating your nuptials with a romantic Mediterranean honeymoon, there is certainly no shortage of exciting cities for you to visit. No matter what you're hoping to get out of your trip, you can rest assured that the good weather, lovely turquoise waters and delicious food will be memorable for years to come.
Pack your bags, brush up on the language of your choice and ready your taste buds, because these are the 13 best places to visit in the Mediterranean.
1. Santorini, Greece
Spend your honeymoon on a gorgeous island when you take a trip to Santorini in Greece. Snag that classic Santorini Insta shot of the white-and-blue Greek buildings overlooking the beautiful coastline, take a romantic winery tour or explore the archeological site of Ancient Thera. If you have time, hop on a ferry for a few hours and head over to nearby Mykonos, where you can spend your days walking on the beach and enjoying the nightlife after the sun goes down.
2. Kotor, Montenegro
Enjoy both the serenity of the mountains and the sunshine of the coast when you set up camp in Kotor in Montenegro. The old town is full of awe-inspiring medieval churches, twisting cobblestone roads and gorgeous cathedrals that you won't want to miss. Visit Our Lady on the Rocks, the San Giovanni Fortress and the Sea Gate to truly get a feel for the city. Once you've had your fair share of sightseeing, rest your feet at a local cafe and watch the people walk by while you listen to live music. Don't forget to visit the Cats Museum if you're a feline lover.
3. Dubrovnik, Croatia
Just a short ride away from Kotor, Dubrovnik in Croatia offers equally as gorgeous views of the Adriatic Sea from behind its huge stone walls and medieval ramparts. Climb to the top of the city walls to enjoy some of the best views of the landscape, and spend the rest of the day exploring the vibrant old town's historic sites. Take the cable car to the top of the mountain, where you'll enjoy beautiful views and tasty Mediterranean cuisine. If you're a Game of Thrones fan, you may notice that Dubrovnik looks suspiciously like King's Landing—it's fairly easy to book a Game of Thrones tour while you're there.
4. Barcelona, Spain
Head to the bustling city of Barcelona to enjoy a cosmopolitan beachside getaway. Whether you're walking through one of the vibrant markets, checking out the Barcelona Cathedral or marveling at the Picasso Museum, you're sure to have a vacation that you'll never forget. The tasty food, exciting nightlife and mix of modern and ancient culture are more than enough to entertain you every day. Check out some of the local art on the busy Las Ramblas, or take in the architectural wonders of the Gothic Quarter.
5. Sardinia, Italy
Sardinia may be the namesake for those tiny fish you pick out of your salad and off your pizza, but it's one Italian island you certainly won't want to miss. Its gorgeous white-sand beaches and turquoise waters will have you in heaven, but don't overlook the local villages and breathtaking mountain range, which are equally as enticing. Check out the colorful town of Bosa, where you'll be snapping some very aesthetic pictures, or enjoy the luxury resorts and fine dining at Costa Smeralda.
6. The Amalfi Coast, Italy
You and your loved one are sure to enjoy a breathtaking trip to the Amalfi Coast in Italy. Full of colorful buildings and lovely ocean views, anyone who heads to this gorgeous UNESCO World Heritage Site knows they made the right choice. This stunning stretch of Italian coastline is home to 13 wonderful seaside towns, including Positano and Sorrento. Spend your time hiking, sitting on the beach or hitching a ride on a boat tour. If you have the time, visit the picturesque Fiordo di Furore or take a boat ride into the Emerald Cave.
7. Athens, Greece
Newlyweds who are huge history buffs will love a trip to Athens in Greece. This city is one of the most historically important cities in Europe, and you won't be able to look away when your visit brings your history books to life. Wake up early so you can make sure to visit the Parthenon, the Acropolis, the Temple of Hephaestus, the Ancient Agora and the Herod Atticus Odeon. Once you've gotten all of your ancient sightseeing out of the way and you've seen your fair share of ruins, enjoy the rest of your time by sampling tasty Mediterranean food, enjoying the exciting nightlife and ambling down the local markets.
8. Tetouan, Morocco
This northern African port is home to gorgeous traditional architecture and beautiful views. The Hispano-Moorish city has a luxurious sandy bay, and its rich natural wonders are perfect for adventurers who want to hike and sightsee. Tetouan's Medina is a UNESCO World Heritage Site full of bright white buildings. Try your hand at bartering when you shop through the local market, or explore the Archaeological Museum. Take a day trip to the picturesque Chefchaouen, where you can squeeze down the tiny alleys in the blue city, and bike with your sweetie at Talassemtane National Park.
9. Florence, Italy
The beautiful Tuscan city of Florence will seem like a Renaissance painting come to life. Indulge yourself in fine Italian cooking, delicious wine and sweet gelato in between visits to the Piazza della Signoria and Michelangelo's sculpture of David at the Accademia Gallery. When you've had your fill of the city, you can take a short road trip to Venice to see St. Mark's Basilica and experience a romantic gondolier ride down the Grand Canal.
10. Ibiza, Spain
You've probably heard of the legendary nightlife scene in Ibiza, which is full of exciting EDM concerts, wild clubs and energetic live music. While all of this is true, Ibiza is more than just a party scene; it's also the location of another UNESCO World Heritage Site that's home to some pretty spectacular views. Aside from dancing the night away, you can explore Ibiza's lively villages, hidden coves and delicious food scene. While this island is surely a popular tourist destination, you can still find secret hideaways to escape the crowds and just relax.
11. Monte Carlo, Monaco
Take a spin in this glamorous city that's known for its luxury accommodations and experiences. You'll feel like true royalty as you walk the harbor and spot some of the gorgeous yachts that are docked there. Try your hand at blackjack at one of the many glamorous Monte Carlo casinos, or gaze at Prince Rainer III's private collection of antique cars. Hit Metropole Shopping Monte-Carlo to pick up some luxury goods, or just enjoy window shopping without digging into your wallet.
12. Antalya, Turkey
Sip delicious Turkish coffee in one of the beautiful cafes in the fishing town of Antalya, which is home to a gorgeous coastline and a historic old town. Visit some of the beautiful Antalya waterfalls if you're looking to admire the land's natural wonders, or walk through Kaleici, the historic old town. The Perga ancient city ruins are also worth a look, as is a day trip to the Pamukkale calcium pools and the ruins of the old spa town, Hierapolis. If you're looking for some excitement, hop on a rafting trip or jeep safari adventure in between visits to the gorgeous beaches.
13. The French Riviera, France
The French Riviera coastline is one of Europe's most beautiful areas, and it's perfect for newlyweds looking for a picturesque, laid-back honeymoon where they can relax on the water, eat delicious food and leisurely pop in and out of small shops. Hit Cannes and Nice for wonderful views and bustling city atmospheres, or find your way to Saint-Tropez, where you can spot luxury yachts and famous celebrities. The weather will be great, the beaches will be amazing, and the romantic French culture will have you booking a one-way ticket with no departure in sight.