Here's What Different Diamond Carat Sizes Look Like on a Real Hand
Carat size is probably one of the most noticeable and talked about of the four Cs. Danielle Miele of GemGossip.com tells us what a carat means and what some carat sizes look like.
by Danielle Miele
Of all the four Cs of diamonds, carat is typically everyone's favorite to talk about. As soon as someone gets engaged and flashes their new sparkling diamond, the first thing one notices is size. We can't help it—it's just natural to notice size first. And although some may say asking "how big is it?" is the equivalent of asking a woman how old she is, it happens quite frequently. 
I already knew a lot about carat size because of my studies at the Gemological Institute of America (GIA). In fact, if you handed me a leverage gauge, I could calculate carat size based off a few measurements from any diamond, and come within a few tenths of a carat without taking it out and weighing it on a scale. I could even "eyeball" a diamond and estimate how big it is pretty accurately, but that's only because I've been appraising jewelry for over eight years. 
For this article, I wanted some hands-on experience to show you and to illustrate carat weight differences in a single photo. For this task, I got some amazing examples hand-selected by my Nashville, Tennessee, favorite King Jewelers. David King, owner and expert diamond buyer, chose six extraordinary round brilliant-cut diamonds to portray carat size, each with excellent grades for polish, symmetry and cut, for comparison purposes. 
Here's the breakdown of the diamonds pictured below:
(My hand is petite, as I wear a size 4.5 on my pointer and middle finger.)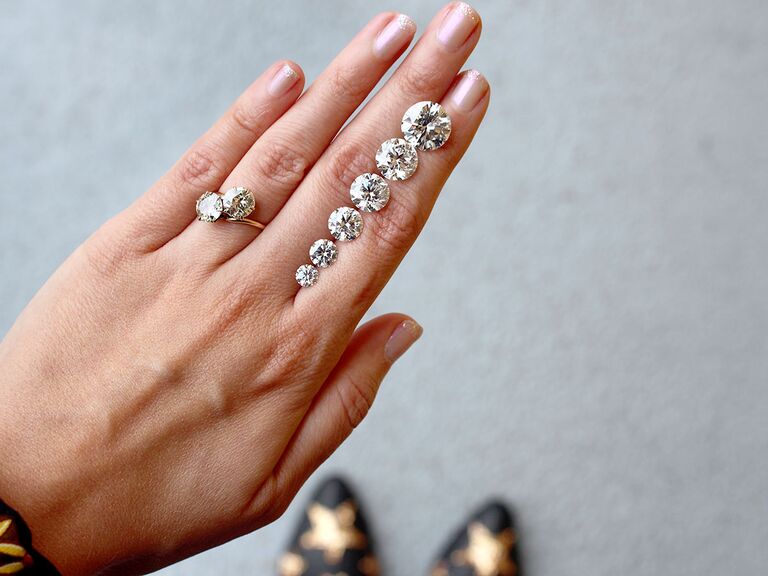 From smallest to largest (bottom to top):

0.50 carat, VS-2 clarity, F color
1.00 carat, VS-2 clarity, G color
2.01 carat, SI-1 clarity, F color
3.01 carat, SI-2 clarity, G color
4.02 carat, SI-2 clarity, G color
5.59 carat, VS-1 clarity, G color
What exactly is carat size?
Carats are the universal measurement for all gemstones. The name originated from Greek carob seeds, which were known for having a uniform weight. As carat size increases, so does the rarity and price, often exponentially. When shopping for a diamond, you can save money by choosing one that doesn't hit the key carat weights—like a 0.40 carat diamond instead of a 0.50 carat, or a 0.95 carat instead of a 1.00 carat. Also, carat size is not the same in terms of visual proportions—for example, a one carat diamond and a one carat sapphire are not going to look the same size, but on a scale, they will weigh the same. This is because different gemstones have different densities. A diamond will visually look larger than the sapphire, even though they weigh the same. Don't forget that a setting can also make a gemstone look larger than it is as well (which is why the halo style has been consistently popular).
How to factor carat size with the other Cs:
When you set out to buy your engagement diamond, know that carat size is the most visual of all four Cs, so you may want to start there. Focus on size only, trying on different sizes and seeing which looks best on your hand and which you're most comfortable with. You can start with a quarter carat and move up from there. Once you've narrowed down your ideal carat size, then take your budget into consideration and adjust accordingly for clarity and color. 
Prices can be all over the board with extremes of color and clarity. You can decide yourself (because everyone is very different) as to which is more important to you—color or clarity. For some people, including myself, a low color grade didn't bother me, so my diamonds are L-M in color, but have a high clarity (VVS-2/VS-1) and are large (to my standards) for me with each being approximately 1.33 carats (I have two diamonds in a bypass style, see photo). On the other hand, a bright white color might be very important to some, so shopping for a D, E, F color grade might be vital to you. My best advice is if you love the diamond and the way it sparkles (make sure to bring it outside and see it in daylight) then a color grade or clarity grade is only as good as it is on paper. Choose a diamond that speaks to you, fits your budget and makes you both happy.

Danielle Miele is the founder of the longest-running, US-based fine jewelry blog called Gem Gossip. She is also a graduate gemologist, and has been appraising jewelry professionally for nearly eight years. You can currently find Danielle traveling the world covering jewelry stories, visiting stores and designers, and collecting antique jewelry (she has over 300 rings).