A Short and Sweet DIY for Your Ceremony Exit
Prepare your guests—and yourself—for a fun ceremony exit. These cones are perfect for whatever your toss of choice may be, from confetti to rose petals.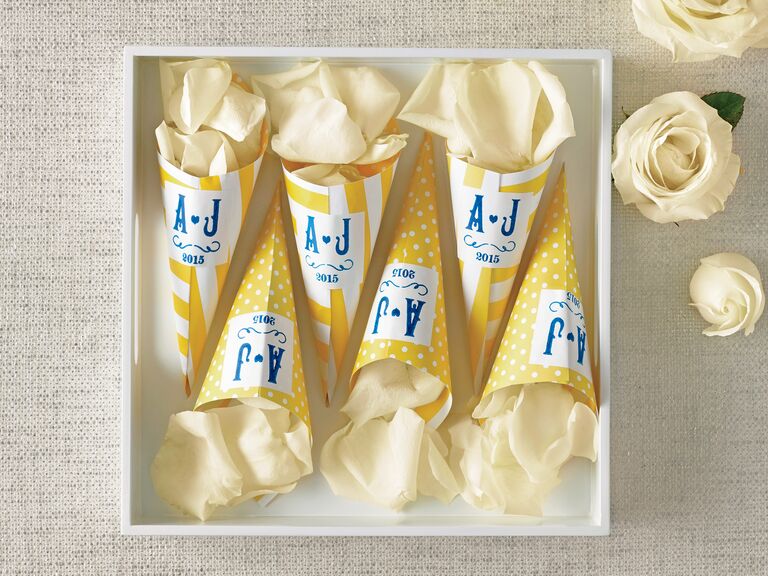 Devon Jarvis
Planning on having your guests help out with a special ceremony exit (and a killer photo op)? Set out a basket of easy-to-grab cones at the head of the aisle, or place them on every two or three seats so they're waiting for guests upon their arrival. Include a note in your program asking them to shower you in confetti as you make your way up the aisle as a married duo.
When you're thinking about what to put in your cones, take your venue into consideration. Some might charge a fee for confetti cleanup, or an outdoor venue may only allow environmentally friendly or biodegradable confetti to be tossed. So it's best to ask up front. Whatever you choose, one thing's for sure: You're going to get some beautiful action shots.

The Knot template
ink-jet printer
double-sided paper
ruler
scissors
hot glue
stamp or stickers
confetti filler

1. Download and print our template.
2. Trace the template on the paper into a 6-inch square, then cut.
3. Measure 1 inch in on one edge.
4. Using a ruler to get a straight line, make a dog-ear fold, creasing from your 1-inch mark to the bottom corner of the paper.
5. Bring the opposite edge of the paper toward the crease, and secure in place with hot glue.
6. Apply your sticker or stamp over the center crease.
7. Fill with confetti or flower petals.
Find your dream wedding venue here.