18 Creative Wedding Send-Off Ideas So You Can Exit in Style
Get shoppable inspiration from our favorite real wedding recessionals and receptions.
We have included third party products to help you navigate and enjoy life's biggest moments. Purchases made through links on this page may earn us a commission.
Amazing photo ops aside, the celebratory wedding exit is an age-old tradition that dates back to Roman times. (Grains were tossed at weddings to symbolize fertility—of crops and for the couple.)
If grains aren't your thing, there are tons of other items your guests can toss (or ring or wave!) at you to send you off on your wedding night. In fact, there are two opportunities to make a grand exit—after the ceremony during the post-"I do"s recessional, or at the end of the night when you're leaving the reception. Want the best of both worlds? Make the ceremony exit into a fun moment, then organize a grand getaway for your event's finale.
If you're ready to plan the ultimate wedding exit, check out our favorite send-off ideas pulled straight from real weddings. Better yet, we've made all the inspiration shoppable so you'll have no trouble recreating any of the options yourselves. Yep—all the supplies you need are readily available on go-to sites like Amazon and Etsy! Prepare to say "ta-ta" in style.
A couple tips before we begin: First, always clear your wedding send-off idea with your venue. Second, we highly recommend coordinating with your planner to seamlessly pull off whatever exit idea you choose.
1. Glow Sticks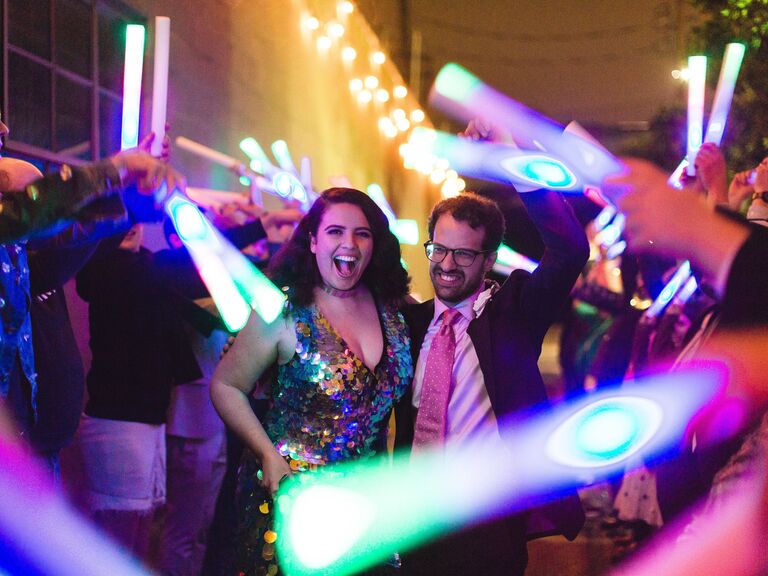 A glow stick wedding send-off will end the night on a bright note, and that goes double if you want to hype everybody up for the after-party! Go with classic, wearable wedding glow sticks (from $9 for a set of 100, Amazon.com) fancy fiber optic wands ($30 for a set of 12, Amazon.com) or big batons like those pictured above ($49 for a set of 100, Amazon.com).
2. Dried Lavender
Delicate lavender buds not only offer a hint of fragrance, but they're a great choice for romantic or pastel color palettes. Etsy carries ultra-convenient premade lavender wedding toss tubes ($48 for a set of 25). You can also opt for pre-filled sachets (from $3 each, Etsy.com) that double as beautiful escort card holders. Or, just buy the buds in bulk (from $22 for 2 pounds, Etsy.com). Then, let guests scoop them into the vessel of your choice.
3. Paper Airplanes
Get your wedding party together and start folding to create these playful well-wishes for your exit. Or, outsource the work. Consider personalizable paper airplanes ($100 for a set of 100, Etsy.com) or paper airplane seating cards (from $175 for a set of 100, Etsy.com) you can later repurpose for the exit.
4. Pom-Poms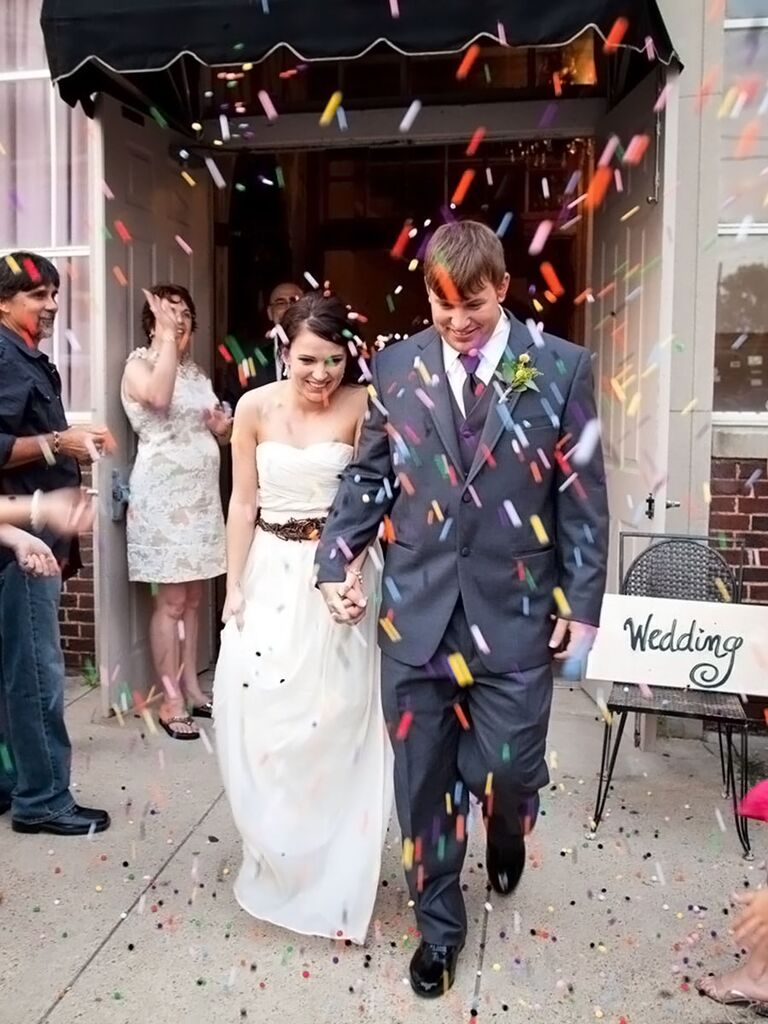 A crafty staple, pom-poms are inexpensive and colorful, plus a festive (and soft) little something for guests to throw. (Just be sure to clean up the mess whether you're using these or any of the other wedding exit ideas on our list!) We like mini pom-poms that come in lots of color options (from $24 for a set of 100, Etsy.com) to perfectly coordinate with your palette. But pom-pom confetti poppers ($18 each, TheKnotShop.com) are also super-cute.
5. Ribbon Wands
Playful ribbons attached to the end of dowel rods make for a celebratory exit tunnel. Try these DIY ribbon wand wedding send-off kits ($30 for a set of 12, TheKnotShop.com)—they even include thematic wedding bells to adorn each stick with!
6. Confetti
If you go the confetti route, we recommend biodegradable confetti for an eco-friendly wedding send-off. Just avoid seed paper confetti—your venue won't be happy if lots of unexpected blooms start to sprout on their lawn. Luckily, there are lots of other options on the market, like these heart-shaped paper cutouts ($36 for 25 handfuls, Etsy.com). Because there's no better way to close out the grand display of your love than with the ultimate symbol of romance.
7. Sprinkles
One of the sweetest ideas is to give guests sprinkles to toss. (Yes, we mean your favorite ice cream topping.) Buy the sprinkles on Amazon ($18 for over 2 pounds) and fun, personalized baggies on The Knot Shop.
8. Bubbles
Bubbles are a ceremony or reception exit idea you don't have to sweep up afterward—score! Personalized mini bottles can also act as favors. The Knot Shop sells tons of bubble wedding send-off supplies, from "best day ever" bubble wands ($12 for a set of 24) to diamond ring-shaped vessels ($20 for a set of 24).
9. Cheer Poms
Encourage nostalgia and show your spirit by handing out cheer poms ($13 for a set of 12, Amazon.com) in your school (or team, or wedding) colors.
10. Beach Balls
Regardless of your locale, you can get in vacation (or destination wedding) mode by tossing mini beach balls (from $14 for a set of 25, Amazon.com).
11. Rose Petals
Rose petals have always been an exit toss staple. Consider adding in different colored blooms to elevate the moment even more. Buy fancy pre-filled sachets ($470 for a set of 100, Etsy.com), a bulk supply of durable freeze-dried blooms ($23 for 10 cups, Etsy.com) or even "Mr. and Mrs."-printed faux flower petals ($10 for a set of 110, TheKnotShop.com), which are best for indoors where they can easily be swept up.
12. Streamers
Nothing says "party time" quite like streamer cannons ($27 for set of 14, Amazon.com). For a more streamlined look, stick to your wedding colors or a cohesive (read: all silver) assortment.
13. Sparklers
A shimmering canopy of mesmerizing sparklers makes for the absolute perfect photo op. Don't forget to ensure sparkler send-offs are allowed at your venue and meet all fire ordinance requirements though. Visit Wedding Sparklers USA, Superior Celebrations and other popular sparkler retailers for the actual sticks. You'll want ones that are specifically marketed as safe for weddings (long and long-lasting). Spruce 'em up with custom "let love sparkle" tags ($24 for a set of 36, Etsy.com).
14. Flags
Give your guests small flags with celebratory statements to wave as you leave your ceremony and to take home after the party. These assorted "cheers," "hooray" and "congrats" pennants ($187 for a set of 100, Etsy.com) are perfect as place settings before the send-off.
15. Napkins
Monogram napkins or hankies—or ask your loved ones to bring some from your favorite establishments—and have your guests whip them around in joy at the end of your ceremony or reception. We like fabric ones ($14 for a set of 12, Amazon.com) you can bring home and reuse, but The Knot Shop sells a bunch of awesome personalized paper ones too.
16. Feathers
For easy cleanup, opt for feathers ($8 for a set of 350, Amazon.com). They're quickly swept off hardwood floors and you won't be finding them in your hair for days to come (like smaller grains or confetti). But do beware of any feather allergies!
17. Bells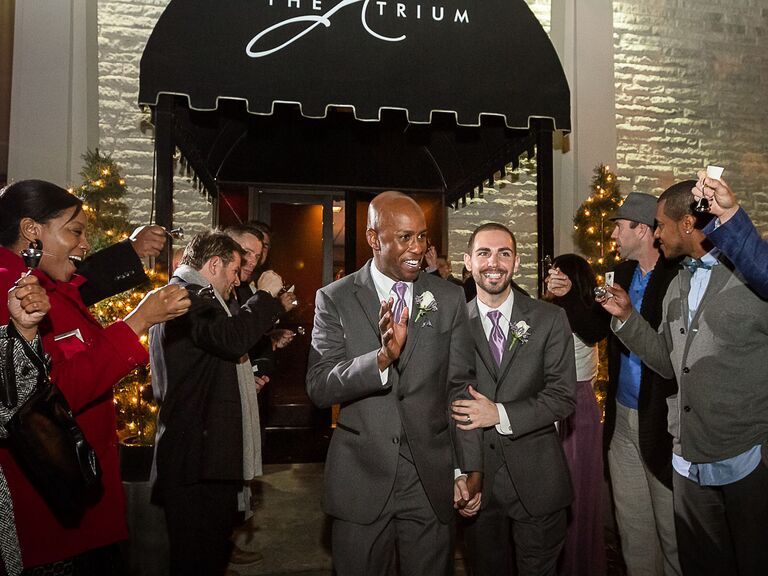 Have your guests ring in your new marriage by ringing bells. (How perfect is this for an enchanting winter wedding?) Attach these silver or gold bells (from $16 for a set of 24, TheKnotShop.com) to personalized ribbon (from $10, TheKnotShop.com) and behold: you've got cute wedding favors too.
18. Rice
Last but not least, you can always fall back on the tried-and-true classic. White rice is an affordable and widely available option for any wedding—again, just make sure your venue allows it. These adorable little bags ($28 for a set of 50, Etsy.com) come with flecks of colored rice too, which sets them apart from the pack.