What Do I Include in Bathroom Baskets?
by Elizabeth Wieck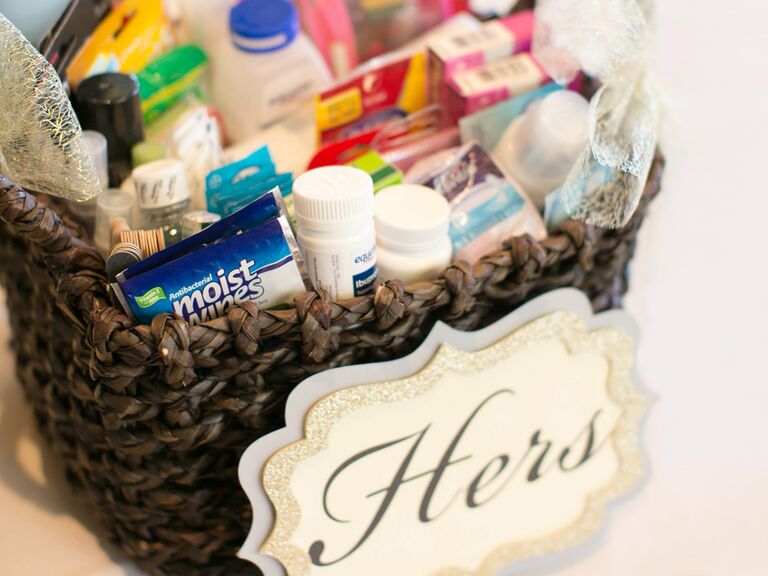 Q:
I want to include bathroom baskets in the restrooms at our wedding. What goes into these?
A:
Restrooms at weddings are often overlooked, but a few small touches will go a long way in making sure your guests are looking and feeling their best all wedding long. Wedding bathroom baskets or amenity baskets are filled with goodies that your friends and family may need while celebrating with you.
For the guys, breath mints, gum, a stain remover pen, toothpicks, tissues, hand sanitizer, lotion, a comb, a lint roller, spray deodorant, Band-Aids, an antacid like Tums and some kind of pain reliever should cover all the bases. For the ladies, include all of the above plus hair spray, a brush, tampons, panty liners, bobby pins and elastic hair ties. A small floral arrangement or a fragrant diffuser will keep the spaces smelling fresh too.
Consider the weather and where your reception is taking place when putting together the baskets. If you're having an outdoor summer reception, you might want to include sunscreen, bug spray or blotting papers for post dance floor shine.
Raid the travel-sized aisle to keep costs low—guests probably won't use a whole full-sized bottle of lotion anyway. And there's no need to get too fancy with the presentation either. A simple basket that corrals products will do the trick. Your guests (especially the ladies with tiny clutches) will thank you!