Does Getting Married Affect Your Credit Score?
Just married? Learn from financial experts how marriage and joint accounts affect credit scores.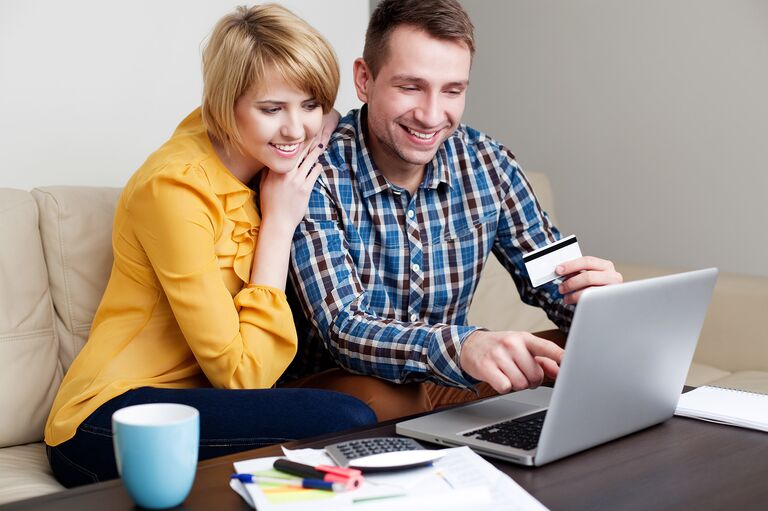 We have included third party products to help you navigate and enjoy life's biggest moments. Purchases made through links on this page may earn us a commission.
When you fall in love and find "the one," there can often be a great deal of information that's not disclosed. In fact, most couples don't even discuss money until they actually get married. This is one reason so many marriages end in divorce. Often, there are no financial discussions about how much debt each individual has, or what their credit card APRs, savings account balances, or retirement plan amounts are. (And when you get married, you'll share your assets, including debt. So while it doesn't affect your credit score individually, it could change the way you manage debt. If you're able to get a loan together and consolidate debt into one payment through a personal loan institution like Upstart, you can likely get a better rate and improve your score at the same time as becoming debt-free.) It's imperative that before getting married, you know where your partner stands credit-wise. When you say your vows, you'll be saying "I do" to their good or bad credit decisions as well.
To help you navigate the world of financials once you tie the knot, we've answered some of your most frequently asked questions regarding what happens to your credit when you get married. Whether you're wondering how does getting married affect your credit score or what marriage means for a joint checking account, follow our guide for the answers to your financial questions.
In this article:
What Is a Credit Score?
Let's back up and get educated on exactly what a credit score is. There are good, average, and bad credit scores. Your credit score is used by lenders to determine if you're a potential candidate to extend credit to. If you have a low credit rating, you'll be penalized with more fees and a higher interest rate. Credit ratings range from 300 to 850 points—the higher the number the better your credit score. Privacy Guard provides a wealth of knowledge when it comes to everything credit. On their website they classify: excellent/very good credit 700 to 850, good credit 680 to 699, average credit 620 to 679, low credit 580 to 619, poor credit 500 to 579, and bad credit 300 to 499. So to answer the question of what is a good credit score, we would say 650 or higher is the desirable range.
How Does Getting Married Affect Your Credit Score?
Now that you have a better understanding of credit scores, how does marriage affect credit? When you get married, your credit scores stay the same. The idea that your credit scores merge or lower each other is just a myth. Before you make any financial decisions together, it's a good idea to seek advice from loan experts. EVEN Financial is a resourceful site that provides an easy, quick, and comprehensive loan search online from top providers. Oftentimes, married couples will pay bills out of a joint checking account. EVEN Financial offers great loans for consolidation to guarantee couples are not paying a ridiculous amount in fees.
It's important to know that your spouse's past credit history will not impact your profile. However, when you open a joint account, your information may be shared on each other's reports. "Credit records which are established prior to the nuptials are never shared, inherited, or combined," says divorce attorney Bruce Provda. "Marriage doesn't affect your credit score if you take your spouse's last name. Everyone has their own credit report and scores, even if they live in a community property state."
Despite that, if you want to purchase a home together, your spouse's negative credit history could impact your mortgage rates because both credit histories are being reviewed during approval. If you or your spouse has a less than acceptable credit score, the loan company may be hesitant to extend a loan. Prior bad credit will be reflective in the annual percentage rate. Before you make a big purchase like a house, if one of you has a bad credit score, it would be advantageous to improve that bad credit score before making the major purchase. Yes, this may delay plans, but overall you'll end up with a better interest rate, which will save you big bucks in the long run. "Your credit score will continue to be tracked separately and is tied to your individual Social Security number. Only debts and accounts that you open jointly will be tracked on both of your credit histories," says Anthony Criscuolo, Certified Financial Planner with Palisades Hudson Financial Group.
Does a Joint Checking Account Affect Credit Score?
Traditionally, most couples merge their money into a joint account. Ultimately, this means merging paychecks, recurring income, and tax refunds into a single bank account. However, in a recent study, TD Bank found that 42 percent of those in a relationship who have a joint bank account also have individual accounts. When joint bank accounts are opened, each account holder receives a debit card, a checkbook, and the authority to make deposits and withdraw funds from the account. Also, each person should also have access to online tools and information so that the money in the account(s) can be tracked. It's important to know that long legal processes are endured when couples divorce and have to split funds. However, one of the biggest reasons couples opt for a joint account is because it's easier to track one checking account versus having to review multiple accounts to find out where their money is going. Some couples do not like their spouse knowing what they spend every dollar on or have trouble purchasing a gift for their spouse because it will appear on the transaction history of their joint account. Therefore, you may decide to maintain individual bank accounts should you want to make a gift purchase or spend money.
There are also drawbacks to a joint bank account that could affect your credit score. If one of you is not good with money, he or she may overspend consistently, resulting in you not having enough money to pay your bills. Creditors will then report payments being late or not received at all, which will affect each individual whose name is on the loan or credit card. It's important to be upfront when it comes to disclosing your debt. If you don't disclose to your spouse that you have student loans, credit cards, alimony, child support, or other debt, then those bills are not allocated in your budget for outgoing expenses.
Should You Merge Credit Accounts?
The answer to this question is entirely up to you as a couple. But before making a decision, we recommend having a thorough conversation regarding your credit histories and your payment behaviors. While consolidating your accounts can make your record keeping and joint tax preparation easier, do realize that any debt accrued will become joint debt and missed payments will negatively impact both of your credit scores--regardless of who was responsible. This, in turn, can impact your ability to borrow jointly, too.
Does Changing Your Last Name Affect Your Credit?
You now know what happens to your credit score when you get married (nothing), but what about if you change your last name? If you take on your spouse's last name, it will have no effect on your credit. With that said, you will want to notify your existing creditors and the Social Security Administration and have them update your new name.
Do You Share Debt After Getting Married?
The answer to this question really comes down to where you live. Generally, the debt you and your spouse accrued prior to your marriage will remain separate. However, in some states, the debt you acquire as a married couple may become joint debt, even if one spouse is unaware of the racked-up debt by the other spouse. In other states, a spouse can take responsibility for individual debts, but the couple can also jointly decide to take on joint debts should it benefit both parties.
It's relatively easy to get lost in love, but it's important to remember that a healthy marriage means also means having a healthy financial outlook. Be honest with your spouse and disclose all of your debt. This may cause initial frustrations; however, it could save your marriage in the long run. You should sit down as a couple with both credit scores in hand and do a thorough analysis of what items could be improved. In addition, utilize this time to set financial goals. For example, if you're thinking about purchasing a home or having children, figure out what financial milestones you'll need to achieve before these actions can happen. Nonetheless, don't have the mindset that you'll always be in debt or will never get away from past bad credit decisions. Anything is possible. If you're willing to put forth the work to improve your financial history, you'll reap the rewards together and be much happier in the end.