Can Marriage Counseling Better Your Relationship?
Learn how marriage counseling can create a stronger bond between you and your partner, and get the tips you need to make the most of each couples therapy session.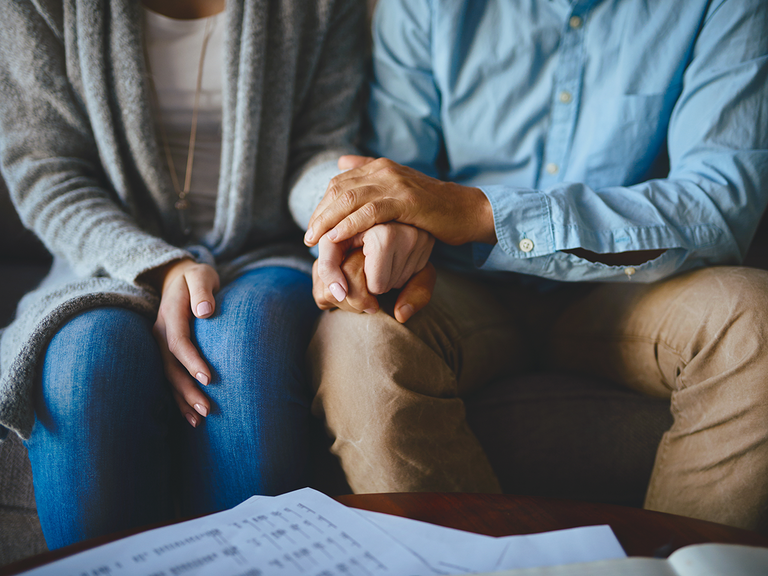 Shutterstock
Relationships sound great in theory: all those inside jokes, splitting the cost of nearly everything, a ready shoulder to cry on, a go-to date for weddings, and someone who's nearly always ready to hit the sheets—even if just for a snuggle session. But when theory becomes reality, relationships are more often tough love.
This shouldn't be too surprising, especially since a relationship requires the joining of two completely different people, both having different likes and dislikes, coming from different backgrounds, and having experienced different adventures. That's a lot of differences. And while each person's differences are ultimately what make him or her unique, those differences can lead to strife if two people can't find a happy middle ground.
It's safe to say there's never been a relationship that's been completely smooth sailing. Still, when you and your mate hit troubled waters, it may come as a surprise. Instead of feeling lost at sea, marriage counseling and couples therapy may be what you need to keep your relationship steady.
What Is Marriage Counseling?
Marriage counseling involves you and your partner meeting with a psychologist—sometimes called a counselor, therapist, consultant, or coach—or using a tool like Lasting (a science-based app backed by The Knot that gets to know your relationship and builds a customized program just for you and your significant other) to smooth out any current or potential kinks in your relationship. Over the course of multiple in-person or in-app therapy sessions, you and your mate will be guided through discussions on what's working and what could use improvement in your relationship. In addition to working on your relationship as a pair, your counselor or marriage app may also recommend individual sessions without your partner's participation. This allows you each to freely tackle topics that may be more sensitive or difficult to approach.
Haven't put a ring on your relationship yet? No worries. Just because it's called "marriage" counseling doesn't mean all couples aren't welcome for some much needed guidance.
"As a couple and sex therapist, I see couples of all ages in all phases of life. Some are dating, some engaged, some together for decades, some newer to marriage, older couples in new relationships, divorced couples reconciling, and more," says Wendi L. Dumbroff, MA, a Licensed Professional Counselor specializing in therapy with individuals, families, couples, and sexual issues.
No matter what label you put on your relationship, the goal of marriage counseling or couples therapy, whether in the traditional sense or through an app like Lasting, is to make your relationship more compatible.
"Yes, there will be challenging times, but a good relationship has processes to get through them," says Lesli Doares, Couples Consultant and Coach, and author of the book, Blueprint for a Lasting Marriage: How to Create Your Happily Ever After With More Intention, Less Work. "The relationship itself should not be the source of the challenges. The reason this happens is because couples have not established themselves as a team—moving past a 'you versus me' approach and into an 'us' one."
Does Marriage Counseling Work?
The question "does marriage counseling work?" is not an easy one to answer, as it depends on a variety of factors: the problems you're facing, the willingness to change and adapt, the commitment to the relationship, and the effort involved in making it work for the long haul.
"When two people are truly motivated to change, and willing to look at themselves, and to listen to and understand their partner, it can most definitely create positive change in the way they interact with each other," says Dumbroff. "They begin to get in touch with the more vulnerable feelings that get triggered, which are underneath the angry behaviors or shutting down. Mutual empathy can be generated as they understand the more vulnerable experience of their partner. As all of this occurs, couples learn to move differently with each other... to change the 'dance' they're doing (for example, the person who shuts down works to stay present). When couples begin to make this shift, positive change happens organically."
Another factor that can positively or negatively affect the success of marriage counseling or couples therapy is timing. "Often, couples wait until the damage is severe and one person is really not interested in undergoing the process to make it work," says Doares. Bottom line: To give couples counseling a fighting chance, go early and often to better your odds of making the relationship last.
Marriage counseling works in many cases, but you need to pinpoint the right program for you, based on what your relationship needs. Here are a few of the best marriage counseling methods and programs out there:
For those that want to build their marriage health and relationship skills, we like Lasting. Ninety four percent of couples who have completed Lasting's app-based marriage counseling program report marriage health increases and new relationship strengths in the areas of communication, conflict, and emotional connection.
For those in relationship distress who need a couple's therapist, we like Emotionally Focused Therapy (EFT). EFT is evidence-based couples therapy that typically consists of 8 to 20 hour-long couple's therapy sessions. Seventy to 73 percent of couples of participated in this type of couple's therapy reported recovery from relationship distress, with 86 percent reporting significant improvement over the control group.
For those preparing for parenthood, we like the Bringing Baby Home program. This is a research-based, two-day group training experience with a Gottman-certified coach that equips pregnant and parenting couples to successfully prepare for the transition to parenthood. Eighty percent of the couples who take this program successfully maintain their marital satisfaction in the transition to parenthood. You can find one in your area with a simple internet search.
"The stigma of marriage counseling and the idea that your relationship is 'weak' if you seek counseling is starting to fade," says Steven Dziedzic, founder of Lasting. "Everyone is starting to realize that all relationships require effort to make them work—it's a universal principle." While society is in fact making strides in this department, it unfortunately doesn't mean that you're automatically immune to the stigmas around marriage counseling and couples therapy that may still exist.
"Try to take the 'long view' and push past it," says Dziedzic. "In the long run, it's far better to take the right steps now than to avoid them and regret it in the future. Honestly, this is one of the main reasons we developed Lasting: to make it simple for couples to take the right steps now." Other reason couples don't pursue marriage counseling? Time and money. With an app like Lasting, couples have access to a low-cost, low-time-commitment version of counseling. It's also easier to proactively use, and proactive effort is very effective when you're trying to stay healthy—whether it's with physical health, mental health, or marriage health.
Marriage Counseling Tips
While some couples may have more issues to resolve than others, the fact that no relationship is free of friction means just about everyone can benefit from marriage counseling or couples therapy. Think of it like an annual exam or a tune-up for your vehicle—nothing is necessarily broken, but tending to normal wear and tear is always better for the sake of longevity.
If you decide marriage counseling or couples therapy is right for you and your partner, incorporate these expert-provided tips into each session to help you get the most out of marriage counseling.
1. R-E-S-P-E-C-T. "Respect each other's feelings and experiences as valid, even if they're completely different," says Doares. "Trying to talk someone out of them or make them justify them does damage. Focus on how to address them productively instead of trying to make them go away."
2. Swipe right. "Maintain a crush on your spouse," recommends Kimberly Hershenson, LMSW, a New York City-based therapist working with couples and individuals specializing in relationships. "Remember what it was like when you were [first] dating and bring some of those behaviors back into the relationship. Text your partner in the middle of the day to let them know you're thinking of them. Buy them their favorite treat as a surprise. Kiss them goodbye and say you can't wait to see them later."
3. Ask why. "Marriage counseling can work, but couples need to understand that therapy is designed to discover the 'why' behind behaviors and is not necessarily focused on changing behavior right away," says Michelle Moore, Licensed Professional Counselor, certified coach, and relationship expert at Marriage Mojo. "The idea is that unless you understand what's motivating you internally to behave a certain way, you will continue to do so, no matter what changes you try to make."
4. Eliminate boundaries. Catharine Swain of MyTherapist New Orleans suggests talking about everything and making sure nothing is sacred. "Couples fail to discuss basic, everyday things and follow their own unspoken rules. This is where problems come in: when you're not on the same page, or disagree and can't get past it."
5. Be grateful. "Each partner should find three things they are grateful for each day about his or her partner and share it with them," says Hershenson. "Whether it's gratitude for working hard, cleaning up the house or taking care of the children, complimenting your loved one leads to increased positivity in the relationship."
6. Get curious. "Bring an attitude of curiosity, not certainty to the relationship," says Doares. "Be willing to question your expectations and assumptions about your partner and relationship in general."
7. Fight fairly. "Use 'I' statements attached to a feeling instead of 'you,' which puts the focus on your emotions rather than blaming the other person," says Hershenson. "For example, say: 'I feel upset when I come home from work and there are dishes piled in the sink' as opposed to: 'You always leave your dishes in the sink and I'm sick of it!'"
Remember not to view marriage counseling or couples therapy in a negative light, which can affect the outcome. Doares recommends to avoid thinking of the time you dedicate to each session—in person or on Lasting—as a punishment and instead as an investment in your future, the same way you would save money for retirement or a future vacation. If the relationship is worth it, marriage counseling or couples therapy can work for you.