More Millennials Have Attended Marriage Counseling Than Any Other Generation
And six other surprising facts that will change the way you think about couples therapy.
Researchers at MidAmerica Nazarene University surveyed 1,000 engaged, married and divorced people for a glimpse into how men and women view marriage counseling. For the record, here's how we view it: Marriage counseling—or couples therapy—is an effective way for struggling couples to resolve issues and an awesome tool to help even the happiest couples strengthen what they have.
That's why we're stoked to share very positive findings from this extensive study, which covers everything from how many respondents' parents went to counseling to the range of reasons why couples might hold back from attending. Forget what you assumed today's couples think about marriage counseling—here are six unexpected stats that prove couples therapy has finally broken through the stigma and started trending up.
1. Forty-nine percent of respondents said they've attended some form of counseling with their partner.
Right off the bat, it's clear that if you haven't been to some type of therapy with your significant other, sometime in the future you might find yourselves in the minority here—and that's a good thing. More couples attending therapy doesn't mean more crumbling marriages; it means couples are recognizing this valuable resource and using it to better their relationship.
2. Fifty-two percent of respondents who've never been to couples counseling said they're willing to give it a whirl.
More than half of those who've never been keep an open mind about seeking professional help—that's awesome.
3. Seventy-one percent of people who've attended said their experiences have ranged from helpful to very helpful.
There's no reason to say "we told you so," since the number clearly speaks for itself.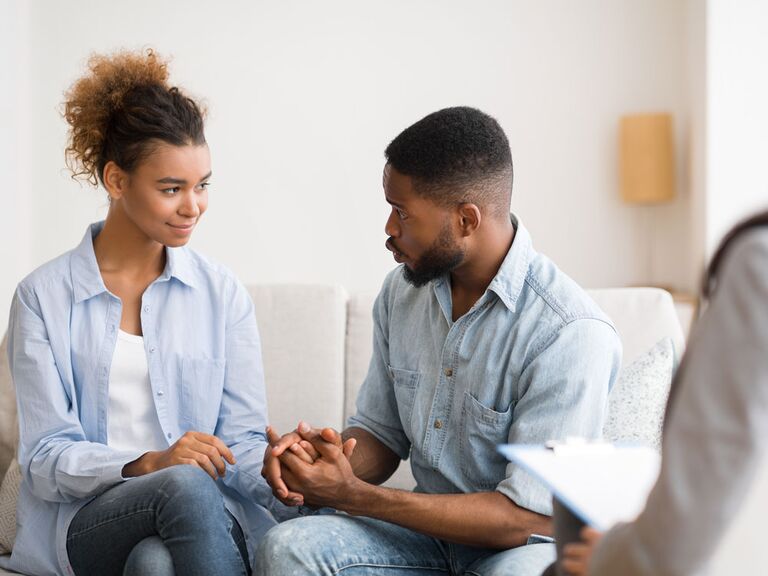 4. Couples attend therapy most often to fix communication problems, and least often to deal with work-related issues.
The survey ranked the perceived reasons why couples might try therapy, and found children, work, communication and money were the top four perceived reasons. However, in reality, communication (or lack of communication), affairs, money and children are the top four reasons for attending.
5. Fifty-one percent of millennials said they attended counseling with their spouse.
Out of the three generations surveyed—baby boomers, Gen Xers and millennials—millennials came out on top (followed by baby boomers with 48 percent and Gen Xers with 46 percent). Put another way: If you're a married, millennial couple and haven't been to marriage counseling, you're in the minority in your generation. How crazy is that?
6. Fifty-eight percent of participants said they're open to the idea of virtual counseling of some form.
We completely understand that marriage counseling can be expensive and time consuming, among other concerns and obstacles. Forty-six percent of respondents said therapy was off the table because they'd rather fix any problems themselves. Cost was a big issue for 21 percent, and skepticism in its effectiveness gave 9 percent hesitation. But, while lack of time was definitely noted as a factor, couples are more willing than ever to experiment with virtual counseling, which might include anything from using Skype to downloading a smartphone app, like Lasting, with all the tools they'll ever need to keep their marriage happy and healthy.