The Best Elopement Packages in Colorado
These packages are designed for the adventurous at heart.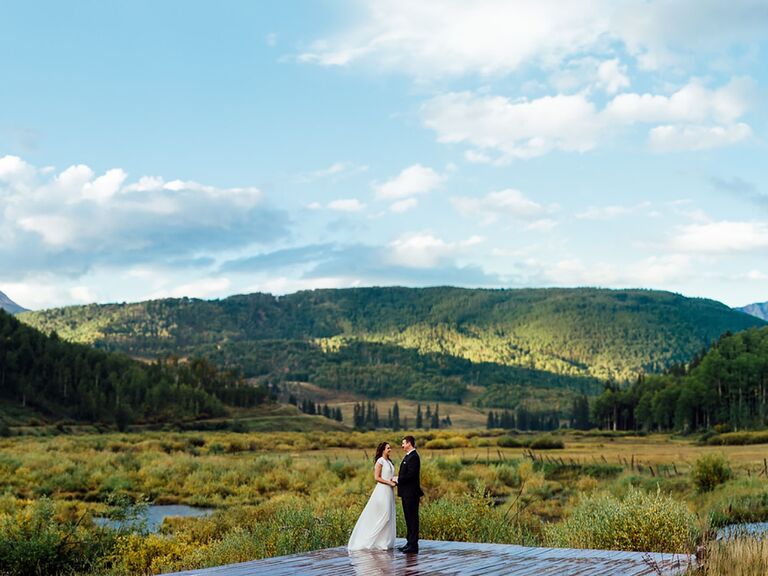 Photo: Dunton Hot Springs
We have included third party products to help you navigate and enjoy life's biggest moments. Purchases made through links on this page may earn us a commission.
Of all the states in the US, it's easy to argue that Colorado is one of the most gorgeous and untainted for destination weddings. From the snow-capped peaks and turquoise-lake backgrounds of Rocky Mountain National Park to sprawling ranches and orange mesas that set the scene in Grand Junction, the state doesn't lack beautiful places. Add in the fact that there are direct flights to Denver from almost all states across the US, it's no surprise couples are clamoring to get legally married in Colorado. Fortunately, that means there are plenty of Colorado elopement packages to choose from.
Colorado offers both romantic and adventurous elopements, especially if you don't mind hiking with a wedding dress or suit in tow. Most of the top Colorado elopement packages include ceremony space that takes advantage of the state's impressive views, be that mountains, lakes or desert. Nearly all the top sites for a Colorado elopement are outside, and packages offered from Colorado elopement photographers often include your choice of dozens of well-known—or very remote—ceremony locations.
If you're planning on eloping in Colorado, either in the mountains or tucked away under the trees, remember that your photography costs may be a little more than they would be in other states. That's not just because Colorado is a pricey state, but because packages usually include time spent to reach your location, which may involve hiking or slow drives on mountain roads. Many Colorado elopement packages also include assistance with securing the appropriate event permits, which can be helpful as different parks, towns and forests have their own processes and requirements.
Because so many photographers and wedding planners offer elopement packages, narrowing down the options for the best places to elope can be overwhelming. But the Colorado elopement packages below represent some of the best in the state, from a romantic elopement at a luxurious ghost town resort to an all-inclusive weekend package at a riverside B&B. Most planners and photographers work at dozens of venues and wilderness areas across the state, so be sure to lean on their local knowledge to find the perfect place to say "I do" on your big day.
Oh, and one other thing to remember: you don't need an officiant if you'd prefer to keep things as small as possible. It's called "self solemnization," and your planner, venue or photographer can give you the scoop on how it works.
Colorado Elopement Package, Vow of the Wild, Statewide
For couples who want their Colorado elopement to be smack dab in the middle of nowhere, consider one of the extended packages with Colorado elopement photographers Vow of the Wild. In addition to planning, permitting and vendor assistance, the package includes anywhere from six to 12 hours of photography coverage. That's plenty of time to capture not just photos of the ceremony, but also photos of the hike to reach your chosen location; getting ready; first looks; sunset and sunrise; and anything else special you'll want to remember. Packages start at $5,500.
5.0 Star Rating | Read Reviews
Mountain Elopement Package, Tivoli Lodge, Vail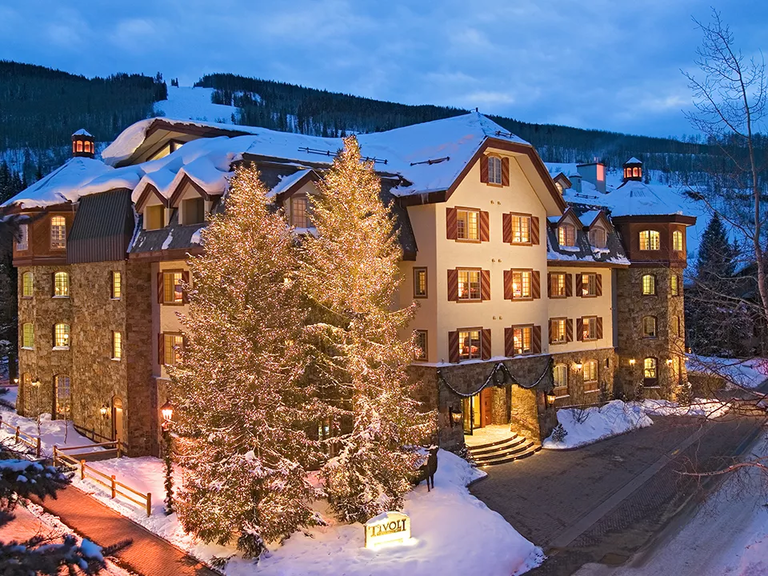 The Elopement Package at Tivoli Lodge is one of the best ways to elope in Vail—known as one of Colorado's most exclusive mountain towns—at a relatively low price ($2,500). The package from Tivoli Lodge includes ceremony space on the resort's sweeping lawn, two hours of photography, an officiant, an hour of musical accompaniment and marriage license filing. Bonus: Tivoli Lodge is dog-friendly, in case your four-legged friend is your wedding guest of honor.
386 Hanson Ranch Rd, Vail, CO 81657
5.0 Star Rating | Read Reviews
Intimate Elopement Package, Wild Horse Inn, Fraser
Wild Horse Inn's Colorado elopement package is a true steal, especially considering the lodge sits on a rolling green valley with a large back deck overlooking the dramatic peaks of the Continental Divide mountain range. Their elopement packages start at $750 and are completely customizable, but all include ceremony space, two hours of photography, a bottle of Champagne, flowers for you and your betrothed, and recommendations on vendors and area activities. A two-night stay is required to book any elopement package.
1 536 Co Hwy 83, Fraser, CO 80442
4.5 Star Rating | Read Reviews
Couples Elopement, Juniper Mountain House, Evergreen
Juniper Mountain House is a wooded boutique resort on 10 acres of land located less than an hour from Denver. Book their elopement package, and you'll have access to the outdoor hot tub and fire pit, private hiking trails and a stylish couple's suite, as a one-night stay is included in the package. Also part of the $750 package is your choice of ceremony location and a bottle of Champagne in your room. If you're interested, ask about their brand new treehouse, set to be completed in the second half of 2023.
30500 US-40, Evergreen, CO 80439
5.0 Star Rating | Read Reviews
Intimate Elopement Package, Blue Lake Ranch, Hesperus
This pretty lakefront ranch started as a simple homesteader's cabin and has since evolved into a 16-room bed-and-breakfast complete with flower gardens and lakefront decks. The three-hour elopement package includes a ceremony, an officiant, a wine and cheese platter, a custom wedding cake, and a boutonniere or bouquet for the brides or grooms. One of the best things about this Colorado elopement package is the post-ceremony perk: It includes a multi-course dinner for two, served in your private suite. The package starts at $2,400 and does not include lodging.
16919 CO-140, Hesperus, CO 81326
4.5 Star Rating | Read Reviews
Just the Two of Us, Arbor House Inn, South Fork
Arbor House Inn is a small bed-and-breakfast in the San Juan Mountains, tucked away on a private piece of land between a river and an impressive cliff band. There are plenty of waterfront clearings and nooks with hanging swings and Adirondack chairs, and with only five rooms, privacy is guaranteed. The Just the Two of Us package includes your choice of ceremony location, music, an officiant, flowers, a wedding cake, two nights in the honeymoon suite with a gourmet breakfast delivery, two hours of photography, a romantic dinner, and a "date night" kit for everything you'll need to visit nearby Pagosa Hot Springs, including snacks and robes. It's priced at $5,000.
31358 US-160, South Fork, CO 81154
5.0 Star Rating | Read Reviews
Wee Wedding, The Gant, Aspen
The Gant is a small and very high-end condo resort just a stone's throw away from Aspen's slopes. Outdoor amenities like a pool deck and a hot tub make it a lovely place to spend a few days, and the rooftop ceremony space offered in the "Wee Wedding" package makes it a great place to elope in Colorado. The $2,500 package includes space for your rooftop nuptials, Champagne and a free one-night stay on your first wedding anniversary. A minimum two-night stay is required to book, and rooms start around $250 per night.
610 S W End St, Aspen, CO 81611
4.8 Star Rating | Read Reviews
Grand Elopement Package, Romantic RiverSong Inn, Estes Park
This charming bed-and-breakfast was built as a family summer home in 1922. Today, it's a 26-acre wooded property in Estes Park, the gateway town to Rocky Mountain National Park. The Grand Elopement Package includes too much to list, but highlights are daily breakfast, two nights in a suite, in-room massages, a streamside ceremony and a couple's tour of the nearby national park. The Grand Elopement Package starts at $4,295, but simpler packages start at $495.
1766 Lower Broadview Rd, Estes Park, CO 80517
4.8 Star Rating | Read Reviews
Elopement Add-On, Dunton Hot Springs, Dolores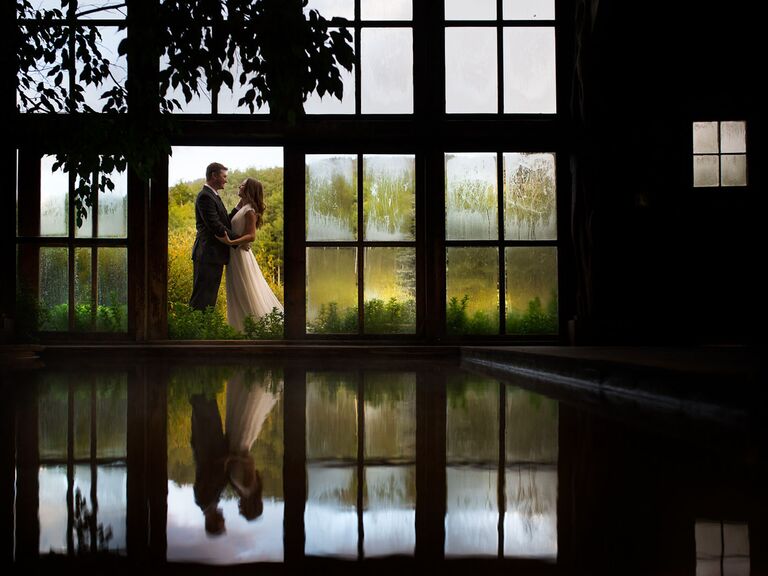 It may seem odd that a ghost town offers one of the most luxurious Colorado elopement packages, but once you see Dunton's romantic, remote cabins—and on-site hot springs—you'll see why. While buying out the venue for a traditional wedding is quite expensive, the elopement package is a great deal. It can be added to any overnight stay and includes your ceremony location and officiant, bouquets and/or boutonnieres, a wedding cake and Champagne, and a photography session on the sprawling, historical grounds. It's priced at $2,700, and there's also a six-person microwedding option with dinner if you're bringing guests.
8532 Road 38, Dolores, CO 81323
5.0 Star Rating | Read Reviews
Collection Three, Breck Weddings, Breckenridge
Couples hoping to do some planning but leave their ceremony details to the pros should consider one of the packages from Breck Weddings. Collection Three includes two hours of photography, an officiant and florals, plus recommendations and assistance with location selection. You can bring up to 10 guests and add on additional photography time, a cake for two, extra florals and more. This Colorado elopement package starts at $4,800 and is from Breck Weddings, a husband-and-wife duo focused on candid, romantic photography and video.
4.8 Star Rating | Read Reviews
Elopement Package, Rhize Mountain Retreat, Goldfield
There's something about Colorado that screams "bohemian wonderland." If that's the vibe you're going for during your Colorado elopement, consider the Elopement Package at Rhize. The venue is like an adult summer camp, complete with A-frame glamping cabins, lawn games, a small event barn, fire pits and a rustic deck overlooking Pikes Peak National Forest. The Elopement Package includes a Champagne toast, three hours of ceremony space, a wildflower bouquet and an on-site coordinator. It starts at $2,500, not including lodging. Larger microwedding packages start at $7,500.
5.0 Star Rating | Read Reviews
Dogsled Elopement, Colorado Microweddings, Steamboat Springs
If you and your betrothed love all things winter, take a look at this adventurous Colorado elopement package from Colorado MicroWeddings. It's perfect for a cozy winter elopement, and includes planning services, five hours of photography, a dog sled experience and dinner for two at a cozy and rustic campsite along the route. Not surprisingly, it's only an option for winter elopements in Colorado. The company also plans ski elopements, hot air balloon weddings and helicopter vows, if any of those speaks more to you as a couple.
5.0 Star Rating | Read Reviews