How to Plan a Colorado Honeymoon In Any Season
The Rocky Mountain State is a playground for active honeymooners.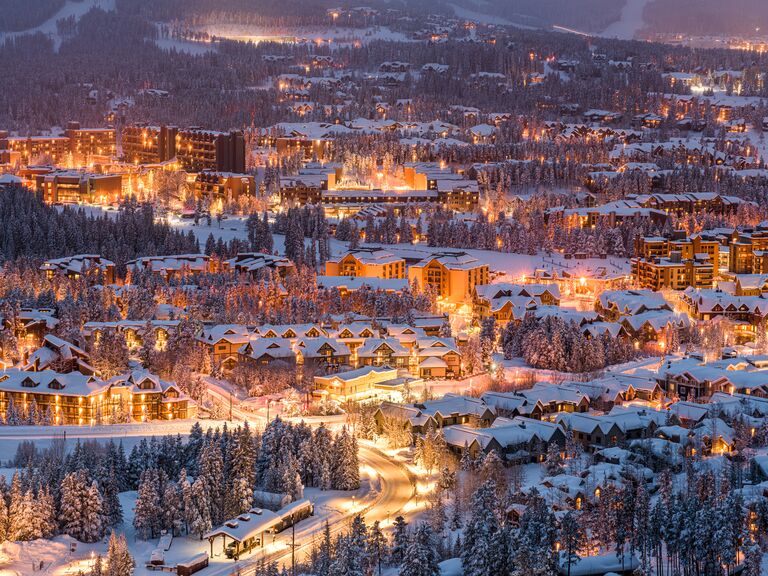 Sean Pavone / Shutterstock,Location: Breckenridge, Colorado

We have included third party products to help you navigate and enjoy life's biggest moments. Purchases made through links on this page may earn us a commission.
Quaint mountain towns near Boulder, luxe après ski parties in Aspen and the sprawling metropolis of Denver (The Mile High City) are just a few characteristics of Colorado, also known as the Rocky Mountain State. The destination never ceases to thrill travelers with its endless offering of seasonal activities. If you're looking for a honeymoon destination with something exhilarating to enjoy year-round, adventure awaits in Colorado.
The state is dotted with smaller regional airports, but its only international airport will bring you to the capital city of Denver. With flights from 160 domestic origins and a large presence of low-cost air carriers, affordable nonstop flights under five hours are plentiful from every major corner of the US. Find everything you need to plan a honeymoon in Colorado here.
Is Colorado Good for a Honeymoon?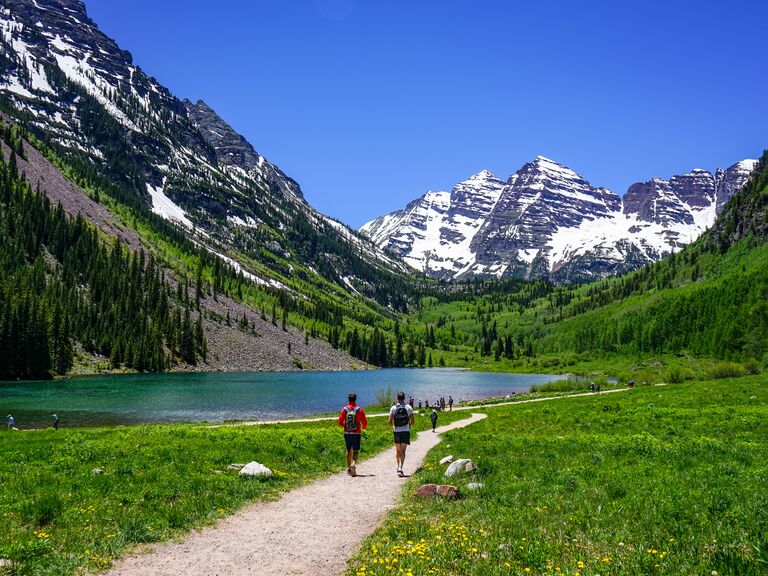 Pros of a Colorado Honeymoon
Dramatic scenery, limitless outdoor activities and an impressive range of landscapes make this state one of the most exciting destinations in the US. In Colorado, you can enjoy an action-packed itinerary or a laidback getaway where the natural beauty alone will keep you enthralled.
Cons of a Colorado Honeymoon
If you're aiming for a romantic getaway in winter, this is the peak season for the area and prices will be high throughout most of the ski villages. Also: if you're unaccustomed to high altitudes, you may have some physical barriers to push through for the first few days.
The Best Times of Year for a Colorado Honeymoon With Good Weather
Timing a trip to Colorado will depend on the type of adventure you desire for the honeymoon. You can be stunned by the wildflower blooms of spring, awed by the bright colors of fall, or energized by the powdery snow in winter.
Outdoorsy couples and foodies will enjoy festival season in summer, but should expect rates and availability to be impacted accordingly. A visit in the winter is a no-brainer for ski bums, and while the season can be bitterly cold, it consistently ranks highest for its ski resorts which pair perfectly with cozy evenings in a hot spring or soaking tub. Spring starts to warm up around May, and outdoor enthusiasts will find it warm enough during the day and perfectly crisp at night.
Places to Visit in Colorado for Honeymoon
Denver
Colorado's most populous city is a great home base for couples who want a mix of urban living and outdoor activities. In Denver, honeymooners will find incredible museums, top-notch dining and an unmatched brewery scene. Plus, neighboring cities such as Boulder, Vail and Breckenridge are an easy day trip away.
Aspen
One of the most luxurious destinations in the US, Aspen is a mountain village dotted with high-end resorts and boutiques. But it's the world-class skiing that sets Aspen apart. Couples will love exploring this charming town and the hospitality found at local establishments. There might be a celeb sighting too, especially in the winter months.
Vail and Breckenridge
Breckenridge is a historic Victorian village with a rich gold mining heritage reflected throughout the towns. Nearby Vail (about 45 minutes away) was built as a ski resort with more of an upscale target and European feel. Both ski towns are walkable and rich with shops and restaurants that range from fine dining establishments to charming bistros.
Colorado Springs
Head to Colorado Springs for an active getaway chock-full of incredible hiking areas. Its top-rated trail leads to Pikes Peaks, one of the most visited mountains in the world. Colorado Springs is also home to Garden of the Gods, a natural landmark boasting jagged stone towers jutting up from the earth where you can set out for a day of couples' horseback riding, mountain biking, or rock-climbing expeditions.
Telluride
In the winter, Telluride offers over 2,000 acres of snowy terrain suitable for everything from snowshoeing to pro shredding. In the warmer months, hikers and cyclists flood the trails, and festivalgoers attend the town's impressive lineup of events focused on food, film and music.
Things to Do During a Colorado Honeymoon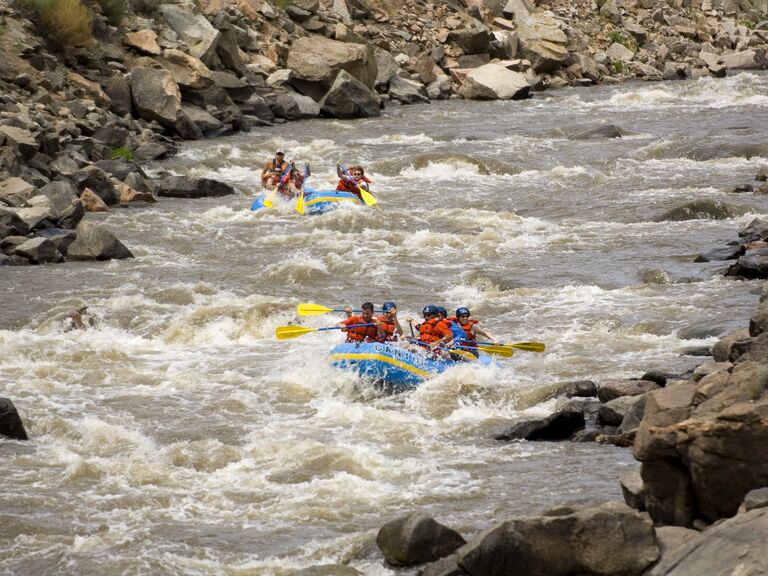 Visit the Ski Villages
Avid skiers will find it hard to visit Colorado in the winter and not hit up at least one of the region's renowned ski resorts. There's a village to match every skill level and personality from glitzy Aspen to downright adorable Crested Butte.
Take an Elevated Road Trip
For breathtaking panoramic vistas, book a ride through the Rockies on Trail Ridge Road, the highest paved road in the US. Couples will also enjoy a drive across the San Juan Skyway to the southwest corner of the state. For those who don't care to take the wheel, hop on The Broadmoor Manitou & Pikes Peak Cog Railway and take in the view that inspired the song "America the Beautiful" at the top of Pikes Peak.
Go Whitewater Rafting
Plan a visit between May and September and take advantage of its epic scenery as you test your skills as a team on the Arkansas River. May and June will offer more intense rapids while August and September will take you on a more leisurely journey.
Explore the Parks
About 2.5 hours from Colorado Springs, you can spend the day in Great Sand Dunes National Park and Preserve where you can sled down the tallest sand dunes in North America together or float across the park's stretch of Medano Creek. Alternatively, just a few miles from the mountain town of Estes Park, you can spend the day exploring Rocky Mountain National Park.
Best Hotels and Resorts in Colorado for a Honeymoon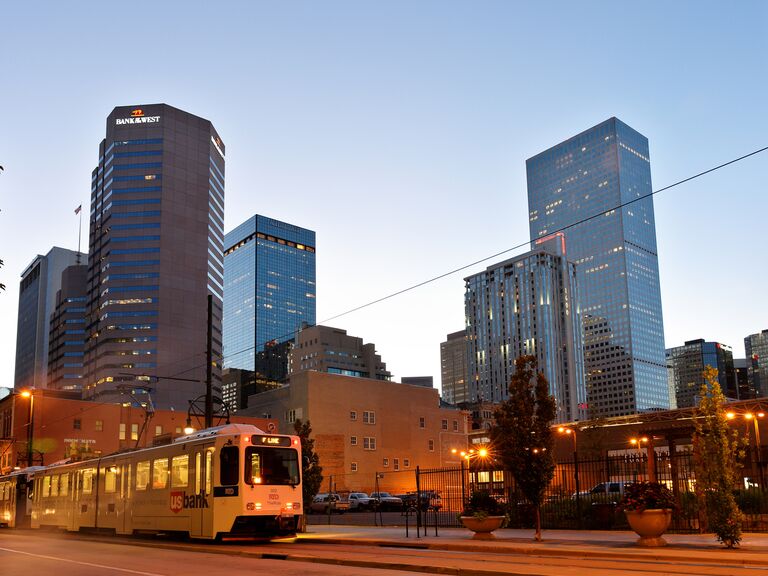 Nestled among towering pines and majestic peaks, this mid-mountain destination is a romance package in and of itself. The Beaver Creek setting likens a storybook backdrop, but couples can enjoy the indoors with spa treatments that take advantage of a variety of holistic treatments, all inspired by nature.
A room on The Mile High Floor, seated exactly one mile above sea level, will heat up any romantic getaway. Couples who opt for a stay at this property are invited to explore the mini bar's adult items, which includes amenities like pre-packaged cocktails and a Kama-Sutra Kit.
Sonnenalp is translated to "sun on the mountains," and that's precisely the setting for this property. This family-owned retreat treats you to the very best of the Colorado Rocky Mountains with the warmest European hospitality. A honeymoon here is perfect for the adventurous pair seeking respite in spacious suites. It's also located a mere steps away from fine dining establishments.
With a front-row view of the San Juan Mountains, Lumière with Inspirato is the nicest destination in Telluride. It features 18 luxury residences that range from one to five bedrooms. Since it's located on Mountain Village, the hotel is the ideal ski-in and ski-out hub for honeymooners who want the winter experience.
Known for its remote location, seasonal cuisine, and its natural hot springs, this property is one of Colorado's iconic honeymoon resorts. Twelve luxury log cabins and one glamp-worthy tent offer magnificent meadow and mountain views. Plus, couples can enjoy the hot springs in several ways: inside the restored 19th-century Bathhouse, under the stars at the source, in the outside pools, or inside the Well House cabin. (Actress Lily Collins also chose this property for her 2021 wedding too, making it a celeb-approved choice for honeymooners who want the VIP experience.)
An all-inclusive hideaway atop Cheyenne Mountain, Cloud Camp sits 3,000 feet above Colorado Springs, where 360-degree views provide a picture-perfect backdrop for guided nature walks, outdoor activities and lodge enjoyment. Couples may consider booking the most exclusive Fire Tower Suite, complete with a private balcony and personal cedar hot tub.
Located in the heart of Aspen, this 131-year-old landmark is one of the great hotels of the American West. Part of the National Register of Historic Places, Hotel Jerome boasts luxurious, contemporary accommodations and modern amenities that honor the property's iconic mountain spirit. The hotel's two luxurious Residential Penthouses offer everything from a private elevator entrance to spectacular mountain views.
This highly anticipated resort will debut in time for the 75th anniversary of Aspen Snowmass, a renowned winter playground with a vibrant summer community. To complement its positioning as a prime spot for multi-season outdoor activities, the resort will introduce a Private Ski and Bike Concierge. Its Lupine Spa will be a hot spot for après ski indulgence after a day of activity.
What to Pack for a Colorado Honeymoon
Because of the altitude, you'll want to be prepared for a variety of weather changes depending on your elevation. Packing a variety of layers is a good idea. Swimsuits will be necessary for the warmer months or a dip in the hot tub during chilly evenings. Depending on the season, you want to pack footwear to match, such as sturdy hiking boots, water shoes for summer activities or waterproof boots with warm socks for the winter season.
Must-have accessories include a packable water bottle, binoculars, a small backpack, sunscreen and sunglasses.