Everything You Need to Know About Getting Married in Colorado
Look to The Knot for local details about getting married in Colorado, from choosing your wedding venue to getting your marriage license.
Josie Pix
Ultimate Guide to Getting Married in Colorado
From the top of Mount Elbert to the shores of the Arikaree River, Colorado's beautiful terrain provides a stunning backdrop for a wedding. Colorado's remarkable landscape is made of canyons, plateaus, rivers, forests, mountains and deserts, which add to its allure and offers visitors a number of outdoor recreational opportunities to enjoy.
Whether you're a native Coloradoan, marrying into a Colorado-based family or simply in love with the Centennial State, this beautiful state offers many opportunities to create an ideal wedding day. Colorado wedding venues cater to individual styles and make it easy to design an intimate gathering that reflects your personality, while treating your guests to a fun, memorable experience.
Read this comprehensive guide to discover Colorado wedding packages, ideal wedding locations, state-specific foods and flavors as well as how to get a marriage license. And follow your wedding checklist to make sure everything is done on time.
Top Wedding Trends in Colorado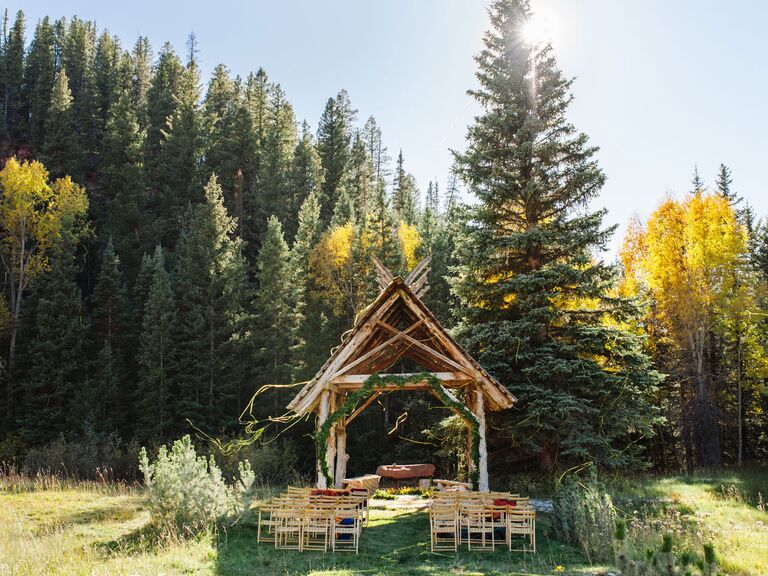 Regional flavors and intimate settings top the list of Colorado wedding trends, which celebrate everything that makes the state great. Barn wedding venues in Colorado are particularly popular, but this is only a fraction of the options available. Whether you want an outdoor wedding with rustic touches or an upscale ballroom affair with mountain views, Colorado wedding venues allow you to enjoy the traditions of the state while treating your guests to a memorable event.
When it comes to Colorado weddings, couples like to put their own spin on current trends. From big cities to rural areas, the natural surroundings offer a variety of opportunities for unique first-look photos, while the various wedding locations in Colorado serve up a varied menu of event styles. Whether they chose an outdoor wedding venue or upscale indoor location, Colorado couples overwhelmingly opted for a formal or semi-formal event, according to The Knot 2015 Real Wedding Study. While 68 percent of couples planned a semi-formal wedding, 8 percent opted for a formal or black-tie wedding and 20 percent chose to keep things more casual.
Colorado Marriage Rates and Wedding Costs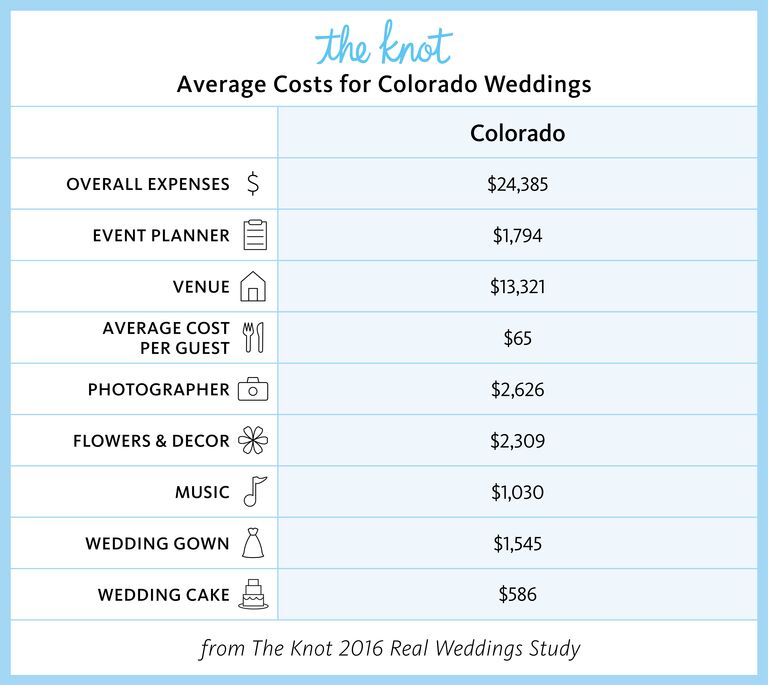 Affording your dream wedding can be a challenge. Whether you want an elaborate event or a charming and simple celebration, the costs add up to a relatively significant bottom line. While it's important to have fun when planning your wedding, it's also important to make and stick to a budget. The Knot Budgeter helps keep you on track, with personalized recommendations and a breakdown of what you can expect to spend on different parts of the wedding.
The final price tag for your wedding depends on a variety of factors, ranging from the number of guests that attend to the menu you select and the Colorado wedding venue you choose. According to The Knot 2015 Real Wedding Study, excluding the engagement ring and the honeymoon, Colorado couples spent an average of $21,833 on their wedding day. Nineteen percent of couples spent $30,000 or more, while only 5 percent spent $50,000 or more.
Colorado Marriage Stats

The marriage rate in Colorado is higher than the national average, with 7.1 per 1,000 people getting married in the state, according to a 2014 CDC report. According to The Knot 2015 Real Wedding Study, couples typically wait until their late 20s and early 30s to get married, with brides averaging 28.7 years old and grooms averaging 30.3 years old when they get hitched. Most couples are engaged for around 13 months, and spend about 10.6 months planning their Colorado wedding.

Breaking Down the Budget
From choosing Colorado wedding photographers to picking out flowers, wedding planning requires careful budgeting. Couples on a budget can explore Colorado wedding packages that bundle different aspects of the event together.
When it comes to paying for the festivities, the bride's parents pay for half of all Colorado weddings, 15 percent of the groom's parents pay and 35 percent of couples foot the bill on their own. Knowing what to expect in terms of common wedding costs makes it easier to settle on a budget for everything from musical entertainment to the flowers and décor. Read on to discover how much you can expect to pay for most aspects of your Colorado wedding.
Top Cities in Colorado to Tie the Knot
From the chic venues in Denver to the boho wedding locations in Colorado's colorful city of Boulder, the state contains numerous cities, towns and municipalities for couples to tie the knot. Whether you want to keep on-trend with Edison-style string lights illuminating your outdoor wedding venue in Colorado or infusing an upscale ballroom with hip metallic and soft blush colors, choosing the right location is half the battle. Wedding locations in Colorado include popular cities such as:
Make It Legal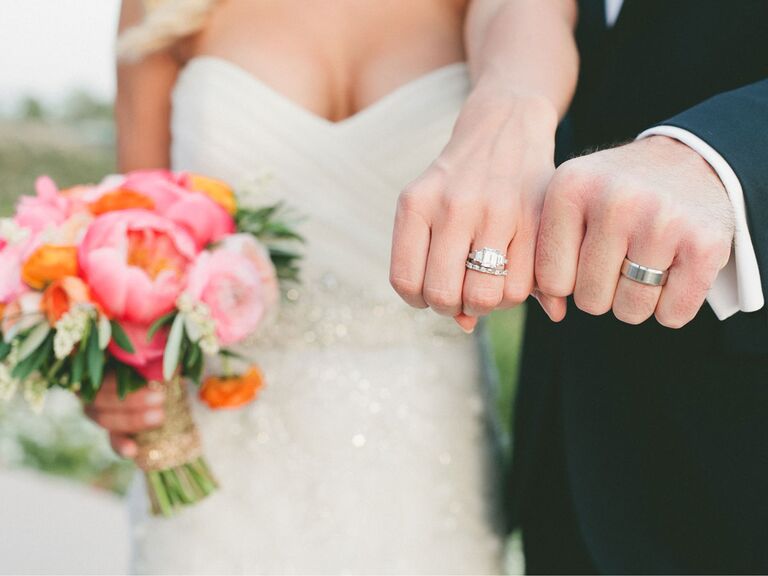 From the moment you slip that engagement ring on your finger, the planning process begins. In addition to choosing the colors for your wedding party, flowers for your bouquet and deciding on the look and feel of your Colorado mountain wedding, you also need to research local laws and regulations. Have fun deciding on the details, but remember to take care of legal matters, including getting your marriage license, obtaining all necessary permits and changing your name.
Getting a Colorado Marriage License
The state doesn't require blood tests or witnesses, and you don't have to be a Colorado resident to get married in the state. The state requires couples to apply for a marriage license in person at the County Clerk's office and both parties must bring valid identification. One of the two to-be-weds may be absent as long as an Absentee Affidavit is completed, along with a notarized signature and a copy of the absent party's valid identification. Approved forms of identification include:
Driver's license
Birth certificate
Passport
Military identification card
The state requires each to-be-wed to be 18 years old or older. If a person is 16 or 17 years old, he or she must provide consent from both parents. Anyone younger than 15 years old needs parental consent and a court order proving judicial approval.
Whoever solemnizes the Colorado wedding must complete the marriage certificate and return it to the County Clerk and Recorder's Office within 63 days of the wedding date. Colorado allows couples to solemnize their own marriage. Other approved officiants include:
Judges and retired judges
Magistrates
Public officials
Clergy members
Ordained friends or family
Permit Information
Colorado outdoor wedding venues offer a variety of backdrops that provide a ceremony and reception with unforgettable flair. If you choose to hold your wedding at one of Colorado's state parks, you must get a permit from the state, county or city. State parks such as Rifle Falls, Panorama Point, Castlewood Canyon and Highline Lake have stunning scenery and several locations that are ideal for a wedding. Likewise, city parks such as Alamo Placita Park or Washington Park Boathouse in Denver also offer lovely outdoor space that requires a permit from the city's Parks Permit Office.
Changing Your Name in Colorado
If you choose to change your name after the wedding, there are numerous steps to complete the process. Make it easy by using a name change service such as HitchSwitch, or go it alone by reading our guide and taking the following steps:
Obtain certified copies of your marriage license
Apply for a name change at the Social Security Administration's office
Once you receive your new Social Security card, visit the local Department of Motor Vehicles to change your name, vehicle registration and vehicle's title
Notify your employer to update all work records, paychecks and benefits
Update other important accounts, such as bank accounts, credit cards and utility bills
It's All About Timing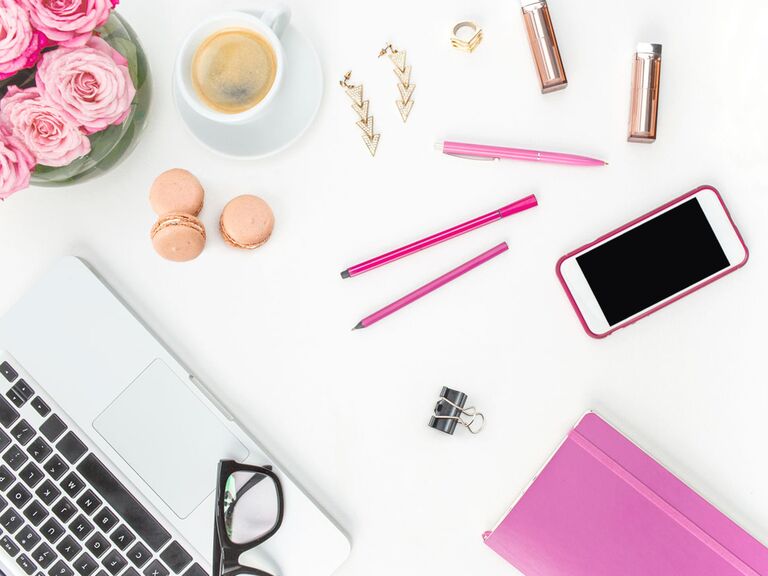 Most couples plan their Colorado wedding during the summer, according to The Knot 2015 Real Wedding Study. While only 3 percent of couples have a winter wedding in the Centennial State, 46 percent of couples plan their wedding for the months of June through August. Fall and spring are also popular seasons, with 38 percent of couples holding their wedding during September or October and 13 percent of couples opting to exchange vows between March and May. The state's climate has a lot to do with why certain seasons are more popular than others.
The Four Seasons in Colorado
Colorado has four-season appeal. In general, Colorado enjoys 300 sunny days every year, making it a lovely location for a wedding. Winter weather varies, depending on the location. While the mountain resorts and higher elevations receive more than 300 inches of snow every year, popular wedding cities such as Denver, Boulder and Colorado Springs receive less than two inches of snow per month on average. Temperatures typically range from 14 to 49 degrees Fahrenheit.
Spring temperatures average from 25 to 62 degrees Fahrenheit, depending on the location. Summers are warm with low humidity and cool nights, while autumn brings its stunning foliage and temperatures of 23 to 78 degrees Fahrenheit. In most locations throughout Colorado, the first snow arrives in September. Some of the higher elevations and mountainous areas receive snowfall nearly year-round.
Colorado Wedding Dates to Avoid
Depending on where you're throwing your Colorado wedding, there may be some important dates to work around or avoid altogether. Some of the major events in the state cause increased traffic, hotel room shortages and higher ticket prices. Ask your wedding planner or Colorado wedding venue about any times or dates to avoid. In addition to major holidays, take note of some of Colorado's major festivals, including:
Wintersköl, Aspen (Mid-January)
Winter Park Winter Carnival, Winter Park (February)
PaddleFest, Buena Vista (May)
Boulder Creek Festival, Boulder (May)
Telluride Bluegrass Festival, Telluride (Mid-June)
Cherry Creek Art Festival, Denver (Early-July)
Colorado Dragon Boat Festival, Denver (Late July)
Colorado Springs Labor Day Life Off, Colorado Springs (Late-August through Early-September)
Colorado State Fair, Pueblo (Late-August through Early-September)
Denver Oktoberfest, Denver (Mid- to Late-September)
Great American Beer Festival, Denver (Mid-October)
Great Guest Experiences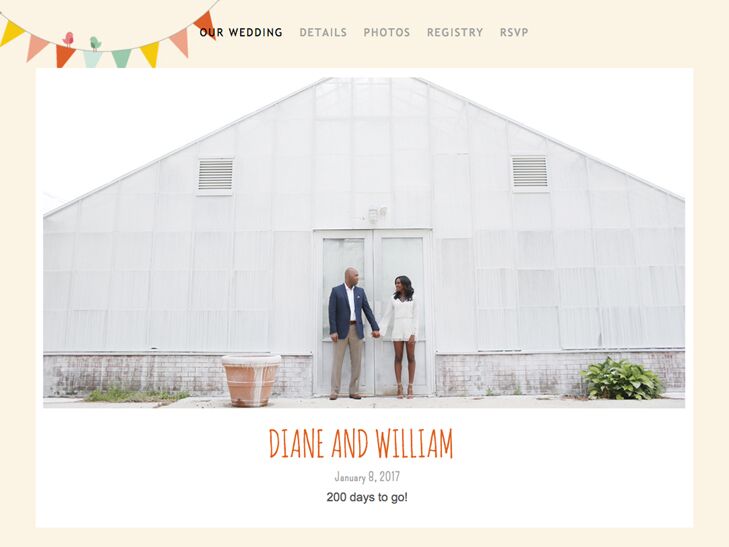 From the moment they receive your invitation, your guests begin anticipating the wedding day. Help make your guests feel welcome and comfortable while exploring the Colorado's wedding venues to plan a memorable event.
Whether you choose to hold a wedding in the open fields of Flying Dog Ranch or T-Lazy-7 Ranch, under the glittering lights of Ridgewood Event Center, the hip historic vibe of Mile High Station or along the lovely shoreline at Evergreen Lake House, Colorado wedding locations offer a nearly endless array of styles. In addition to planning a personalized event, start designing a memorable guest experience by setting up your own wedding website to keep guests updated on all wedding day details.
Colorado Travel Information
Getting to Colorado and navigating your way through the state is relatively simple. I-70 connects Grand Junction and other mountain towns with Denver, while I-25 connects Pueblo, Colorado Springs, Fort Collins and Denver. However, some of Colorado's smaller communities can only be accessed by taking county roads.
Amtrak operates two passenger lines that run through most of the state, while each town and city operates its own public transportation. Denver's Regional Transportation District (RTD) includes a light rail and bus system that covers the entire Denver metropolitan area, which makes it easy to get around the city. In addition, Denver International Airport enjoys the reputation as the country's fourth busiest airport, which handles most of the state's air traffic.
Around Town: What to Do and See in Colorado
Ski season is a popular time to visit Colorado, and winter sports are among the state's most beloved activities. Whether you plan a Colorado wedding during the wintertime or not, rest assured that this state has plenty of attractions to keep your wedding party and guests entertained. Some of Colorado's most popular attractions include:
Andrews Arboretum (Boulder)
Red Rocks Park & Amphitheatre (Morrison)
Mesa Verde National Park (Southwest Colorado)
Colorado Chautauqua National Historic Landmark (Boulder)
Broadmoor Seven Falls (Colorado Springs)
Great Sand Dunes National Park & Reserve (Mosca)
New Belgium Brewery Tours (Fort Collins)
Cheyenne Mountain Zoo (Colorado Springs)
Elitch Gardens Theme and Water Park (Denver)
Garden of the Gods (Colorado Springs)
Boulder Ale Trail
Pikes Peak Cog Railway (Manitou Springs)
Platte Valley Trolley (Denver)
Go Local: Foods and Favors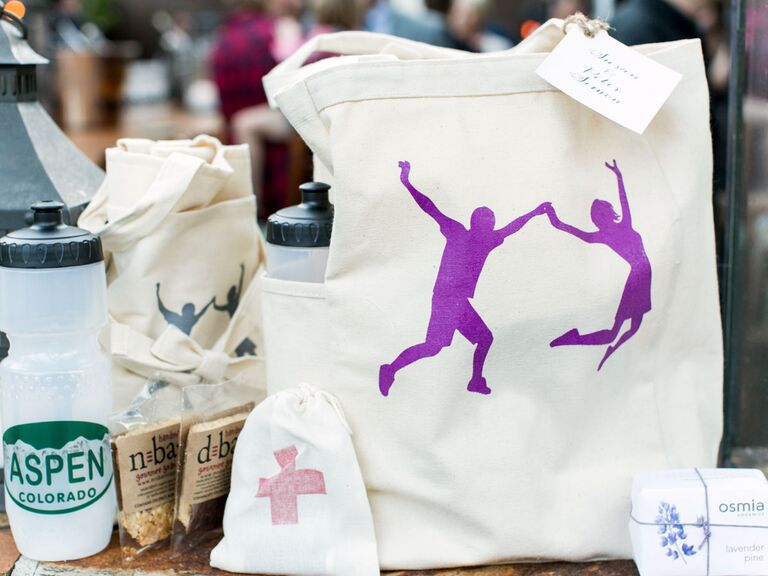 Many couples opt to highlight regional flavors as part of their Colorado wedding celebration. Wild game including bison, elk and trout are popular for main dishes, while Palisade peaches found on the Western Slope are often included in some way. Serve up mini fry bread tacos as an hors d'oeuvre or make the Colorado Snowball a part of your signature cocktail menu.

Whether you're holding your wedding at a barn or upscale ballroom, there are different ways to integrate local flavors into the day's menu. Local produce, microbrews, Rocky Mountain oysters and Colorado lamb are additional popular food and drink choices among native Coloradoans.


Do Your Guests a Favor: Colorado-Inspired Take-Home Treats

In addition to incorporating the state's signature flavors into your Colorado wedding, adding Colorado charm to the favors gives your guests a memorable trinket to take home. Check out The Knot Shop for personalized favors, or give your guests a taste of Colorado with these ideas:

Anything with the state's shape, including tote bags, keychains, cookie cutters or beverage holders
Local flavors, such as Honeyville Colorado's chokecherry sauces, whipped honey, jams and jellies
Cheers to your day! Celebrate with favors such as a bottle of local microbrew

Colorado City Guides
Whether you plan an enchanting winter wedding at one of Colorado's famed resorts or a fall event at one of the many Colorado outdoor wedding venues, the three most popular cities for weddings offer something for everyone. Research Denver, Colorado Springs and Boulder to determine which city is best suited to your wedding needs. Visit our vendor marketplace to put together your team of pros.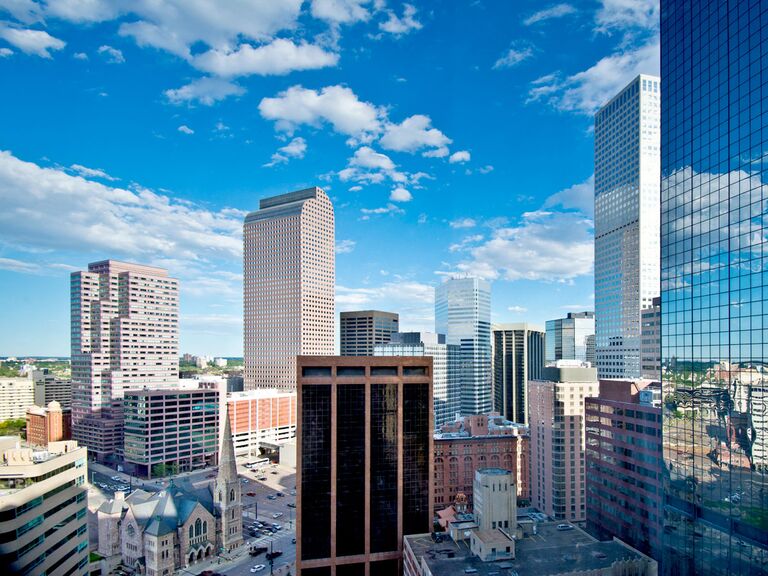 As Colorado's capital city and the most populated city in the state, Denver offers a bustling, vibrant location to hold a wedding. The city is located in the South Platte River Valley, slightly east of the Rocky Mountains. The "Mile High City" is renowned for its commitment to being green. You can experience it for yourself when you walk through of its more than 200 parks, take a hybrid taxi or navigate through the eco-friendly Denver International Airport.
Some of the city's popular wedding venues include Villa Parker, which offers a romantic atmosphere with lovely outdoor space. Stonebrook Manor has classic allure, while the Pines at Genes-ee add a lovely rustic touch. Denver is renowned for some of its delicious dishes, which include Solitaire's charred octopus with roasted grapes and the cake and shake at D Bar.
For local Denver vendors check out: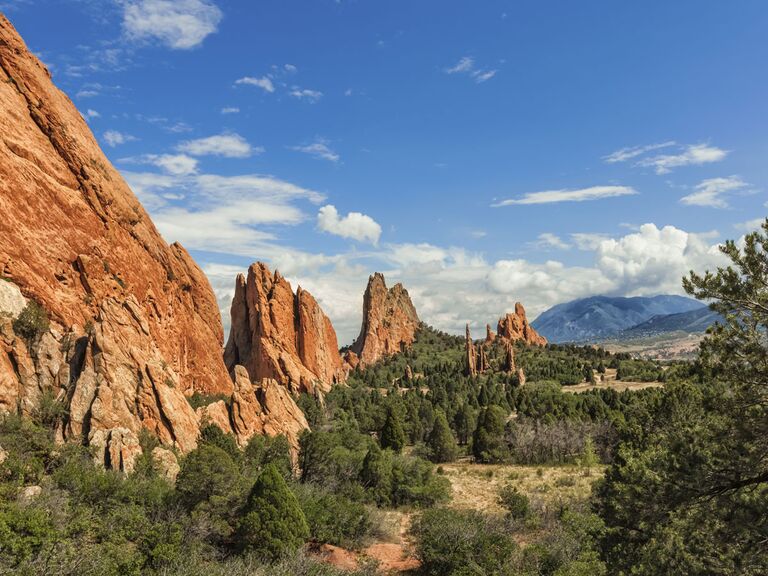 Interested in stunning first-look photos? When you book a Colorado mountain wedding in Colorado Springs, you can enjoy the stunning backdrop of Pikes Peak. Colorado Springs is situated more than one mile above sea level and it spans more than 190 square miles, making it one of the state's largest municipalities. Gorgeous natural surroundings and a hip cultural scene make the city a standout destination.
The area is home to some of the state's most unique outdoor wedding venues in Colorado, include Pikes Peak, Garden of the Gods Park and Cave of the Winds. Couples interested in traditional settings often look to the sweeping beauty of Glen Eyrie Castle, Craftwood Inn Event Center and the Lodge at Flying Horse. Additionally, the city is home to renowned barbecue at Bird Dog BBQ, tasty brews from Phantom Canyon Brewing Company and sweet treats at Rocky Mountain Chocolate Factory.
For local Colorado Springs vendors check out: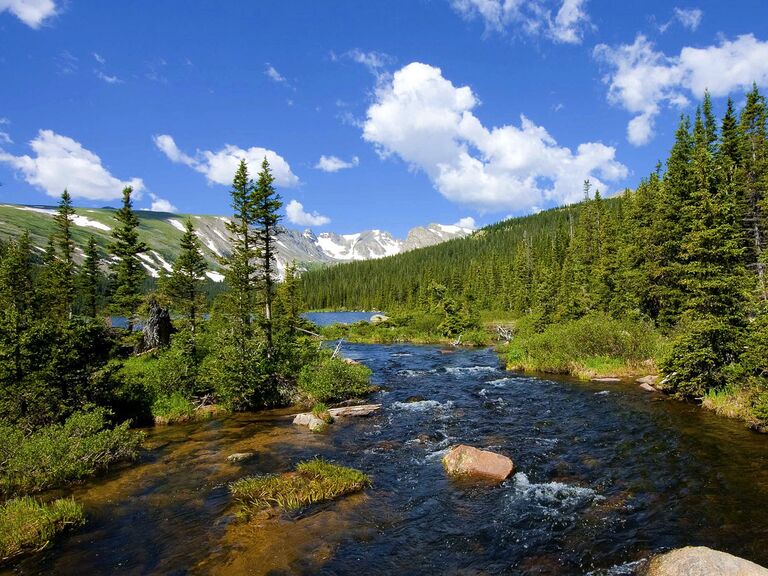 Boulder is situated just 30 minutes from Denver, but it's like a whole other world. From its dog-friendly hiking trails to its fantastic restaurants located along Pearl Street, this hip city combines culture and history in a seamless, attractive package. Boulder is home to a variety of tours, from bike tours of the city to tasty brewery tours.
Other attractions include hiking Mt. Sanitas, catching a concert at Chautauqua Auditorium and taking advantage of Saturday's free admission to the Boulder Museum of Contemporary Art. Rustic, outdoor weddings are popular in Boulder. Some of the choice venues include Stone Mountain Lodge and Cabins, Wild Basin Lodge and the Brooklyn Mining Company.
For local Boulder vendors check out:
Check out more Colorado wedding inspiration here.
Don't forget to download The Knot Wedding Planner app—it's a must-have for on-the-go planning.
Download for iOS: Wedding Planner App by The Knot
Download for Android: The Knot Wedding Planner